This page/post may contain affiliate links. As an Amazon Associate, as well as an affiliate of other programs, this means if you purchase something using these links, I will receive a commission on qualifying purchases at no cost to you! For more detailed information, please visit our Affiliate Disclaimer page
Rejection. Loneliness. Isolation. Not good enough.
Bible Verses About Rejection and Loneliness
As one who has struggled for many years with depression (you can find my story here), these feelings are not strangers to me.
When you feel this way, it is more important than ever to know who you are in Christ Jesus.
It is at these moments:
• When a friend rejects you.
• When you feel like you are not up to the task.
• When you feel you have no one to turn to, no one to understand your struggles.
• When you feel ugly, fat, and dumb (or insert any negative adjective here).
• When you aren't asked to join in an activity or event.
• When you are blatantly shut out.
• When you feel lonely and alone.
• When one thing after another goes wrong.
• Or other times of sorrow and when your self-esteem is in a pit
…..That you can cling to the knowledge of who you are in God's eyes.
Whenever I feel any of these negative emotions or the ugly head of depression rearing up, I do several things:
• I remind myself that God does not make mistakes and that He made me just the way He wanted me
• I remind myself that He loves me with a steadfast and unconditional love
• I get on my knees and thank Him for the above and asking Him to reveal Himself to me
• I journal, pray and meditate over the following scriptures.
It's also important to remember that Satan is a liar! He is cunning and convinces us that we just aren't good enough but he is nothing but a snake!
Rebuke the evil one in the name of Christ Jesus and cling to these verses to remind you of who He says you are!
For what the Bible says about tears, see this post.
I pray that these verses are a comfort to you when you are feeling rejected, lonely or simply down.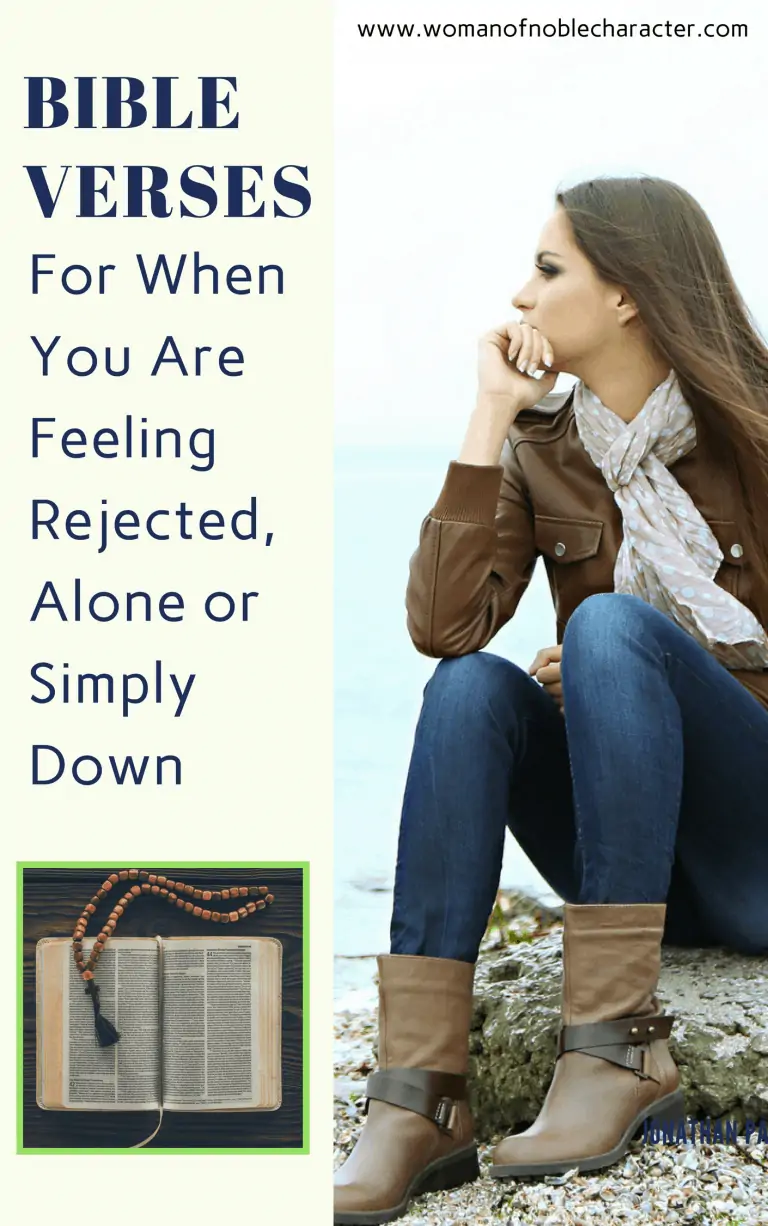 Bible Verses for When You are Feeling Rejected, Alone or Simply Down
There is therefore now no condemnation for those who are in Christ Jesus. – Romans. 8:1
Show me the wonders of your great love, you who save by your right hand those who take refuge in your form their foes. Keep me as the apple of your eye, hide me in the shadow of your wings. – Psalm 17:7-8
The LORD will fulfill his purpose for me; your steadfast love, O LORD, endures forever. Do not forsake the work of your hands. – Psalm 138:8
You give me your shield of victory, and your right hand sustains me; you stoop down to make me great. – Psalm 18:35
for you were bought with a price. So glorify God in your body – 1 Corinthians. 6:20
The Lord your God is with you, he is mighty to save. He will take great delight in you, he will quiet you with his love, he will rejoice over you with singing. – Zephaniah 3:17
To the praise of the glory of his grace, wherein he hath made us accepted in the beloved – Ephesians 1:6
For you formed my inward parts; you knitted me together in my mother's womb. I praise you, for I am fearfully and wonderfully made. Your works are wonderful, I know that full well. – Psalm 139:13-14
The Spirit himself bears witness with our spirit that we are children of God, and if children, then heirs–heirs of God and fellow heirs with Christ, provided we suffer with him in order that we may also be glorified with him. – Romans 8:16-17
No, in all these things we are more than conquerors through him who loved us. For I am convinced that neither death nor life, neither angels nor demons, neither the present nor the future, nor any powers, neither height nor depth, nor anything else in all creation will be able to separate us from the love of God that is in Christ Jesus our Lord. – Romans 8:37-39
For we are God's workmanship, created in Christ Jesus to do good works, which God prepared in advance for us to do. – Ephesians 2:10
being confident of this very thing, that He who has begun a good work in you will complete it until the day of Jesus Christ – Philippians 1:6
But God, being rich in mercy, because of the great love with which he loved us,…and raised us up with him and seated us with him in the heavenly places in Christ Jesus – Ephesians 2:4-6
But you are a chosen race, a royal priesthood, a holy nation, a people for his own possession, that you may proclaim the excellencies of him who called you out of darkness into his marvelous light – 1 Peter 2:9
I am he who blots out your transgressions for my own sake, and I will not remember your sins. – Isaiah 43:25
Blessed be the God and Father of our Lord Jesus Christ, who has blessed us in Christ with every spiritual blessing in the heavenly places, even as he chose us in him before the foundation of the world, that we should be holy and blameless before him. In love, he predestined us for adoption as sons through Jesus Christ, according to the purpose of his will. – Ephesians 1:3-5
His divine power has given us everything we need for a godly life through our knowledge of him who called us by his own glorious goodness. Through these he has given us his very great and precious promises, so that through them you may participate in the divine nature, having escaped the corruption in the world caused by evil desires. – 2 Peter 1:3-4
Know that the Lord has set apart his faithful servant for himself; the Lord hears when I call to him. – Psalm 4:3
Are not five sparrows sold for two pennies? Yet not one of them is forgotten by God. Indeed, the very hairs of your head are all numbered. Don't be afraid; you are worth more than many sparrows. – Luke 12:6-7
When you are feeling down, rejected or less than, remember that to God you are:
• the apple of his eye
• victorious
• delightful
• wonderfully made
• useful
• beloved
• more than conquerors
• seated with him in the heavenly places in Christ Jesus
• chosen
• holy and blameless before him
• adopted as children
• fully equipped and capable
• set apart
• worth listening to
• valuable
• not forgotten
• washed clean of your sins and transgressions
• chosen race
• a royal priesthood
• a holy nation
• a people for his own possession
• God's workmanship
• And, so much more!
What verses would you add to this list? What verses do you cling to when you are feeling rejected or down?
I am praying for you, my friends!
(For encouraging Bible verses when you need encouragement, see this previous post)
Because of Him,
Sue