This page/post may contain affiliate links. As an Amazon Associate, as well as an affiliate of other programs, this means if you purchase something using these links, I will receive a commission on qualifying purchases at no cost to you! For more detailed information, please visit our Affiliate Disclaimer page
There are some books of the Bible that I find myself returning to again and again. Unfortunately, Joel hasn't always been one of them- until recently. This tiny book of prophecy is packed full of little nuggets of gold!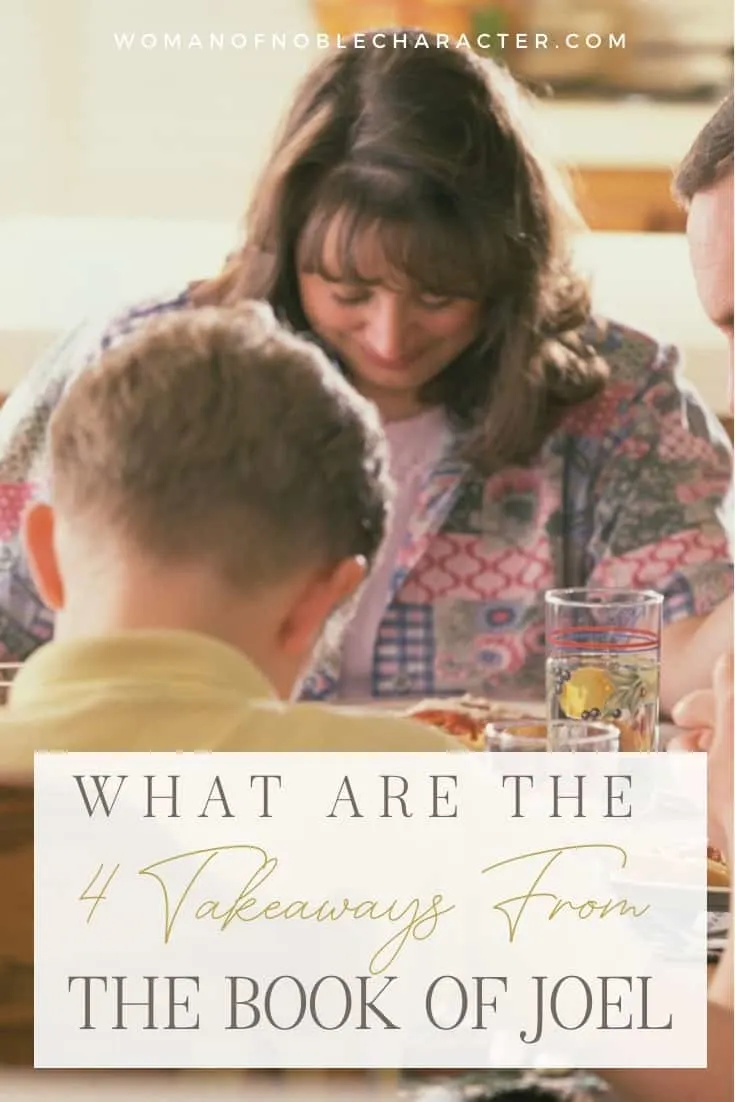 It's Not About Us
Before diving in, I'd like to redirect your thoughts for a moment. I believe it's extremely important to remember that the Bible isn't all about us. It's never been all about us, and it never will be all about us. So often in our contemporary American culture, we view God's Word through a lensed focused on ourselves. We ask ourselves, how can this passage help me? What can I get out of this?
Are these really the questions we should be asking?
Friends, God's holy Word is all about Jesus. Not you and I. A genuine understanding of our sinfulness and God's merciful act through Jesus should naturally turn out thoughts toward Him, not back to ourselves. In reality, we should be asking ourselves what can I do for Him? It is only when we fully grasp the depth of God's mercy and our utter inadequacies that we will understand the true beauty of His goodness.
Yes, we do reap some incredibly undeserved benefits. However, the Bible is ultimately about an amazing God who sent His only Son as a perfect sinless sacrifice for a sin-laden world in desperate need of a Redeemer. It is about a Son who humbly and willingly came to earth for the sole purpose of dying the death that we deserve to offer us a free gift of pure grace.
Even the Old Testament Scriptures were ultimately paving the way for the coming Messiah. All of that to say, that as we read God's Word we must always keep Christ at the center…
And while doing so we can most certainly glean wisdom from its pages of guidance and instruction. God specifically placed each and every account into His Word with the purpose of teaching us important truths.
On to Joel.
Historical Background of Joel
Although not much is known about the prophet Joel, we are told some helpful details about the historical context that surrounds these events.
At the time of his writing, Israel was enduring a severe locust plague that left the land completely devastated. A lack of food and basic necessities had the priests mourning and the people depressed. God specifically sent Joel to His people to call them to repentance. He allowed (or more accurately caused) this devastation in an attempt to draw His people back to Himself.
Lessons From The Book Of Joel
Tell Your Children
Joel 1:3 (referring to the plague) says, "Tell your children of it, and let your children tell their children, and their children to another generation." A quick glance at this verse may not have a huge impact on you, but I'd like to encourage you to read it again.
Joel is instructing the inhabitants of Israel, those who had just endured a horrendous plague, to make absolutely certain that they never forget these events. He's reminding them to share this terrible account AND the outcome with their children. Friend, God already knew His plans and what the future held for His people. He wanted to be sure that the people of Israel (His chosen people) told their children of His faithfulness.
I can't tell you how many times I've searched the Scriptures for wisdom on this parenting journey. I've memorized several well-known New Testament verses on the subject, but it wasn't until I began delving into some Old Testament passages that my role as a mother took on a whole new meaning. Over and over in the Old Testament, God tells His people to share these truths with their children.
"You shall love the Lord your God with all your heart and with all your soul and with all your might. And these words that I command you today shall be on your heart. 7 You shall teach them diligently to your children, and shall talk of them when you sit in your house, and when you walk by the way, and when you lie down, and when you rise" Deuteronomy 6:6-7
"We will not hide them from their children, but tell to the coming generation the glorious deeds of the Lord, and his might, and the wonders that he has done" Psalm 78:4.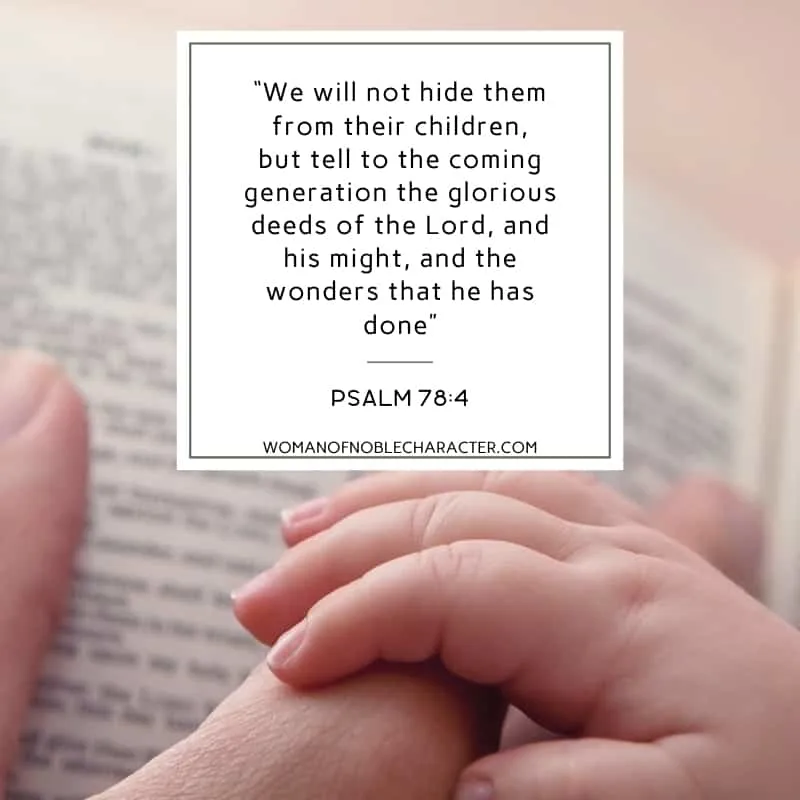 "The living, the living, he thanks you, as I do this day; the father makes known to the children your faithfulness" Isaiah 38:19.
These are just a few of the passages referring to the importance of us, as parents, sharing God's faithfulness with our children.
Are We Missing Something?
Could it be that our role isn't simply to love, protect, guide, discipline, provide for, pray for, and share God's Word with our children?
Have we neglected the much-needed aspect of verbally sharing with them how God has proved faithful in our own lives?
Are we giving them concrete evidence of His existence and the love that He holds for His people in the way that He has proven Himself to us over and over again?
Are we living out our faith in a manner worthy of being imitated by the little ones He has placed into our care?
God saw fit to instruct Joel to tell the Israelites to "tell their children,"… and I have no doubt that He expects the same of us.
We Must Genuinely Repent
Joel continues in verse 13 to plead with his people to genuinely turn from their wicked ways.
"Wail, O ministers of the altar. Go in, pass the night in sackcloth, O ministers of my God! Because grain offering and drink offering are withheld from the house of your God".
In Old Testament times, a grain offering was used as a way of showing God gratitude for His provision. Whereas a drink offering was a sign of God's victory and giving His people rest. Both of these offerings of praise were withheld during this time of devastation.
There was simply no joy, and no reason in their eyes to offer praise to the God who would allow such destruction.
It is during this time that Joel encourages them to not only mourn their sinful ways that have caused such turmoil but also to fast. I'll be honest and say that fasting isn't typically the first thing that comes to my mind when thinking of repentance. But God's Word makes it clear that it should be. By denying our bodies a physical need (food) we're able to more clearly come to Him in earnest prayer for a spiritual need.
Joel's pleas for Israel to repent and seek forgiveness reveals that up until this point, the nation, as a whole, was still blind to the fact that they had brought all of this upon themselves. In much of the same way, I believe that we, too, downplay our sin in the eyes of a holy God and refuse to acknowledge the consequences of our actions. Friends, we must learn to genuinely repent. Over and over again, we must humble ourselves and seek forgiveness. We have an enemy who wants nothing more than to harden our hearts in an attempt to blind us to our desperate need for a Savior.
God, in His goodness, will often allow us to endure difficult life circumstances to open our eyes to the fact that we cannot do this alone. We were created to need Him.
God Is Rich In Mercy
Joel 2:12-13 is, to me, one of the most beautiful passages in the entire Old Testament.
"Yet even now," declares the Lord, "return to me with all your heart, with fasting, with weeping, and with mourning; and rend your hearts and not your garments." Return to the Lord your God, for he is gracious and merciful, slow to anger, and abounding in steadfast love; and he relents over disaster."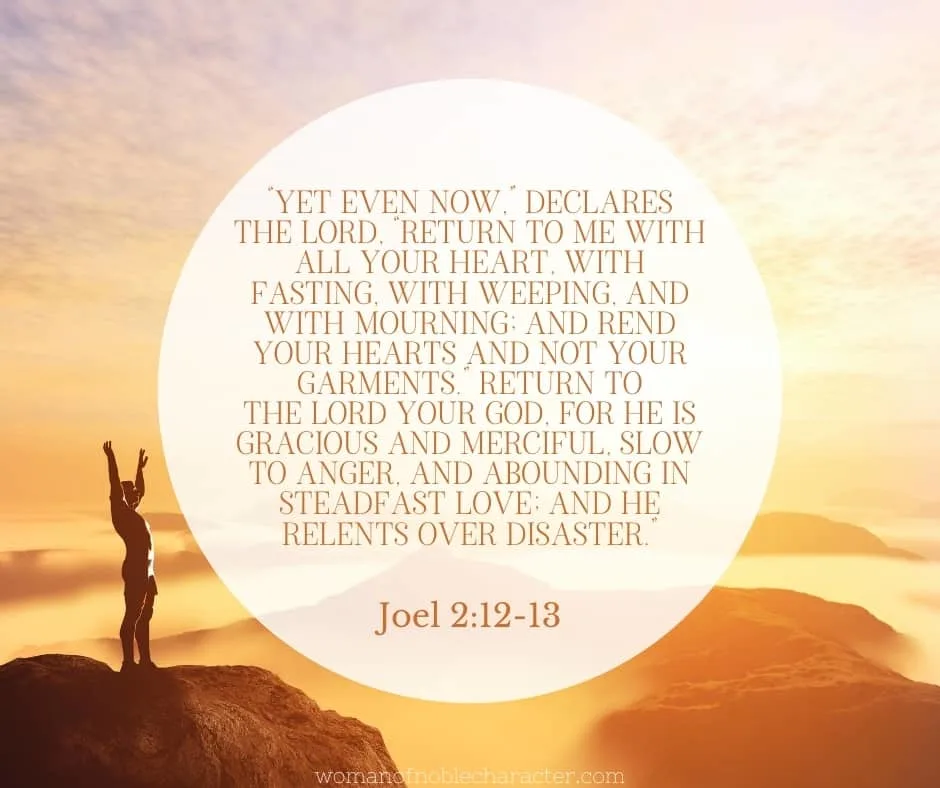 These verses perfectly sum up the heart and character of God. He has never been after the destruction and devastation of His people. He is after their hearts. He is after our hearts.
Somewhere between chapters 1 and 2, God's people finally began to grasp this. We're told in verses 18-27 of chapter 2 that God had pity on Israel and became jealous of His people. He graciously forgave them and would restore all that was lost.
There Is Judgement For Sin
The second half of Joel primarily focuses on future prophecy. These events weren't specifically for Israel's correction but for future generations. Quite possibly a generation much like our own. Yes, it is true that God graciously forgives. However, He cannot forgive if our hearts aren't genuinely repentant. Chapter 3 goes on to explain how the nations who did not repent would face God's judgment.
Sin must be paid for.
In the Old Testament, this took on the form of an animal sacrifice. This may sound extreme, cruel, and unjust without a true understanding of the full picture. God's holiness prevents Him from being in the presence of sin. A pure and spotless sacrifice was needed to cleanse His people. In the Old Testament, this took on the form of an animal without blemish.
Can you even begin to imagine shedding an innocent animal's blood for YOUR sin? This, no doubt, plainly exposed the magnitude of sin and would deter God's people from looking at it with a flippant eye.
Although these animal sacrifices opened their eyes to the sheer gravity of their sin, it wasn't enough.
It would never be enough.
A Final Sacrifice
We are sinful people in desperate need of a Savior. And so God, in His love, sent Jesus to be that final sacrifice. Christ's shed blood provided a way for us to be eternally forgiven. If we turn from our sin and genuinely seek His forgiveness, we can rest assured of an eternity spent with Him. If we do not, however, we will be judged.
Sin has to be judged.
Paid for and pardoned by Jesus.
Or paid for by us in eternity apart from God.
The book of Joel tells the true account of God's discipline, pursuit, and forgiveness of His people.
With an interesting caveat.
His forgiveness wasn't only for the love that He held for His chosen people. It was also for the love He holds for every single person that has ever walked our planet. He protected and provided for Israel so that the world would know that He alone is God. And He alone is worthy to be praised.
"You shall know that I am in the midst of Israel, and that I am the Lord your God and there is none else" (Joel 2:27).
Bio of Guest Writer, Tabatha Hull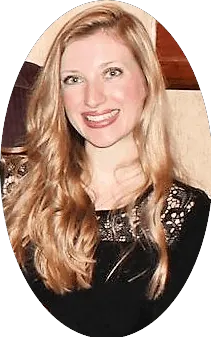 Tabatha is a stay-at-home and homeschool mom of two sweet kiddos just trying to stay focused on what truly matters in life. She married her best friend 8 years ago, and doing life together has been a wonderful journey. A few of her favorites include: hiking with her family, cooking, working out, cuddling with her puppy, and all things peanut butter. For more information please visit her blog at https://ajoyfueledjourney.com/ where she talks about family, faith, food, and fitness. You can also connect with her via Facebook/Instagram/Pinterest @ajoyfueledjourney
Here's a quick overview of the Book of Joel that you might also enjoy:
You may also enjoy one of these recommended resources on Joel in the Bible:
Or one of these posts on Bible studies and biblical figures: