This page/post may contain affiliate links. As an Amazon Associate, as well as an affiliate of other programs, this means if you purchase something using these links, I will receive a commission on qualifying purchases at no cost to you! For more detailed information, please visit our Affiliate Disclaimer page
Earlier this year, my husband and I listened to The Prayer Circle by Mark Batterson on Audible. (You can get a free 30-day trial at Audible – just click the link and select free trial. Awesome to listen to in the car, while cleaning or cooking, etc.). After being moved by the power of and habit of prayer, we decided to purchase the author's book: Draw the Circle 40 Day Prayer Challenge and embark on our own 40 day journey.
In the Introduction chapter, Mr. Batterson says that "the forty-day prayer challenge is going to change your life" and that the forty-days will be hard but some of the best days of your life. He also cautions that you may experience "spiritual opposition" during the challenge.
He was NOT kidding on any of those accounts!
Our Experience With the 40 Day Prayer Challenge
It wasn't always easy to read a chapter and pray after we were both exhausted from a long work day, but we did it. I want to share some of our experiences with you during this challenge:
Enemy Attacks
We had quite a few of these from the very beginning of our 40 Day Prayer Challenge.
We had surgery and a setback in recovery, we had unexpected and in some cases, large expenses and financial struggles.
We experienced illness and stress. It seemed that whatever could go wrong did. We knew that these issues were nothing more than attacks from the enemy.
He hates to see people giving their life to God. He especially hates it when we are "all-in" and spending time in God's Word and in prayer and fellowship with Our Father.
Each time we felt a spiritual attack, we gave thanks to God for it. We thanked him for the rough times which made the good times that much sweeter. We praised Him for the trials to remind us that we can do nothing without Him.
If you undertake the 40 Day Prayer Challenge on your own, be prepared for attacks by the enemy but put on the full armor of God and be ready to fight back.
Developing a Habit of Prayer
As long as I've been a Christian, I've prayed daily to God. I write scripture each morning work through my current Bible study and have my own prayer time. I rarely miss a day. I also pray throughout the day.
Going through this prayer challenge with my husband was a bit more of a struggle.
As mentioned above, some days we were just exhausted or didn't feel well. We did it anyway. Others we were so busy that we could barely fit in the extra time.
We did it anyway. On other days, one of us may have been annoyed with the other. It's hard to go to a vulnerable place with your spouse when they are getting on your last nerve, but…we did it anyway.
I work from home, but my husband works long hours in his own plumbing company so we had to carve out time for this committment.
We decided that before bed, after our couple's devotions, would be the best time to read and pray through the 40 Day Prayer Challenge.
We would reach that day's chapter and then pray together. First him, then me. We'd include, in our prayers, our praise and thanksgiving to our Heavenly Father and then present our requests before him.
Make a commitment to your husband and God to pray for 40 days. Some days may be hard to follow through but do it anyway. He gave His life for us, we can give a few minutes to Him.
The Impact on Our Marriage
My husband and I have a solid, God-centered marriage. As mentioned above, we do nightly couple's devotionals, attend worship service together, and truly enjoy each other's company, but the impact that the 40 Day Prayer Challenge had on our marriage was profound.
There's something about opening your heart and talking to God with your spouse beside you, holding your hand, that draws you even closer. You become vulnerable and share your prayer requests, hurts, fears and victories in a way that is rarely discussed around the dinner table.
On days when my husband had irritated me, after praying together, that irritation had all but gone away. With God on the throne and the promise of eternity with him, what does it matter that he forgot to take out the trash or pick up his dirty laundry from the floor?
Answered Prayers
Rather than choosing just one area of our life to pray over during the challenge, we prayed about many things. We prayed for our children and for them to draw closer to God. We prayed for family members and friends who were ill. We prayed for our businesses and our finances.
During the challenge, we began to see prayers answered in big and small ways. Here are just a few:
One member of our church was facing a tough medical diagnosis. It turned out to be a very small problem that they would recover from.
My husband's business had been very slow. Within a few weeks of circling it in prayer, the phone began to ring, and now he has an abundance of work, and it is still coming in.
We were facing a huge, unexpected bill and not sure where we were going to find the money to pay for it. Within days, I received an email from one of my clients that told me they would be giving me a huge bonus for a job well done. We were able to pay the bill in full.
I'd been struggling with direction and growth for my ministry, and God revealed to me a new perspective. It has allowed me to enjoy the growth that I had not experienced before (nor in a way that I had expected).
One of our sons, who had turned his back on God, mentioned that he was looking into a church service that he could attend around his work schedule (he works Sundays).
There are more examples, but one thing is certain: God was at work! He wants to hear our cries for help. He wants to hear our joys and victories! He wants us to kneel before Him and place every area of our life at His feet! He listens, and He answers! He is mighty!
Don't Go it Alone
While praying can be individual or corporate, I encourage you (as does the author of the 40 Day Prayer Challenge, Mark Batterson) to join with at least one other person or a group of people, to go through the prayer challenge together.
By joining with others, they will help keep you accountable and praying daily. It also gives you someone to share prayer requests and answered prayers with.
The Best Way to Grow Your Prayer and Faith Life
How to create a custom war binder for a powerful prayer life including over 125 printables to customize your binder for your walk with God.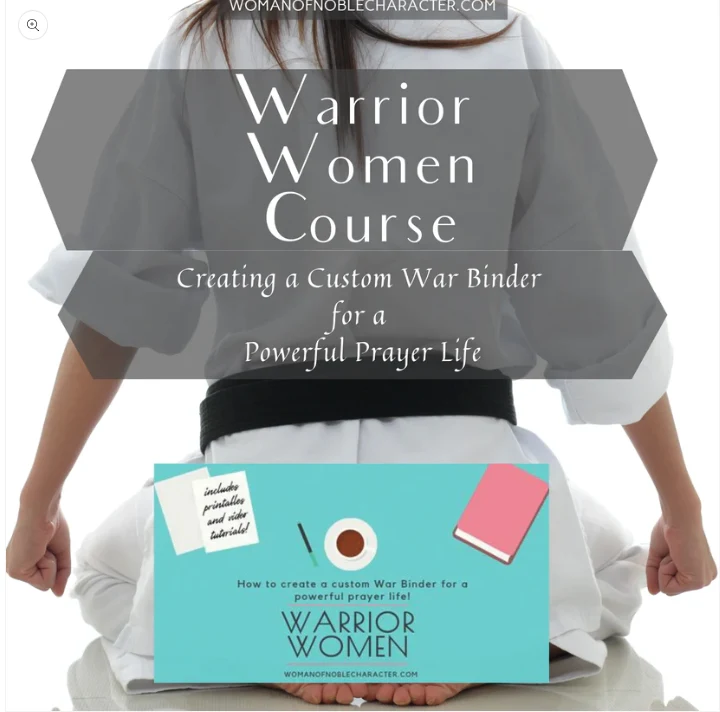 So Why a 40 Day Prayer Challenge?
40 days has strong biblical significance. Let's take a quick look at some instances of 40 day periods in the Bible:
It rained for 40 days and 40 nights before the flood. (Genesis 7:12)
After Moses killed the Egyptian, he fled to Midian, where he spent 40 years in the desert tending flocks (Acts 7:30).
Moses was on Mount Sinai for 40 days and 40 nights (Exodus 24:18).
Moses interceded on Israel's behalf for 40 days and 40 nights (Deuteronomy 9:18, 25).
The Law specified a maximum number of lashes a man could receive for a crime, setting the limit at 40 (Deuteronomy 25:3).
The Israelite spies took 40 days to spy out Canaan (Numbers 13:25).
The Israelites wandered for 40 years (Deuteronomy 8:2-5).
Before Samson's deliverance, Israel served the Philistines for 40 years (Judges 13:1).
Goliath taunted Saul's army for 40 days before David arrived to slay him (1 Samuel 17:16).
Elijah fled from Jezebel, he traveled 40 days and 40 nights to Mt. Horeb (1 Kings 19:8).
The number 40 also appears in the prophecies of Ezekiel (4:6; 29:11-13) and Jonah (3:4).
In the New Testament, Jesus was tempted for 40 days and 40 nights (Matthew 4:2). There were 40 days between Jesus' resurrection and ascension (Acts 1:3).
If 40 days is so significant to God, we can dedicate at least 40 days to praying to Our King, don't you think?
If you'd like to go through the 40-Day Prayer Challenge, I've listed the related books below. You do not need to have read The Prayer Circle before embarking on the 40-Day Prayer Challenge, but it is a great read, and you will gain so much from having read it.
Have you done the 40-Day Prayer Challenge? What was your experience?
Comment below – We'd love to hear about your experience.
If you haven't done it, what's stopping you? It will change your life and your faith.
For more on the Habit of Prayer, see this post on my other site, Woman of Noble Character.
Because of Him,
Sue