Unboxing and Review of the Artza Box, Gifts From the Holy Land
This page/post may contain affiliate links.  As an Amazon Associate, as well as an affiliate of other programs, this means if you purchase something using these links, I will receive a commission on qualifying purchases at no cost to you! For more detailed information, please visit our Affiliate Disclaimer page
I'm all about learning more about the Holy Land and when I had the opportunity to review another Artza Box, this one focused on Galilee, I was in. I mean, Holy Land gifts and items? Yes, please!
See below for a 20% off discount code for Woman of Noble Character readers!
I love that each box is carefully curated and every item includes a card with a backstory and information about the artisan or creator.
Here's my unboxing of the latest Artza box, focused on the Judean Desert. The remaining post is an in-depth look at each item included in the last box, Galilee – you will LOVE what you see!
Take a look at my unboxing of this quarter's Artza Box and the Holy Land gifts included!
A Look at Some Items in the Artza Box
Fun, huh? Let's look a bit closer at some of the items in the Artza Box.
Each item included in the Artza box comes with a full-color card sharing about the artisan and the products they create. I love reading about these talented people from Israel. It helps bring the box and the products in it to life.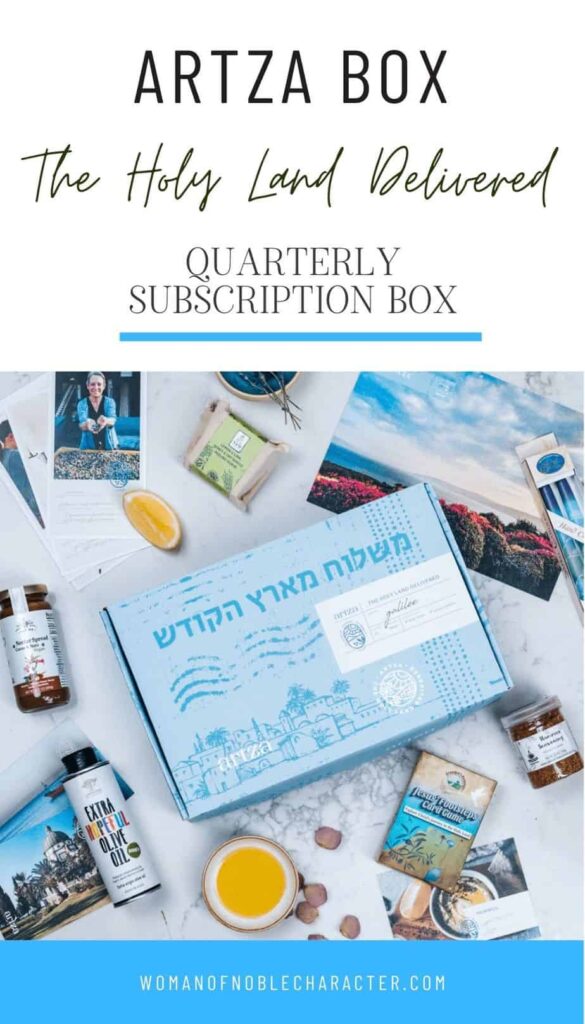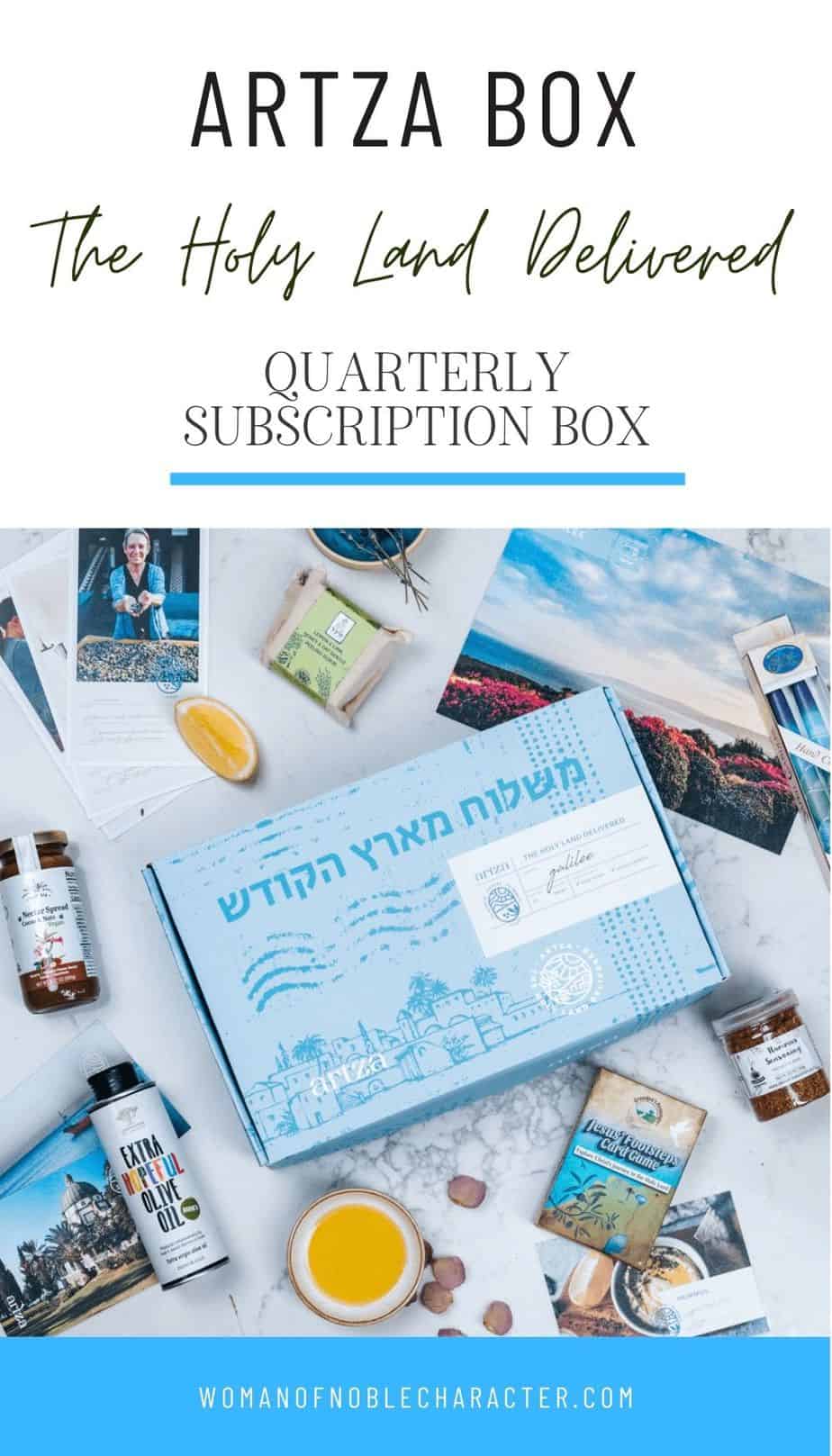 This is an absolutely GORGEOUS ceramic bowl to place dips, small snacks or treasured items inside. The turquoise inside is simply stunning and if you look closely, you will see two fishes and a basket of bread, reminiscent of the famous story of the bread and loaves. It matches my living room perfectly so I have it on a sofa table in there.
The artisan who created it, Itamar, is a second generation ceramacist. This is one of my favorite items in this quarter's Artza Box.
The next item in the box comes with an inspiring story. This artisinal, small-batch olive oil was created by an award-winning olive oil factory in the city of Cana in Galilee. But what makes it unique is that the factory, a non-profit, employes both Arab and Jewish women. Given the current climate in the Middle East, this is an incredible example of coming together to provide economic opportunities for women on both sides of the political issues while supporting local olive growers and producers.
I also really loved the Artza Hummus Seasoning! It pairs perfectly with the artisinal olive oil! From Spice Road Farm in Israel this delicious (trust me on this, we've already tasted it!), has a lovely combination of spices to make an incredible hummus from scratch!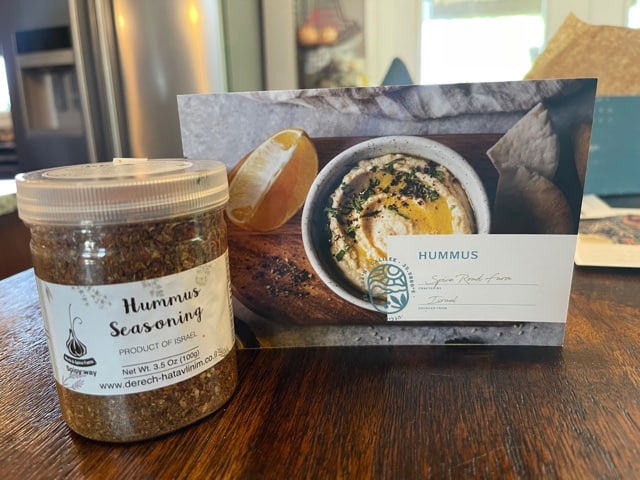 Another, beautiful Holy land gift in the box was a set of hand-dipped candles created by Safed Candles. This is a widely-known candle shop in the Old City of Safed. The candles are inspired by the natural lush colors and beauty of Galilee. These candles are absolutely stunning!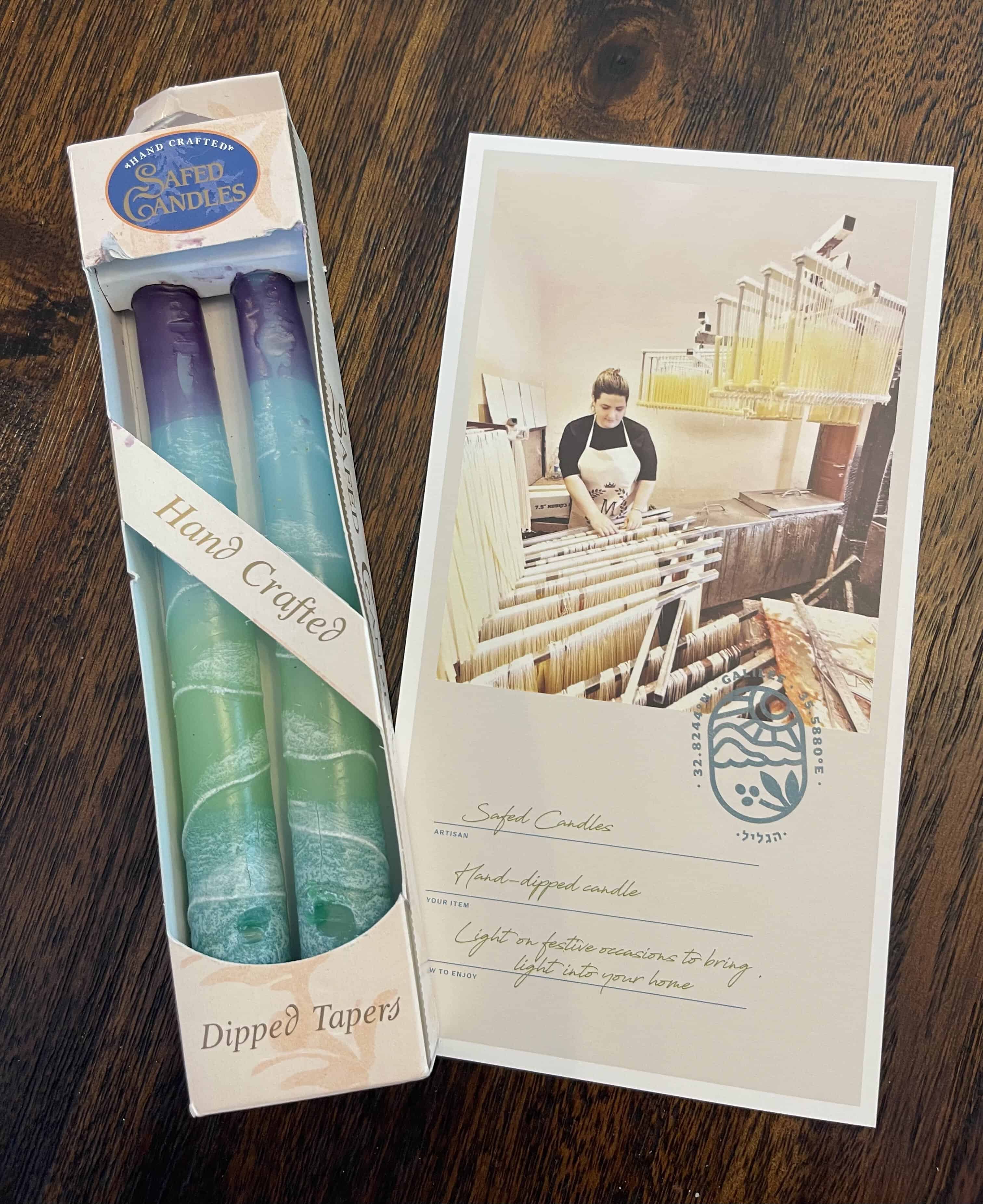 Self-care is something that many women struggle with but, it can be as simple as bathing with a a luxurious bar of soap, specifically this lemon-lime body scrub soap froom Michal Soaps. Using all-natural ingredients and crafted by a husband and wife team, they now employ over 35 people who craft all-natural soaps and cosmetics by hand. It smells beautiful and provides an energizing lift when used. (I'm a big fan!)
I love learning Hebrew and about the Israel so I particularly enjoy each game that is included in the Artza Box. This month, the game is Jesus' Footsteps where you explore Christ's journey in the Holy Land.
The game includes maps, cards with Holy Sites, plants native to Israel, women in Jesus' life and so much more to help you feel like you are truly walking in the footsteps of Christ!
The box also includes postcards from the Mount of Beatitudes and the see of Galilee, as well as a jigsaw puzzle made with natural stones from Galilee!
This gorgeous quarterly subscription box from Artza Box is simply amazing! Now that we've seen some of the beautiful products included in this quarter's box, let's look at the company, Artza Box and what each box in the subscription includes.
About the Artza Box
"I will bless those who bless you… and all the families of the earth shall be blessed through you…
and they went out towards the Land (Artza)"
(Genesis 12:3-5)
Artza is Hebrew for "towards the Land". Inspired by Genesis 12:3-5, their name is meant to capture the experience they hope to bring you – namely, a journey "towards the Land" of Israel. A land with rolling hills and dusty sands. A land that is flowing with milk and honey. A land with rich history and a vibrant future. A land filled with faith and promise.
Artza Box is a quarterly subscription box that follows in the footsteps of Jesus, delivering the best artisanal food, crafts, and content from across the Holy Land straight to your door. Their hope is for you to join them on a journey that brings the land of the Bible to life while supporting small & local businesses in Israel. It is a quarterly, as opposed to monthly subscription box.
Each box includes 7-9 authentic products from around the Holy Land. Full-size! This isn't a sample box 🙂
The highest quality Locally-sourced, handcrafted gifts, foods, art and crafts from Israel.
Learn about the artisans behind the products, build bridges and connections with the people of the Land.
Learn Hebrew! Each box will include Hebrew words cards and games to help you and your family learn the language of the bible.
Original and unique content and photography from around the country that you cannot find elsewhere.
I looove that each box contains a game or other way to learn Hebrew!
What's Included in the Artza Box

Each box is curated to deliver the most authentic experience, searching throughout Israel for exclusive, high quality products that you and your family will enjoy. An experience that brings the Land of the Bible to life while supporting the people who call this place home.
EVERY BOX INCLUDES:

• Something to taste
• Something to share
• Something for the body
• Something for the soul
• Something to inspire
• Something to learn
To snag 20% off your Artza box purchase, use code: ARTZASUSANNELSON at checkout.
To check out other subscription boxes for Christians, see this post.