This page/post may contain affiliate links. As an Amazon Associate, as well as an affiliate of other programs, this means if you purchase something using these links, I will receive a commission on qualifying purchases at no cost to you! For more detailed information, please visit our Affiliate Disclaimer page
Baseball, Love & Marriage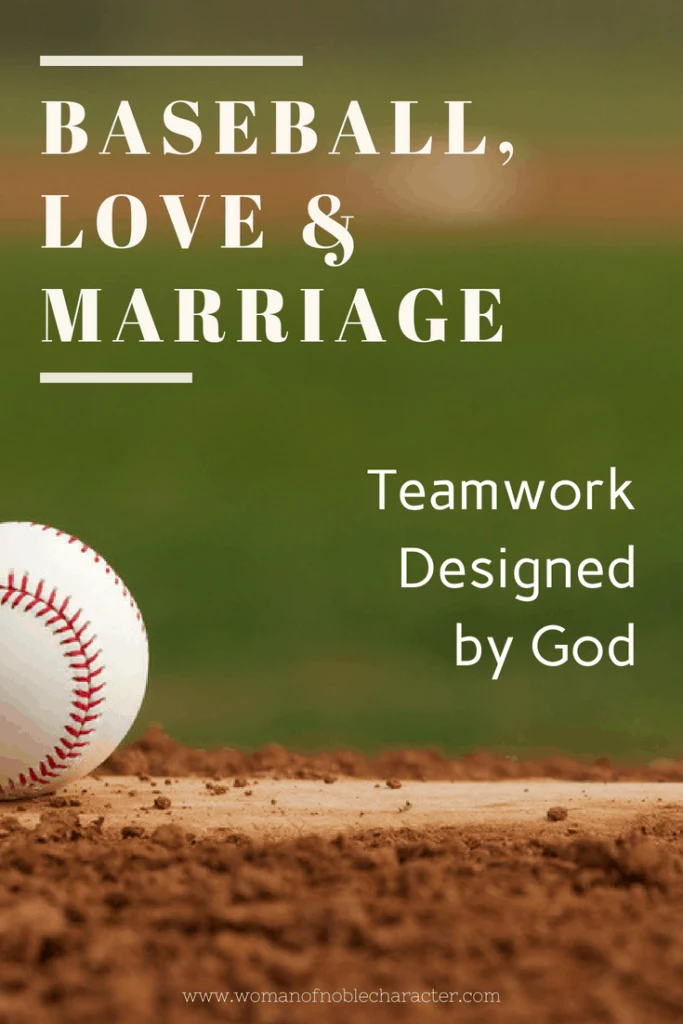 My husband and I are both big baseball fans. I have always rooted for the New York Yankees and Mike is a Kansas City Royals fan. Baseball teams, in some ways, are like marriages. There are leaders (the Manager on a team and the husband in a marriage) and teammates (the players on a team and the wife in a marriage).
If a manager sees that one of his players is struggling with hitting, he will usually talk to him to see if there's something bothering him. If not, he'll look at his mechanics or have a hitting coach work with him to see if they can't identify the problem and find a solution so that he can start hitting again.
Usually, it takes both the manager and the player to identify the problem and make the necessary changes – perhaps to the stance or grip on the bat, so that the batter can improve his batting average. Rarely does the manager ignore the player's problem and hope that it goes away on its own.
A marriage should be the same way. If a wife is struggling in an area, it may be obvious to the husband (as in the case of a batter not hitting) or it may be something he is not aware of.
Once the manager (or husband) is aware of the problem, he can work with the player (or wife) to get to the root of the problem and help find a solution.
In marriage, we all struggle sometimes. Perhaps it is with keeping up on cleaning the house or getting along with the neighbors or maybe even finding time to cook dinner daily or for a date night. Whatever the problem is, I encourage husbands to be aware of any issues your wife may be facing. Wives, I encourage you to share your struggles with your husbands. Together, you can work on a solution.
Pause for Discussion on Baseball, Love & Marriage
Do you see the parallel between a baseball team and a marriage? What other parallels do you see?
Wives, what is something you are struggling with now?
How can your husband help you in this area? How can he support you or help you find a solution?
How can your husband be more aware of what struggles you may be facing?
Wives, do you share your struggles with your husband in a calm, humble way, do you keep it all bottled up or do you yell and complain? What can you do to communicate in a gentle way where you need help?
In my course, The God Centered Marriage, we talk about communication for problem solving in a marriage. Without healthy communication, no team can win. In our baseball example, the players communicate with the coaches (Manager, pitching and hitting coaches) and each other. In marriage, the husband and wife need to continually communicate in order to have a healthy, thriving marriage. In baseball, love & marriage, everyone loves a good teammate.
Bible Verses on Teamwork in Marriage
Ecclesiastes 4:9-12 ESV

Two are better than one, because they have a good reward for their toil. For if they fall, one will lift up his fellow. But woe to him who is alone when he falls and has not another to lift him up! Again, if two lie together, they keep warm, but how can one keep warm alone?

And though a man might prevail against one who is alone, two will withstand him—a threefold cord is not quickly broken.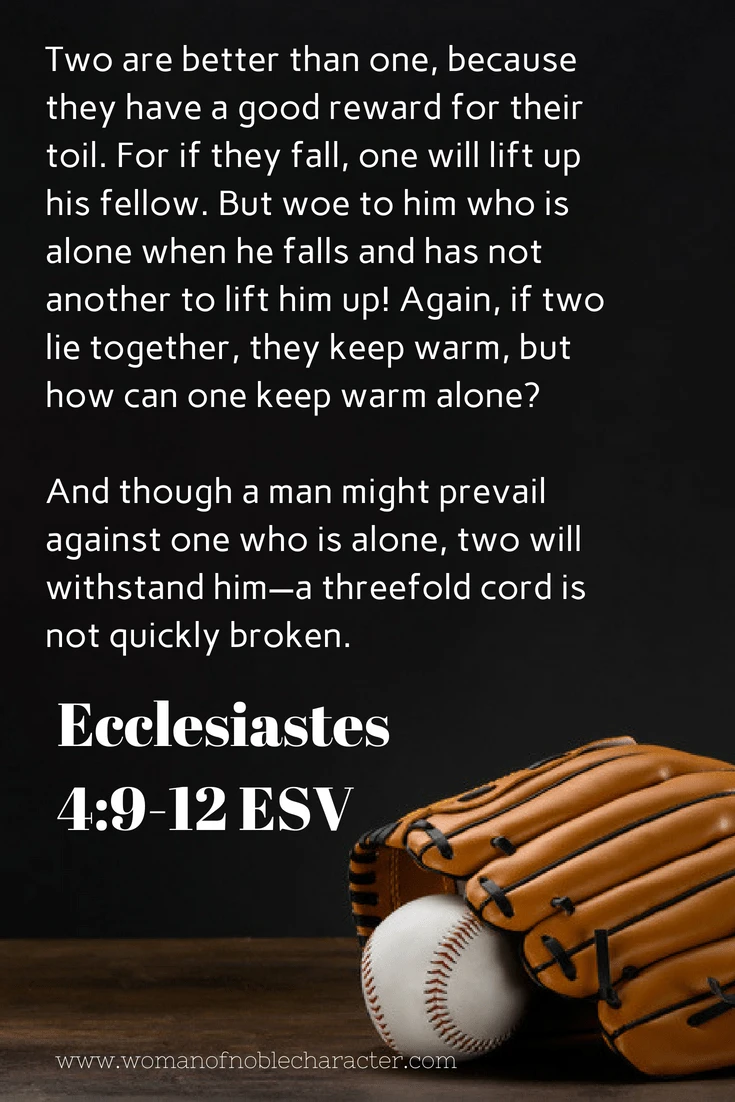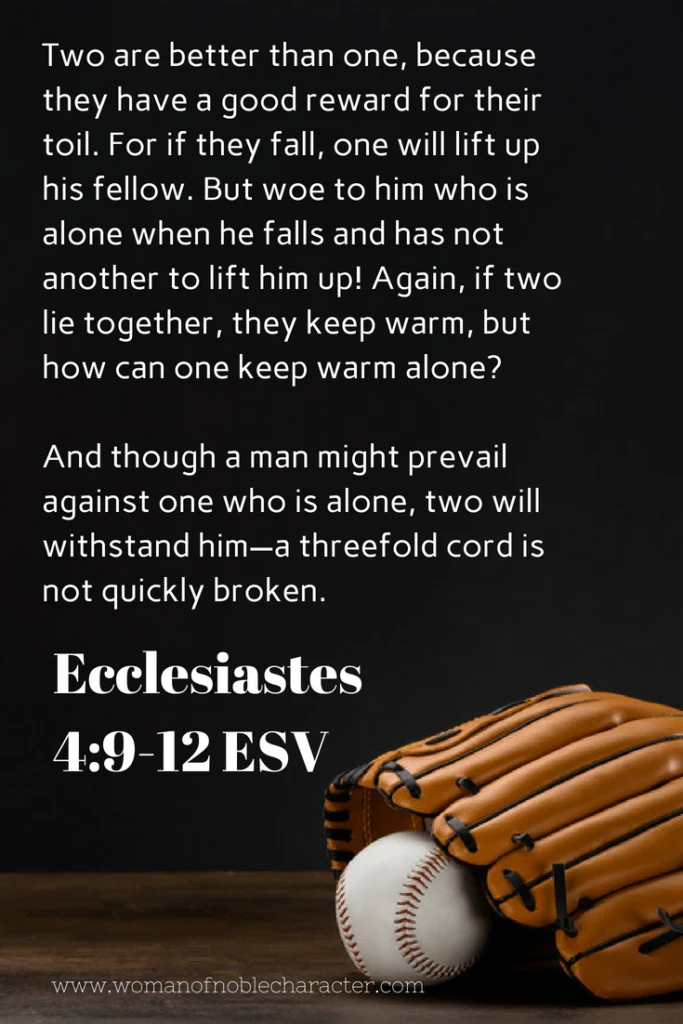 Proverbs 27:17 ESV

Iron sharpens iron, and one man sharpens another.

1 Corinthians 12:20-25 ESV

As it is, there are many parts, yet one body. The eye cannot say to the hand, "I have no need of you," nor again the head to the feet, "I have no need of you." On the contrary, the parts of the body that seem to be weaker are indispensable, and on those parts of the body that we think less honorable we bestow the greater honor, and our unpresentable parts are treated with greater modesty, which our more presentable parts do not require. But God has so composed the body, giving greater honor to the part that lacked it, …
Here are my top book recommendations on baseball, love & marriage (teamwork):
For more on Christian marriage, consider my book, The God-Centered Marriage.
Looking for a hands-on course to help you grow in your three-cord strand marriage? The God Centered Marriage may be exactly what you need.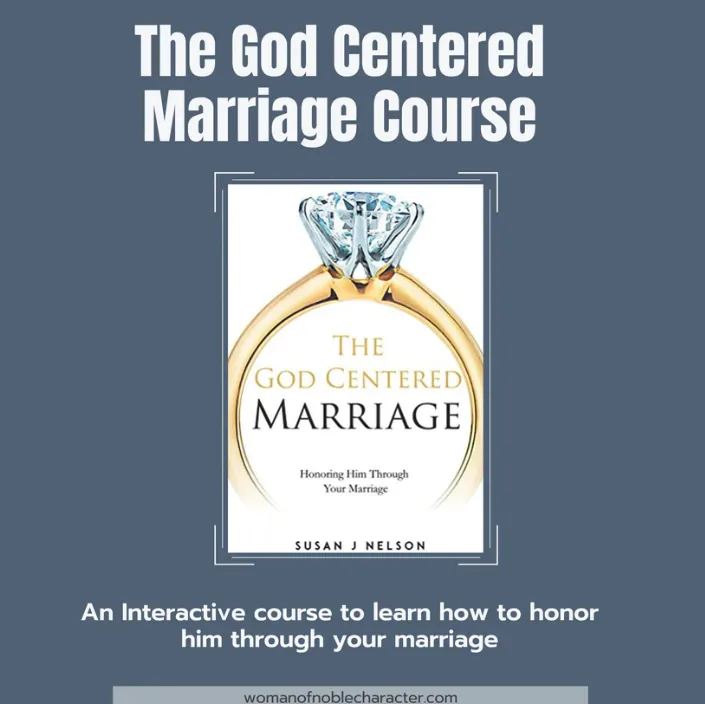 Because of Him,
Sue