This page/post may contain affiliate links. As an Amazon Associate, as well as an affiliate of other programs, this means if you purchase something using these links, I will receive a commission on qualifying purchases at no cost to you! For more detailed information, please visit our Affiliate Disclaimer page
Beauty is Fleeting
I know, in advance, that this post may ruffle some feathers. My intent is not to upset anyone, but rather to gently encourage us not to let ourselves go – both for our husbands and ourselves. We'll also be looking at our hearts and fearing the Lord.
Now, I know that we get older and bodies flab, grey hair pops up, and wrinkles form. Those are facts of life, as the post title indicates, and as scripture tells us, "Beauty is fleeting".
But we're also going to look a bit deeper into this verse. While beauty is fleeting (or vain, depending on the translation you are using), what truly matters is our heart and if it is honoring to God.
If you read Proverbs 31:21-31, you may notice something. Not once, in the entire passage, do we see mention of the Proverbs 31 woman's looks.
Instead, we see a strong, capable woman with a beautiful heart. We know that her family praises her and calls her blessed. We know that she is hard-working and committed to the Lord and serves His people. We also know that she is confident and does not live in fear. She is wise and faithful and smart with money. She is all the things that a Godly woman should be, but no mention is made of her looks.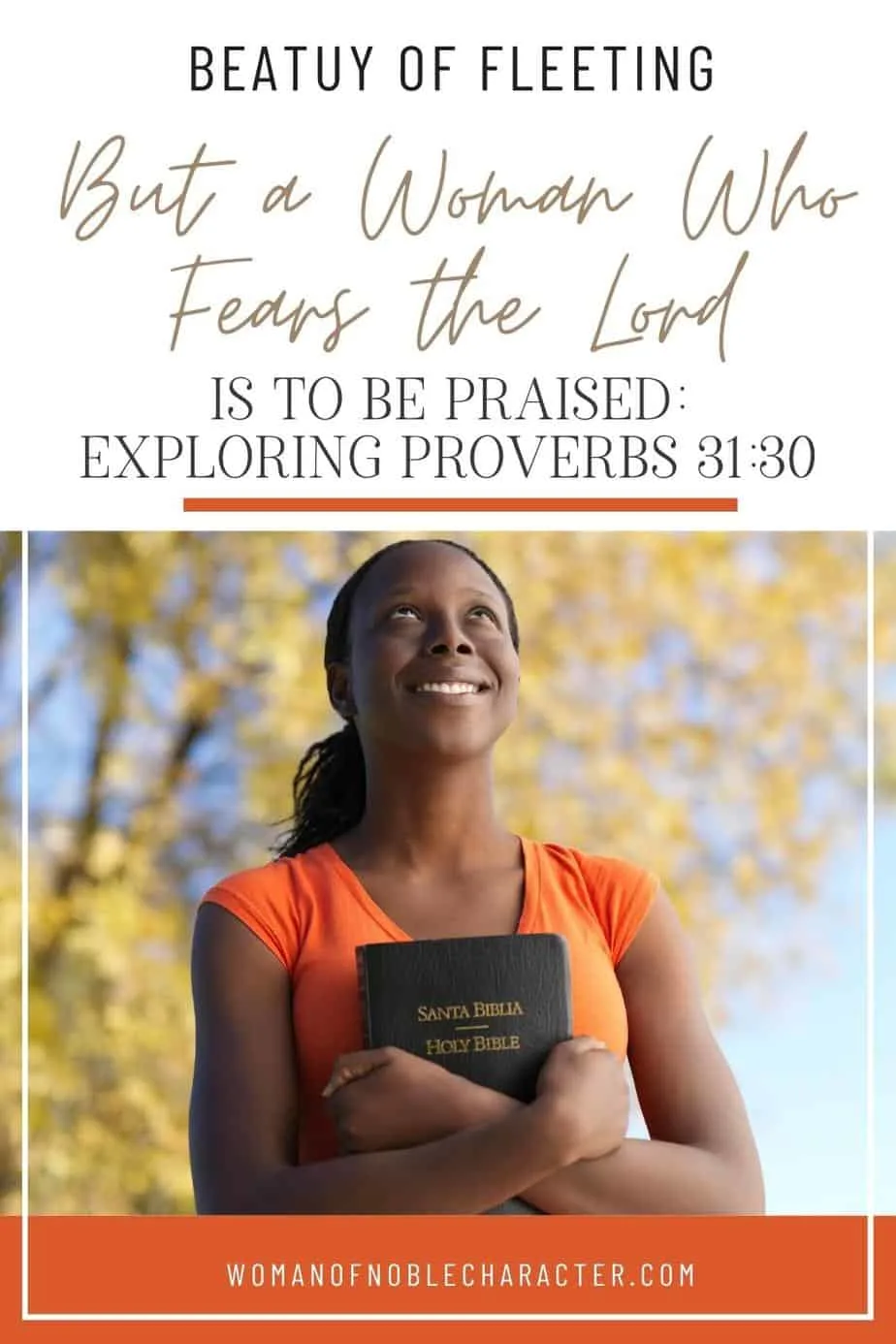 So, let's, for a moment, focus on the first part of the verse; "charm is deceptive and beauty is fleeting".
Just because scripture does not tell us how this woman should look, we should not ignore how we look. Don't get me wrong. I'm not saying that our looks and how we dress and wear our makeup are of paramount importance. Rather, I am saying that we shouldn't stop taking care of how we look for our husbands once the ring is on our finger.
Let's go back to when you first met your husband. What was it about you that drew him to you? Perhaps, it was your positive attitude or your work ethic. Maybe it was how compassionate you are or how driven you were. Even if any of those ring true, there's a good chance that he was also attracted to you, at least partially, by how you looked. Men (and women) are wired that way. God has created us to love beautiful things.
Now, let's look at today. You may not weigh the same as you did when you met your husband, but do you make the same effort to care for yourself as you did back then? I'll admit that for a time I slacked in this area. I work from home and most days just rolled out of bed and into my home office. My husband would get home from work, and I was still in my pajamas. He said he didn't mind, but I knew that at least on some level, he would prefer that I at least make an effort.
Beauty is Fleeting and Early Rising
After prayerfully considering what and how to change, I started to get up earlier. (See this post on rising early and having a more productive day). Now, as soon as I wake up, I take a shower, dress for the day (not in pajamas!), and put on very limited make-up. This change had more benefits than I had imagined when I put it in place! Not only is my husband pleased to come home to a put-together wife, but my confidence has soared! I feel more secure and, honestly, am more productive. When I look put together, I feel put together.
When the kids are crying, the dog got into the garbage, and we popped the zipper on our favorite pair of jeans, it's easy to say, "Ah, forget it. I'm wearing sweatpants". I get that. I really do. But hear me out on this one – what kind of message is that sending to your husband? Is it saying that everything else in life is more important than him? That dealing with life's daily crises take priority over looking and feeling your best for your husband?
When you started to date your husband, how did you look and act? Did you dress up and wear cute heels? Did you put on makeup or perfume? Did you "do" your hair before he picked you up? Has anything changed? Or now, do you wear leggings and flip flops, no makeup, and hair in a ponytail every day?
I'm not judging you, friend. I'm not. That was me, as well. When I committed to making a change, the benefits of the change were incredible.
Beauty is Fleeting and Making Small Changes
To be honest, I don't do everything that I used to regarding looking and feeling my best. I no longer get manicures, but I do get my hair colored (if not, I would be nearly all grey and personally, I'm not quite ready for that!).
I no longer spend tons of money on clothing (I buy a few pieces a few times per year, and always on sale). I no longer wear heels every day, but rather sandals or decent shoes (after years of flip flops, my feet yell at me when I wear heels). The point is, you don't have to spend hours and tons of money on looking good for your husband (and yourself); you just need to try.
If you normally wear sweats or leggings for comfort, consider a sundress or skirt – both are comfortable and look great.
If you normally wear sneakers or flip-flops, consider sandals or flats.
If you normally put your hair up in a ponytail, let it dry naturally.
Maybe you are thinking, "My husband doesn't care about any of this; he loves me the way I am." You may be right, but I'd be willing to bet that he would also notice and appreciate it if you made an effort to look good, knowing it was for his benefit.
Don't ask questions like "Do you think I dress ok?" or "Does my wearing sweats bother you?" Men, despite what modern sitcoms tell us, are not stupid. They will answer those questions in a way to avoid hurting your feelings or starting an argument.
Why not ask him what he thinks? Ask specific questions like – what color do you think looks best on me? Which way that I wear my hair do you like best? Which of my outfits is your favorite? Listen to his answers and make changes accordingly. He will notice, and you will feel a renewed confidence in yourself.
I'd be willing to bet that when you make these small changes to look your best for your husband, he will notice, and your marriage will benefit.
Remember that while beauty is fleeting, it's not hard and will pay dividends in your marriage.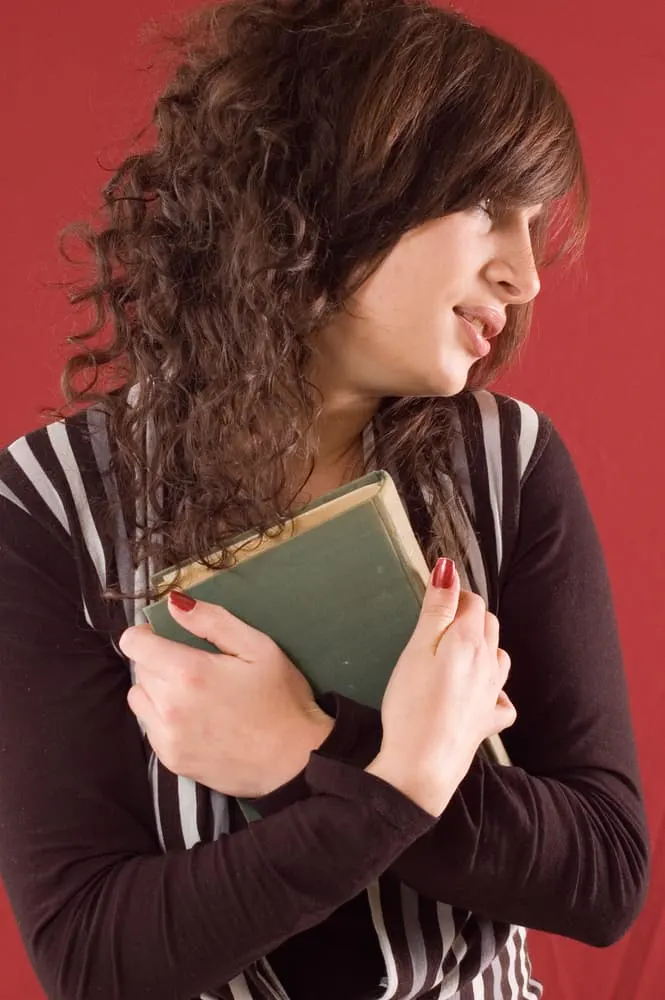 But a Woman Who Fears the Lord is to be Praised
Make-up and clothing are nice (and, as mentioned above, can show your husband that you care), but it is our character, what is inside, that truly makes us beautiful.
The second part of the verse is "but a woman who fears the Lord is to be praised."
While we want to take care of our bodies and look good for our husbands, we need to put more focus on fearing the Lord. Loving our Heavenly Father. Striving to be more like Jesus.
I don't know about you, but I've spent many an hour putting on make-up and "doing" my hair throughout my years. I try to at least look like I have it all together. Well, kind of (hehe).
But the most important part of my beauty routine is spending time with God.
That's right. Reading my Bible, praying, singing worship music, and studying His Word. They are the most crucial component of taking care of myself and my "beauty". Beauty comes from within, truly.
Perhaps, if we spent more time:
Reading God's Word than fussing over what to wear
Praying and talking with our Heavenly Father than trying to achieve the "smoky eye" look
Seeking to please Him, rather than impressing neighbors and friends with our newest wardrobe addition
Then, perhaps, our inner beauty would shine through to the outside.
Scripture also says:
Let's not put more attention on our outer self than on our inner self. Let's not put more attention on what we look like than on how we serve others.
We've heard it a thousand times, "Don't worry about man's opinion. Focus on God," "Present your real self. Be vulnerable!" The math is simple. If we focus on God, then we'll be more concerned about working on heart issues versus appearance issues.
We're willing to become more transparent and real. When Jeremiah 29:11 becomes real, "For I know the plans I have for you," says the Lord. "They are plans for good and not for evil, to give you a future and hope," we get can be excited about Kingdom outcomes, not this world's outcomes.
This is a great challenge for each one of us, including me. We can become less focused on the outside if we remain connected to God. The key is deciding that He is going to be our sole source of acceptance. Proverbs 31:30 reminds us, "Charm is deceptive, and beauty is fleeting; but a woman who fears the LORD is to be praised."
If you have fallen into the trap of seeking to get your needs met by focusing on your outside appearance, I encourage you today to decide to receive God's acceptance into your soul. It's all you really need.
When our heavenly Father approves of us, then when we see beautiful people parading around us, it won't make us feel unworthy because our spirit is being nurtured and fed by the Father's Spirit. Scripture tells us that we are "complete" in Him (Colossians 2:9-10). Dictionary.com says "complete" means to lack nothing; be full; finish; to make perfect. You are complete in Him! Believe it.
It's a balance, my friends. Let's not "let ourselves go" but make an effort to look good for your husband, while being in fellowship with the Lord and fearing Him.
Ultimately, we do not want to make an idol of our appearance, but rather while trying to take care of our outer bodies to please our husbands, focus on our hearts, and seek Him in all we do.
Which camp do you fall into? Have you stopped trying to look good for your husband or do you try to please him by dressing and looking your best? How do you focus on your inner beauty and your walk with the Lord?
Tell me in the comments below.
You may enjoy this look at Proverbs 31:30 by Dephne Madyara
For more reading on looking your best for your husband, check out these articles from Crosswalk.com
For the previous verse in this series, see this post.
If you want to dig deeper, check out my book, The Complete Proverbs 31 Wife: A Verse by Verse Exploration of What it Means to Be a Proverbs 31 Woman in Today's World.
In Him,
Sue
ESV – "Scripture quotations are from The ESV® Bible (The Holy Bible, English Standard Version®), copyright © 2001 by Crossway, a publishing ministry of Good News Publishers. Used by permission. All rights reserved."