13 Of The Absolute Best Pens And Markers For Bible Journaling
This page/post may contain affiliate links.  As an Amazon Associate, as well as an affiliate of other programs, this means if you purchase something using these links, I will receive a commission on qualifying purchases at no cost to you! For more detailed information, please visit our Affiliate Disclaimer page
Best Pens and Markers for Bible Journaling
Have you been Bible journaling awhile and have experienced bleed through on your pages? Or maybe you are brand new to Bible journaling and want to avoid tearing and ink bleeding through. Figuring out which are the best pens and markers for Bible journaling can be a challenge.
There are so many types of pens and markers out there, so how do you know which ones bleed or don't bleed? Or which ones tear your thin Bible pages? Or which ones smudge too very easily? Or which ones to use to create that beautiful hand lettering you see all over Pinterest and on Bible journaling Facebook pages?
After lots of trial and error as well as tons of research, I've compiled a list of the absolute best pens and markers for Bible journaling.
(If you are looking for the best adhesives for Bible journaling and when to use them, see this post)

Best Pens for Bible Journaling
Sakura Pigma
Sakura Micron Pens are well known in the artist community for their quality, durability and variety. They are waterproof and do not bleed. The ink is archival ink so you know your lettering will stay safe in your Bible for years to come.
They come in a wide range of colors, too. The set below includes a variety of sizes.
They are great for sermon note taking, hand lettering, or fine details.
OHTO Fude Ball Pen
I can't begin to tell you how much I love Fude Ball pens! I've been using them for years. They have a roller ball point and a gel type ink which just glides on your paper.
They are water resistant and give a smooth, black line when using.
Journaling Pens by Stampin' Up
I have always loved Stampin' Up! products and was so excited to see these pens in their line up. The set comes with 2 pens: 1 each of 2 different widths (.01 and .05), both with black in. They write incredibly smooth and are great for small details, taking notes and writing text.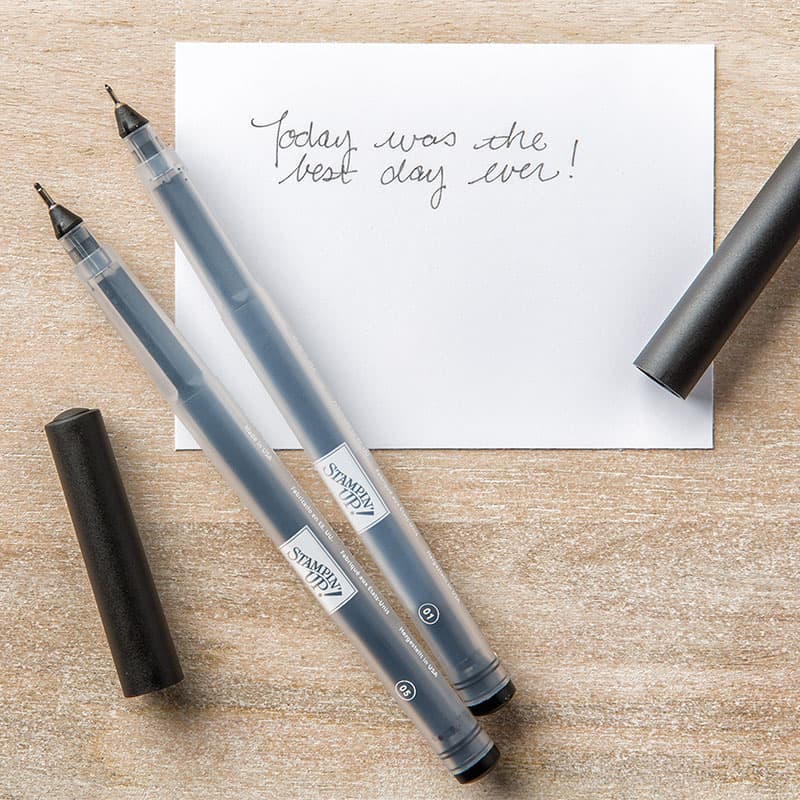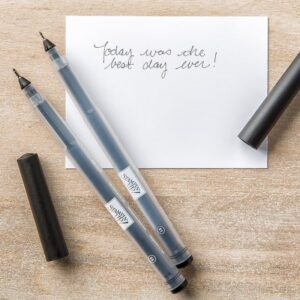 Kaisercraft Kaisercolour Gel Pens
These are fabulous gel pens! Kaisercraft Kaisercolor pens come in gorgeous sets, too. This entire set of 48 (12 glitter, 12 metallic, 12 neon and 12 pastel) is priced under $30. (that's just .62 per pen!) You won't need any other gel pens! They write so creamy and the colors are beautifully rich. These are my absolute favorite gel pens! No bleed through and no smudging and they won't tear your delicate Bible pages, either.
Paper Mate Ink Joy Pens
PaperMate Ink Joy would be my second choice for gel pens. Priced higher than the KaiserKraft at 1.20 per pen and the color selection is smaller. They write nice, but don't have the depth of color that the KaiserKraft has. One benefit: they are available locally (such as Walmart) unlike some of the other choices listed here.
White Pens for Bible Journaling:
Uni-ball Signo
When it comes to finding a great white pen, it's a struggle. Many don't write smoothly or have a vibrant white. I've been using the Uniball Signo White Gel pen for years and it is the best white pen that I have found. Perfect for writing on dark surfaces or backgrounds, the lines flow and the color is stark white. My top choice for white pens. (And with three to a pack for around $6, they are competitively priced for white pens).
Sakura Decorese Gel Pen
I'm usually a big fan of Sakura pens, and this one doesn't disappoint, but with a price of over $4 per pen (twice the cost of my top choice, Uniball), I have to rate it lower. It has a ball point and does write smooth, with no tears or bleed through.
Best Markers for Bible Journaling
Tombow Fudenosuke Brush Pens
These really could be listed under both categories of the best pens and markers for Bible journaling. There are two types of Tombow Fudenosuke Brush Pens: a hard tip and a soft tip. It's easier to tell them apart than you'd think – the hard tip is dark blue, and the soft tip is black. They both write in black ink though! The difference is that the hard tip is slightly easier to control and creates thinner lines, while the soft tip creates thicker lines.


You have endless lettering and writing styles with these pens. Use them to write in normal print, or apply pressure to create thicker lines.
They are water-based and will react when touched by a wet medium. A great choice for many styles of Bible journaling.
Sharpie Paint Pens
Sharpie Paint Pens are designed to use on hard surfaces, such as wood or metal but are really fantastic in Bible journaling. There is one drawback, though: they do bleed through an unprepped page . So you need to prep your page with clear gesso (see this page on Bible journaling tips and tricks for more on this), or use them on top of acrylic paints to stop them from bleeding.
I love these pens because they are vibrant, shiny, and really versatile. They are available in different sizes and colors. They are also more competitively priced than other quality paint markers.
I use paint markers quite often in my Bible and art journaling and give these high marks.
Montana Paint Pens
The cadillac of paint pens – Montana Paint Pens are definitely more expensive but also definitely worth it. Initially designed for grafitti artists, they are widely used now by artists of all genres and mediums. I adore these paint pens. The colors are rich and vibrant. The tips smooth. They produce beautifully quality results. Available in several different nib sizes and many different colors (the metallics are amazing!), these are my top choice for paint markers.
Stampin' Write Marker by Stampin' Up!
If the Montana Paint Pens are the Cadillac of paint pens, these are the Cadillac of markers, in my opinion. They are a fast drying, dye-based ink and are acid free. The dual tip 0.5 mm fine point and flexible brush give you endless options for creativity. You can write notes, create gorgeous hand lettering – all with vibrant, beautiful color depth.
They are available in dozens of color choices, as well.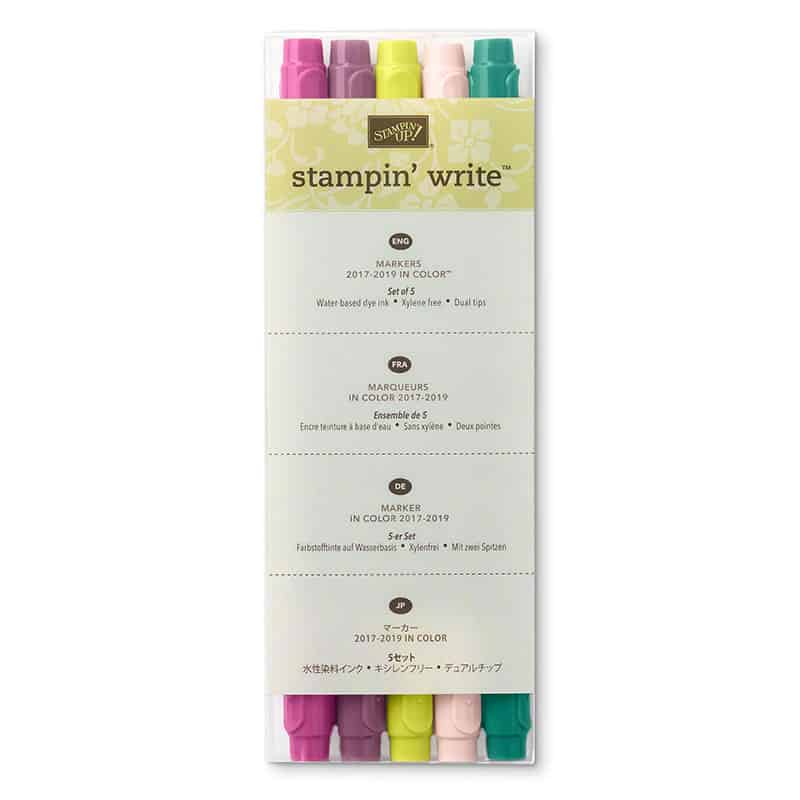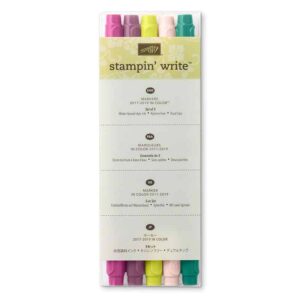 Tombow Dual Brush
The Tombow Dual Brush pens are my second choice for brush pens in the list of the best pens and markers for Bible journaling. They have both a brush tip and a fine line tip and are water-based, as well as blendable. They give great results for hand lettering and are available in probably hundreds of colors. With a light hand, they won't bleed but if you are using them for coloring, I recommend prepping the page with gesso first.
Sakura Calligraphy Pens
I have only used the Sakura Calligraphy Pens in black and like the results, but they are available in many more colors. They feature archival quality waterproof and fade-resistant Pigma ink and the set shown includes 1 each of 1mm, 2mm, 3mm pen in black ink. These pens do require more finesse to use, though. They have a flat, nylon nib that requires more pressure than typical fiber nib pens.
The manufacturer recommends spending a few minutes making marks on smooth paper to break it in as well as holding the pen nearly perpendicular to the paper and using a small stack of paper under your page for a writing cushion.
They are a great choice for the best pens and markers in Bible journaling, but with the extra care required to use them, there are better choices, such as the ones listed above.
What would you add to the list of the best pens and markers for Bible journaling? Tell me in the comments below.
Did you miss my top tips and tricks for Bible journaling? Check it out HERE.
Because of Him,
Sue