This page/post may contain affiliate links. As an Amazon Associate, as well as an affiliate of other programs, this means if you purchase something using these links, I will receive a commission on qualifying purchases at no cost to you! For more detailed information, please visit our Affiliate Disclaimer page
Bible Journal with Vellum
Bible journaling with vellum is an easy and fun way to add some pizzazz to your Bible journaling pages!
In this post, I'll show you three ways to Bible journal with vellum – all super easy!
Quick note on the below pages: As I'm going through medical treatment, my hands are quite shaky so this isn't my best work, but that's ok, as I've written about before, Bible journaling isn't about something worthy of hanging in a museum, it is a form of worship, so I'm OK with shaky pages and not perfect art. I pray that you will be, too.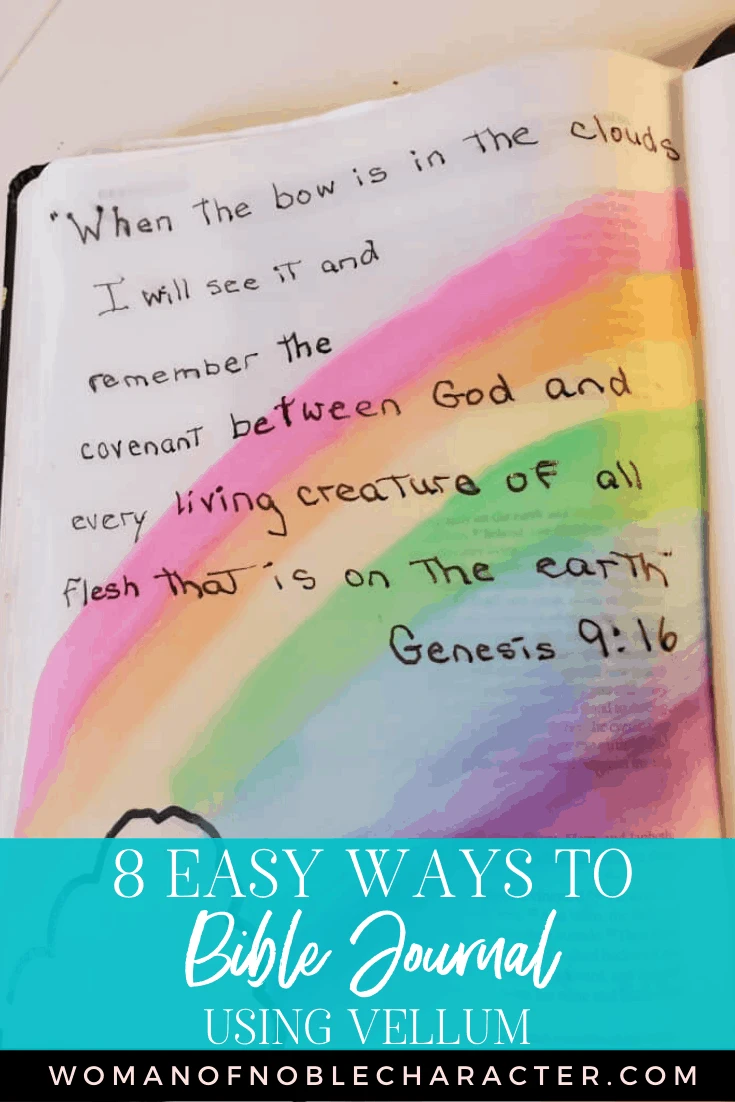 First, what is vellum?
Vellum paper or cardstock (based on weight) that can be used for a variety of papercrafting techniques. For Bible journaling, you can use either the vellum paper or cardstock, but I find that the paper is much easier to work with as it is thinner, much like pages in most journaling Bibles.
You can buy it in 8 1/2′ x 11″ or 12″ x 12″ sheets. I use both as I have several different sized Bible Journals but for these samples below, I used 8 1/2″ x 11 vellum paper.
The fun thing about Bible journaling with vellum is that you aren't limited to what you can use on it. In the Bible journaling ideas below, I've used foam stickers, alcohol-based markers and gelatos (plus a few random bits and bobs laying around my craft room).
My Favorite Journaling Bibles
These are my two favorite journaling Bibles that I use most often. The Illustrating Bible is great to lay flat and gives you more space to journal in, but not as easy to add tip-ins and the like in (it's also higher priced, but is a fabulous Bible journal). The ESV Journaling Bible doesn't lay flat but is a great size and allows for lots of creative inspiration and add-ins.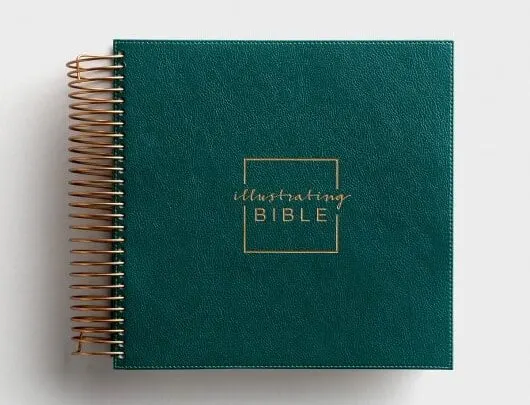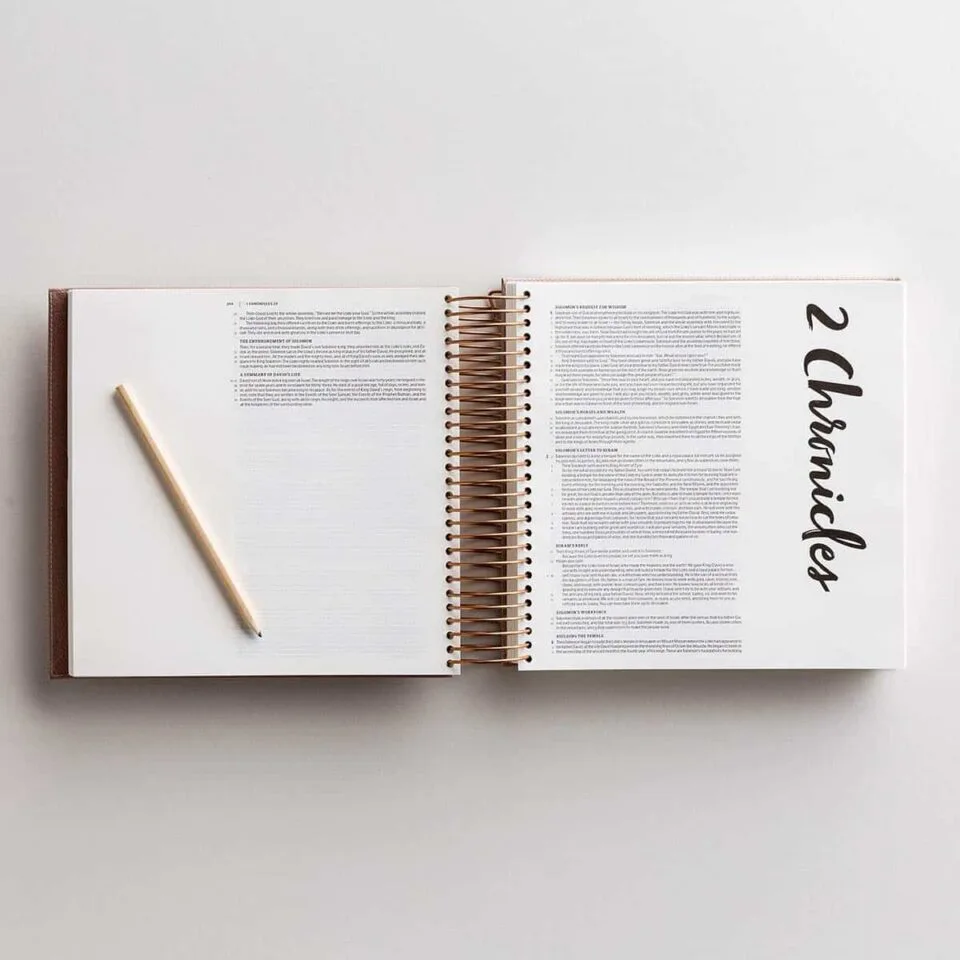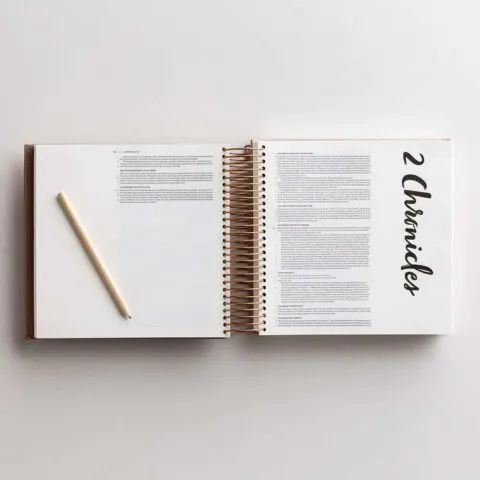 Vellum with Verse Overlay
This one was so much fun to do!
Only a few supplies needed here:
I always start by laying a piece of paper (notebook, grid or scrap) under the page I'm working on – just to make sure that I don't get anything under the page and ruin the page or pages beneath it.
Since I wasn't using wet medium (paints, etc.), I didn't have to prep the page (you can learn about prepping Bible journaling pages in this post)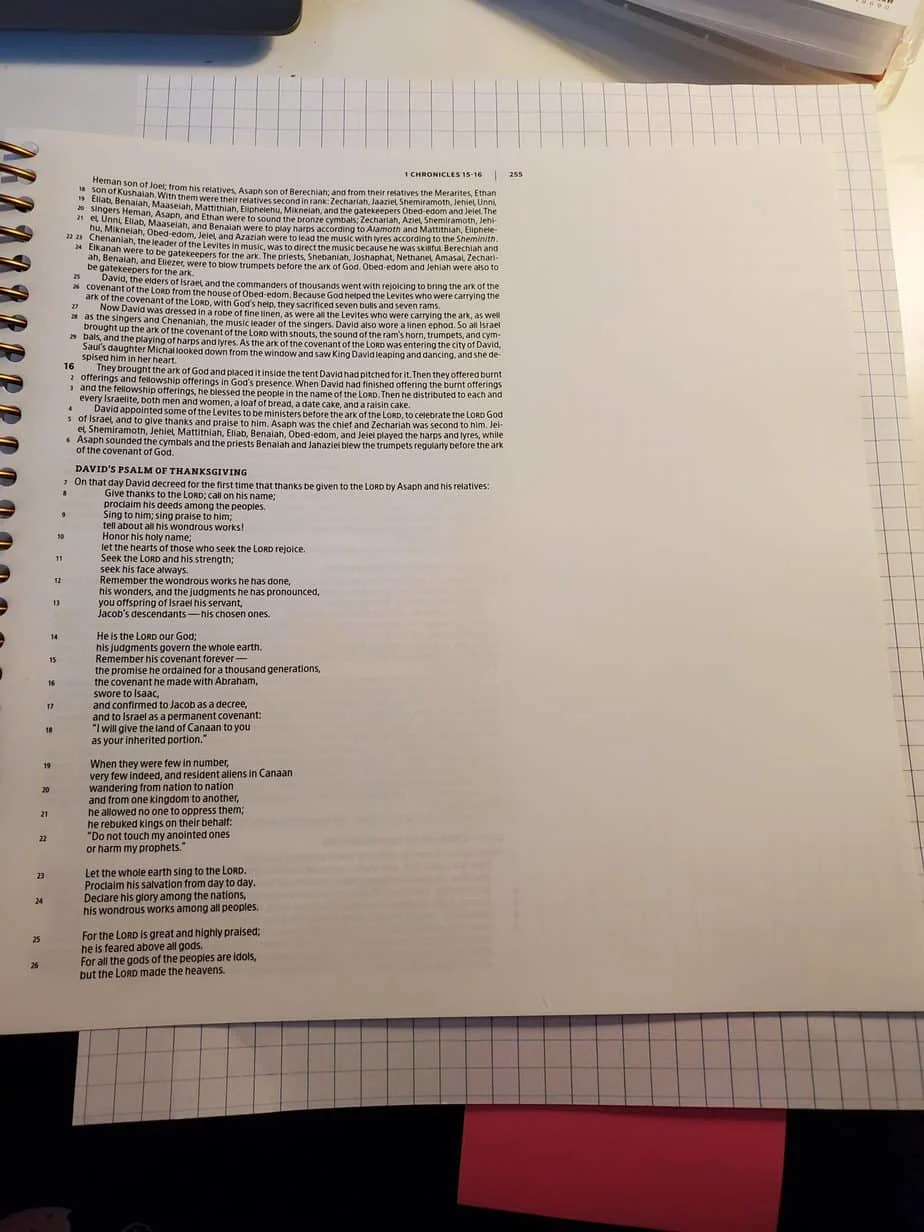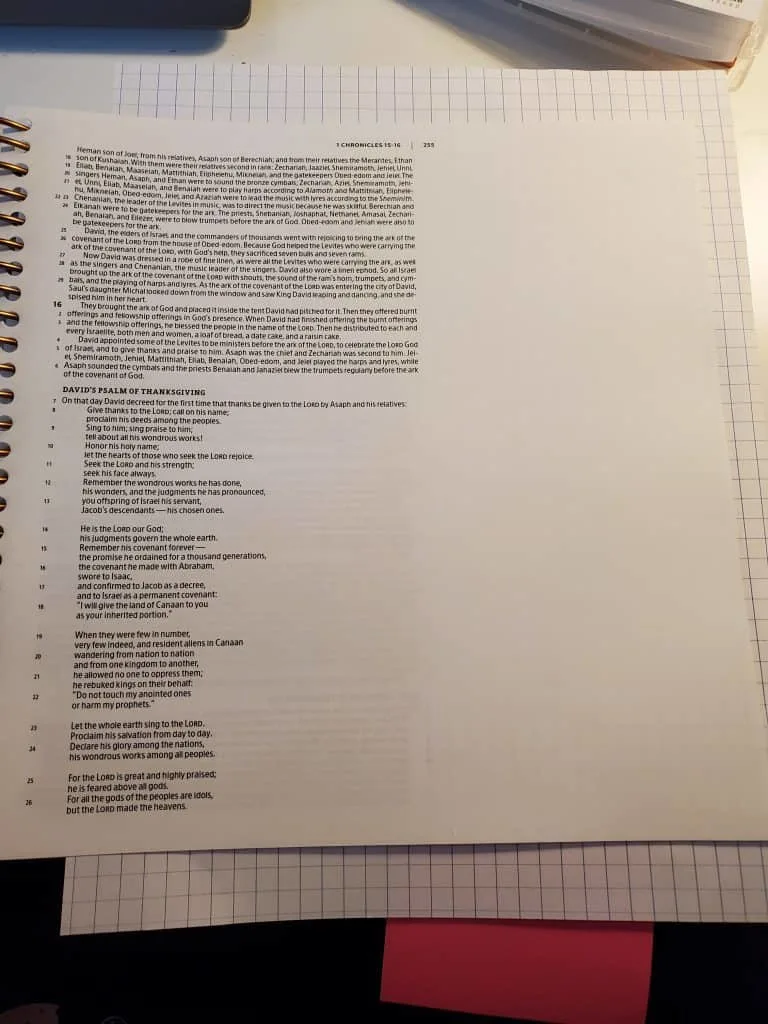 Next, I chose three coordinating colors of stamps and three stamps similar but in varying sizes. I simply stamped each of the three stamps in each of the three colors directly in my journaling Bible.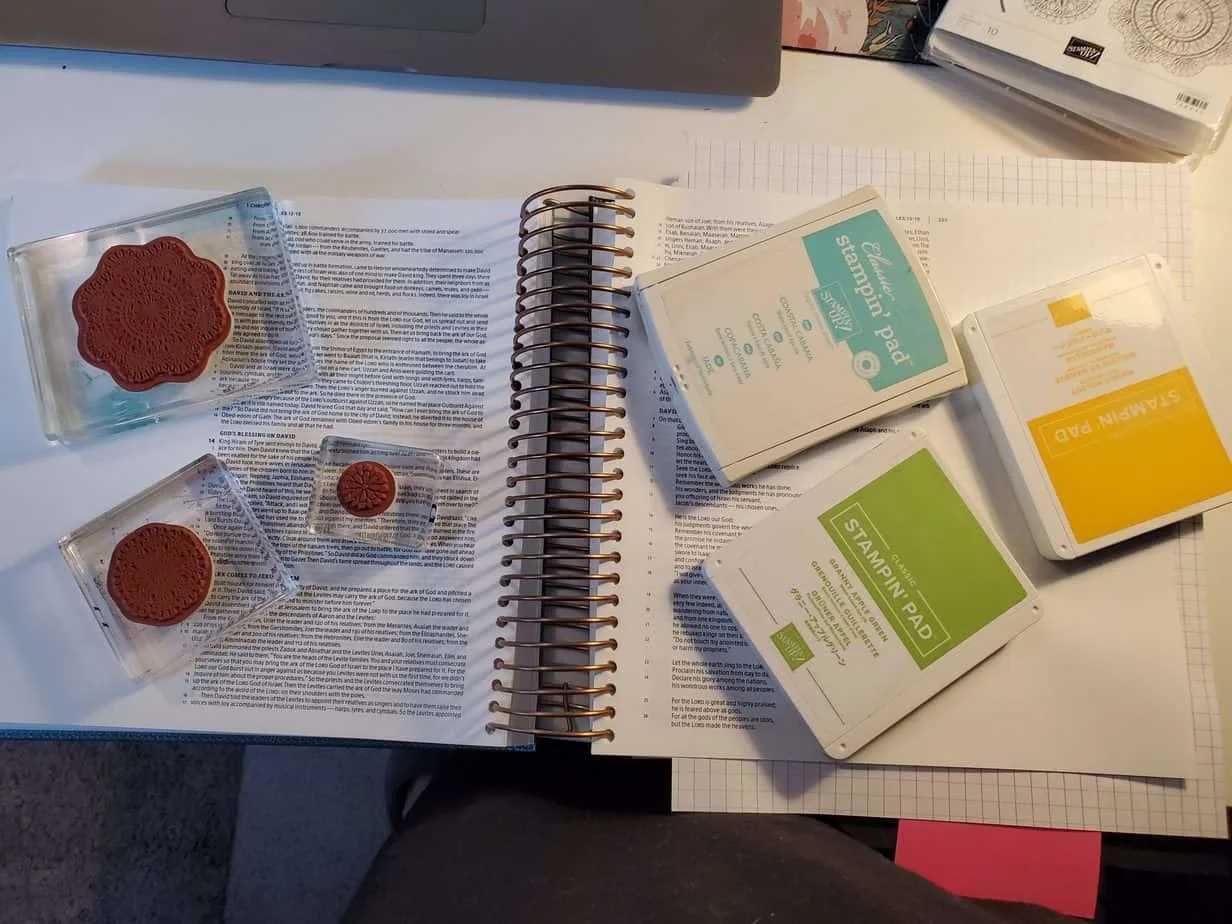 Next, I measured the Bible journaling page (In this example, I'm using the Illustrating Bible so the page size is approximately 9″ x 9 1/2″ (9 because of the coil) and cut a piece of vellum to that size.
I then laid the vellum over the page and secured with a strip of washi tape.
Finally, I added the foam alphabet (1 Chronicles 16:11 Seek the Lord and His Strength) and boom! Done!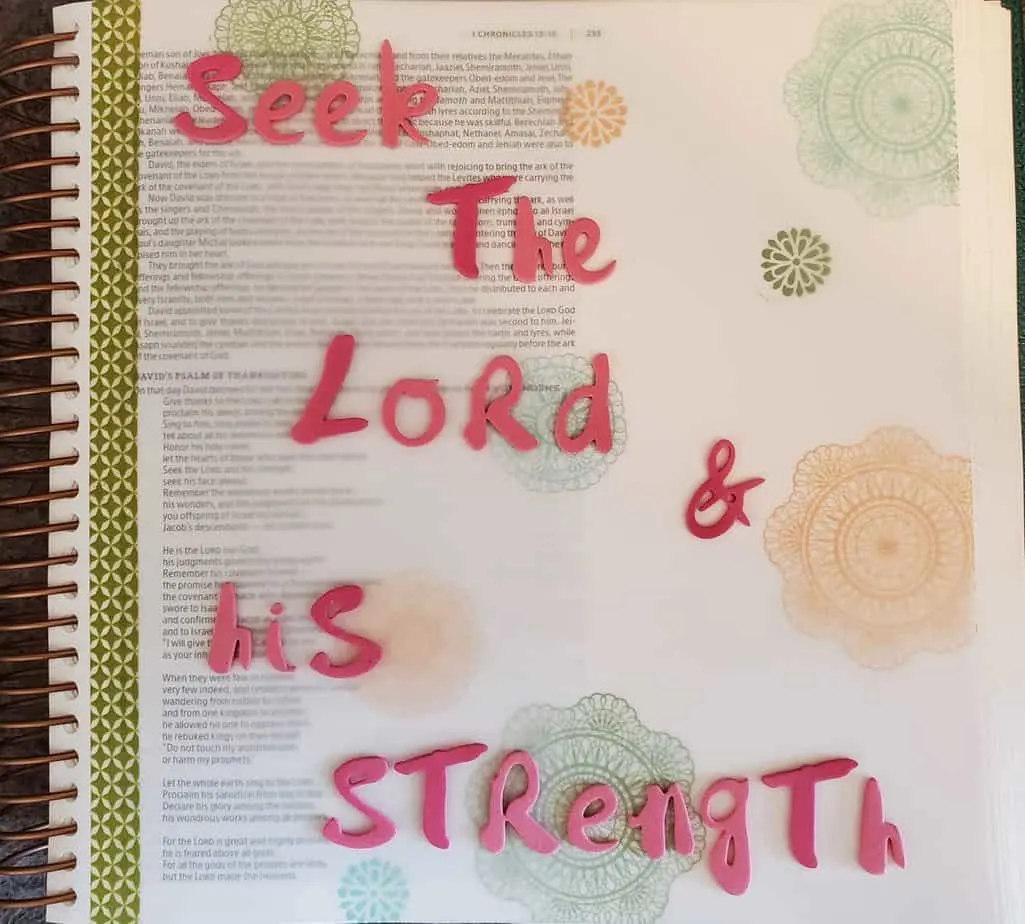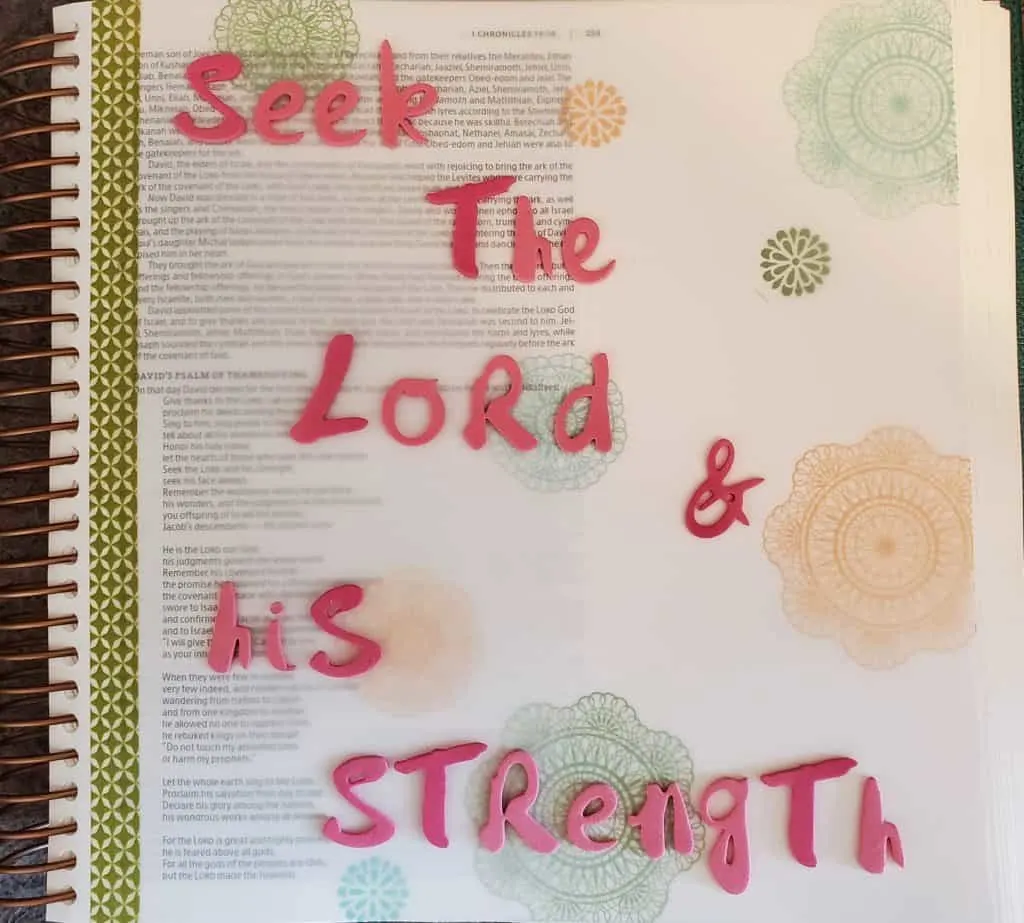 Vellum with Printed Verse and Alcohol-Based Markers
This next one has a few more steps but lots of opportunities.
Supplies used: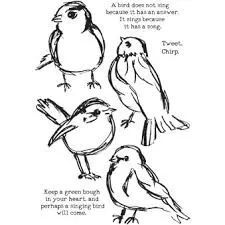 This one was also created in the Illustrating Bible. For this one, I chose Matthew 6:26-27 "Look at the birds of the air; they do not sow or reap or store away in barns, and yet your heavenly Father feeds them. Are you not much more valuable than they? Can any of you by worrying add a single hour to your life"?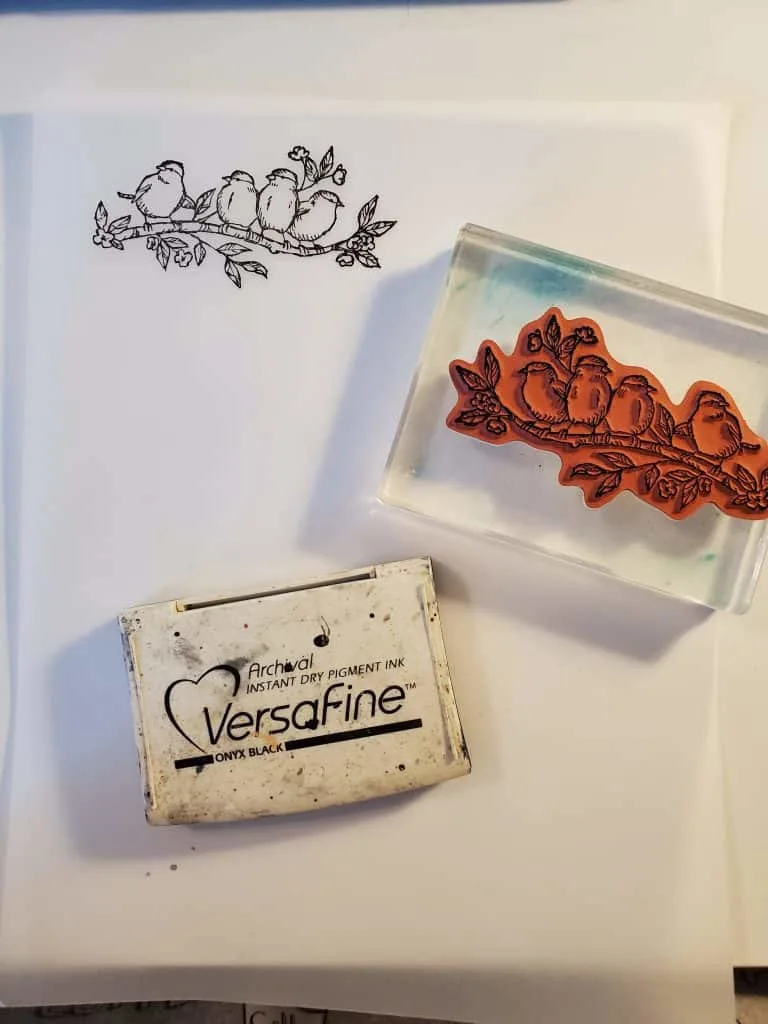 I first started by turning over my vellum (you want to color on the back side) and stamped my birds with archival ink. Next, I colored the birds with my markers. I'm impatient, so I used a heat gun to ensure that my ink was dry before moving on to the next step.
Next, I carefully cut out my finished bird images and set aside.
Then I opened up a Word doc and typed my verse on it, trying out different fonts until I found one I liked. Then I slid the vellum in the printer and printed. I also used the heat gun on the printed vellum to avoid smudging, but you can just set aside until you are sure it is dry. Now cut out your verse and adhere all to your Bible journaling page.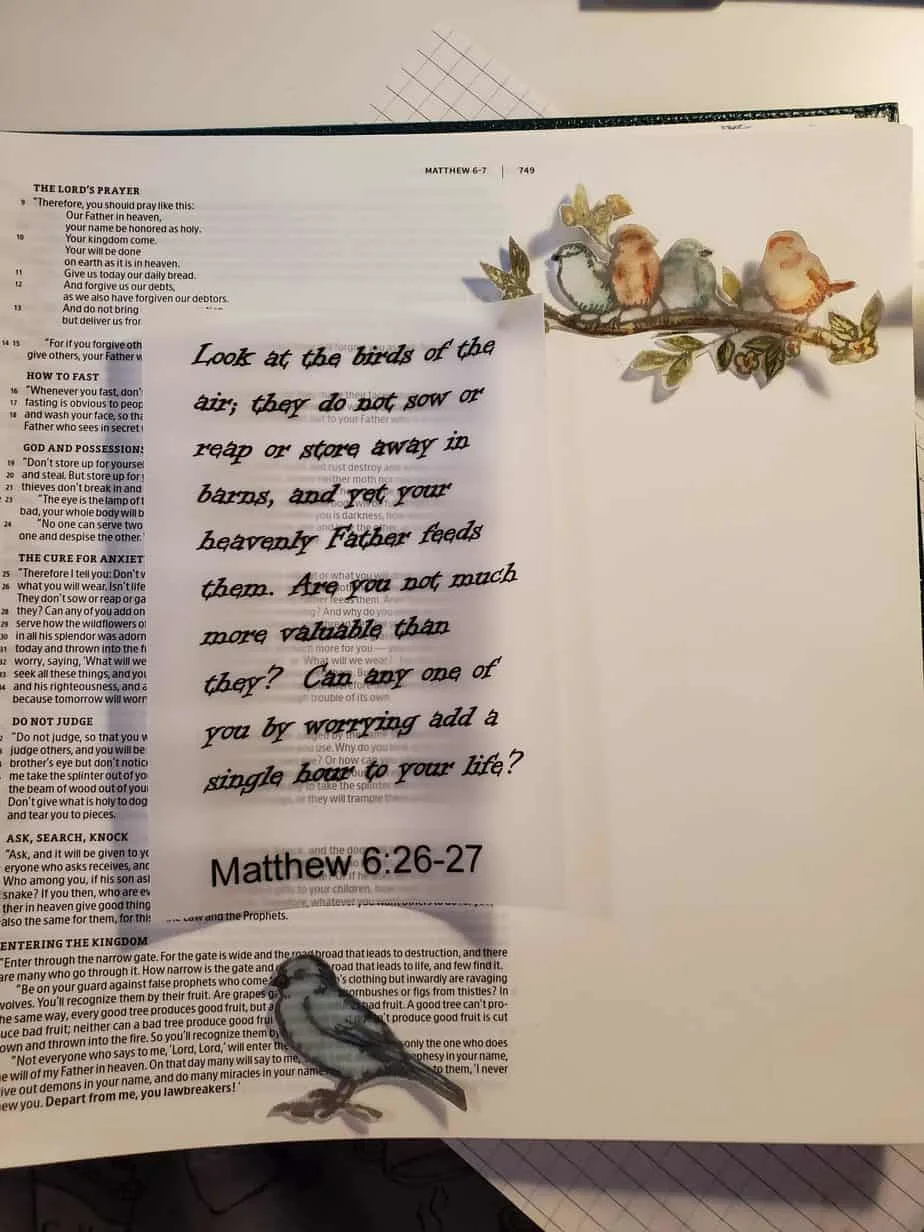 Finally, I added some oooold crocheted flowers and epoxy dots to finish the page.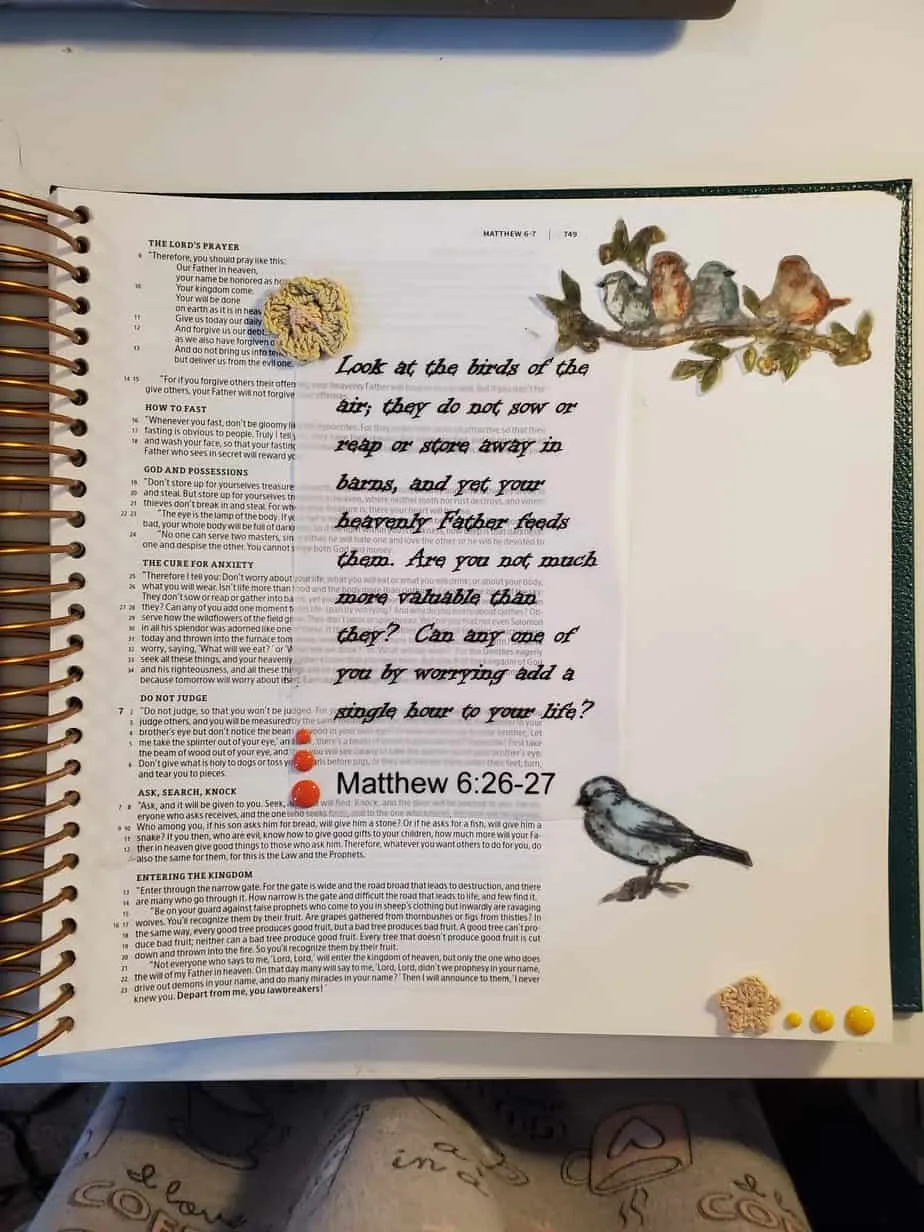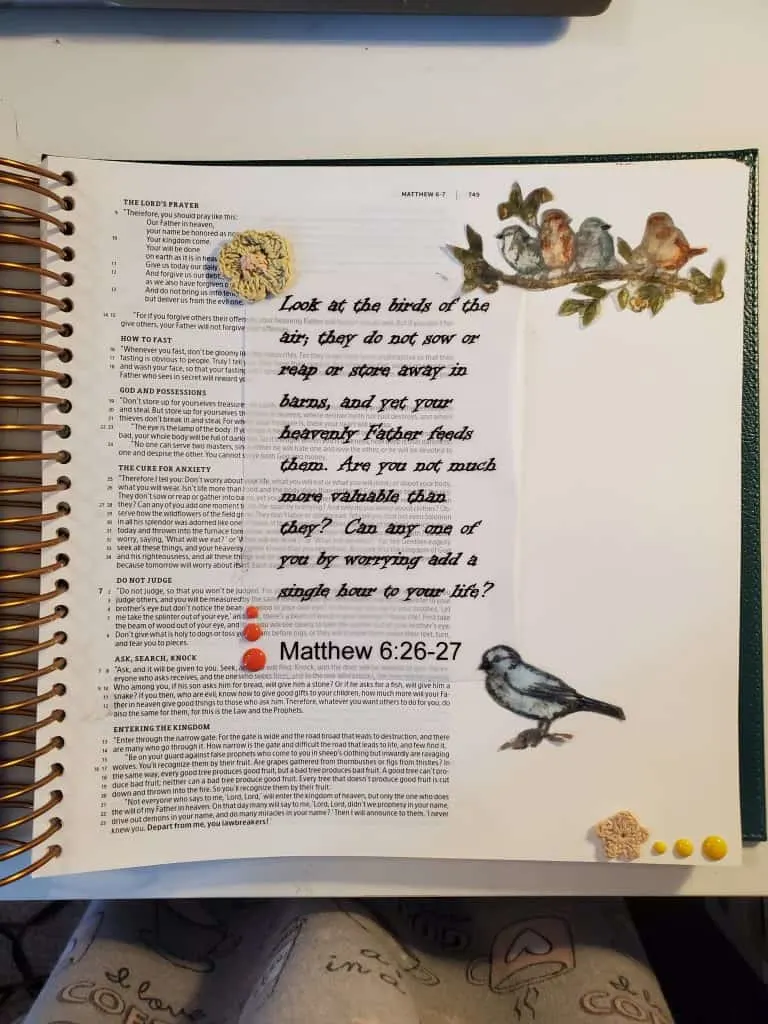 Bible Journaling with Vellum and Gelatos
Such an easy Bible journaling page to do and so fun, as well. I wanted to create a rainbow, so I chose Genesis 9:16 for this Bible journaling page.
Supplies:
The first step was to measure and cut the vellum for this Bible journaling page. For this page, I used the ESV journaling Bible, so the page measured approximately 6 1/4″ x 8″.
Next, I turned the vellum over (again, we want the color medium on the back) and colored a cloud and a simple rainbow – you don't have to be too neat about this or even use too much gelatos. The next step will fill it in and give us the vibrant color.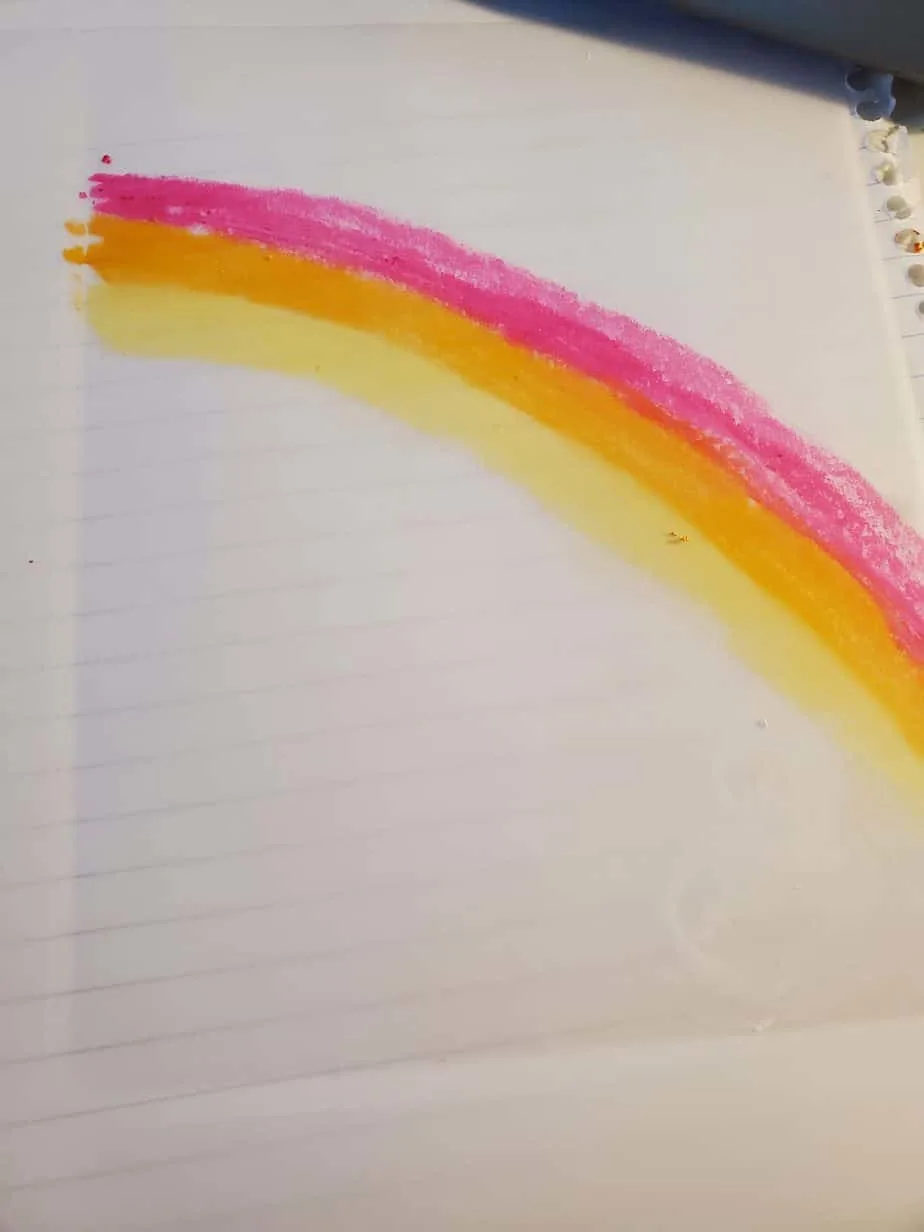 Next, take a baby wipe and wrap it around your finger then color over each ray of the rainbow with a fresh area of baby wipes and watch the colors explode!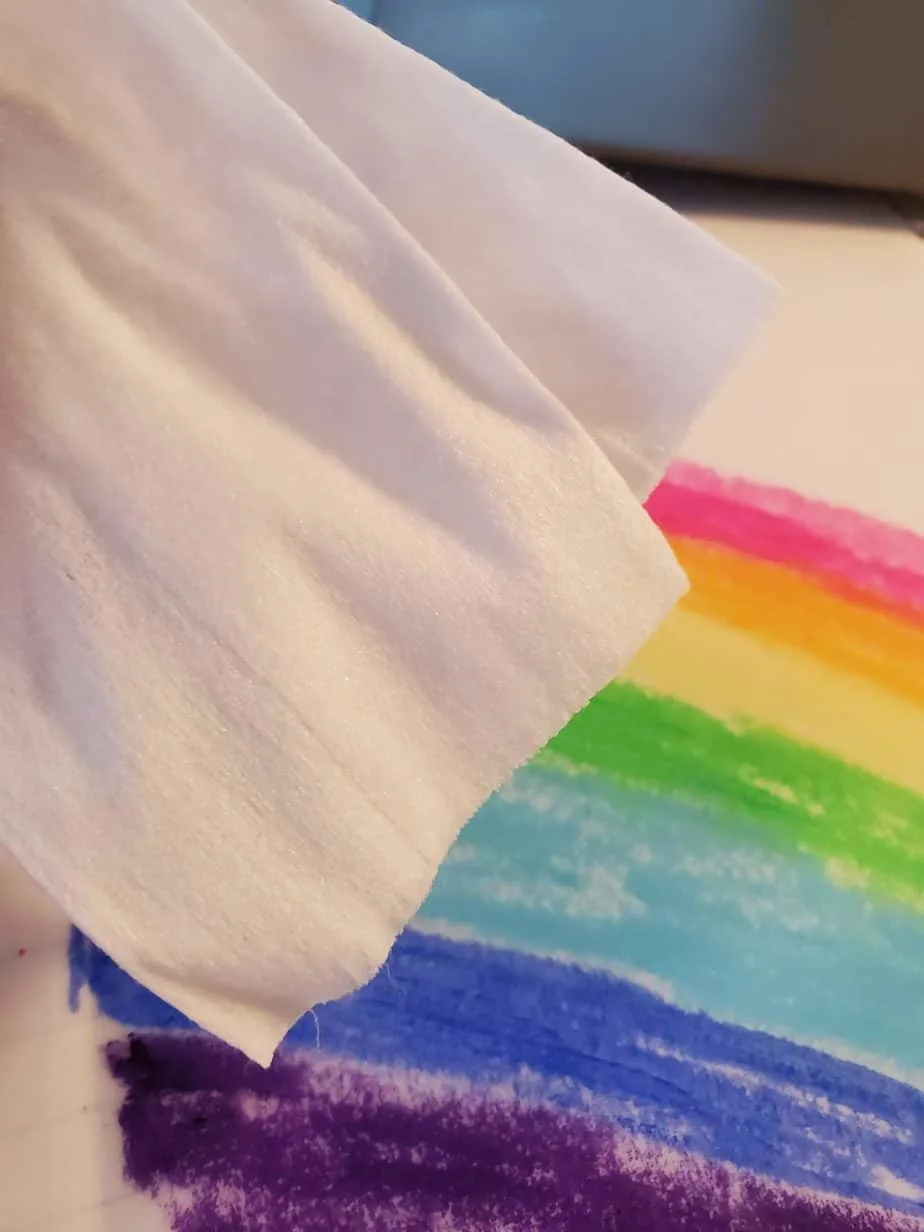 I used the heat gun again here and then adhered the finished vellum to my journaling Bible with the Dyary glue stick.
Finally, I wrote the verse over it all and outlined the cloud with black so it really stood out.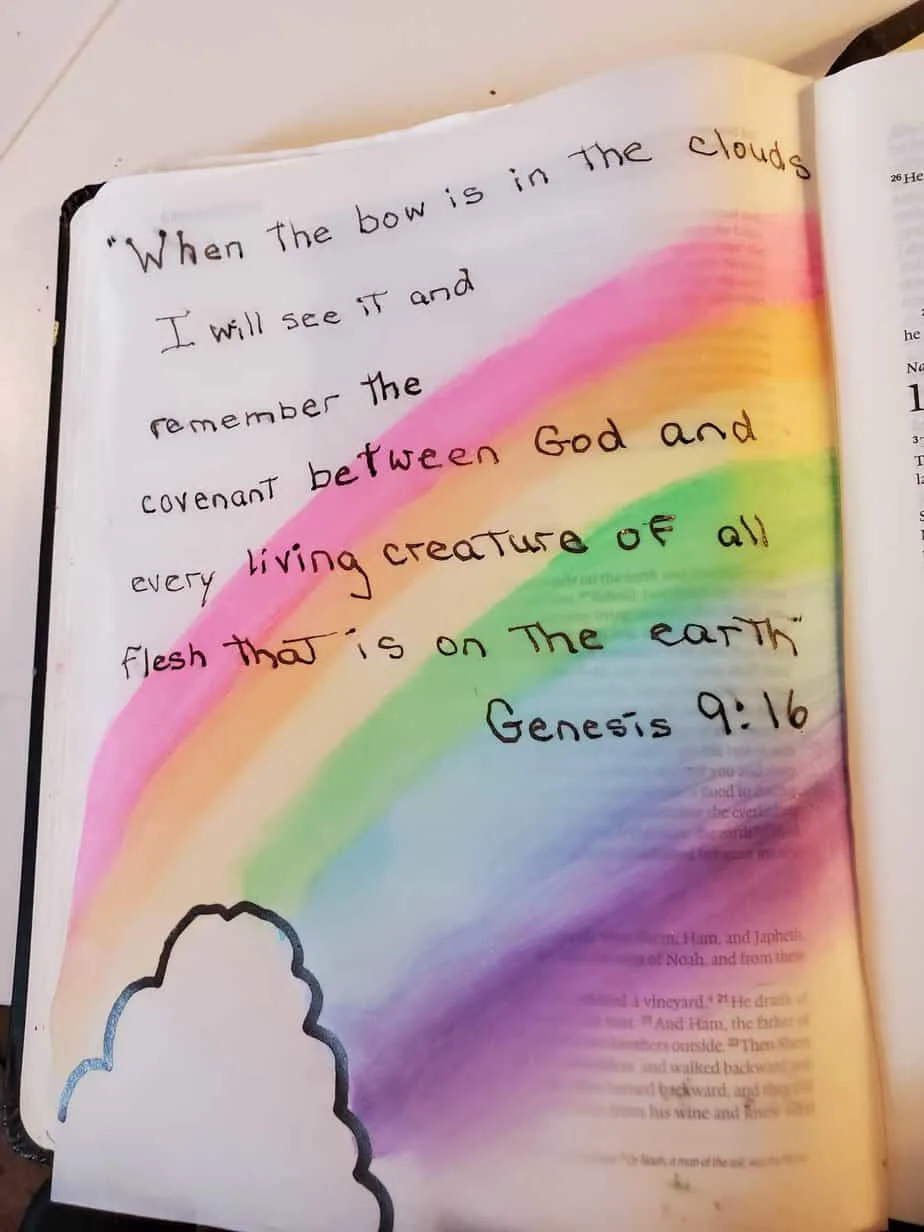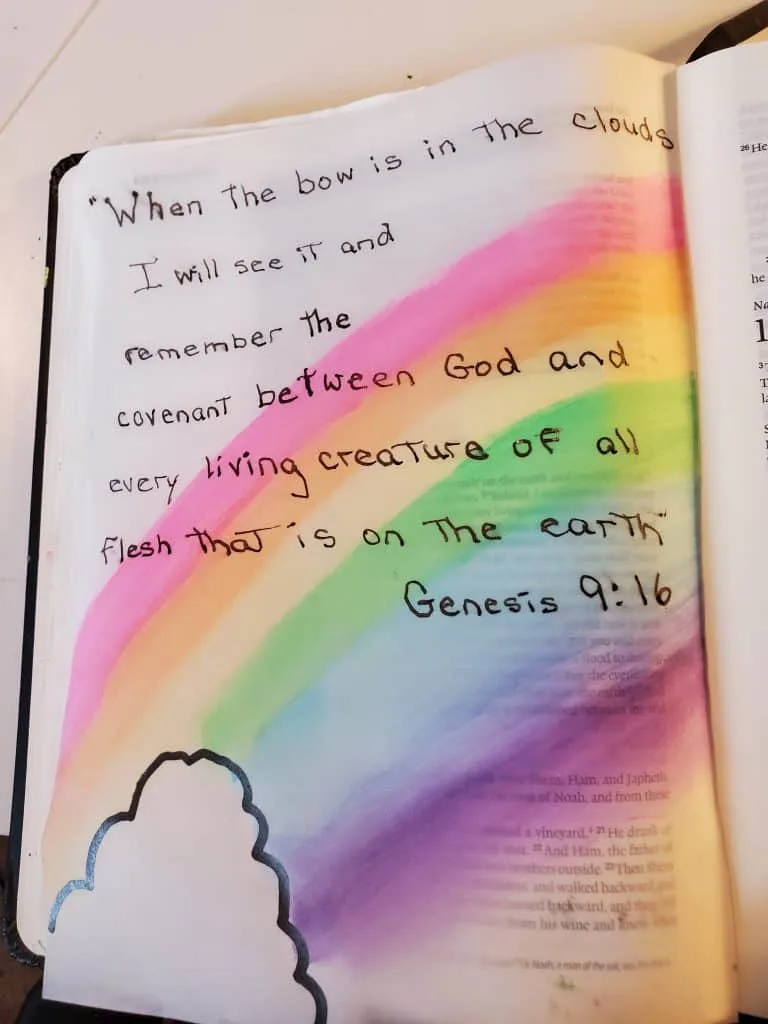 Here are some other great ideas and techniques using vellum in Bible journaling:
Floral Bible Journaling with Vellum
Which is your favorite use of vellum in Bible journaling from this post? I'd love to see your pages! Email me at [email protected] and share!!
Because He Lives,
Sue