How To Draw Six Easy Fruits For Bible Journaling
This page/post may contain affiliate links.  As an Amazon Associate, as well as an affiliate of other programs, this means if you purchase something using these links, I will receive a commission on qualifying purchases at no cost to you! For more detailed information, please visit our Affiliate Disclaimer page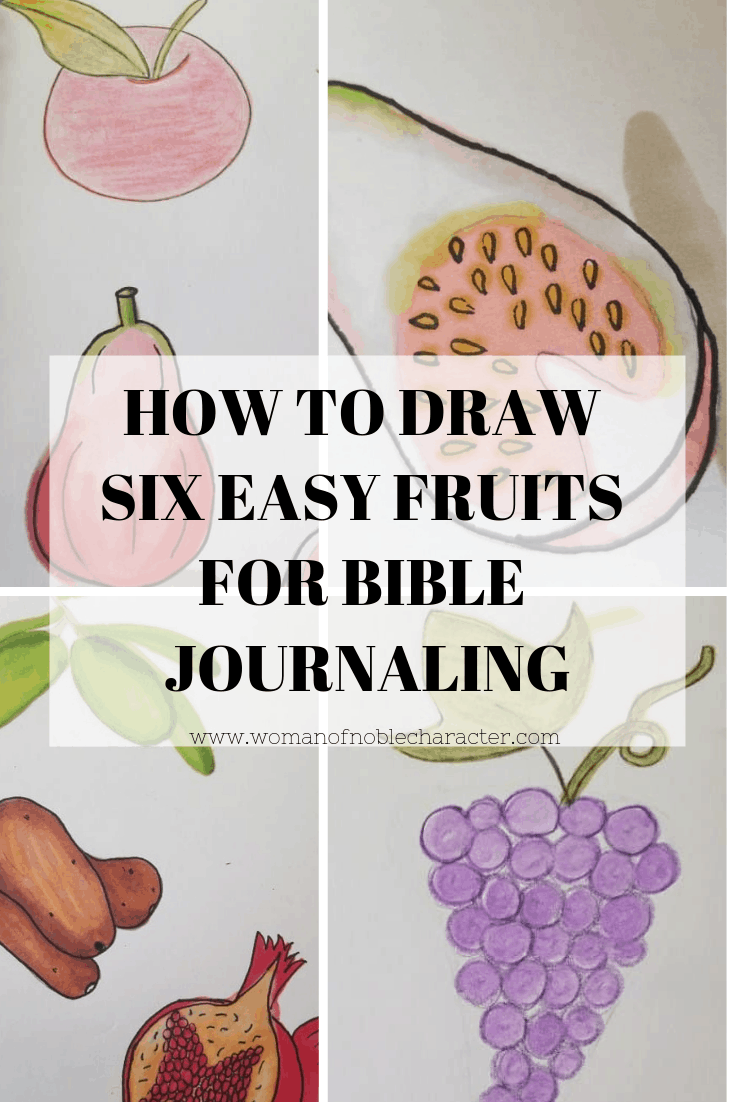 Bible journaling fruit is not only fun (and easy!), there are so many beautiful Bible verses where you can add fruit to highlight and tell a story.
In a recent post, I share the symbolism of fruit in the Bible (as well as the eight ways it is used in Scripture). Today, we are taking our conversation a bit further and sharing how to draw fruit in your Bible journaling.
There are six main fruits mentioned in the Bible: apples, grapes, figs, dates, olives and pomegranates. Today, I'll show you how to draw all of them to use in your Bible journaling or art journaling.
What I'm sharing is simply my style -not incredibly realistic – more illustrative or "cartoony" (is that a word?) but perfect for my style of Bible journaling.
Are you reading to draw fruit in your Bible journaling?
Let's get started!
How to Draw Apples for Bible Journaling
Note – many of my photos, I am showing on their side, as that is the way I hold my paper when I draw and I think it allows you to see the orientation a bit better.
Apples figure prominently in the Bible (starting with the Garden of Eden!) but there are many other verses where adding an apple to your Bible journaling makes sense (see below for verses on apples).
Start by drawing a loose circle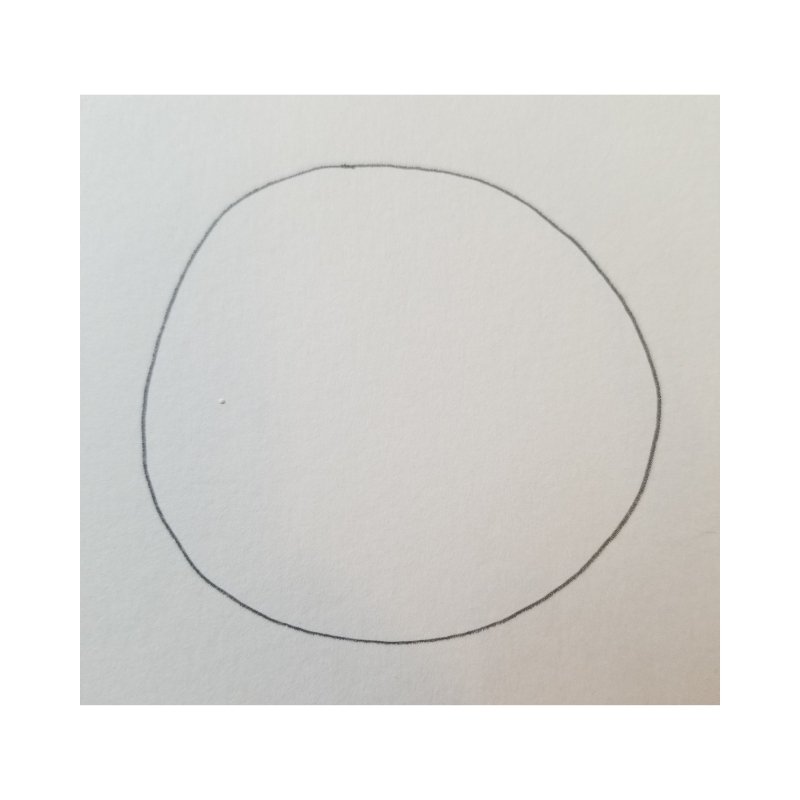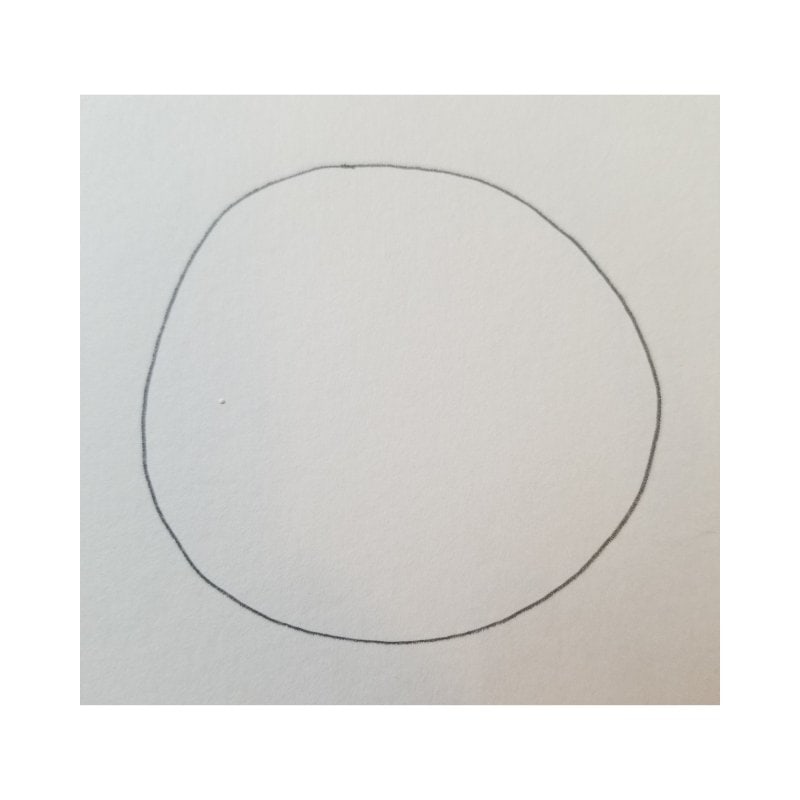 Then add a stem and indent where the stem comes out of.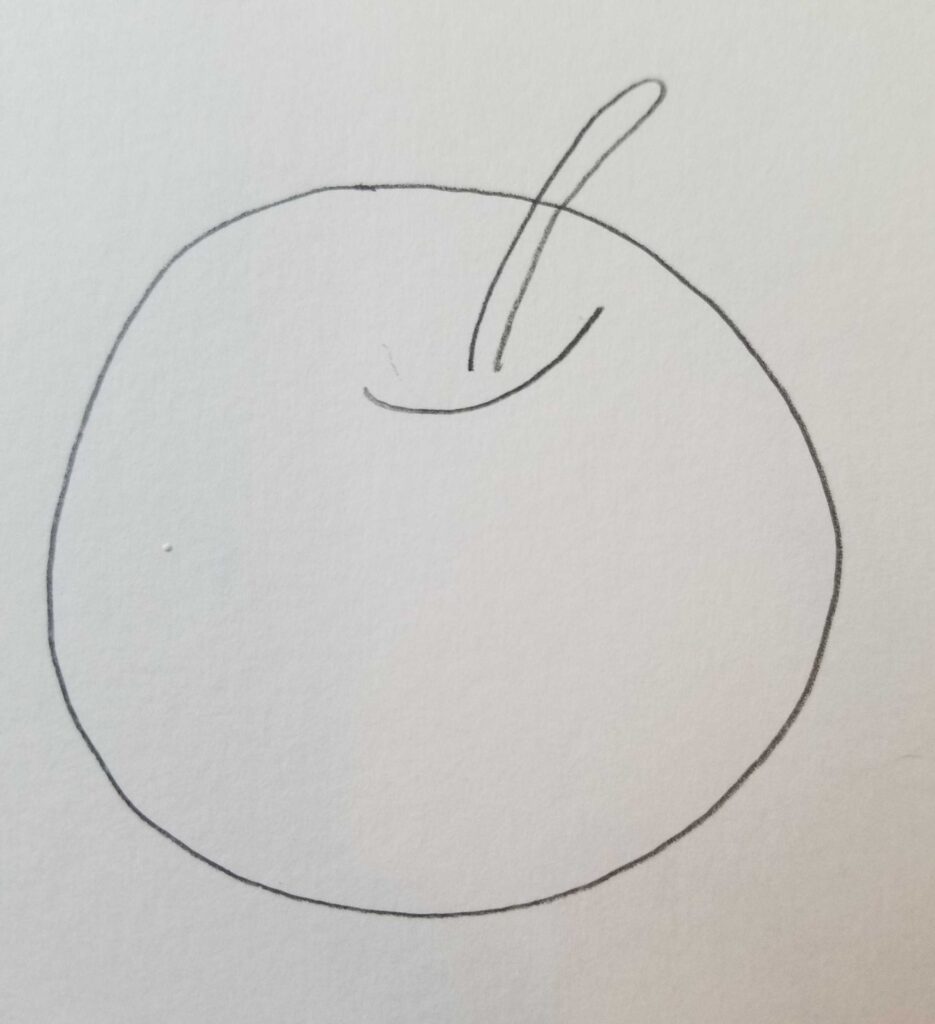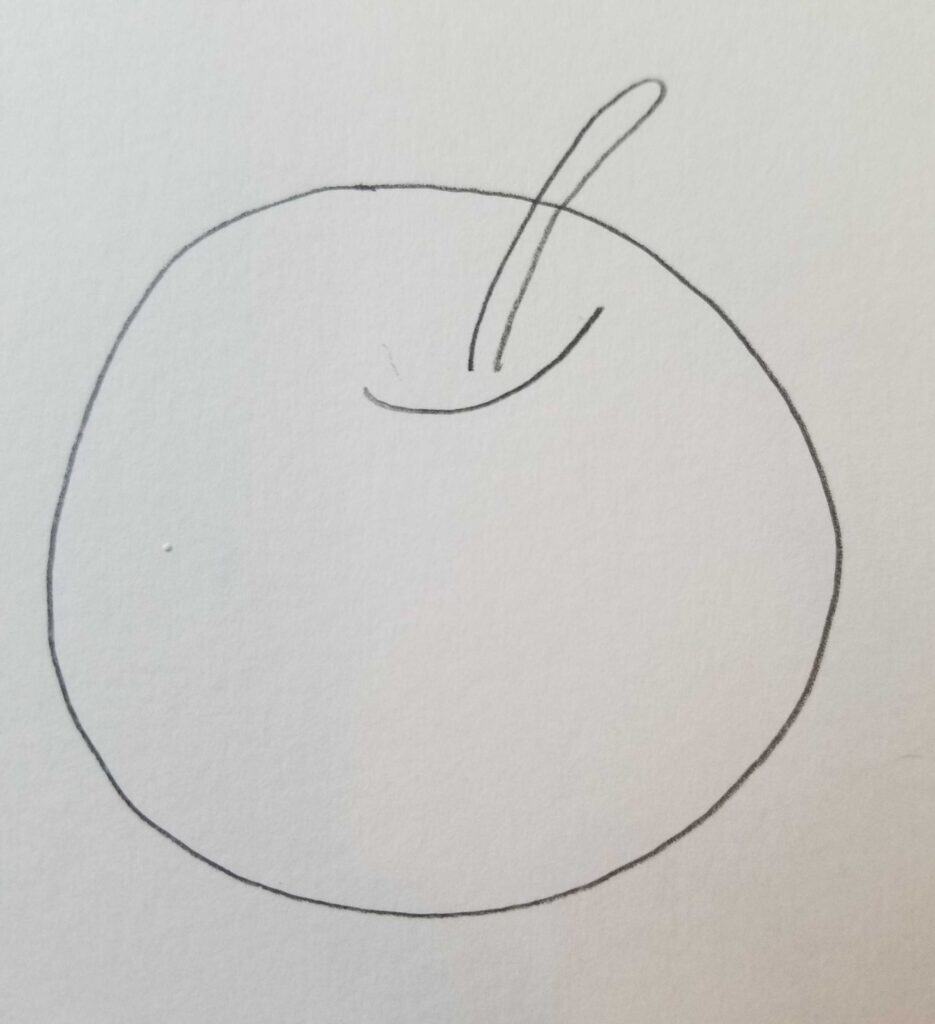 Then add a leaf with a line down the center.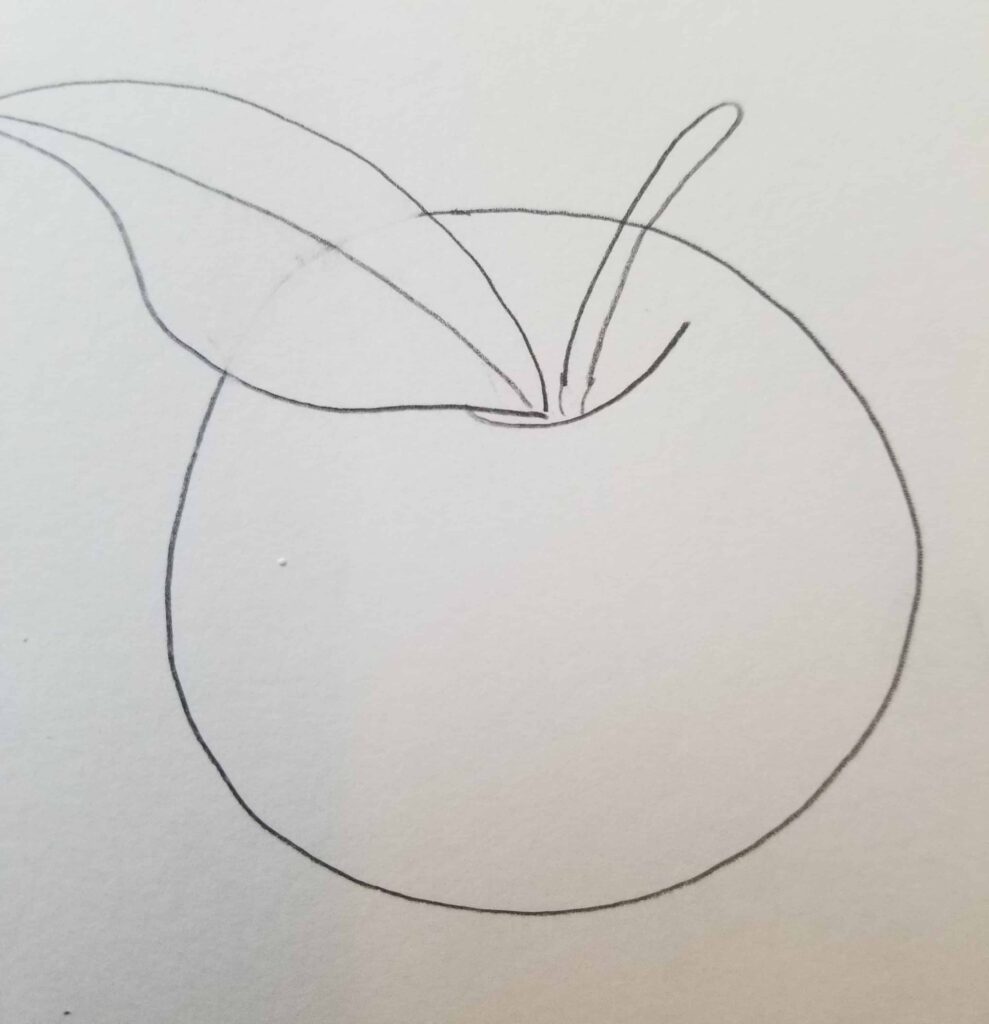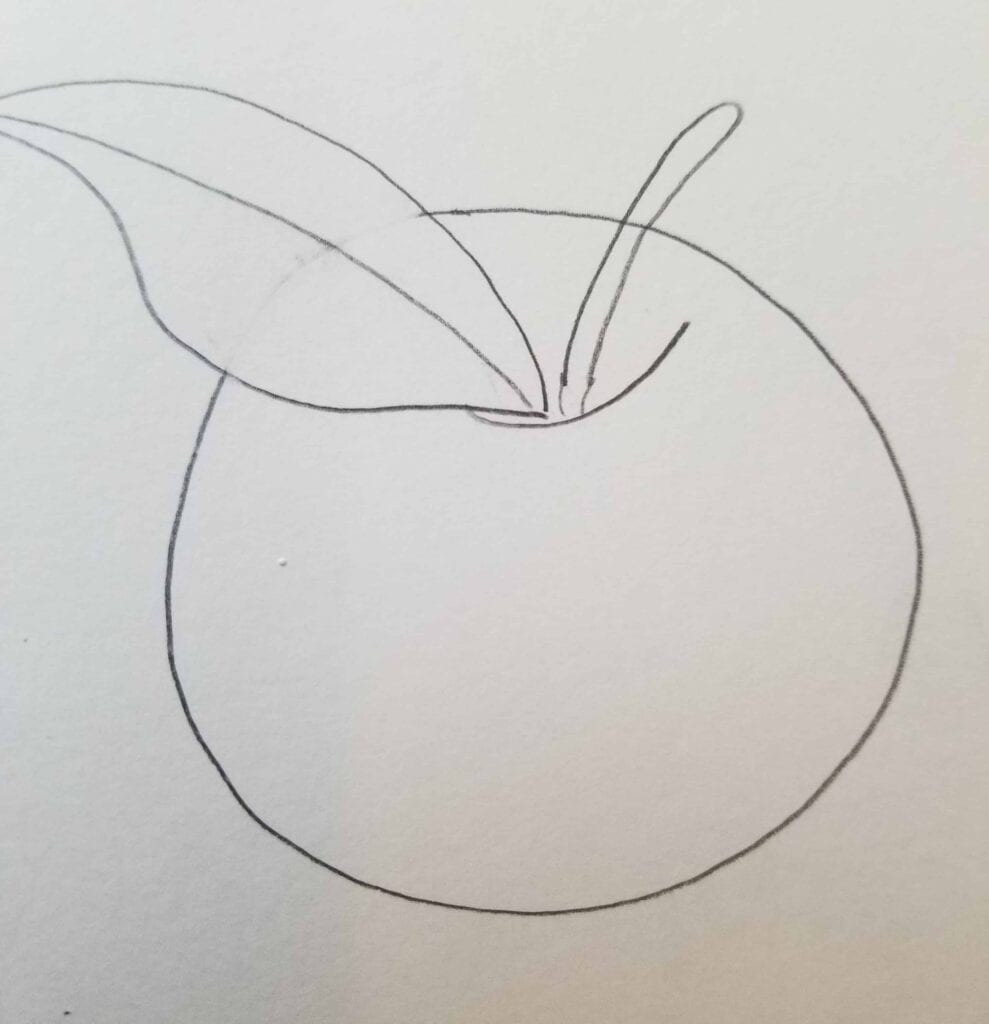 Color the apple with shades of red. (I used Stampin' Up! Watercolor pencils and a blender pen for this). But, feel free to use anything that you have on hand – markers, gelatos, colored pencils, etc. (See this post for the best pens and markers for Bible journaling).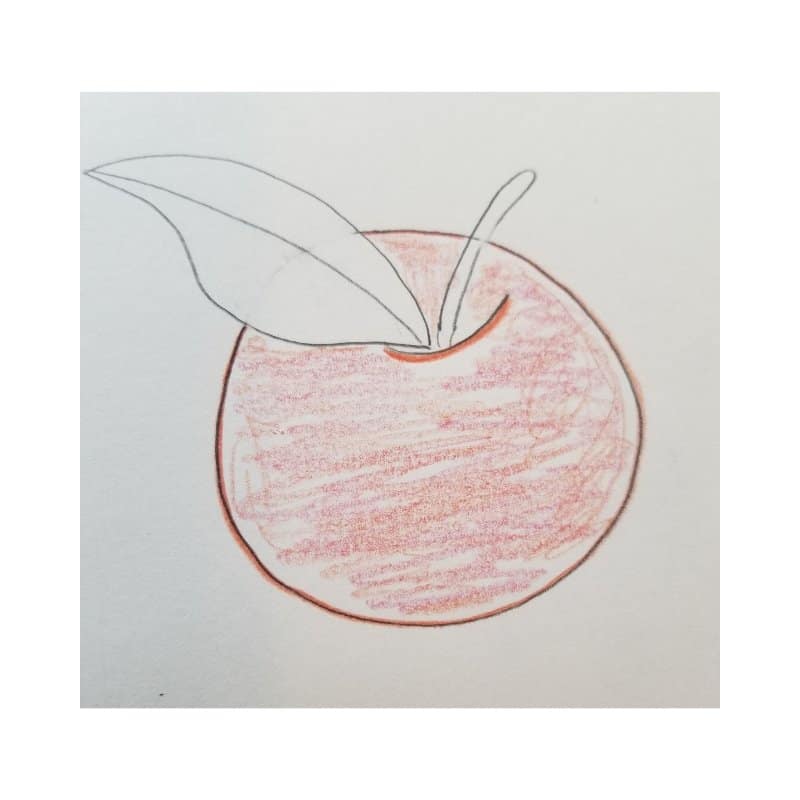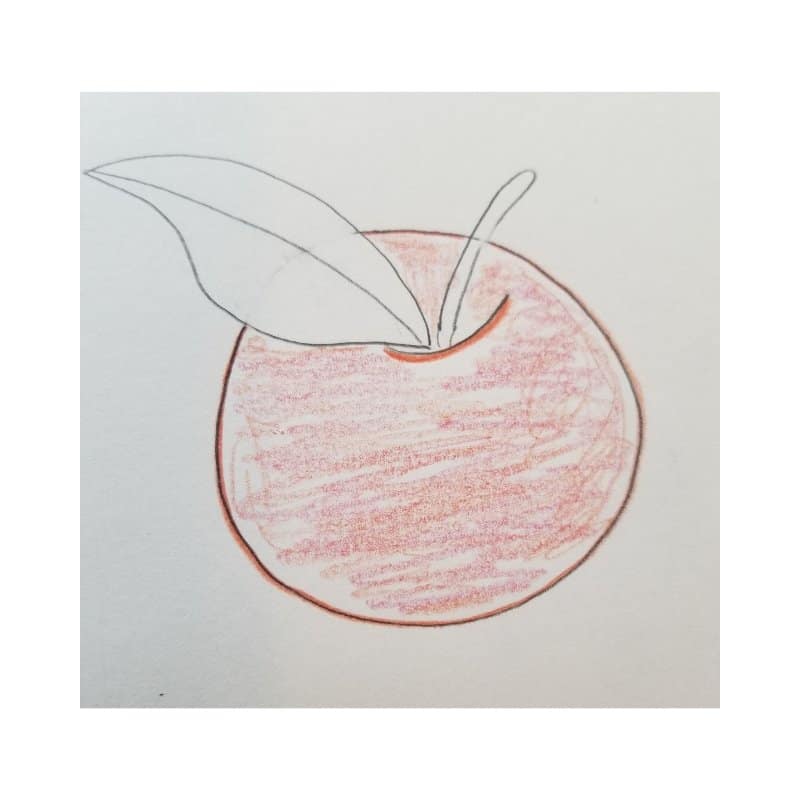 Then color the stem and leaf and blend the colors.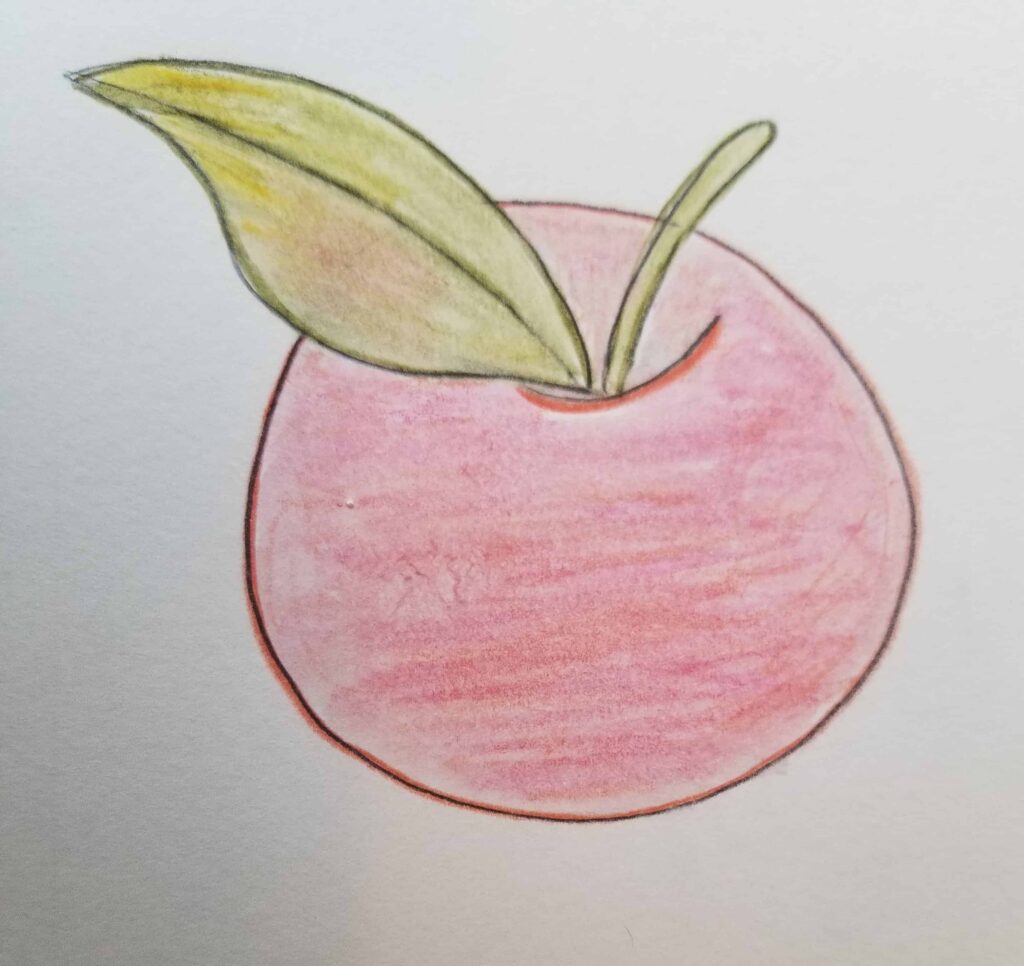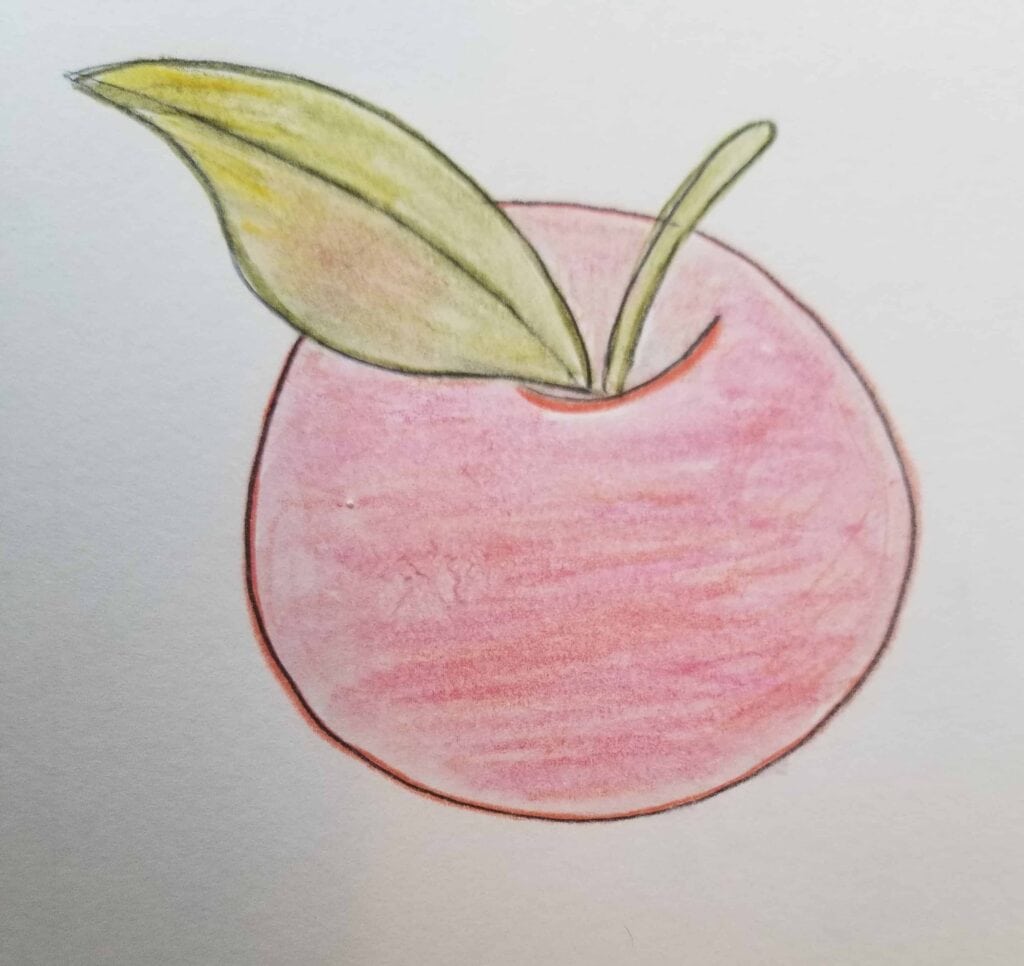 Here are some verses where you might want to add a drawing of an apple:
Proverbs 25:11
A word fitly spoken is like apples of gold in a setting of silver.
Song of Solomon 2:3
As an apple tree among the trees of the forest, so is my beloved among the young men. With great delight I sat in his shadow, and his fruit was sweet to my taste.
Psalm 17:8
Keep me as the apple of your eye; hide me in the shadow of your wings,
Proverbs 7:2
Keep my commandments and live; keep my teaching as the apple of your eye;


How to Draw Grapes for Bible Journaling
Grapes (and grape products, such as wine) are found throughout the Bible and there are many verses where adding grapes would lend a nice touch.
Start by drawing a shape that looks like a bicycle seat.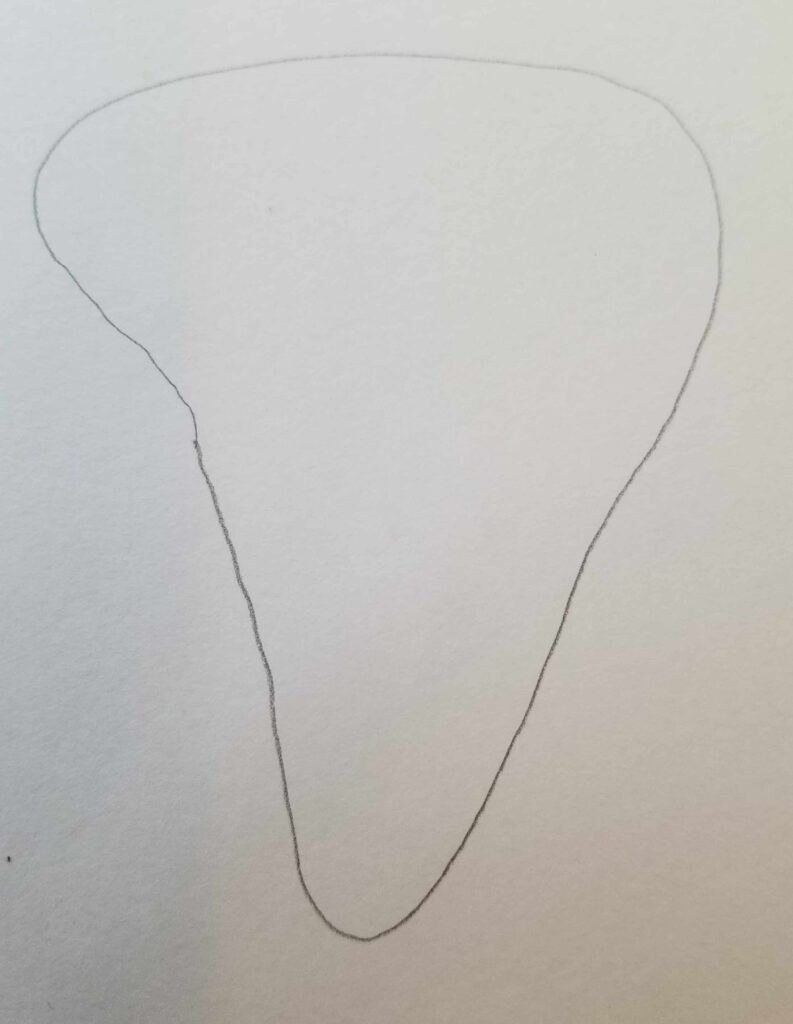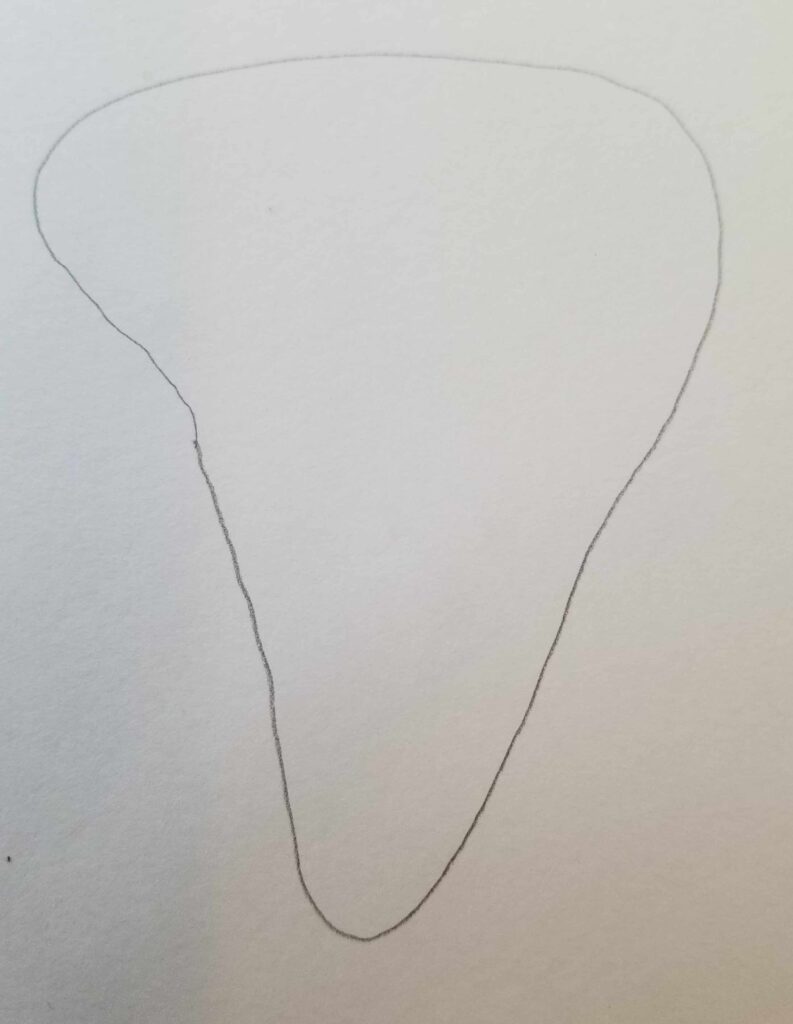 Then add circles to fill in the entire shape.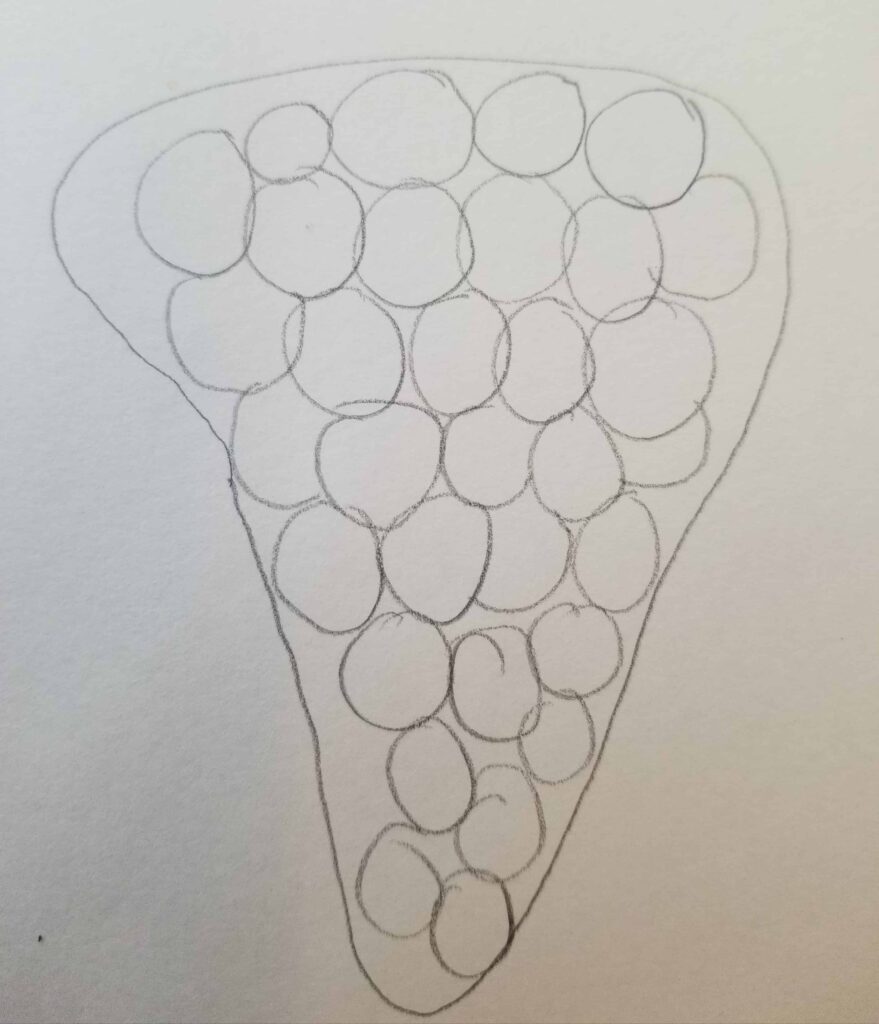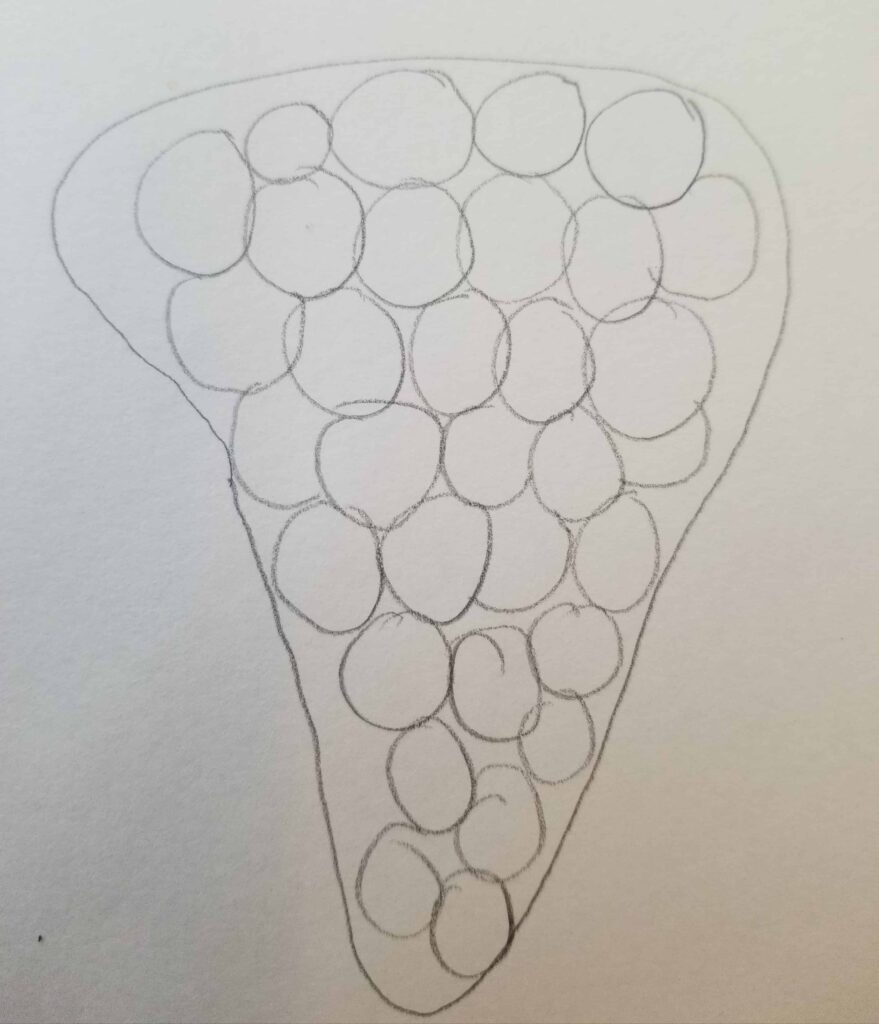 Add a stem and grape leaf.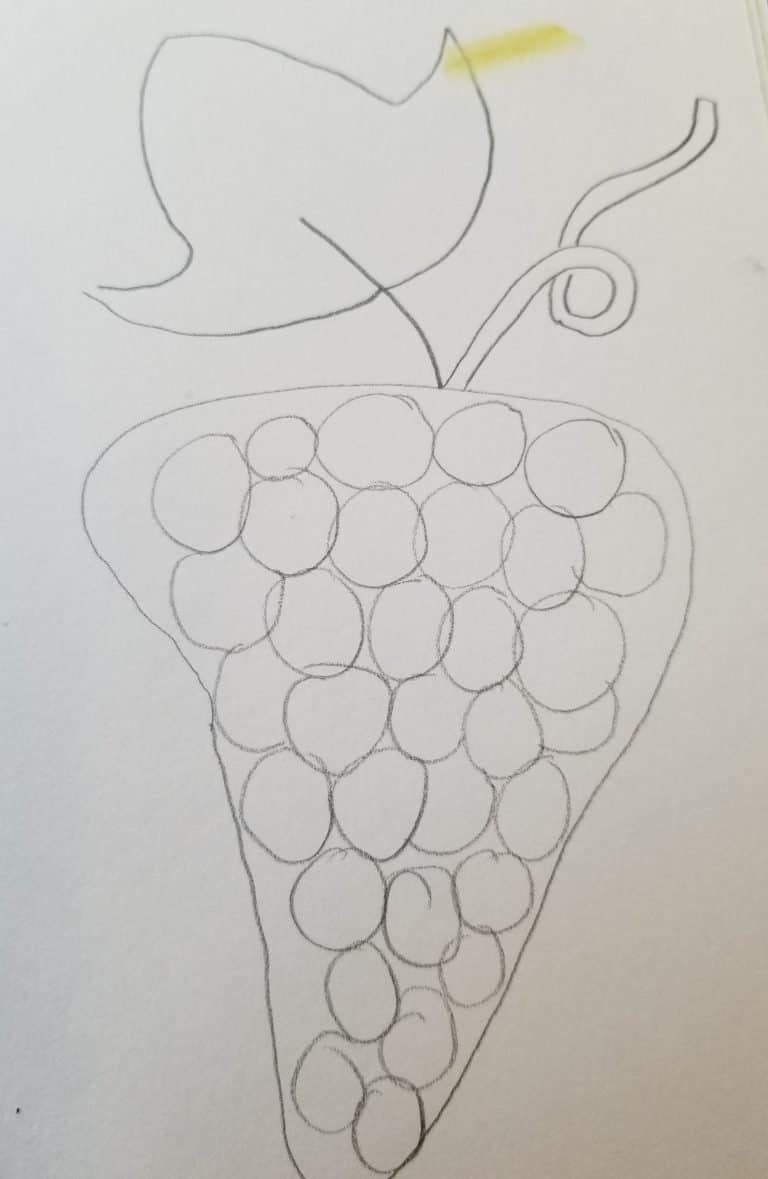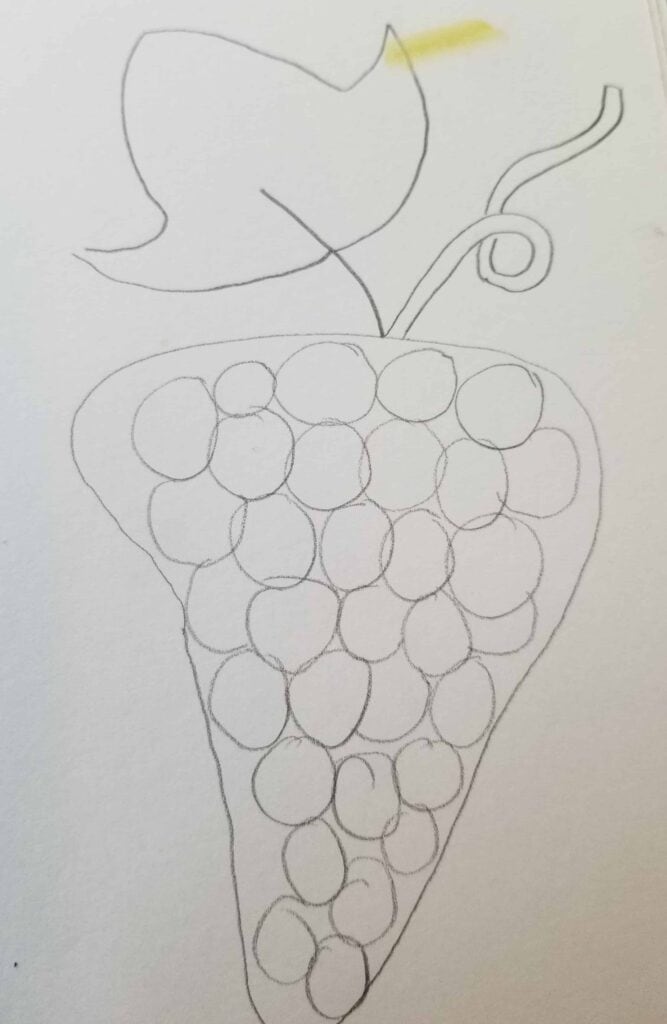 Color the grapes.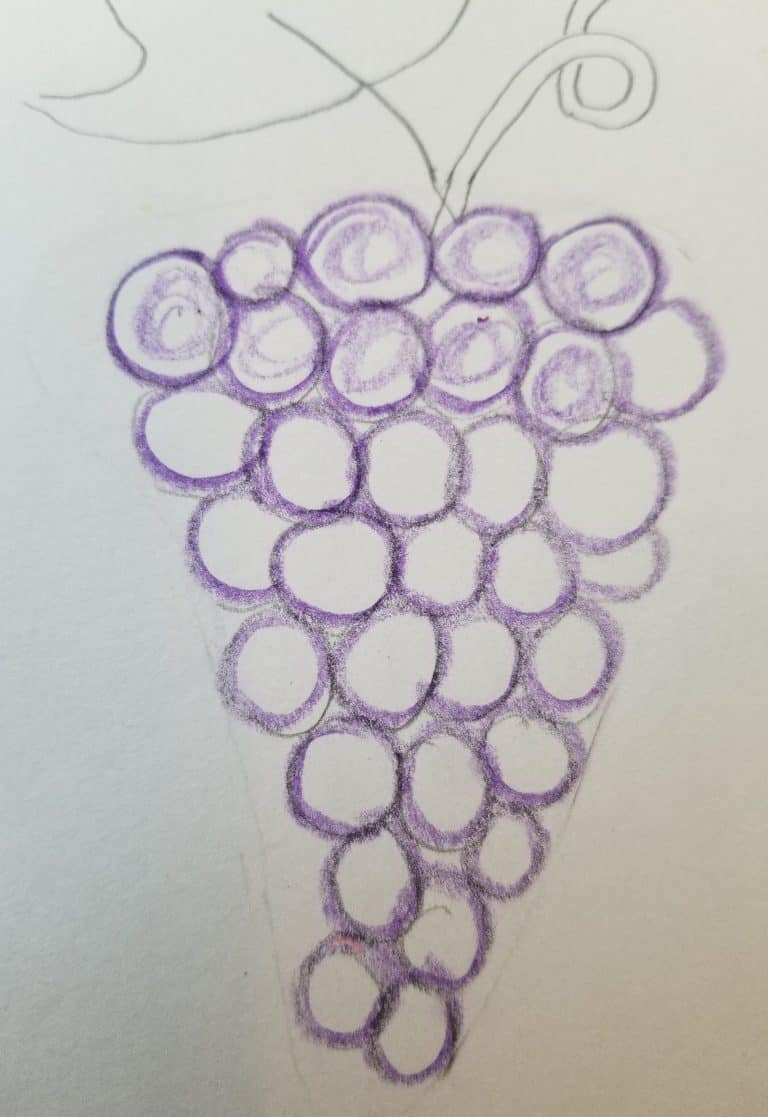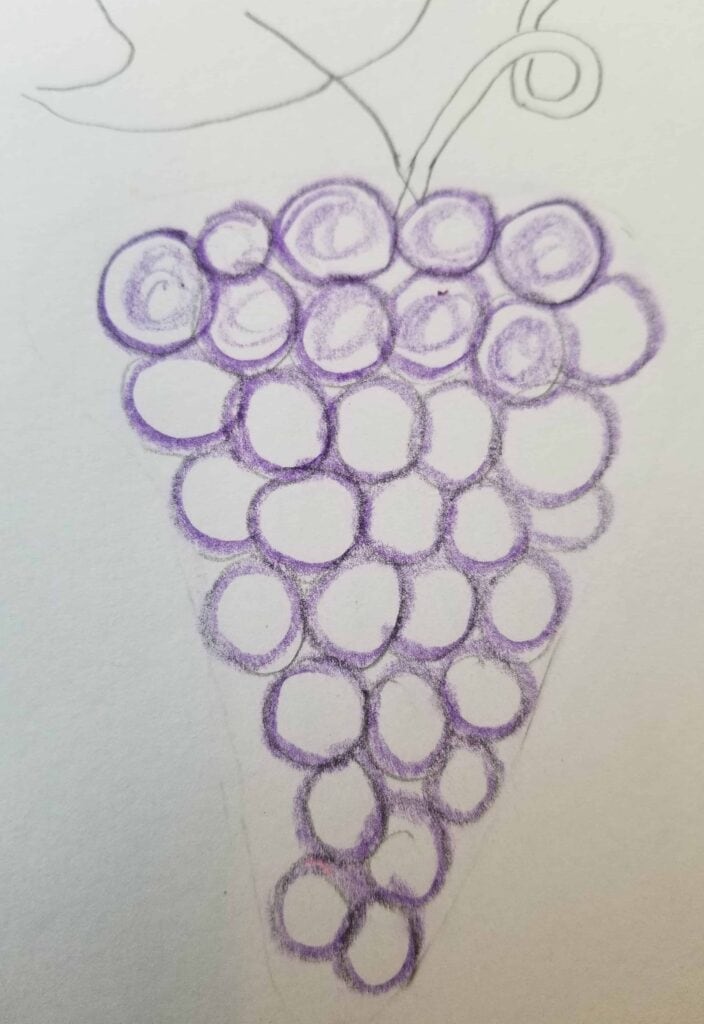 Erase any extra pencil marks and color the stems.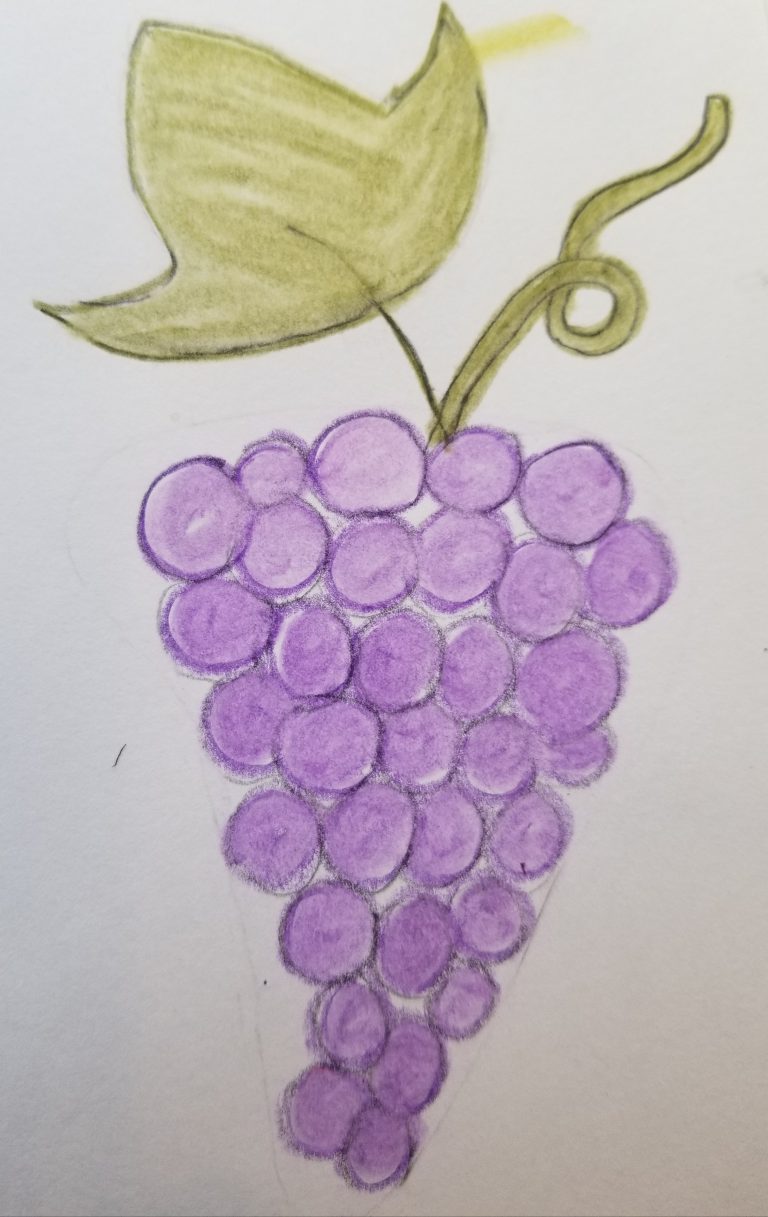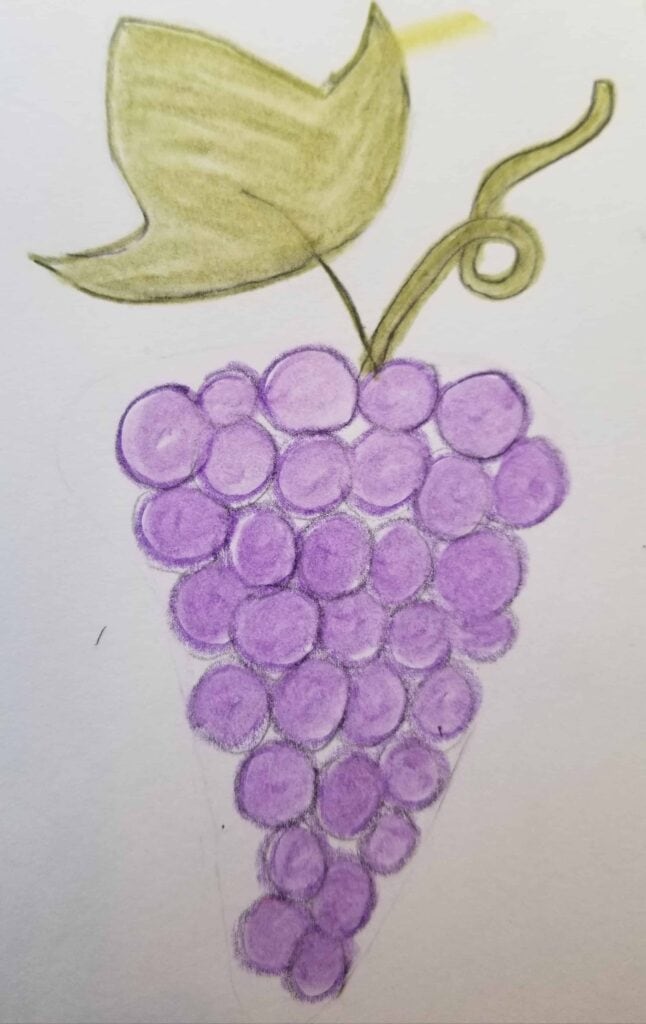 Again, I used watercolor pencils and a blender pen to color the grapes.
Bible verses where you can add grapes to your Bible journaling:
Ezekiel 18:2
"What do you mean by repeating this proverb concerning the land of Israel, 'The fathers have eaten sour grapes, and the children's teeth are set on edge'?
Deuteronomy 24:21
When you gather the grapes of your vineyard, you shall not strip it afterward. It shall be for the sojourner, the fatherless, and the widow.
Jeremiah 49:9
If grape-gatherers came to you, would they not leave gleanings? If thieves came by night, would they not destroy only enough for themselves?
Deuteronomy 23:24
"If you go into your neighbor's vineyard, you may eat your fill of grapes, as many as you wish, but you shall not put any in your bag.
How to Draw Figs for Bible Journaling
Figs are another fruit that is mentioned throughout the Bible and great to draw for Bible journaling.
Draw a line and a large circle at the bottom of it.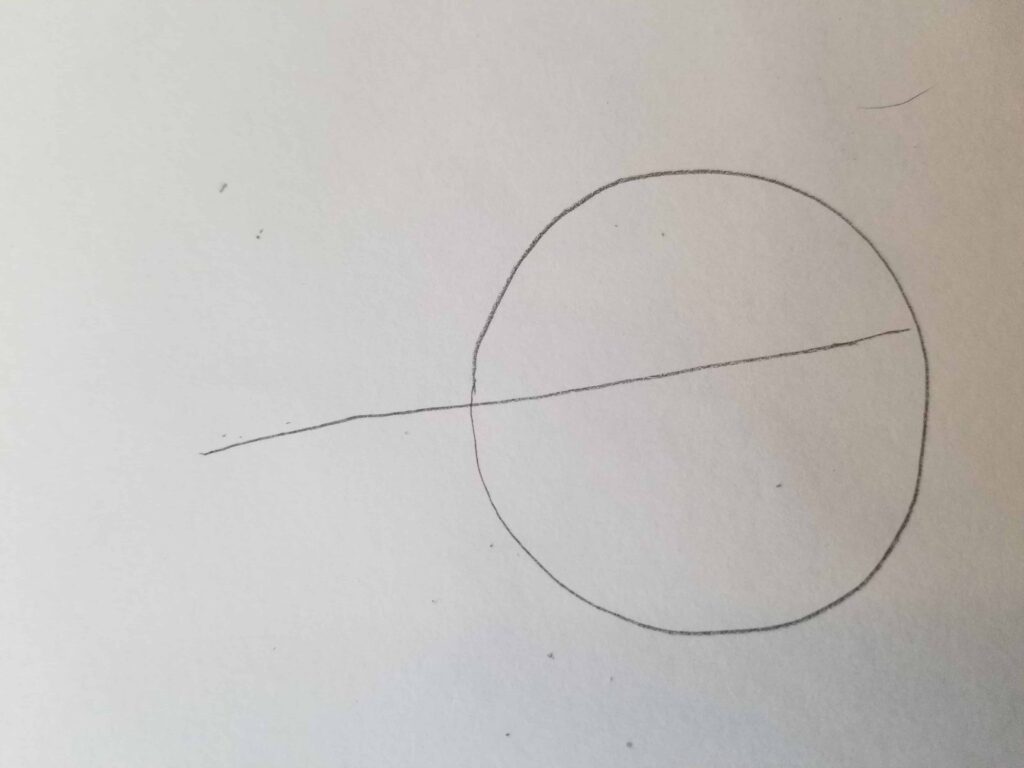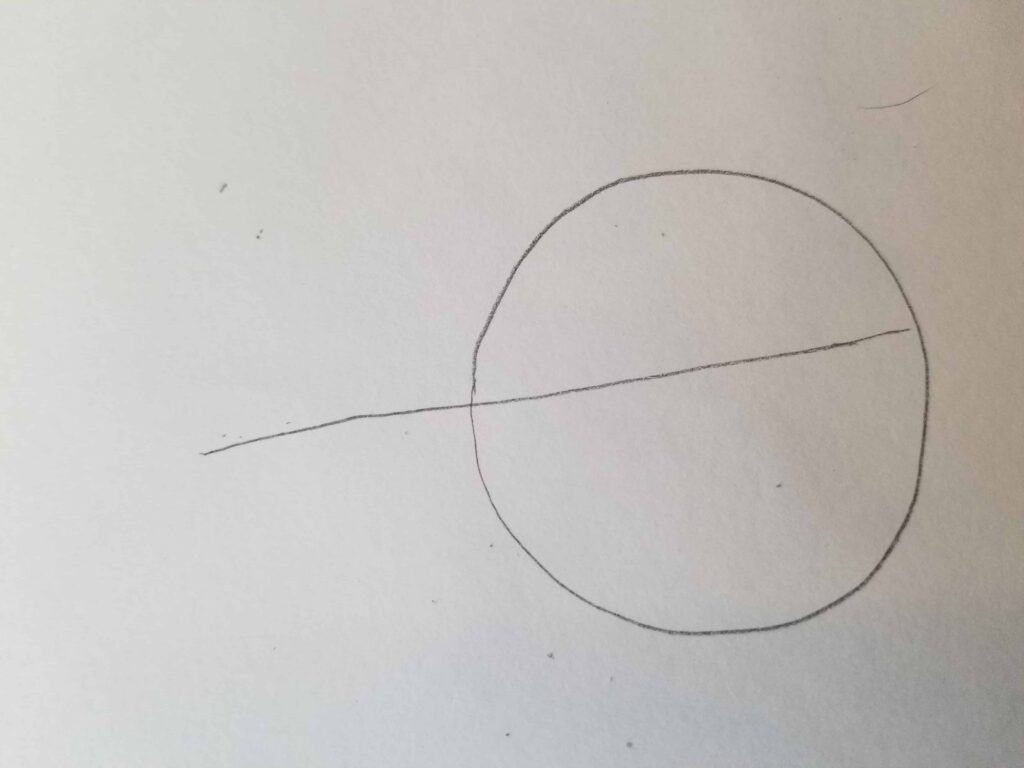 Draw a small circle on top of the larger circle.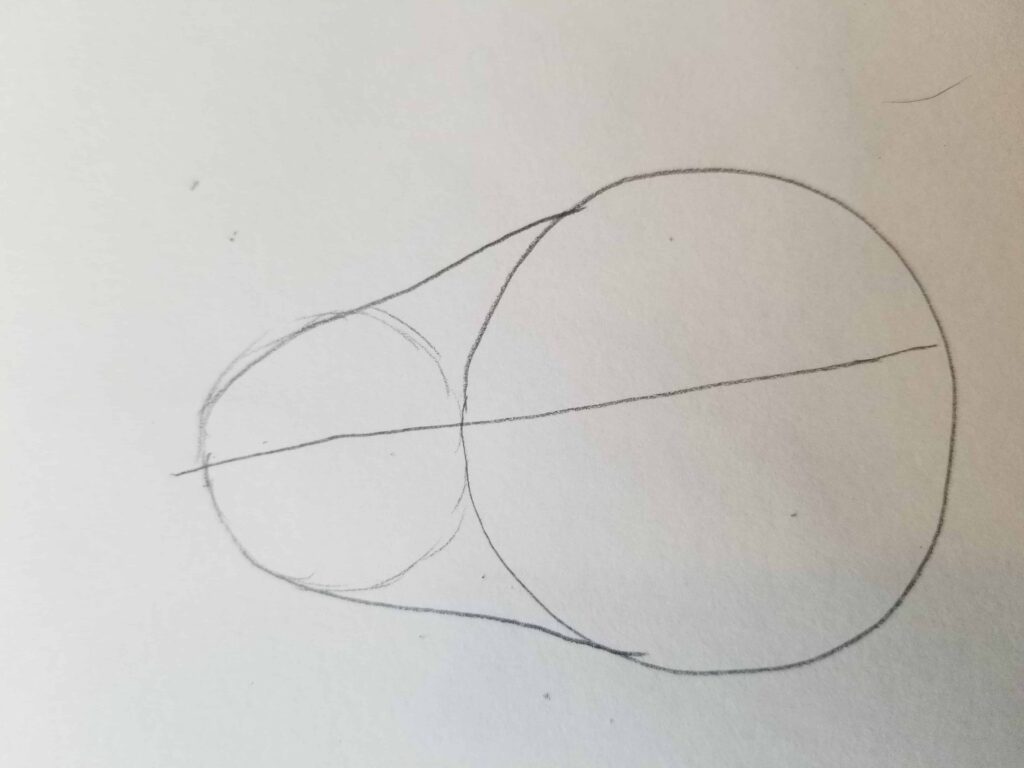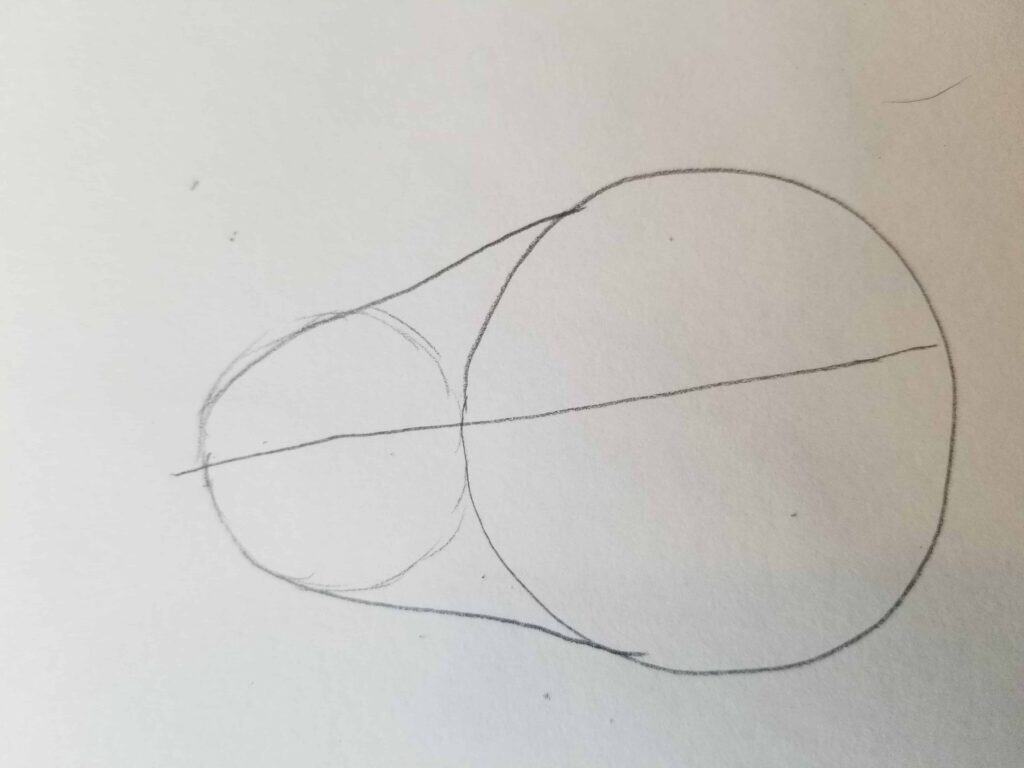 Add a stem to the top.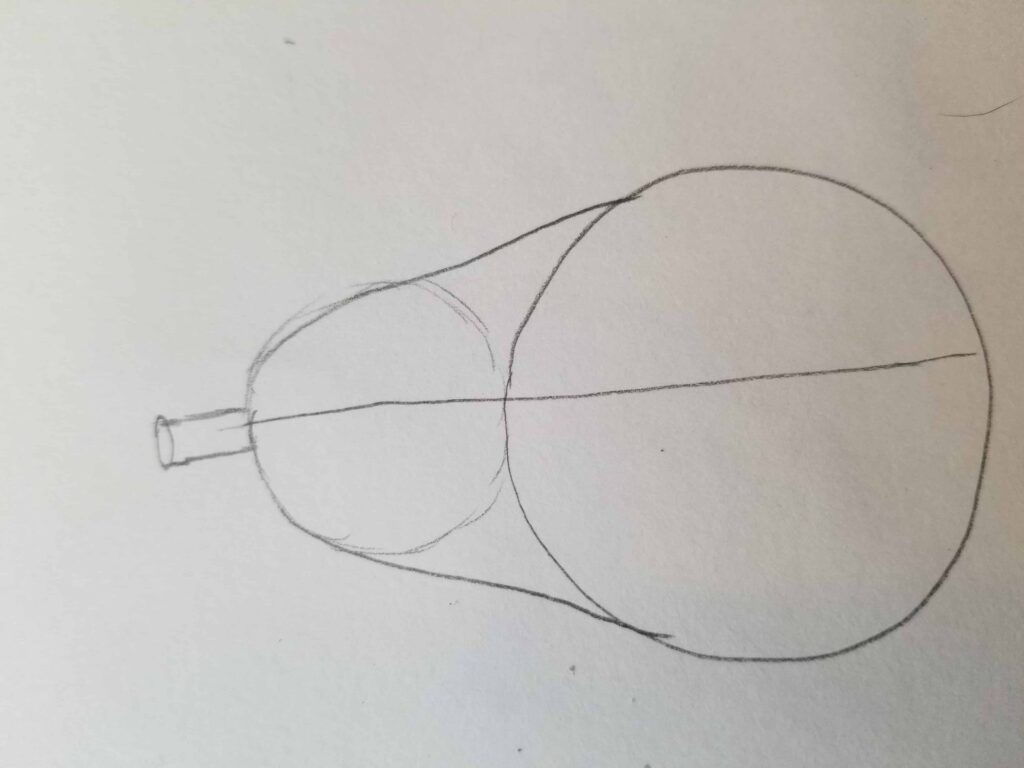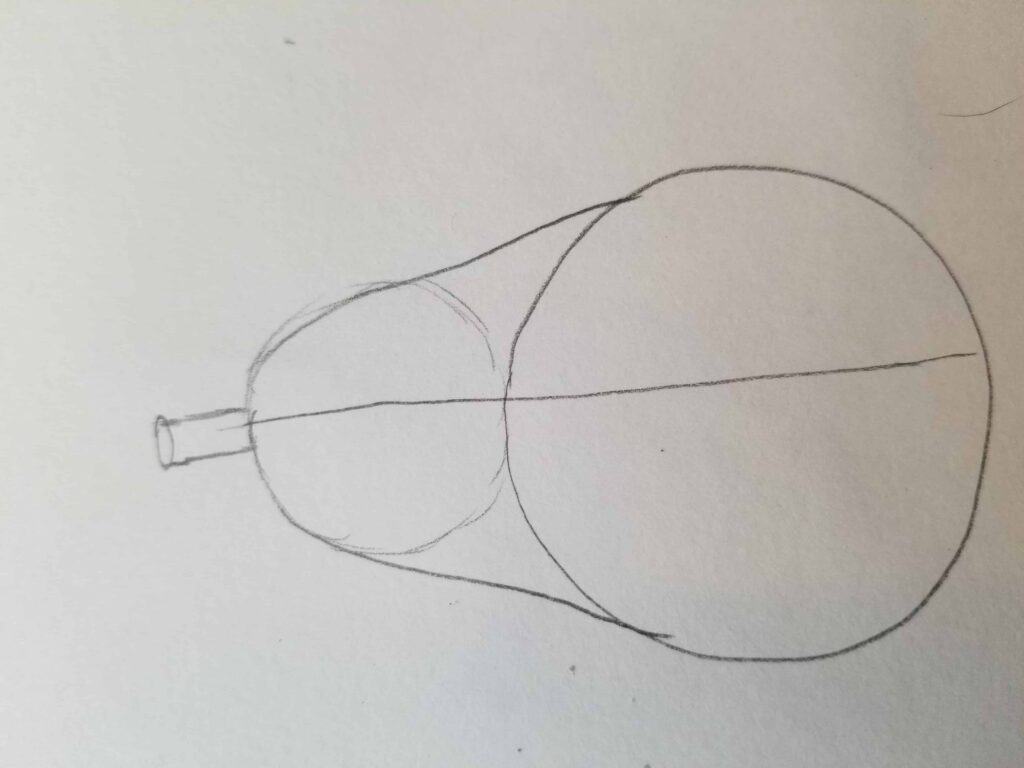 Add a second curved line on the bottom of the fig and another circle within the bigger one.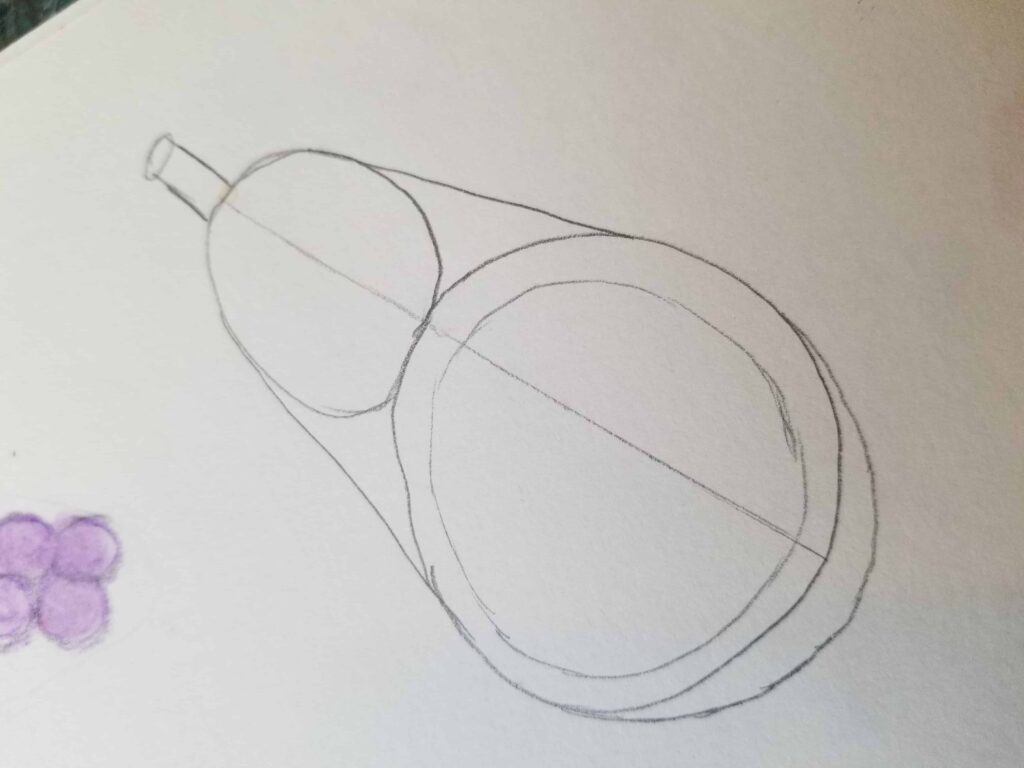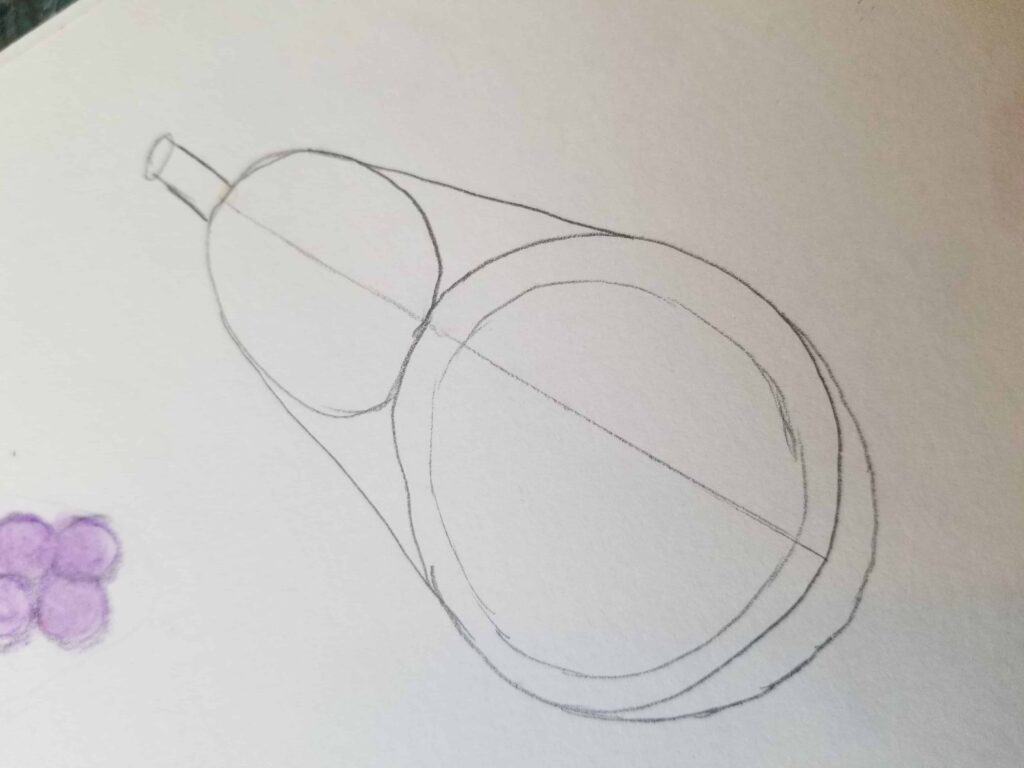 Add a loose "v" shaped line at the bottom of the inner circle.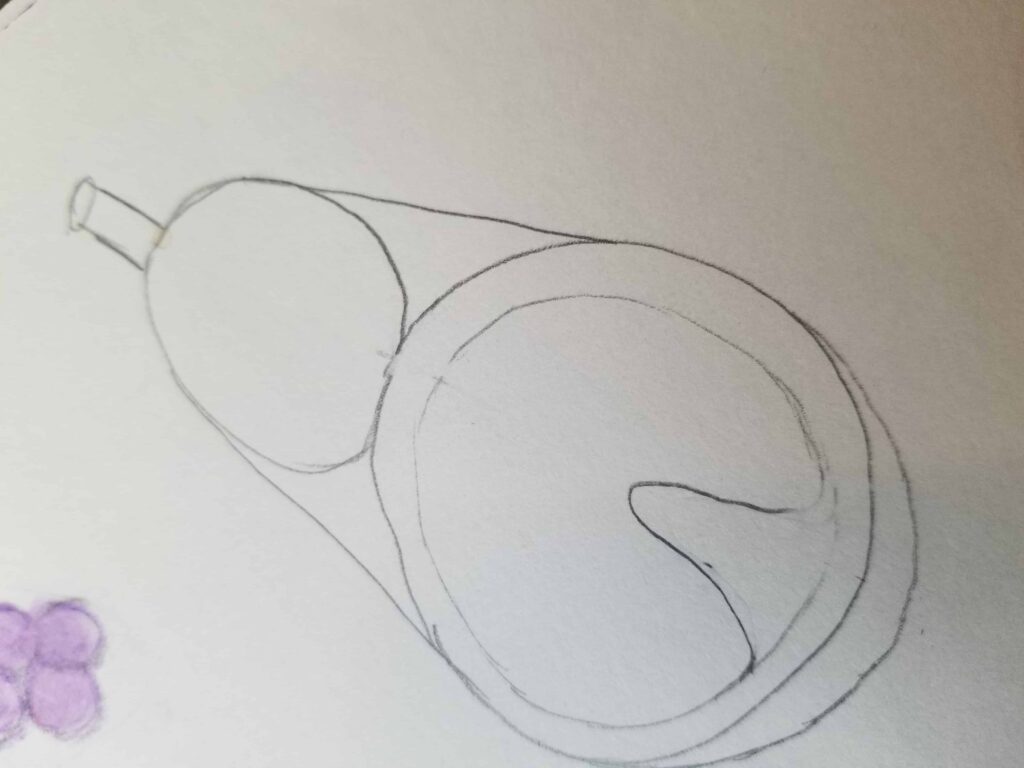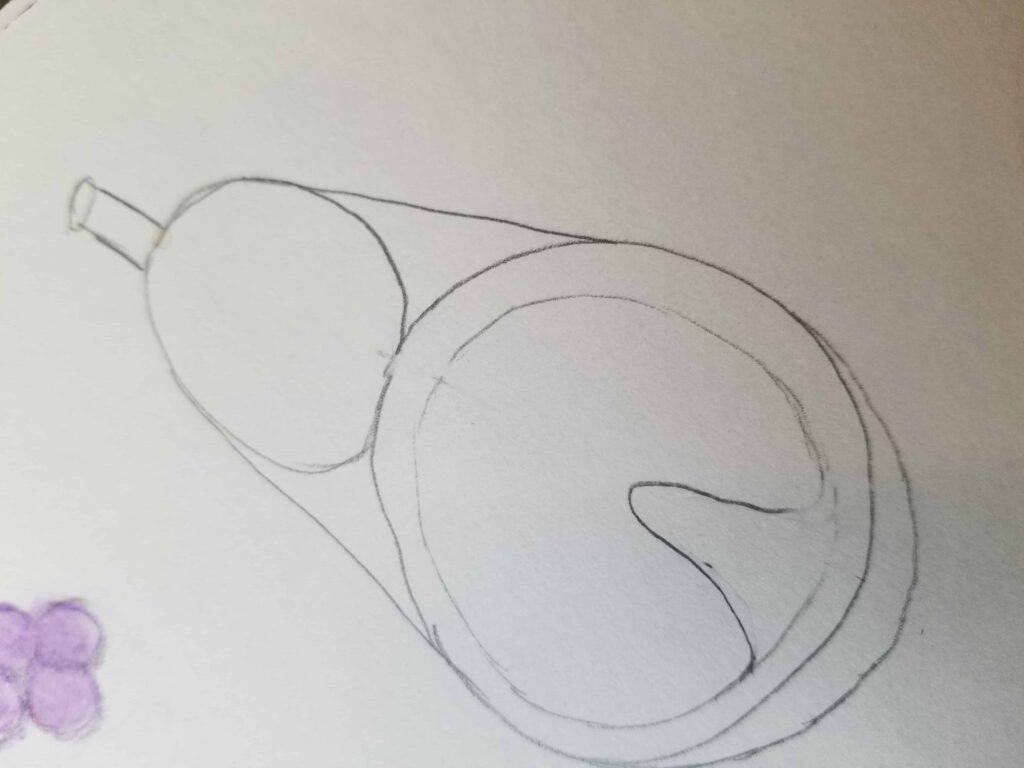 Outline the outer shape with black marker and draw the seeds in the shown shape.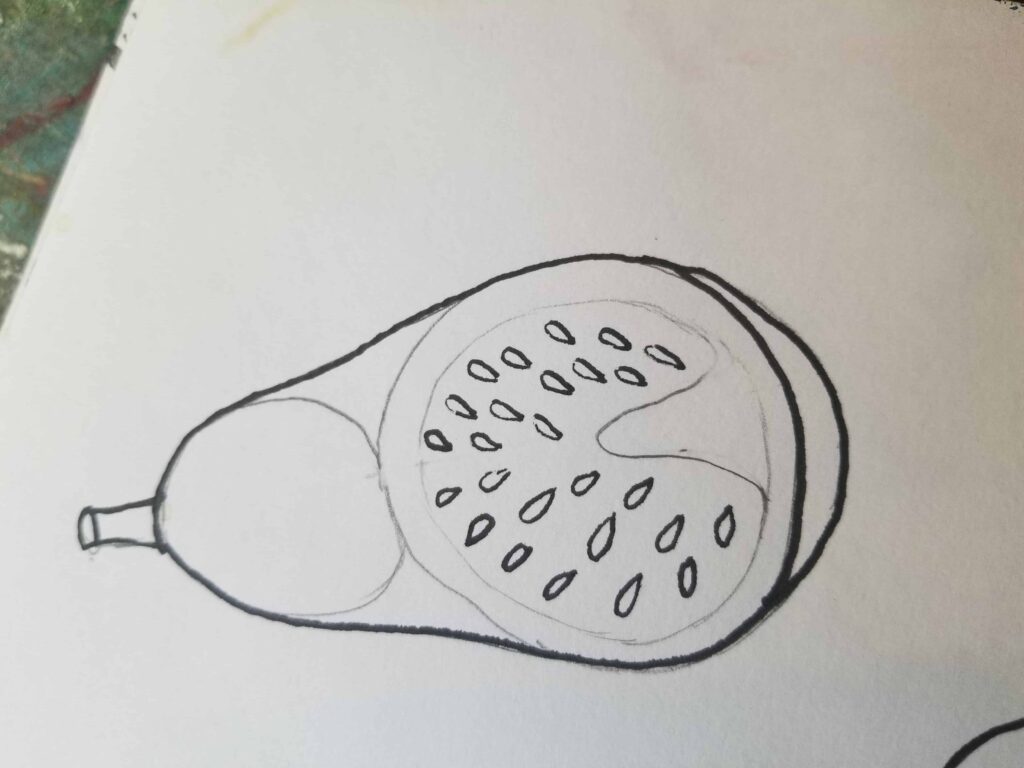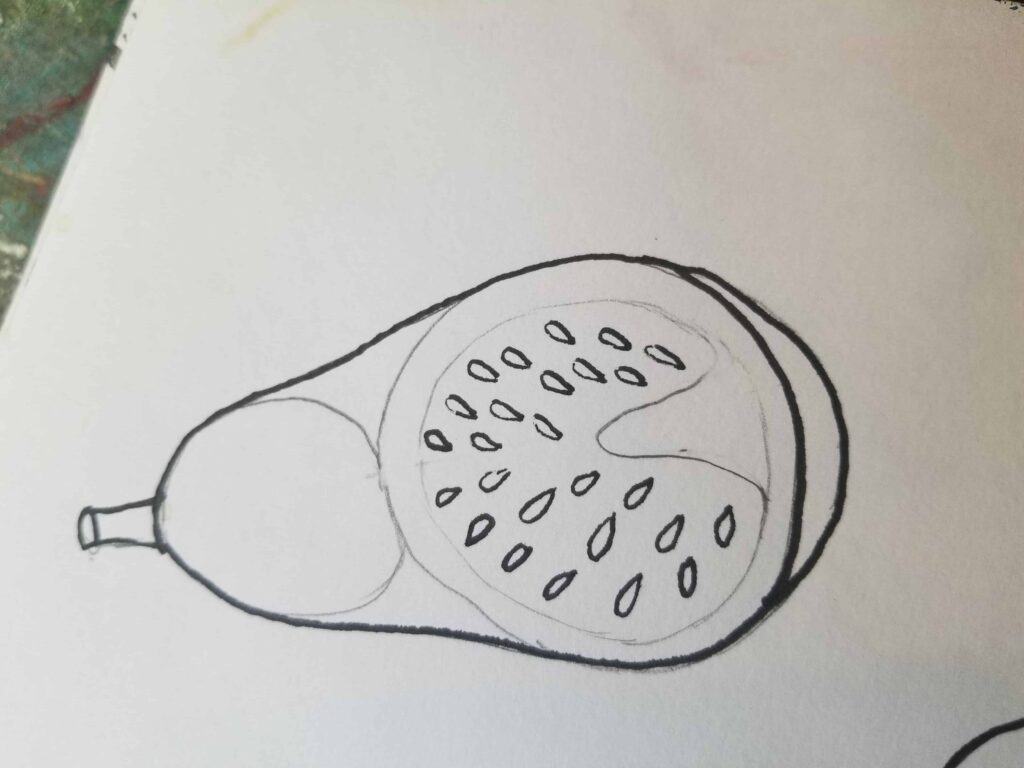 For the whole version of the fig, just add two black lines on top and three on the bottom.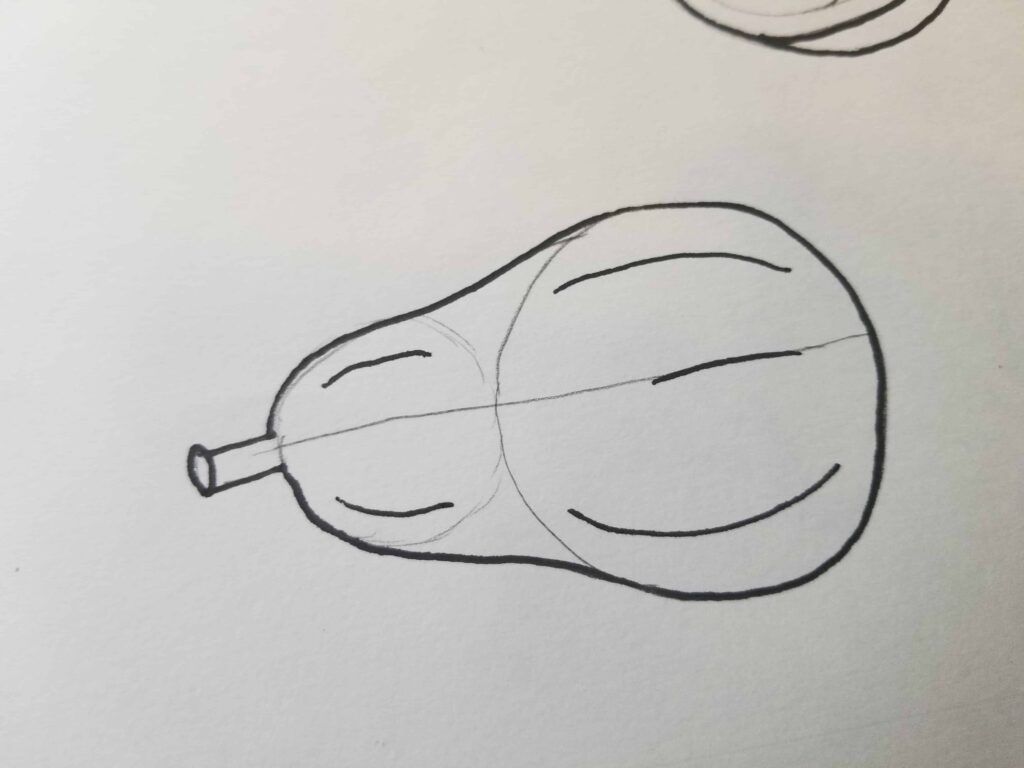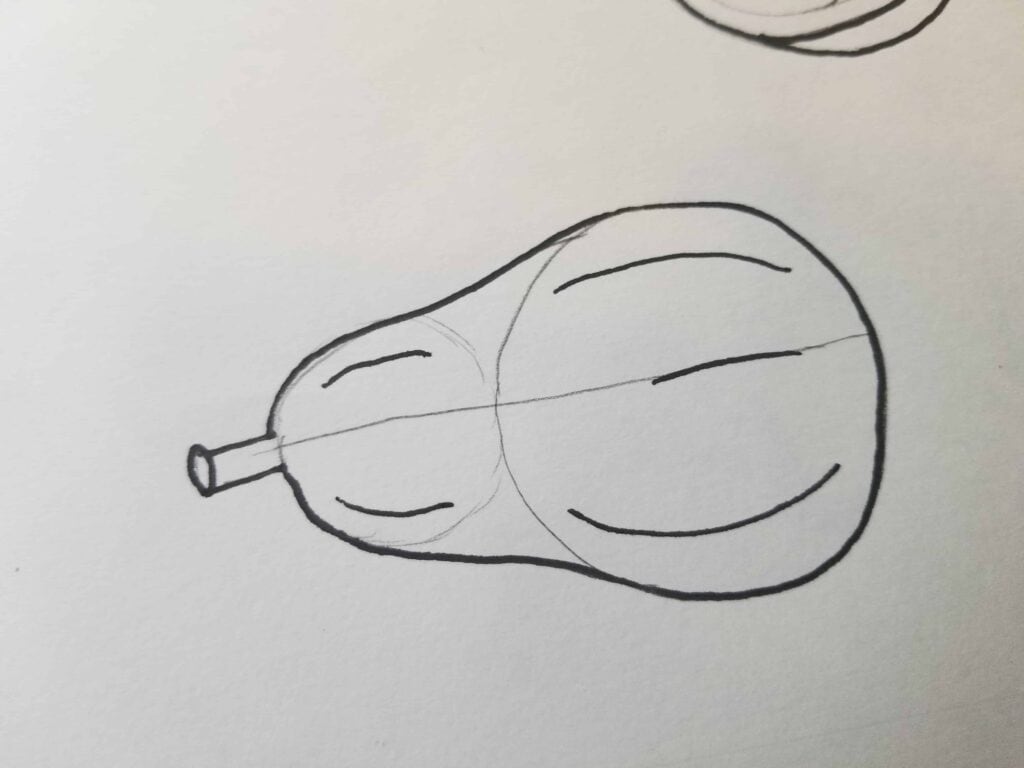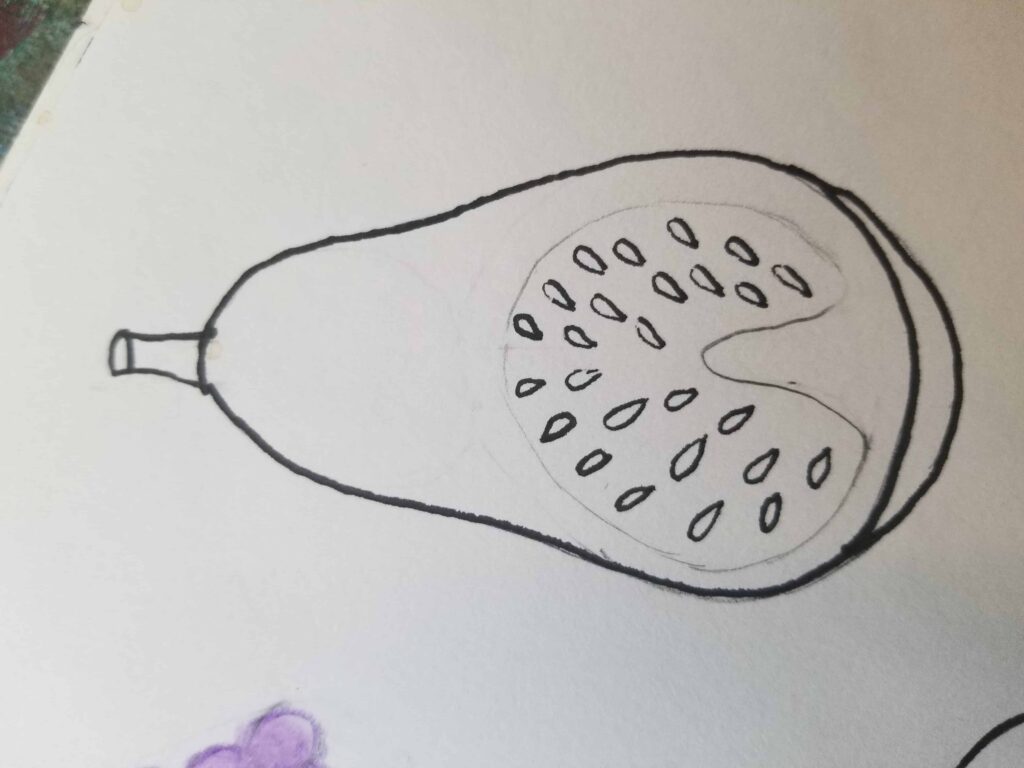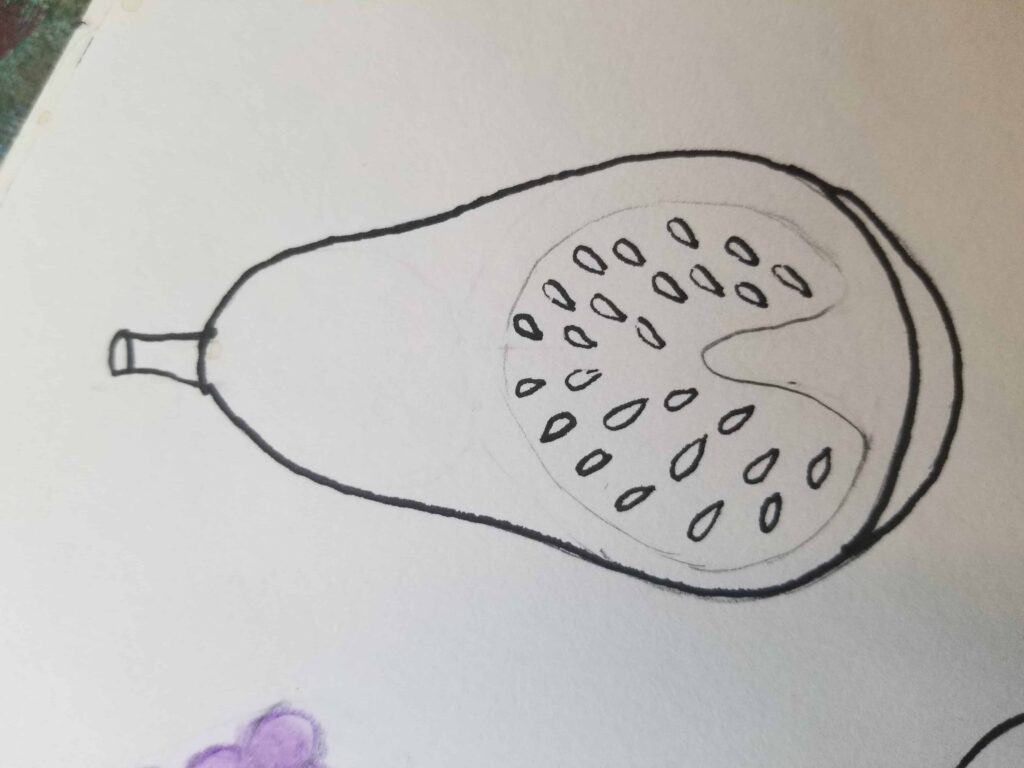 Color the stem and top of the fig with a lighter green. (I used alcohol markers).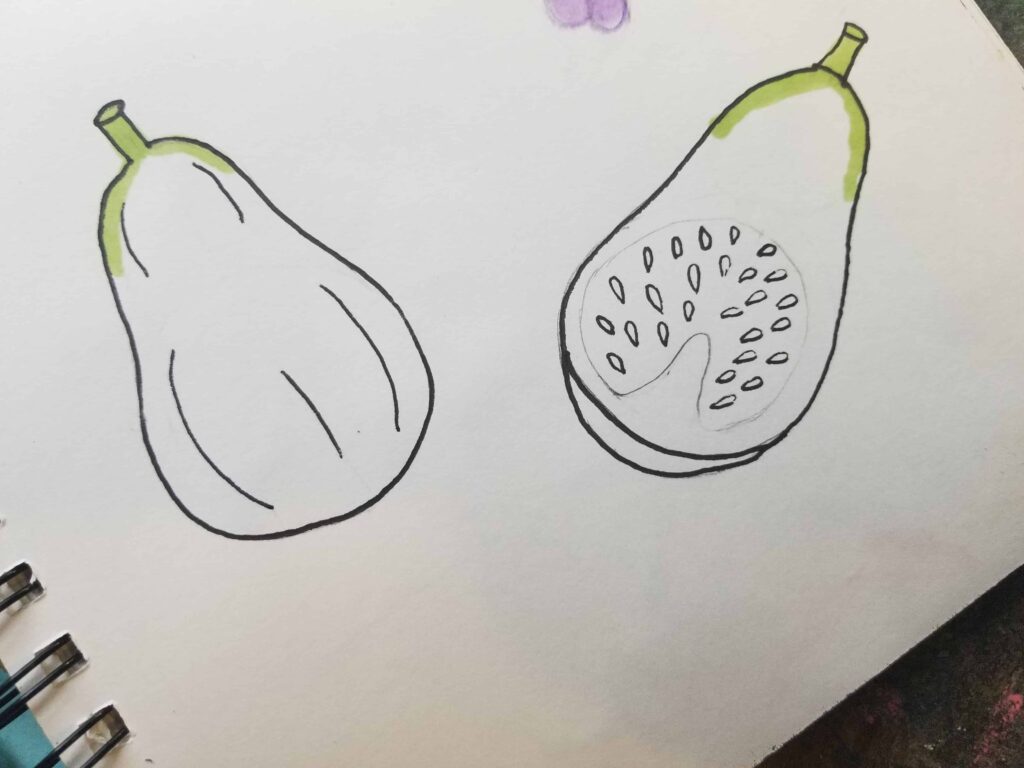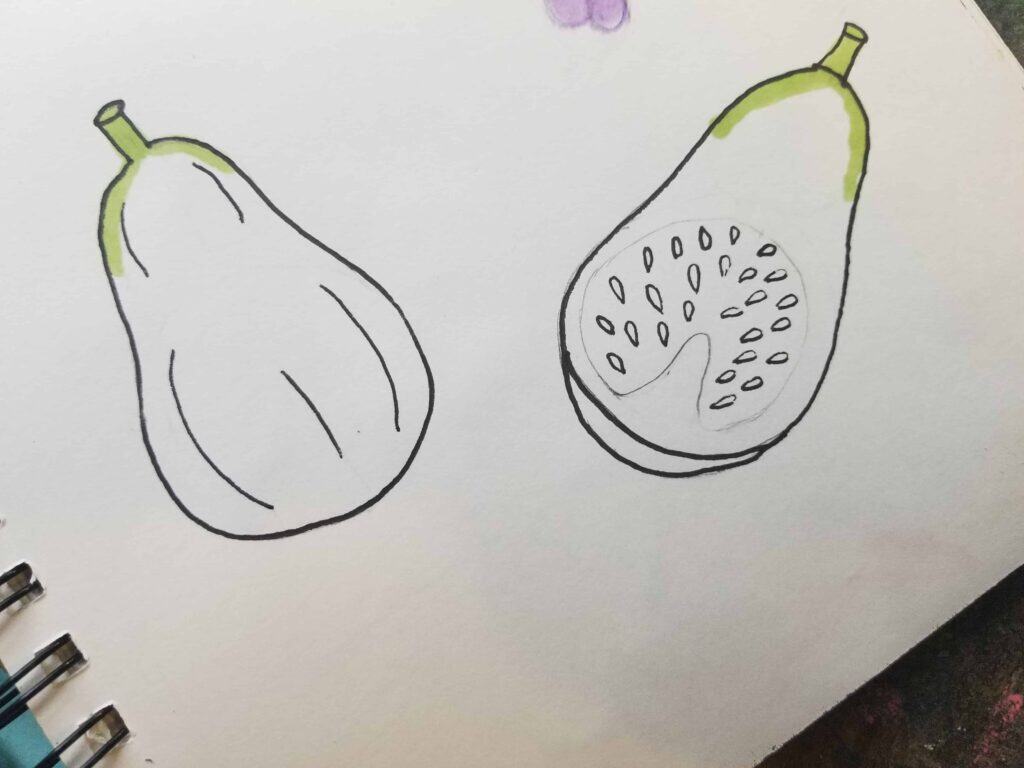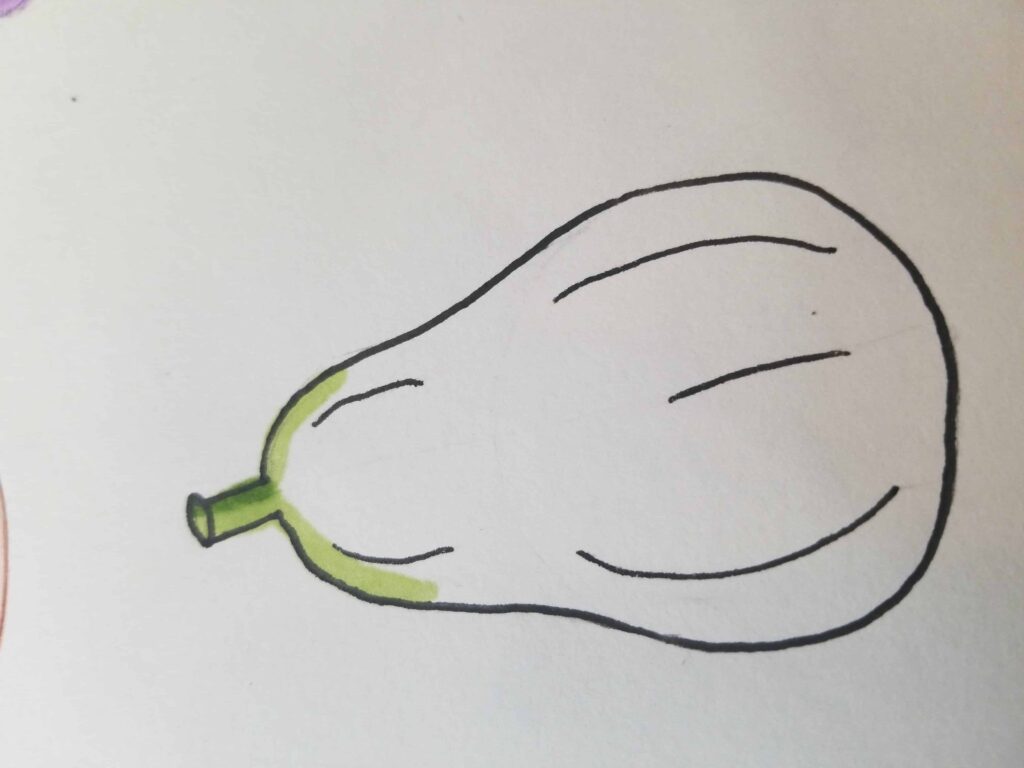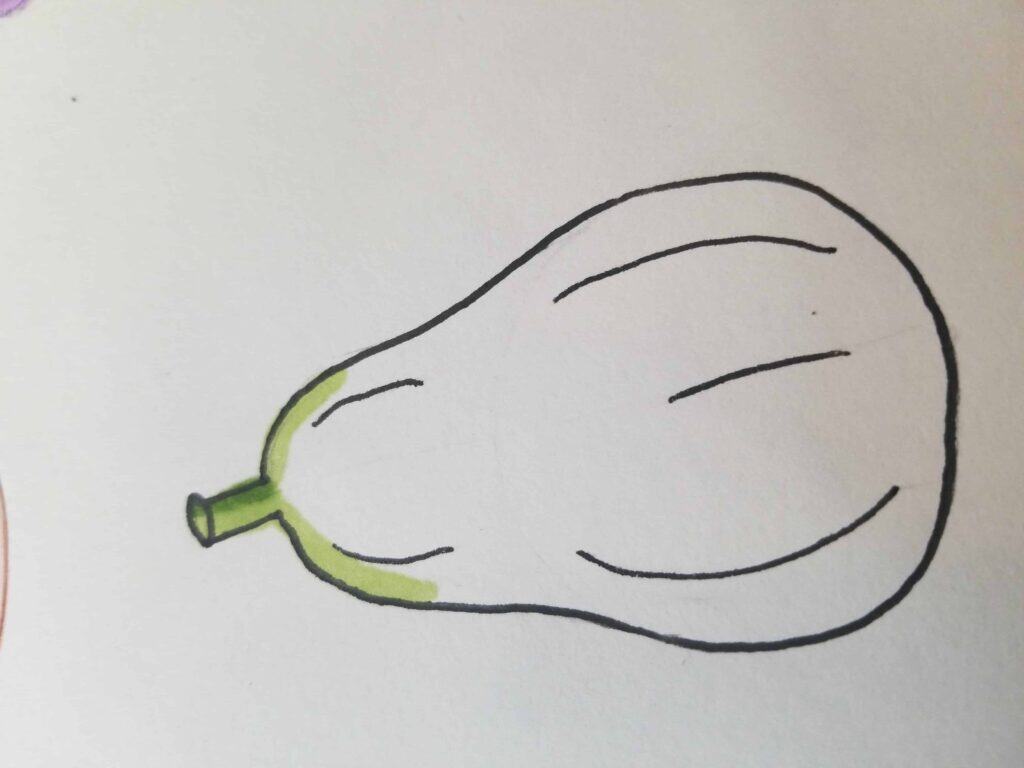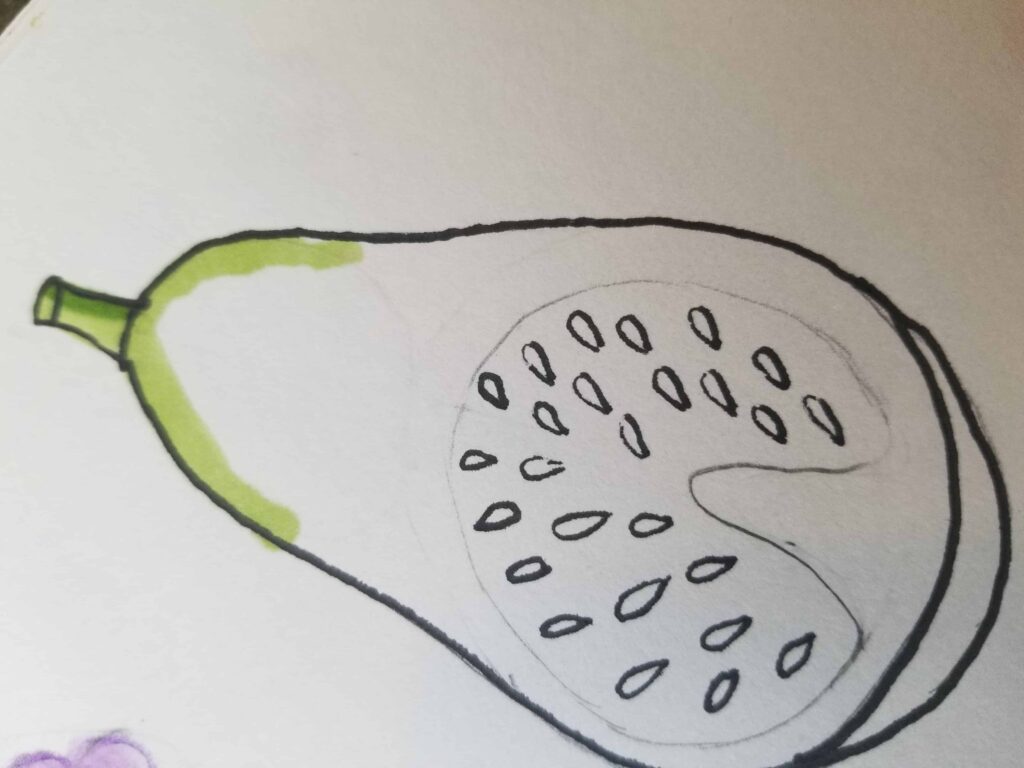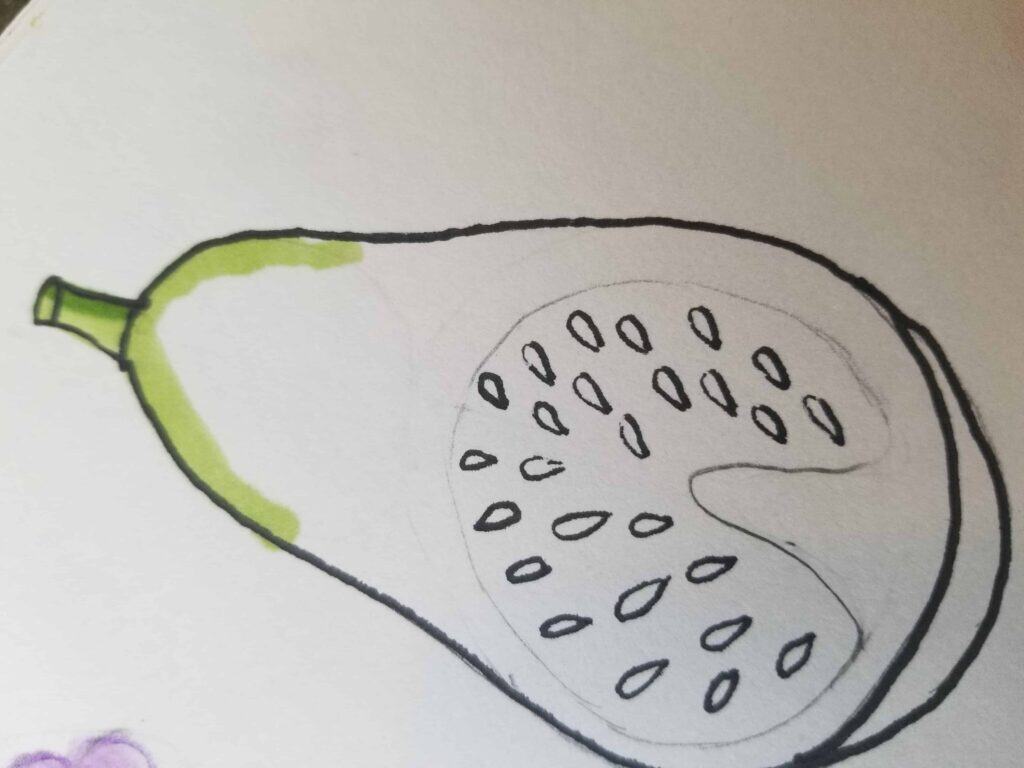 Color the rest of the fig with a lighter pink.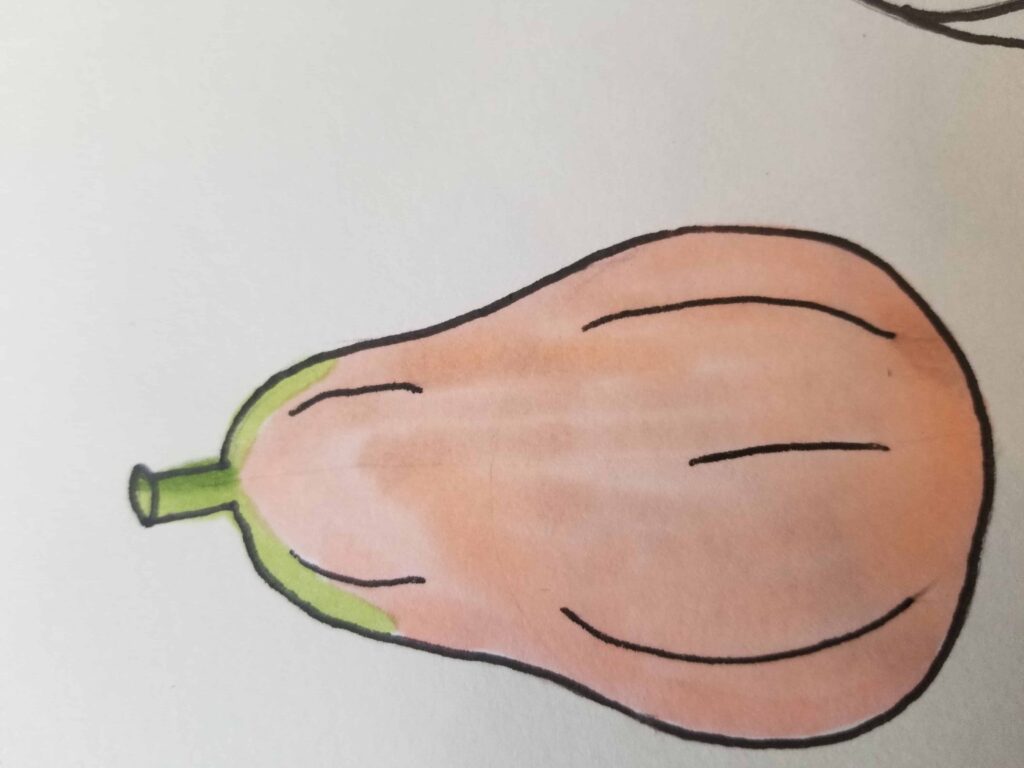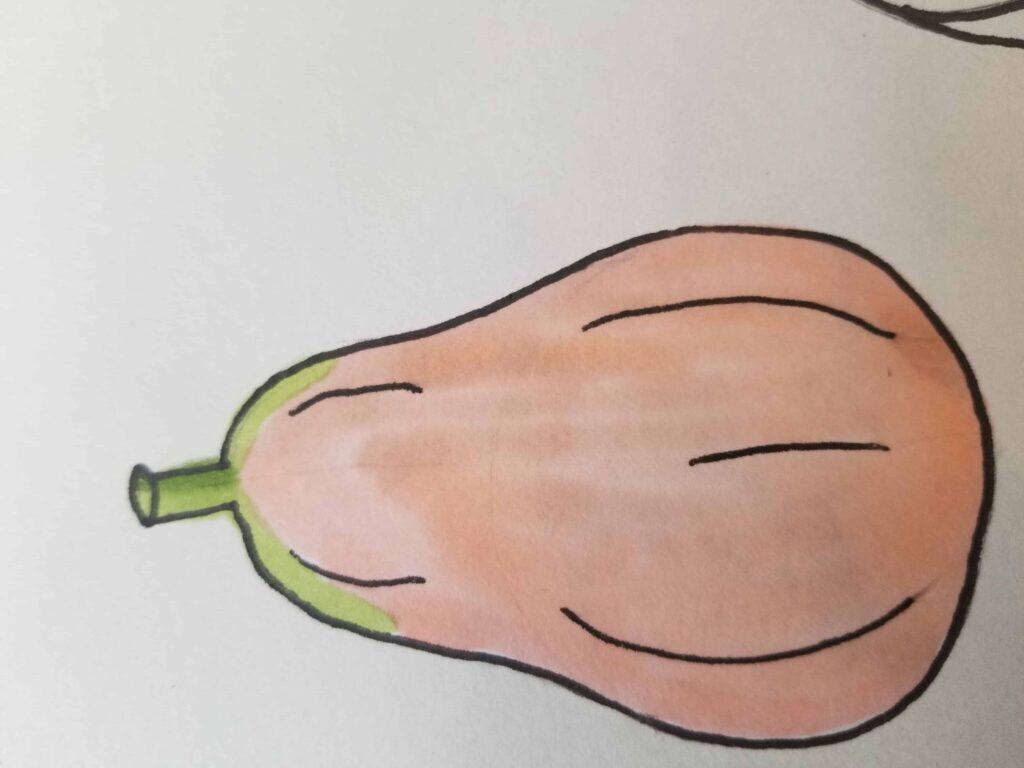 Using a darker pink (or a purple) color the bottom half and sides.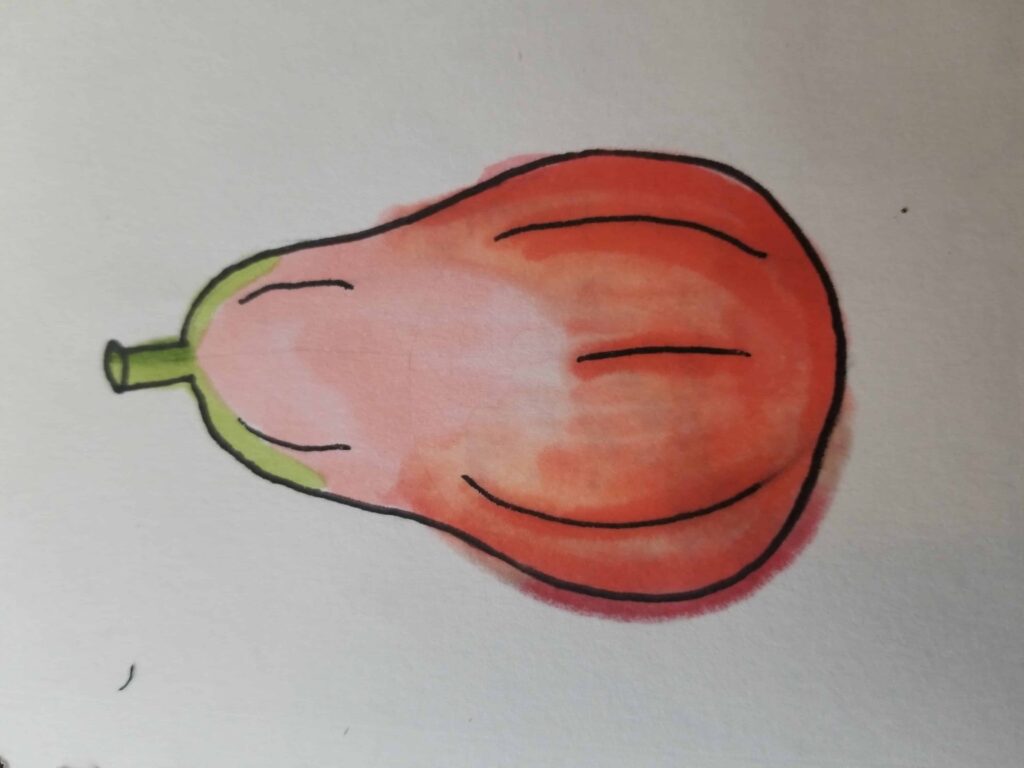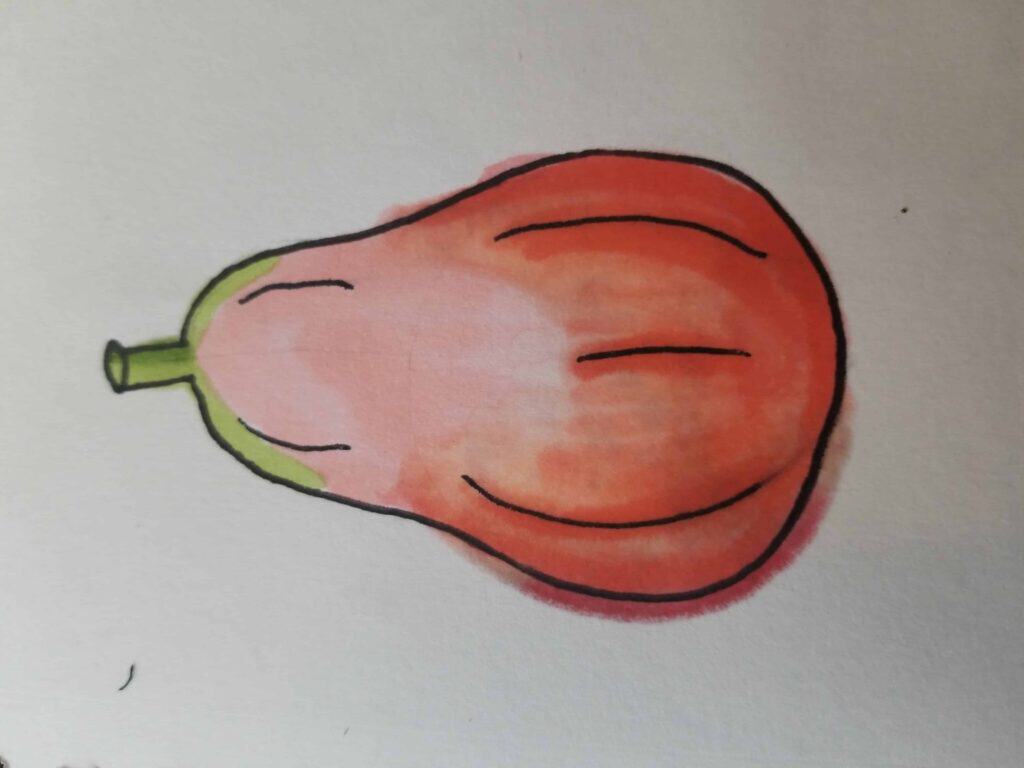 Add shadowing (just an oblong) tan or grey.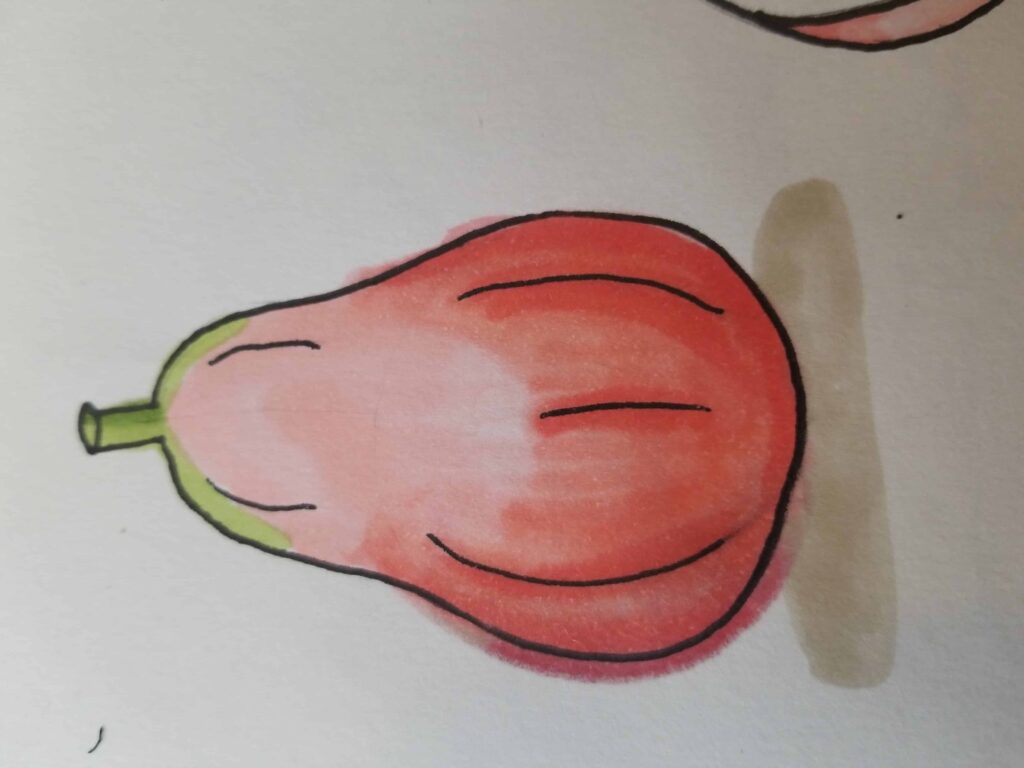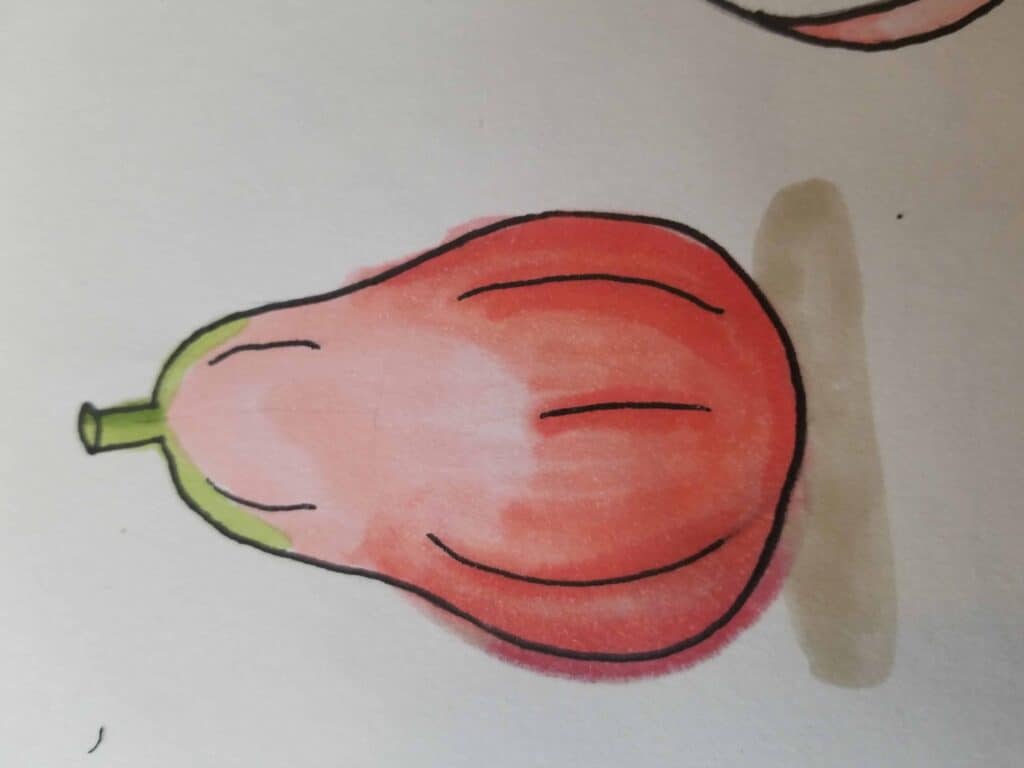 For the internal view of the fig, color around the seeds in light pink as well as some of the sides.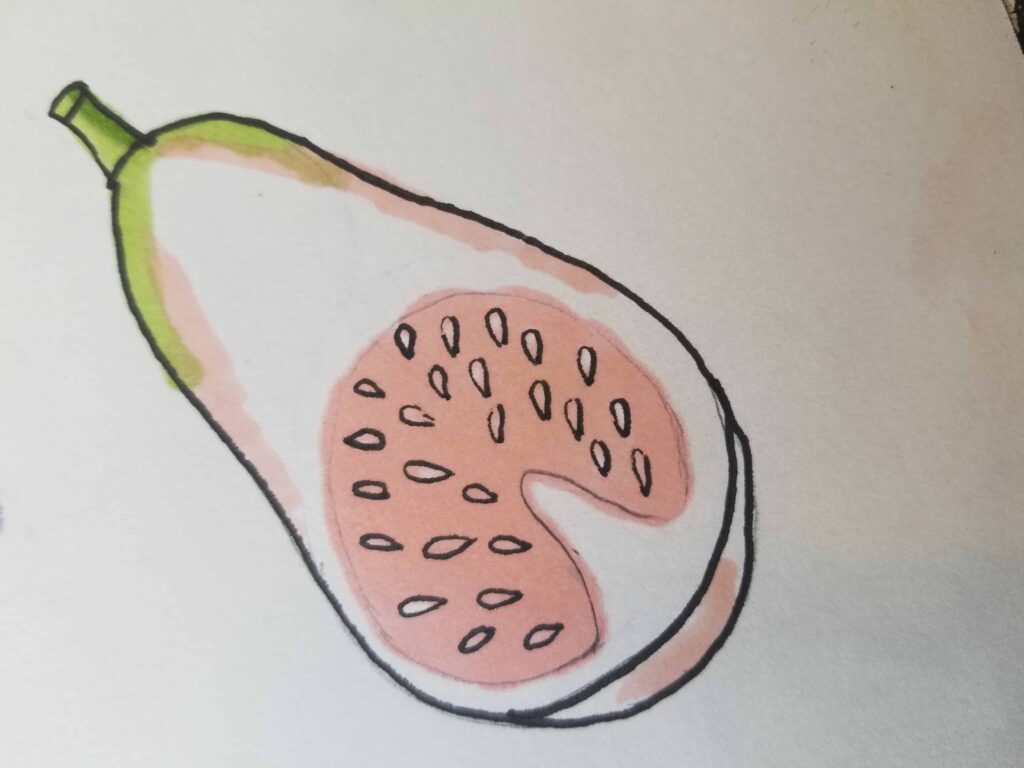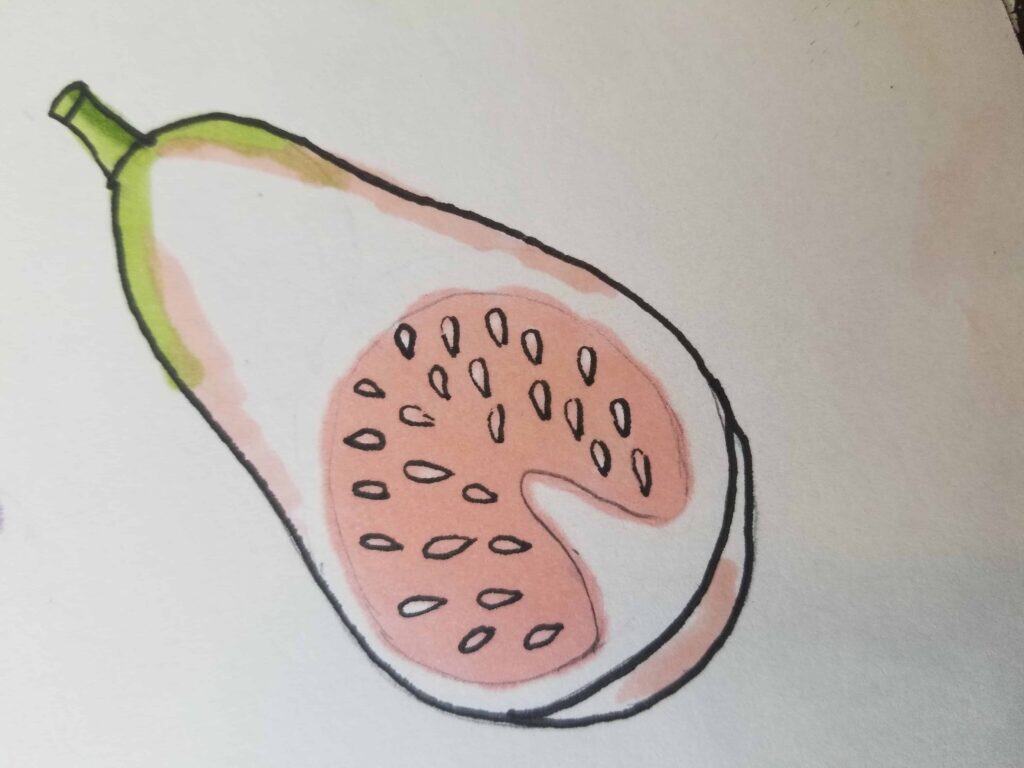 Add a darker shade of pink for highlights.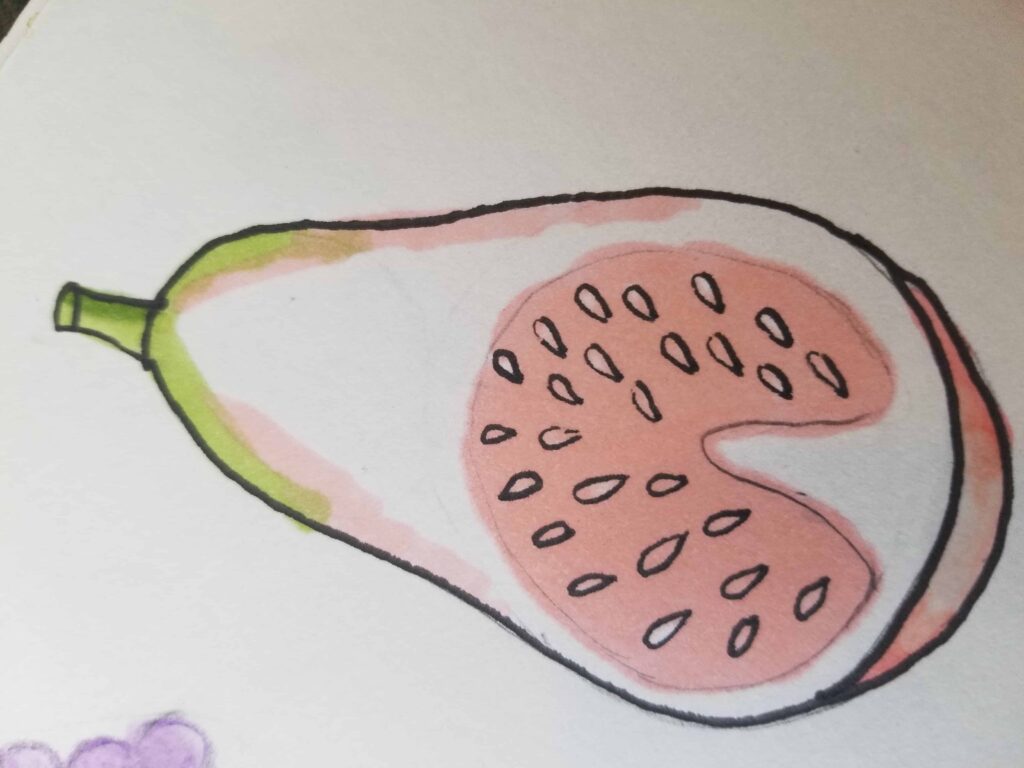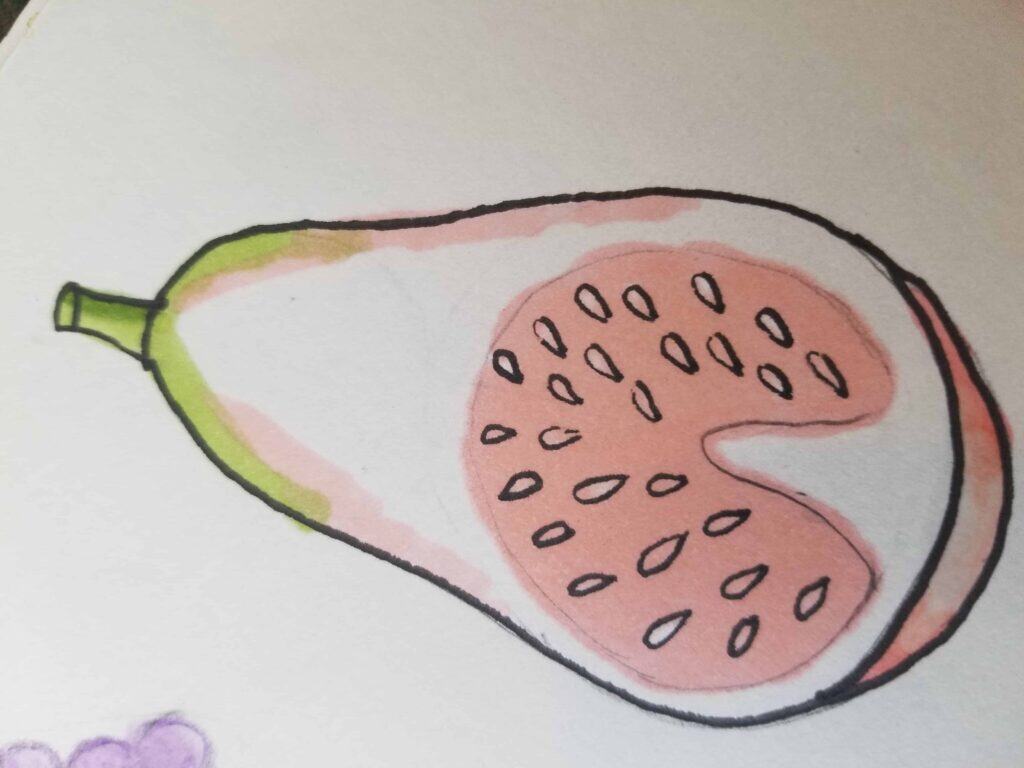 And here are the finished figs – internal and external views.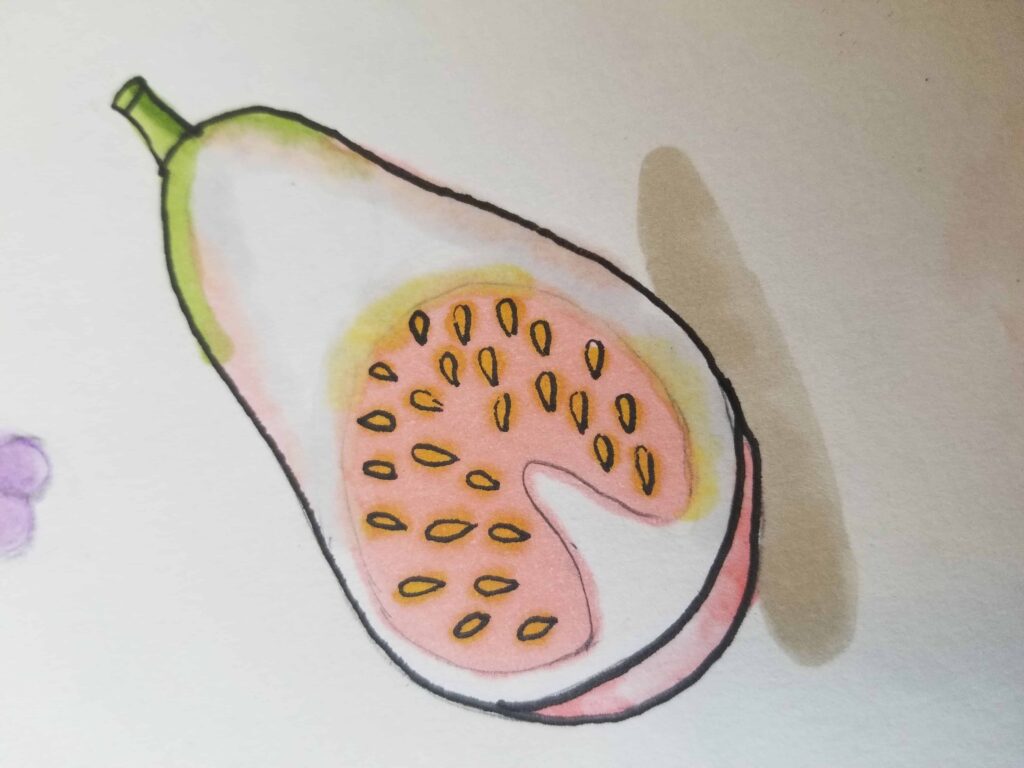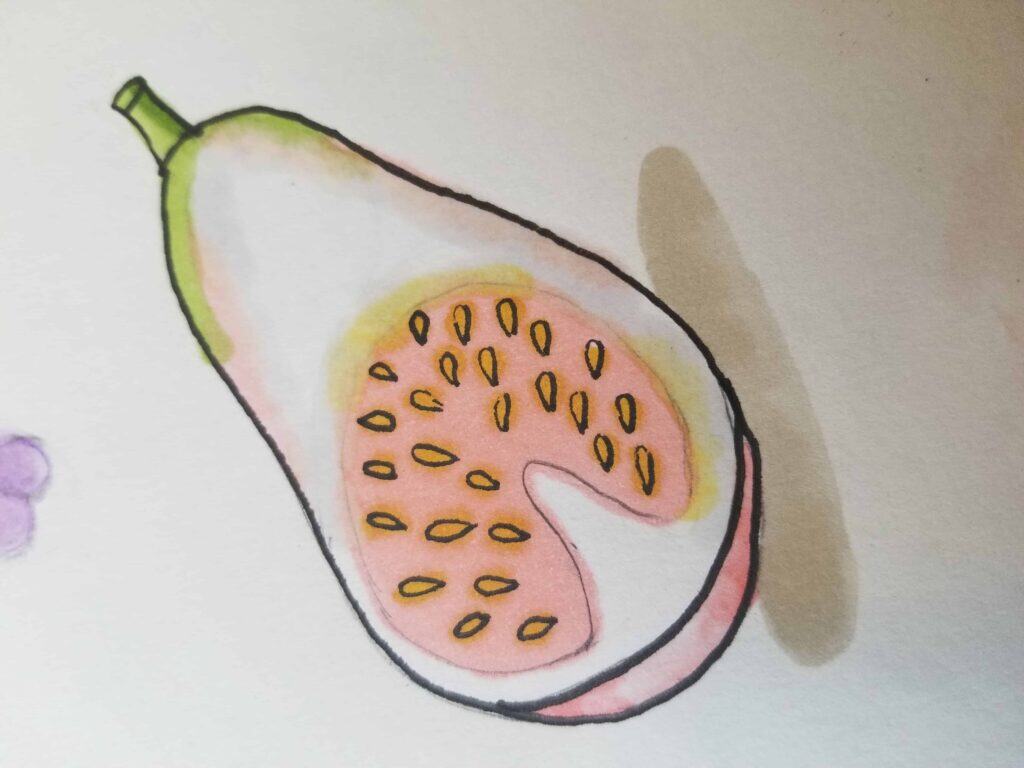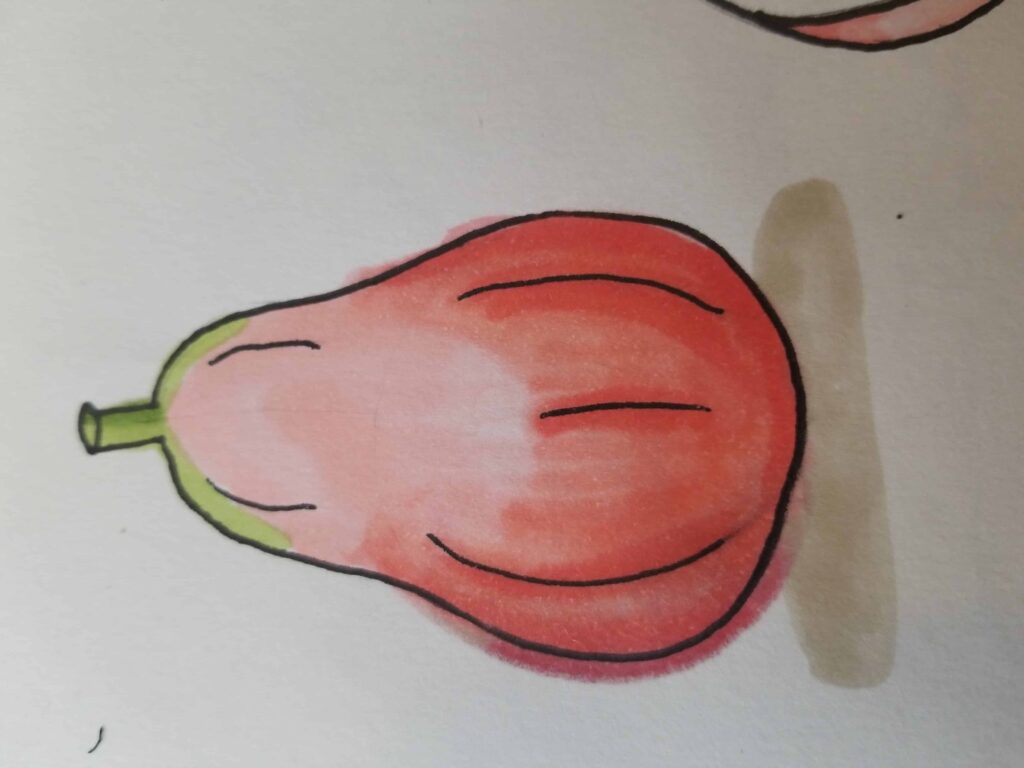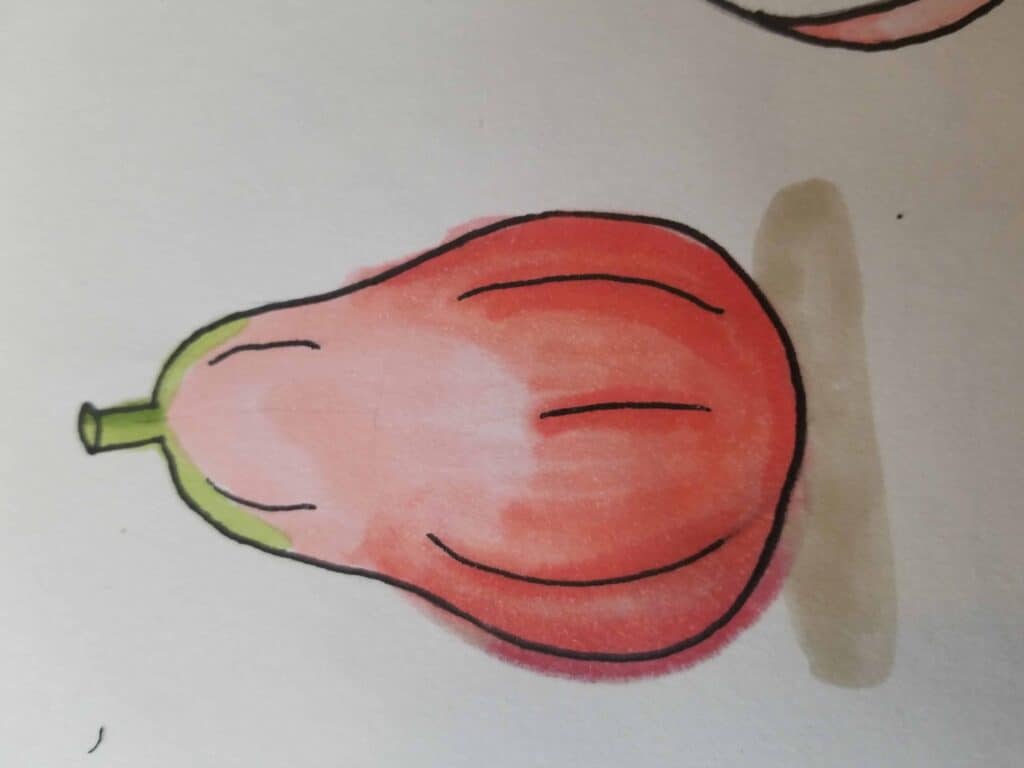 Bible verses featuring figs:
Matthew 21:19-21
And seeing a fig tree by the wayside, he went to it and found nothing on it but only leaves. And he said to it, "May no fruit ever come from you again!" And the fig tree withered at once. When the disciples saw it, they marveled, saying, "How did the fig tree wither at once?" And Jesus answered them, "Truly, I say to you, if you have faith and do not doubt, you will not only do what has been done to the fig tree, but even if you say to this mountain, 'Be taken up and thrown into the sea,' it will happen.
Luke 21:29-31
And he told them a parable: "Look at the fig tree, and all the trees. As soon as they come out in leaf, you see for yourselves and know that the summer is already near. So also, when you see these things taking place, you know that the kingdom of God is near.
Mark 11:12-14
On the following day, when they came from Bethany, he was hungry. And seeing in the distance a fig tree in leaf, he went to see if he could find anything on it. When he came to it, he found nothing but leaves, for it was not the season for figs. And he said to it, "May no one ever eat fruit from you again." And his disciples heard it.
How to Draw Olives in Bible Journaling
Olives can be found throughout the Bible in talking of the fruit, the trees, the oil and more. There are so many great places in the Bible to add olives.
Let's draw a basic olive, leaves and twig to use in your Bible journaling.
Start by drawing two oblong shaped olives with stems.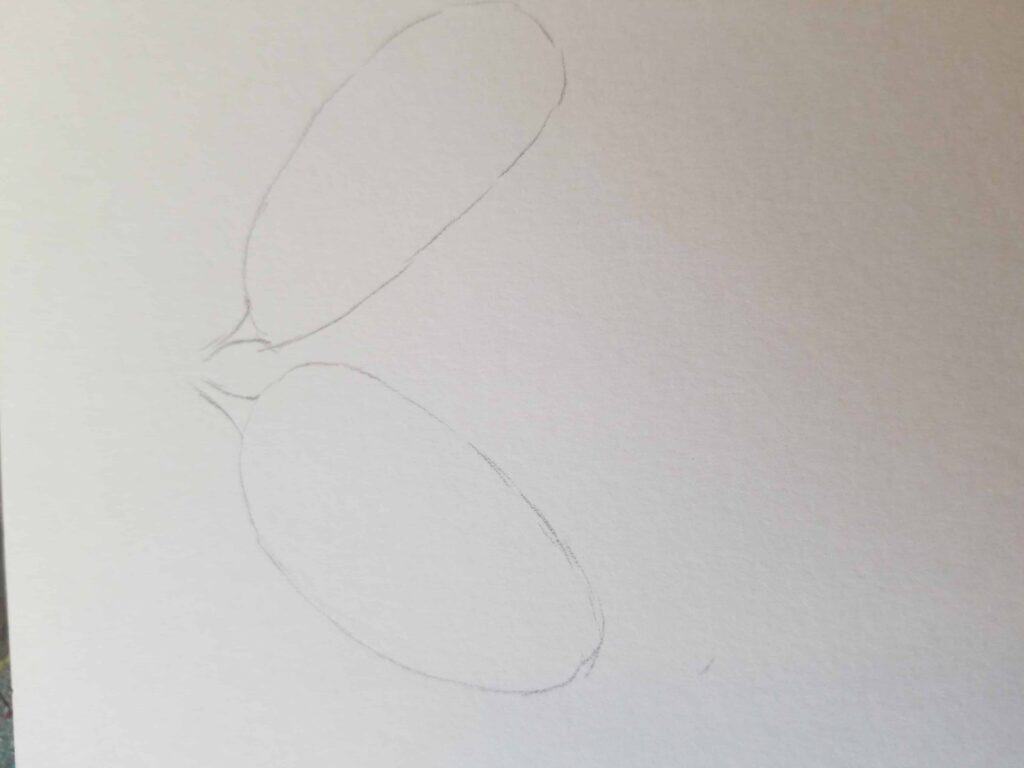 Add a larger stem and leaves.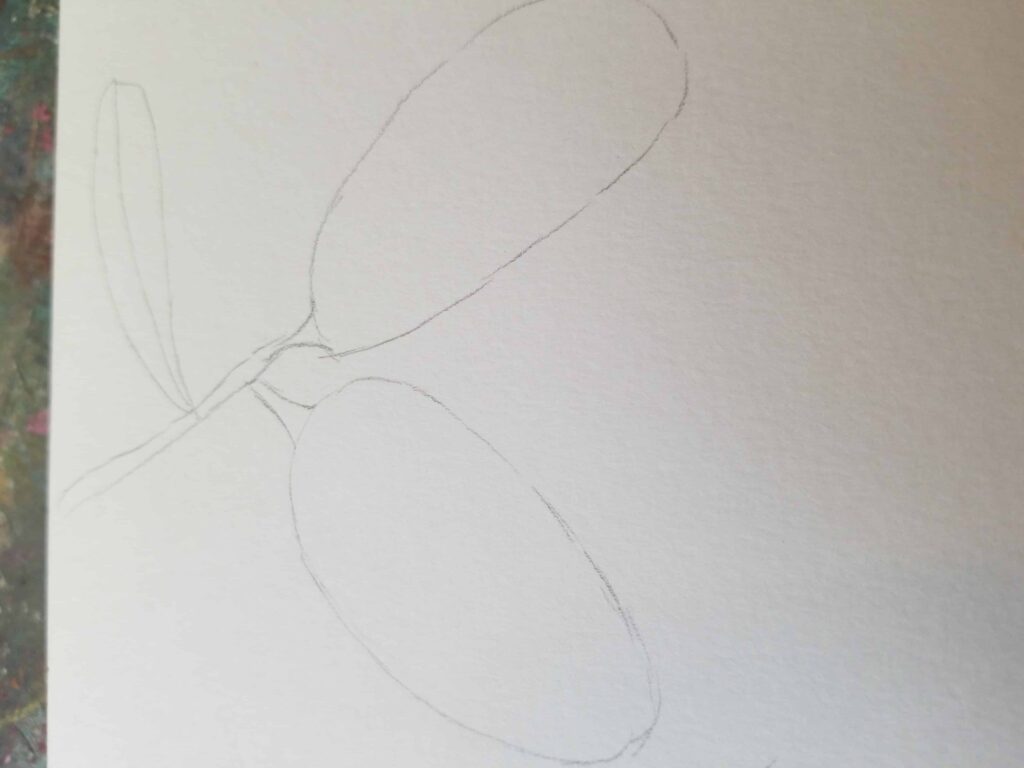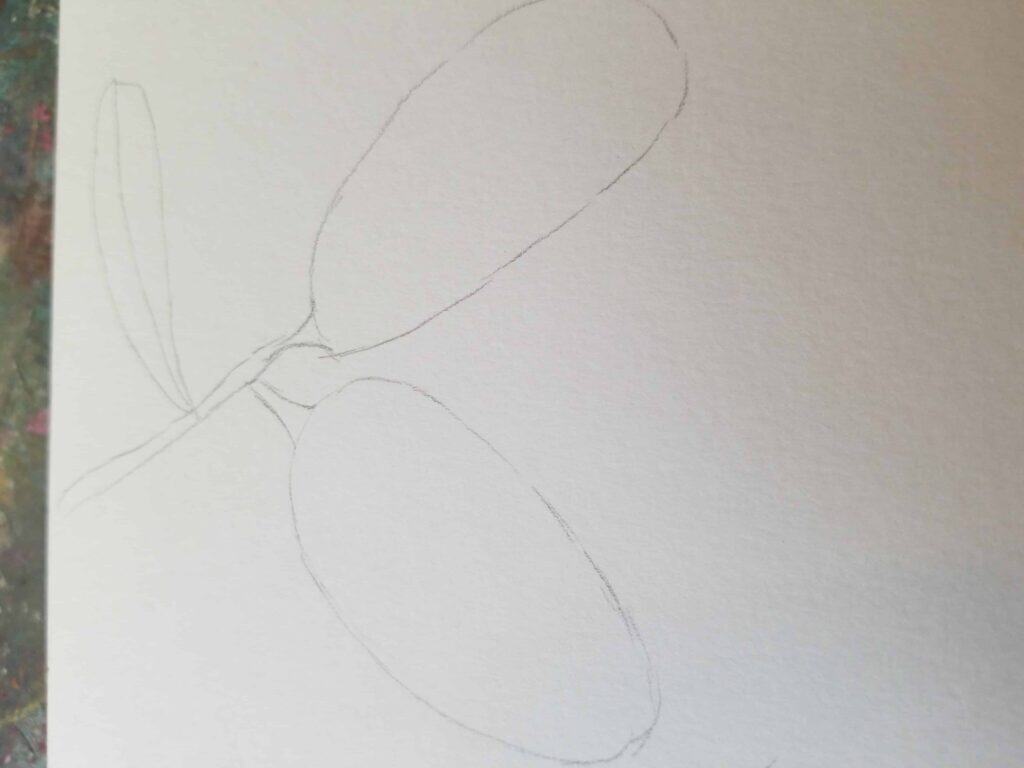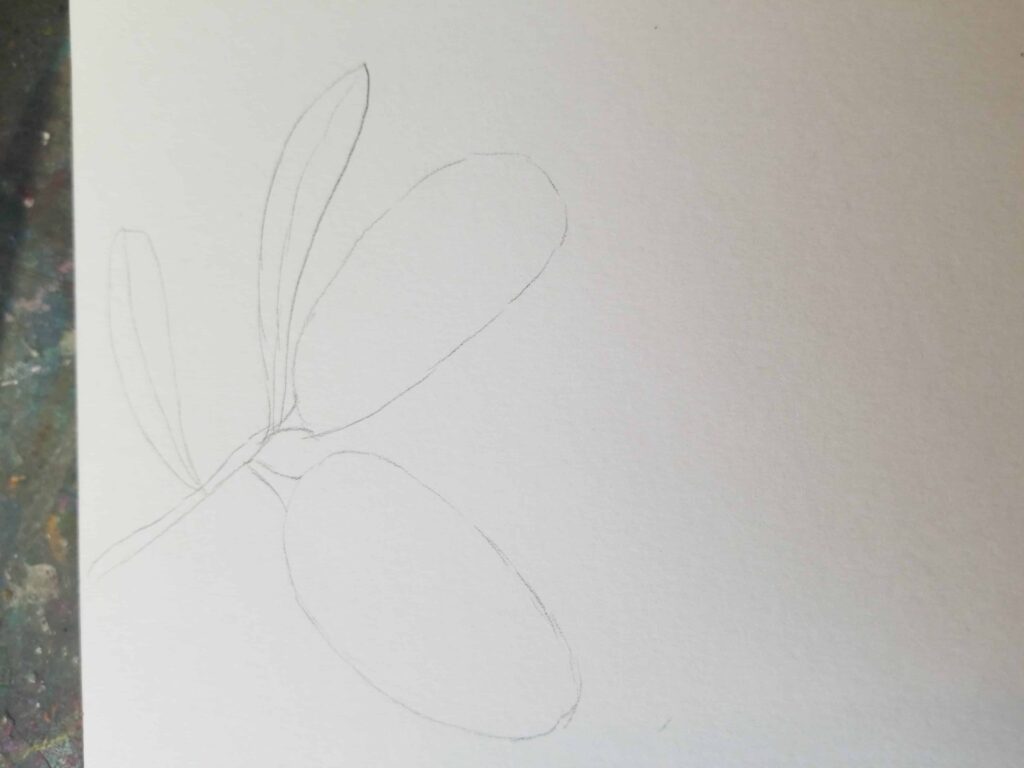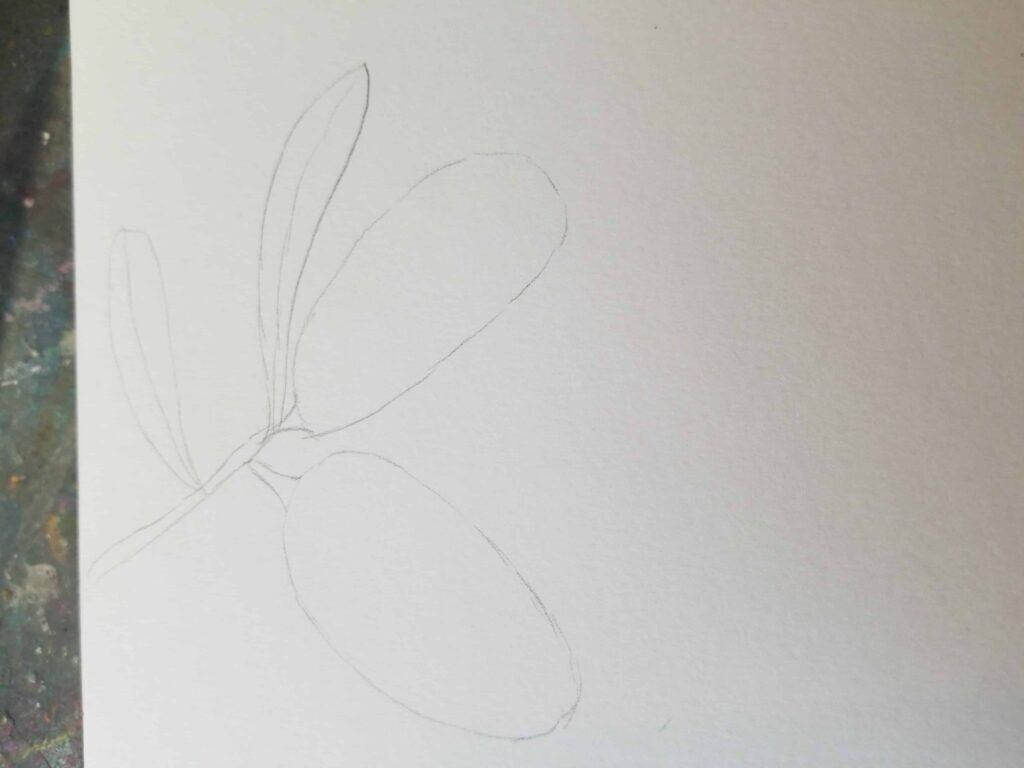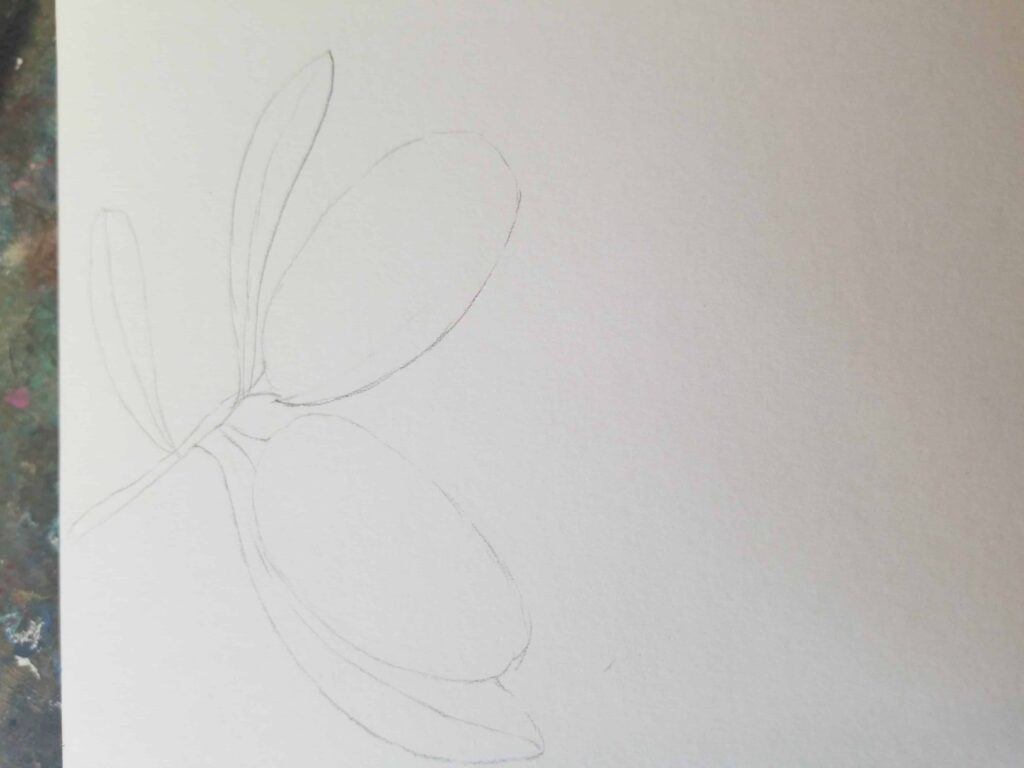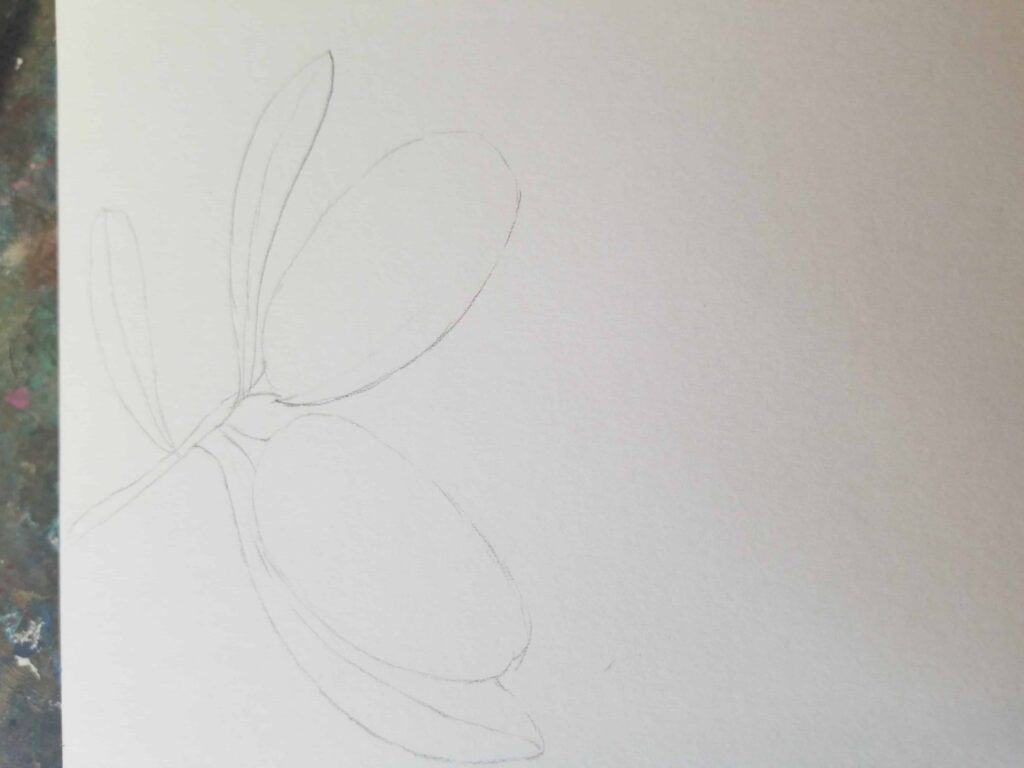 Begin by coloring the olives in various shades of green.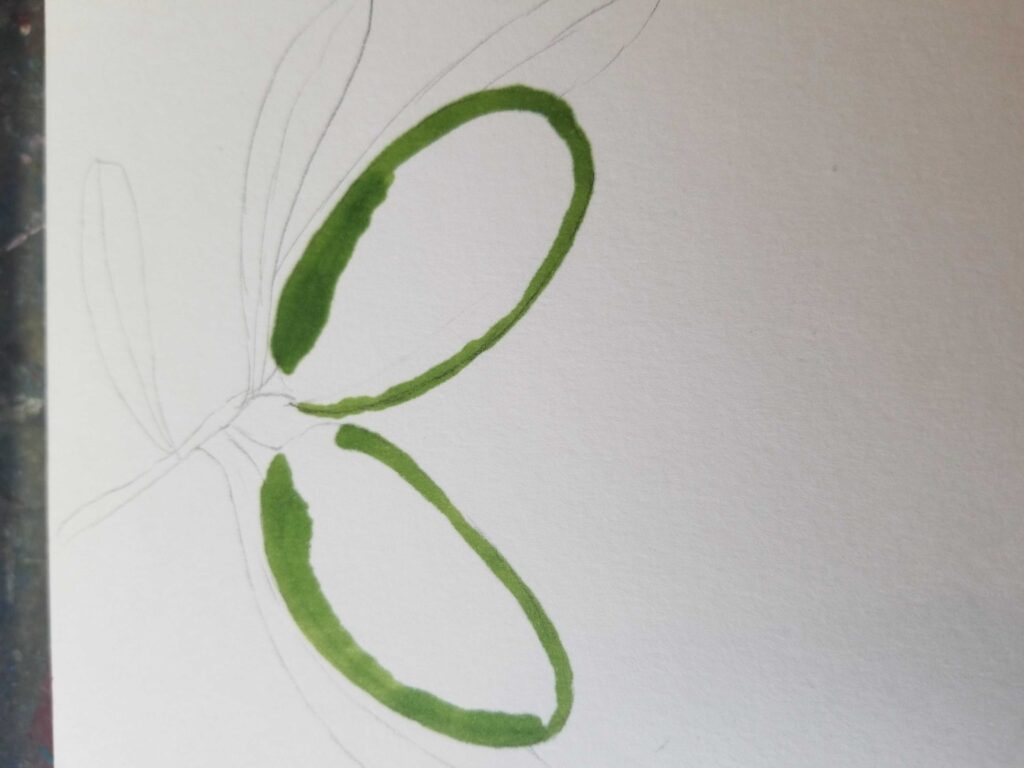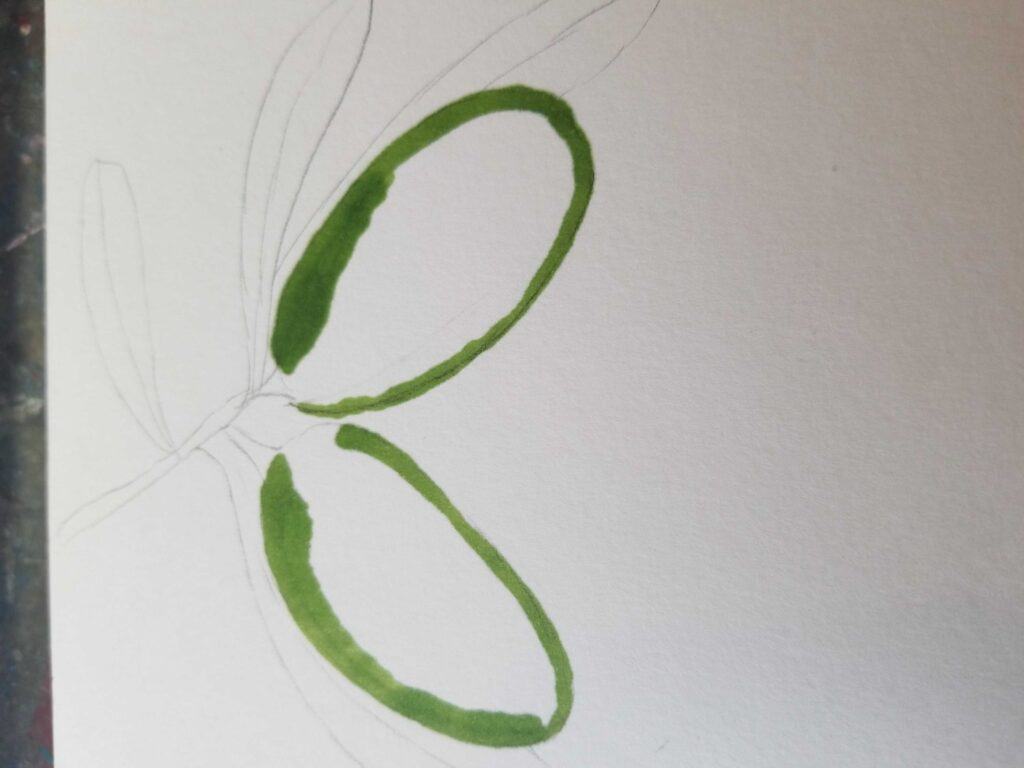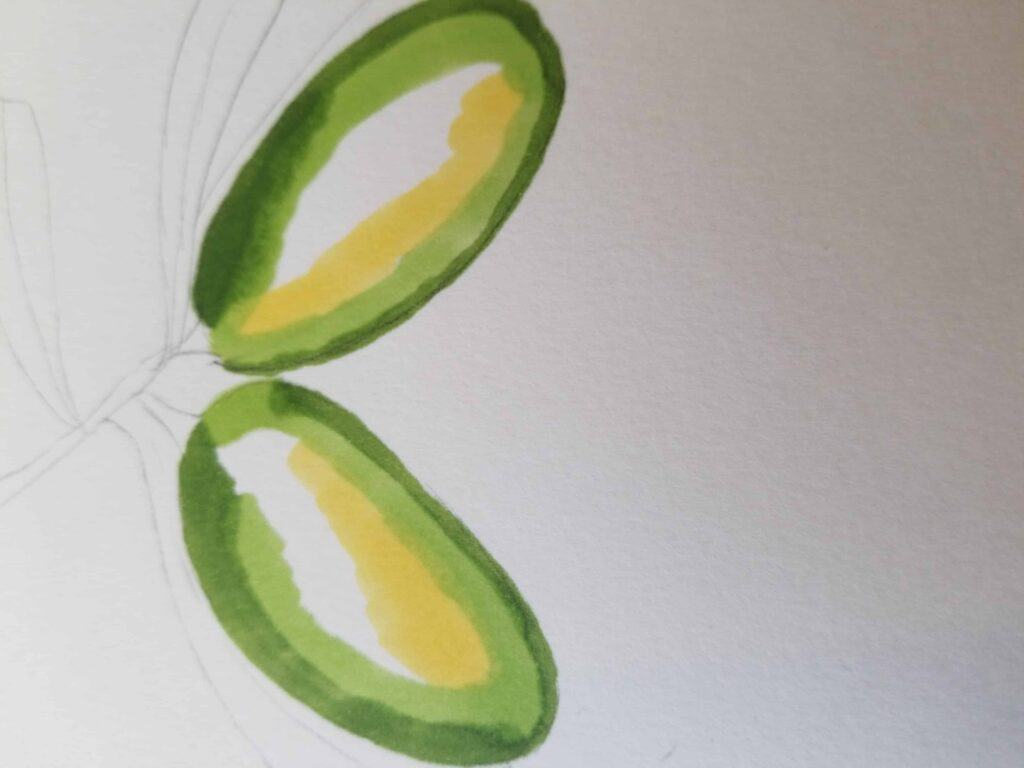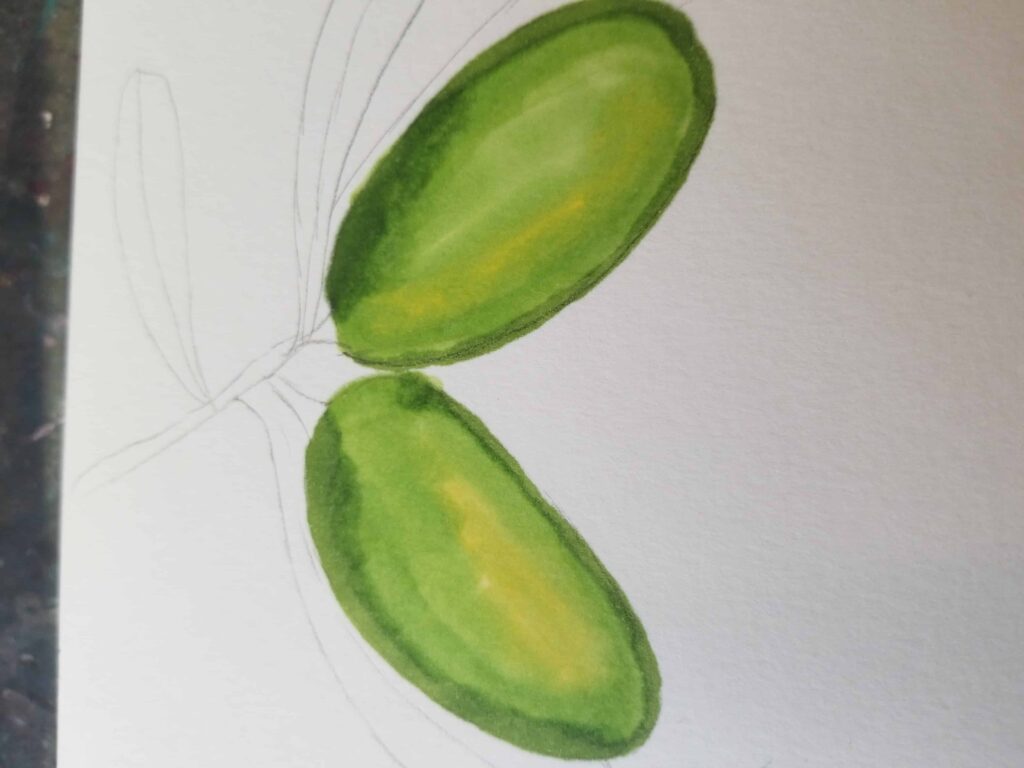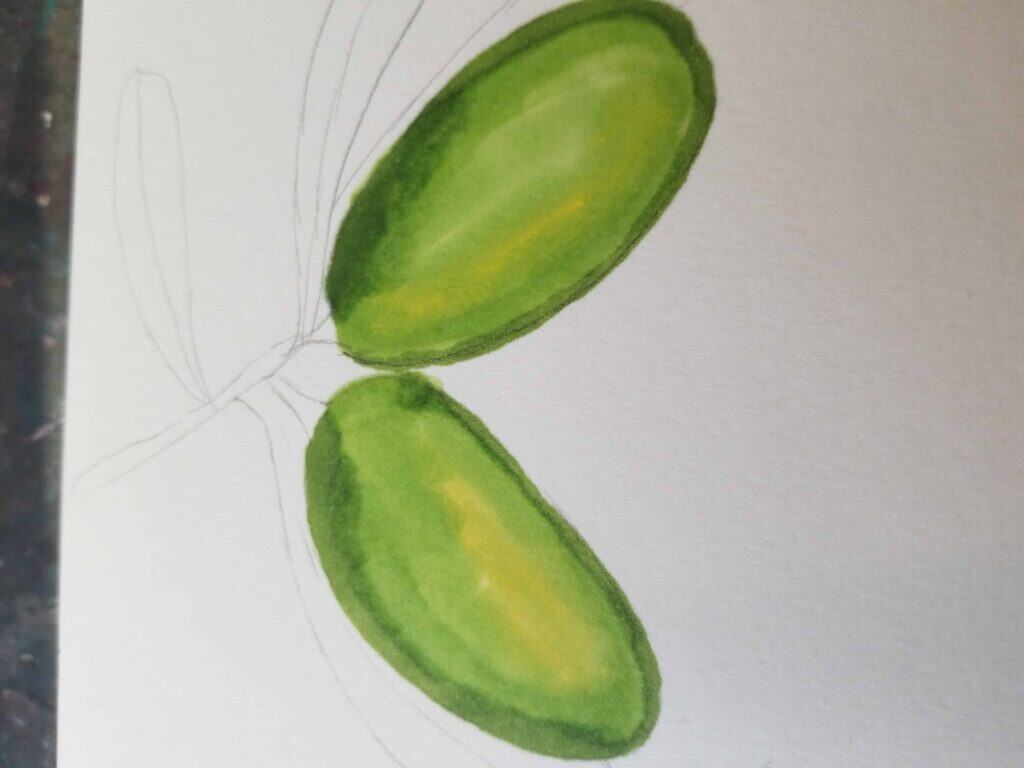 Color the stems of the olive branch.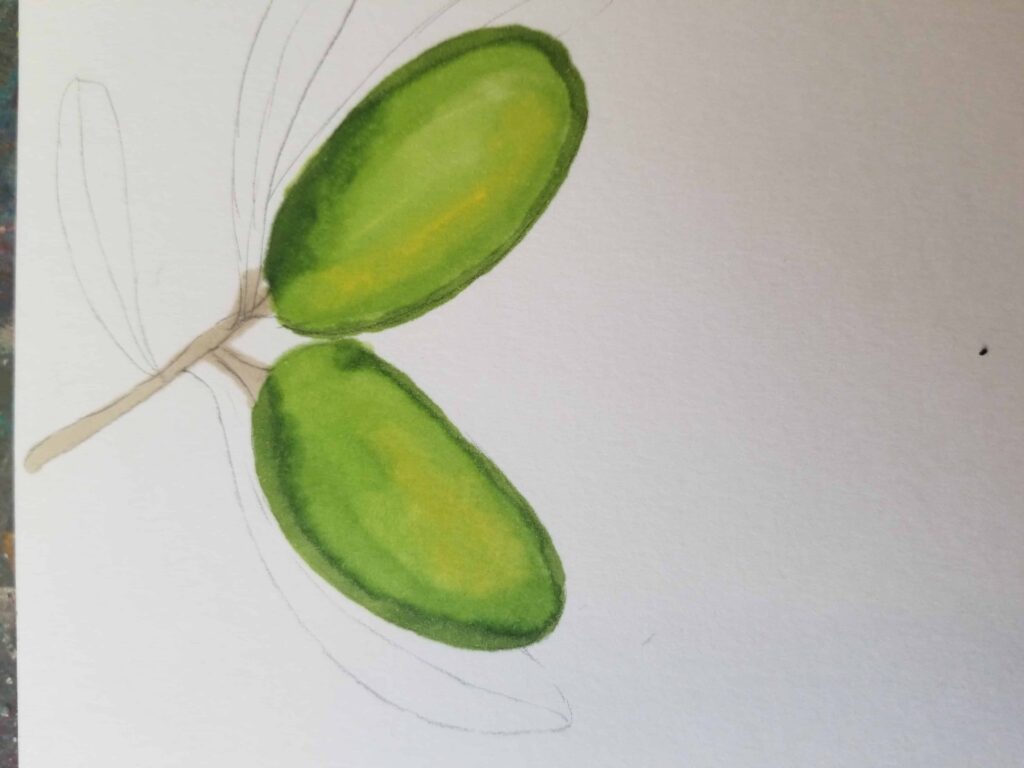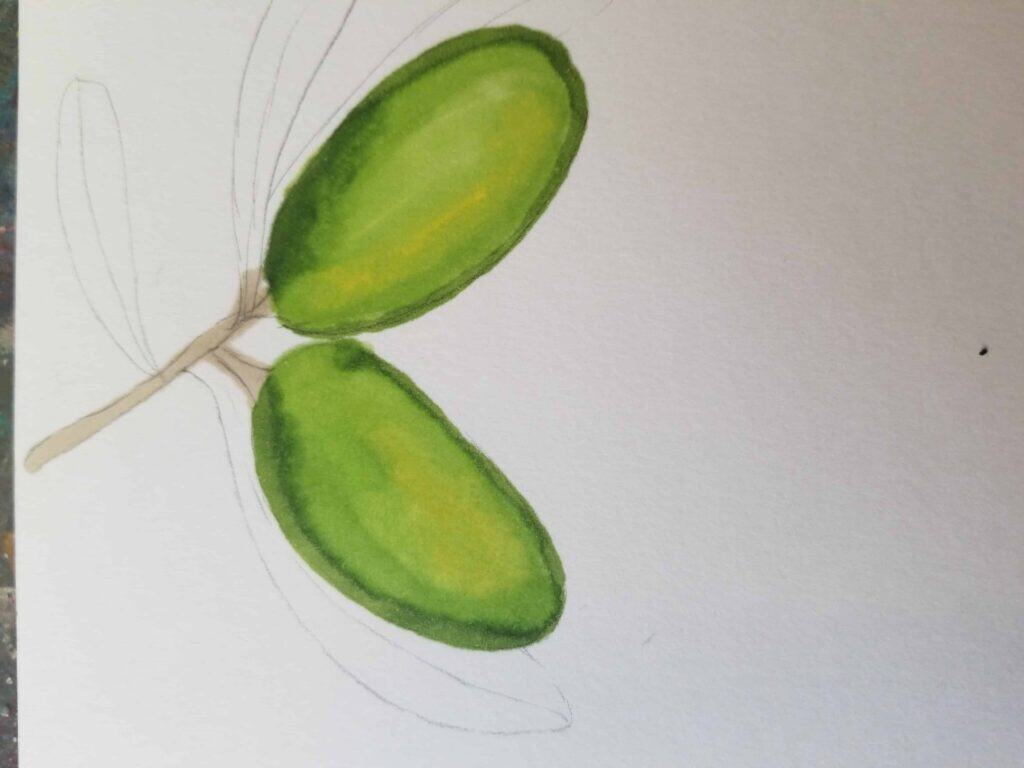 Color the leaves of the olive branch.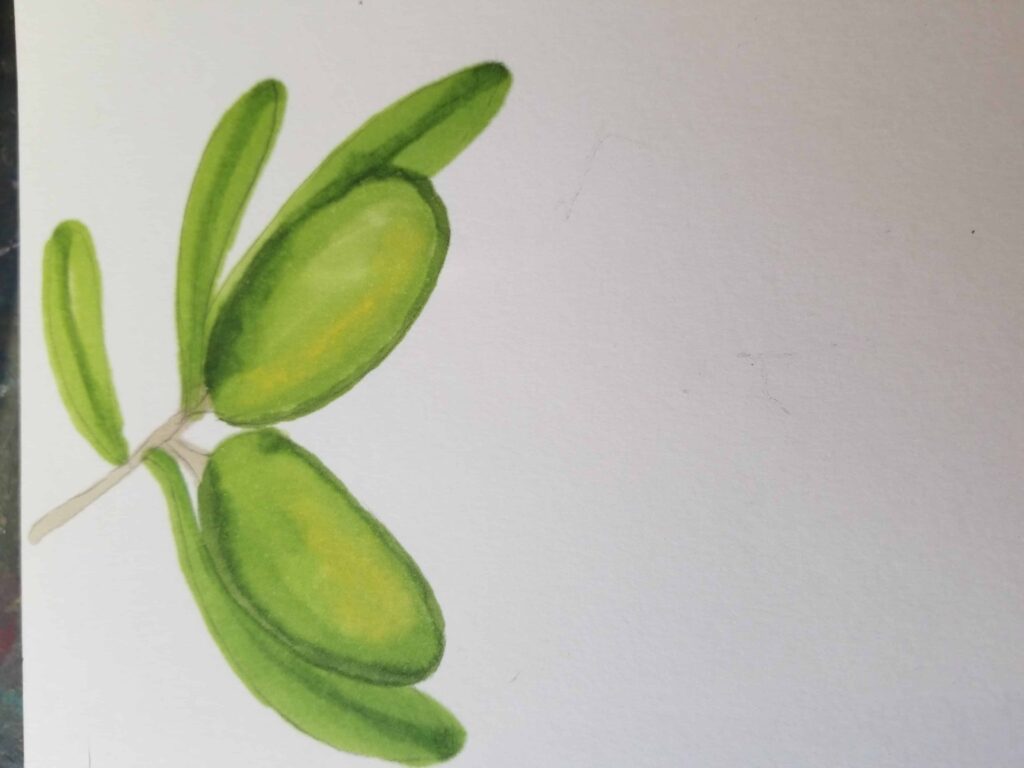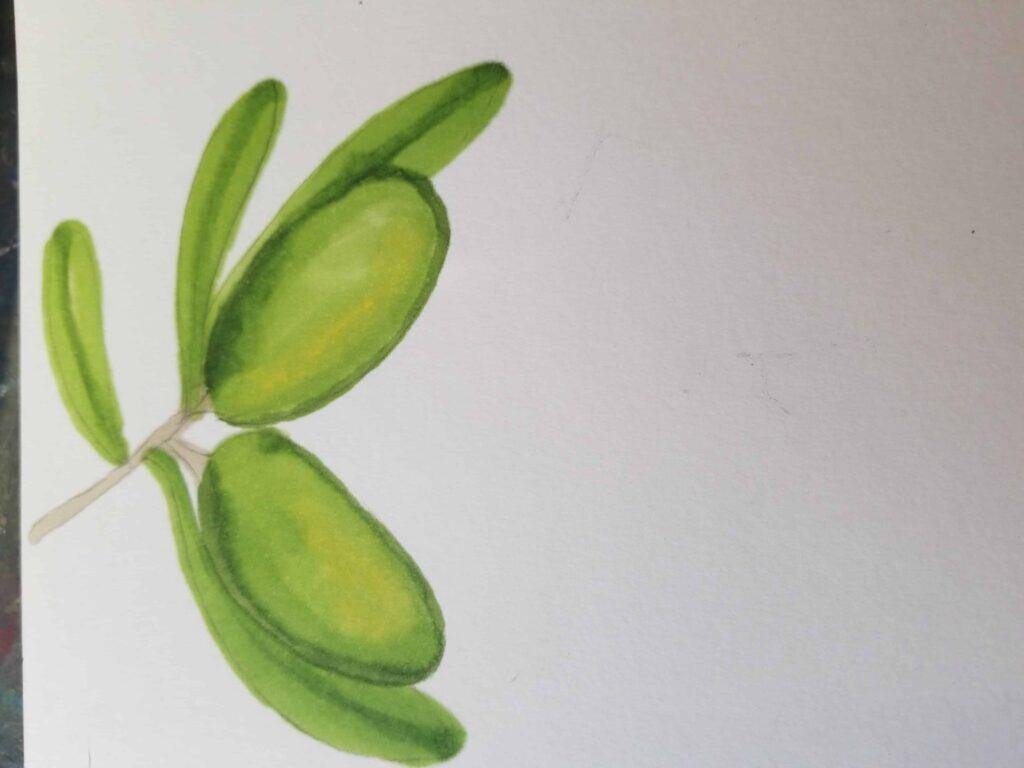 Bible verses about olives to add olive drawings to your Bible journaling:
Revelation 11:3-4
And I will grant authority to my two witnesses, and they will prophesy for 1,260 days, clothed in sackcloth." These are the two olive trees and the two lampstands that stand before the Lord of the earth.
Leviticus 24:2
"Command the people of Israel to bring you pure oil from beaten olives for the lamp, that a light may be kept burning regularly.
Psalm 52:8
But I am like a green olive tree in the house of God. I trust in the steadfast love of God forever and ever.
Hosea 14:6
His shoots shall spread out; his beauty shall be like the olive, and his fragrance like Lebanon.


How to Draw Dates in Your Bible Journaling
Dates are, while mentioned less than some of the other fruits, still prominent in Bible verses.
To draw a date, draw a potato shaped figure with a curved stem.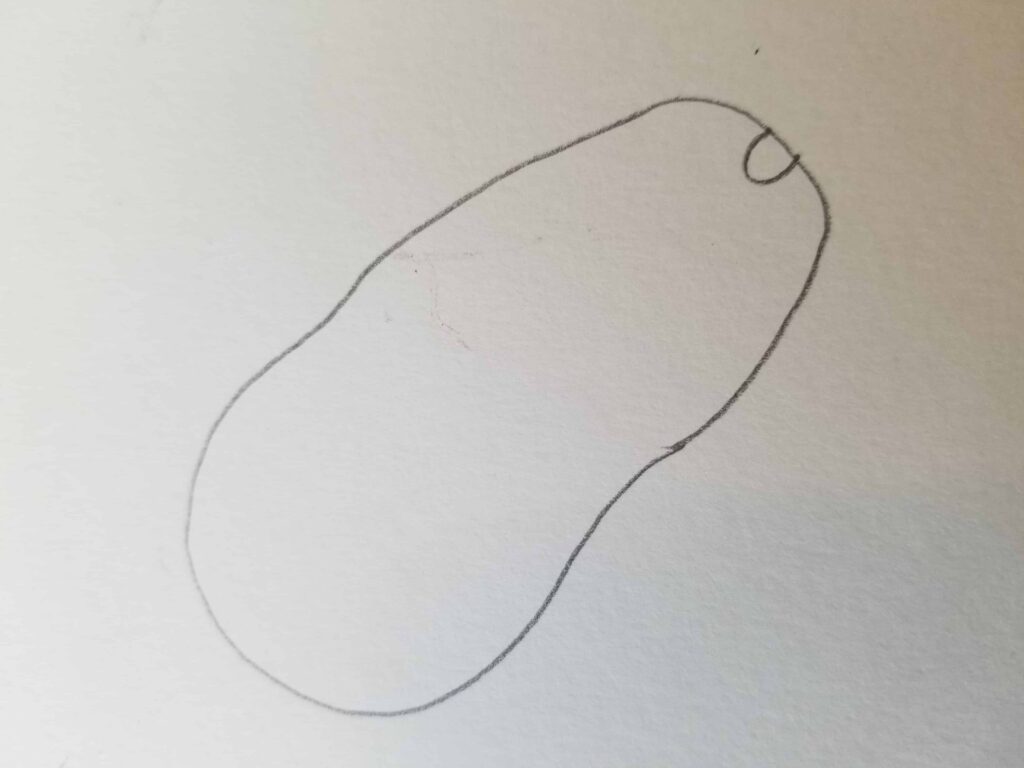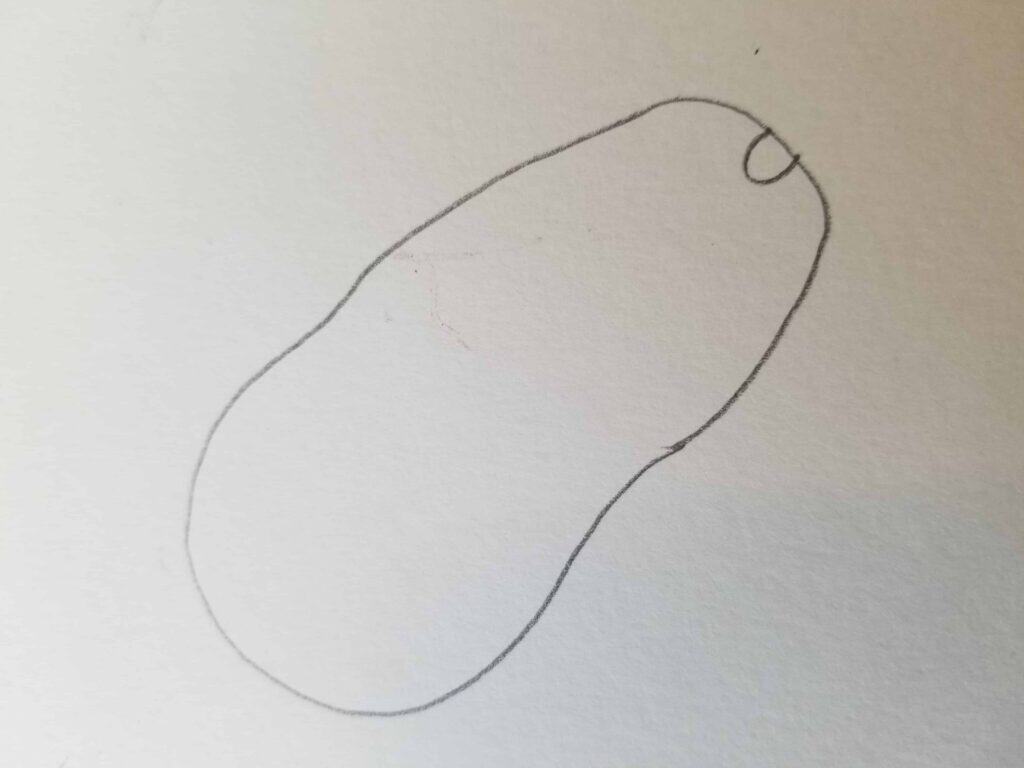 Add a couple additional dates on either side, if you wish.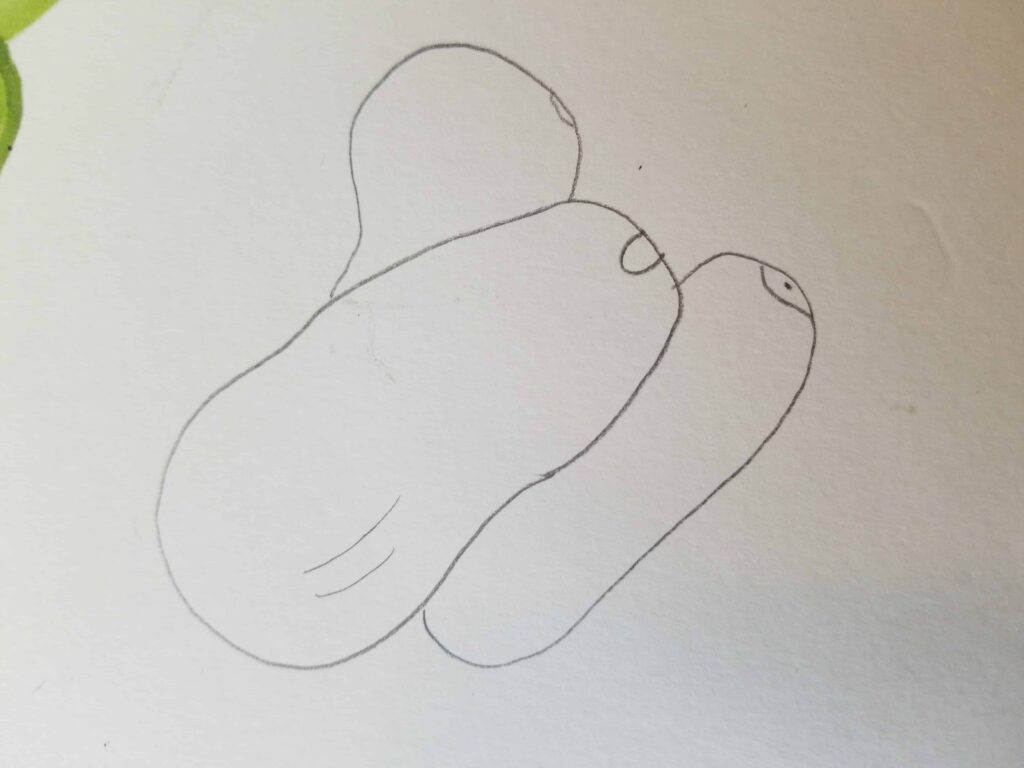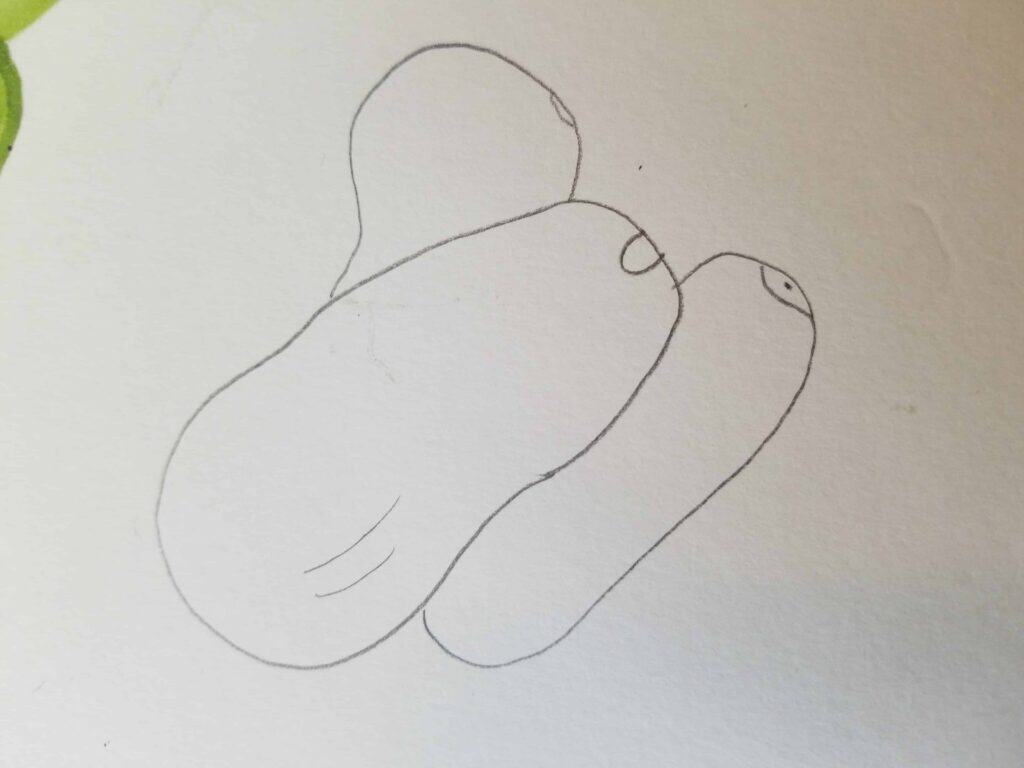 Color the dates with orange or brown.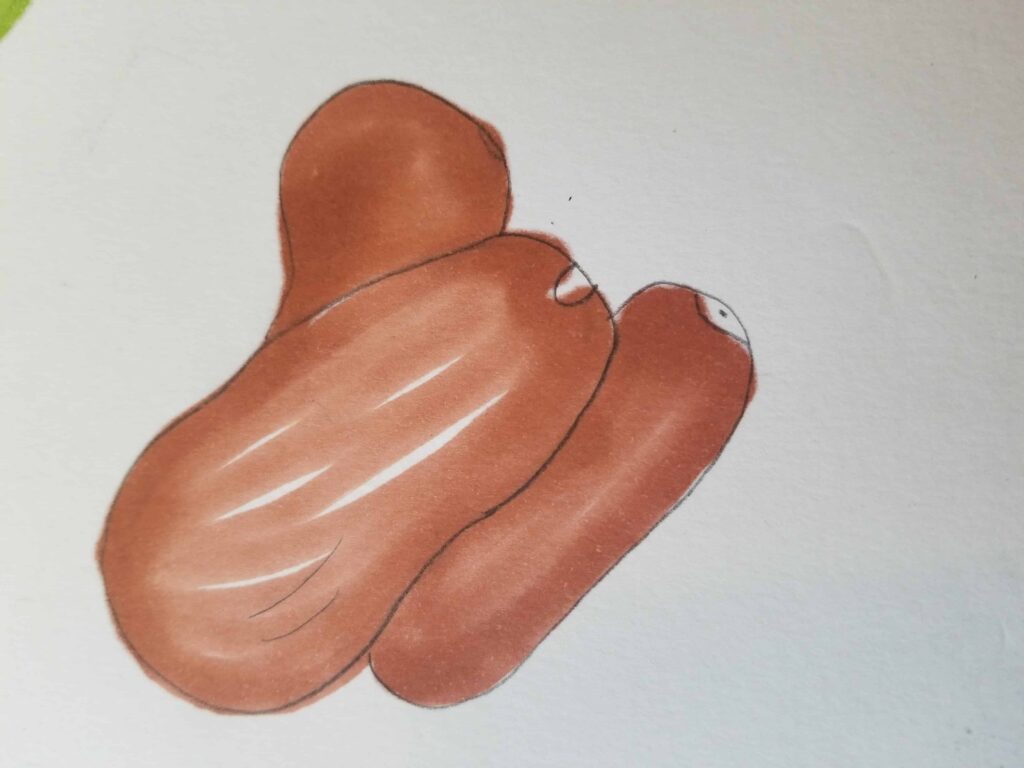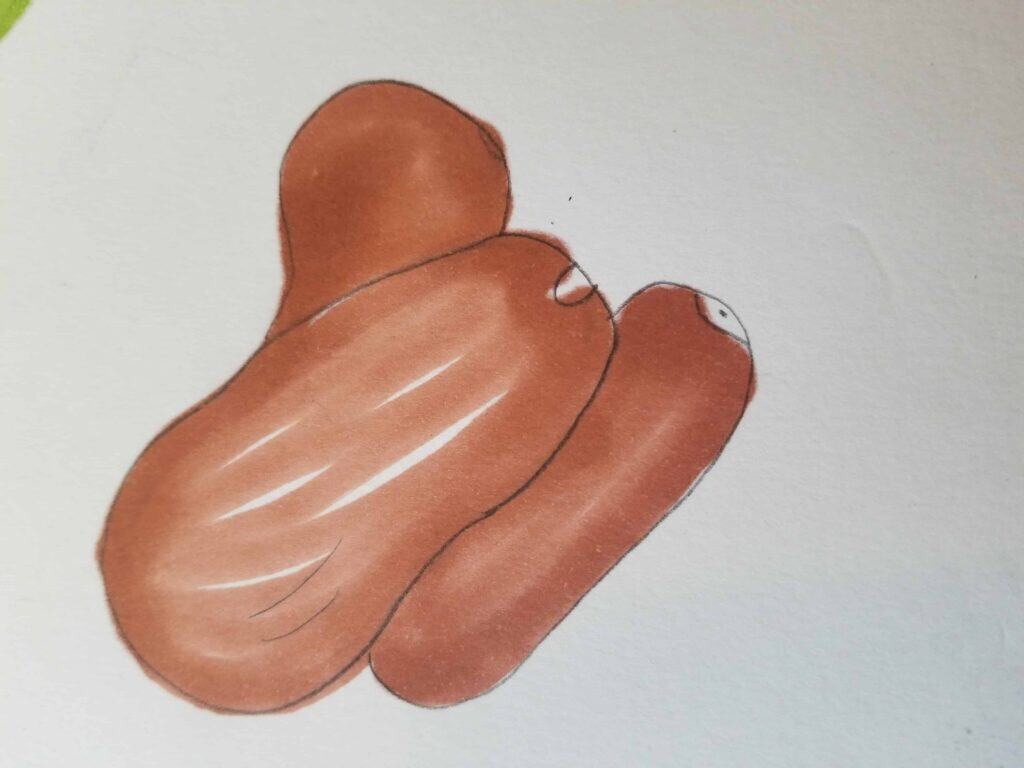 Outline the dates with black and add various shades of brown and orange for depth.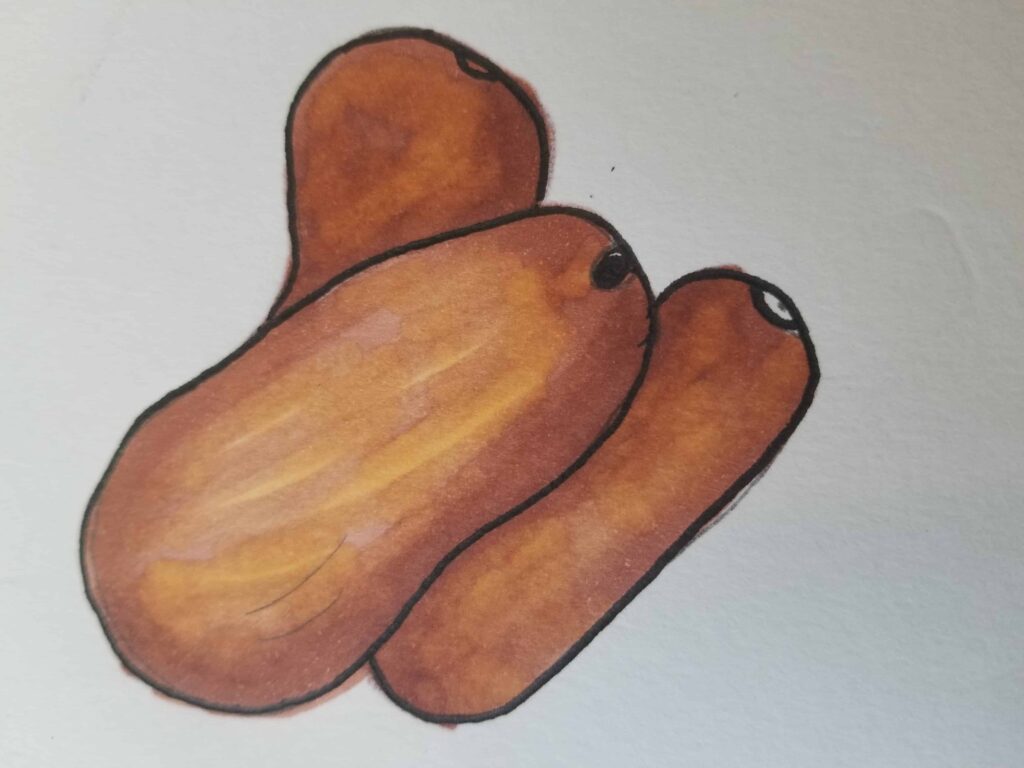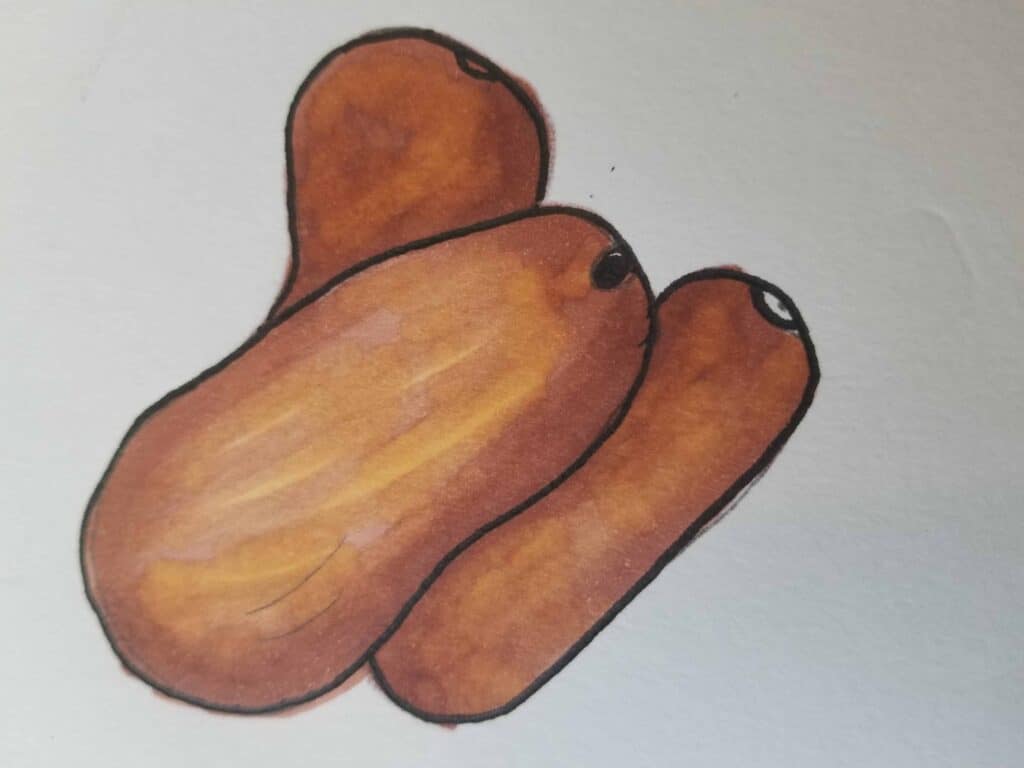 Add dots and lines of black for texture and markings.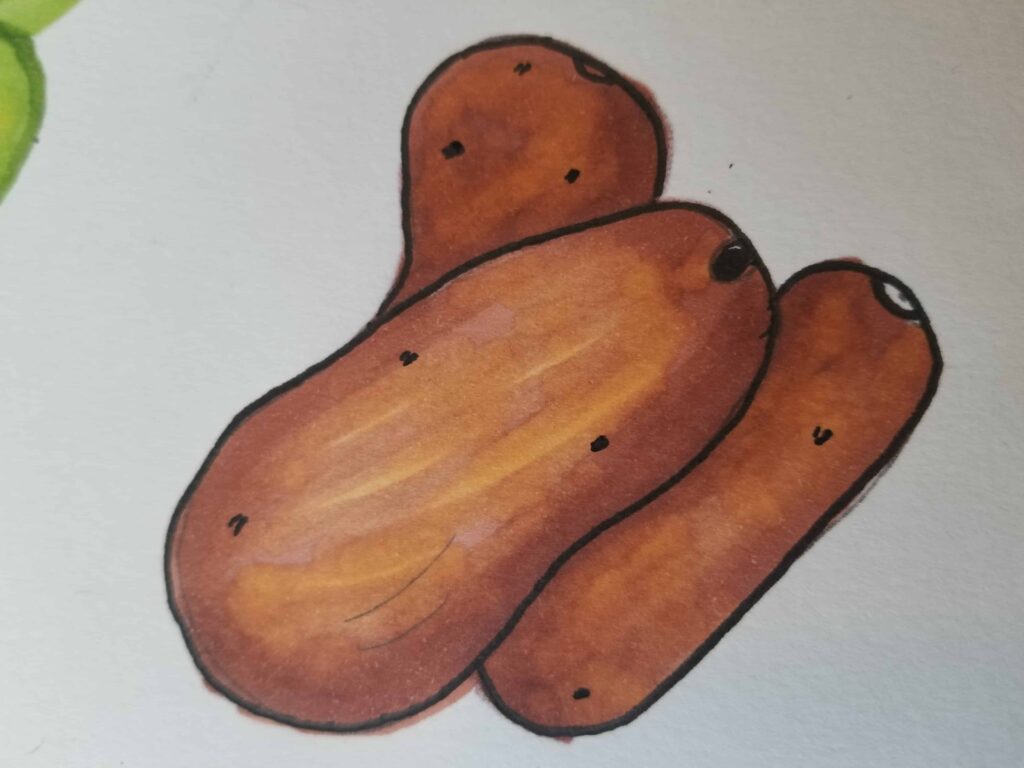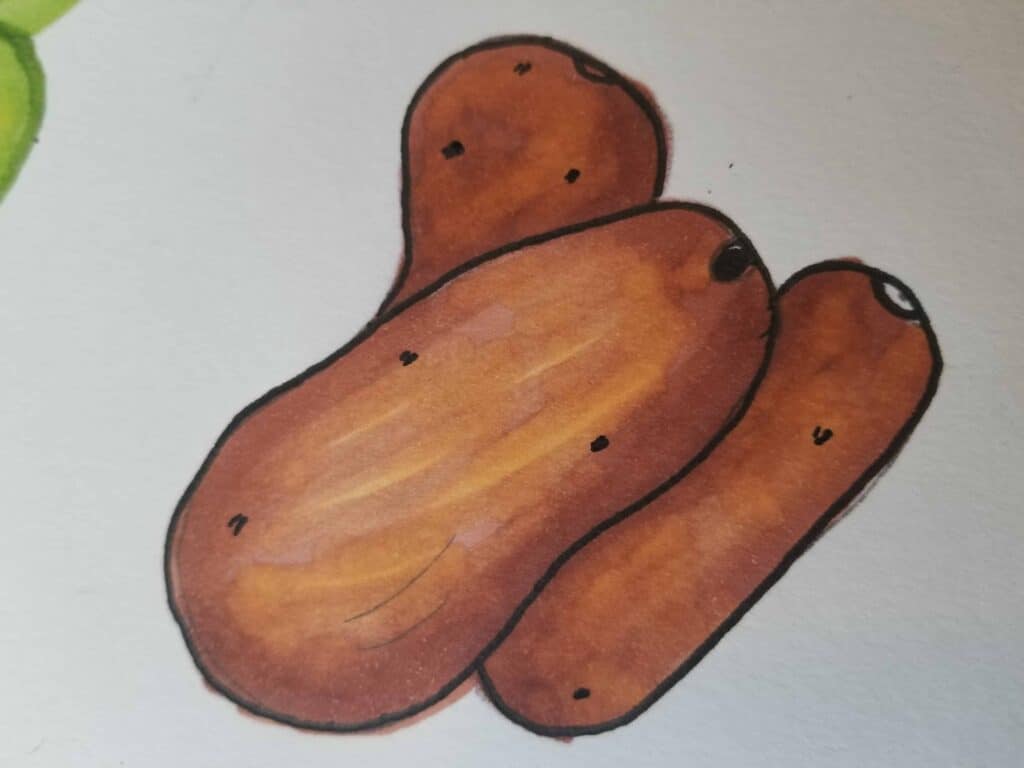 Bible verse about dates for your Bible journaling:
Ezekiel 47-12:
"All kinds of fruit trees will grow along the river banks, the leaves will never turn brown and fall, and there will always be fruit. There will be a new crop every month- without fail! For they are watered by the river flowing from the Temple. The fruit will be for food and the leaves for medicine."
How to draw a pomegranate for Bible journaling
Pomegranates are not just delicious, but another fruit that features prominently in the Bible.
Here's how to draw a pomegranate for your Bible journaling.
Draw a line and a large circle.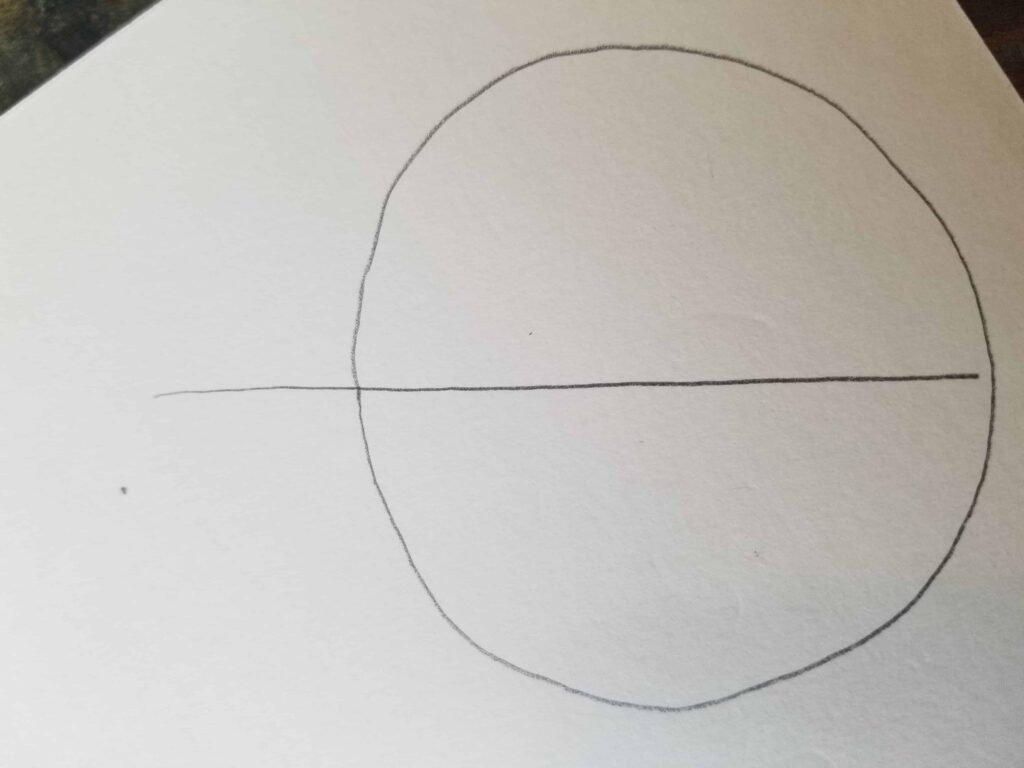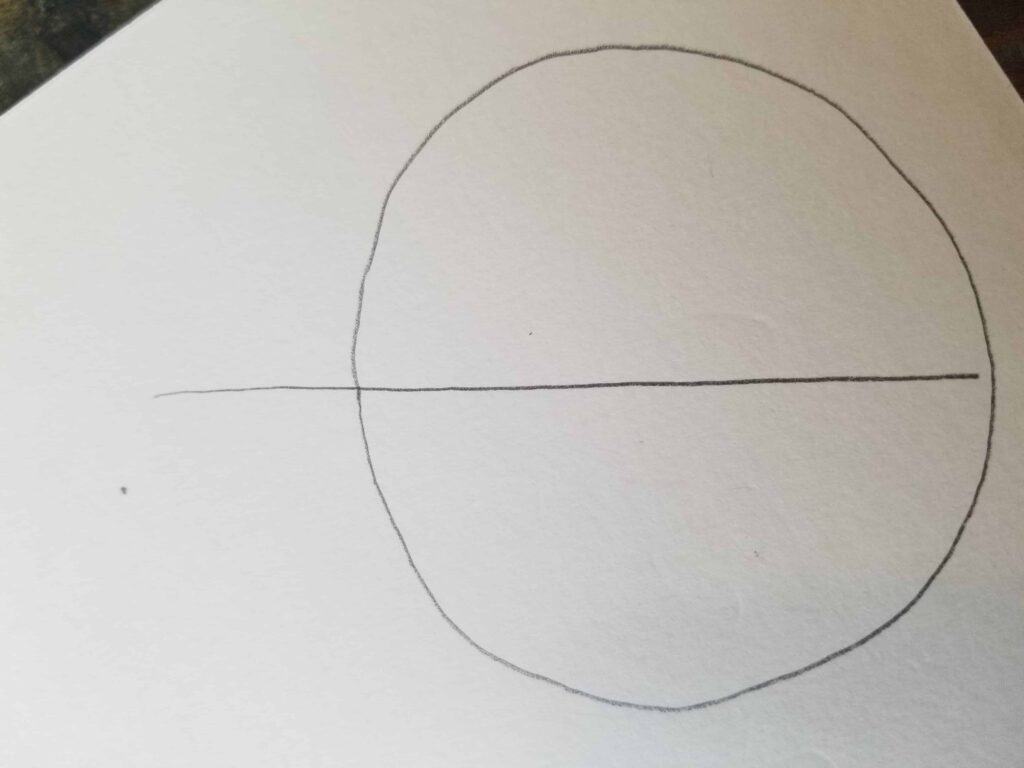 Draw another circle inside the first one, but with the right half smaller than the outer circle as shown below.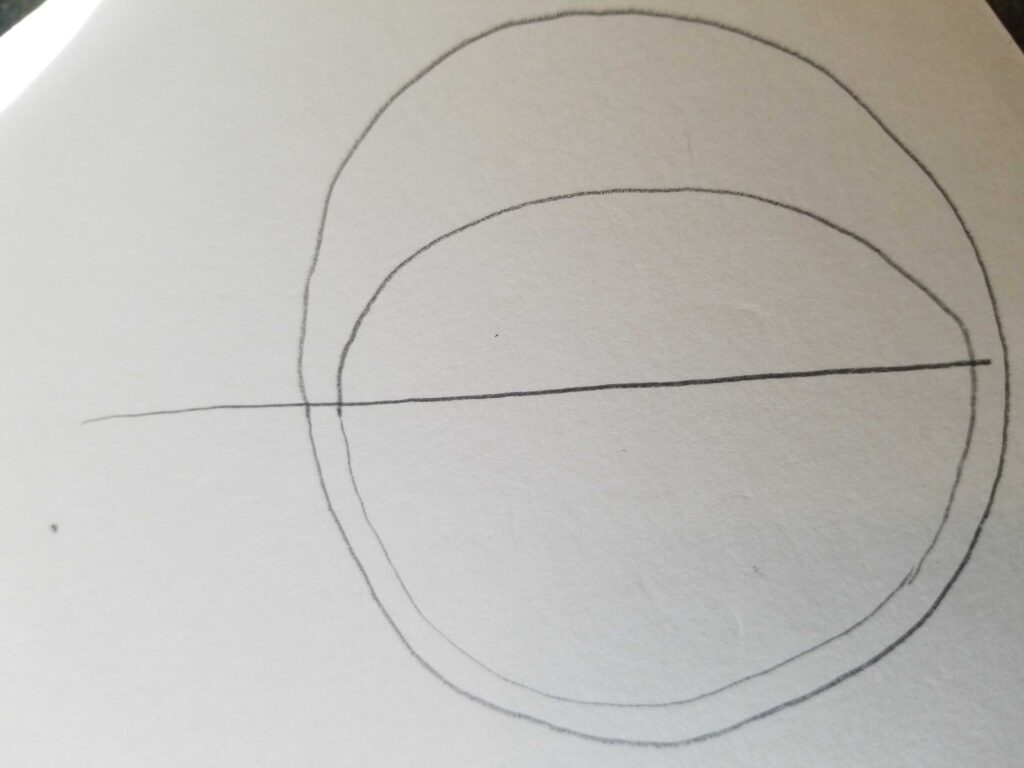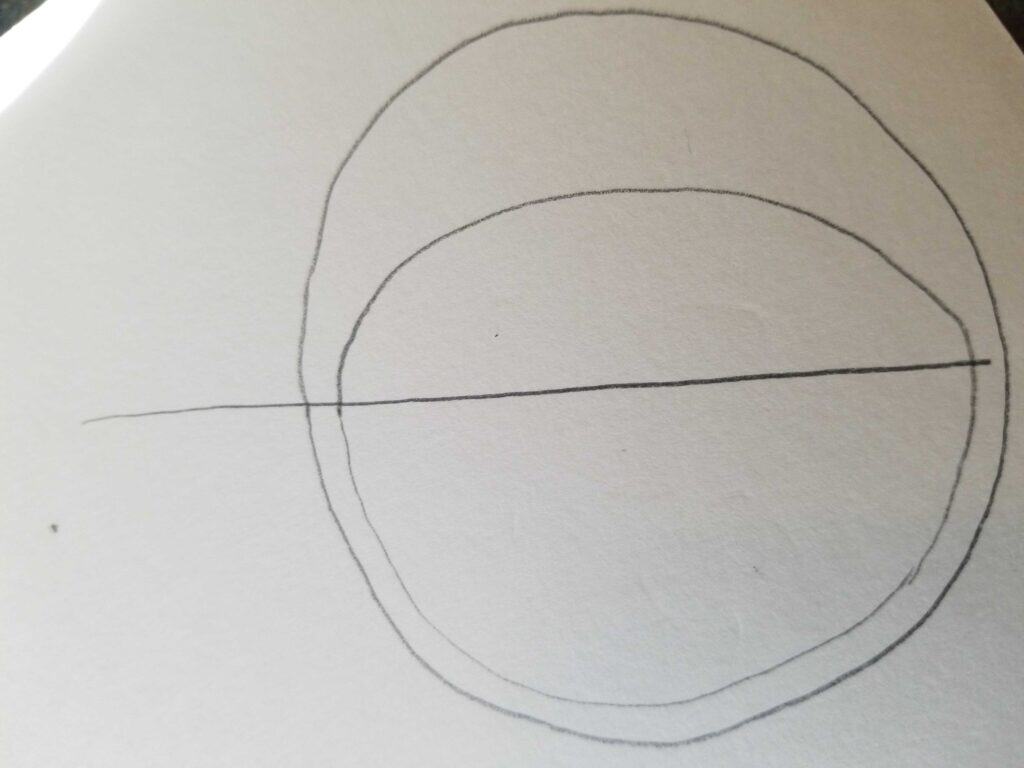 Draw a shape as shown below (kind of like a butterfly, but not exactly). This will be there area where you draw the seeds.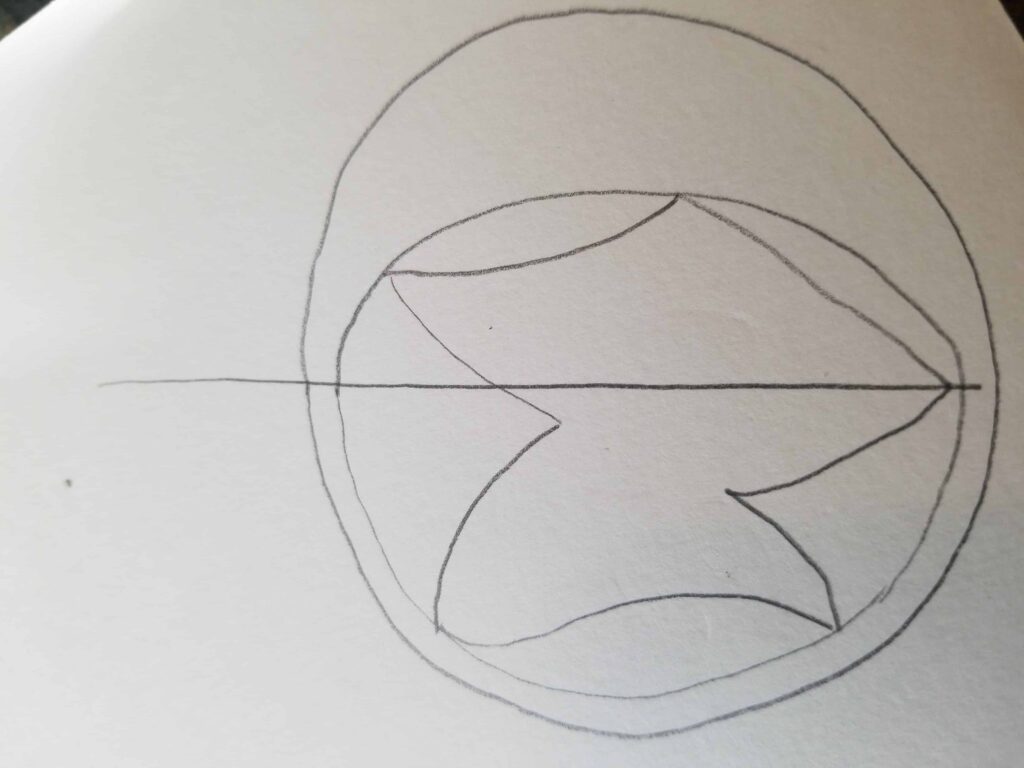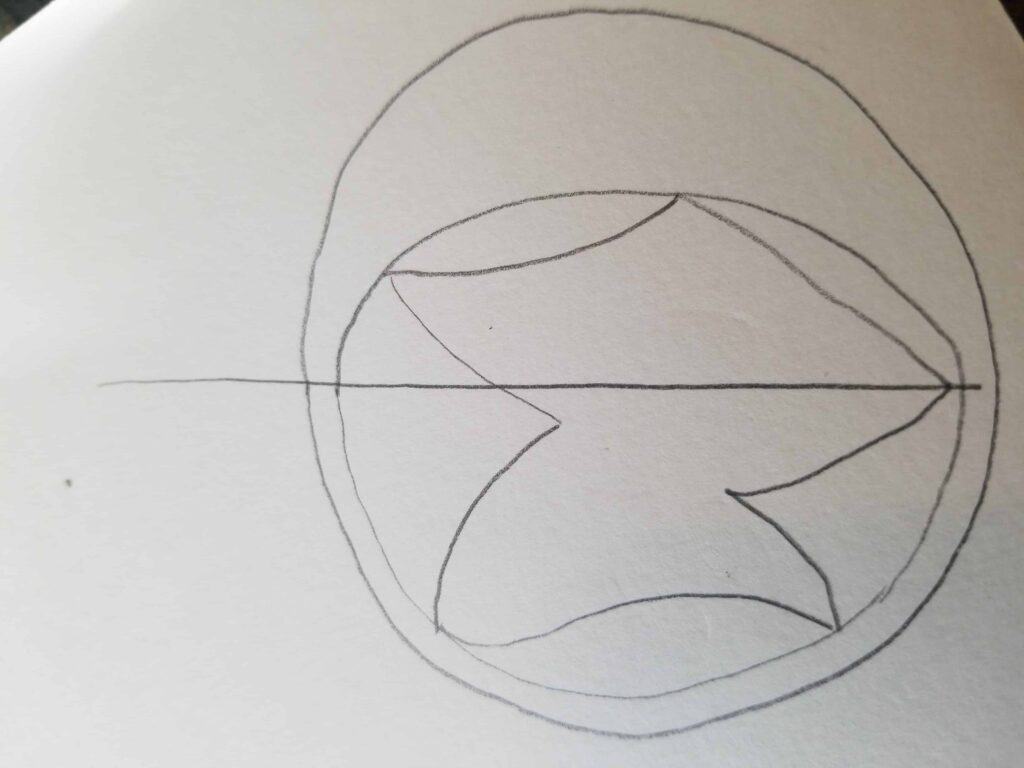 Add the top fringe-like stem to your pomegranate.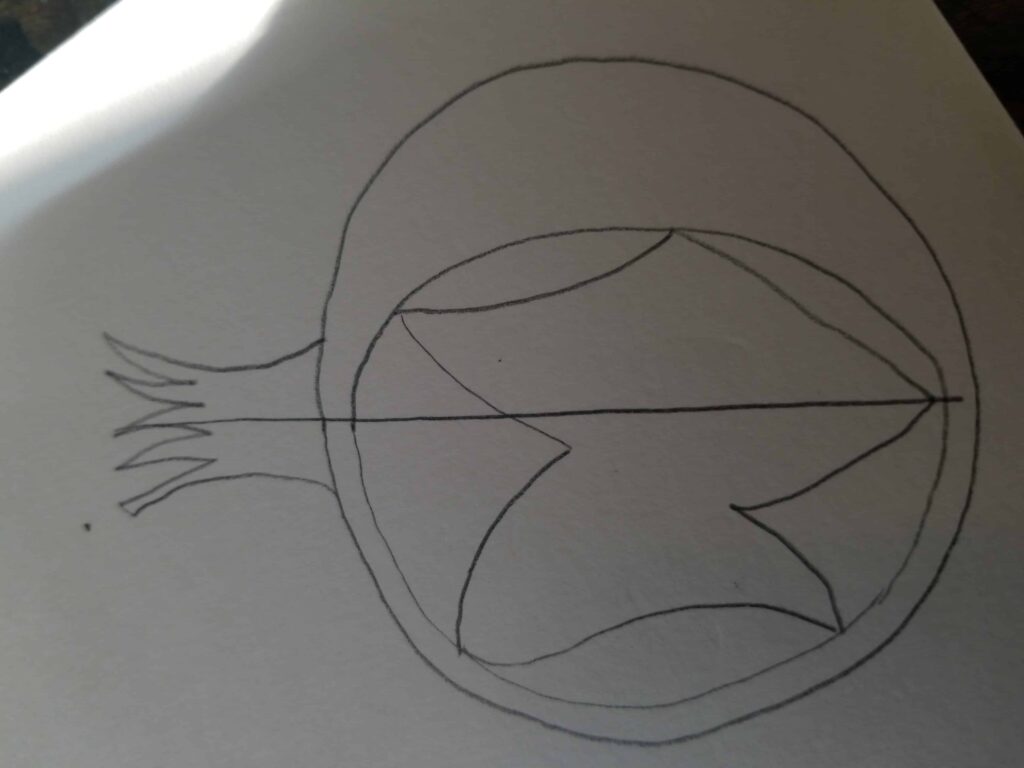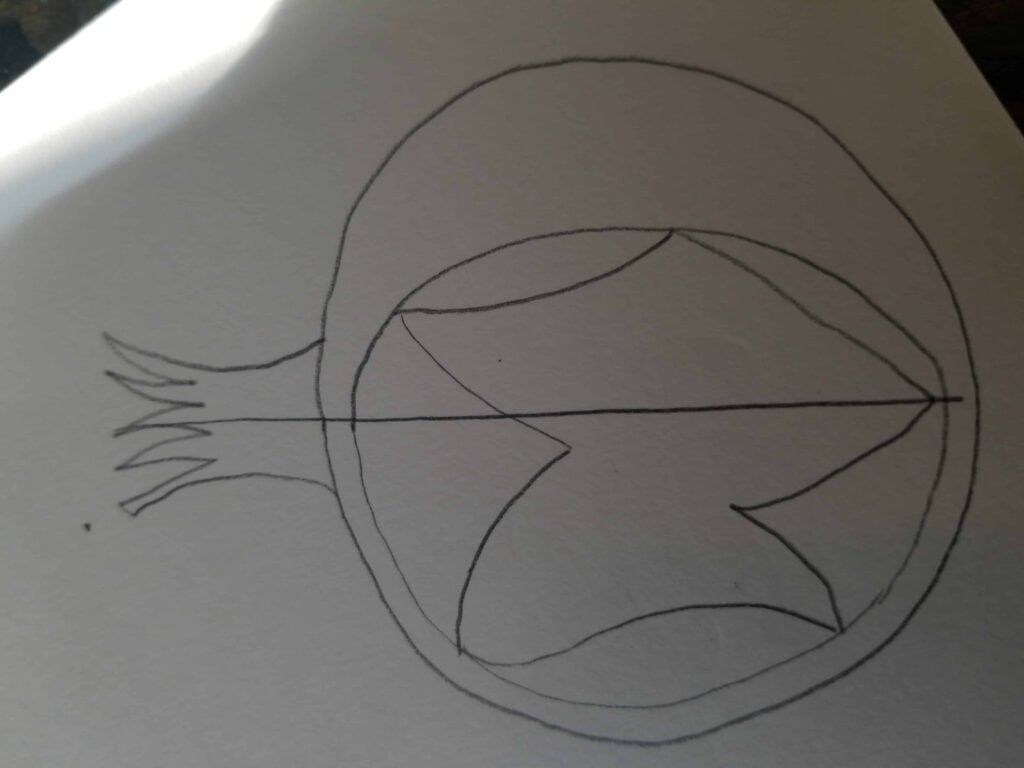 Outline, in black, as shown below.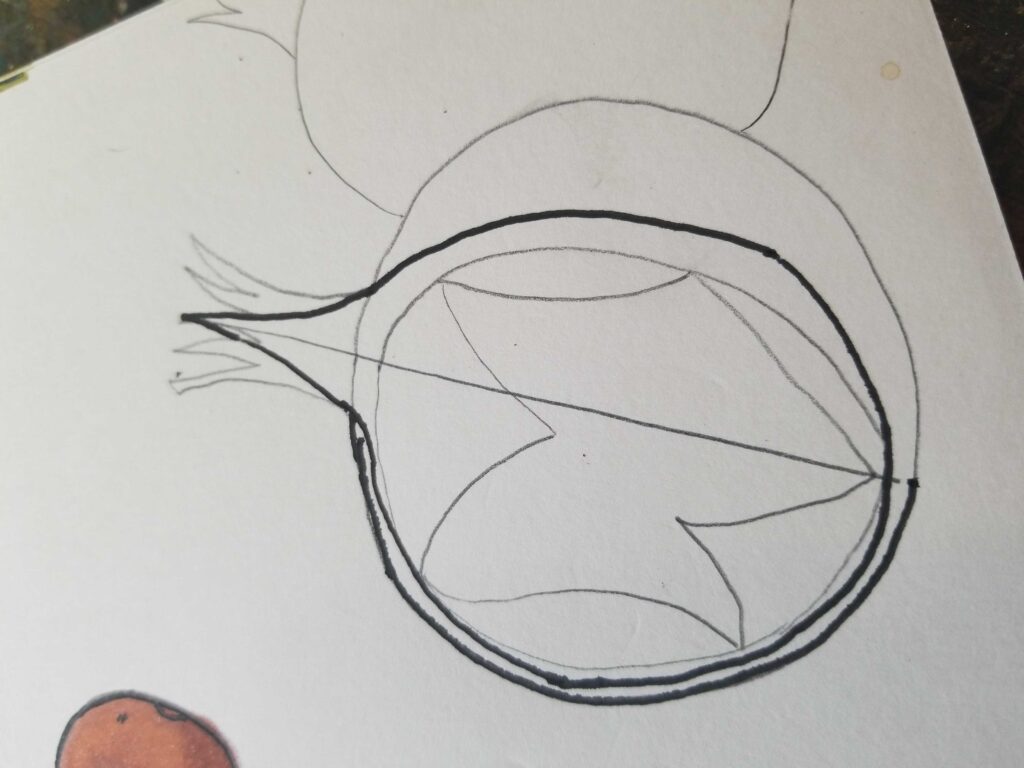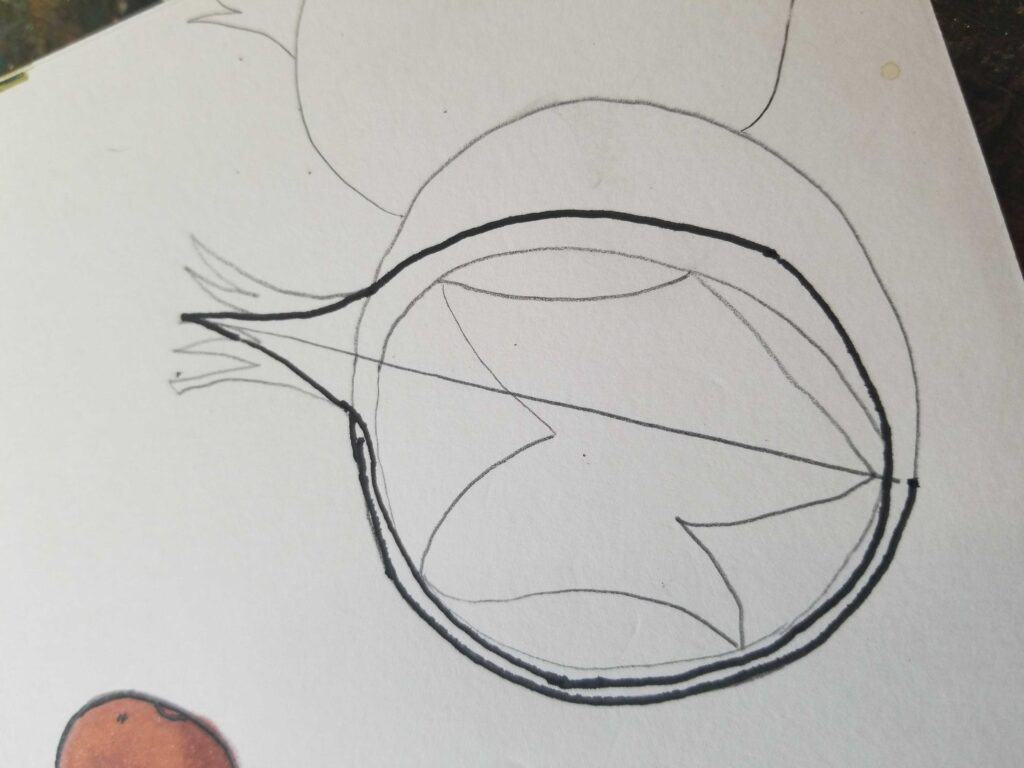 Fill in the entire inside area with seeds as shown in the photo below.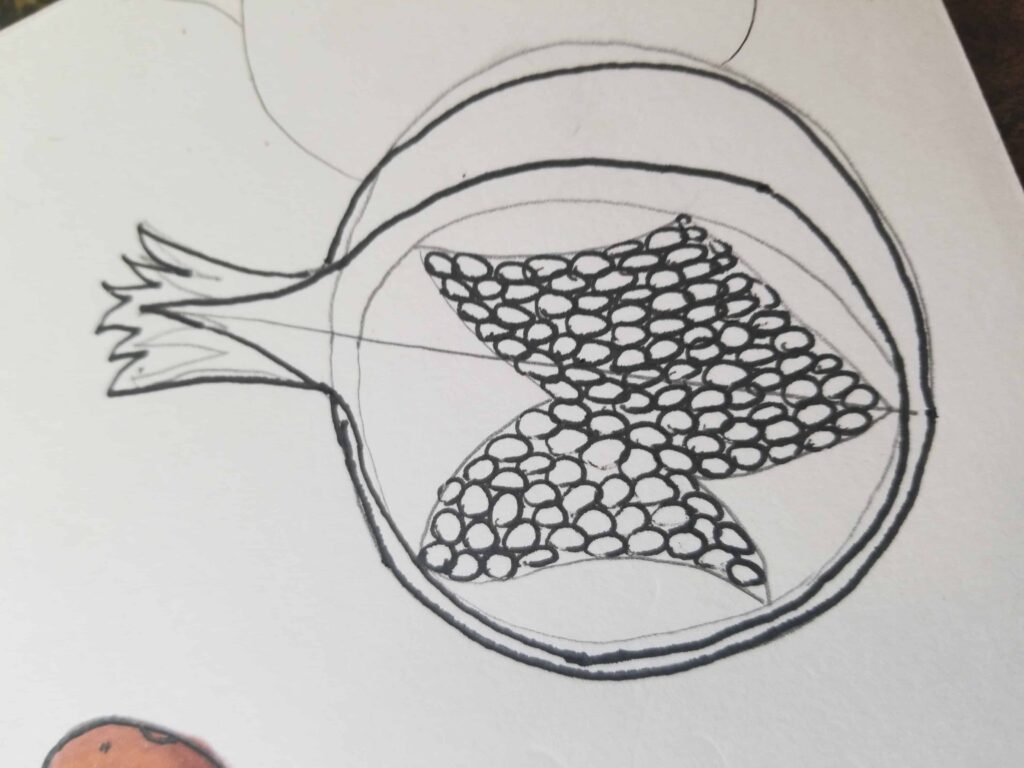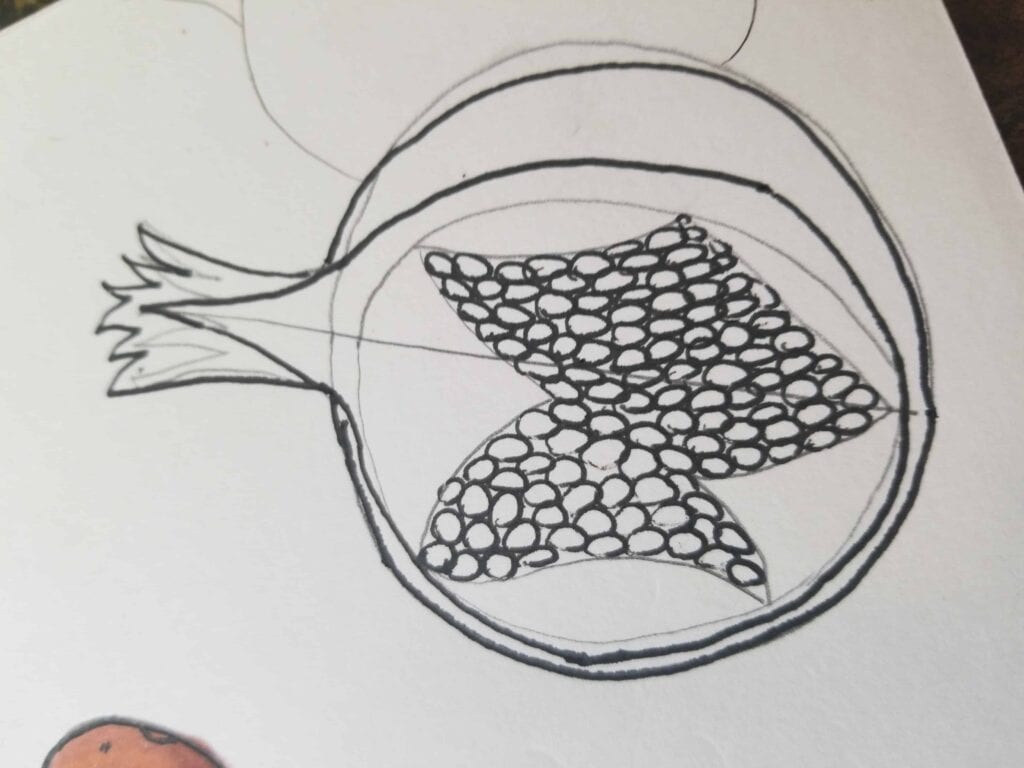 Add black marks around the seeds and the triangle shape in the stem.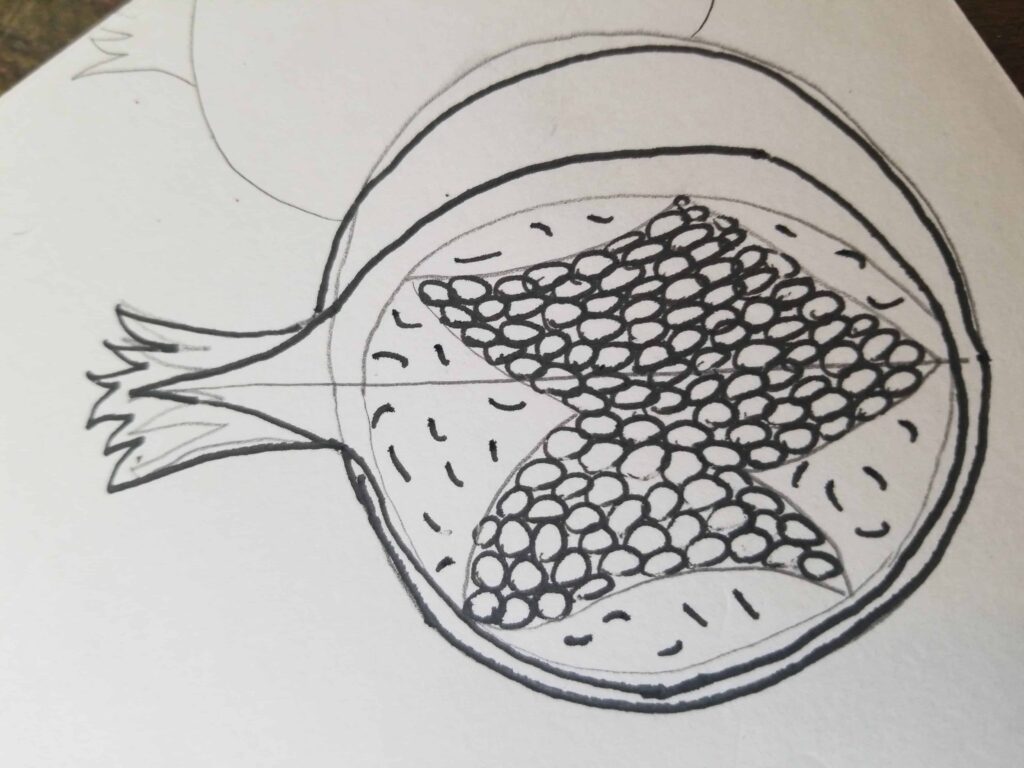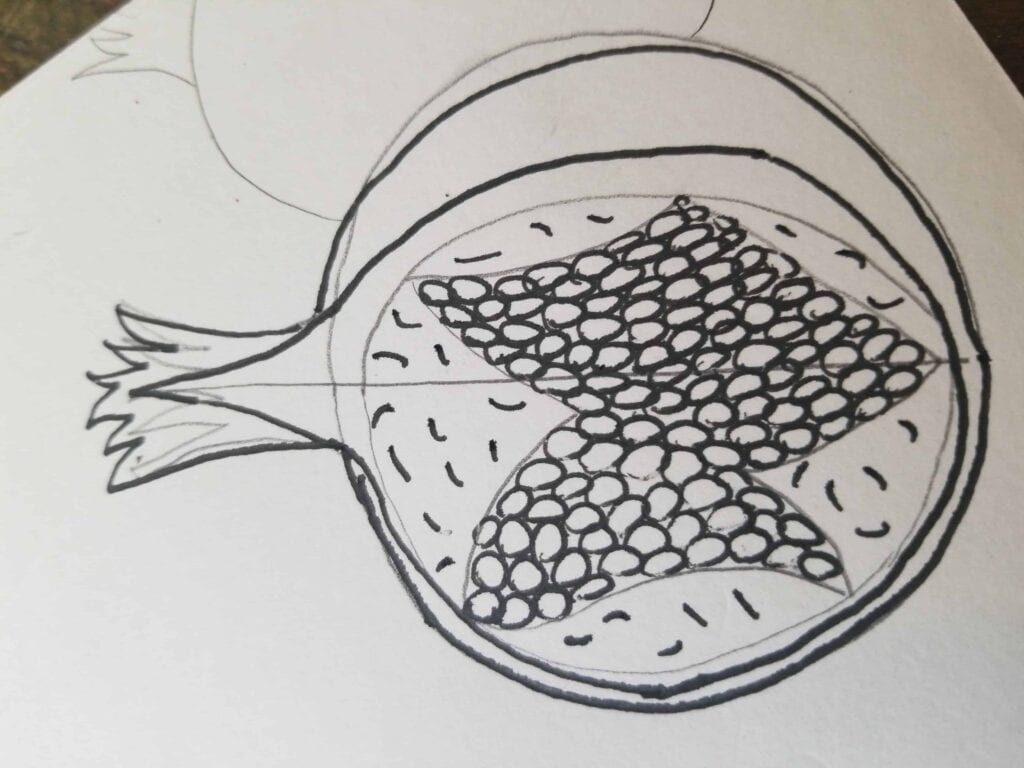 Finish outlining the pomegranate and draw a second whole pomegranate next to the first.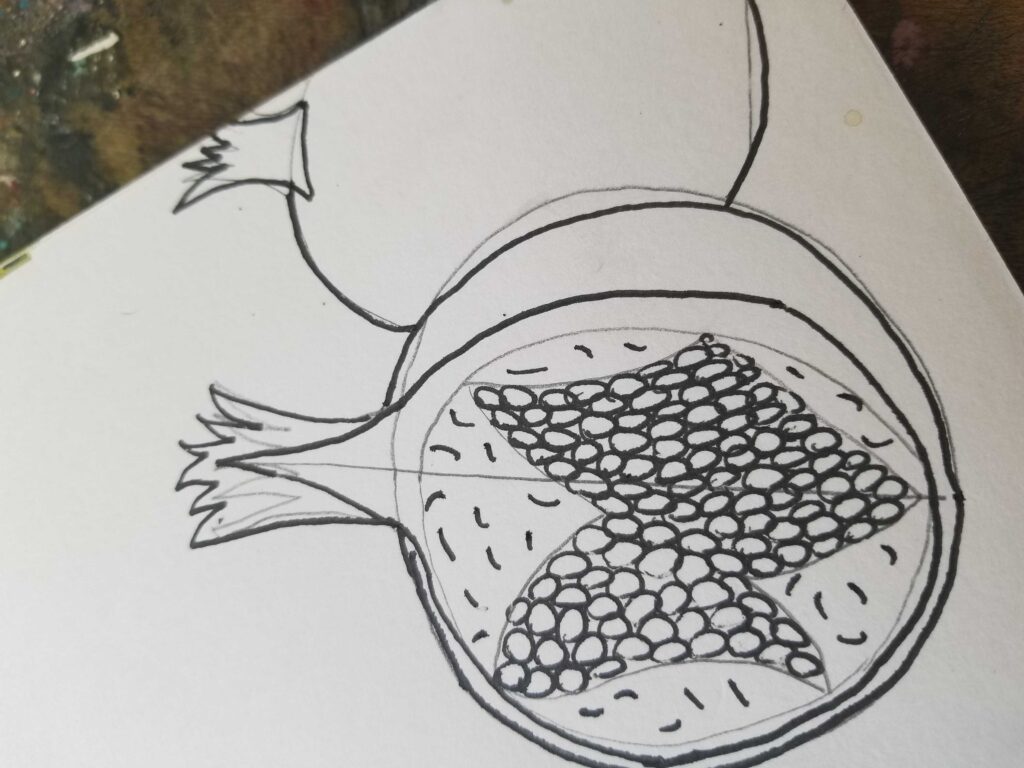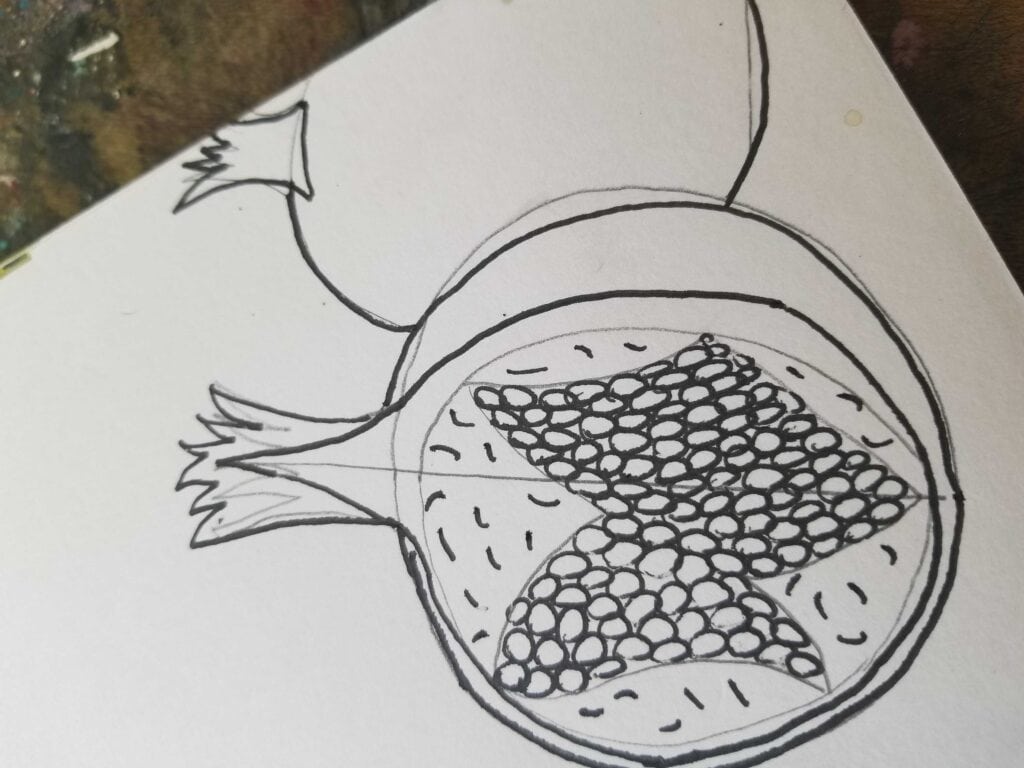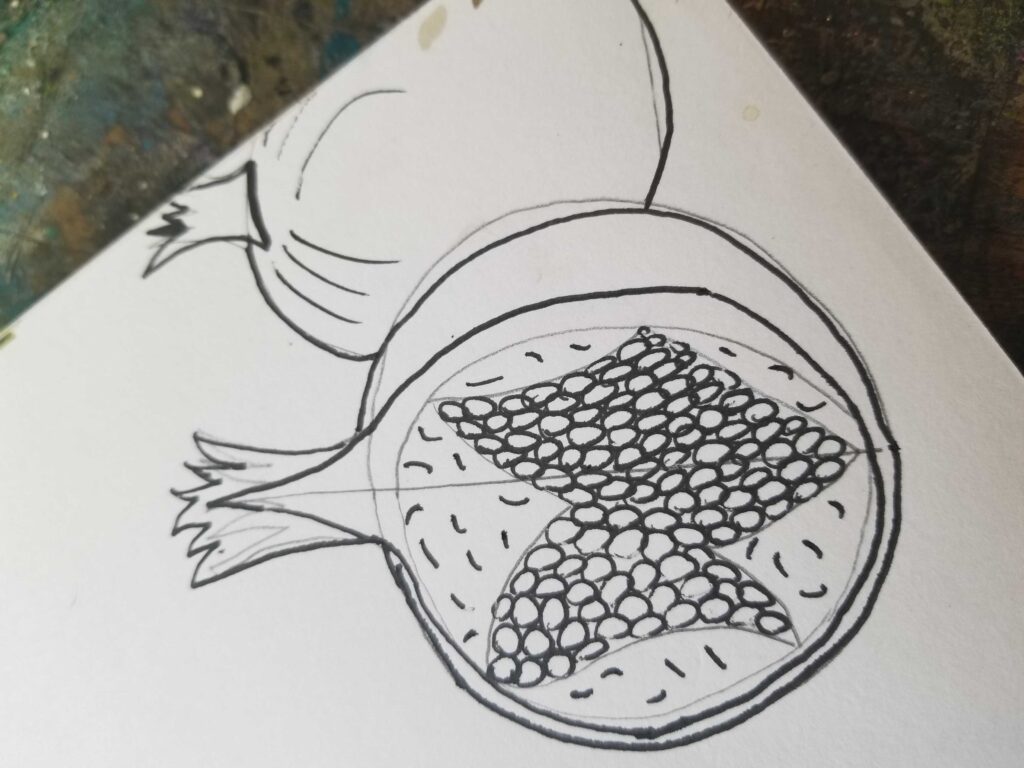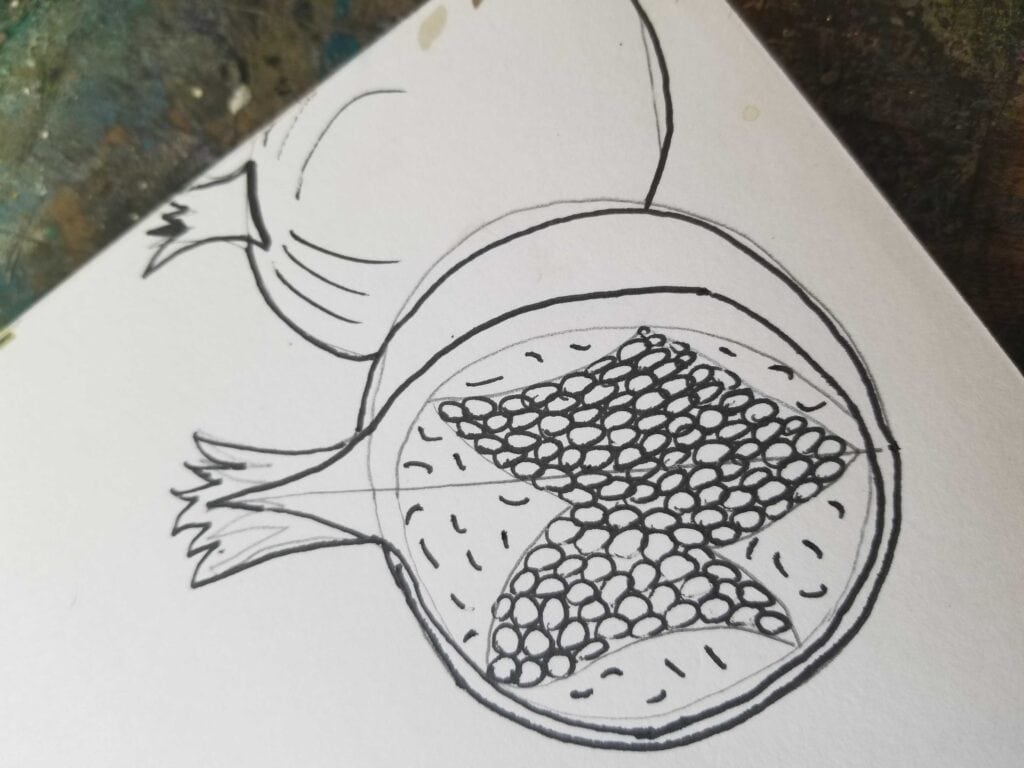 Erase all extra pencil lines and color the pomegranate using shades of red and peach. Use white marker or a color lifter to add dimension and light.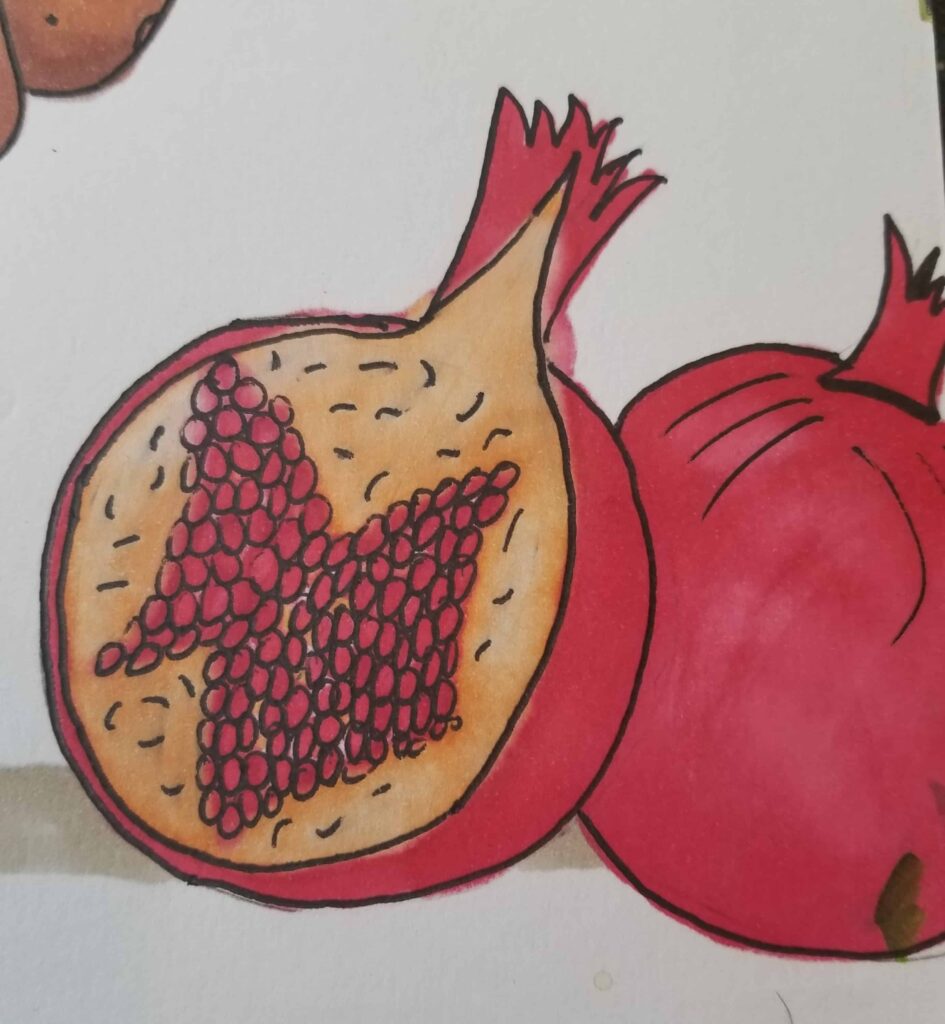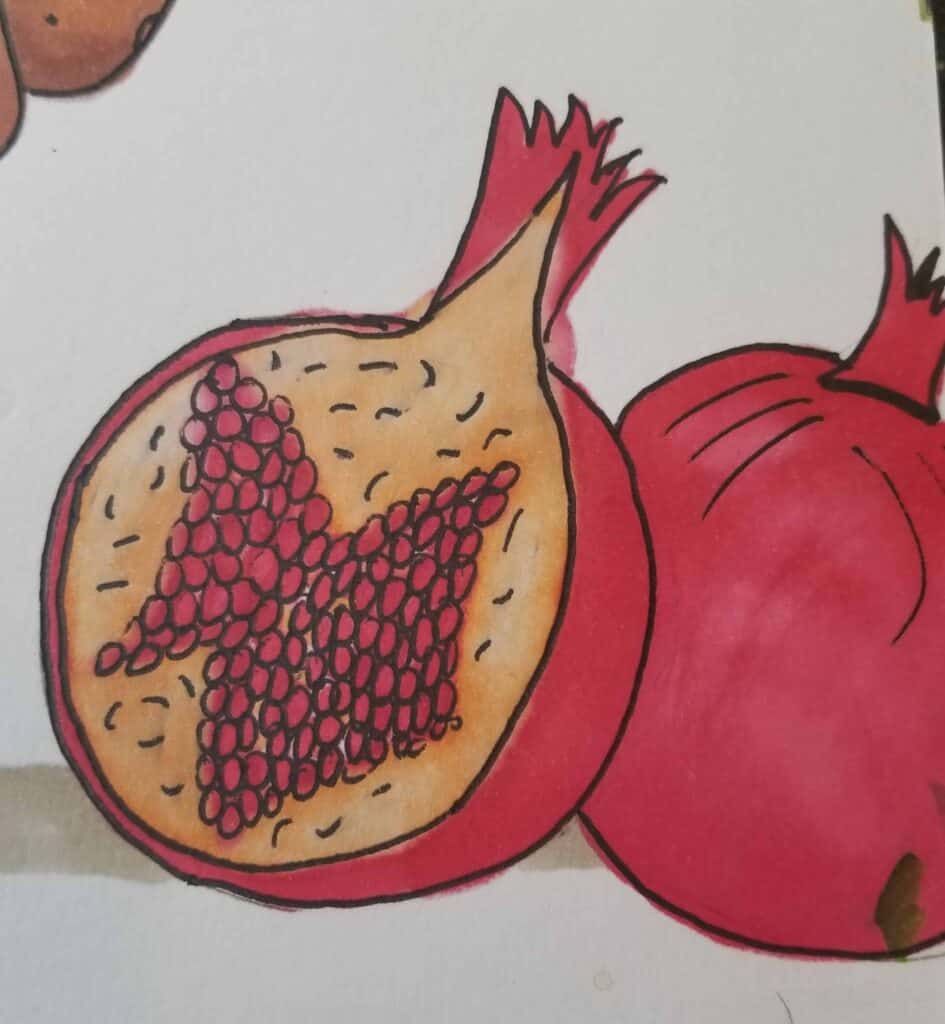 Here are some great Bible verses to illustrate with pomegranates:
Exodus 28:33
On its hem you shall make pomegranates of blue and purple and scarlet yarns, around its hem, with bells of gold between them,
Haggai 2:19
Is the seed yet in the barn? Indeed, the vine, the fig tree, the pomegranate, and the olive tree have yielded nothing. But from this day on I will bless you."
Deuteronomy 8:8
A land of wheat and barley, of vines and fig trees and pomegranates, a land of olive trees and honey,
Numbers 13:23
And they came to the Valley of Eshcol and cut down from there a branch with a single cluster of grapes, and they carried it on a pole between two of them; they also brought some pomegranates and figs.
And here are the finished fruits: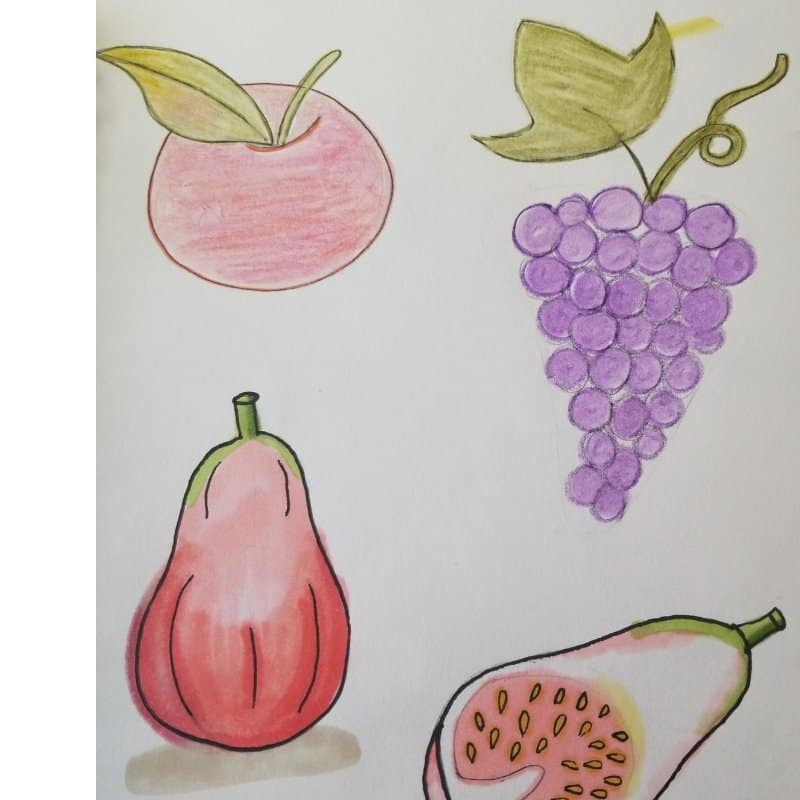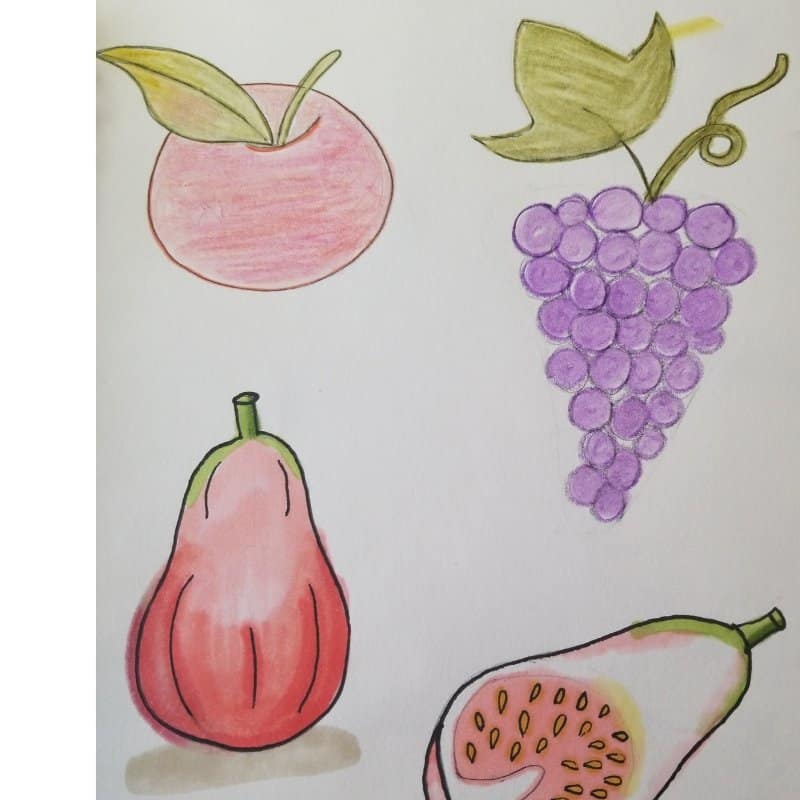 I can't wait to see your drawn fruits in your Bible journaling!
To learn how to draw flowers in your Bible journaling, see this post or, Bible journaling for free or inexpensively, see this one.
Because of Him,
Sue