Biblical Hospitality: How to Create a Welcoming Guest Room
This page/post may contain affiliate links.  As an Amazon Associate, as well as an affiliate of other programs, this means if you purchase something using these links, I will receive a commission on qualifying purchases at no cost to you! For more detailed information, please visit our Affiliate Disclaimer page
A welcoming guest room: A few weeks ago, I shared with you about biblical hospitality. We discussed what the Bible says about it and how to practice it. Let's take this a step further and extend that hospitality when we have guests in our home.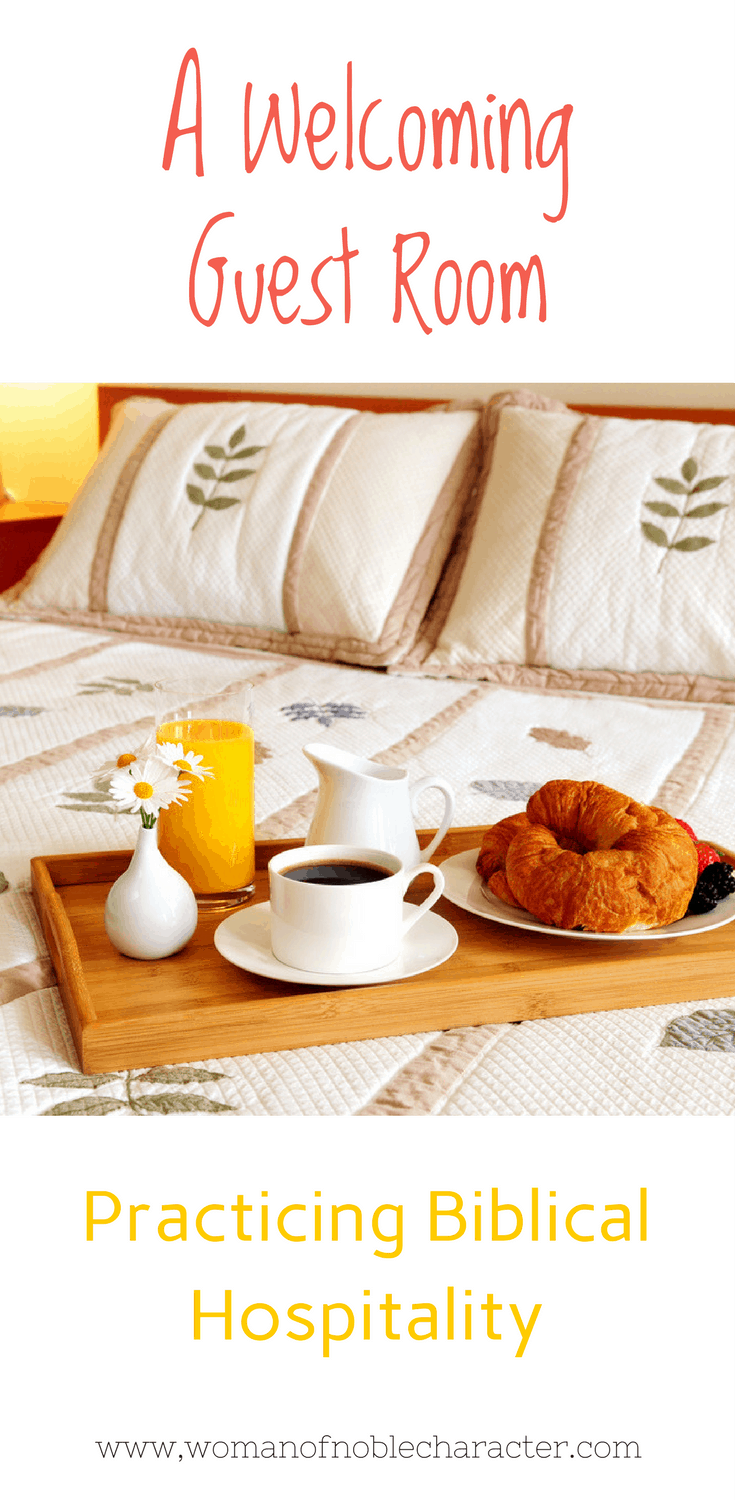 A Welcoming Guest Room
You don't need a big, fancy home or elaborately decorated room to have guests. All you need is a bed and, if you can, a nightstand and a lamp. Below, I'll share some additional ideas or "nice to haves"
This is our guest room. I love the color scheme of greys and yellows. To me, it is warm and welcoming. The night stand on the left has a lamp and a small decor board. The nightstand on the right (not shown) has a box of tissues and a Bible, along with a note pad and pen and a card with the Wi-Fi password.
Over the bed, is a wall decal that says "God's Promises are new every morning", taken from Lamentations 3:22-23
22 The steadfast love of the Lord never ceases;[a]
his mercies never come to an end;
23 they are new every morning;
great is your faithfulness.
The room also has a tv in it with a remote and a program guide as well as a small stack of books and magazines. There is a closet in there that I mostly use for storage, but it has hangers and a shelf for guests clothing, as well.
No one likes to live out of a suitcase, so having room to unpack is a nice gesture.
Toiletries and Other Comforts
You may also want to consider having some toiletries on hand. We've had guests unexpectedly stay the night and these toiletries made them feel at home. We keep a basket in the guest/main bathroom with a small pack of tissues, a toothbrush, toothpaste, deodorant, unopened bar of soap, small bottles of shampoo and conditioner and hand/body lotion. In the same closet, is a container with Tylenol, cold medicine, a small first aid kit and a small sewing kit.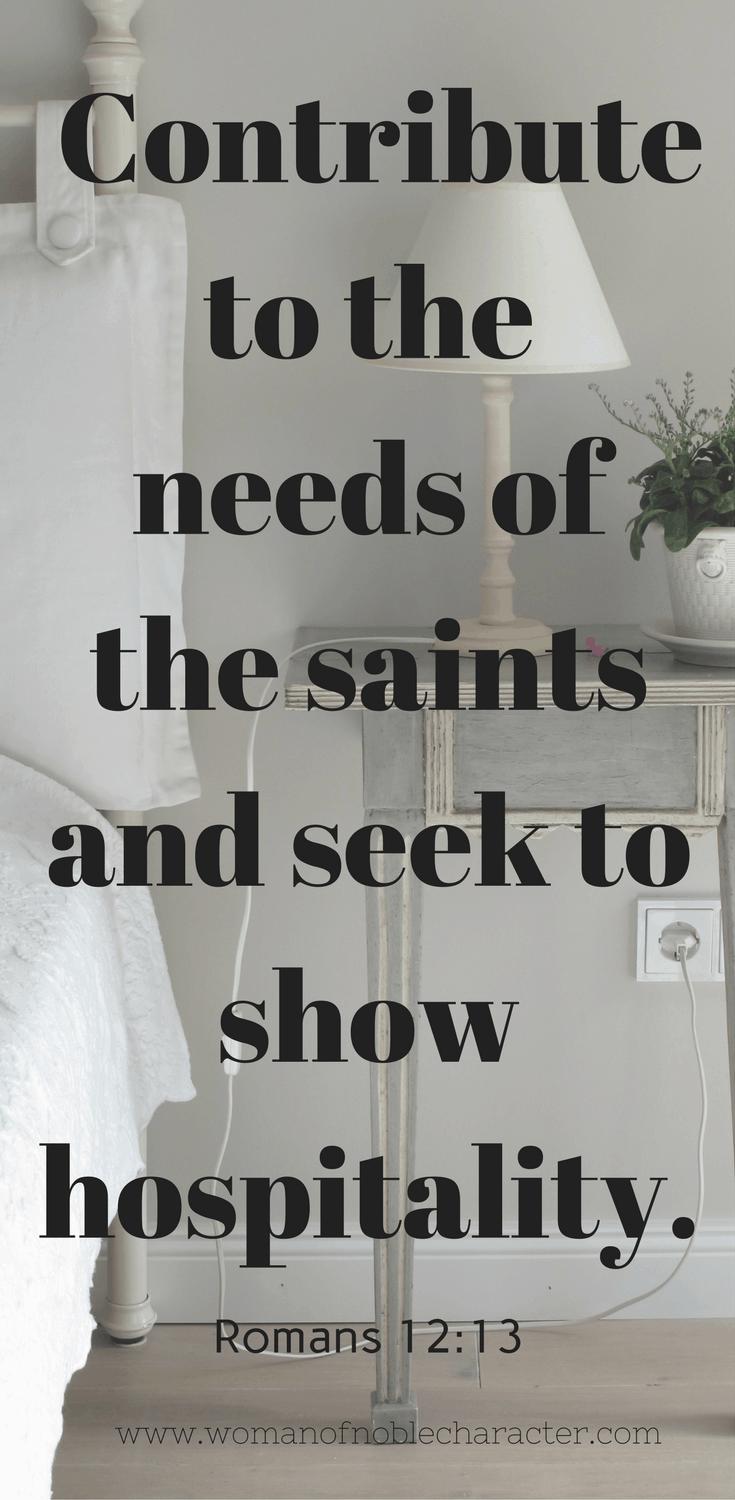 Of course, there is extra toilet paper and a plunger – nothing is more embarrassing than clogging up someones toilet and having to go tell them you did it!
The key to a welcoming guest room is providing the comforts they may need during their stay (so they don't have to ask you every time they need something – most times they will do without, rather than asking!)
You can consider purchasing a basket of toiletries such as one below from Amazon (links to posting) or put your own together.
Food and Snacks
Several times, friends have shared that they don't have guests over because they don't cook fancy or can't afford to buy expensive proteins. PLEASE don't let this stop you. Your guest will be fine with whatever you are eating for dinner. You don't need to make anything special! Trust me on this!
If they aren't eating a meal with you, you may still wish to consider providing some snacks and drinks in case they get the munchies.
While we always offer our guests the "run" of the pantry or fridge, few will take us up on that. In case they feel awkward doing that, I keep a basket on hand and will add items such as granola bars, small chocolates, crackers and a bottle or two of water. I'll keep this on the kitchen counter for easy access. It's easy to put away the next day and ready for the next guest.
How are you practicing biblical hospitality? Do you often have guests stay the night in your home? What little touches do you have ready to make them feel comfortable? Do you have a welcoming guest room?
You may also enjoy the best tools for making housecleaning easier.
I'd love to see it and hear from you.
Are you ready to live a Proverbs 31 Life and deepen your relationship with God, strengthen your marriage and better manage your home? Consider taking the Intro to Proverbs 31 Mini Course or joining the Faith Filled Home Monthly Membership program for Christian wives.
Because of Him,
Sue