This page/post may contain affiliate links. As an Amazon Associate, as well as an affiliate of other programs, this means if you purchase something using these links, I will receive a commission on qualifying purchases at no cost to you! For more detailed information, please visit our Affiliate Disclaimer page
One of the perks of being a blogger is the opportunity to review great Christian products. When I had the opportunity to review the Butterfly Box, I knew I had to accept.
(See below for a BOGO – Buy one get one free! on the Butterfly Box Christian Subscription Box)Here's my latest Butterfly box unboxing: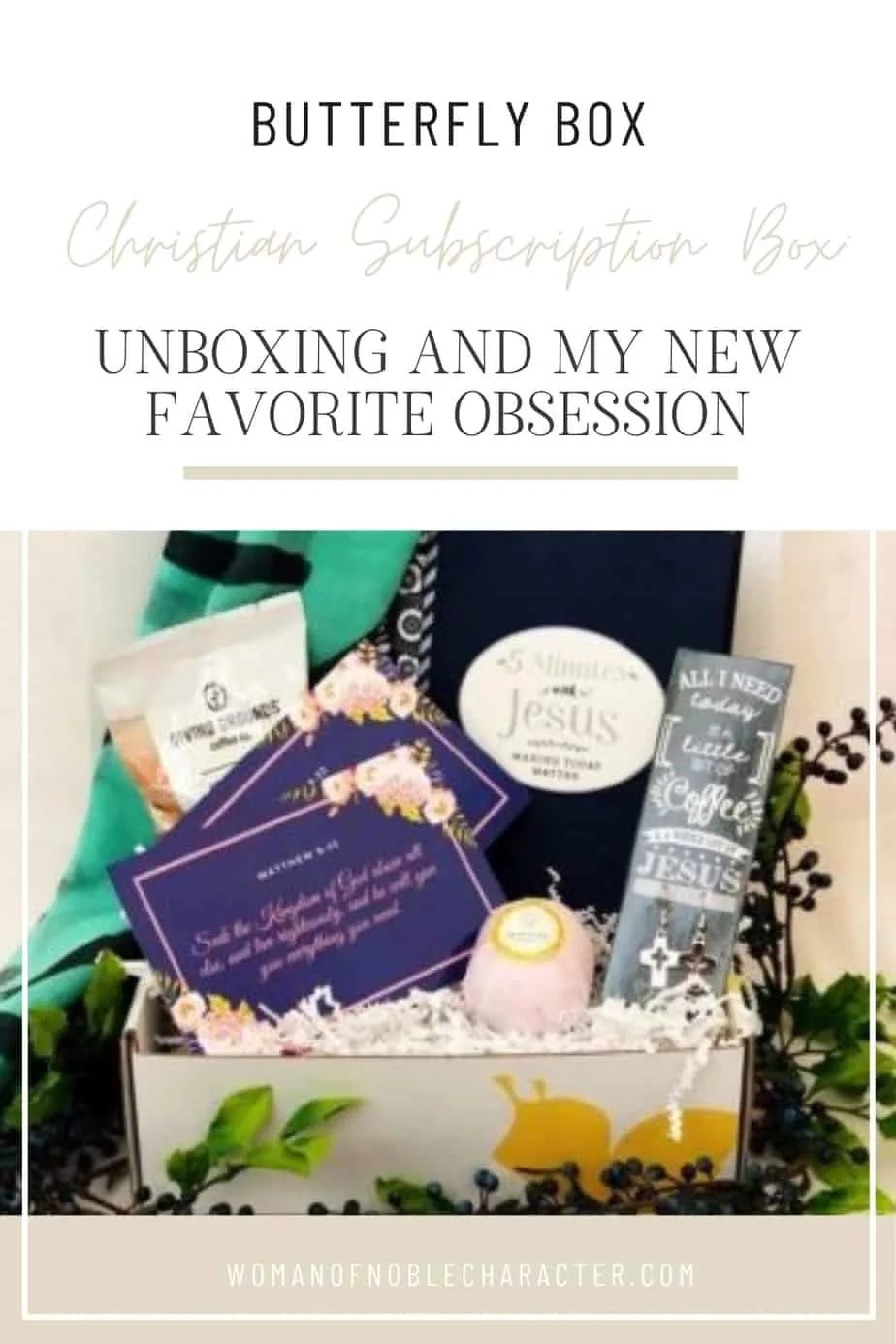 Here's a quick unboxing video when I received my first Butterfly Box.
I always say that this month's box is my favorite, but the February box is absolutely amazing!
It is full of useful items to be reminded that we are so blessed. Inside is a book You Can Trust God to Write Your Story by Nancy DeMoss Wolgemuth & Robert Wolgemuth, a three-pack of emory boards that say "simply blessed", car coasters (don't you hate that gunk at the bottom of them?), and a tissue pack that says "God bless you", a mini-zippered bag (I'm going to put some of my essential oils in it to keep in my purse). I love how useful the items are and I can wait to dive into the book – the foreward was written by Joni Earekson Tada!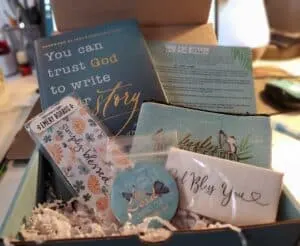 Here's another recent box I received – isn't it fabulous?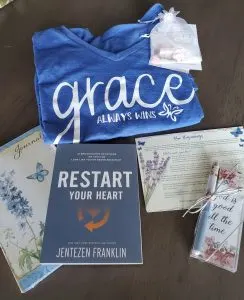 I absolutely LOVE this box. I've subscribed to several other Christian Subscription boxes but this one is amazing. From the details in packing the box to the fantastic items inside (I looove the journal and bracelet, especially), it's Butterfly Box is definitely one of the top Christian boxes out there.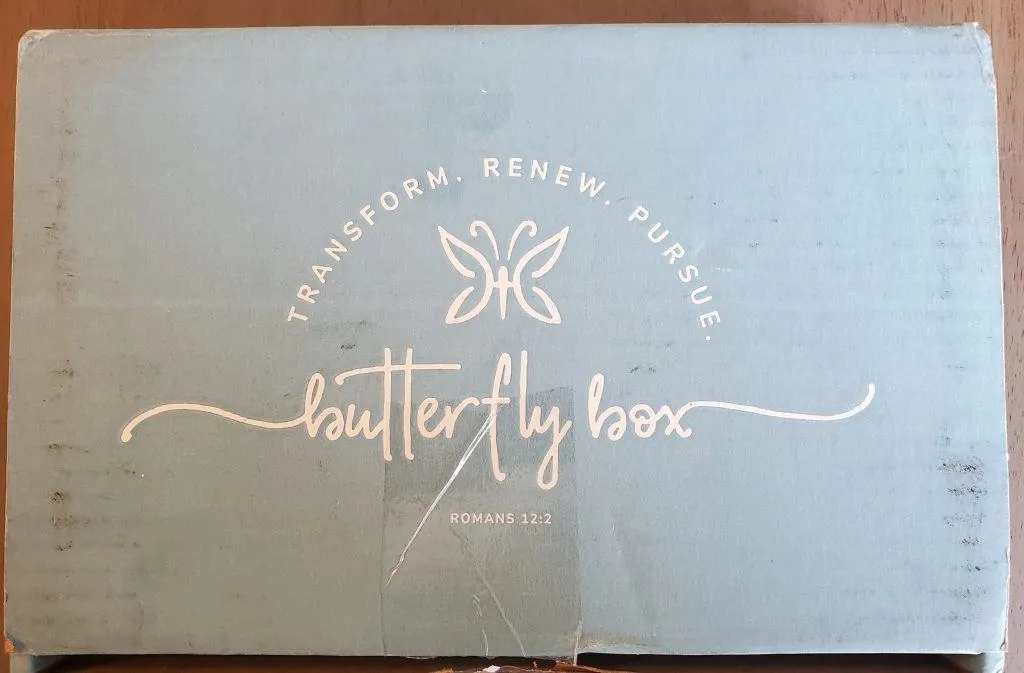 I know that to be fair I should share what I don't like about the box, but to be honest, there's nothing I didn't like.
It's filled with useful items that help you live out your faith.
This month's box included a gorgeous turquoise journal for scripture writing or prayer journaling, a beautiful prayer bracelet to remind you of Romans 12:12 (Today, I pray for abundant joy…Lord, may I be joyful in hope, patient in affliction and faithful in prayer), the book Power of a Praying Woman by Stormie Omartian and two tea drops – just drop in boiling water and enjoy your tea (I received Sweet Peppermint and Vanilla White – yum!)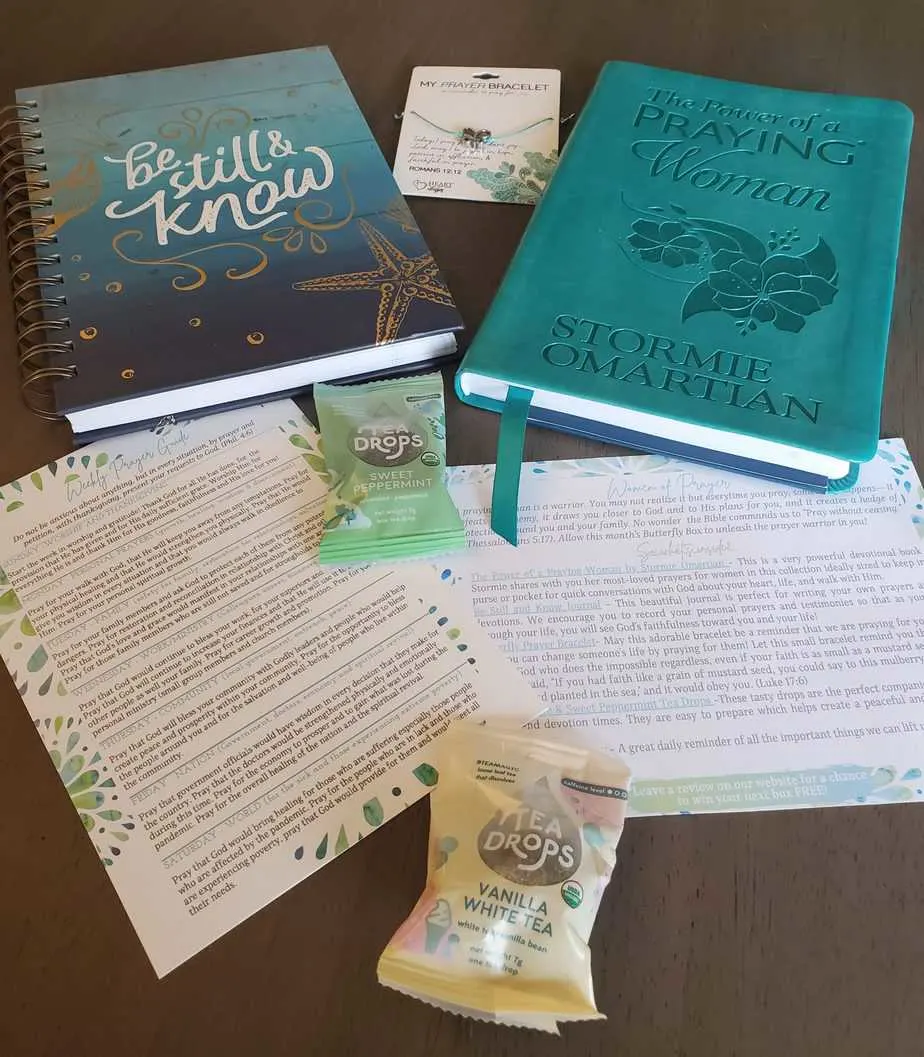 I can't wait to see what is in next month's box!
Butterfly Box Christian Subscription Box
Life is busy, and it can be hard to find the time each day to connect with Christ. Butterfly Box is here to help! We thoughtfully curate a themed box each month to help reclaim those quiet moments with God, build your intimacy with Christ, and live out your faith in the world around you!
Each month's box is designed to illustrate a biblical theme and encourage spiritual growth.

5 to 6 items such as jewelry, artwork, books, decor, personal pampering items, faith sharing cards and other specialty items

All items are carefully chosen and undergo a rigorous selection process

Products are faith-based or support small Christian businesses.
You can purchase 1, 3, 6 or 12 month subscriptions or give one as a one-time gift. (What a great gift this would be for a birthday, Christmas or to lift someone when they are down!).
They ship on the first of each month – I know I'll be stalking the mailman!
A Bit About Butterfly Box Company
Their mission is to help women stay centered on Jesus and grow in their faith while giving back to the cause of Christ.
About the company
They are a subscription box company that curates quality products to help women focus on Jesus Christ each and every day. Their boxes are thoughtfully created by women, for women, addressing the very issues that Christian women face while giving back.
How do they do this?
They create themed boxes that illustrate Jesus's beliefs, attitudes and ideals for everyday life.
They introduce products to enhance time with Jesus involving refreshment, reflection, rest and self-care.
They donate a portion of our proceeds to a worthy cause.
They support other Christian businesses.
They aim to support companies that improve communities, lives and the environment.
What They Believe
They believe in working diligently to provide you with customer service, products and experiences that exemplify the work ethic found in Colossians 3:23, "Work willingly at whatever you do, as though you were working for the Lord rather than for people," trusting that this will provide you with our very best.
What do you think of the Butterfly box?
For a full list of amazing Christian subscription boxes, see this post.
Because He Lives,
Sue