The Ultimate Gift Guide For The Chocolate Lover
This page/post may contain affiliate links.  As an Amazon Associate, as well as an affiliate of other programs, this means if you purchase something using these links, I will receive a commission on qualifying purchases at no cost to you! For more detailed information, please visit our Affiliate Disclaimer page
Gifts for every level of chocolate lover in your life! I'm a chocolate junkie (no, seriously, I can't go a day without at least a little bit of chocolate!). If you need a unique gift for the chocolate lover in your life, check out this ultimate chocolate lovers gift guide. You're sure to find the perfect gift for that hard to shop for loved one on your list.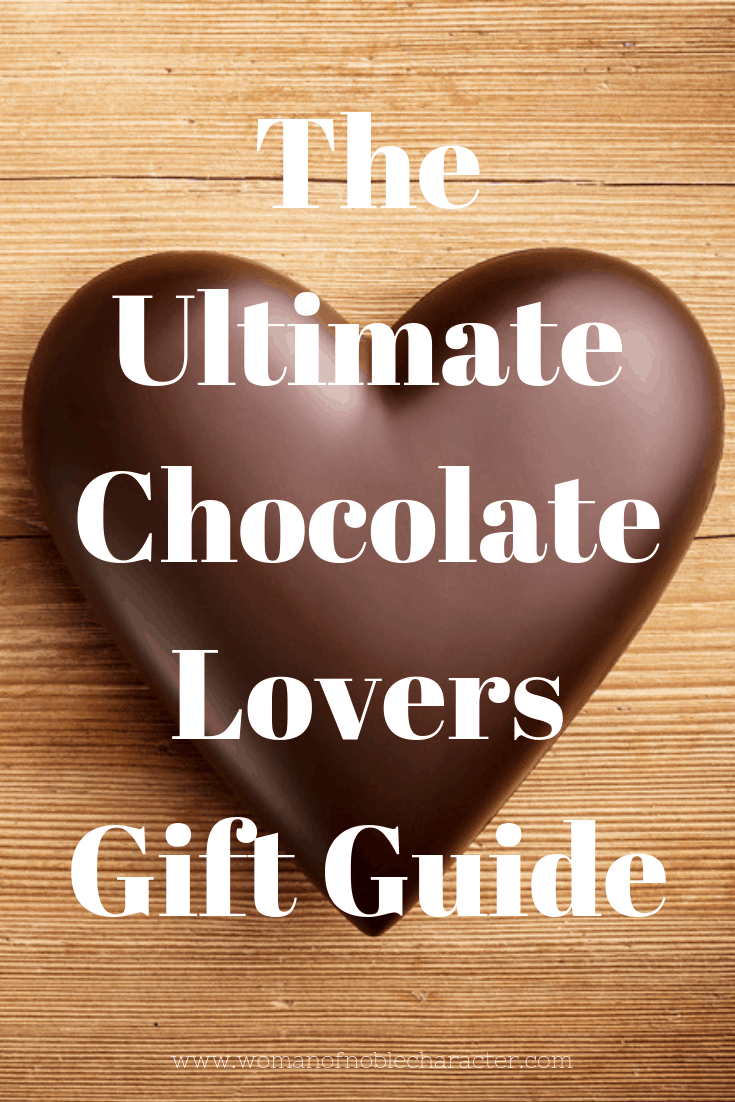 Chocolate Gifts for the Chocolate Lover
FIVE Pound Hershey Bar
One of the original chocolate makers presents the ultimate chocolate lovers gift! Five pounds of delicious, creamy Hershey's chocolate.
Make Your own Truffles Kit
Make your own sweet treats at home with Grow and Make's Deluxe Chocolate Making Kit! It's never been easier to become a chocolatier – and with this fun kit, you'll learn to make creamy peanut butter cups, decadent chocolate truffles, and more! Deluxe Chocolate Kit includes: Chocolate Chips, Cocoa Powder, Coconut Flakes, Peppermint Extract, Vanilla Extract, Sea Salt, Powdered Sugar, Thermometer, Chocolate Cup Molds, Recipes & Instruction Manual. Handcrafted in Portland OR, USA
Chocolate-Related Food for the Chocolate Lover
Chocolate Covered Pretzels
Overflowing pretzel gift box has with six flavors of chocolate covered gourmet hand-dipped coated pretzels.
Chocolate Flavored Coffee
Drink your chocolate while fueling up for the day with glazed chocolate donut flavored coffee. 100% Arabica beans.
Hot Chocolate Sticks
Premium & All Natural Hot Chocolate on a Stick! This 6 Pack Variety Gift Box contains 2 Dark, 2 Milk, and 2 Vanilla White Hot Chocolate Sticks.Simple Preparation Instructions: Fill up a cup of hot milk, place the hot chocolate stick in the cup, and stir for 1-2 minutes until the chocolate dissolves completely. Enjoy! Each Hot Chocolate Stick comes individually wrapped in a clear bag with instructions. Gift box contains a brown satin bow – ready to be gifted to your loved ones (or yourself!)
Hot Chocolate Gift Set
Includes 4 Single Serving -1.25oz Packets of Supreme Hot Cocoa and a 1oz Bag of Mini Marshmallows and 2oz of crushed peppermint. All you need to add is water! Comes in a pretty gift box ready for wrapping.
Spicy Chocolate Wedges
Some like it hot and some like it chocolate, others like both! This awesome gift for spicy chocolate lovers comes in a gift tin with eight piece of spicy dark chocolate.
Chocolate Balsamic Vinegar
Great on fresh soft cheeses, fruit fondues, and desserts or use as a glaze grilled chicken and red meats. Even great for yogurt, ice-cream, and waffles. It is gluten free and contains no artificial flavoring, thickening agents, caramel or additives.
The ULTIMATE Chocolate Lovers Gift!
For the chocolate lover, this decadent box filled with a variety of treats all sure to deliver a smile – walnut brownies, chocolate chip blondie, chocolate cheese, brownies, glazed chocolate bundts, chocolate whoopee pies, rugelach in assorted flavors of cinnamon sugar, raspberry, chocolate chip & apricot. Due to the perishable nature of this item, each package that gets shipped is freshly baked the same week as delivery. They will arrive fresh and delicious – guaranteed.
Non-Food Chocolate Lover Gifts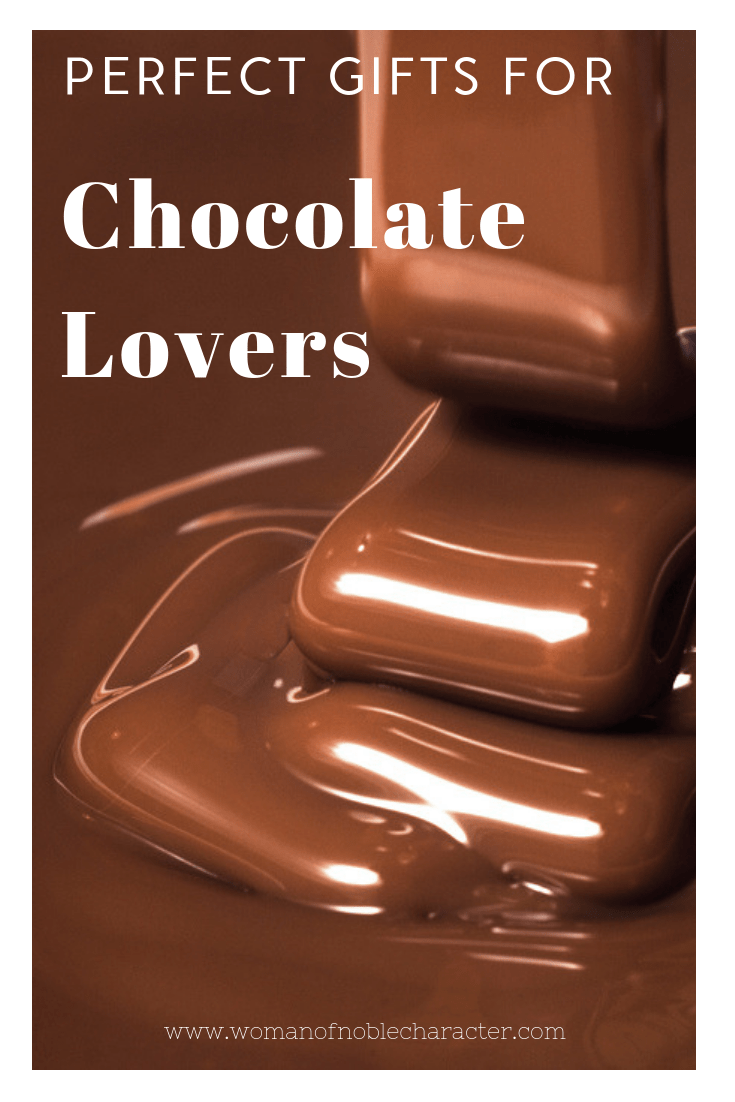 Smores Heated Slippers
For the chocolate lover that has everything! These soft, extra-plush slippers will keep your feet warm and toasty on even the coldest days and nights. The slippers include a USB cable which charges them and keeps them warm and toasty!
Chocolate Lovers Mug
"All I want is peace, love, understanding, and a chocolate bar bigger than my head." by The Backland Studio. Vibrantly printed, large 15 oz ceramic coffee mug with comfortable full sized handle with included gift box. Dishwasher safe, although hand washing is recommended. BPA free and Proposition 65 compliant.
Chocolate Lovers Pajamas
100% cotton and oh, so soft, these are a perfect gift for the chocolate lover in your life.
Chocolate Bath Bombs
Handmade in Germany and Austria! Gently dissolves in the bath water made with natural, vegan and organic ingredients. The gift set includes 6 different Bath Bombs: Bath bomb "Choco Cake", "Bath Cupcake", "Chocochino", Creme Bath Bomb "Mozart Cake", Creme Bath Bomb "Mozart Ball", Bath Praline "Cookie Caramel" and Bath Cube "Choco Brownie"
Fondue Pot
Do you know someone who loves chocolate on everything? This is the gift for them! Stainless steel fondue pot with six cup capacity and color coded forks (so you know which one belongs to you!). Also great for cheese (yum!)
In Case of Emergency Chocolate Box
When a chocolate emergency strikes, you'll be ready! This is a perfect gift for someone who loves Hershey's Chocolate Bar and cannot survive a day without it. The shadow box contains a real Hershey's Chocolate Bar and a "In case of Emergency Break Glass" sign printed on the background. Box Dimension: 5″ x 7″ (Inside) 6″ x 8″ (Outside). The box has a depth of 0.75″.
Smores Hand Painted Earrings
Whimsical s'mores, hand painted etched brass in chocolate brown, cream and white with accent beads; they are so lightweight and comfortable. .925 Sterling Silver French ear wires are hypoallergenic. About 1 1/8 inches in length measured from top of ear wire. Ready for gift giving in an exclusive Bombay Bongo gift box. Designed and handmade in Colorado, USA by Left Hand Studios.
The Ultimate Chocolate Cookbook
This Chocolate Cookbook is filled with recipes for every type of dessert. There are also recipes for making chocolate candies, which makes a great present. In this Chocolate Cookbook, you will also find main meal recipes that are kicked up in flavor with the addition of some chocolate. Chocolate chili, anyone? Includes the history of chocolate and early uses for chocolate.
Chocolate Lovers Socks
One size fits most. Luxurious comfortable combed cotton will keep your feet toasty warm. Fits US sizes 6 to 10. Machine washable with like colors. 80% Combed Cotton, 15% Spandex, 5% : "Bring Me Chocolate" Sock brought to you by Cayman Products. Adorable and funny non-slip design: If you can read this, bring me chocolate.
Chocolate Lip Balm
One 4.3g/.15oz Oval Tube – Made with Premium Organic, Vegan and Raw Ingredients. Hurraw! Balms are Cruelty Free, GMO Free and Gluten Free. Simply, the Best Luxury Lip Balm and best, yet, it's made in the USA.
Did you find the perfect gift for the chocolate lover in your life? Or maybe something for you?
If you (or someone on your list) is a coffee lover, check out this list of ultimate gifts for the coffee lover.
Because of Him,
Sue