This page/post may contain affiliate links. As an Amazon Associate, as well as an affiliate of other programs, this means if you purchase something using these links, I will receive a commission on qualifying purchases at no cost to you! For more detailed information, please visit our Affiliate Disclaimer page
Magazines for Christian women.
In today's digital society, there aren't as many print magazines as there once had been. I always loved having magazine subscriptions. It was so exciting to receive a new magazine in the mail! I would pour over it with a cup of coffee and loved reading about my favorite things.
I had subscriptions for many of my interestes and hobbies including mixed media art, papercrafting, health and more. Currently, I have just one magazine subscription – for Food Network. I love to cook and try new recipes for my husband and family.
I would love to subscribe to a magazine which was focused on me, my life and my faith as a Christian woman. As I began my search for magazines for Christian women, I thought that I would share my results with you in case you are looking for a magazine to support and encourage you on your walk of faith.
I've provided the list of the best Christian magazines that I have found, along with a link to their site to learn more and if they are digital or print magazines. My hope is that this list provides a good resource for you.
During my search, I found a number of magazines for Christian women that were no longer in print or no longer publishing – even on the web. With this handy list, perhaps I'll save you some time chasing down no-longer-in-print magazines.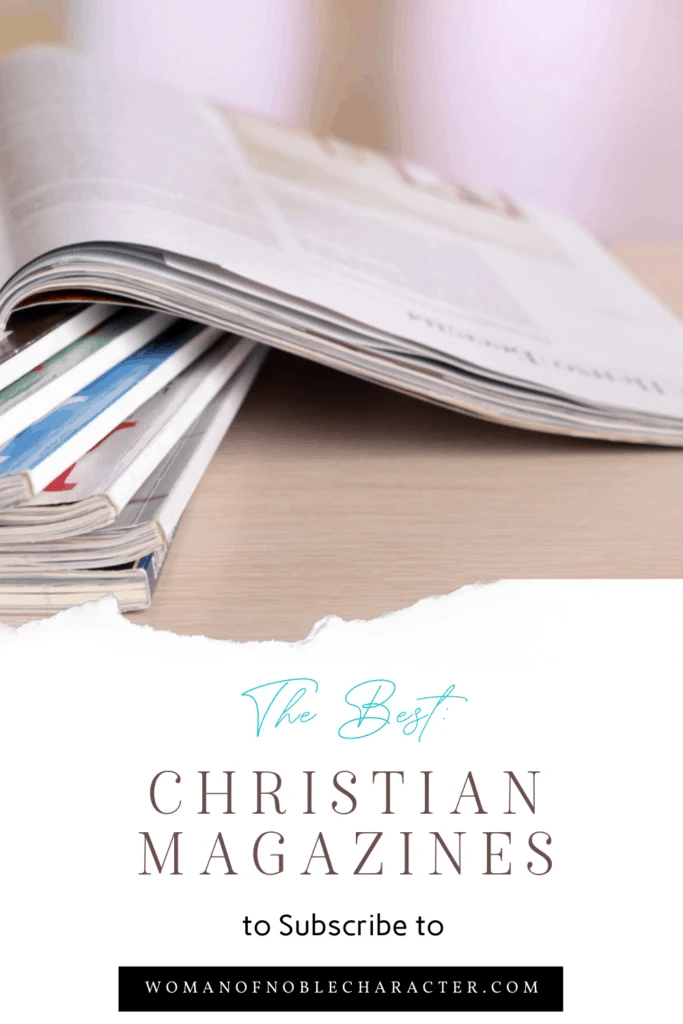 Best Christian Magazines
Today's Christian Living – Print
Published Bi-Monthly | 6 issues per year
Today's Christian Living is a bimonthly magazine focused on inspiring and encouraging Christians to live wholeheartedly for the Lord. We welcome you to join our family!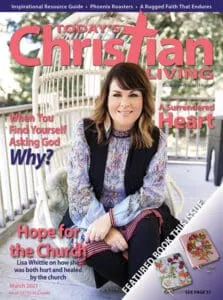 The latest issue includes:
On the Cover: Lisa Whittle, author, speaker, and founder of Ministry Strong and the Jesus Over Everything podcast.
Features
Hurt by the Church, Healed by the Church…and Hope for the Church
Lisa Whittle shares the story of her pastor father's scandal, her disillusionment, and how the church played an essential role in her healing and her current role in ministry to the church.
Phoenix Roasters: Coffee That Matters
When pastor Brian Holland planted a church in Atlanta to serve the hurting, he realized he would need to step out in faith for financial resources. God provided in a creative, unexpected way.
A Surrendered Heart
Jake and Caitlin Henderson faced the prospect of losing their farm and a very sick toddler. Caitlin had nearly lost all hope until she reached a crucial turning point.
When You Find Yourself Asking God Why?
Successful businessman Larry O'Donnell thought he had life under control. When his infant daughter was permanently disabled by a medical error, however, he found a deep faith that transformed his life.
Frankie San: A Burning Light for Christ
Learn the amazing story of a disillusioned Japanese World War II veteran who dedicated his life to ministering to hardened "jail-birds" in a South Carolina prison.
Easter, Worship & Inspirational Resource Guide
Find Bibles, devotionals, Christian fiction, Easter-focused books, and more.
A Rugged Faith That Endures
God answers some prayers the way we would like; others He doesn't. Learn the secret to a faith that endures regardless of the answer.
Columns
Living in Wisdom – The Prince of Peace
Ask Dr. Walt – Should I Take a Multivitamin or Not?
Dave Says – Steer Away from Unnecessary Car Debt
Turning Point – From My Way to His Way
Persecution Report – Rape, Forced Conversions, and Forced Marriages on the Rise
Grace Notes – The Pursuit of Wisdom and Holiness
Departments
The Fine Print
Daily Bible Connection
"The Landing" Blog
Laugh Lines
Quick Takes
Kids of the Kingdom
Published quarterly | 4 issues per year
The Joyful Life is not just a beautiful magazine—it is the inspiration for a faith-driven movement.
The focus of each issue is to ground women's hearts in their relationship with Christ in order to motivate and inspire them to live well and love others—for the purpose of glorifying God.
The heart of The Joyful Life Magazine is to point women back to the pursuit of the joy found in Christ alone.
It is my favorite of the top Christian magazines for women.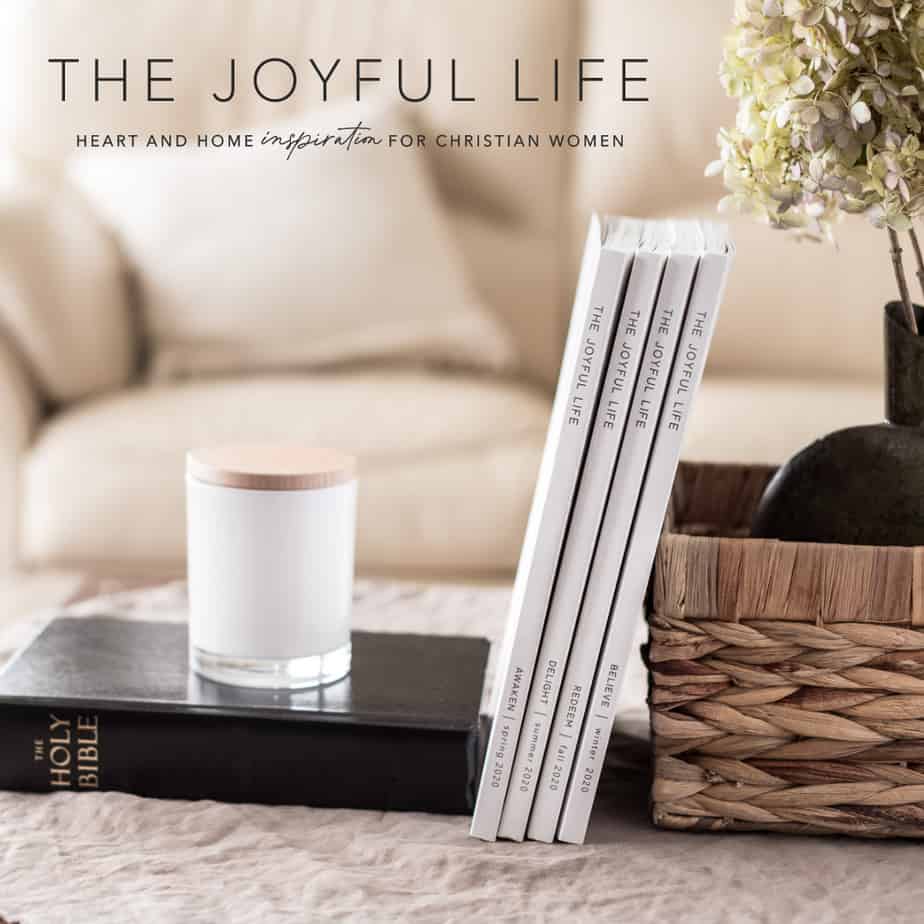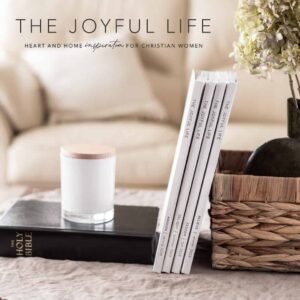 Faith-based heart and home inspiration

Free shipping to the US for Annual Subscribers

Discounted shipping to Canada for Annual Subscribers

Free library of over 40 printables accessible to Annual Subscribers

New Cover Design

New Table of Contents Design

Interview in every issue with Heart-Strong Christian Women Entrepreneurs

DIYs

Recipes

Reader-supported luxury, a quarterly publication

128 pages of Beautifully Designed Content with less than 5% Ad Content
Today's Christian Woman – Digital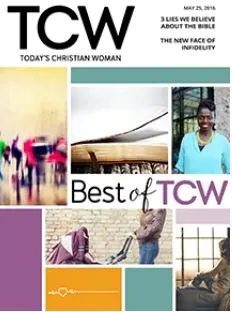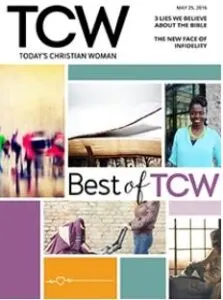 The Next Chapter for TCW

God is at work in your story–and ours

3 Lies We Believe About the Bible

Dangerous clichés we've crafted from Scripture
About Just Between Us Christian magazine for women:
At the time, the publishing experts told Jill that the magazine could never be sustained with a handful of part-time staff and volunteers—but she went forward with her vision and God has been faithful. Amazingly, since that time, JBU makes its way to Christian women around the world and to every state in the U.S., and has become that source of encouragement that Jill envisioned from the beginning.
The connection for reaching women globally through our website and magazine is powerful and we find that the basic needs of women are the same all over the world. That's why we continue to have partnerships with ministries in Japan, Brazil, and many others.
Primarily reader-written, as a magazine and a ministry we have sought to be a friend to women everywhere, who desire to serve God and share the same joys and struggles, ministering through biblically-based, relevant content expressed through the written word.
To that end, we cover topics on family life, marriage, your relationship with Christ, and life's struggles as well as providing resources for doing ministry and everything in between. Regular content also includes topics like dealing with difficult people, handling stress, battling depression and suicide, dealing with pornography, and understanding cultural issues.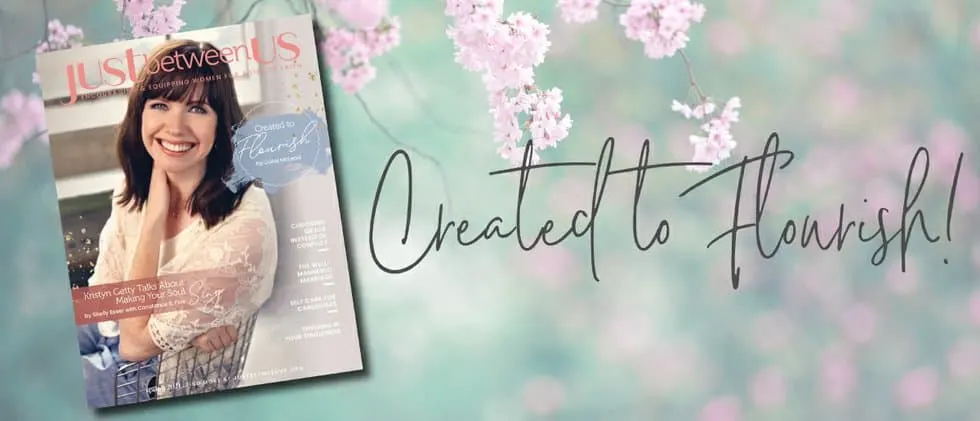 Some of the great articles you'll find in this issue:
A Song in Her Heart
Singer-songwriter Kristyn Getty is making beautiful music to make your soul sing.
The Well-Mannered Marriage
Does the way you treat your spouse need some fine-tuning?

Thriving in Singleness
Saying yes to God's invitations even when your dreams are collapsing and life isn't how you pictured it.

Taking Care of You!
To be the best caregiver for others, you can't forget about caring for yourself!

Choosing Grace Instead of Conflict
Learn to get at the root of conflict and have more peaceful relationships by avoiding the five R's: rejection, resentment, resistance, revenge, and repeating the cycle.

Anchored Through Every Storm
Identifying storm triggers before they become too overwhelming and cause you to lose your anchor.

Leaning Into the Limitless Love of God
Discover how it will exceed all of your expectations.

Life Was a Highway
One woman's story of accepting God's new direction for her life amidst a life-changing medical crisis.

When You Have Been Wounded
We are all broken people who are givers and receivers of brokenness. It's what we do with our brokenness that matters.
Deeply Rooted Magazine – Printed, bi-annual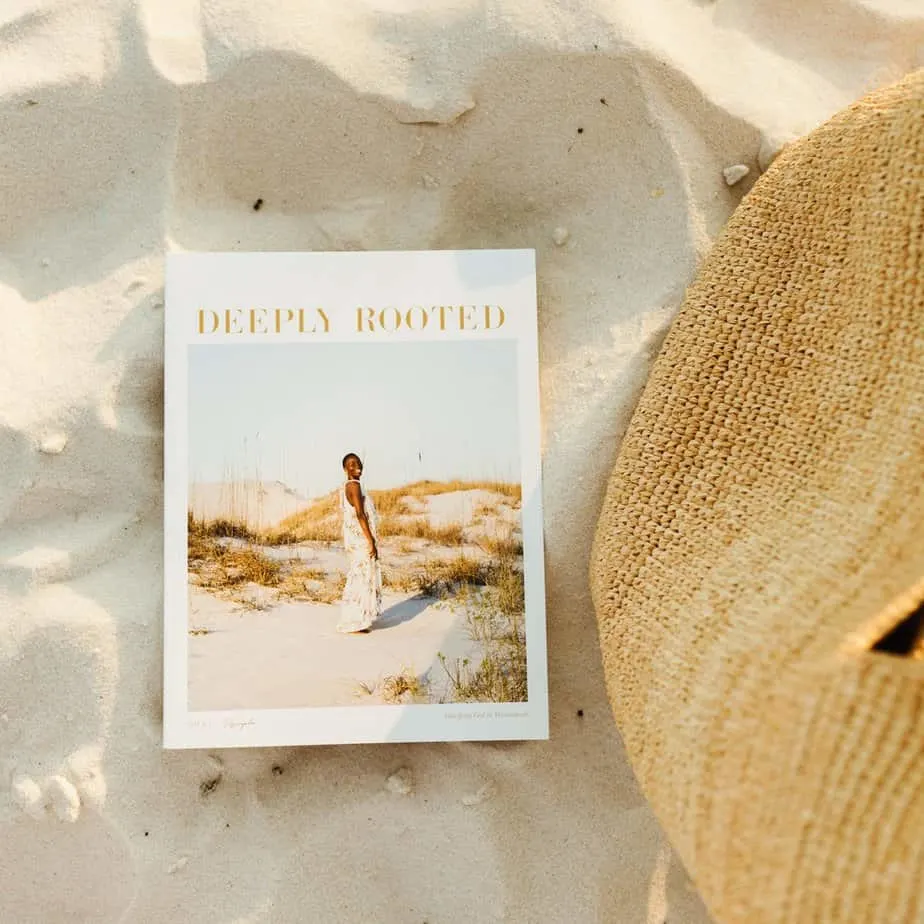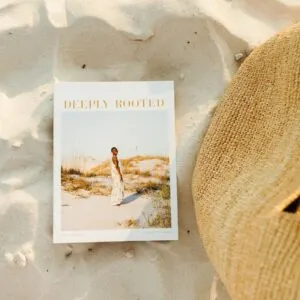 SOME FEATURED ARTICLES INCLUDE:
A True Disciple

Raising Children to Be Missionally Minded

Practicing Discipleship as a Single Woman

Facing a Task Unfinished: Evangelism in the Year 2020
Christianity Today – Print and Digital
10 Issues Published annually
Christianity Today is more than a magazine. As a nonprofit global media ministry, Christianity Today engages over 4.5 million Christian leaders every month, encouraging and equipping them to advocate for the church and shape the evangelical conversation.
Trusted. Thoughtful. Balanced. CT's breadth of content brings critically important issues to the forefront and offers practical solutions for church leaders.


With your subscription to Christianity Today, you will get:
10 award-winning print and digital issues

Full web access to ChristianityToday.com

Online CT archives dating back to 1956

Online access to Christian History archives
Published Seasonally | 10 issues per year
About Charisma Magazine:
Edited for the contemporary Christians. Editorials include: Teaching articles, which help readers apply bible teachings to everyday experience. One of the top Christian magazines.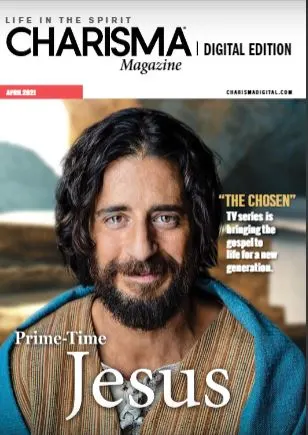 Inside the Latest Issue of this Top Christian Magazine
'The Chosen' Series Provides a Rushing River in the Middle of a Media Desert
We went behind the camera to find out how God is using this program to bring many people to faith in Jesus.
Touch Down to Victory
Here's how Sherri Downs is partnering with God to advance the kingdom.
Anointed Russians Bring Revival to the American Church
Thirty years ago, a wave of Christians came to the United States to escape Soviet persecution. Today, God is using these immigrants to bring revival to our nation.
Staying Pure in a Sexually Confused World
Here's how to lay the proper foundation for victory over sexual sin.
No Matter What, Believers Should Not Be Moved
Here's how our faith can remain firm in a season of doubt.By Dr. Steve Greene
The Power of Our Tears
We often look on tears as a sign of weakness, but the biblical record says just the opposite.
Published every other month | 6 issues per year
WORLDkids is a unique Christian current events program for children ages 7-10. Story by story, children learn to read news accounts and other information critically, to sift for the truth, and to relate knowledge and biblical wisdom to daily life. WORLDkids consists of a print magazine delivered every other month, plus a website and mobile app that feature more timely stories than the magazine plus photo slideshows, story graphics, and interactive content. The featured content is divided into six major topic areas. WORLDkids editors cover each topic from several perspectives, using four different stories, graphics, and online interactive activity. Quizzes following each topic test reading comprehension and increase children's vocabulary.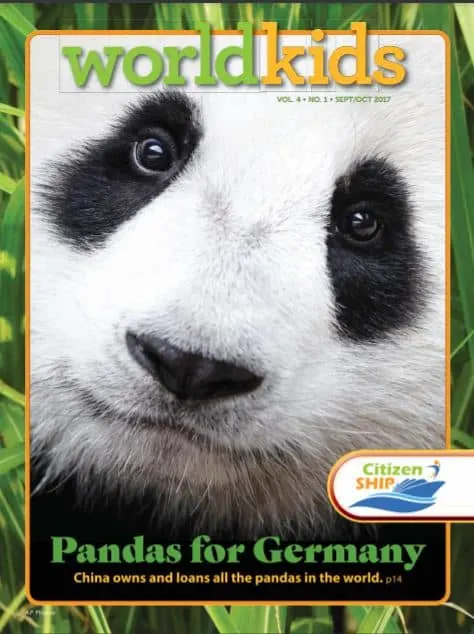 Do you subscribe to any Christian magazines? If so, which ones? Have you found any great magazines for Christian women? If so, please share!
Because of Him,
Sue
For a list of fantastic podcasts for Christian women, see this post.