The Best Christian Planners For Busy Women to Get Organized While Growing Closer to God
This page/post may contain affiliate links.  As an Amazon Associate, as well as an affiliate of other programs, this means if you purchase something using these links, I will receive a commission on qualifying purchases at no cost to you! For more detailed information, please visit our Affiliate Disclaimer page
Christian Planners – so many choices, but which one is right for you? Nearly every day, I see in Facebook groups people asking about Christian planners. I've rounded up some of the most popular Christian planners (and some you may not have heard of) for you to compare all in one place. There are some amazing ones here and you are sure to find the one that fits you best.
Some Christian planners include daily or weekly scripture. Some have sections for prayer. Still others focus on gratitude. Each are laid out a bit differently for you to write important events.
So let's get to it, shall we?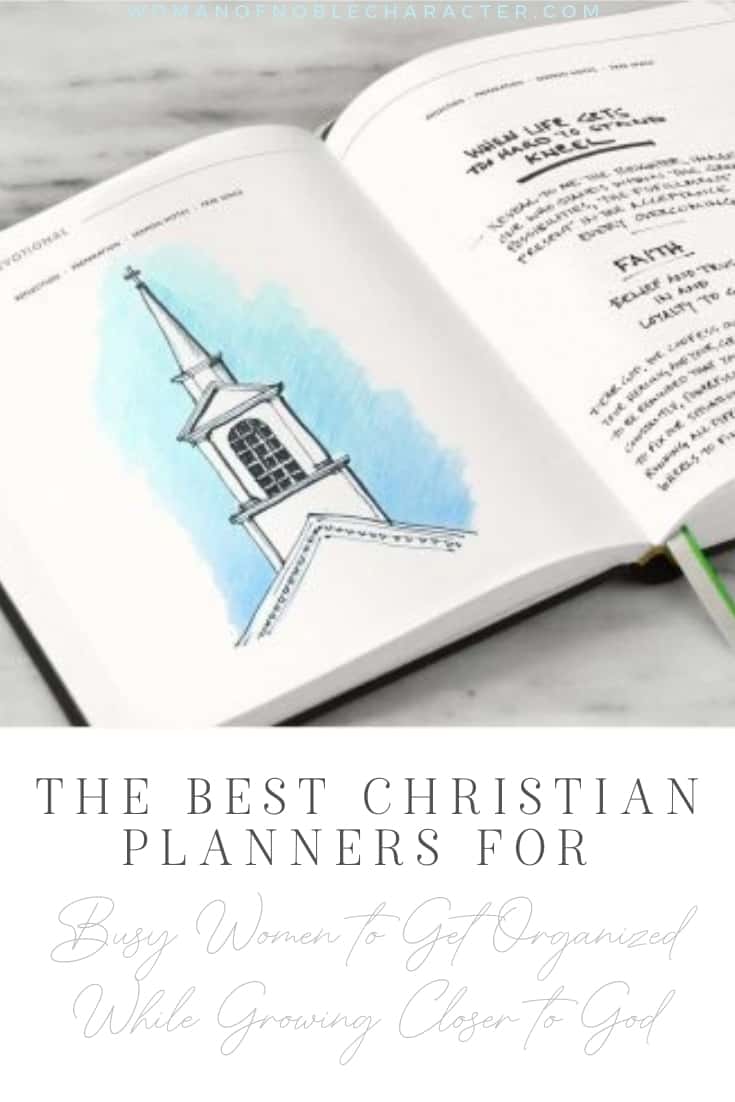 Christian Planners for 2021
I was blessed with receiving this planner to review, and I would be remiss if I didn't include it in this post. This is a unique planner with a focus on the fruit of the spirit. For the full review of the Spiritual Seeds Planner, see this post.
It includes a yearly calendar (for 2021 and 2022), monthly planner and weekly planner for the ultimate planning set up. Each month, you'll focus on a different fruit of the spirit and set goals for improving that fruit in your life. At the end of each month, there's a section for notes – great for prayer, gratitude or things you don't want to forget.
You can choose from Grapefruit Pink, Slate Grey (the one I have) and Coconut Brown. In addition, they have adorable stickers to decorate your planner (but, see below, you can get them and more for free!)
In addition, Spiritual Seeds Chrisitan Planner has partnered with Pacific Northwest Adult and Teen Challenge supporting their commitment to seeing people freed from life controlling issues through the power of Jesus Christ.
Adult and Teen Challenge students dedicate twelve months to transforming their lives. A Spiritual Seeds Planner provides the student a place to plan their days and record their journey.
If you purchase a Teen Challenge Package, they will donate and deliver a planner to a student! As a special thank you, your order will include a free Fruit of the Spirit Tote bag, notepad, pencil case and pens.
What I didn't love about it – it doesn't include sections for prayer, gratitude or sermon notes.
Faith Planner
The Faith Planner seems to have it all – goals, spiritual goals, daily Bible verses, monthly and daily calendars and so much more. It's definitely worth a look. I chose mine in pink,but the also offer solid black, pearl white, premium leather and sky blue. I'm normally not a pastel pink kind of person, but I liked this color. It's sturdy enough to drop in your purse and functional enough to use for work, personal and other uses.
At the end of each week, there is a page for reflection, sermon notes and journaling about your conversations with Christ! The Faith Planner also includes two ribbons for placeholders as well as an elastic that hold the book together (another great feature for if you bring your planner with you and drop it in your purse!).
What I didn't love about it – The planner is undated, which is great because you can purchase it any time of year and not worry about wasting months or waiting until the calendar starts. I usually like dated calendars, but this one has so many great features, I was able to overlook the undated Faith Planner.
I love this planner! It is designed to be more than a daily planner. The Hopefuel Planner is an all-in-one Christian planner that combines a daily planner and prayer journal to help you be organized and put your faith first each day. It's available in daily or weekly formats.
This Christian planner will help you to….Never forget your daily quiet time for scripture study and prayer journaling.
The Hopefuel Planner features:
Scribble all the to-dos of life

Keep track of your schedule

Record your monthly projects & goals

Take Sermon notes every Sunday

Find a fresh start each day

6-month, Semi-Annual Layout

Page-per-day Devotional Planner

Daily Prayer Journal Space
What I didn't love about it: It's only a six-month planner so you would need two for the year.
This gorgeous planner is available in over ten different cover designs and features not just a calendar but sections for prayer requests, gratitude, goals, habit trackers (think daily Bible or devotion reading!), purpose and vision board and so much more. There's even an inside pocket to tuck in church bulletins, reminders or anything you'd like.
Prayerful planner also offers post it notes for prayer, praise, notes and more and a snap in with dry erase marker for prayer requests and other great accessories.
Also available in digital format and undated physical format, as well.
If you join their rewards program (free), you can get several free downloads with pages from the Prayerful Planner to see if you like it – try before you buy it!
What I didn't love about it: It's pricier than most other Christian planners
Hello Revival is unique in that they offer Christian planners but also other related products including a Good Stewards Journal which helps you budget and track finances in a way pleasing to the Lord and a Devotional Journal, which they say is a guided space for our dialogue with God.
The Hello Revival planner, itself is available in warm oak, blush and black and an undated version and digital version are also options.
The planner features:
Vision Board to start the year off with a plan.

Monthly & Weekly Plan to help you manage your time and stay organized.

Sermon Notes to write what you learn on Sundays.

Personal Space to draw, write, and dream.

Weekly Bible Verses to stay encouraged.

Routines to stay on top of your weekly goals.

To-Dos to keep track of weekly action items.

End-of-Year Reflection to reflect on all that God has done.
What I didn't like about it: The website doesn't show many of the inside pages so it was difficult to see if this journal was for me or not.
Paper Sunday offers not just twelve different covers of planners, but men's and kids journals and notecards. The women's planners can be personalized with your initials and you can choose your start date for the planner.
What I absolutely LOVE about this planner is that each page includes scripture which is personalized with your name. For example: The Lord is near to the brokenhearted, Rebecca, and saves the crushed in spirit Psalm 34:18. How cool is that?
The Paper Sunday Christian Planner includes:
5.5 inches x 8.5 inches

12-Month Planner

144 Total Pages

72 different personalized scriptures

Choose the month your planner begins.

Full month view and weekly views

Area for notes at the start of each month

"I am grateful for"reflection space at the end of each week

Holidays listed at the front of each planner

Full calendar year view of your chosen months

Notes & Prayers, Birthdays, and Important Phone Numbers pages
What I didn't love about it: At 5.5 inches x 8.5 inches, it's smaller than the planner size I prefer, but perfect to slip into your purse.
The Christian Planner is available in five color choices and three binding options! Talk about customization! With a vision board, bucket list, habit tracker, back pocket and these additional features:
It's a great overall planner that would fit most women.
The Christian planner also offers an undated version, prayer journal, stickers and colored planner pencils.
What I don't love about it: there's no section for prayer requests or gratitude
The Happy Planner is a popular Christian planner for women. This year's version is a bit smaller than in prior years, but you can keep faith and count your blessings. Filled with divine inspiration, the uplifting Fun Faith Classic monthly planner is the perfect place to keep track of your to-dos. The best part? The faith layout gives you plenty of room to prioritize your spiritual side.
This 12 month dated planner has you covered from January 2021 through December 2021 with monthly and weekly calendar pages and dividers.

Each month features a place to jot down notes and important dates, a grid calendar and individual spreads for every week.

The weekly pages have dedicated spaces for blessings, daily verses, prayers and praises.

Monthly "text messages" from God offer helpful guidance to keep you on the right path.

Our Classic planner is the perfect size to keep on your desk or pop in your tote or backpack.

Dimensions: 8.75″ L x 1.25″ W x 9.75″ H
What I don't love about it: While they offer a ton of accessories, most don't fit the smaller size for 2021 and I prefer a larger sized planner.
An Etsy item with a five star rating, it features mostly everything you would need in a Christian planner. Perfect for organizing Bible Studies, Prayer List, Devotionals and Spending Intentional time with God. The Garden of Eden planner, which ships in 1-2 days features:
Size: H: 9in | W 7.5in | W 8in (including binding) | D 1 i

Yearly Vision Planning + Vision Board

Yearly In-Depth Planning for 3 Goals

Monthly Calendar + US Holidays

Monthly Prayer + Focus

Monthly To-Do List

Monthly Action Plan for Goals

Monthly Habit Tracker

Monthly Financial Tracker

Monthly Reflection and Praise

Weekly Double Page Spread – Horizontal Layout

Weekly "I AM" Declarations + Reference Scriptures

Weekly Important Tasks/Events Section

Weekly Prayer + Praise Section

Weekly Love & Care Tracker
Included Accessories :
2 Sheets of Rose Gold Foil Planning Stickers

White with Rose Gold Foil Keepsake Box
*** PEN & POCKET JOURNAL SOLD SEPARATELY ***
What I didn't love about it: Since this is a pre-order item (ships in Mid-October), I wasn't able to view the inside pages to see if it is right for me, but the reviews are amazing.
This undated planner is rich with features and has a five star rating on Etsy. The Salt & Light Undated Planner was created to help organize your day while keeping your focus on the Lord. What should be the most important parts of the day can be over shadowed by a to-do list. This planner will allow you to refocus on what matters most each day while still knocking out your Must Do and May Do lists.
The Salt & Light Planner includes:
• 150 daily UNDATED planning pages
• Double pocket in the back
• Prayer Requests section
• Praises section
• Gratitude section
• Daily Encouragement with scriptures and encouraging quotes
• Seven Thirty's signature "Must Do" and "May Do" list
• Notes section for additional planning
• Planner measures approximately 6.5 x 8 including binding, pages are 6×8
• Pages are printed on 80# text paper weight
• Covers are made with a NEW waterproof cover that is 14 mil thickness for durability
What I don't love about it: I prefer dated planners and this one is also smaller than I prefer, but if you are looking for a smaller planner with lots of features, this may be a good choice for you.
I love Dayspring and the high quality Christian products they offer. Their planners are no exception.
The 2021 'Studio 71 – Floral' weekly monthly planner keeps you organized with tabbed monthly view pages, an elastic band that can be used as a placeholder, and convenient pocket. This 12-month Christian planner encourages you with a different Scripture every week to hold onto or memorize. Not only is there a Read Through the Bible in a Year plan in the back, but each day on the weekly spread shows you the verses to read each day to accomplish that great goal!
The price point is lower than many of the other planners featured in this post, as well.
The Studio 71 Floral Planner features:
Personal Information Page

Quick view of 2021 and 2022

Notes Pages

Don't Forget! Page for Special Occasions

Prayers and Answers

Pages for Gratitude and Goals

Sunday-Saturday Spread

Pockets in back

Elastic band for closure or placeholder

Scripture text: NLT and CEV
What I didn't love about it: I would love to see more of the inside pages, but overall there's not much I don't like about this planner.
The Katygirl – Be Brave With Your Life' undated 12 month weekly monthly planner keeps you organized with tabbed monthly spread pages, an elastic band that can be used as a placeholder, and convenient pockets to keep you even more organized. This planner encourages you with a different Scripture every week to hold onto or memorize. Includes stickers to personalize each month.
The Kaygirl Planner features:
Notes Pages

Dates to Remember Jan-Dec

Pages to record Birthdays, Restaurants, Usernames and Passwords

Pages for Prayers, Praises, & Blessings

Read Through the Bible in a Year

Contacts Page

Important Numbers

Sunday-Saturday Spread

Sticker page

Pockets in back

Continuous spiral binding

Elastic band for closure or placeholder

Scripture text: NLT and CEV
What I don't love about it: While this planner has just about everything I need in a planner, it is undated and I prefer dated, but I think given all of the features, this may be the planner for me.
Whew! There are some gorgeous and functional planners, aren't there? Which one is right for you? I'm still deciding – so many great choices. I may end up buying more than one and using them differently.
Which is your favorite?
Because of Him,
Sue