This page/post may contain affiliate links. As an Amazon Associate, as well as an affiliate of other programs, this means if you purchase something using these links, I will receive a commission on qualifying purchases at no cost to you! For more detailed information, please visit our Affiliate Disclaimer page
Christian Planners – There are so many choices, but which is right for you? Nearly every day, I see in Facebook groups people asking about Christian planners. I've rounded up some of the most popular Christian planners for 2024 (and some you may not have heard of) for you to compare all in one place. There are some amazing ones here, and you are sure to find the one that fits you best.
This year, make a resolution to keep a Christian planner. Research shows that writing down goals and breaking them into smaller, achievable steps helps people stay motivated and accountable to their plans. If you're looking for tools to help you get organized and become closer to God, then a Christian planner is the perfect tool for you.
At the start of 2024, let's commit to a better approach to organization and commit to spiritual growth. In this article, we'll explore the best Christian planners available in the market, how to use them effectively, and how they can help you grow spiritually.
Whether you need something to help you stay organized or to keep track of Bible study, prayer time, and reflections, these Christian planners can provide simple and effective solutions. Get ready to make this the year you get organized and closer to God!
Some Christian planners include daily or weekly scripture. Some have sections for prayer. Still, others focus on gratitude. Each is laid out a bit differently for you to write important events.
So let's get to it, shall we?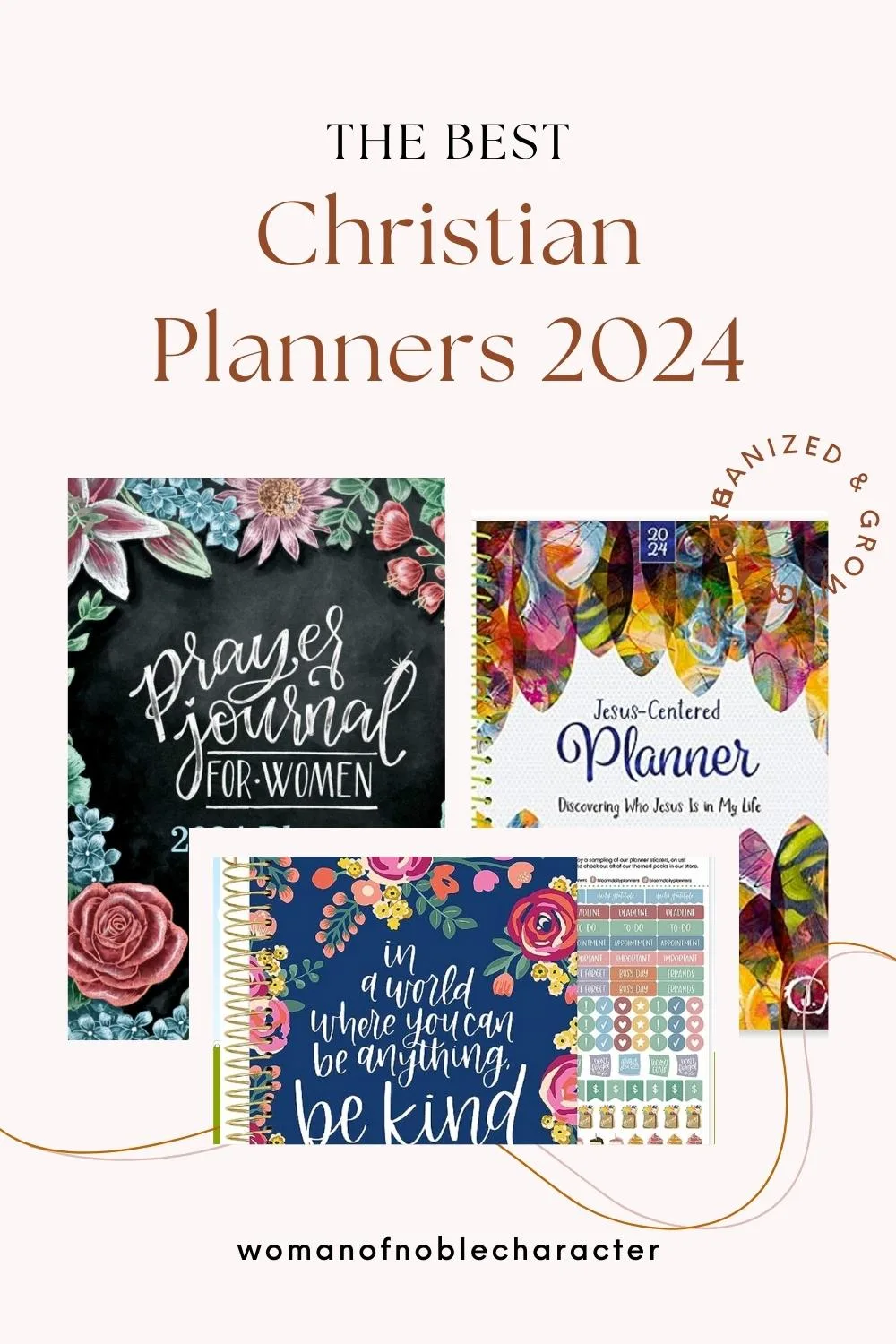 Christian Planners for 2024
I was blessed with receiving this planner to review, and I would be remiss if I didn't include it in this post. This is a unique planner with a focus on the fruit of the spirit. For the full review of the Spiritual Seeds Planner, see this post.
Available in both dated and undated. The dated includes a yearly calendar (for 2024), a monthly planner, and a weekly planner for the ultimate planning setup. Each month, you'll focus on a different fruit of the spirit and set goals for improving that fruit in your life. At the end of each month, there's a section for notes – great for prayer, gratitude, or things you don't want to forget.
You can choose from Grapefruit Pink, Coal, Sky Blue, Coconut Brown, Blue Elderberry, Langsat Tan, and Pink Lychee. In addition, they have adorable stickers to decorate your planner, washi tape, bracelets with the Fruit of the Spirit, and a fabulous book The Fruit of the Spirit by Thomas E. Trask and Wayde L. Goodall.
Some Updates for the 2024 Planner:
Digging into scripture on the Holy Spirit or Fruit and writing it on the opening page
Providing monthly focus – either the Holy Spirit (Jan., May, Sept.) or the Fruit of the Spirit in order.
New monthly prayers which all reference scripture and call out which Fruit we are focused on for that month
Scripture reference page plus a QR code to download our Free Favorite Scripture Downloads
Weekly scriptures. Each week of the month has a scripture at the top, helping to give context to that month's Focus Fruit
Introducing three new fabulous colors (I've got my eye on Blue Elderberry!)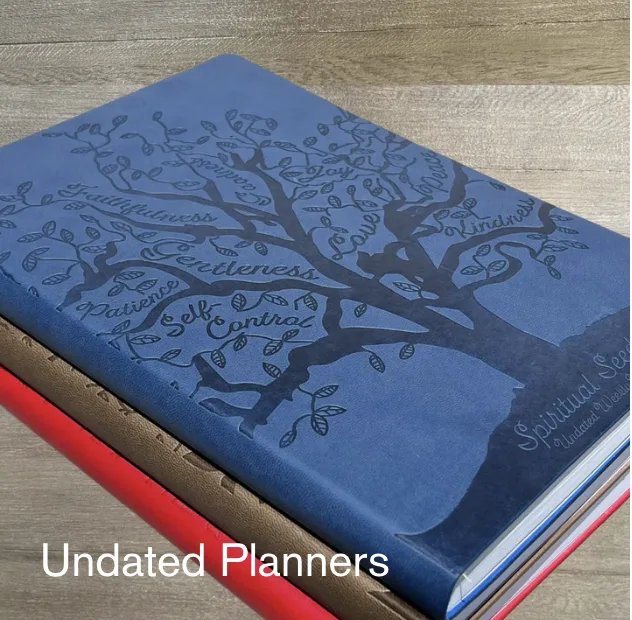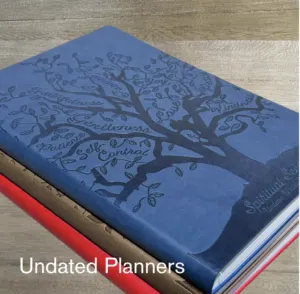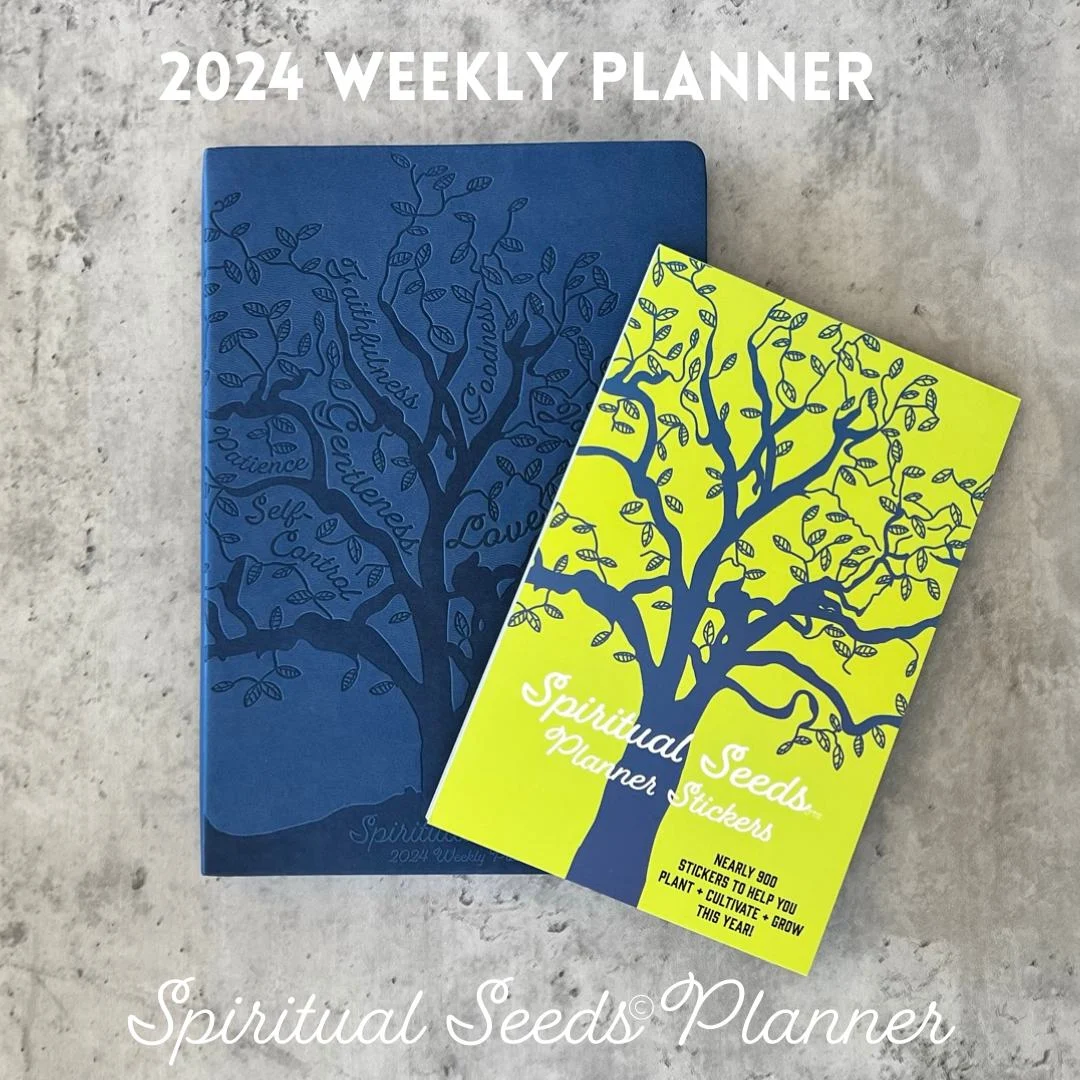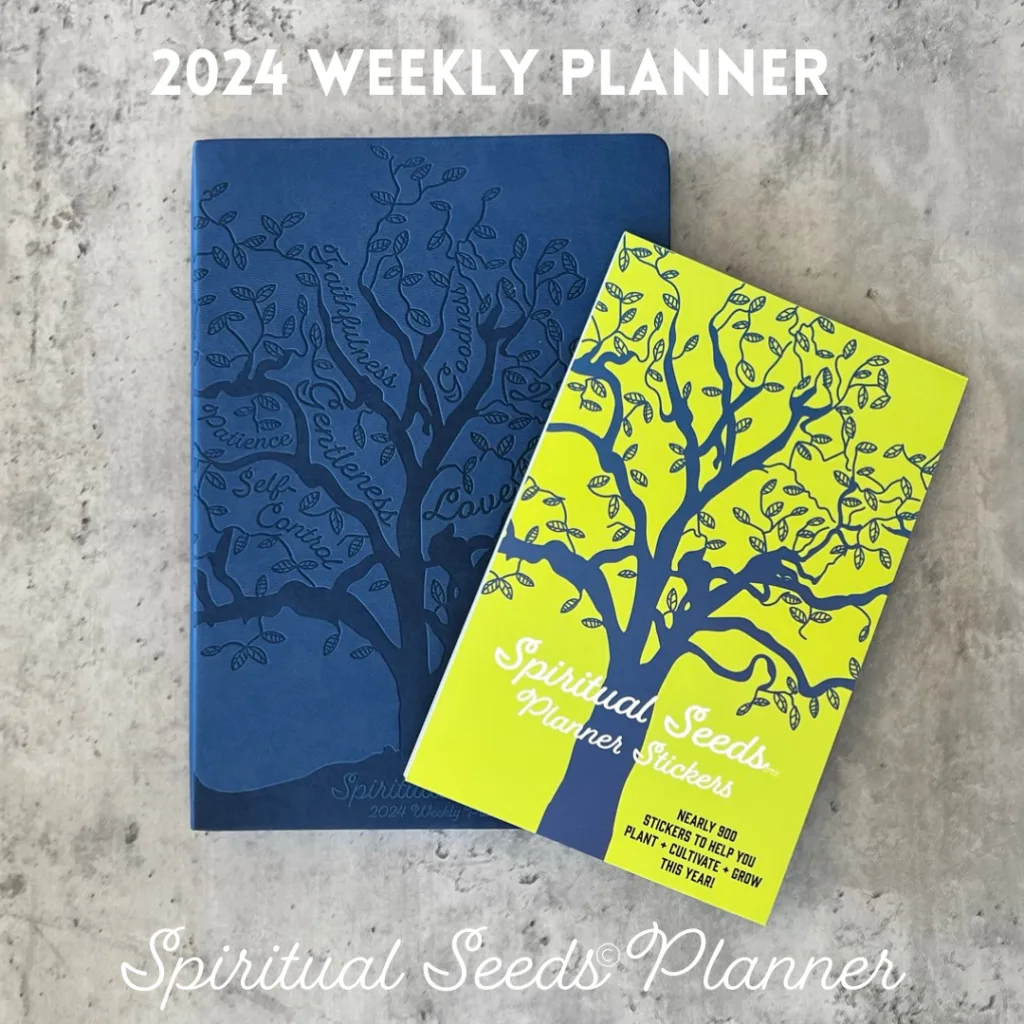 Step-by-step instructions on how to use the Spiritual Seeds Planner and grow your Fruit of the Spirit with the Holy Spirit's help.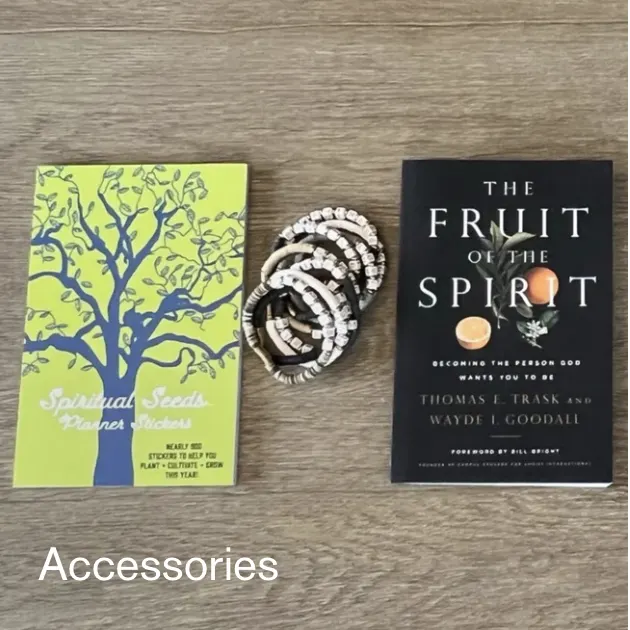 Truly one of my favorite planners to stay organized and grow in the Fruit of the Spirit.
Woman of Noble Character Digital Planners
Step into a well-planned life of faithfulness and productivity with your choice of Floral Edition, Chic Edition, or Watercolor Beach Edition of the Faith Digital Planner.
This unique and stylized planner is designed with the modern believer in mind, combining daily, monthly, and yearly planning needs with spiritual growth elements. Keep track of your day-to-day tasks and long-term goals while also nurturing your faith with pages dedicated to sermon notes, prayers, and Bible studies.
The planner also features sections for journaling, perfect for recording spiritual reflections or thoughts during your faith journey.
Handcrafted to perfection, the Faith Digital Planner is more than just a planner—it's a companion in your quest for a balanced, fulfilling, and faithful life.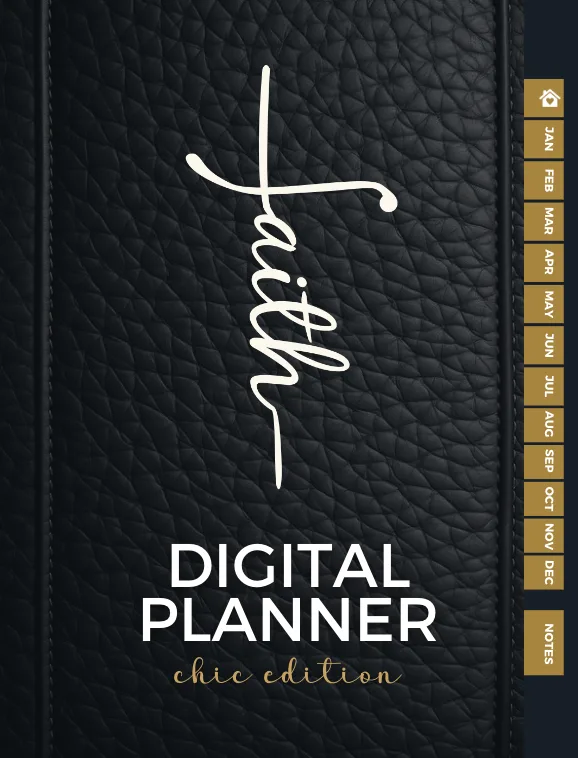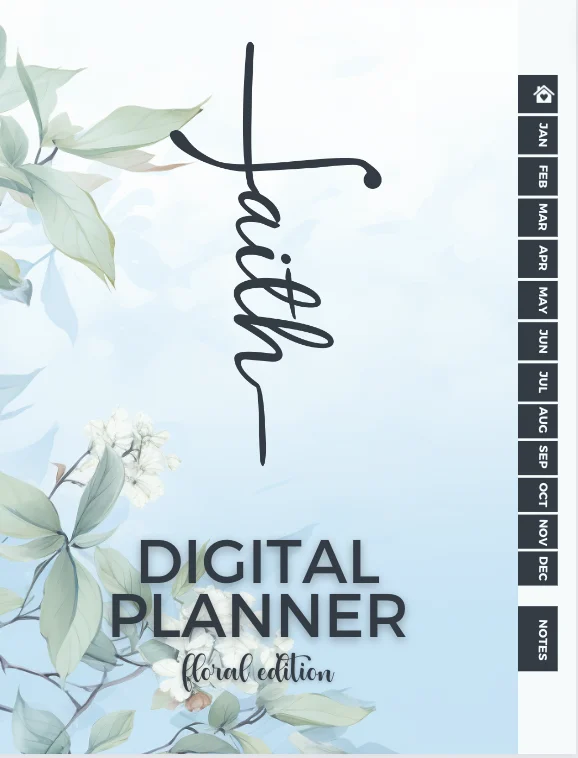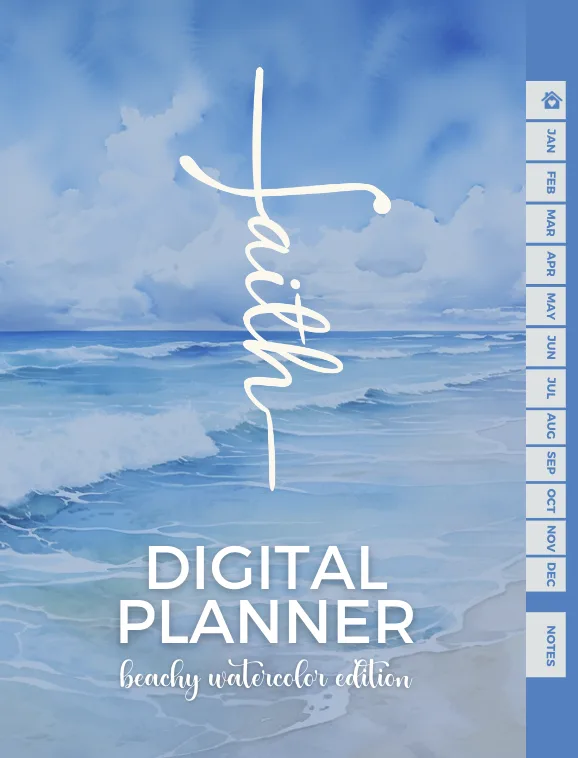 24 STYLISH COVER DESIGN OPTIONS!
Available in: 5.5″ wide (without binding) x 8.25″ tall, 4″ x 6″ and 8.5″ x 11″. Choose your favorite size.
LAYOUT: 2-page monthly overview spreads and spacious weekly views run the calendar year, JANUARY 2024 through DECEMBER 2024 — 365 days!
PREMIUM FEATURES: Soft, lightweight covers made from thick cardstock with matte film lamination, monthly tabs, deluxe 100gsm bright white bleed-resistant paper, recyclable metal lay-flat spiral binding, front and back inside storage pockets, and a FREE sticker sheet and bookmark!
BONUS: Packed with life coaching worksheets and inspirational features to help you set and achieve all of your goals for the year: personal mission statement prompt and yearly goal setting page, weekly scheduling templates, values page, habit tracking, vision board, monthly spending log, 12 notes pages, inspirational quotes, monthly challenges, and more!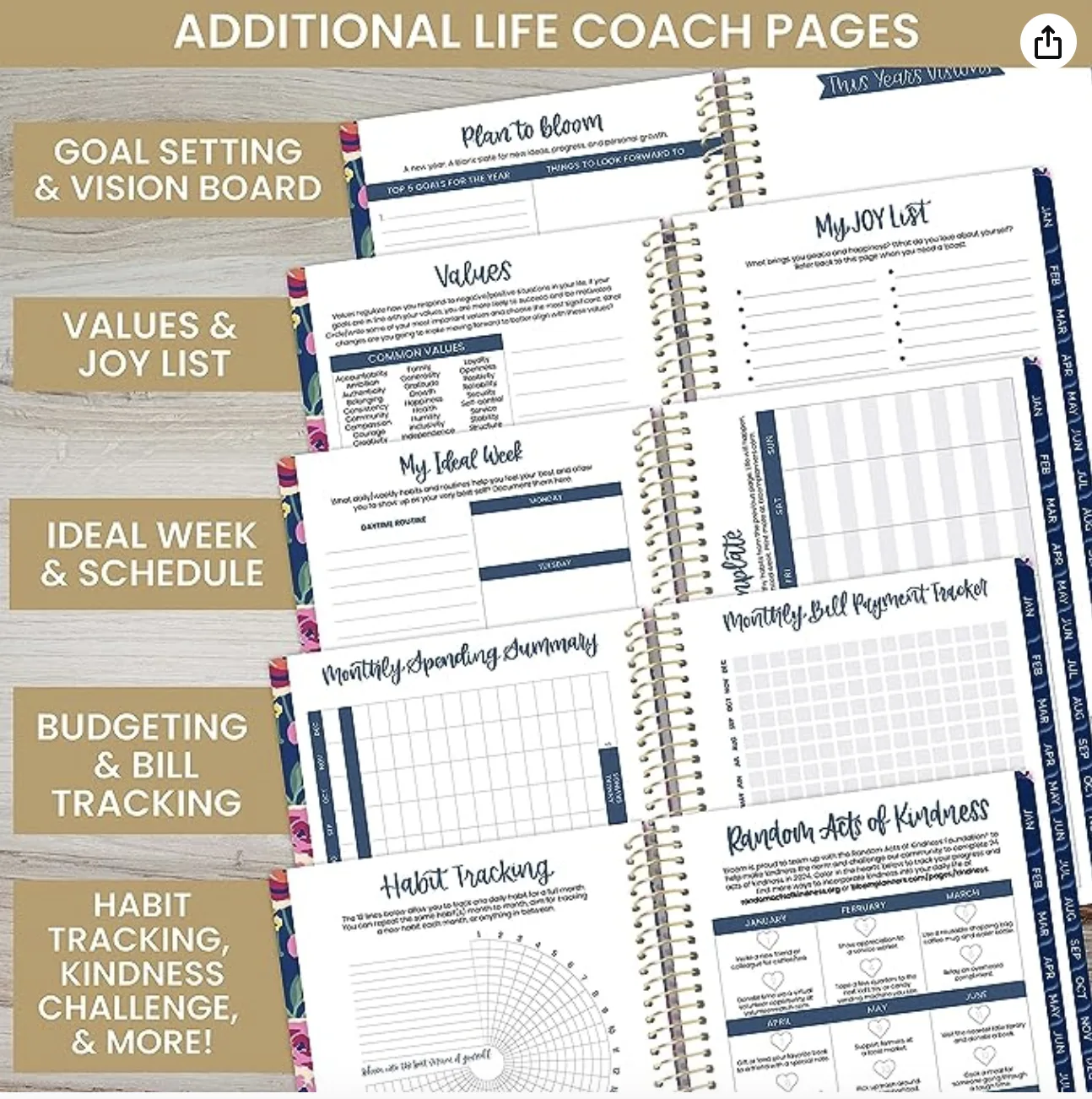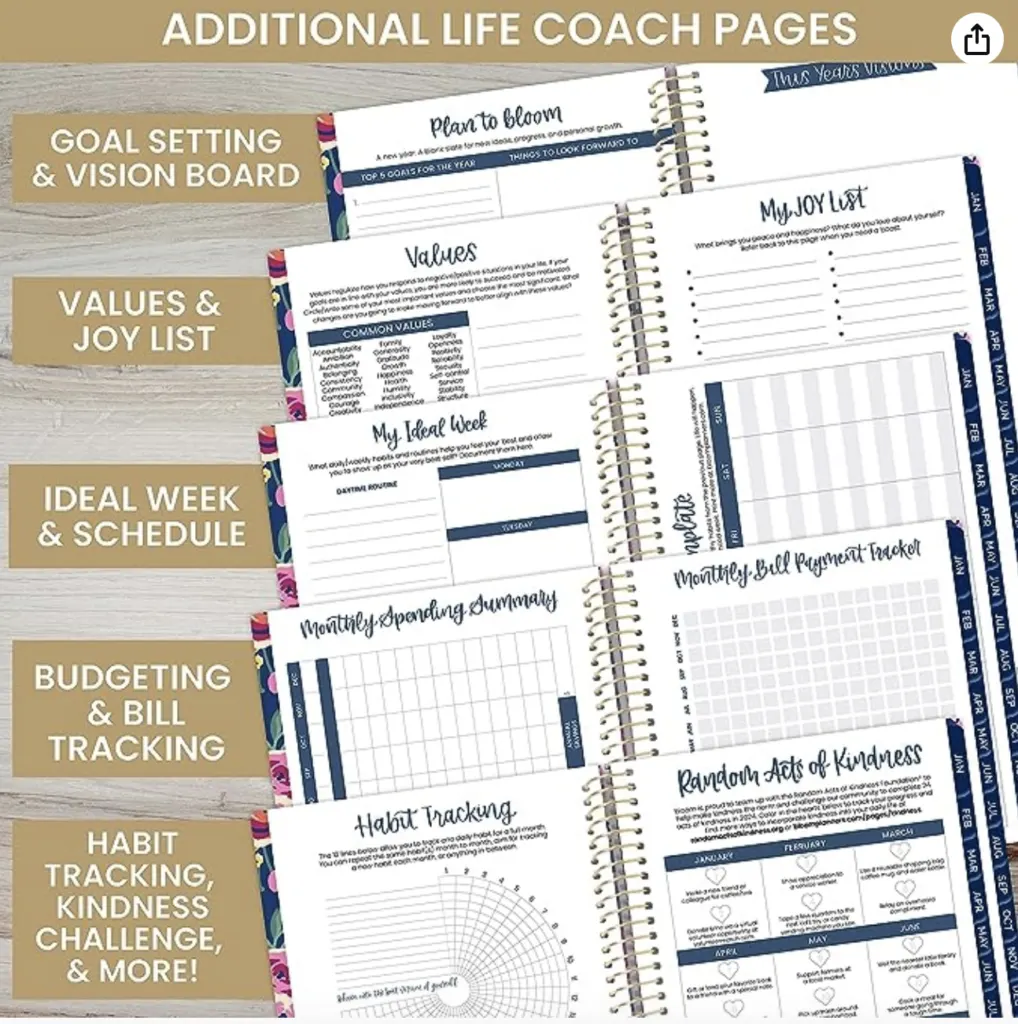 While I don't have this one, yet, it looks amazing and is sold for a reasonable price.
The Faith Planner seems to have it all – goals, spiritual goals, daily Bible verses, monthly and daily calendars and so much more. It's definitely worth a look. I chose mine in pink, but they also offer solid black, pearl white, premium leather, and sky blue. I'm normally not a pastel-pink kind of person, but I liked this color. It's sturdy enough to drop in your purse and functional enough to use for work, personal, and other uses.
At the end of each week, there is a page for reflection, sermon notes, and journaling about your conversations with Christ! The Faith Planner also includes two ribbons for placeholders as well as elastic that hold the book together (another great feature for if you bring your planner with you and drop it in your purse!).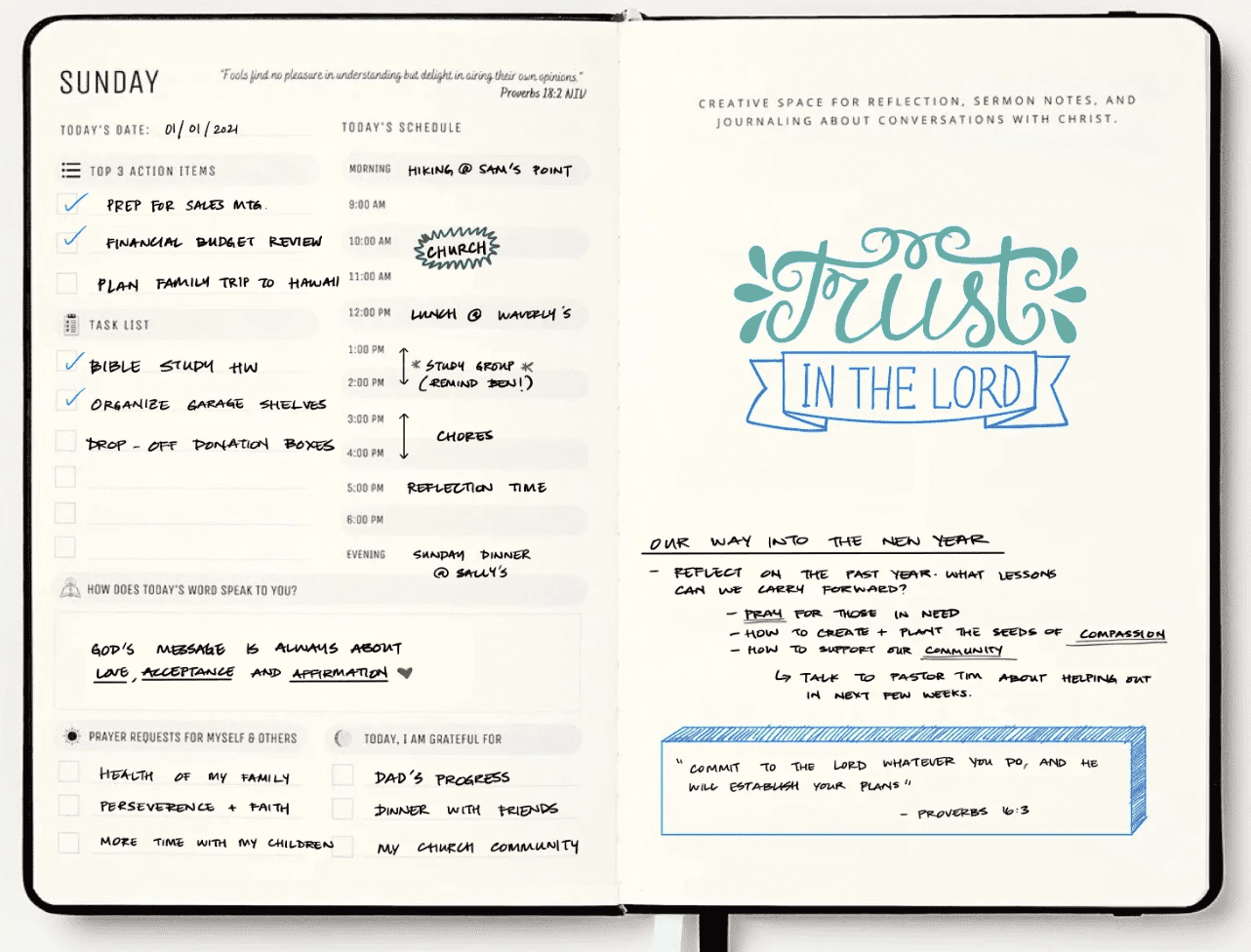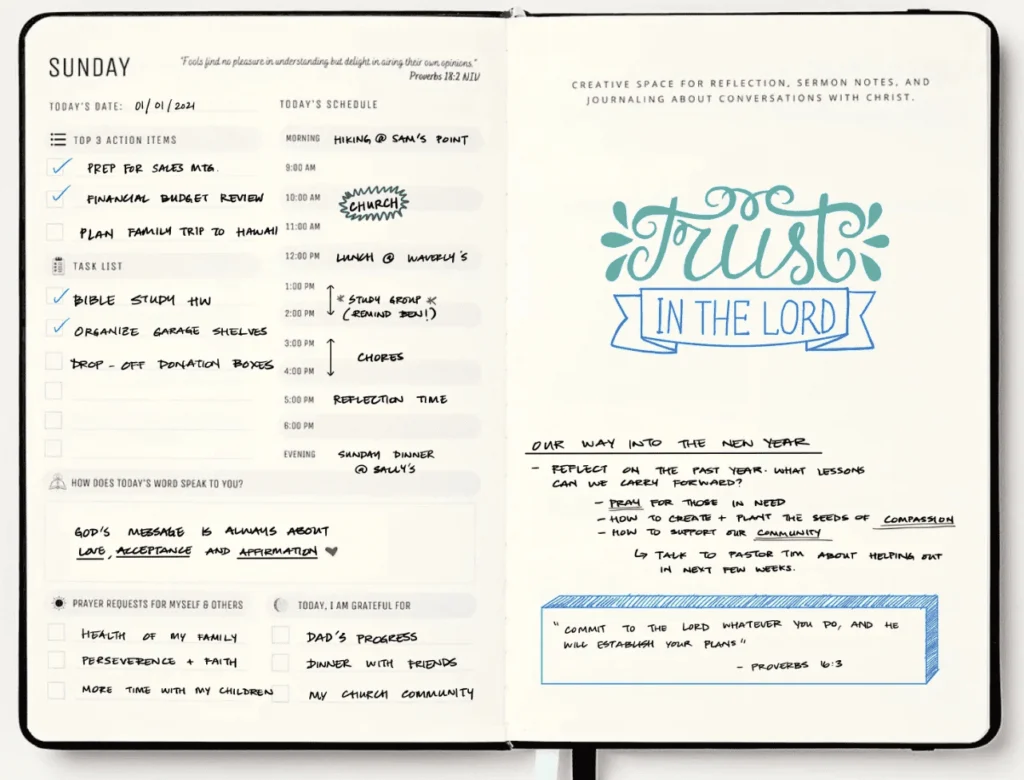 The Faith Planner is available in both dated and undated versions.
The form you have selected does not exist.
I love this planner! It is designed to be more than a daily planner. The Hopefuel Planner is an all-in-one Christian planner that combines a planner and prayer journal to help you be organized and put your faith first each day. It's available in daily or weekly formats.
This Christian planner will help you to….Never forget your daily quiet time for scripture study and prayer journaling.
The Hopefuel Planner features:
Scribble all the to-dos of life
Keep track of your schedule
Record your monthly projects & goals
Take Sermon notes every Sunday
Find a fresh start each day
Bible verses throughout
The weekly edition is 12-month
The daily edition is a 6-month, Semi-Annual Layout
Page-per-day Devotional Planner
Habit tracker
Front inside cover pocket
Daily Prayer Journal Space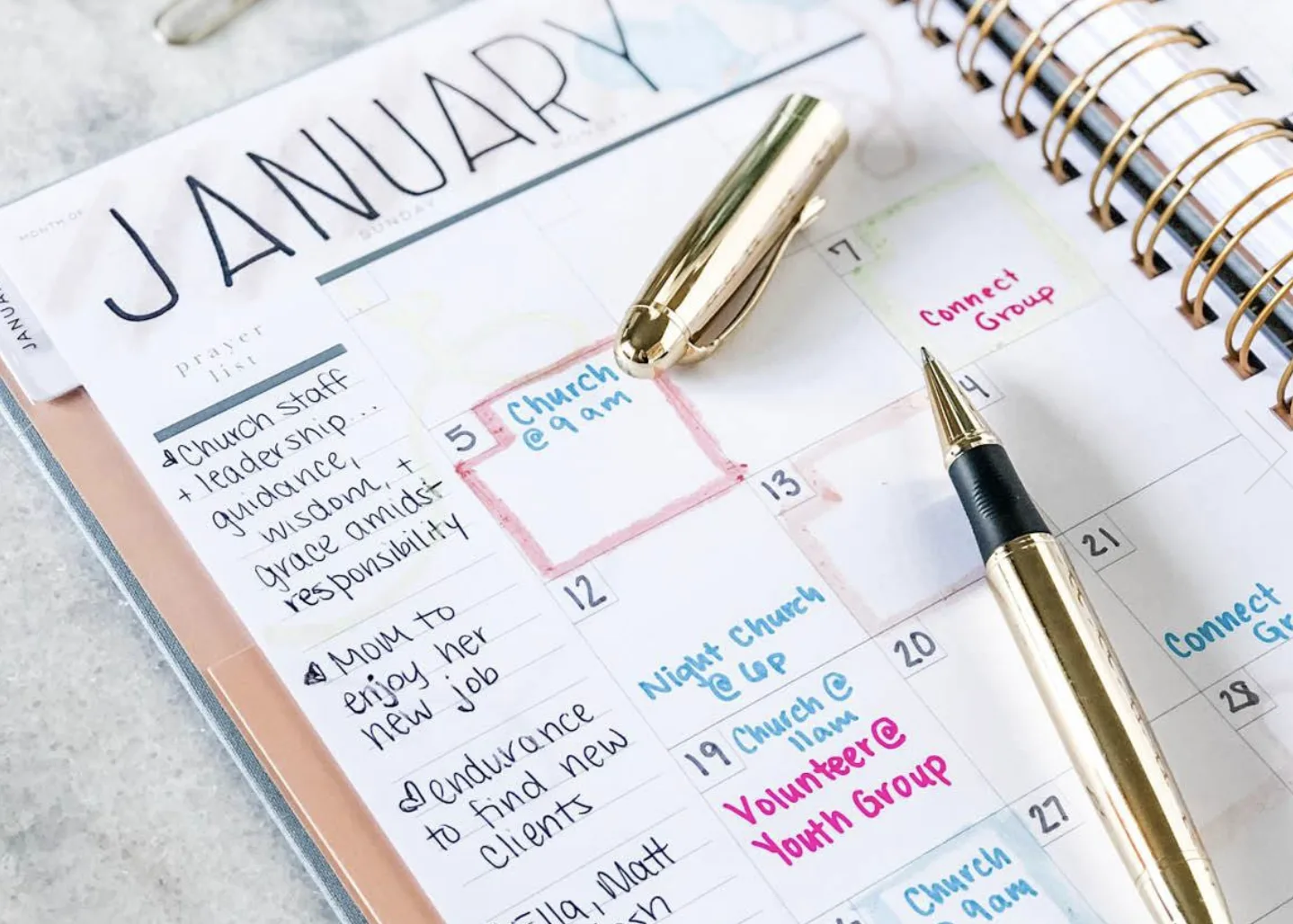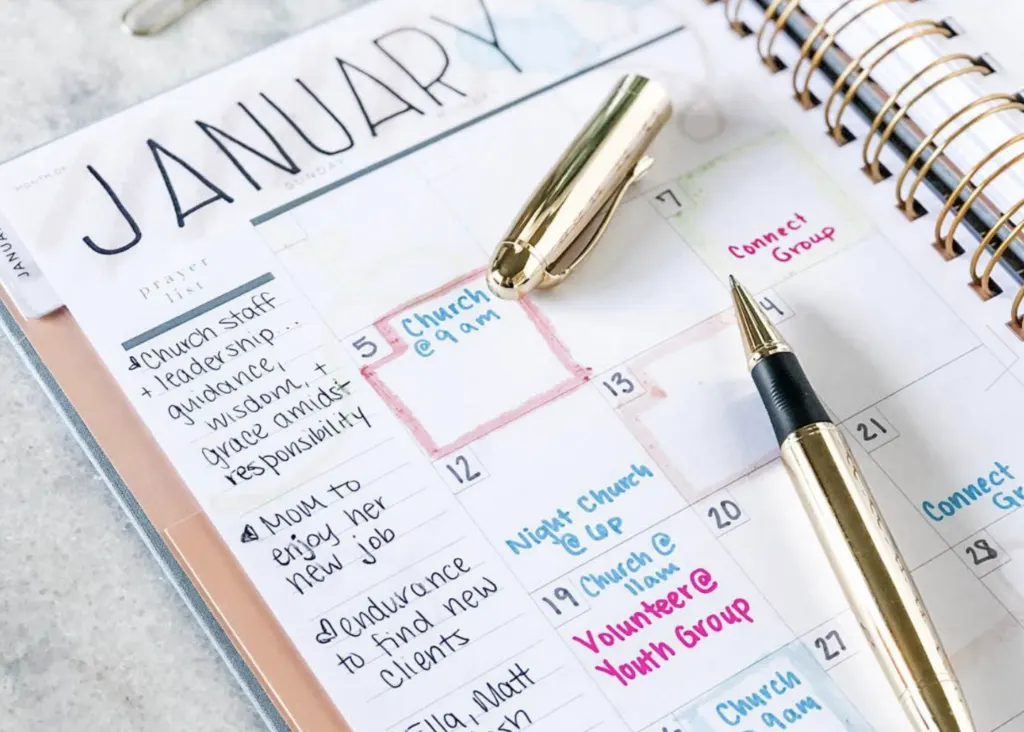 What I didn't love about it: It's undated and I prefer dated.
This gorgeous planner is available in over ten different cover designs and features not just a calendar but sections for prayer requests, gratitude, goals, habit trackers (think daily Bible or devotion reading!), purpose and vision board and so much more. There's even an inside pocket to tuck in church bulletins, reminders, or anything you'd like.
The prayerful planner also offers post-it notes for prayer, praise, notes, and more, and a snap-in with a dry-erase marker for prayer requests and other great accessories.
Also available in digital format and updated physical format, as well.
If you join their rewards program (free), you can get several free downloads with pages from the Prayerful Planner to see if you like it – try before you buy it!
The 2024 collection includes the following:


What I didn't love about it: It's pricier than most other Christian planners.
Hello Revival is unique in that they offer Christian planners but also other related products including a Good Stewards Journal which helps you budget and track finances in a way pleasing to the Lord and a Devotional Journal, which they say is a guided space for our dialogue with God.
The Hello Revival planner, itself is available in warm oak, olive, and black, and an undated version and a digital version are also options.
The planner features:
Vision Board to start the year off with a plan.
Monthly and weekly Plans to help you manage your time and stay organized.
Sermon Notes to write what you learn on Sundays.
Personal Space to draw, write, and dream.
Weekly Bible Verses to stay encouraged.
Routines to stay on top of your weekly goals.
To-Dos to keep track of weekly action items.
End-of-Year Reflection to reflect on all that God has done.
Paper Sunday offers dozens of different covers of planners, but men's and kid's journals and notecards. The planners can be personalized with your initials, and you can choose your start date for the planner.
What I absolutely LOVE about this planner is that each page includes scripture which is personalized with your name. For example, The Lord is near to the brokenhearted, Rebecca, and saves the crushed in spirit Psalm 34:18. How cool is that?
The Paper Sunday Christian Planner includes:
5.5 inches x 8.5 inches
12-Month Planner
144 Total Pages
72 different personalized scriptures
Choose the month your planner begins.
Full month view and weekly views
Area for notes at the start of each month
"I am grateful for" reflection space at the end of each week
Holidays are listed at the front of each planner
Full calendar year view of your chosen months
Notes & Prayers, Birthdays, and Important Phone Numbers pages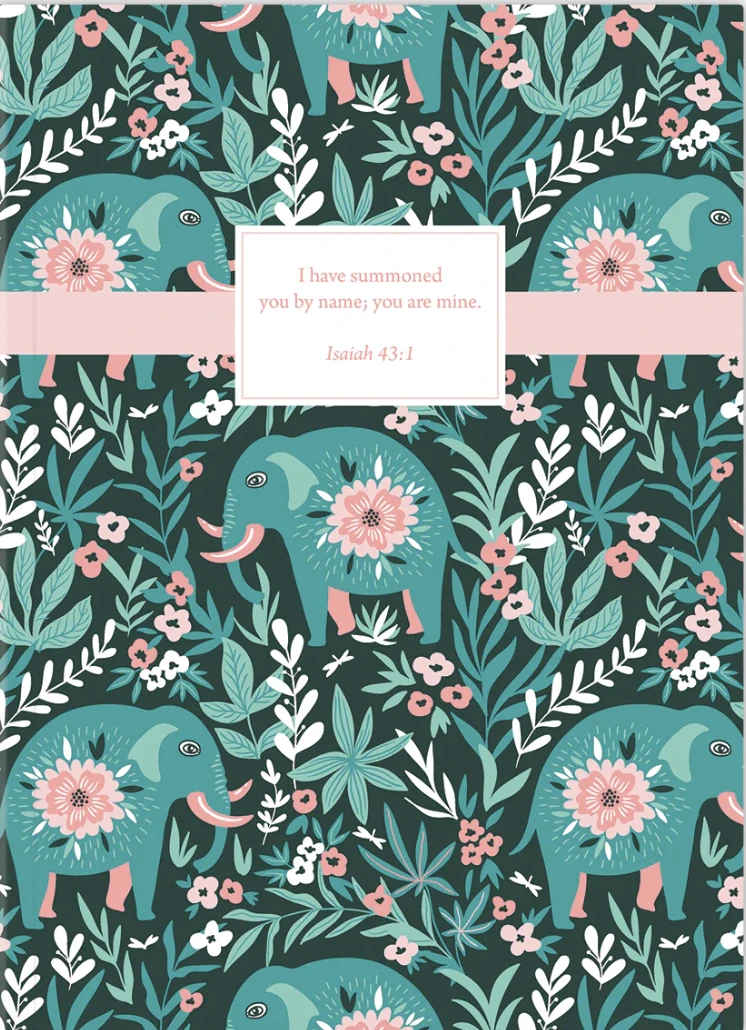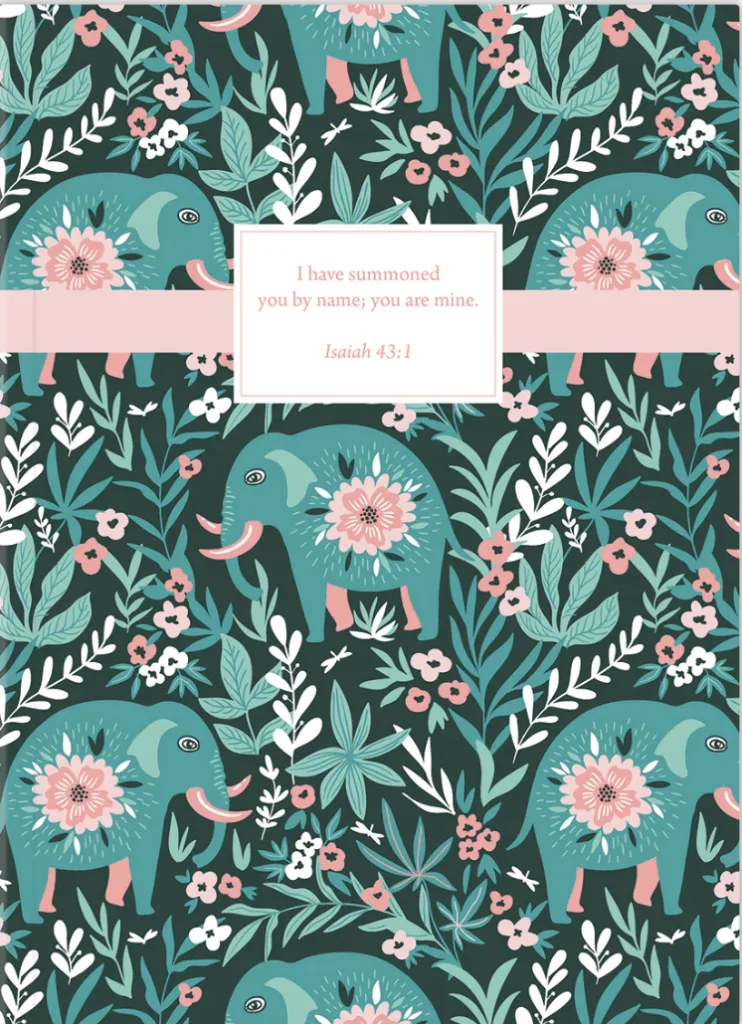 The Christian Planner is available in five color choices and three binding options! Talk about customization! With a vision board, bucket list, habit tracker, back pocket, and these additional features: Annual and monthly overview calendars
– Weekly Devotional pages
– Extra space for journaling
– Sunday start day each week
– Marked with U.S. holidays
– 12 Coloring Pages– Monthly Finance Tracker It's a great overall planner that would fit most women. The Christian planner also offers an undated version, a prayer journal, stickers, and colored planner pencils. Not sure if it's for you? You can download free pages to see if you like them first.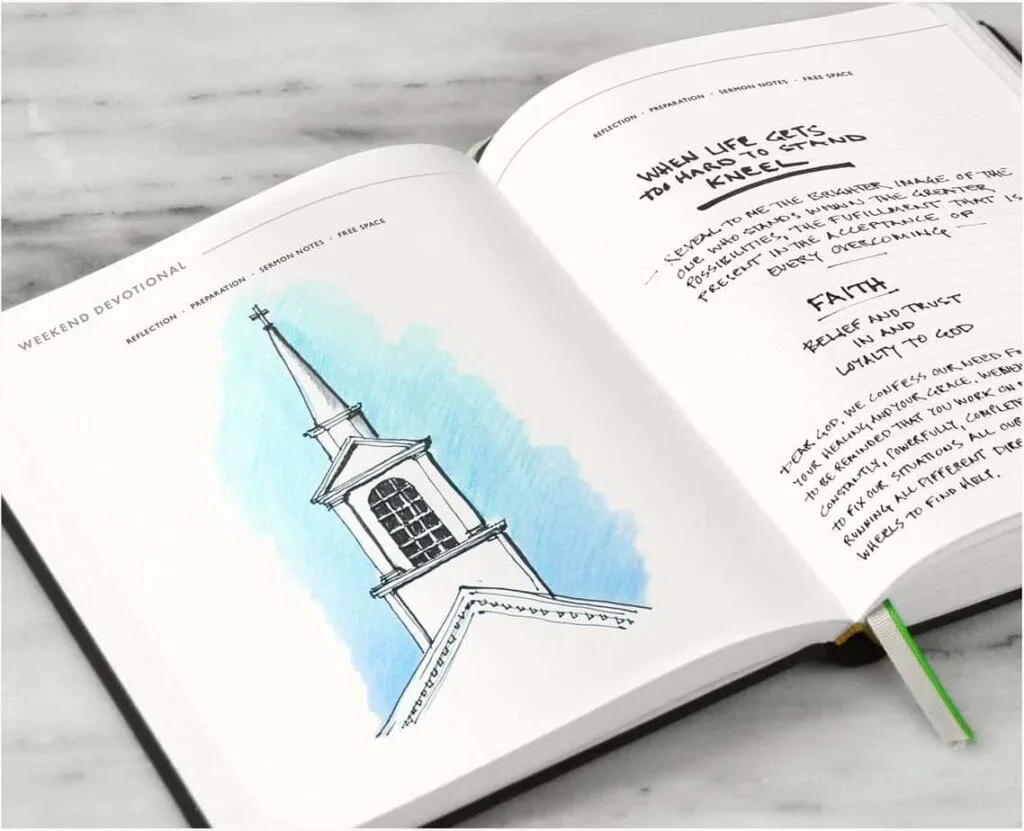 2024 The Happy Planner Spoonful of Faith Pray Big Faith Happy Planner is a popular Christian planner for women. This year's version is a bit smaller than in prior years, but you can keep faith and count your blessings. Filled with divine inspiration, the uplifting Fun Faith Classic monthly planner is the perfect place to keep track of your to-dos. The best part? The faith layout gives you plenty of room to prioritize your spiritual side.
This 12-month dated planner has you covered from January 2024 through December 2024 with monthly and weekly calendar pages and dividers.
Each month features a place to jot down notes and important dates, a grid calendar, and individual spreads for every week.
The weekly pages have dedicated spaces for blessings, daily verses, prayers, and praises.
Monthly "text messages" from God offer helpful guidance to keep you on the right path.
Our Classic planner is the perfect size to keep on your desk or pop in your tote or backpack.
Dimensions: 8.75″ L x 1.25″ W x 9.75″ H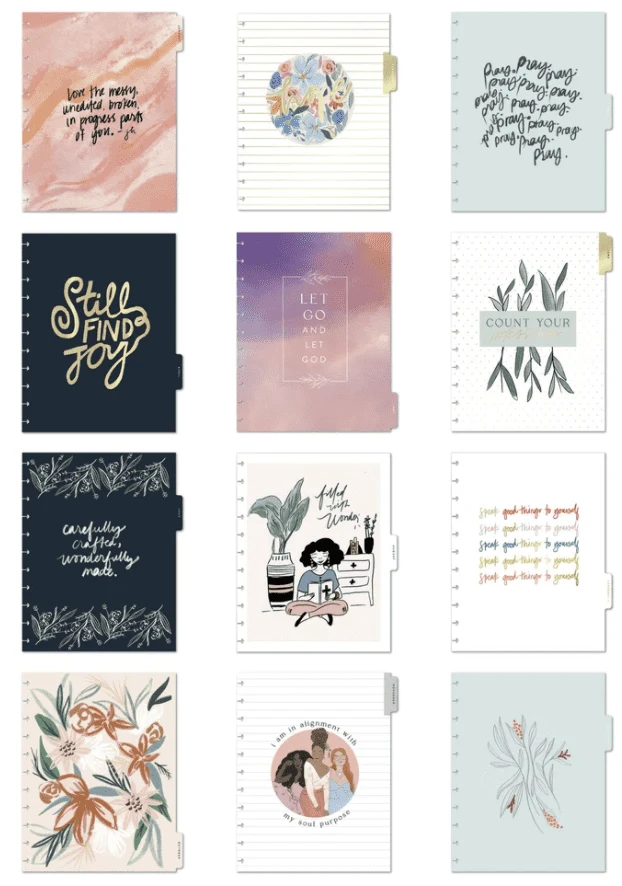 Discovering Who Jesus Is in My Life
With the ALL-NEW Jesus-Centered Planner 2024, you'll focus your life around Jesus as you invite him to shape, guide, and inspire your plans. You'll live each day more powerfully as your routines, goals, and tasks become living prayers drawing you closer to Jesus and to others.
This refreshed planner has a simplified, sleeker look and is more relevant than ever. You'll find new devotions, reflections, and Bible reading plans. Plus, check out 12 new features that will help you find the planner more useful than ever!
Planner content includes:
Weekly devotions that invite Jesus and others into your daily routine
Guided monthly reflections that help you reflect on your lifestyle, analyze the way you spend your time and energy, and keep your habits Jesus-centered
Daily Bible reading plan to help you focus on Jesus and his Word each day
A "Memories" section to help you document big and small events of the year
Plus enjoy all the monthly calendar pages, weekly calendar pages that start on Sunday, note sections, and blank creative spaces you need to stay organized and inspired all year long.
Makes a perfect companion to the bestselling Jesus-Centered Bible!
NEW THIS YEAR: If you've used the Jesus-Centered Planner before, you will notice this year's looks a lot different. In addition to a beautiful, redesigned cover, it has been refreshed with a ton of new features including:
Smaller, easy-to-carry planner (7.5×10.5)
Spiral-binding for lay-flat open
2 colorful sticker sheets to help you design your planner and add monthly tabs
All-new daily Bible reading plan
Powerful updated devotions and prayers that explore the character of Jesus and what it means to you
Weekly questions to help you listen to Jesus
Lined calendar pages with no times so you can use the planner for to-do lists or write in your appointment times
Mini monthly calendar on every week's page
Interactive monthly pages that help you prepare for the month
Scrapbook pages to help you collect the year's memories
Tear out stationery so you can mail letters to friends and family
A movable bookmark to flag the current week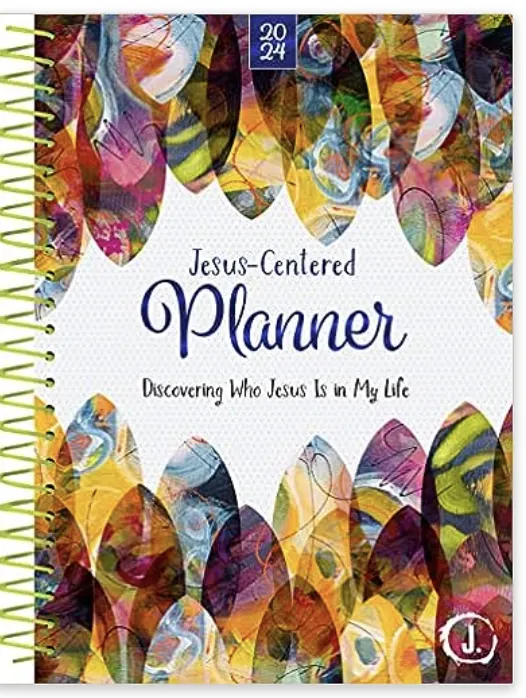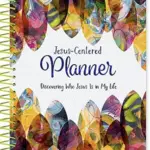 Open your eyes and recognize the goodness of God all around you with this premium 2024 agenda planner. It's much like anything―what we are looking for, we find. Each month begins with a specific list of good news, but Cleere's hope and greatest prayer with this planner is that you would make it personal to your own life. That you would approach each day with the perspective, "Where do I see God at work?" Because even when it's hard, it's good, because God is faithful. The vertical weekly spread is perfect for notes, lists, to-do's, and reminders. Each day is conveniently split into three portions so you can organize by morning, afternoon, and evening or rank your priorities: high, medium, and low. Use the 3 pages of stickers to personalize your planner as you manage your busy schedule and plan your months ahead. Also includes 6 pass-along notes to share hope and encouragement with others! This 18-month academic planner begins in July 2023 and ends in December 2024 perfect for managing your family's school schedule, sporting events, and church activities. You'll stay organized and inspired all year long.
DaySpring Agenda Planner Features:
The 18-month planner is printed on premium-quality paper. It begins in July 2023 – December 2024 is great for academic school year planning whether you're a student or teacher or keeping track of busy family schedules. It has an interior pocket page for homework, lesson plans, Bible study notes, or to-do lists.
This durable hardcover planner has a continuous metallic spiral binding and a lay-flat design for easy writing. The cover and tabs are laminated and it's the perfect 7 x 9 inch size. The vertical weekly planning spread is perfect for list-making. Each day is conveniently split into three portions so you can organize by morning, afternoon, or night or rank your priorities: high, medium, low.
Sturdy monthly tabs for quick reference and easy planning. You'll be inspired by monthly good news tabs in this agenda Planner. Use the 6 perforated pass-along notes to share hope with others.
Monthly & weekly planning pages are followed by a full blank page for note-taking, assignments, creative doodles, or writing down your favorite Bible Verse, prayer requests, and maybe even journal.
Personalize your spiral planner with 3 pages of sticker labels and give a little extra attention to important scheduling, appointment reminders, and special dates.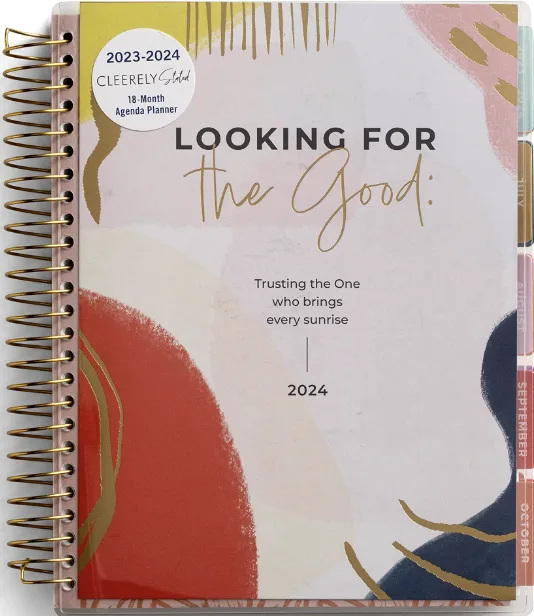 Fill your heart and mind with scripture, integrate prayer into your weekly schedule, and grow in your faith while staying organized—all with the help of the Prayer Journal for Women Planner, based on Shannon Roberts' bestselling book by the same title.
This beautifully illustrated planner doubles as a guided prayer journal to help deepen your prayer life and expand your knowledge of scripture. Illustrated in Shannon Robert's signature chalk art style, each weekly spread contains a Bible verse to reflect on, journaling prompts, and space for recording prayer requests—as well as generous grid space to plan out the week. The back of the planner features numerous "Answered Prayer" pages for tracking the power of prayer in your life. No matter where you are in your faith journey, this planner will help you grow in your knowledge of Scripture and your love for God.
Features include:
7″ x 9″ (14″ x 9″ open)
Spiral bound
Sturdy softcover
Printed on FSC-certified paper with soy-based ink
Calendar lays flat when open
12-month planner: January–December 2024
Generous grid space for notes, appointments, and reminders
Extra pages at the back for notes, goals, and more
Year-at-a-glance pages for 2023, 2024, and 2025
Includes a sticker sheet
2 pockets for storage
Includes Bible verses, room for journaling/reflection, and chalk art illustrations
Official major world holidays and observations
Moon phases, based on Universal Time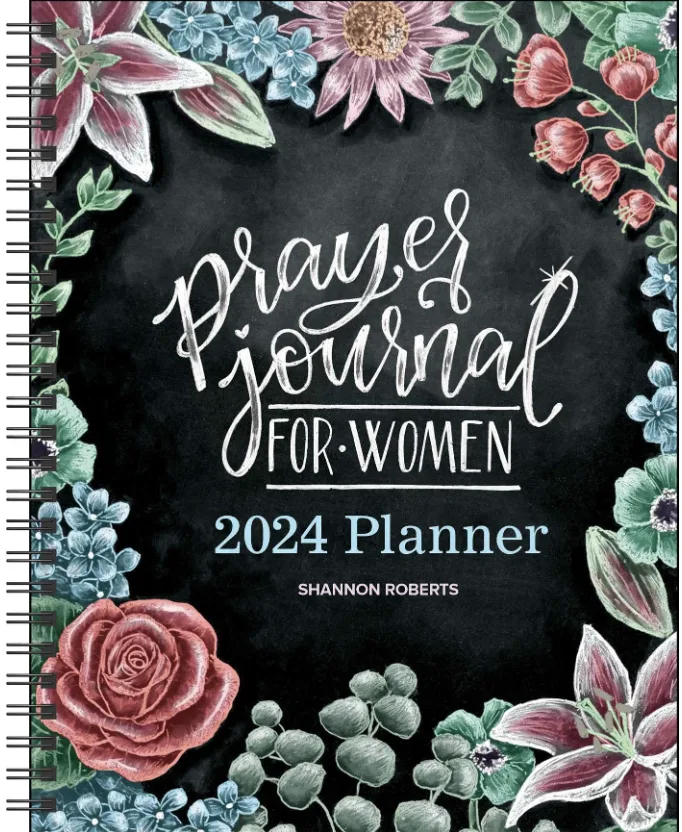 With the right Christian planner, you can get organized and grow closer to God in 2024. Whether it's a digital calendar or one that's printable and customizable for your specific needs, one thing is certain: there's a planner out there suited to your needs.
Scheduling out your day-to-day tasks, goals, and activities can help you prioritize what's most important—your relationship with God. While there are a lot of great products on the market, reviewers have put together a list of the best ones.
No matter what Christian planner you choose, make sure it includes enough space for devotional and Bible study time. By investing in yourself and choosing the right planner, you can set yourself up for a more organized and spiritually fulfilling year.
As a wise person once said, "If we fail to plan, we plan to fail." So, don't wait any longer—start planning your way to a closer relationship with God in 2024.
Whew! There are some gorgeous and functional planners, aren't there? Which of the Christian planners and organizers is right for you? I'm still deciding – so many great choices. I may end up buying more than one and using them differently.
Which is your favorite?
The form you have selected does not exist.
Because of Him,
Sue