This page/post may contain affiliate links. As an Amazon Associate, as well as an affiliate of other programs, this means if you purchase something using these links, I will receive a commission on qualifying purchases at no cost to you! For more detailed information, please visit our Affiliate Disclaimer page
Have you ever subscribed to a Christian Subscription Box? Who doesn't love getting packages in the mail? Especially when they are chock-full of faith-building items! Each Christian monthly subscription box is different as each company has a different focus. We're going to take a look at over TWENTY different Christian Subscription Boxes. Most monthly, some quarterly. You are sure to find one that fits you perfectly or to gift to a friend.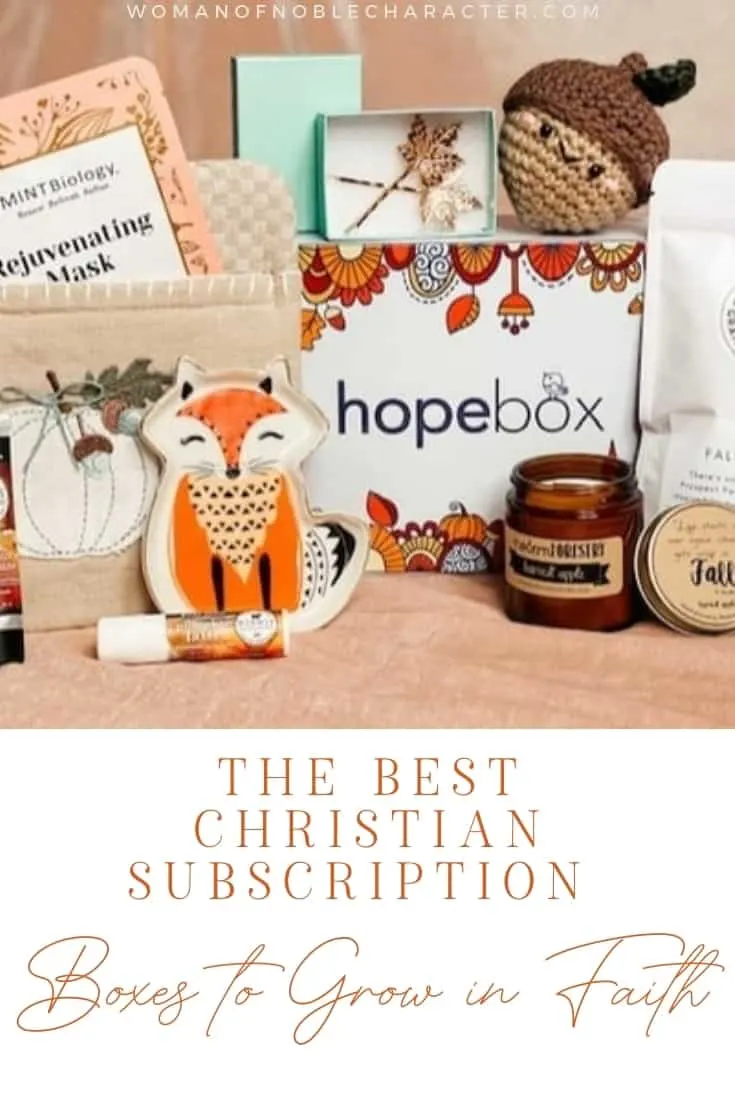 I had subscribed to a Christian subscription box for several years and stopped it when we moved. As I began to look for another (I thought I'd try a different one), I came across some amazing boxes and am excited to share them with you.
*Note: Prices are accurate on the day of publication. Blogger not responsible for price changes*
Best Christian Subscription Boxes
For the Crafter!
Crafted Faith Crate
Crafted Faith Crate is a subscription box for girls and women who love to be creative and want to grow in their faith. Each box contains two handmade craft kits plus all the tools and supplies needed! We also include a short devotional, a waterproof faith-based sticker, and a set of matching Bible verse art prints – one for you to keep and one to gift to a friend!
Custom designed craft kits with high quality supplies and materials

Printed instructions that include pictures and are easy to follow

Everything you need to create beautiful, inspirational crafts

Learn new skills and gain confidence in your creative abilities

Be encouraged to grow in your walk with Christ


Pricing starts at $40 per box, but longer subscriptions drop the monthly price significantly. Order by the 1st of the month to have your box shipped by the 8th.
Faithbox
Build Your Faith and Do Good
Faithbox is a monthly, Christian box subscription that helps you grow closer to Jesus by delivering spiritually-enriching devotionals, Christian books by your favorite authors, and exclusive "do-good" products every month. Each Faithbox is built around a unique theme to help you live your faith values every day.
Everyday Faith is their custom-created 31-day devotional with bible verses, quotes, prayers and opportunities for reflection and action.

Each day you'll receive a daily devotional video that shares more depth on the devotional for that day. The whole Faithbox community travels the monthly journey together.

Receive

a

Christian book by an author you'll love (Lysa Terkeurst, Bob Goff, Max Lucado, and others) that strengthens your understanding of the monthly theme. Plus, you'll get opportunities to hear from the authors via exclusive interviews.

Each box contains Do Good Products sourced from companies and organizations that do something good for the world with their revenues.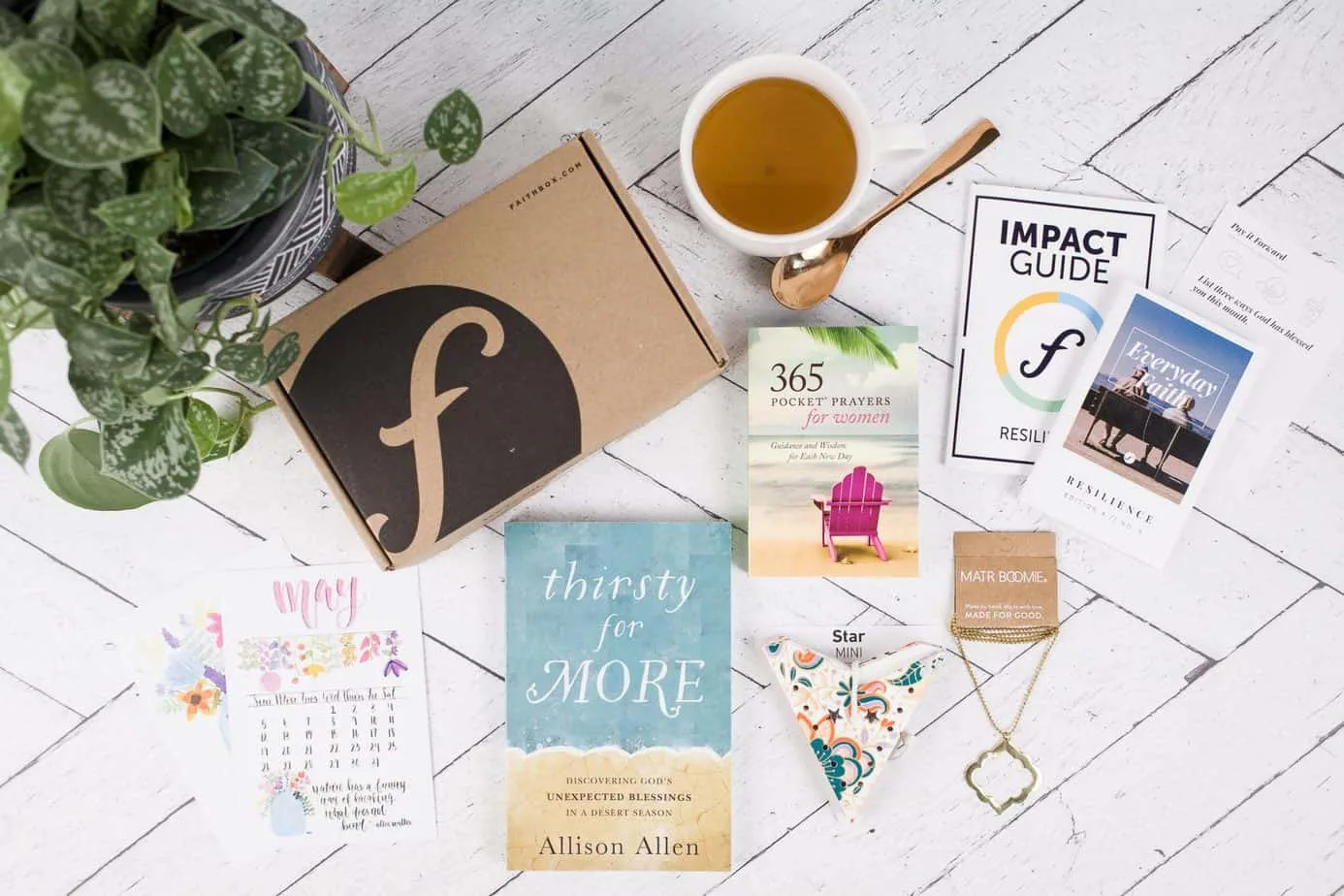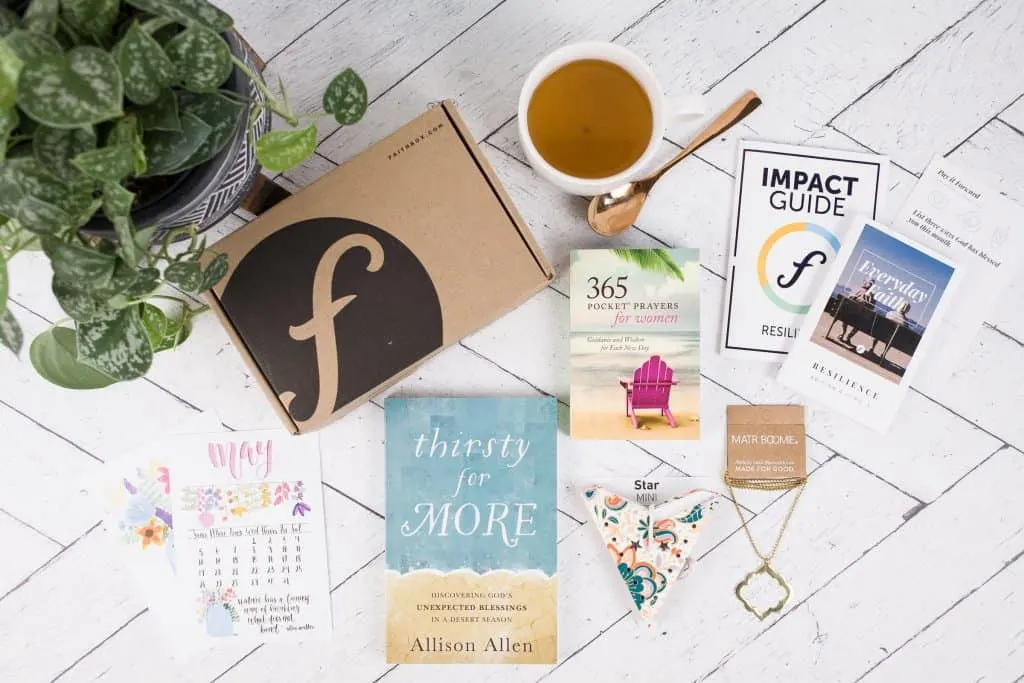 Faithbox has three subscriptions available: Faithbox (the full box), Faithpak (For the book lover! Get the monthly devotional, books, prayer cards and spiritual inventory) and Faithpak Mobile (Get it all in the palm of your hand! Download every month's devotional and book on your phone or computer!) Starting at just $8.33 (Faithpak Mobile) – there's something for everyone.
They also have an online community to build relationships with other believers.
Life is busy, and it becomes harder to find the time each day to connect with Christ. The curators at Butterfly Box are solving that problem by sending a thoughtfully curated box each month. Each box helps you reclaim those quiet moments with God, build your intimacy with Christ, and live out your faith in the world around you!
Each month's box is designed to illustrate a biblical theme and encourage spiritual growth.

5 to 6 items such as jewelry, artwork, books, decor, personal pampering items, faith-sharing

cards,

and other specialty items

All items are carefully chosen and undergo a rigorous selection process

Products are faith-based or support small Christian businesses.
Prices start at $31.25/month. (the longer the subscription, the lower the monthly price)
Shipping: Ships worldwide from the U.S. between the 6th-12th of the month
What I love about this box is that it is meant to give away! And, it is quarterly, instead of monthly.
Each box includes:
2-3 5×7 art prints
6 greeting cards (2 or more designs each box)
2+ vinyl stickers
2-3 pieces of jewelry, accessories, and other handmade goodies to give + keep
Surprises! (surprises have included extra stickers, a printed gift bag, tattoos, and more!)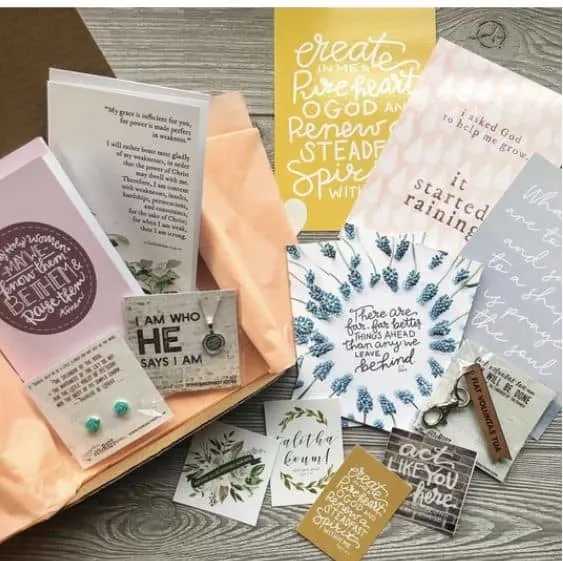 With the Joy Box subscription you will have beautiful, thoughtful, and unique handmade products on hand to give when someone is sick, downtrodden, struggling or rejoicing.
You will have beautiful prints to slip in with a meal for a new mom.
Thoughtful cards to send to Ann in accounting that just got a promotion.
Unique and stunning jewelry to pass on to your niece when she gets the lead in the play.
A simple, uplifting keychain to add some encouragement to the life of your newly widowed neighbor.
And that new mom, Ann, your niece, and your neighbor will feel seen in a way that would never have otherwise.
We imagine a world where these small acts of giving multiply to create a more Christ-like, kinder, gentler culture. And it doesn't take anything more than glancing at the news to know we need that like crazy.
Starting at just $22.50 per box, this is the perfect way to encourage others through the love of Christ.
Experience the craft, beauty, and spirit of Israel!
Artza is a quarterly subscription box that follows in the footsteps of Jesus, delivering the best artisanal food, crafts, and content from across the Holy Land straight to your door. Join us on a journey that brings the land of the bible to life while supporting the people of Israel. Delivered Quarterly. This is my ABSOLUTE FAVORITE Christian Subscription Box!
Each box includes 7-9 authentic products from around the Holy Land. Full-size! This isn't a sample box 🙂

The highest quality locally sourced, handcrafted gifts, foods, art, and crafts from Israel.

Learn Hebrew! Each box will include Hebrew word cards and games to help you and your family learn the language of the bible.

Original and unique content and photography from around the country that you cannot find elsewhere.

Learn about the artisans behind the products, and build bridges and connections with the people of the Land.
I love this box. I'm currently in the beginning stages of learning Hebrew and find the word cards and games so fun!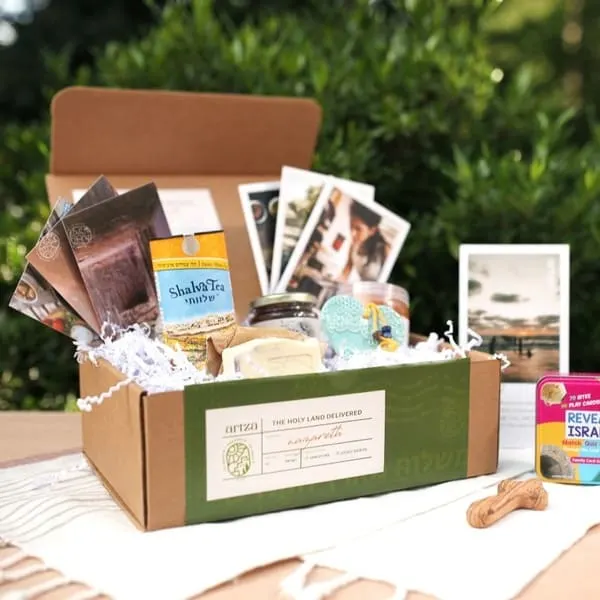 Price: Starting at $74.99 PER QUARTER
Shipping: Shipped 7-10 days after initial order then quarterly after that
Artza has generously offered readers of Woman of Noble Character 20% off! Code will automatically generate!
The Believer's Box is a monthly subscription box for Christian women who believe in giving back. Each box is designed to strengthen your Christian faith and support those in need. Their curated boxes contain Christian-inspired jewelry and accessories, as well as other handmade and handpicked items to celebrate your Christian lifestyle!
You will receive 5-7 items per box, like a frameable print, inspiring Christian jewelry, pass-along scripture cards, beauty, wellness, and other lifestyle items.
You will also receive 3-5 inspiring t-shirts per year carefully chosen by the founders.
For every box shipped, they donate a meal to the Christian organization Food for the Poor.
They believe in helping others, so they strive to support women-owned small businesses and are proud to include their handmade products in their boxes.
The Believer's Box is perfect for women ages 16+
Price: Starts at $10.00/month for the Believer's Bag and $27.95 for the Believer's Box.
Shipping: Ships to select countries from the U.S. in the first week of every month
"LOVE ONE ANOTHER." Three simple words that Jesus commanded us to do. Bette's Box of Blessings helps you share your love, faith, and God's Word with premium Christian gifts delivered every month. Each box is bursting at the seams with great value gifts – not only dollar value – but, more importantly, spiritual value.
The Best Value in Christian Boxes

Every Box has a Value of $60 to $80 or More!

Christian Gifts to Bless You and Others

Each Box is Built Around an Encouraging or Uplifting Theme

Includes Premium Christian Books, Music, Greeting Cards, and Other Gifts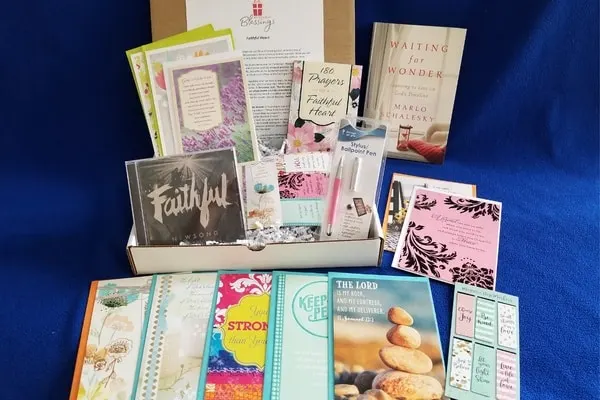 Price: Starts at $29.99/month and decreases with longer subscriptions
Shipping: Ships worldwide from the U.S. by the 10th of each month
The gift of hope! Monthly encouragement with a curated selection of high-quality treasures. Includes books, aromatherapy, jewelry, candles, snuggle buddies, organic soaks, scrubs, masks, and more, all meticulously selected from the world's most talented artisans, all of whom have their own inspiring stories of hope and renewal.
The Hope Box is one of many great monthly Christian boxes that delivers time for self-care and reflection. Since keeping hope alive is key to reaching any long-term goal, send the encouragement needed to get through the ups and downs of life's journey. Delivering 6-15 handmade treasures crafted by talented artisans, from smile-worthy greetings to thoughtful personal care items, each of the 3 available subscription levels is packed full of joy.
Hopebox Light: 6+ quality treasures with a personal message. Retail value $65+

Hopebox Classic: 10+ quality treasures with a personal message. Retail value $115+

Hopechest: 15+ quality treasures with a personal message. Retail value $165+

A personal message of hope on pearlescent paper + handwritten mini-notes

Each uplifting self-care product is full-sized, vegan, and cruelty-free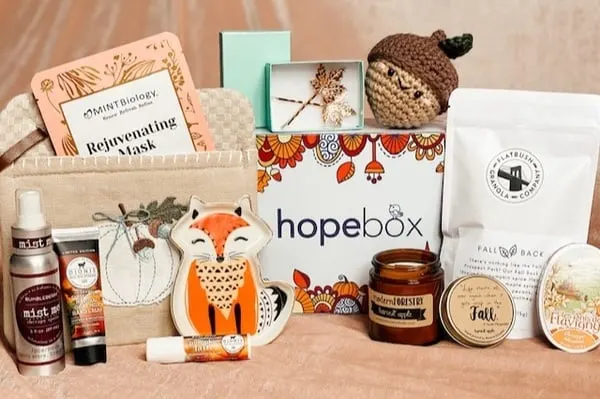 Price: Starts at $39.99/month
Shipping: Ships within the U.S. in 1-2 business days
Monthly faith-based and women's lifestyle subscription box. For every box that you purchase, 10% of the proceeds will be donated to a worthy cause. The artisan and handmade products inside have a beautiful fight story that is changing lives.
Feature eco-friendly, social good, handmade or organic products from around the world

4-5 high-quality artisanal handmade products like clothing, jewelry, stationery, books, and tasty treats, that all come with a beautiful story of people fighting to change their lives for the better

Items may include

jewelry, clothing, stationary, accessories, edible treats,

and more!

Typical box value $65 – $80
Beautiful Fight Box donates 10% of each box sold to many worthy ministries and organizations. With the help of their subscriber, they were able to fight sex trafficking and hunger, helped build schools and water wells, provided sustainable income, and lifted women, families, and communities out of poverty.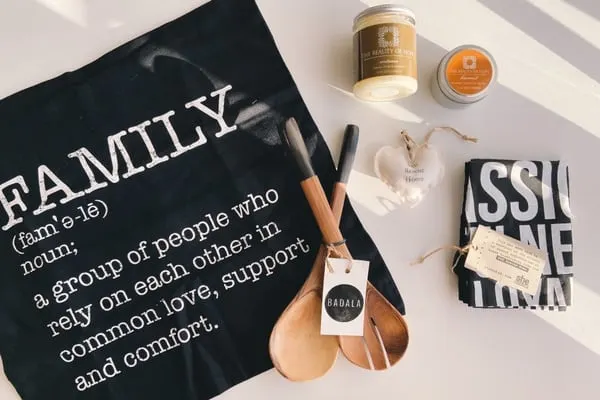 Price: Starts at $35.00/month
Shipping: Ships worldwide from the U.S. between the 10th-13th of the month
Purp-ess Box delivers fresh handmade all-natural soap and bath essentials. Each month they use a different 'purposeful' ingredient that has a unique benefit to the skin. This purposeful ingredient will be related to a Biblical principle and emphasize one's greatest purpose in life. Learn the "purposeful" ingredient's benefits, where and how it is derived.
Each box contains at least 1 bar of handmade, natural vegan soap plus at least 1, (and sometimes 2) surprise items

Products created by Shade Mountain Naturals and scented using essential oils

The purposeful ingredient for the month will be tied into a biblical lesson. Example: the

purposeful ingredient is jojoba oil. Jojoba oil covers and protects the skin. God's love covers and protects us

10% of all subscriptions is given to Christian Suicide Prevention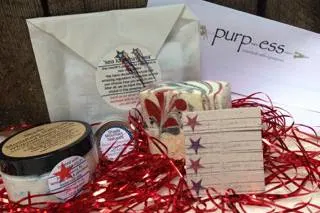 Price: Starts at $9.00/month
Shipping: Ships worldwide from the U.S. on the 20th of each month
Saint of the Month delivers a new Catholic saint each month to learn about with materials designed to make education fun. Perfect for kiddos learning the saints, believers of all ages will delight in reading about the lesser-known saints. Additional items include DVDs, books, and even custom-made items that bring the idea of Christian products to life with these saints. The educational info cards act like a mini poster and study brochure so you feel acquainted with the new saint in your life.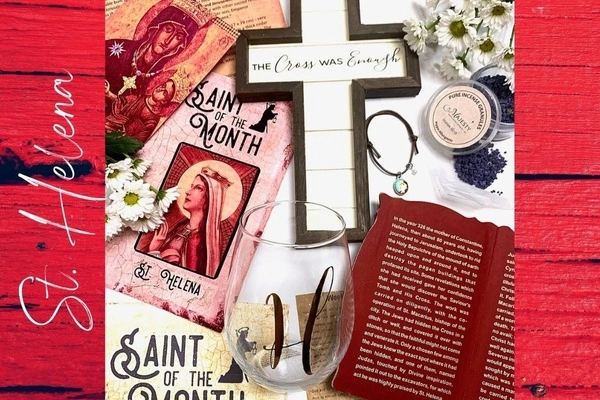 Shipping: Ships worldwide from the U.S. around the 27th of each month.
Why Subscribers Love It: "My daughter and I look forward to the box each month. We open the gifts together and have grown so much in faith and spirituality. Definitely worth every penny for all the original gifts you get." – Denise C.
A thoughtful gift for any woman who needs a little extra encouragement to keep moving forward, InJoyBox prides itself on spreading joy with a personalized touch. Choose between the mini or full gift box, which sends 1 inspirational and 1 practical item, something fun, something tasty, a special gift item personalized with the recipient's name, and special prayers and well wishes for those who need it most.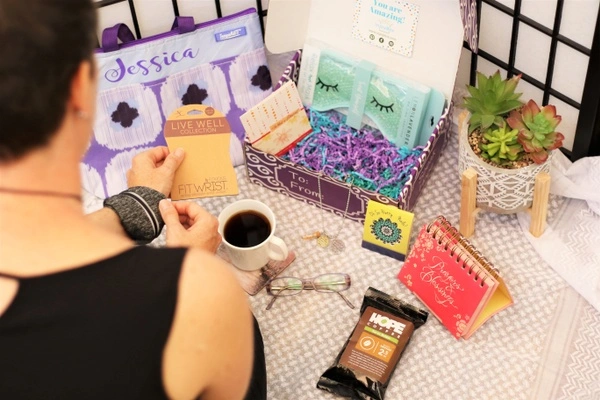 "Mom mom loved her box! Thank you so very much ❣❣ this is a wonderful gift for anyone!
I will definitely be getting her another one once I move." – Valerie R.
Shipping: Ships to select countries from the United States on the 15th of every month.
Whether you're looking for a birthday gift for your best friend or a faith-filled Mother's Day gift, The Gospel Box is perfect for those who want to learn how best to share the word of the Lord. Each monthly box sends accessories, tools, and gift items that prepare subscribers to cultivate ideas and learn how to share the gospel with excitement. Plus, the box itself is designed to be a blessing paid forward!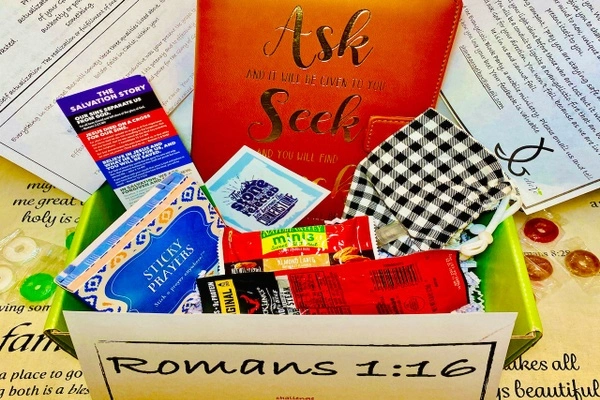 Shipping: Ships worldwide from the United States on the 5th of every month.
Loved and Blessed is a monthly membership community for Christian women. If you want to live life encouraged, no matter your situation, then this is perfect for you! They are not your typical subscription box that focuses on products. They send you care packages with God-inspired right-on-time messages to help you grow in your faith and be more hopeful.
Loved and Blessed offers a wonderful membership to uplift your spirit with a variety of faith-related items

Online Community Fellowship (+discounts for our in-person events)

Weekly Video Lessons

Monthly Blogs + Life Application & Spiritual Growth Workbooks

Access to our growing catalog of videos and workbooks in our Members Course Library (valued at over $475)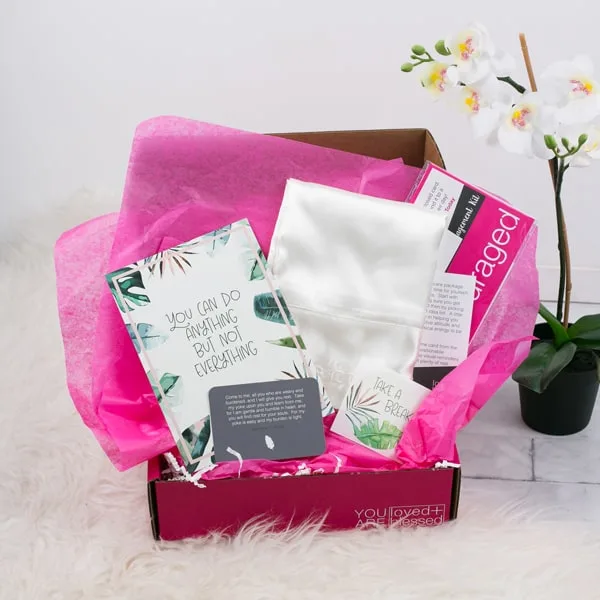 Price: Starts at $25.00/month
Shipping: Ships worldwide from the U.S. (except Mexico) on the 22nd of each month
For book lovers!
The Delilah Box is a monthly Christian Book club created to highlight and uncover the lesser-known, lesser-liked, and more questionable women of the Bible. Each month we choose a "bad girl" of the Bible. You will receive a minimum of 2 books, a study brochure & 2-3 additional items like tea, enamel pins, Bible journaling, jewelry, and accessories.
Receive a minimum of 2 books each month plus 2-3 additional items like candles, relaxation items, and more.

Grow your faith through Women of the Bible, study brochures, and Christian fiction novels.
The books you receive are new releases and hot off the press! Enjoy a variety of books carefully curated for Christian women.

Subscribers receive access to our online community via our invite-only Facebook group. Share your passion with like-minded people.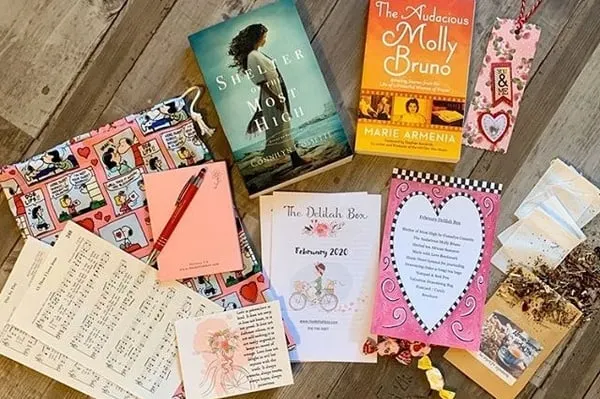 Price: Starts at $26.67/month
Shipping: Ships worldwide from the U.S. on the 17th of each month
Deluxe Spa Gift Box

Give the gift that all the Ladies love….give them the Deluxe Spa Gift Box!! Each box is filled with spa-related items such as handmade scrubs and milk baths, clay masks, eye mask, and hair accessories! Each box contains a Christian Devotional to keep you closer to GOD! Box contents change quarterly.
Handmade Spa Items

Christian Devotional with every box!

Spa Accessories such as headbands, face and body sponges, etc.

Box changes quarterly

Makes a great gift!
Prices start at 54.95 and boxes ship in 3-5 days.
Teestimony
A monthly Tee & Teestimonial to remind you that you are worthy of God's grace, love, and mercy.
Every month, you'll receive a surprise, scripture-based graphic tee with an encouraging Teestimonial that will help deepen your understanding of Christ. The Teestimony Case is also perfect for birthdays, anniversaries, baptisms, or "just because." Recipients are reminded of your ongoing love through the subscription experience.
Each month, your Teestimony Case will include a custom tee and Teestimonial devotional to help deepen your understanding of Christ's love, grace and mercy.

You get to choose between regular cut and form fitted cut; Sizes are available from Small to 4X

The Teestimony Case is perfect for both heirs (men) and heiresses (women)

Teestimony shirts are trendy, provokes conversation, and makes you feel good when wearing. To add a cherry on top, it's budget friendly!

We give back a portion of our proceeds to support local organizations and communities in need.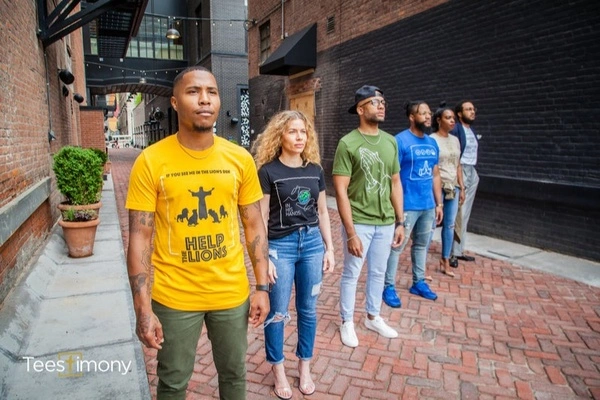 Price is $20 per month.
Orders placed by the 17th of the current month will ship between the 25th and 30th of the month. Orders placed after the 17th of the month, ship between the 25th and 30th of the following month.

Only ships within the United States

Subscriptions automatically renew. Cancel anytime
Faith and Family Box
Each Faith and Family box includes a snack, conversation questions, games, stickers and an interactive family Bible study all in a themed monthly box. It's the best of family game night rolled into a faith and family night. It is sure to bring SMILES to your family as you create memories together. Use code SMILES10 to receive 10% off your box.
High Quality New Release Each Month

Snack to Make

Conversation Questions

Family Game

Step-By-Step Guide
Priced at 32.83 and ships on the 10th-12th of each month. (cheaper than taking the family out to the movies or pizza!)
Teens with Christ
Monthly Christian Box for Teen & Tween girls
A monthly subscription box for teen & tween girls who love to study the word of God. Each box contains a monthly devotional and 5-7 coordinating gifts to go along with theme of the box. All items aim to help you learn to relax in your faith and bring you closer to God!
5-7 Items per box

Items include Christian and inspiring products, jewelry, fashion accessories, devotionals, crafts, etc…

Treat yourself or a loved one to faith, self care & relaxation!

New Releases every month!

Perfect for Teen & Tweens ages 12 and up!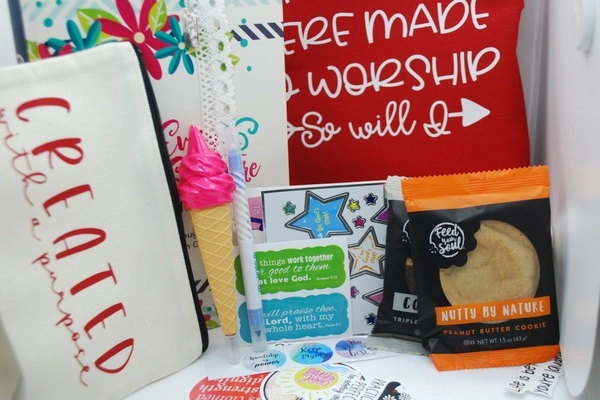 Priced at 24.95 per month. Monthly boxes will ship on or around the 10th of every month. The last day to order for the current month's box is on the 5th. Orders placed after the 5th of the month will ship on the 10th of NEXT month. One-time Gift Boxes ship within 5-7 business days.
Ships worldwide from the United States
Saved Box
Saved Box -Real Christian Goods – Apparel / Home Decore / Jewelry + More sent to you every month!
A subscription box for Christians who enjoy high-quality apparel, home decor, jewelry, and much more! They donate 10 meals for every box shipped!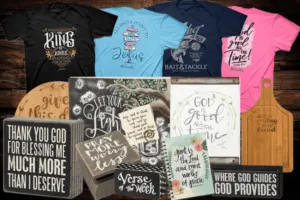 Priced at 19.99 per month.
They ship orders out between the 15th and 25th of

every month. Please note that your order must be in by the 9th in order to be shipped the same month, otherwise

your order will be shipped the following month during the normal shipping window.

Ships worldwide from the United States
WOW! Some amazing boxes, right? Which is your favorite? Do you subscribe to a Christian subscription box? Tell me in the comments which one and how you like it.
Because of Him,
Sue