Beautiful Free Christmas Table Printables to Rock Your Holiday Table
This page/post may contain affiliate links.  As an Amazon Associate, as well as an affiliate of other programs, this means if you purchase something using these links, I will receive a commission on qualifying purchases at no cost to you! For more detailed information, please visit our Affiliate Disclaimer page
Christmas Table Printables
It's Christmas time and the season for giving and I have some gifts for you!
Of course, we have already been given the greatest gift of all, Jesus. We celebrate His birth at Christmas and remember that God brought Him to earth to redeem us for our sins. What an incredible gift and reason to celebrate!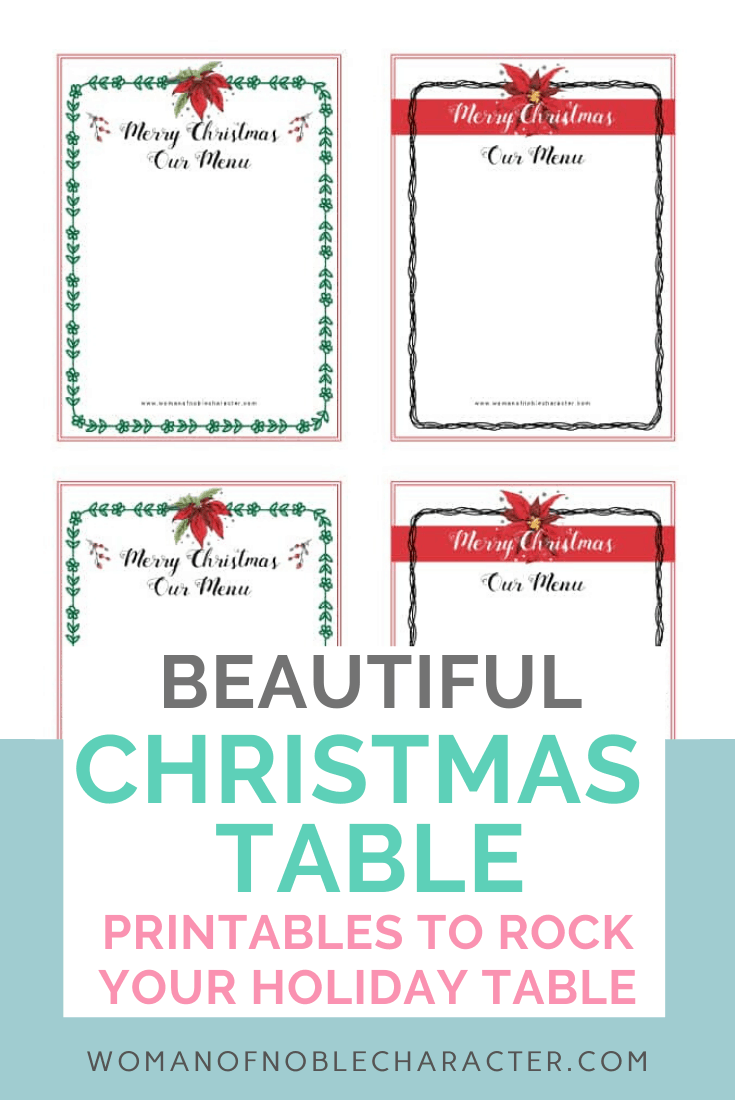 Nothing adds a touch of elegance to a holiday party faster or easier than Christmas place cards and a pretty menu.
Add a nice tablecloth, some candles and greenery and you can set a gorgeous Christmas table with little time or effort, but it will look like you spent hours on it!
I'm not promising a Pinterest perfect holiday table like you'd find on the cover of HGTV magazine. I can, however, help you stir up your inner Martha Stewart to set a gorgeous table complete with the added touches like place cards, a Christmas dinner menu (or holiday party menu), napkin wraps and gift tags.
I've also added lots of new Christmas dinner menu printables for you this year, including Christmas dinner menus, napkin wraps, and gift tags!
I host our family's Christmas Eve dinner and will be using the Christmas napkin wraps for a fun touch.
Simply click on the photo of the Christmas table printable you would like to download, print and you are one step closer to a festive, elegant holiday table.
I recommend printing on card stock weight paper so they hold up better. You'll certainly want it to hold up as I'd be willing to go out on a limb to say that at least a few of your guests will bring theirs home as a remembrance of your wonderful Christmas or holiday meal!
Printable Christmas Menus
Simply print and write your menu on the Christmas table printable. Alternatively, you can upload to a pdf editing program and add your menu right to the printable before printing.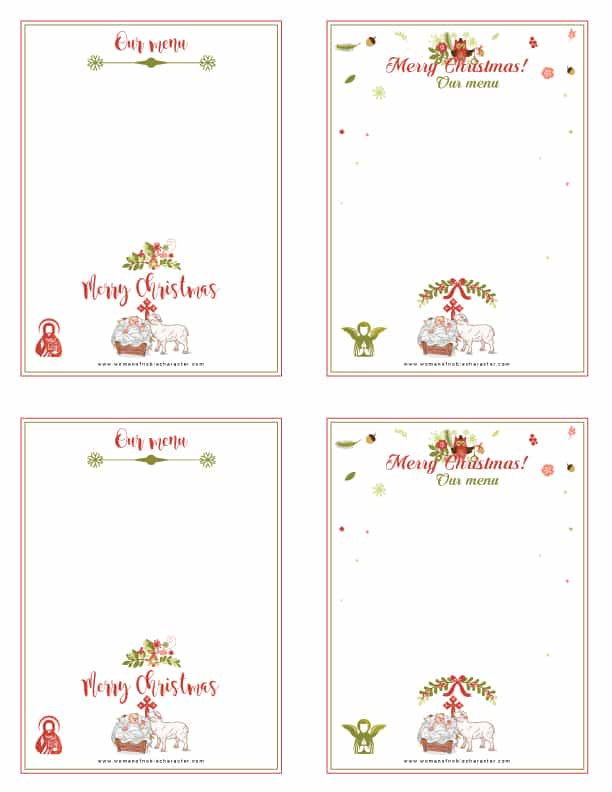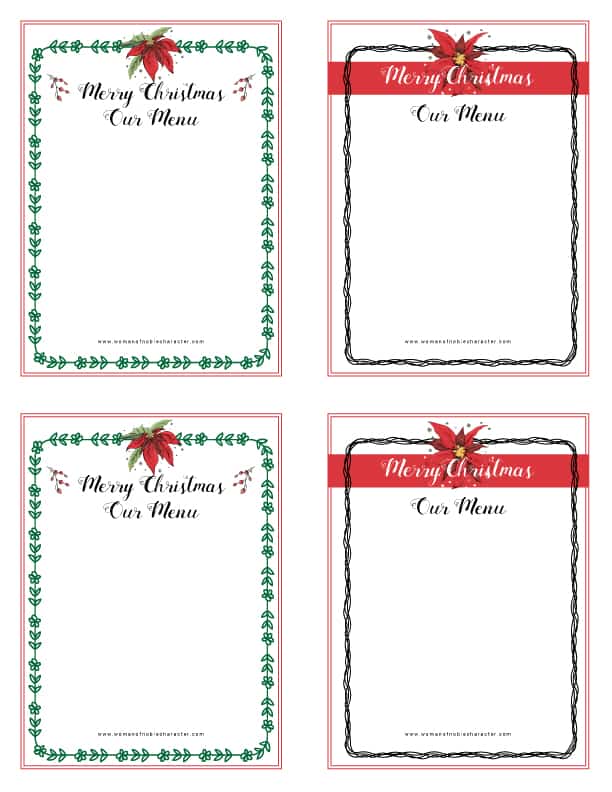 Printable Christmas Table Napkin Wraps
Printable Christmas Table Place Cards
For the Christmas table printable place cards, just print, cut, fold and add a name…that's all there is to it. Your guests will feel welcome and festive when they find their name at your table. There are three designs to choose from so you are sure to find one that works for your style and decor.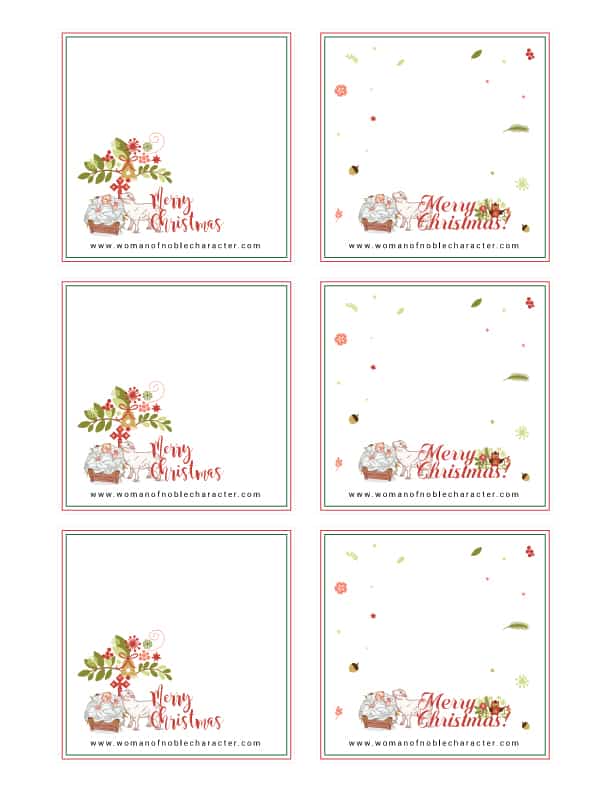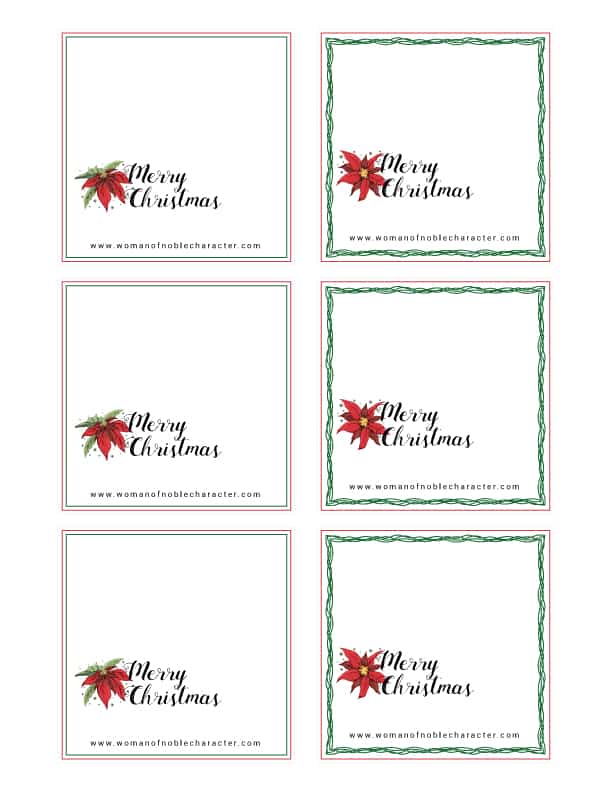 Or, if you prefer long ones, you can use these. Just print, cut and fold to add a nice, holiday touch to your Christmas table.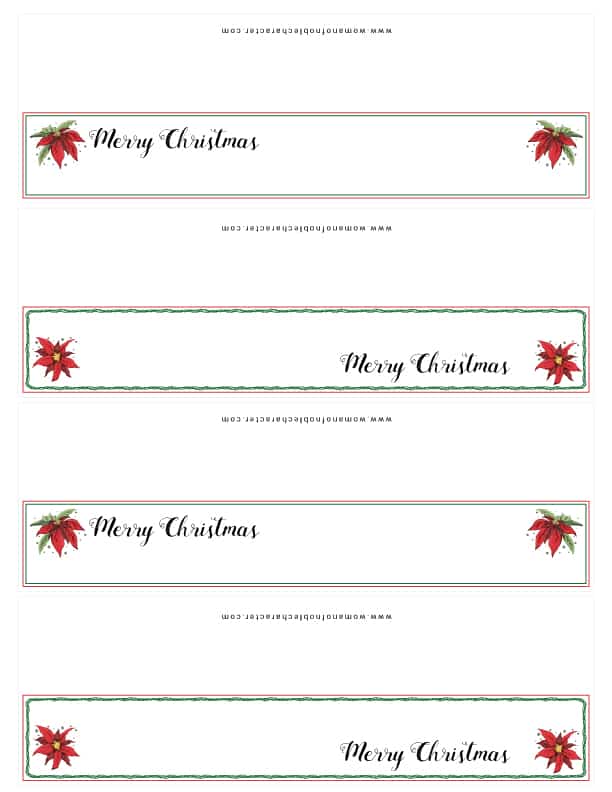 Printable Christmas Gift Tags
Just print, cut and use a hole punch to punch out the ribbon hole and you have a nice, home crafted Christmas gift tag to add to your boxes and bags. I like to use this silky red ribbon to tie the tag to the Christmas present. Alternatively, you can use these for place cards, as well.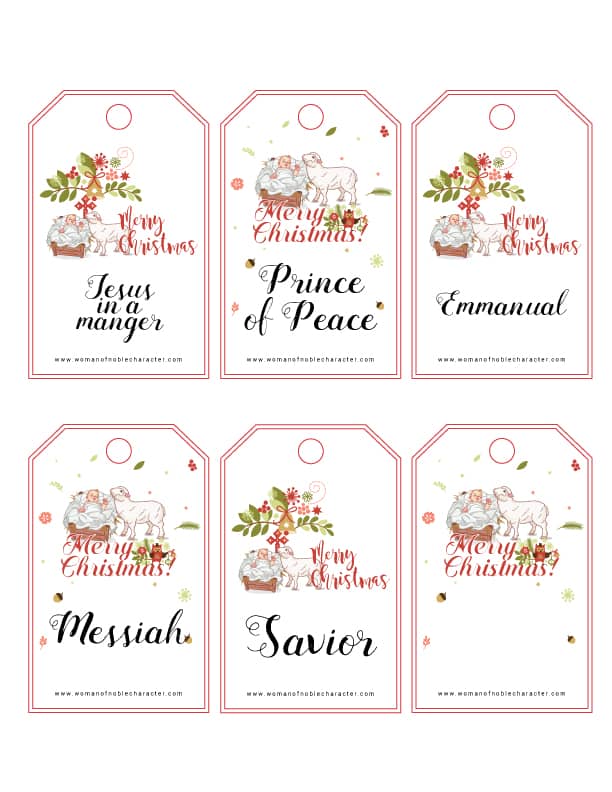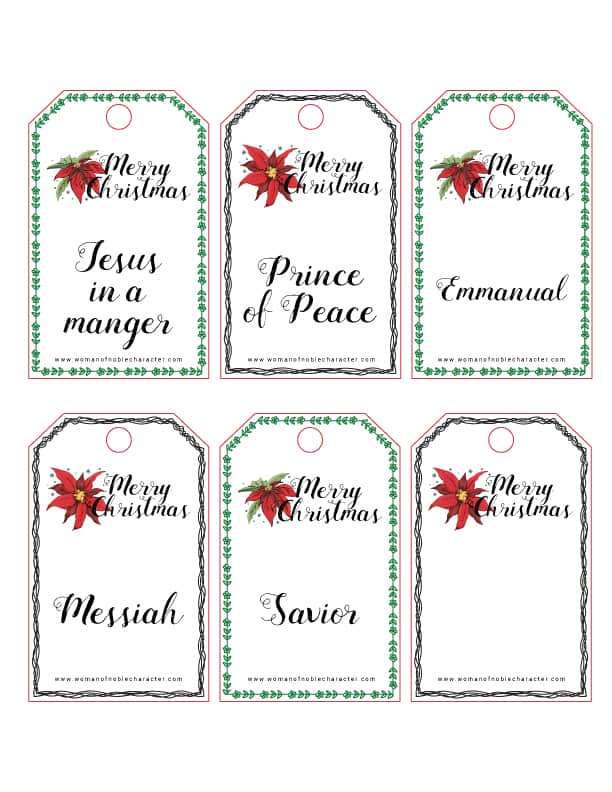 If you have little ones around your Christmas table this year, Bible Story Printables has dozens of great Christmas table printables and other activities, including coloring pages to help your children remember the reason for the season.
What other free print-ables would you like to see from Woman of Noble Character? Tell me in the comments below or email me at: [email protected]
From my home to yours, I wish you a merry and blessed Christmas remembering that HE is the reason for the season.
(Looking for Thanksgiving table printables, instead?)
If the holiday season stress can put you over the top and cause you to be the holiday Grinch, check out the Fabulously Festive Meal Planning Pack. to make your holiday meal planning, shopping and prep a breeze!
Because of Him,
Sue