This page/post may contain affiliate links. As an Amazon Associate, as well as an affiliate of other programs, this means if you purchase something using these links, I will receive a commission on qualifying purchases at no cost to you! For more detailed information, please visit our Affiliate Disclaimer page
Clothe your family in scarlet. Are we supposed to wear red clothes all the time? Not at all, my friends.
As we go line by line through Proverbs 31:10-31, we turn our attention to Proverbs 31:21 exactly what it means to clothe your family in scarlet.
לֹא-תִירָא לְבֵיתָהּ מִשָּׁלֶג: כִּי כָל-בֵּיתָהּ, לָבֻשׁ שָׁנִים.
When it snows, she has no fear for her household;
for all of them are clothed in scarlet. – Proverbs 31:21
Biblical scholars have looked at this verse two ways. One, completely spiritual with snow (or winter) representing death or hard times and scarlet representing the blood of Jesus. Meaning that her children have been fed spiritually and are saved and ready to meet the Lord at the time of their death.
The other, the verse is interpreted as more literal; that the woman of noble character is a planner and diligent and makes sure that her family has warm clothes and other items to protect them from the elements of winter.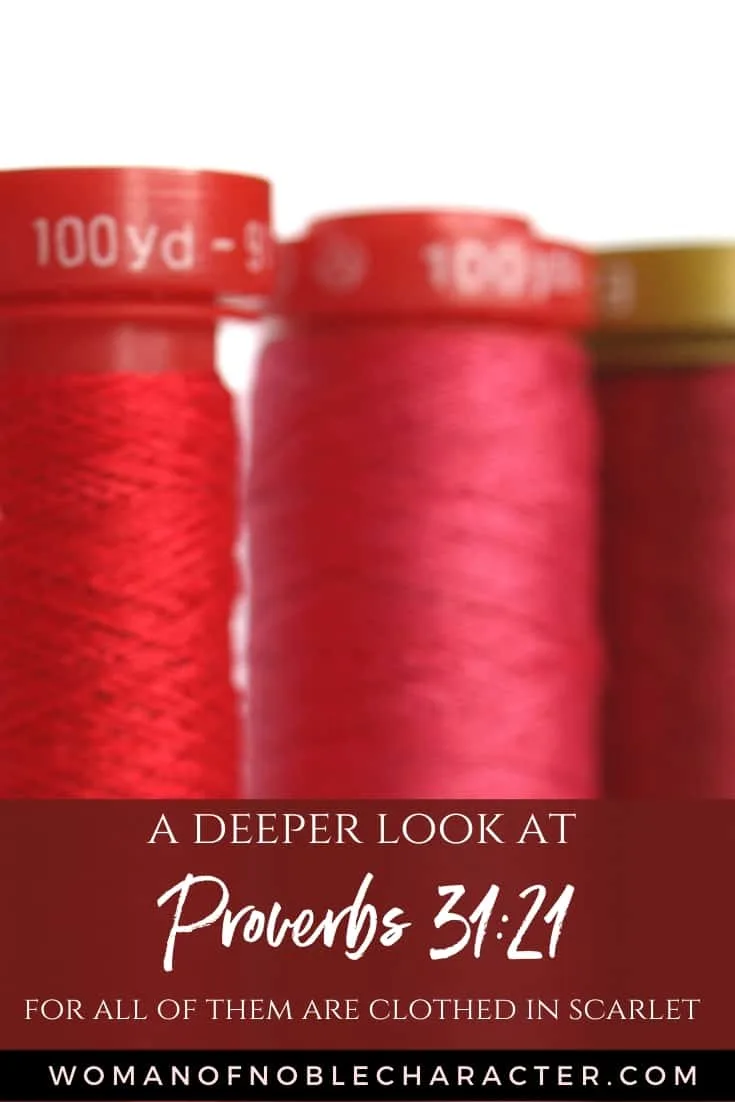 Scarlet Thread
Before we take a look at the biblical and literal applications of this verse, I think it is important, or simply interesting to look at one other aspect.
Throughout scripture, we find references to "scarlet thread" or "scarlet cord". As we read in Proverbs 31:21 about the biblical wife clothing her family in scarlet, let's look at the significance of scarlet thread or clothing.
You may recall reading of Rahab, known mainly as a prostitute, but certainly not an Israelite.
She helped the Israelites, however, by hiding two of the spies that arrived in Jericho to scope out the city where she lived.
Despite her profession, she knew of the God of Israel and requested that the Israelites save her life and the lives of her family when they came to attack the city.
They readily agreed as she had saved their lives. They instructed her to tie a scarlet ribbon in the window of her home and they would command the soldiers not to invade that house. In this example, we see a foreshadowing of the blood of Jesus sparing a life.
Behold, when we come into the land, you shall tie this scarlet cord in the window through which you let us down, and you shall gather into your house your father and mother, your brothers, and all your father's household. Then if anyone goes out of the doors of your house into the street, his blood shall be on his own head, and we shall be guiltless. But if a hand is laid on anyone who is with you in the house, his blood shall be on our head. – Joshua 2:18-19
We also read about a scarlet thread in Genesis 38:27–30. Judah, one of Jacob's sons and brother to Joseph, was married to Tamar who gave birth to twins. One twin stuck his arm out of the womb and the midwife tied a scarlet thread around its wrist to help Tamar know which one was born first.
In actuality, Zerah was born first, but because Perez was the first be birthed completely, he was the one who was called firstborn. And it was through Perez's family that we find the lineage of Jesus.
When the time of her labor came, there were twins in her womb. And when she was in labor, one put out a hand, and the midwife took and tied a scarlet thread on his hand, saying, "This one came out first." But as he drew back his hand, behold, his brother came out. And she said, "What a breach you have made for yourself!" Therefore his name was called Perez. Afterward his brother came out with the scarlet thread on his hand, and his name was called Zerah. – Genesis 38:27-30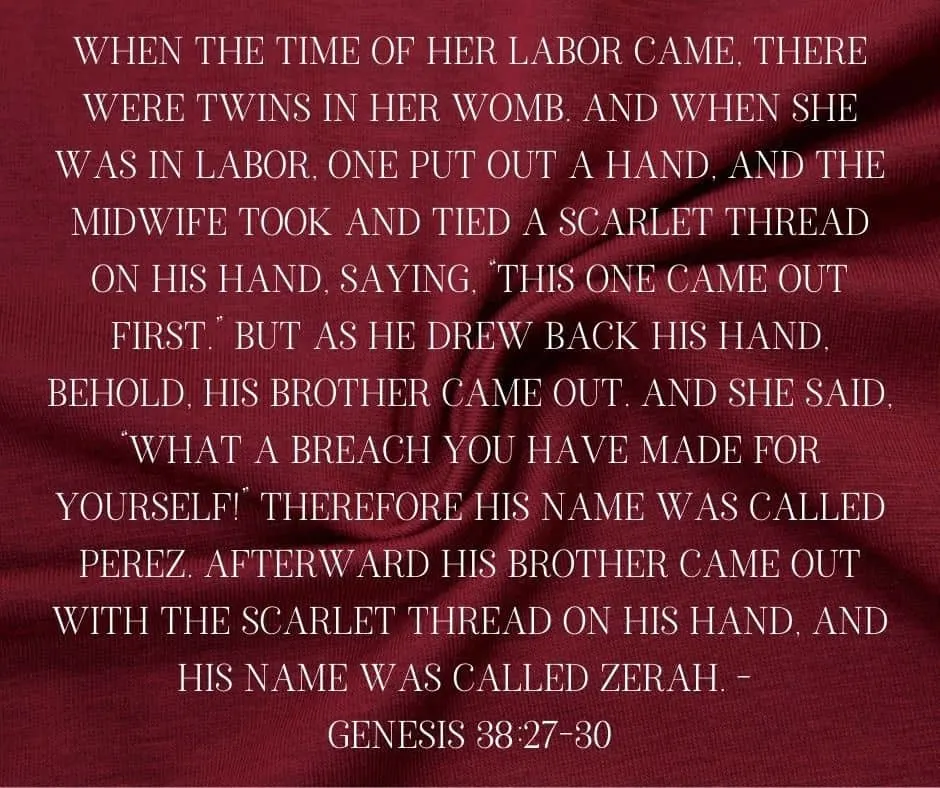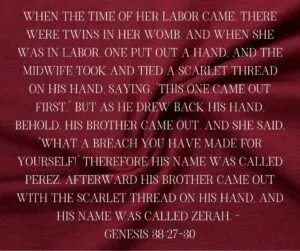 In another example, a scarlet thread is among the materials in both the high priest's ephod and the temple's curtains. No one knows for sure what the different colors of threads used in the temple signified, but we can assume that scarlet represents blood.
"Moreover, you shall make the tabernacle with ten curtains of fine twined linen and blue and purple and scarlet yarns; you shall make them with cherubim skillfully worked into them. – Exodus 26:1
So, in these examples above, it is evident that scarlet thread signifies blood, but specifically Jesus' blood. It points to the prophecy of Jesus' work on the cross and the blood He shed for our sins.
In the beginning, in Genesis, the theme of scarlet begins with Adam and Eve. After they ate the apple, God committed the first killing. He killed an innocent animal and clothed Adam and Eve with its skin, not just out of love but also as a representation of how He covers our sin with His righteousness (Genesis 3:21).
Pastor Ernest Angley explains it this way:
"Man had tried to cover himself after he sinned; he sewed fig leaves together, but without shedding of blood there is no remission (Hebrews 9:22). Without the shedding of blood, man has no covering to blot out his sins from the sight of God. The blood of the Son of God is the only way the sins of man could be washed away."
Proverbs 31:21 Spiritual Application
So, Proverbs 31 not only addresses preparing our home and family for the cold weather, but it also has a spiritual application. The term "clothed with scarlet" refers to the scarlet wool used by Moses in the Old Testament. It represents the blood that Jesus shed for the cleansing of sins for all mankind. Therefore, when we are "clothed in scarlet", we are covered by the blood of Jesus; we have been saved by His dying on the cross for our sins.
In terms of the spiritual winter that I mentioned previously, this would refer to not having fear that spiritual droughts, trials or temptations will separate us from the Lord and the love that He has for us. I saw evidence of this over the summer when I experienced spiritual drought in my own personal time with the Lord, but in everything He was present and I knew that He was still there for me and working everything, even my disobedience, for my good.
When we look at the verse spiritually, we see that the Proverbs 31 wife fears the Lord above all else, which lays the foundation for her unreproachable character and behavior.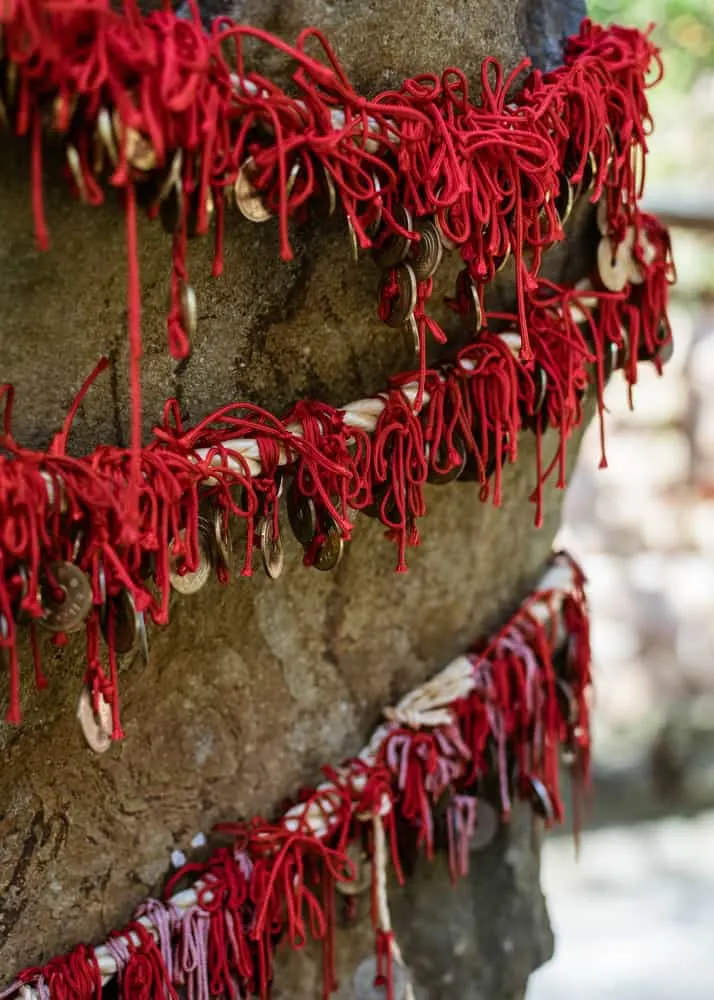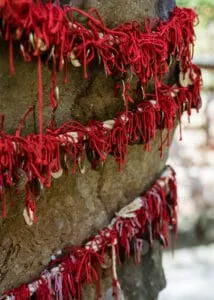 Now, there are several things to note here. First of all, there is no distinction between the different people that are under her care. Her children, her servants, and her husband are all clothed the same way. They are clothed in scarlet.
This is an interesting specification to make, because the color of a garment does not designate its warmth. It is implied that they are wearing the wool garments described earlier in the passage, which infers their warmth. Why then are the garments specifically described as scarlet?
Scarlet is a color that was rare in clothing during the time that this passage was written and signifies dignity and a high level of class. It implies that not only are the clothes warm, but they are also ornamented. Here is where I draw this in to the "spiritual winter" and the "spiritual household." It might be a stretch, but bear with me.
In some bibles, the specific words spoken by Jesus are printed in red. The literal definition of scarlet is "of a brilliant red color." We can be "clothed in scarlet" when we are founded in the word of God, similarly, we can clothe our household in scarlet when we lead them in God's word and base and grow our relationships on a Christ-centered foundation. When the spiritual winter comes, we can have no fear for those under our care, for we have led them and instructed them through the Lord's teachings, which will keep them warm until the winter ends. When it snows, she has no fear for her household, for all of them are clothed in scarlet.
Her children are part of God's royal family. And as children of The King, she does not have to fear when they face the winters in their lives. They are cared for by God.
Yet to all who did receive him, to those who believed in his name, he gave the right to become children of God – John 1:12
Likewise, all parents today, mothers AND fathers, should prepare their children for the hardships of life by leading them to the LORD; by teaching them His WORD.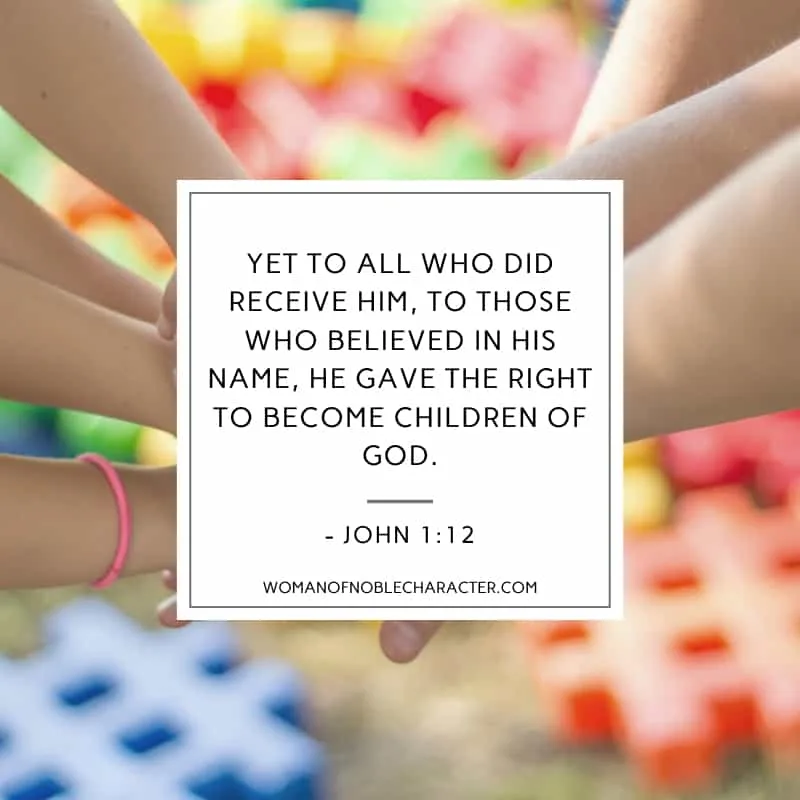 Proverbs 31:21 – Literal Application
So, first I looked at "when it snows." Literally, this phrase refers to the changing of seasons and is representational of the cold of winter. Wintertime, in eras such as the timeframe that this was written in, without indoor heating, came with weather that was a huge burden to many families. It was a time when farming was difficult, and vegetation died.
When we look at the verse literally, we can infer (in today's world) that she has prepared her house (and its occupants) for the cold. If we have a fireplace, we have wood ready. We buy rock salt and shovels to clear the walkways. We make sure that there are pairs of gloves, and that scarves and hats are in good condition. (In my house, we have a tendency to lose gloves. I am always checking for pairs and buying more!) We cook warm and hearty meals, like soups and stews, this time of year.
The next words of this verse are "for her household." This means not only her family, but all those under her protection. It means servants, workers, and even perhaps animals in her care.
Today's society tells us that, in order to prepare our children to be successful in the world, they have to go to the right schools, have friends that are "good people" and wear the trendiest clothes.
When we focus on those things, however, not only are we running ourselves (and our kids) ragged, but we are also on a never-ending hamster wheel.
In addition, when we do this, we are focusing on things of this world on not things of God.
Instead, give children what they need not what they (or you want) and make a focus on planting seeds.
That same day Jesus went out of the house and sat by the lake. Such large crowds gathered around him that he got into a boat and sat in it, while all the people stood on the shore. Then he told them many things in parables, saying: "A farmer went out to sow his seed. As he was scattering the seed, some fell along the path, and the birds came and ate it up.
Some fell on rocky places, where it did not have much soil. It sprang up quickly, because the soil was shallow. But when the sun came up, the plants were scorched, and they withered because they had no root. Other seed fell among thorns, which grew up and choked the plants. Still other seed fell on good soil, where it produced a crop—a hundred, sixty or thirty times what was sown. Whoever has ears, let them hear." – Matthew 13:1-9
Not those nice things and a good education are bad. That is only the case if a) you really can't afford it and b) you are doing so at the expense of raising disciples of the King.
I think that we can find meaning in both interpretations. The Proverbs 31 woman is resourceful, manage her time and resources well AND that she prepares her family spiritually.
Each verse, including Proverbs 31:21 she is described with having energy, using her resources wisely, taking initiative, working hard and being productive.
You may prepare physically for the winter, but are you preparing spiritually?
The virtuous woman prepared for a spiritual winter by seeing that she will clothe her family in scarlet – that they are saved by faith. In this way, they will not fear any cold or dark time of trial. God will see us through it.
Bible Study Tools online has an interesting commentary on Proverbs 31:21. I encourage you to check it out.

How to clothe your family in scarlet:
Start a new habit this week to better clothe your family in scarlet. Here are some ideas:
If you don't already, pray before each meal, as a family
Do a family devotional
There are great free resources including:
There are great benefits for doing family devotionals. In this post, I also share tips and recommendations for great devotionals for kids and family of all ages.
3. Pray with your children (and spouse) at bed time
4. Let your family hear you talking to God, praying and/or reading the Bible
5. Make a blessings jar – have each family member write down something they are thankful to God for (daily, weekly, whatever works for you) and then put it in the jar. Periodically review all of God's blessings in your life.
6. Make God a regular topic of your conversations


Applying Proverbs 31:21 To Your Life Today:
How has the weather been in your area this winter?
How does the cold weather (and winter) affect your mood?
What have you done or continue to do to prepare for winter and cold weather?
What do you do to clothe your family in scarlet and nurture their faith?
Do you feel that you do all you can to clothe your family in scarlet and nurture their faith?
What could you do to better to nurture your family's faith in Jesus?

What other verses or quotes come to mind when studying Proverbs 31?
How do you clothe your family in scarlet? What can you do, this week, to build your family's faith?
If you want to dig deeper, check out my book, The Complete Proverbs 31 Wife: A Verse by Verse Exploration of What it Means to Be a Proverbs 31 Woman in Today's World.
Because of Him,
Sue