A Deeper Look at Proverbs 31:21: For All of Them are Clothed in Scarlet
This page/post may contain affiliate links.  As an Amazon Associate, as well as an affiliate of other programs, this means if you purchase something using these links, I will receive a commission on qualifying purchases at no cost to you! For more detailed information, please visit our Affiliate Disclaimer page
As we go line by line through Proverbs 31:10-31, we turn our attention to Proverbs 31:21
לֹא-תִירָא לְבֵיתָהּ מִשָּׁלֶג: כִּי כָל-בֵּיתָהּ, לָבֻשׁ שָׁנִים.
When it snows, she has no fear for her household;

for all of them are clothed in scarlet. – Proverbs 31:21
Biblical scholars (as well as bloggers) have looked at this verse two ways. One, completely spiritual with snow (or winter) representing death or hard times and scarlet representing the blood of Jesus. Meaning that her children have been fed spiritually and are saved and ready to meet the Lord at the time of their death.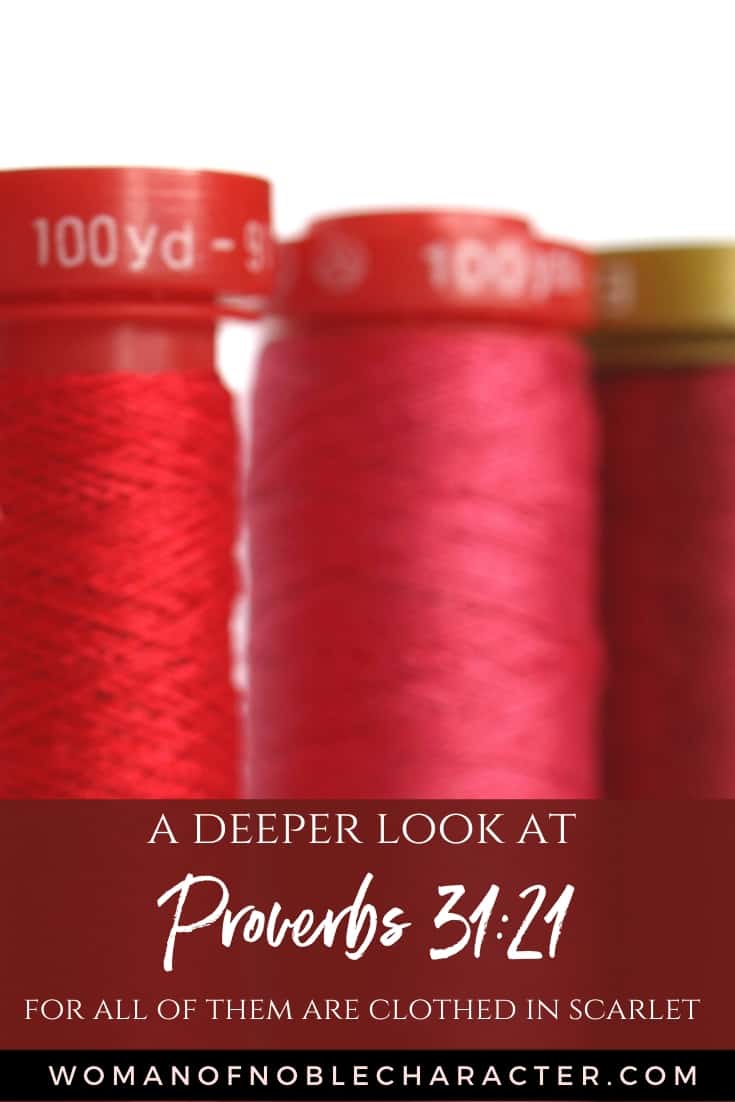 Proverbs 31:21 Spiritual Application
So, Proverbs 31 not only addresses preparing our home and family for the cold weather, but it also has a spiritual application. The term "clothed with scarlet" refers to the scarlet wool used by Moses in the Old Testament. It represents the blood that Jesus shed for the cleansing of sins for all mankind. Therefore, when we are "clothed in scarlet", we are covered by the blood of Jesus; we have been saved by His dying on the cross for our sins.
When we look at the verse spiritually, we see that the Proverbs 31 wife fears the Lord above all else, which lays the foundation for her unreproachable character and behavior.
Her children are part of God's royal family. And as children of The King, she does not have to fear when they face the winters in their lives. They are cared for by God.
Yet to all who did receive him, to those who believed in his name, he gave the right to become children of God – John 1:12
Likewise, all parents today, mothers AND fathers, should prepare their children for the hardships of life by leading them to the LORD; by teaching them His WORD.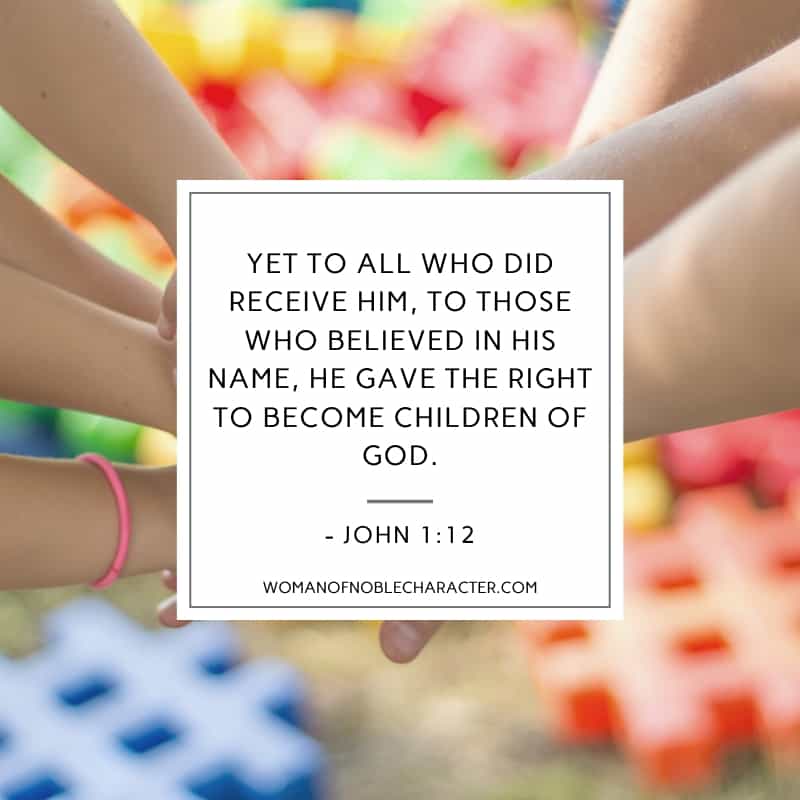 Proverbs 31:21 – Literal Application
The other, the verse is interpreted as more literal; that the woman of noble character is a planner and diligent and makes sure that her family has warm clothes and other items to protect them from the elements of winter.
When we look at the verse literally, we can infer (in today's world) that she has prepared her house (and its occupants) for the cold. If we have a fireplace, we have wood ready. We buy rock salt and shovels to clear the walkways. We make sure that there are pairs of gloves and that scarves and hats are in good condition. (In my house, we have a tendency to lose gloves. I am always checking for pairs and buying more!) We cook warm and hearty meals, like soups and stews,this time of year.
Today's society tells us that, in order to prepare our children to be successful in the world, they have to go to the right schools, have friends that are "good people" and wear the trendiest clothes.
When we focus on those things, however, not only are we running ourselves (and our kids) ragged, we are on a never-ending hamster wheel.
In addition, when we do this, we are focusing on things of this world on not things of God.
Instead, give children what they need not what they (or you want) and make a focus on planting seeds.
That same day Jesus went out of the house and sat by the lake. Such large crowds gathered around him that he got into a boat and sat in it, while all the people stood on the shore. Then he told them many things in parables, saying: "A farmer went out to sow his seed. As he was scattering the seed, some fell along the path, and the birds came and ate it up. Some fell on rocky places, where it did not have much soil. It sprang up quickly, because the soil was shallow. But when the sun came up, the plants were scorched, and they withered because they had no root. Other seed fell among thorns, which grew up and choked the plants. Still other seed fell on good soil, where it produced a crop—a hundred, sixty or thirty times what was sown. Whoever has ears, let them hear." – Matthew 13:1-9
Not that nice things and a good education are bad. That is only the case if a) you really can't afford it and b) you are doing so at the expense of raising disciples of the King.
I think that we can find meaning in both interpretations. The Proverbs 31 woman is resourceful, manage her time and resources well AND that she prepares her family spiritually.
Each verse, including Proverbs 31:21 she is described with having energy, using her resources wisely, taking initiative, working hard and being productive.
You may prepare physically for the winter, but are you preparing spiritually?
The virtuous woman prepared for a spiritual winter by seeing that her family is clothed in scarlet – that they are saved by faith. In this way,they will not fear any cold or dark time of trial. God will see us through it.
Bible Study Tools online has an interesting commentary on Proverbs 31:21. I encourage you to check it out.

How to clothe your family in scarlet:
Start a new habit with your family this week to better clothe them in scarlet. Here are some ideas:
If you don't already, pray before each meal, as a family
2) Do a family devotional
There are great free resources including:
There are great benefits for doing family devotionals. In this post, I also share tips and recommendations for great devotionals for kids and family of all ages.
3) Pray with your children (and spouse) at bed time
4) Let your family hear you talking to God, praying and/or reading the Bible
5) Make a blessings jar – have each family member write down something they are thankful to God for (daily, weekly, whatever works for you) and then put it in the jar. Periodically review all of God's blessings in your life.
6) Make God a regular topic of your conversations
Applying Proverbs 31:21 To Your Life Today:
How has the weather been in your area this winter?
How does the cold weather (and winter) affect your mood?
What have you done or continue to do to prepare for winter and cold weather?
What do you do to clothe your family in scarlet and nurture their faith?
Do you feel that you do all you can to clothe your family in scarlet and nurture their faith?
What could you do to better to nurture your family's faith in Jesus?

What other verses or quotes come to mind when studying Proverbs 31?
How do you clothe your family in scarlet? What can you do, this week, to build your family's faith?
If you want to dig deeper, check out my book, The Complete Proverbs 31 Wife: A Verse by Verse Exploration of What it Means to Be a Proverbs 31 Woman in Today's World.
Because of Him,
Sue