The Surprising Link Between Clutter and Depression
This page/post may contain affiliate links.  As an Amazon Associate, as well as an affiliate of other programs, this means if you purchase something using these links, I will receive a commission on qualifying purchases at no cost to you! For more detailed information, please visit our Affiliate Disclaimer page
The Link Between Clutter and Depression
Clutter and depression. It's been proven that a cluttered home can equal a cluttered mind. Dishes in the sink, piles of laundry strewn about, STUFF on every surface. It's no wonder that we can feel down and depressed.
The Link Between Clutter and Depression
Researchers at UCLA's Center on Everyday Lives and Families (CELF) discovered when they explored in real time the relationship between 32 California families and the thousands of objects in their homes found a startling correlation between clutter and mood. The resulting book, "Life at Home in The Twenty-First Century," is a rare look at how middle-class Americans use the space in their homes and interact with the things they accumulate over a lifetime.
It turns out that there is a clear link between clutter and depression as well as our mood and self-esteem. CELF's anthropologists, social scientists, and archaeologists found:
A link between high cortisol (stress hormone) levels in female home owners and a high density of household objects.The more stuff, the more stress women feel. Men, on the other hand, don't seem bothered by mess, which accounts for tensions between tidy wives and their

clutter bug

hubbies.
Women associate a tidy home with a happy and successful family. The more dishes that pile up in the sink, the more anxious women feel.
Even families that want to reduce clutter often are emotionally paralyzed when it comes to sorting and pitching objects. They either can't break sentimental attachments to objects or believe their things have hidden monetary value.
Although U.S. consumers bear only 3% of the world's children, we buy 40% of the world's toys.And these toys live in every room, fighting for display space with kids' trophies, artwork, and snapshots of their last soccer game.
Since I was a teenager, I have suffered with depression and anxiety. For me, if my home or any room in my home is messy, it greatly affects my mood. Over time, I found that organizing (and the resulting effects of organizing) helps to keep the depression at bay. I believe (and research on clutter and depression have validated that belief) that when I am organized or in the process of organizing, I feel more in control of my life an surroundings.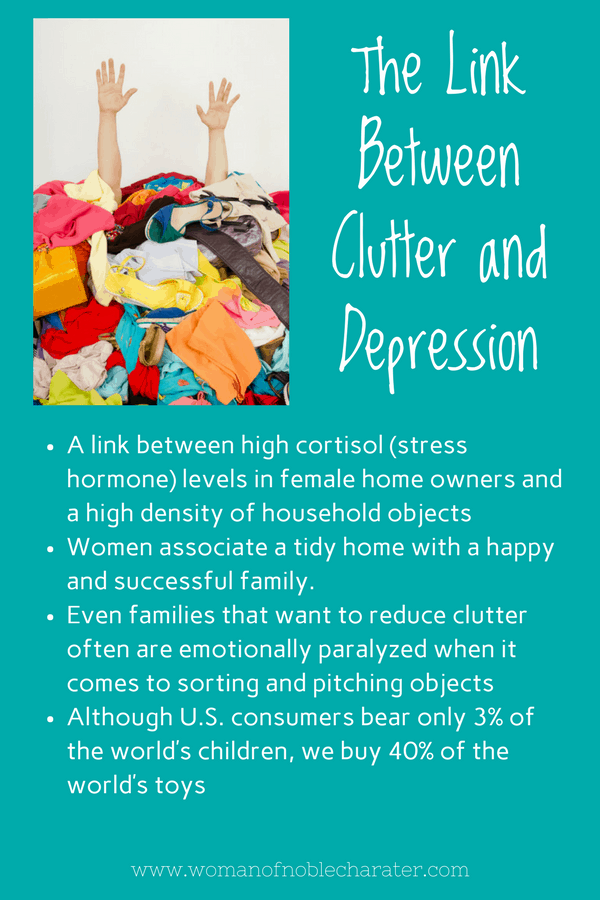 Are you feeling depressed or anxious? Is your home (or office) cluttered? There may very well be a correlation.
If your entire home is cluttered, just the thought of purging or organizing may be paralyzing. Start by reading this previous post The Road to Organization. In it I share tools to help you decide where to start and the basics of decluttering.
Once you begin the process, you'll will feel a sense of accomplishment which may motivate you to continue.
Let me know how you make out and if indeed, reducing the clutter, reduces your feelings of depression or anxiety.
If you need more resources, I've found these to be good ones to help reduce clutter:
If you are having trouble getting it all done (and, honestly, that's most of us!), check out the Ultimate Productivity Bundle. It is chock full of ebooks, courses, printables and more to help you stay on top of things and, certainly reduce clutter!
Until Next Time, In Him,
Sue