Dream, Plan and Live – Free Couples Yearly Planning Workbook
This page/post may contain affiliate links.  As an Amazon Associate, as well as an affiliate of other programs, this means if you purchase something using these links, I will receive a commission on qualifying purchases at no cost to you! For more detailed information, please visit our Affiliate Disclaimer page
Couples Yearly Planning
Commit to the Lord whatever you do, and he will establish your plans. Proverbs 16:3
The end of one year and the beginning of a new one is usually time for reflection and planning in business and in life. We make resolutions and set goals for the New Year. Often, we look back at the ending year to reflect on what was good, what wasn't so good and what we'd like to change.
I do this for my business and personal life and goals, but, this year, my husband and I have decided to do couples yearly planning.
While we brainstormed on all of the areas we wish to cover and plan for, I thought that it would be helpful to share our couples yearly planning with you, my readers. I pray that the workbook and the resulting conversations, will help draw you closer to your husband and help you to plan and dream together.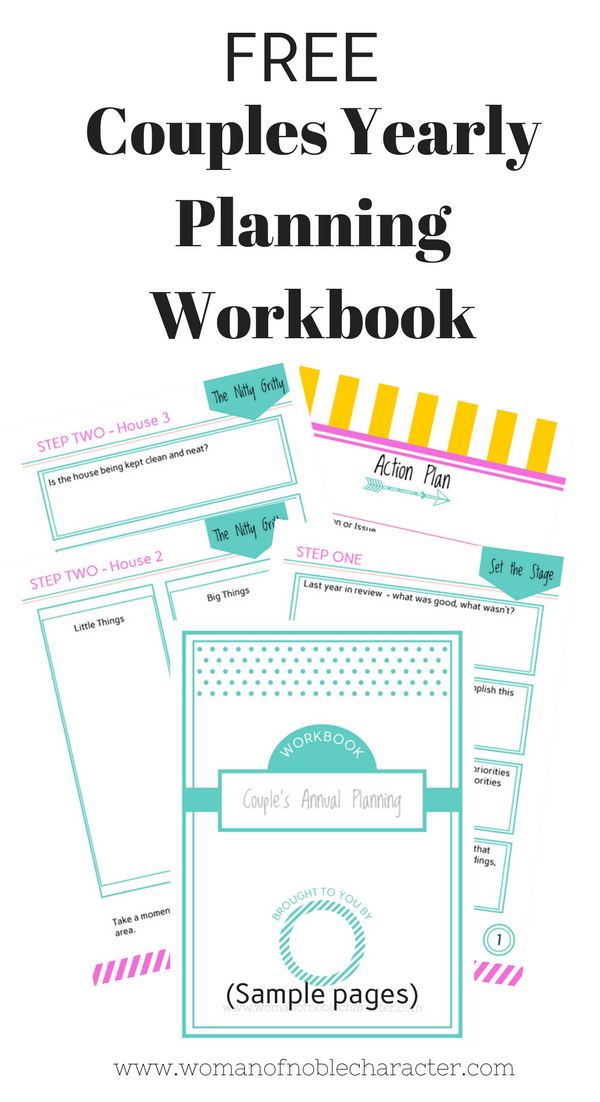 This fourteen page workbook, that I designed just for you and based on our own couples yearly planning, focuses on nine areas of life and marriage including:
Faith
Finances
Family
Friendships
House Projects
Date Nights
Vacations
Professional/Career
Personal
and includes an Action Planning worksheet for you to lay out how you will achieve each of your goals. (You will need to print one for each of the action steps or goals that you decide on with your spouse).
This special workbook for couples yearly planning is exclusively for subscribers (if you are on my list, you will receive it via email this Friday). If you are not on the list, you can join the list (and get the workbook) by entering your information below:
May he give you the desire of your heart and make all your plans succeed. Psalm 20:4
Set aside a few hours to give you time to talk through each of the areas covered in the workbook. I encourage you to begin your planning time with prayer. Have a calendar, the workbook, a pencil and a calculator handy before you begin.
I pray that this special time together dreaming and planning for your future blesses you and your marriage.
In their hearts humans plan their course, but the Lord establishes their steps. Proverbs 16:9
Looking for a printable 2019 calendar with Bible verses and plenty of room to record all of your date nights with hubby? See this post.
For more on Christian marriage, consider my book, The God Centered Marriage.
Because of Him,
Sue