Courageous Women of the Bible Book Review
This page/post may contain affiliate links.  As an Amazon Associate, as well as an affiliate of other programs, this means if you purchase something using these links, I will receive a commission on qualifying purchases at no cost to you! For more detailed information, please visit our Affiliate Disclaimer page
Please note that while this is an unbiased review of the book Courageous Women of the Bible by Latan Roland Murphy, Bethany House Publishing has provided me with a complimentary copy of this book.
As an avid reader, I mix my reading between fiction and non-fiction. I'm always on the hunt for great Christian books and love when I find a gem to add to my collection. This book is such a gem.
The Bible is filled with stories of women who lived for God, who feared Him and who we can learn much from.
Courageous Women of the Bible
While I always encourage my readers to just pick up the Bible and read what God is leading you to, it's always helpful to have a starting place. In Courageous Women of the Bible Ms. Murphy shares the beautiful and inspiring stories of eleven courageous women in the Bible. The lineup includes:
Deborah

Jael

Abigal

Bathsheba

Mary, Mother of Jesus

Jochebed

and more.
Each chapter, or profile, takes us on a journey of that character's faith and courage. The chapters are rich with scripture and illustrate not just how that particular biblical woman demonstrated courage, but how to apply her lesson of courage to your own life.
Ms. Murphy shares personal stories on her own courageous battles and weaves them with biblical truths.
Courage, as defined by good ol' Google, is:
noun: courage
the ability to do something that frightens one.

strength in the face of pain or grief.
"he fought his illness with great courage"

synonyms: bravery, courageousness, pluck, pluckiness, valor, fearlessness, intrepidity, nerve, daring, audacity, boldness, grit, true grit, hardihood, heroism, gallantry; More
antonyms: cowardice
Throughout life, we will be called upon to display courage. It's not always easy, in fact, usually these times are among the most difficult challenges that we face in our life.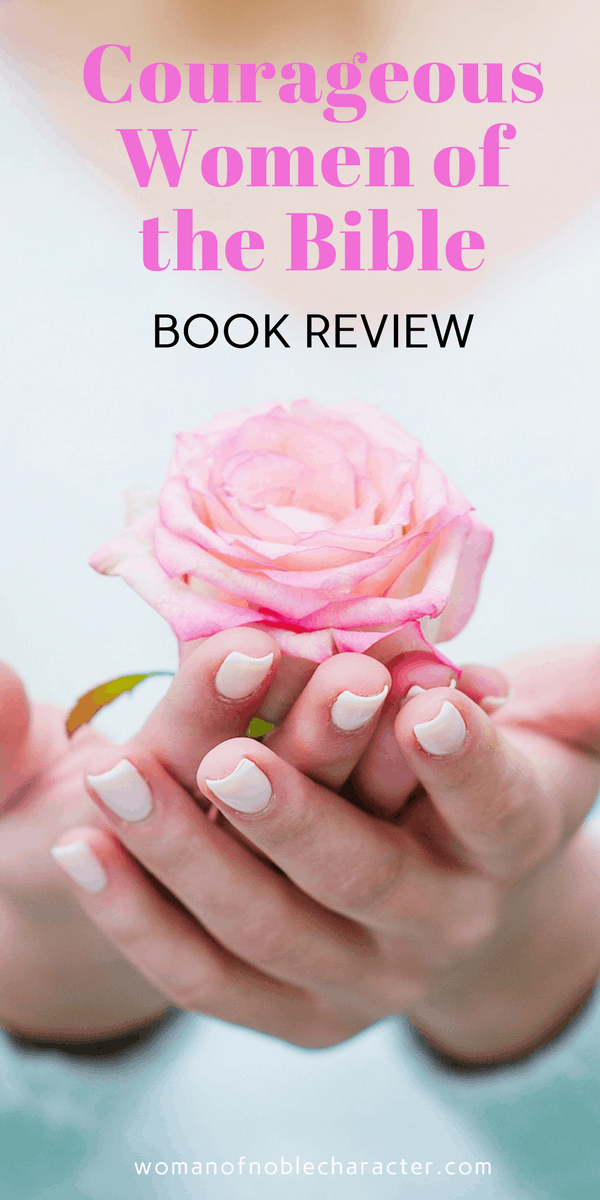 In the chapter, Messy Courage, Ms. Murphy briefly shares the difficulty of her mother-in-law's cancer journey. As a cancer survivor myself (colon cancer diagnosed 2017), I deeply felt this story. Having faith to get up, endure surgery and recovery and other treatments while placing your trust in God can be overwhelming, but God gives us the strength. He gives us the courage. He loves us.
In Own Your Tomorrows, we read of Abigail's story. How her "beautiful, quiet restraint helped her to take courage even when she could not depend on her husband to make yesterday's wrongs right". We walk with Abigail as she walks by faith and we are reminded not to place blame but to put our faith in God who will do miraculous and courageous things in your life if only you will let him.
Each chapter ends with a section called "Courage Quest", a list of questions to help you dig deeper into the stories of these courageous women of the Bible and apply these lessons to your own life.
The final section in the book, Courage Coming, is an entire chapter on journaling your way toward courageous living. Journal prompts, fill in the blanks and more thought-provoking questions help you to further explore courage and your faith in your own life.
I'm keeping this book on the bookshelf in my office so that when I need some encouragement and a reminder of the courage that God gives me as His daughter, I can reach for it and be inspired.
This book is a must-read for Christian women seeking to live courageously through their faith in Jesus Christ.
LaTan Roland Murphy is an award-winning author and speaker with writing featured in WHOAwomen magazine. She is the author of Becoming a Woman of Interior Elegance and coauthor of God's Provision in Tough Times. She is also the founder of The Colors of His Love Women's Conference. She and her husband, Joe, have three adult children and two delightful grandchildren. They live in Raleigh, North Carolina. You can find her online at www.latanmurphy.com.
You can find the book by clicking on the photo below or at your local Christian bookseller.
For more Christian book reviews, see this section of my website. For a review on Love Lock, see this post.