This page/post may contain affiliate links. As an Amazon Associate, as well as an affiliate of other programs, this means if you purchase something using these links, I will receive a commission on qualifying purchases at no cost to you! For more detailed information, please visit our Affiliate Disclaimer page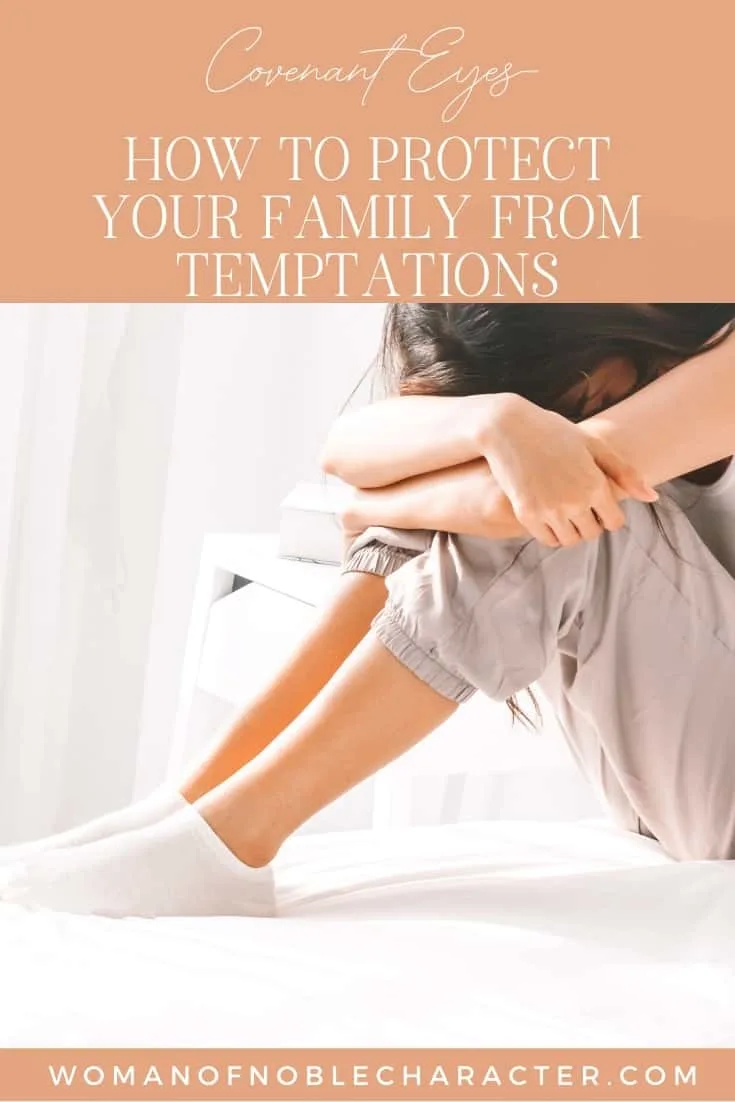 "I have made a covenant with my eyes." – Job 31:1
When we hear about porn and porn addiction, many of us immediately think of men being most affected. Unfortunately, recent studies show that the number of women who struggle with porn is at a higher rate than ever before. We want to help you address this in the best way possible.
For men with a porn addiction, they struggle with the same issues as women:
Guilt
No one feels as if viewing pornography is noble. Yes, there are teenagers who believe viewing pornography is "grown up" and may brag about it, or older individuals who view it as "necessary" or "common" and downplay the unrest in their soul. But no one feels like they have done a "virtuous-honoring thing" when they finish viewing pornography.
The result is a sense of guilt–an innate sense that what was done was bad. Guilt produces a decline in mental health and the physiological changes from guilt in the brain can be neurologically demonstrated.
Isolation and shame
The first point has to do with a sense of distance in our relationship with God. This point emphasizes the impact on our social relationships.
A common experience of viewing pornography is carrying a secret. Secrets create distance. We are left wondering, "what would you think of me if you knew." The result is that even our closest friendships begin to feel superficial or fake.
The depth and quality of our friendships are significant factors in our mental health. Activities that lower the quality or number of our friendships have a negative influence on our mental health.
Crude-Depersonalizing Socialization (People (i.e., actors or models) in pornography are not people to the viewer; they are a collection of features or objects of satisfaction. In a pornographic world, people are not heard, assisted, and loved. People are evaluated, ranked, and consumed. When hours are spent immersed in this world, these values begin to seep in.),
Avoiding Unpleasant Emotions
One of the primary motives for viewing pornography is to reduce or relieve stress. A passive approach to stress management results in an underdeveloped capacity for managing unpleasant emotions. The less equipped we are to withstand unpleasant emotions, the more overwhelming each experience of anxiety, depression, or other distress becomes.
Add to this the idyllic narratives that are pervasive in pornographic material (the viewer always identifying with the central, pursued character), and the person who regularly views pornography is further conditioned to believe that the day-to-day, normal conflict in life and relationships are unbearable.
One important measure of mental health is our capacity to be resilient in the midst of unpleasant emotions or circumstances. Pornography detracts from this capacity both by serving as an escape from healthily processing unpleasant emotions and reinforcing the belief that these stresses should not exist.
Hyper-Multi-Sensory Stimulation
Mindfulness–the ability to willfully focus one's attention during adverse circumstances–is a significant contributor to mental health. Pornography is nearly the complete opposite of mindfulness.
Pornography uses sound, sight, and tactile sensation to pull an individual from their actual world into an artificial, fantasy world. Combining multiple senses with an enticing narrative makes it increasingly difficult for less stimulating activities (which is most of life) to hold an individual's attention.
If the previous point was about unpleasant emotions, this point goes further; now, merely unstimulating activities are increasingly difficult to meaningfully engage for an extended period of time.
Consider how much of basic life management (i.e., budgeting, staying on schedule, honoring commitments, asking good questions in a mundane conversation, etc…) becomes difficult when we condition ourselves to avoid unpleasant emotions and mundane tasks. Then consider how doing a poor job at basic life management tasks negatively impacts one's mental health.
Time Lost to Constructive Activities
The final point is more about what pornography prevents (indirect impact) than what it does (direct impact). Time spent viewing pornography is time not spent doing something more constructive (i.e., investing in a hobby, talking to a friend, exercising, reading a book, etc…).
The more we invest in things that are meaningful and substantive, the better our mental health will be. Pornography robs many people of the hours in their week when they would invest in these constructive pursuits and gives them nothing in return.
But there is a better way. A way for private and personal accountability. To renew marriages and friendships and a closer fellowship with God.
While sexual sin is not new, online pornography is more widely accepted, accessible, affordable, and anonymous than ever before. According to a 2018 study by the Barna Group, 68% of Christian men and 33% of Christian women view pornography at least once per month. A study of university students found that 93% of boys and 62% of girls had seen Internet pornography during adolescence.

Technology is hastening sexual abuse and exploitation across the globe. The National Center on Sexual Exploitation (NCOSE) says, "This reality—combined with a toxic deluge of pop culture messages normalizing harmful attitudes and behaviors—is rapidly transforming forms of sexual abuse, violence, and exploitation from the intolerable to the fashionable and 'normal.'" – From Covenant Eyes website
Sadly, so many of our youth are exposed to porn or semi-porn images at younger and younger ages. Here's a post from a mom of six with her tips for technology monitoring and keeping her kids accountable. It's a good read if you have kids of any age living at home.
Facts about the porn industry:
In 2006, estimated revenues for sex-related entertainment businesses were just under $13 billion in the US. These estimates included video sales and rentals, Internet sales, cable, pay-per-view, phone sex, exotic dance clubs magazines, and novelty stores.
28,258 users are watching pornography every second.
$3,075.64 is spent on porn every second on the Internet.
88% of scenes in porn films contain acts of physical aggression, and 49% of scenes contain verbal aggression.
79% of porn performers have used marijuana, and 50% have used ecstasy.
1 in 5 mobile searches are for pornography.
"Amateurs come across better on screen. Our customers feel that. Especially by women you can see it. They still feel strong pain." – Carlo Scalisi, Owner of 21 Sexury Video
There are higher percentages of subscriptions to porn sites in zip codes that…
Are more urban than rural.

Have experienced an increase in higher than average household income.

Have a great density of young people (age 15-24).

Have a higher proportion of people with undergraduate degrees.

Have higher measures of social capital (i.e. more people who donate blood, engage in volunteer activities, or participate in community projects).
Porn is the Ultimate Villain
Isolates you

Ruins your relationships

Kills your confidence

Supports human trafficking

Addiction forming

Fuels shame and hopelessness

Causes ED 🙁
Connects you to others

Restores trust

Boosts confidence and peace

AI detects porn on your devices

Breaks the shame cycle

Equips your ally to help you

Helps restore sexual function
The mission of Covenant Eyes is to set people free from porn addiction. It's the #1 app for quitting porn, and helps its customers live porn free with confidence.
The Covenant Eyes blog is filled with stories of men and women who have broken the cycle of porn and eliminated tempation through using this software and accountability. I personally know husbands of friends and even personal friends, who have beaten this addiction using Covenant Eyes.
If you know someone who is battling this addiction or, just want to ensure that your vulnerable pre-teens and teens don't see what they shouldn't, consider Covenant Eyes. The low price ( Up to 10 users and unlimited devices for just$15.99/month.) and risk free 100% guarantee gives you peace of mind.
Their accountability software monitors images on device screens and sends a report to a trusted friend (ally) who holds you accountable for both your online and offline choices. Our optional CleanBrowsing filter provides an extra layer of protection.
How Covenant Eyes Help:
Partner Up to Defeat Porn
Your allies will receive comprehensive reports of your screen activity, lessening the temptation to look at porn.
Life-Changing Conversations
Through meaningful conversations, your allies will be there to pick you up when you fall down, and cheer you on when you succeed.
Break Bad Habits For Good With These Included Tools and Resources
With the help of your allies, you can soar to new heights both online and offline, and say goodbye to porn forever.
Our Accountability-based service is safe, secure and proven effective at helping members overcome porn addiction.
Blurred screenshots are sent over HTTPS and stored using AES 256 bit encryption. We never send un-blurred screenshots.
Screenshots are blurred to protect your personal information and only shared with your chosen allies to maintain privacy.
Screen Accountability provides more holistic insight into what you actually look at on your screens. If you see it, then we can capture it.
Not satisfied with our service? Cancel within the first 30 days, ask for a refund, and you've got it—guaranteed.
Questions? We're happy to help you! Call our Compassionate Customer Service anytime at.
Fight pornography with knowledge. We offer ebooks, guides, and videos to help you and your family live safely online.
Our software periodically captures screenshots of your screen activity and stores them securely on your device.
Advanced artificial intelligence analyzes those screenshots, on your device, for explicit imagery.
The software rates the images, blurs them to protect your privacy, then prioritizes them based on content.
A report of concerning activity, circumvention attempts and other activity is sent to you and your ally.
Risk-free for 30 days. 100 % money-back guarantee
About Covenant Eyes:
Located in Owosso, Michigan, Covenant Eyes is the pioneer of Internet and Screen Accountability™ software, empowering members to maintain their online integrity. Over 100,000,000 Covenant Eyes accountability reports have generated 18 years of conversation-based accountability. Covenant Eyes is the most significant corporate force in cultural recognition of the public health crisis of pornography and sex trafficking.
For women: It is their hope that providing a landing page tailored to women, will provide a sense of comfort and boost of confidence that helps you understand you are not alone in this fight.
If you know someone battling porn addiction or want to ensure that your children aren't snared by this sin, I highly recommend Covenant Eyes as I've seen how powerful and effective it is.
I'm praying for you and those around you that need this accountability.
Because of Him,
Sue