This page/post may contain affiliate links. As an Amazon Associate, as well as an affiliate of other programs, this means if you purchase something using these links, I will receive a commission on qualifying purchases at no cost to you! For more detailed information, please visit our Affiliate Disclaimer page
What is a Daniel Fast? The Daniel Fast is an excellent way to get closer to God, turn from bad habits, and give your body a fresh start.
This ancient practice has been used by biblical figures for centuries and is popular amongst Christian communities today.
In this article, you will learn about the history of the Daniel Fast, how to do a Daniel fast, the benefits of doing a fast, and how you can use it to create a powerful faith experience.
In addition, you will learn how to create a sustainable Daniel Fast diet and lifestyle protocol that works for you and your unique lifestyle.
The Daniel Fast is a 21-day partial fast based on a story in the Book of Daniel.
If you're a Christian looking to take your health to the next level, the Daniel Fast may be just the thing for you.
Unsurprisingly, Chris Pratt has jumped on the bandwagon and is attesting to its incredible benefits, like weight loss and improved energy.
But the Daniel Fast isn't just a trend – its roots trace back to the book of Daniel, as mentioned above.
Fasting is an age-old spiritual discipline that can yield unexpected and amazing outcomes. I've seen it bring miraculous results when nothing else would suffice.
Moses, Elijah, Esther, Ezra, Job, David, Daniel, Peter, Paul, and even Jesus all chose to fast in their own times – a true testament to its power. For Christians looking to grow closer to God and experience tangible results, fasting is a unique and effective practice to embrace.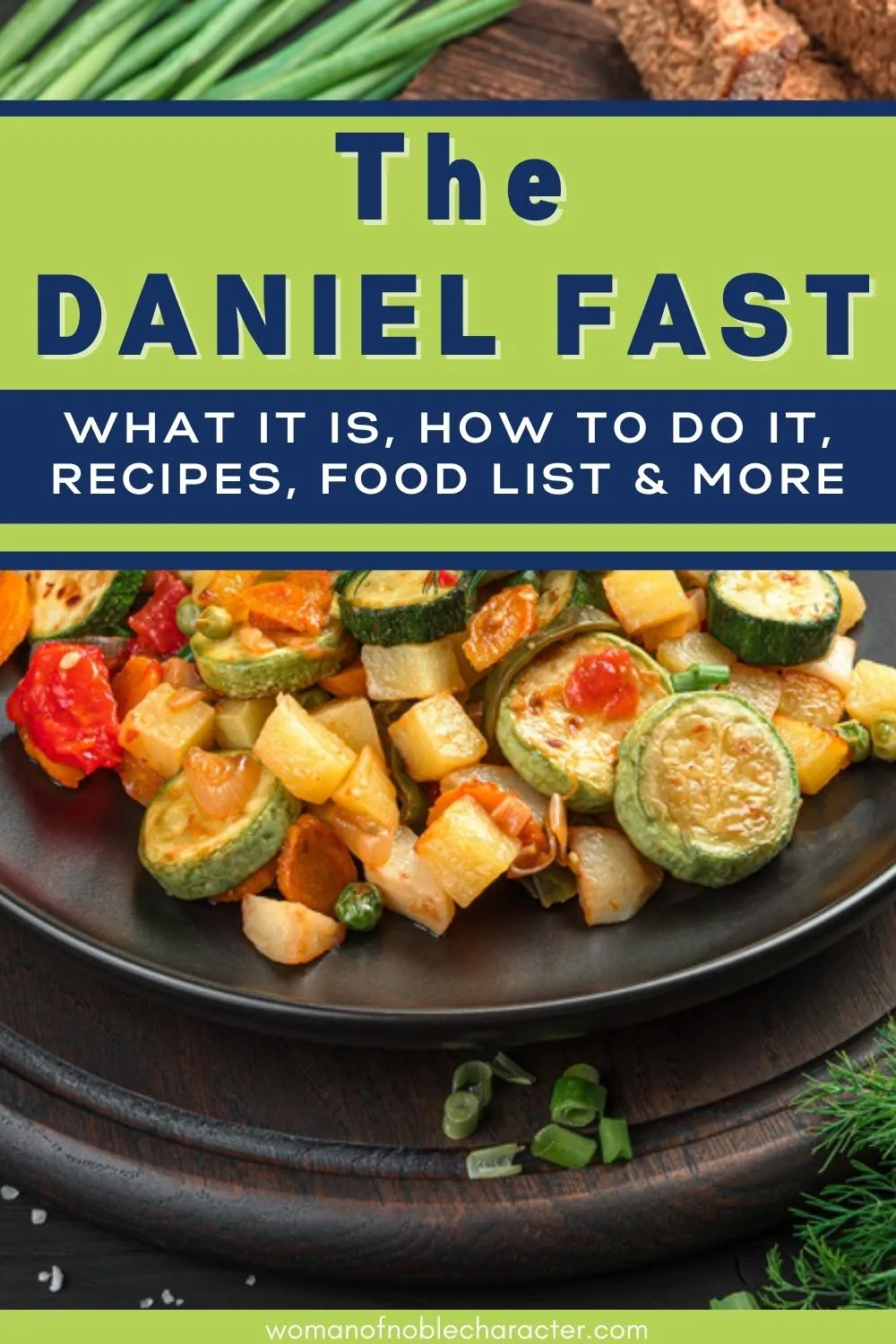 I want to introduce you to a secret healing therapy that can take your spiritual, physical, and emotional health to a whole new level — it's called the Daniel Fast, and it includes many Bible foods that support healing.
Are you curious about how to experience the Daniel Fast diet and achieve its potential health benefits? Here's an overview of the diet, its pros and cons, and what foods you should be eating.
The Daniel Fast is a biblically inspired 21-day diet based on Daniel 10:3, where the prophet only ate vegetables and drank water.
It's essentially a partial fast, where followers abstain from eating certain foods, removing all animal products and processed items from their diet.
The fast has become increasingly popular among Christian communities, as it not only helps to promote physical health but also offers spiritual nourishment.
When it comes to benefits, the Daniel Fast diet reportedly detoxifies and cleanses the body, aids digestion, helps with weight loss, and may improve mental clarity and emotional stability. Additionally, following the diet can help to bring spiritual focus, build self-control, and bring balance to one's life.
Of course, the Daniel Fast diet also has potential downsides. It can be difficult to follow for some, as it removes many favorite foods from the diet.
It's also important to remember that the diet should not completely replace the nutrients normally derived from meat and other processed items.
The form you have selected does not exist.
To balance the nutrient levels, a stronger focus should be placed on eating high-fiber, nutrient-rich vegetables, and fruits.
When it comes to the foods one should be eating while following the Daniel Fast diet, fruits, vegetables, whole grains, nuts, seeds, and legumes are encouraged.
All animal products and processed items such as bread, chips, and sweets must be avoided.
Although the Daniel Fast diet has plenty of potential benefits, both spiritually and physically, it's important to remember that it should always be done in moderation and with the proper knowledge of what foods are safe to eat.
What is a Daniel Fast?
The Daniel Fast, or Daniel Diet, is a popular and nutritious approach to eating for Christians based on the Biblical story of the prophet Daniel in the Book of Daniel. When King Nebuchadnezzar took Daniel under his rule at a young age, Daniel abstained from the king's food and instead chose a diet of vegetables and water.
This Bible-inspired diet has been embraced by many faithful followers who believe that God desires clean and healthful eating. By following the Daniel Fast, Christians are choosing to honor God with their eating habits.
In the book of Daniel, there are several verses that describe the diet:
Daniel, a man devoted to his faith in God, refused the lavish foods offered by the king, such as meat, dairy, and wine.
Instead, he and his companions chose to observe the dietary laws of their religion for 10 days, eating only what they believed God intended them to consume.
Christians who follow the diet will benefit from a range of health-promoting foods like fruits, vegetables, pulses, whole grains, and water.
Pulses serve as an excellent source of protein, forming the cornerstone of the diet.
After a mere 10 days, Daniel and his friends emerged from their trials visibly and tangibly healthier, both inside and out. In comparison to the others, the incredible effects of their dietary experiment were clear-cut proof of the benefits of faith-based nutrition, encouraging the same practices for all.
Drawing on his faith, Daniel chose to take part in a short-term diet that tests his endurance and fortitude.
Today, many Christians also find this to be a great way to break away from the 'normal' of modern lifestyles and food consumption – a spiritual and physical 'detox' if you will.
Christians often turn to fasting to draw near to God in an act of sacrifice. This practice mirrors other religious traditions, like Lent or Ramadan, which also call on devotees to observe a period of fasting.
In fact, in biblical times, they often fasted for more than just a day or two, but even Jesus and Moses both fasted for 40 days!
The Bible is filled with more than 70 references to fasting, but over the last several decades, fasting has been less prominent in the church. However, fasting is making a comeback.
What is a fast?
Fasting is an integral part of Christian practice and is seen as a spiritual discipline. Abstaining from food, drink, or entertainment for a predetermined length of time can bring about mental, physical, and spiritual benefits.
When done as an act of obedience and submission to God, fasting can provide a deeper connection to His will and an increased awareness of His presence.
There are many types of fasts, including:
a standard fast (water only)
an absolute fast (no water or food)
a partial fast (restrict certain food and drink categories)
an intermittent fast (only eating during a small daily window, for example, 12 p.m.–6 p.m.)
Are you searching for divine healing and wellness in your body, mind, and spirit? Look no further; the Daniel Fast provides a powerful way to open yourself up to the Lord's miraculous restorative powers.
What Is the Daniel Fast?
Many participants of this Biblically-based fasting method follow it for 21 straight days.
The Daniel Fast is already outlined in "The Maker's Diet Revolution" by Jordan Rubin and only includes clean foods as described in Leviticus 11.
Pork and shellfish are included in the unclean foods in the Bible.
Does the Bible actually say not to eat shrimp? In fact, it does. In Deuteronomy 14:10, we read
Because shrimp is a type of shellfish and does not have fins or scales, it is considered unclean.
If you're a Christian who wishes to follow a Biblical diet, you should be aware of the fish you eat. Swordfish and sharks are among the few fish that should be avoided since they lack both fins and scales.
If you're a Christian on the Daniel Fast, you'll likely be surprised to hear that you won't be consuming any animal proteins. Knowing clean and unclean animal proteins, according to the Bible, is helpful, but abstaining from all animal proteins is required during the Daniel Fast.
Daniel Fast Menu
According to our understanding of the Hebrew definition of "pulse" found in the Bible, the term can refer to a range of nourishing foods.
This expands the traditional definition of "vegetables" for Christians, providing a larger selection of healthy and tasty options.
Here is the Daniel Fast food list of what you are allowed to eat, but consider it a stricter version of a vegan diet but overall plant-based.
Beverages/Liquid
Water only – purified/filtered; spring or distilled water is best
Homemade almond milk, coconut water, coconut kefir, and vegetable juice
Vegetables (should form the basis of the Daniel Fast diet)
Fresh or cooked
They may be frozen and cooked but not canned
Fruits (consume in moderation 1–3 servings daily)
Fresh and cooked
Ideally, low glycemic index fruits like stone fruits, apples, berries, cherries, and citrus fruits
They may be dried but should not contain sulfites, added oils, or sweeteners
They may be frozen but not canned
Whole grains (consume in moderation and ideally sprouted)
Brown rice, oats, quinoa, millet, amaranth, buckwheat, and barley cooked in water
Beans and Legumes (consumed in moderation)
Dried and cooked in water
They may be consumed from a can as long as no salt or other additives are contained and the only ingredients are legumes or beans and water
Many enjoy eating Ezekiel Bread during a Daniel Fast as it is an allowed bread/grain.
Nuts and Seeds (sprouted are recommended)
Raw, sprouted, or dry roasted with no salt added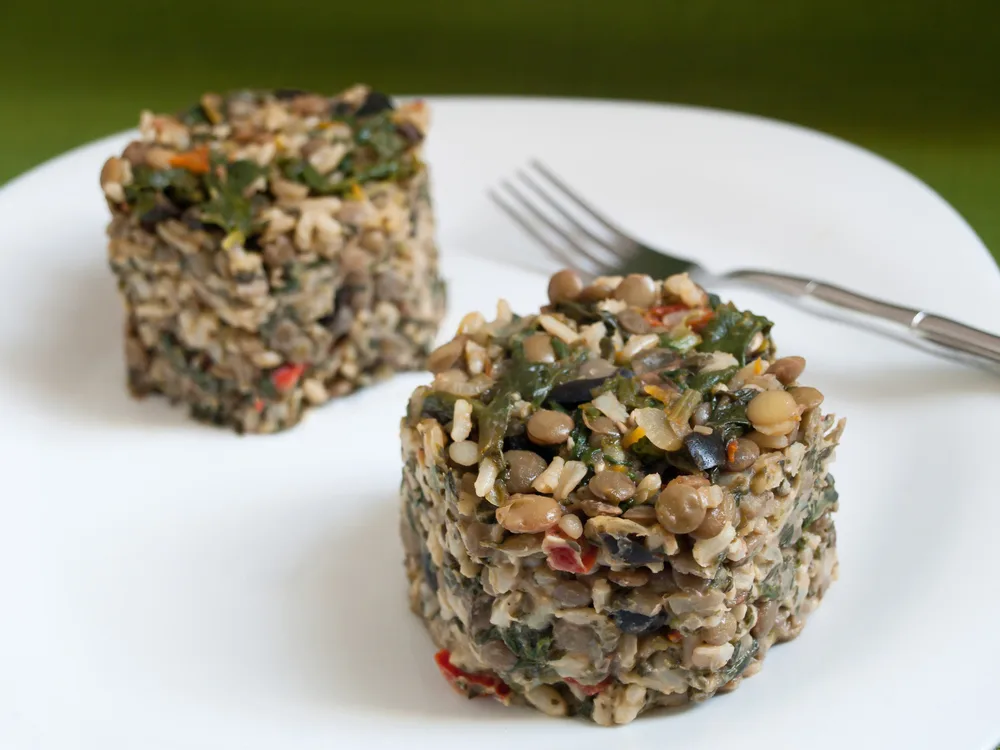 Suggested Foods for the Daniel Fast Meal Plan
Here is a list of some recommended foods you can eat on the Daniel Fast meal plan or include in Daniel Fast recipes:
Liquids
Water (spring, distilled, filtered)
Vegetable juice (freshly pressed)
Coconut milk
Coconut kefir
Almond milk
Herbal teas (with no artificial sweeteners added)
Vegetables and Fruits (preferably organic and fresh or frozen)
Artichokes
Asparagus
Beets
Broccoli
Brussel sprouts
Cabbage
Carrots
Cauliflower
Celery
Collard greens
Corn
Cucumbers
Eggplant
Green beans
Kale
Leeks
Lettuce
Mushrooms
Mustard greens
Okra
Onions
Peppers
Potatoes
Radishes
Rutabagas
Scallions
Spinach
Sprouts
Squash
Sweet potatoes
Tomatoes
Turnips
Yams
Zucchini
Fruits
Apples
Apricots
Avocados
Bananas
Blackberries
Blueberries
Cantaloupe
Cherries
Coconuts
Cranberries
Dates
Figs
Grapefruit
Grapes
Guava
Honeydew melons
Kiwi
Lemons
Limes
Mangoes
Melons
Nectarines
Oranges
Papayas
Peaches
Pears
Pineapples
Plums
Prunes
Raisins
Raspberries
Strawberries
Tangerines
Watermelon
Legumes (preferably organic)
Black beans
Black-eyed peas
Garbanzo beans
Kidney beans
Lentils
Mung beans
Pinto beans
Split peas
Nuts and Seeds (preferably organic, raw, unsalted, and soaked/sprouted)
Almonds
Cashews
Chia seeds
Flaxseeds
Pumpkin seeds
Sesame seeds
Sunflower seeds
Walnuts
Whole Grains (preferably organic)
Amaranth
Barley
Brown rice
Millet
Quinoa
Oats (groats soaked)
Foods to Avoid on the Daniel Fast
Fasting on the Daniel Fast means abstaining from all foods and beverages except those that are plant-based and unprocessed – no meat, dairy, sugar, or even caffeine.
This ancient Christian practice is observed to purify the body, sharpen the spiritual focus, and develop a closer relationship with God.
Most Daniel Fast diets only allow a small amount of sea salt or Himalayan salt, if any, as a flavoring for dishes. To ensure your meal is compliant, use just a pinch of salt if needed.
Here are foods you need to refrain from eating while following the Daniel Fast meal plan.
Iodized salt
Sweeteners
Meat, including shellfish
Dairy products
Processed foods
Breads, pasta, flour, crackers (unless made from sprouted ancient grains)
Cookies and other baked goods
Oils
Fruit Juice
Coffee
Energy drinks
Gum
Mints
Candy
NOTE: Fasting is an essential part of many Christian spiritual practices. While it is possible without nutritional supplementation, some people may include supplements in their diets.
To ensure you are getting the most out of your fast, it's best to select only those supplements that utilize the accepted foods/ingredients listed for the type of fast you are undertaking.
Fermented foods like vinegar, soy sauce, other soy products, processed veggie burgers, and tofu are usually avoided on the Daniel Fast.
The Daniel Fast isn't just a weight-loss diet–it's a journey of spiritual transformation.
You won't need to worry about calories or portion control; the power of this fasting program lies in its spiritual focus.
With God at the helm, your faith will be strengthened, your outlook improved, and your relationship with Him deepened.
Eat until you feel satisfied and nourished – no more, no less. According to the Daniel Fast guidelines, that's the guideline since everyone's needs differ.
But following this principle will help you live in harmony with your body and what it needs.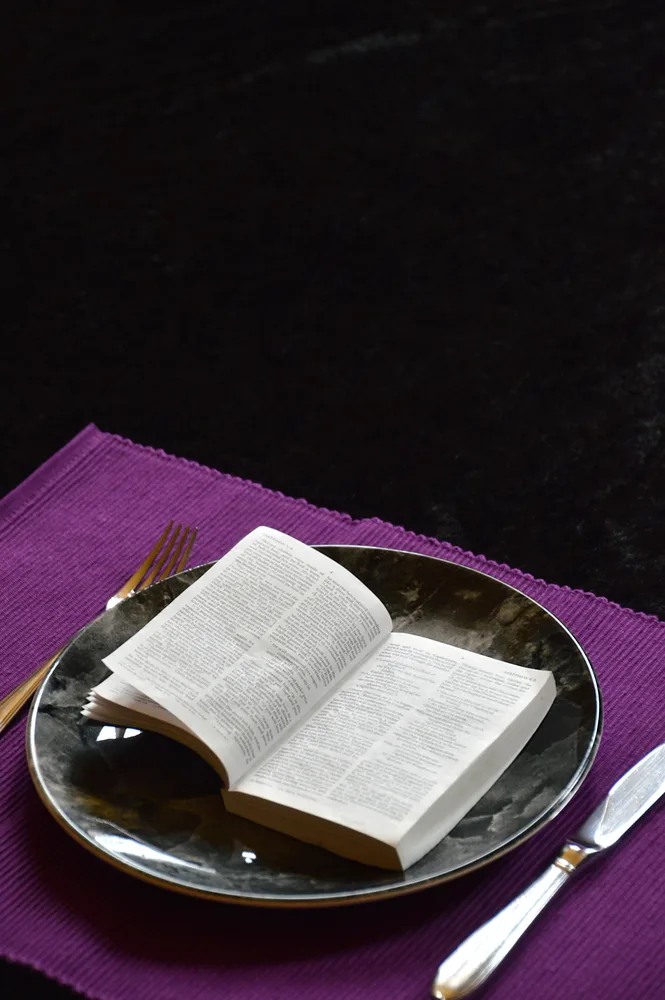 Potential benefits of the Daniel Fast Diet
There are many potential benefits to the Daniel Fast Diet.
Fasting offers your body much-needed rest from the daily task of digesting food. By abstaining from food, you give your systems a break and allow them to focus on other functions that benefit your overall health and spiritual well-being.
The extra energy your body receives when fasting helps it restore itself while burning stored calories removes impurities in the body. According to the Christian faith, fasting is a powerful way to cleanse the body and soul.
High in plant-based foods
The Daniel Fast promotes holistic health by utilizing a plant-based diet of vegetables, fruits, nuts, seeds, beans, and lentils. This dietary practice encourages spiritual growth and physical nourishment, allowing one to pray and meditate on God's Word.
A plant-based diet has been proven to provide numerous health benefits, from reducing the risk of heart disease to preventing type 2 diabetes, all-cause mortality, certain cancers, Alzheimer's, other neurological disorders, and premature aging.
Looking to your faith for guidance, it's clear why this diet is vital for a Christian: eating plants is essential to following Jesus's example and living a healthier life.
For Christians seeking to support their heart and gut health, beans are an excellent dietary go-to.
Not only do beans provide the body with essential proteins, iron, complex carbohydrates, zinc, and other vital nutrients, but they can be easily incorporated into meals and snacks, making them an excellent part of any well-rounded diet.
A 2010 study examining Daniel Fast found a significant drop in blood pressure, cholesterol, and C-reactive protein (an inflammation marker) in 44 participants over 21 days.
Though the decrease in C-reactive protein was not statistically significant, the study still provides an inspiring insight for Christians who hope to use this diet to better their overall health.
A 2013 study revealed a remarkable impact on total cholesterol after only three weeks of following a diet.
However, the participants were allowed one serving of meat or dairy daily, meaning the diet was not strictly followed.
Still, the results were impressive, proving that even with limited animal-based products, positive health effects are possible.
Christians who prioritize their health may find this research particularly encouraging as they seek to engage in practices that glorify God.
Sticking to a Daniel Fast is one way to stay healthy and honor your faith. Consisting of minimally-processed, plant-based foods, this diet effectively promotes physical and spiritual wellness.
It may promote feelings of fullness and weight loss.
The Christian diet emphasizes fiber-rich foods, as fiber takes longer to digest, thus keeping you fuller for longer. This helps reduce calorie intake, and limit added sugars and fats that can significantly spike daily calorie counts.
You can promote better health and overall well-being by taking in fewer calories.
While not specifically designed for weight loss, many have noticed positive results while following its 21-day protocol.
So if you want to transform physically and spiritually, the Daniel fast could be the perfect answer.
The Daniel Fast is a biblical-inspired eating plan designed to promote spiritual, mental, and physical health. However, due to the short-term nature of the fast – 10-21 days – it is not intended for long-term, significant weight loss.
So, if you're looking for sustainable weight loss, this diet isn't for you; it's best used to jumpstart your journey to physical and spiritual well-being.
Eating more fiber-rich foods and limiting added sugars can be both sustainable and enjoyable, so you don't need to commit to a complete diet for the long term.
A recent study of 135 churchgoers who attended weekly nutrition education on the Daniel Fast revealed a striking pattern – the more the participants practiced the Fast, the more their health improved.
The results of this study indicate that the Daniel Fast is a practical soul and health-enhancing tool for the Christian community.
After forty days of following plant-based, home-cooked meal principles from the diet, Christian participants saw an average 3.9-pound weight loss — a testament to the success of leading a healthier lifestyle.
Inexpensive
For Christians seeking to deepen their spiritual walk, the Daniel Fast provides a simple and affordable way to experience the benefits of a plant-based diet. Meals focused on fresh fruits, vegetables, nuts, and grains make it easy to stick to the fasting guidelines without breaking the bank.
With its focus on beans and lentils, Christian dieters can rejoice in a simple and affordable meal plan while skipping costly supplements. Not only are beans and lentils cost-effective and easy to incorporate into various dishes, but they also provide essential vitamins, minerals, and fiber.
Eating these two staples can help keep your body healthy and budget on track.
Buying fresh vegetables and fruit can be pricey, especially for large families.
However, frozen vegetables and fruit provide an excellent, lower-cost alternative while still maintaining the same nutrient content. For Christian households, stocking up on frozen vegetables and fruit is an easy and cost-effective way to ensure you get the most out of your grocery budget.
The Daniel Fast and Prayer
Fasting and praying often go together in scripture, equipping us to pursue God and deepen our dependence on Him. Though the process may not be simple, the rewards are priceless – enhancing faith, reviving our relationship with God, and empowering us to make decisions and confidently go forward.
Fasting isn't just a physical challenge – it's a spiritual exercise that requires you to deny your body and mind what they want.
Your stomach and brain may try to persuade you to snack and cheat, but true spiritual growth depends on standing firm against temptation. With dedication, fasting can be an incredibly rewarding spiritual experience.
Wherever you are on your spiritual journey, fasting is an effective way to draw closer to God.
Biblical figures such as Daniel fasted, but you don't have to be a "spiritual giant" or put yourself through painful deprivation to draw nearer to Him. Fasting is a tool available to all who seek a deeper connection with the Lord.
Fasting can help deepen your spiritual connection with God, allowing you to focus more fully on Him and less on your own desires for food and drink. Taking time each day for a period of fasting can not only help you grow closer to God, but it can also help reduce the distractions of everyday life.
Before you embark on your fast, make a list of prayer requests you want to bring to God. Then, every time you experience a hunger pang or the temptation to consume something, take the opportunity to pray to God for the requests on your list.
Through the power of prayer, He can bring miraculous answers to your life as you journey through the Daniel Fast.
Spiritual growth is a top reason for fasting, including the Daniel Fast, and may include:
First, fasting brings you closer to God.
Second, fasting makes you more sensitive to God's voice.
Third, fasting helps break bad habits or even addictions.
Fourth, fasting shows us our weaknesses and allows us to rely on God's strength.
Potential downsides
Are you considering a Daniel Fast? Before you get started, be sure to note the potential drawbacks.
Highly restrictive
The Daniel Fast is often observed for a limited period, but its food restrictions make it difficult to sustain in the long run. However, the challenge is worth the reward for Christians seeking spiritual growth! This powerful fast relies on God's Word to nourish the body and the soul, offering an opportunity to renew your faith and strengthen your relationship with God.
For those looking to live an ethically consistent lifestyle, following a vegan diet can be an essential addition to their Christian faith. To make the switch, one must eliminate all animal products, processed foods, added sugars, and leavened bread from their plate. While this may seem daunting at first, by doing so, you're taking a significant first step in striving for the virtuous life that Christianity encourages.
For devout Christians, adhering to a set dietary standard can be challenging. To remain true to your faith, meal planning and preparation are essential. However, with proper forethought, flexibility can be achieved while still staying within the bounds of your religious beliefs.
Not for everyone
The Daniel Fast is a spiritual discipline believers in Christ can turn to deepen their relationship with the Lord. By forgoing indulgent foods, individuals experience a renewed sense of devotion and focus on the things of God. Not only does the Daniel Fast encourage healthy eating habits, but it also helps draw believers closer to their Savior.
May not meet protein needs
Although the Daniel Fast is a great way to meet your protein needs, obtaining sufficient amounts may be challenging due to the specific food restrictions of the diet.
Fortunately, plenty of plant-based protein sources are permitted on the fast, which can help ensure your nutritional needs are met.
With careful planning and determination, the Daniel Fast can be a great way for Christians to strengthen their relationship with God while caring for their bodies.
Christian dieters may be able to use protein powder as long as it meets all the requirements of their diet plan. However, some suggest that it should be avoided due to its processed nature.
It May lead to stomach discomfort.
If you're not accustomed to a fiber-rich diet, the Daniel Fast can bring some intestinal distress. Even though natural high-fiber foods are part of God's creation, it may take your body a few days to adjust.
Fortunately, there are simple steps Christian believers can take to minimize digestive discomfort and fully reap the benefits of this spiritually beneficial fast.
Fruits, vegetables, beans, lentils, nuts, and seeds are all approved food items that offer essential health benefits – one of these being a high level of dietary fiber.
While dietary fiber is essential to a healthy diet, consuming too much can lead to digestive troubles such as bloating, stomach upset, and even constipation.
If you hope to embark on the Daniel Fast, allow your body to adjust by slowly introducing high-fiber foods into your diet 3-4 weeks prior.
This will minimize potential unwanted side effects and give you a better fasting experience.
Stay hydrated with plenty of water daily to keep your digestive system healthy and functioning at its best. Not only will your digestion benefit, but you'll also feel energized and alert.
Before starting a fasting diet, it's important to talk to your doctor, especially if you have diabetes, are pregnant, or are nursing. Fasting can exacerbate existing medical conditions and may not be advised for those with certain health concerns.
Daniel Fast Recipes
There are many fantastic Daniel Fast Recipe Books to get you started.
The Daniel Fast Cookbook: Meal Plans and Recipes to Bring You Closer to God by Cindy Anschutz
Ultimate Guide to the Daniel Fast by Feola
The Daniel Fast: 21-Day Food & Faith Journal by Chef Ashley Shep
The Daniel Fast is a powerful way to draw closer to God and renew the spirit. By cutting out processed foods and animal products, incorporating more plant-based meals into your diet, and setting aside time to focus on God's word, you can make a lasting impact on your spiritual life.
As Jesus said,
A Daniel Fast can help you do just that.
By eating with purpose, as Daniel did, you can genuinely demonstrate your commitment to both your spiritual and physical well-being. So try the Daniel Fast – you may just find it life-changing.
Take the first step and experience the joy of a renewed spirit through the Daniel Fast today.
Are you following the Daniel Diet? Stay connected with God daily by reading His Word from the Bible and journaling any revelations or directives you believe He is giving you. Then, give yourself a few moments of quiet time to reflect and listen for His voice, allowing scripture to be a source of guidance and encouragement.
After doing the Daniel Fast, many Christians report experiencing remarkable spiritual, physical, and mental benefits, including a greater closeness to God, answered prayers, improved health, freedom from unhealthy addictions, more energy, clearer thinking, a more positive attitude, feeling lighter, and more.
The form you have selected does not exist.
Daniel Fast Prayers
You may enjoy these prayers from the site Like a Bubbling Brook to accompany your Daniel fast.
The Daniel Fast Testimony: How it Changed My Life
ESV – "Scripture quotations are from The ESV® Bible (The Holy Bible, English Standard Version®), copyright © 2001 by Crossway, a publishing ministry of Good News Publishers. Used by permission. All rights reserved."