This page/post may contain affiliate links. As an Amazon Associate, as well as an affiliate of other programs, this means if you purchase something using these links, I will receive a commission on qualifying purchases at no cost to you! For more detailed information, please visit our Affiliate Disclaimer page
One of the blessings of being a blogger is the opportunity to review products such as the Faith Planner that I'll be sharing about today. Although I use a digital calendar and tons of paper lists. I really love a physical planner. I've been looking for one that can hold my appointments, to-do lists, goals and faith walk. I knew it was a tall order. I took a look at a number of Christian planners, but had not, yet seen the faith planner.
When I had the opportunity to review the Faith planner, I knew I had to take a look. It seemed to have everything I was looking for.
Here's a short video of my opening the Faith Planner and going through all of the features:
I chose my Faith Planner in pink, but it is also available in solid black, pearl white, premium leather, and sky blue. I'm normally not a pastel-pink kind of person, but I liked this color. I would love it if they offered them in brighter colors, though.
Features of the Faith Planner
The cover is buttery-smooth and very sturdy. I believe it would hold up well to being toted around in a purse. The inside pages are thicker (but not too thick), again, making the Faith planner able to stand up to everyday use.
The planner is undated, which is great because you can purchase it any time of year and not worry about wasting months or waiting until the calendar starts. I usually like dated calendars, but this one has so many great features, I was able to overlook the undated Faith Planner.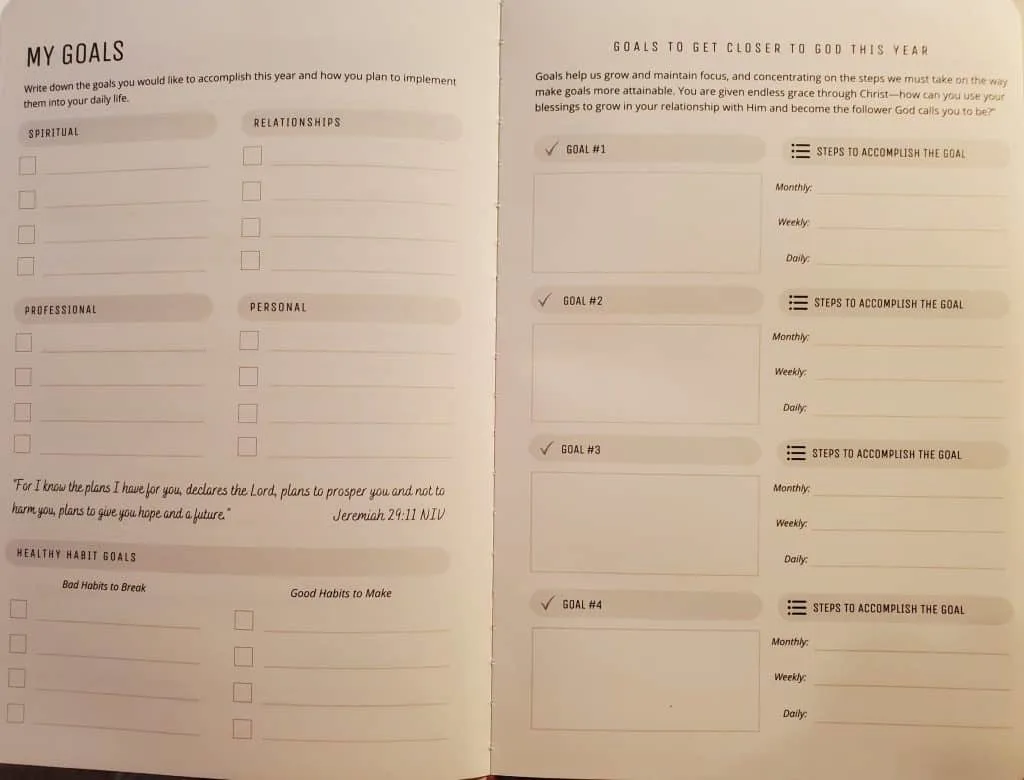 At the front of the Faith Planner is a two-page spread with "My Goals". The spread includes places to record your spiritual, relationship, professional and personal goals as well as healthy habit goals. Page two of the spread is all about your goals to "get closer to God this year". How awesome is that? Do you set spiritual goals? I think it is something we should all strive for.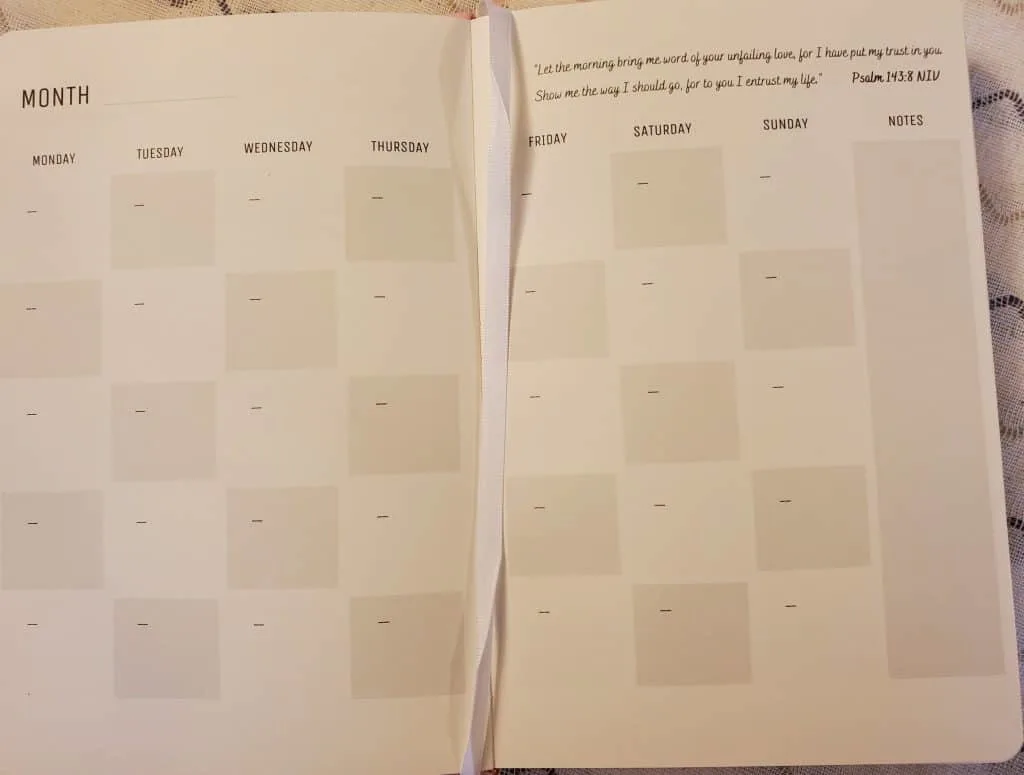 The next twelve pages are six blank monthly calendar spreads. That is one thing that I'm not a fan of with this planner – I wish it were a full year instead of just six months, but, again, there are so many other great features that I'm going to overlook this drawback for me.
One great feature of the Faith Planner is that on nearly every page there is a Bible verse. It's a great way to spend time with the Lord. Perhaps look up the daily verse in your Bible and read the surrounding passages, or pray the verse back to God. You may even want to write it in your planner or journal as scripture writing can help us grow in our walk with God.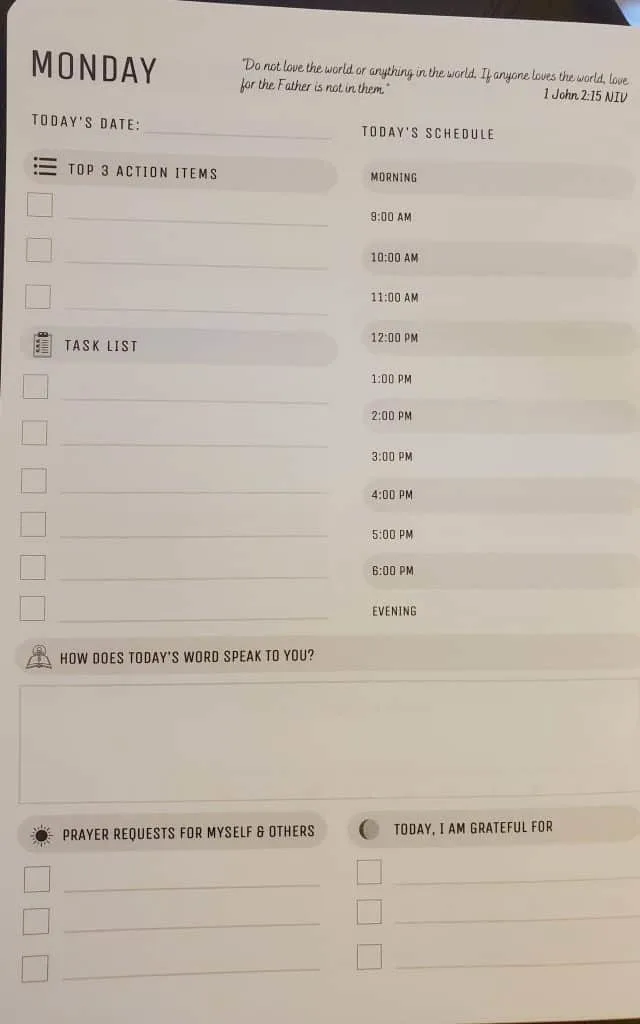 The next section features your daily planning pages. Each day includes, of course, a Bible verse, but also top action items, your daily schedule, task list, how does today's Word speak to you as well as sections for prayer and gratitude. I love how each day we are encouraged to focus on His Word, prayer and gratitude.
At the end of each week, there is a page for reflection, sermon notes, and journaling about your conversations with Christ! The Faith Planner also includes two ribbons for placeholders as well as an elastic that hold the book together (another great feature if you bring your planner with you and drop it in your purse!). You know that the pages won't curl or get torn.
Overall, the Faith Planner is a solid choice for a Christian planner. It has numerous features for planning, goal setting, and growing in your relationship with the Lord. Definitely consider this as a top choice when choosing a planner!
If you are ready to grab your Faith planner, click HERE and enter FIVEOFF for $5 off of your planner!
What do you think of the Faith Planner? I really like mine and look forward to continuing to use it to hit my goals and grow closer to God.

Because of Him,
Sue