This page/post may contain affiliate links. As an Amazon Associate, as well as an affiliate of other programs, this means if you purchase something using these links, I will receive a commission on qualifying purchases at no cost to you! For more detailed information, please visit our Affiliate Disclaimer page
Establishing a habit of family devotions can be tough. With school, work, activities and appointments, but, with some creative planning, it is a worthwhile investment into your family's walk with God.
Teaching your kids about Jesus is one of our greatest responsibilities as parents.
God instructed the Israelites:
"These commandments that I give you today are to be on your hearts. 7 Impress them on your children. Talk about them when you sit at home and when you walk along the road, when you lie down and when you get up. 8 Tie them as symbols on your hands and bind them on your foreheads. 9 Write them on the doorframes of your houses and on your gates." – Deuteronomy 6:6–9
God has made it clear in this verse (and others) that we are to teach our children God's Word.
Here are three benefits of family devotions that, I hope, will encourage you to begin family devotions or to continue this family practice.
Three Benefits of Family Devotions
I've listed below just three benefits of family devotions, but I'm pretty sure you could think of even more. The most important thing is that we are following God's command to:
"Start children off on the way they should go,
and even when they are old they will not turn from it." – Proverbs 22:6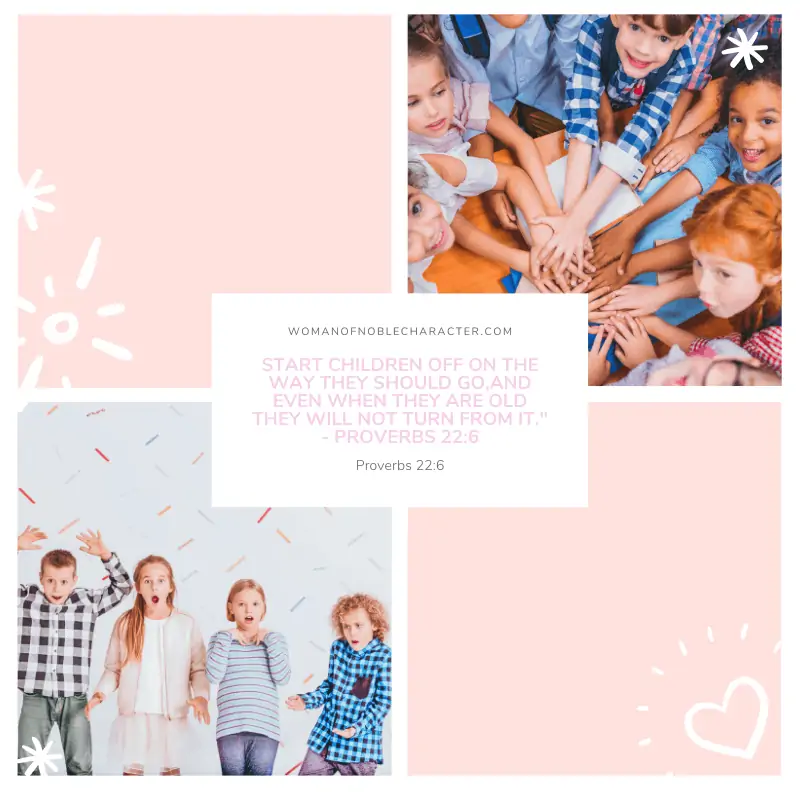 1. Family devotions open the door for meaningful discussion with your children.
You are able to take scripture and help your children connect it to their lives or what they are learning in school.
For example, Louis Giglio's How Great is Our God, is a terrific children's devotional connecting science to God's greatness and majesty.
Conversations around behavior, loving others and science are natural to occur when discussing God's Word.
2. Family devotions are an investment in your children's spiritual growth.
By practicing and modeling reading the Bible and praying, you are setting a firm foundation in your child's spiritual life.
By teaching them that the Bible is a handbook for life, you are helping them uncover God's truth and how to put it into practice in their everyday lives.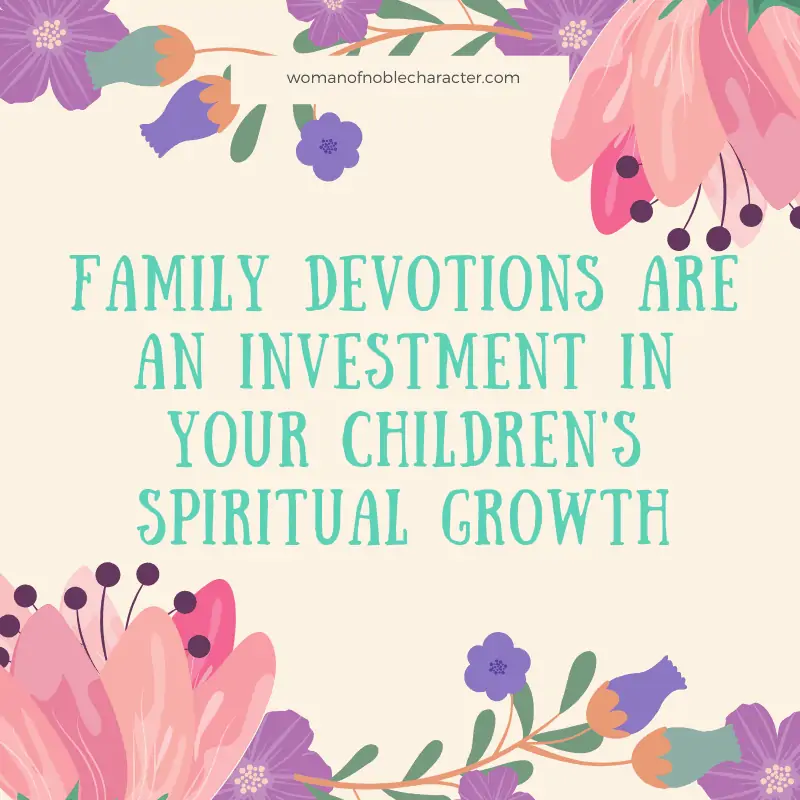 His Word shows us just how very much He loves each of us and teaching them how to pray demonstrates that we can go to Our Father for anything at all, no matter how big or small.
3. Family devotions promote connection and unity in families.
Setting aside time and the distractions of this world to focus on God helps families to strengthen connections. This time can also help promote conversation and help us to relate to each other more.
Sharing our hearts, fears, hopes and prayer requests and helping our children to understand how God loves them and is in control, as well as how His Word applies to their lives, opens up doors to meaningful conversation.
11 Tips For Family Devotion Time
Read around the table.
Kids are more likely to pay attention without the distractions of a comfy couch or television in sight.
2. Choose the right time.
Consider doing devotions at breakfast or dinnertime when the family is already gathered.
3. Keep it simple.
Focus on just three things: reading, teaching/talking and praying.
4. Engagement, not entertainment.
While crafts and games are fun, keep it simple (and save yourself the stress of preparation) by encouraging conversation over fun.
5. Don't get discouraged.
Kids wiggle and rarely like to sit still – even teenagers. Don't be discouraged if your kids don't sit still, look bored or even act up during devotions. You are establishing long-term habits and an investment in their futures. More will "sink in" than you might expect.
You don't need to invest in a family devotions book, unless you really want to. Simply read from the Bible (Proverbs is a great place to start).
7. Keep it short.
Shoot for 5-10 minutes with great conversation over thirty minutes of frustration.
8. God is in control
He will bless your family for your obedience to Him, but don't expect the blessing to come in a certain form. For example, your kids will not start to behave overnight just because you have started family devotions.
9. Let Dad take the lead
As spiritual head of household, let Dad lead this time for your family, including any prayer. Of course, there will be times that this isn't possible (Dad isn't home or ill or not present), but, whenever possible, let Dad take his role of spiritual family leader.
10. Borrow a book
If you want to try a family devotions book, try checking one out at the library or see if your church has one to lend.
11. Incorporate Music.
Consider beginning or ending your family devotion time with worship music for a bit of family fun and meaning.
The Best Family Devotions Books
Best Family Devotions Books
Carefully curated list of family devotions books for families with children of all ages.
Great for kids of all ages. Topics include: Genesis, Moses and Esther, to the birth, life and resurrection of Jesus. 12 weeks of devotions that are both humorous and relatable, each day, you will read a short Bible passage, a thought to consider, questions to get you talking, and simple prayer.
Longer weekend entries also include a suggestion for something to do together as a family.
Incredibly engaging and most certainly fun, these family devotions include object lessons with hands on activities that get your kids doing and talking. Activities include electrocuting a pickle, converting a leaf blower into a toilet paper launcher and even (gasp!) lighting toothpaste on fire.
Your family will look forward to family devotions time!
The Family Bible Devotional highlights 52 short Bible readings, pairing each with engaging background information and discussion questions. It's a family devotional that cultivates conversations—one that avoids simplistic answers and instead pulls kids into God's unfolding, mysterious, beautiful story with all of its twists and turns.
Photo Credit: www.amazon.com
From best-selling author Sheila Walsh, the Bible Is My Best Friend Family Devotional connects families both to God's Word and to each other. Fifty-two key scriptures form the basis for the devotions, which build on the verses, challenge the family to commit them to memory, and explore how each verse is part of God's wonderful message. "Let's Talk" questions urge the family to discuss what they've learned and offer challenges for different ages of children as well as their parents.
The One Year Book of Josh McDowell's Family Devotions is a Right From Wrong devotional that reinforces the need for applying the Scriptures to everyday decisions. Each of the 365 readings includes a story situation that deals with a contemporary issue and helps families think through how to make the right choices in a particular situation. At the end of each reading is a helpful feature that encourages families to pray, invites them to discuss the issue further, or gives them a practical task to perform.
Photo Credit: www.amazon.com
Each day offers an adult devotion from Jesus Calling® and a children's devotional excerpted from Jesus Calling®: 365 Devotions for Kids. With the devotions side by side for children, parents and children can read their own devotion and then read, talk, and pray together. These beloved devotions are based on Scripture and written as though Jesus is speaking directly to you and your children—including enriching questions designed to take you deeper into the Savior's heart for your family.
Photo Credit: www.amazon.com
Each devotion features a "Be Amazed" section with fascinating facts, hands-on activities, and a closing prayer. Based on Louie Giglio's popular messages "Indescribable" and "How Great Is Our God," Indescribable: 100 Devotions About God & Science will help kids discover the incredible creation of our indescribable God.
Photo Credit: www.amazon.com
The One Year Family Devotions offers a full year's worth of delightful stories and relevant Bible passages to boost your family's devotion time. Since the Scripture verses―taken from the eminently readable New Living Translation―are printed alongside the stories, this book is all you'll need. It also includes a "How about You?" section to personalize each lesson, a Scripture memory verse, and a handy two- to five-word summary of the day's message. Families with children ages 6-10 will enjoy the updated look of the first two volumes of this classic devotional book.
Or, you may wish to try a short video devotion, such as this one by 5 Minute Family Devotional.
Do you enjoy family devotions with your family? How do you carve out the time with busy schedules? What are your best tips? Do you have a recommendation for a family devotion book that I may have missed? Share in the comments – I'd love to hear from you!
Because of Him,
Sue