A Woman Who Fears the Lord is to be Praised
This page/post may contain affiliate links.  As an Amazon Associate, as well as an affiliate of other programs, this means if you purchase something using these links, I will receive a commission on qualifying purchases at no cost to you! For more detailed information, please visit our Affiliate Disclaimer page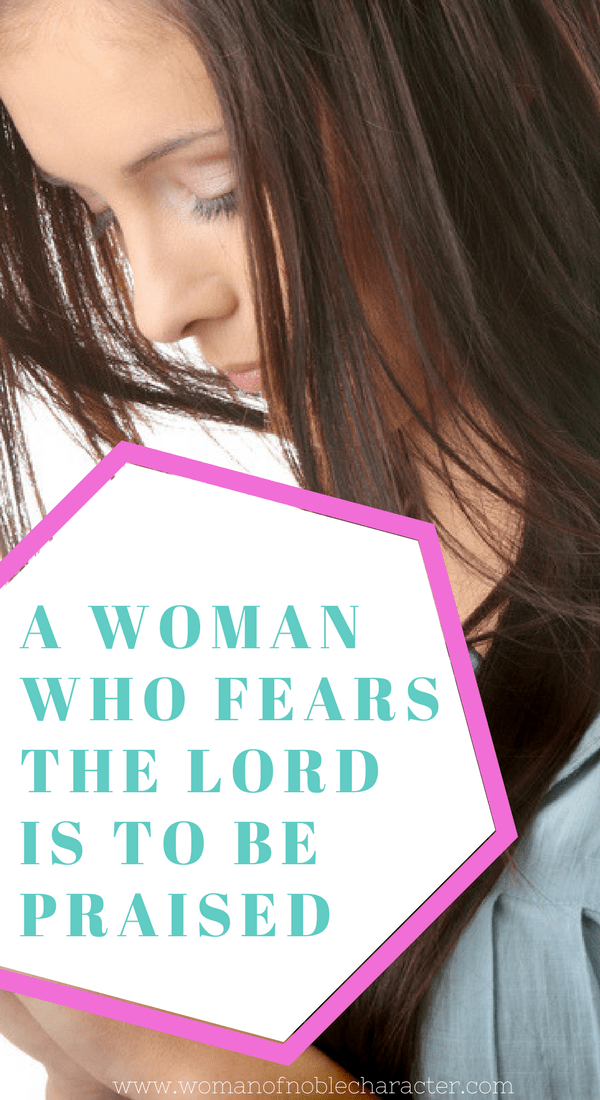 Proverbs 31:30
Charm is deceptive, and beauty is fleeting;
but a woman who fears the Lord is to be praised.
Whew! There's a lot to unpack in this small, but mighty verse!
Beauty and Charm are Not Bad, But…
Let's start with the obvious: The ideal characteristic in a Proverbs 31 wife is the fear of the Lord, which shows itself as godliness and wisdom.
Society, for centuries, has held that the most important attribute of a woman or wife is her charm and beauty. Proverbs 31:10-30 was written by a mother to illustrate what her son should look for in a wife.
The son, or any man reading this proverb, is meant to take away that a woman's charm and beauty may be attractive and, because of that, he may think she would be a good spouse, but these characteristics can be deceiving if there is no character, or fear of God to back them up. Charm and beauty can be a form of smoke and mirrors. Things aren't always as they seem and beauty and charm won't ensure marital bliss.
I'm not saying that being charming or beautiful is a bad thing, but it is just ONE (or actually two) things. After all, God created and loves beauty. In the Song of Solomon, we read how much a man delights in the beauty of his wife. But beauty, without character or a relationship with our Heavenly Father is not a good recipe for a happy husband or marriage. (For more on beauty in Proverbs 31, see this post).
Ishet-Hayil, A Woman of Valor
One of the beautiful things about the wisdom of Proverbs is that it can be applied to anyone in any circumstance. In 31:10, this ideal woman is called ishet-hayil, or the woman of valor. It's a title that has significance.
The Hebrew word ishet (or eshet) is the construct form of isha (woman) and hayil (or chayil) means bravery (Psalm 76:6), capability (Proverbs 12:4), triumph (Psalm 118:15), a rampart (Psalm 84:8) or wealth (Proverbs 13:22). Essentially, the eshet chayil represents the virtues of courage and strength.
I adore the Jewish tradition that the entire passage (Proverbs 31:10-31) is recited by a husband before Kiddush on Friday evenings. After the Shabbat candles are lit, but before the meal is eaten, the wife is praised! (You can learn more about this practice HERE) .
The Bible is rich with stories of this woman of valor, but one of my favorites is the story of Ruth and Naomi. These two God-fearing women, mother and daughter-in-law, have found themselves homeless are homeless and without food. Ruth, the daughter-in-law, who in scripture is also called ishet-hayil, a woman of valor, risks everything to provide for her mother-in-law.
Want more on living a Proverbs 31 Life?
Grab my FREE 5 Steps Toward a Proverbs 31 Life!
Her actions, which were selfless and brave, led her to her being "praised in the city gates," just as we also find in Proverbs 31:23. In Jewish tradition, many see Ruth as the perfect illustration of a Proverbs 31 woman. In this example, as well as throughout the Bible, we see stories of both queens and homeless women living a life that demonstrates that being a woman of valor has nothing to do with a woman's circumstances, and everything to do with her character.
So, what does the woman of valor or woman of noble character look like today?
A Woman of Noble Character Today
I think we tend to overthink this and make it a lot harder than it has to be. (I wrote a full post about this HERE).
I think the answer is a lot simpler than we make it out to be. The ideal woman looks like Christ. She is a woman who exhibits goodness, self-control, love, faithfulness, joy, gentleness, peace, patience, and kindness.. She seeks justice, loves mercy, gives grace and walks humbly with her God. And no matter her lot in life or current circumstance, she seeks God's will in her life. She is resourceful and serves others in and out of her home.
Whether a woman is managing a castle or scrambling to provide a meal for her family, if she fears the Lord and is a woman of valor, she will live life in a way that reflects Christ to those around her.
Remember, friend, there's nothing wrong with beauty or taking care of ourselves to look good for our husbands (unless it becomes an idol that we place before God and our obedience to Him), but the most important asset in a godly wife is not beauty but faith in the One True God.
A Woman Who Fears the Lord
I'd like to wrap up by taking a look at the phrase "fears the Lord". Clearly, this is pretty important to Our Father as the phrase "fear of the Lord" occurs twenty-five times in the New American Standard Bible (NASB). It occurs twenty-three times in the Old Testament and two times in the New Testament. The phrase "fear of the Lord" appears more times in the book of Proverbs than in any other book in the Bible. In fact, the Bible uses the word fear at least 300 times in reference to God.
The word "fear" in the phrase "fear of the Lord" comes from the Hebrew word YIRAH (transliterated), and it means "to be terrified" (Jonah 1:10), "to be awe" (1 Kings 3:28), and "to have respect" (Lev. 19:3). The "fear of the Lord" is the reverence one would pay to a king because he is the majesty.
Proverbs says that the "fear of the Lord" – honor and respect for the Lord – is wisdom and it is the beginning of knowledge.
I love the description, written on GotQuestions.org about fear of the Lord:
A biblical fear of God, for the believer, includes understanding how much God hates sin and fearing His judgment on sin—even in the life of a believer. Hebrews 12:5-11 describes God's discipline of the believer. While it is done in love (Hebrews 12:6), it is still a fearful thing. As children, the fear of discipline from our parents no doubt prevented some evil actions. The same should be true in our relationship with God. We should fear His discipline, and therefore seek to live our lives in such a way that pleases Him.

Believers are not to be scared of God. We have no reason to be scared of Him. We have His promise that nothing can separate us from His love (Romans 8:38-39). We have His promise that He will never leave us or forsake us (Hebrews 13:5). Fearing God means having such a reverence for Him that it has a great impact on the way we live our lives. The fear of God is respecting Him, obeying Him, submitting to His discipline, and worshipping Him in awe.
Want more on living a Proverbs 31 Life?
Grab my FREE 5 Steps Toward a Proverbs 31 Life!
Are you a woman who fears the Lord, my friend? Or do you place more emphasis in your life on earthly things, such as beauty and charm?
I encourage you to ask God to shine a light on any area of your life that does not seek to reflect Him and His love.
If you'd like to dig deeper on how to be a woman who fears the Lord, consider one of these recommended books: (click the link to take you to the Amazon listing)
(Both are also available on Kindle or Audiobook).
If you want to dig deeper, check out my book, The Complete Proverbs 31 Wife: A Verse by Verse Exploration of What it Means to Be a Proverbs 31 Woman in Today's World.
Or, for a look at the final verse in Proverbs 31, see this post here.
As always, I am praying for you, my friend!
Because of Him,
Sue