This page/post may contain affiliate links. As an Amazon Associate, as well as an affiliate of other programs, this means if you purchase something using these links, I will receive a commission on qualifying purchases at no cost to you! For more detailed information, please visit our Affiliate Disclaimer page
I love sharing great resources for Christian women including free Bible studies and other amazing products and services that I feel would bless my readers. In this post, I am sharing a list of wonderful free online Bible studies.
Whether you are a new believer or seek to grow in your faith and your walk with God, you will find a free online Bible studies to help you dig deeper into His Word.
Some of the studies, I have done, most I have not, yet, but have added them to my own wish list. Some are geared specifically toward women, others are not.
For each study listed, I will share a bit about the study and the link to find it online.
If you go through one (or more) of the studies, be sure to let me know how you enjoyed it.
Without further ado, here is the list of amazing free online Bible studies:
Free Bible Studies
Melanie Newton
Melanie Newton has a HUGE Collection of free Bible studies. They include Bible studies for the new believer and growing in your Christian faith. She also offers a collection of Bible studies in Spanish.
Here is a snapshot from her site: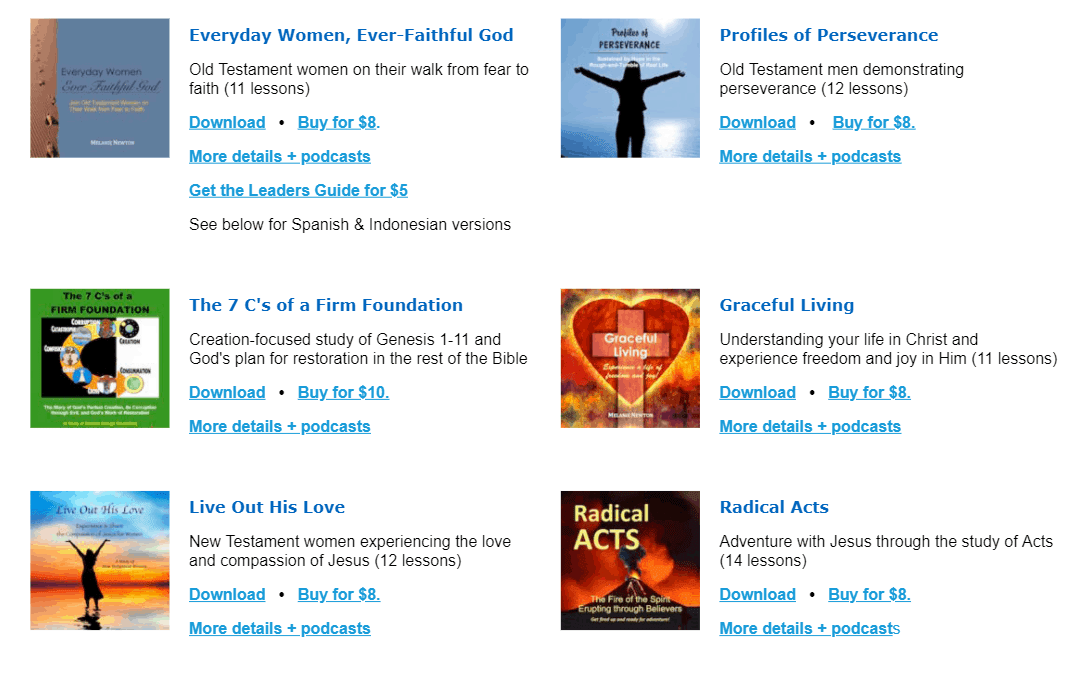 If you click the download button, you can access the free Bible study. You also have options to purchase a book or buy a Kindle version, but to read on your laptop, the study is free. For these, you study independently, at your own pace.
You can find Melanie's Bible studies HERE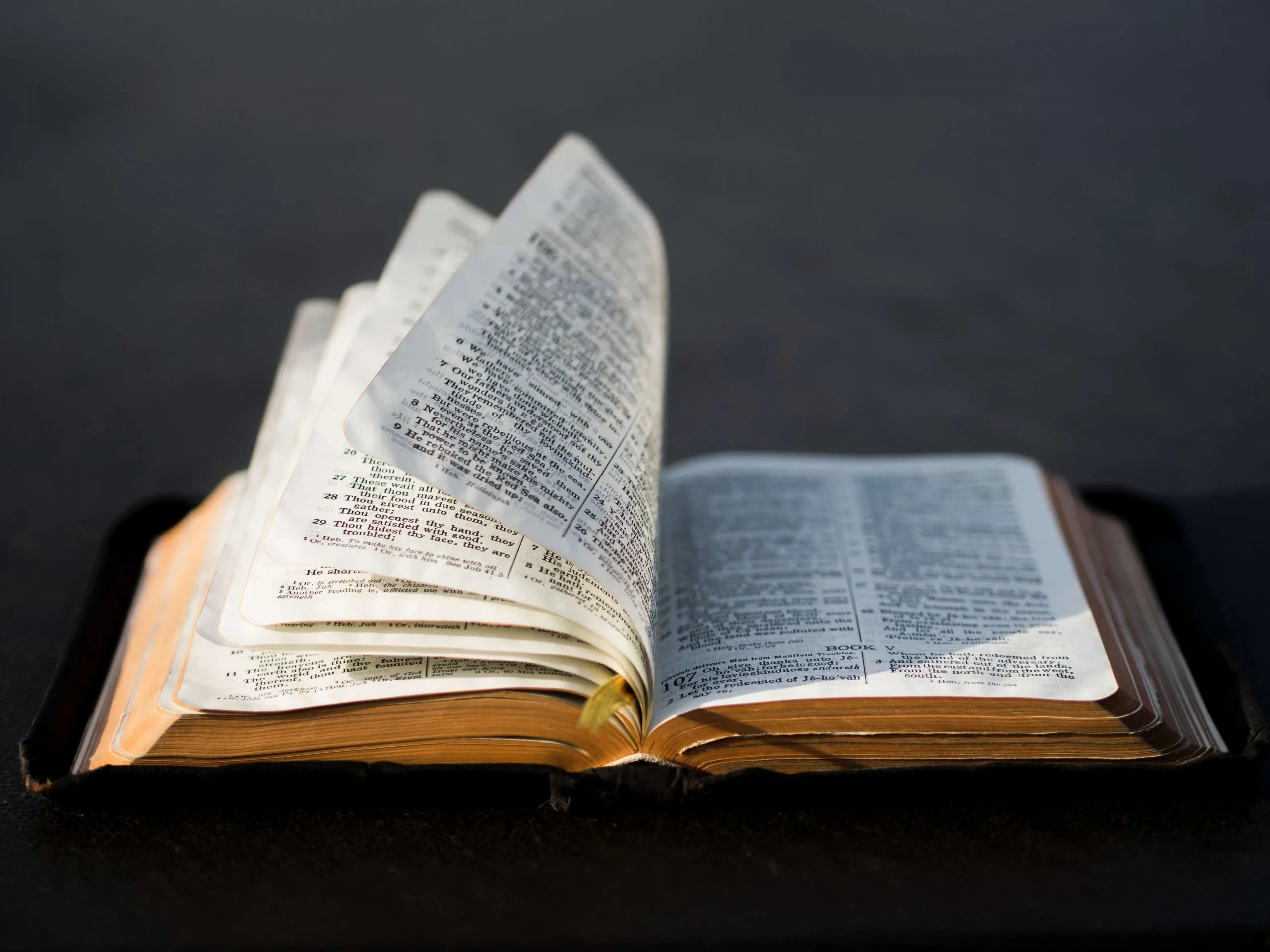 Women Living Well
Fantastic free Bible studies on Proverbs and Advent
Sarah Koontz Living by Design
Sarah hosts several live (via email) Bible studies per year. They are beautifully done with questions to ponder and apply and thoughtfully written. I truly enjoyed the Ephesians study that I completed by Ms. Koontz and look forward to her future studies. She currently has three free beautiful Bible studies/devotions to choose from.
You can learn more about Sarah and find her Bible studies HERE.
Beautiful Bible Studies
---
Craving a deeper walk with God? Facing difficult circumstances? Let God's Word be your guide with this in-depth study of the book of James.
Love God Greatly
Love God Greatly has short Bible studies that you can complete in 15 minutes or less and a Facebook Group to discuss the studies. You may also wish to purchase their accompanying journals (not required to participate in the study) or download their app. Topics include the Beatitudes, Walking in Victory and Promises of God. There are dozens of studies to choose from.
Angelica Duncan
Have A Strong Desire To Study Your Bible & Grow More Intimately With God?
Need DEEP Questions Answered About The Verses In Proverbs 31?
Then the in-depth Proverbs 31 Woman Bible Study is just what you NEED!
Bible Study Lessons
Biblestudylessons.com currently offers seven free online Bible studies on books from Mark to Acts and Following Jesus. While I have not taken any of their Bible studies, I have heard good things about them.
You can learn more and find the current free online Bible studies HERE.
Jen Wilkin
Author and speaker, Jen Wilkin has quite a few free online Bible studies for women. Each study linked on the site is intended to give you a working knowledge of the Scripture it covers and can be used alone or in a group setting. To use each study in the way it was designed. Jen covers such topics as James, Exodus, and Joshua.
Intentional By Grace
Leigh Ann Dutton of Intentional by Grace offers topical studies, Intentional Grace has Bible studies for Kindness, Intentional Living and Cry Out. The theme behind them is to "get crystal clear on their purpose, so they can start living more fully into the woman of God they were created to be."
Candace Payne
In Defiant Joy you'll explore the truths in what Scripture says about joy and experience a weekly "Joy Lab" that will help propel you into a new daily practice into the art of encountering the abundance God intends for each of us when we know joy. With contributions from Melanie Shankle, Nicki Koziarz, Liz Curtis Higgs, Chrystal Evans Hurst, Esther Fleece, Jess Connolly, Amena Brown, and more!
Paul Tripp
While this site offers just one free online Bible study for women, it looks like a good one. Women Helping Women as described on the site is:
"As a Christian woman, there are only two ways of living: you either live for yourself, or you live as an ambassador of the Lord Jesus Christ. Living as an ambassador of Jesus Christ is a high and difficult calling. Because of your sinful nature, your heart will be inclined to love yourself, serve yourself, and live for yourself. But God has called you to something radically different – to love Him, serve Him, and live for Him.

In this free six-session study from pastor and best-selling author Dr. Paul David Tripp, you'll learn how to live as an ambassador for Christ. Women Helping Women comes complete with a free discussion guide, making it perfect for your next small group, Bible study, Sunday school class, or women's retreat."
Loving Christ Ministries
Acts in 30 Days is a great study, recommended for those just starting out with Bible reading, includes a bible study and reading plan.
Ministry Minded Mom
In this Proverbs 31 Bible Study Toolkit, you'll receive:
A 21-Day Devotional & 64-Page Editable PDF Companion Workbook

24 Prayer Cards (21 Pre-Written Based on each of the verses in Proverbs 31 and 3 Blank)

3 Pages of the 21 Prayers Based on Each Verse in Proverbs 31

63 Scripture Cards for Each Verse in Proverbs 31 (21 verses in 3 different sizes)

A Virtuous Woman Attributes Cheatsheet for easy reference

2 Original Scripture Art Printables for inspiration and encouragement
Anne Graham Lotz
Broken down into three categories, Anne Graham Lotz offers dozens of free Bible studies for women:
"Three Question Bible Studies: Multi-week studies in a single book of the Bible organized in a five-day-per-week format

Devotional Bible Studies: Topical studies designed to apply God's Word to your everyday lives

How to Read the Bible: Anne's Journey to Jesus video Workshop designed to teach you how to listen to God's voice for yourself in the pages of Scripture"
Topics include: Acts, An Open Letter to the Weary, and How to Read the Bible.
Proverbs 31 Businesswoman
I just love the title of this one! How To Become A Proverbs 31 Woman In A Victoria's Secret World. This three-week study "is an intentional way to deepen your understanding of scripture; develop a bible study routine you can actually stick to; and allow the transformative power of the Holy Spirit to mold you, into the Godly Woman you were designed to be!"
Chosen and Cherished
A fabulous choice of several free Bible studies. Some light, some meaty, all wonderful.
At the Crossroads Study Workbook
Making Christ the Lord of Your Lips Study Workbook
Fully Known, Wildly Loved Study Workbook
Sarah Frazer
Homeschooler, author, and Bible study writer and facilitator, Sarah Frazer presents the free online Bible study titled "Are You Really Saved?: A 5-Day Mini-Course on I John" If you've ever struggled with wondering if you are good enough or whether or not you are going to heaven, this is a great study for you.
Sunshyne Gray
Sunshyne, who has guest written for this site before, offers several free online Bible studies including How to Take Every Thought Captive and Taming the Tongue. She also offers one on Marriage Communication. Sunshyne is a licensed clinical therapist specializing in Christian Counseling.
Blossom in Faith
In Standing Against the Temptations We Face, writer Kelly helps participants to use scripture to battle temptation. In this free course, students will
Learn that God's word is a powerful tool to help battle temptation

Discover how scripture can help prepare them to fight temptation

Be better equipped to confidently stand against the temptations they're facing.
Jesus Online
Sponsored by Campus Crusade for Christ, JesusOnline offers four free online Bible studies to help you grow closer to Jesus and learn about Scripture. Topics include Getting Started in Extreme Living, New Life Bible Studies (four series), Keys for Happy Family Living, and From Coping to Cure.
You can find them HERE.
A Divine Encounter
In Love the LORD Your God, writer Jennifer Clark gives us portraits of love by taking a look at Hannah, David, Paul, Daniel, and Peter.
Esther Dorotik
Esther offers a few great Bible studies for women. The first, Fully Known and Wildly Loved teaches readers how to rest in God's love. The second, A Closer Walk With Thee is a battle plan for drawing closer to God. Both, solid biblical studies. She also offers Surrender and Making Christ the Lord of Your Lips.
Joy of Living Bible Studies
Psalms from the Heart covers Psalms 23, 34, and 139. They also offer free kids and a free pre-school Bible study.
Leslie Ann Jones
In the study Known: A Study on John, Leslie Ann Jones, with a workbook and audio teaching, shares "In his gospel, the apostle John presents a stunning vision of Jesus as the revealed Word of God. The Lord has chosen to make himself known to us through the person and work of Jesus Christ, and this study explores John's gospel chapter-by-chapter and verse-by-verse so that we may come to know Him."
Conforming to the Truth
On Conforming to the Truth, by Lisa, you can find great free online Bible studies for women on Titus , Romans and Philippians.
The Proverbs 31 Mentor
A great holiday study a bit different from the norm. Experience The Hope and Joy of God's Promises This Holiday Season . Each day, the Holiday Bible Study Guide will lead you through powerful Scriptures to renew your hope in God's faithful promises.
A Divine Encounter
Love the LORD Your God. Study a portrait of love by going through the books of Hosea, and taking a look at Hannah, Daniel, Paul, David, Peter, and more.
Like a Bubbling Brook
A bit different from a traditional Bible study, this group meets on Facebook and studies a portion of the Bible each day. The group is fast growing and describes its purpose as this:
reading a portion of the bible each day

writing a simple observation about what we read

keeping each other accountable

encouraging one another
You can learn more about the group and what it offers HERE. On the page you will find the link to join the private Facebook Group.
Time Warp Wife
The Time Warp Wife, Darlene Schacht, offers five amazing free online Bible Studies for women including:
The Book of Luke

Faith and Provision

Learning to Love

A Virtuous Life

Philippians: The Joy of Christian Living
The study guide is free, but you may need to purchase the books via her Amazon link. The studies are deep and insightful and have rave reviews.
You can find them HERE.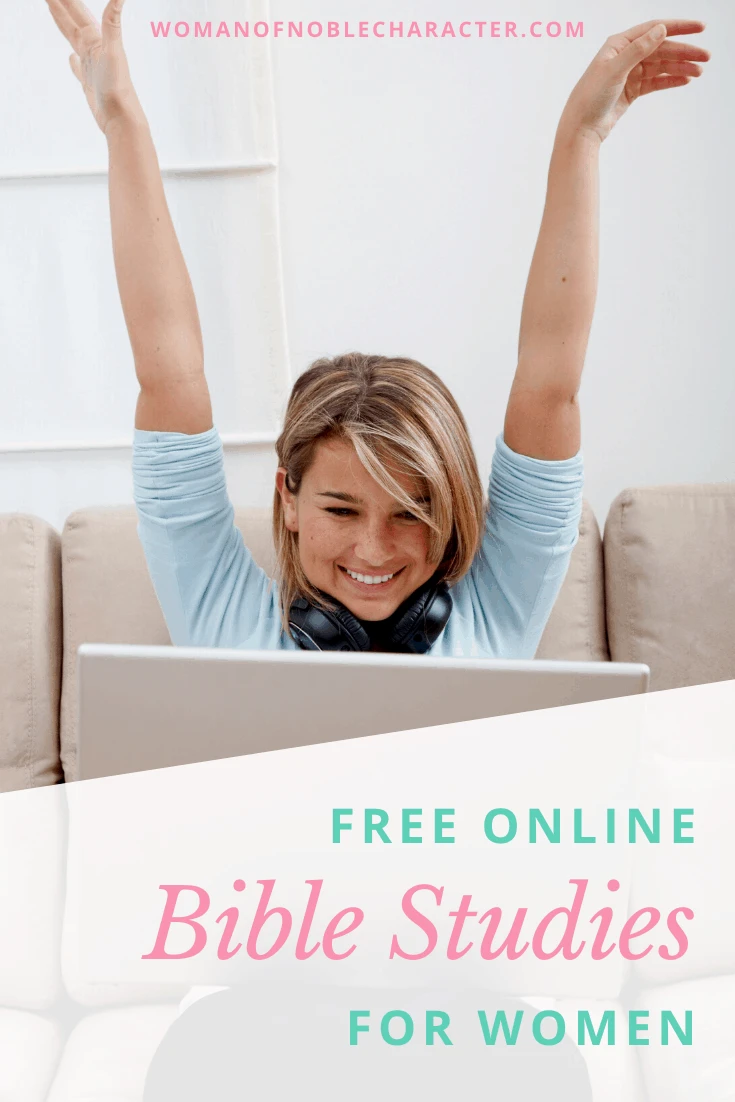 Gather Magazine
Gather Magazine offers a new free online Bible study each summer, but they are accessible all year round. Past studies include All Anew, The Heart of the Matter, and No Catchy Slogans. Each includes hymns, prayers, and thoughtful devotions to study God's Word.
You can find the previous studies HERE.
The Village Church
From the Gospels of Mark to Advent, you'll find many free Bible studies for women and men on this site.
Rachel Wojnarowski
Known as Rachel Wojo, Rachel offers a few great free online Bible studies for women, including Outside the Zone and Hannah and The Power of Prayer. Rachel is a sought-after author, speaker, and writer.
Arabah Joy
Arabah is another author, missionary, and speaker with a free Bible study course, Abide in Christ is a free study for deepening your walk with Christ.
Ashley Harris (Faithfully Planted)
Inside this study you'll find:
Psalm 15 broken down verse-by-verse
7 days of study material
An attribute of Godly character covered each day
Teaching and a prayer for each day
Reflection questions to help you apply the passage to your life
Real-World Bible Studies
Joy's site offers a few great studies: Armor of God and Exodus 16 and other great resources for studying God's Word.
Love Fast Live Slow
Laura Mendenhall hosts regular online Bible studies, free to the participant but you will need to purchase the book. Since they are live, you'll want to join her mailing list to be notified of the next one. Previous studies have included: Food, Fitness and Faith, and Famous in Heaven and at Home.
You can learn more HERE.
Have you done any of these free online Bible studies for women? What did you think? I'd love to hear from you about your experience.
Women of Noble Character offers two Bible studies that, while not free, are meaty, meaningful and will teach you several different methods that you can use for future Bible studies on your own. Check it out, here.
Do you have any free online Bible studies to add to the list? Comment below and let us in on the secret 🙂
Looking for reviews on Christian books and Bible studies? You can find them HERE.
Because of Him,
Sue