How The Fruit Of The Spirit Changes Us
This page/post may contain affiliate links.  As an Amazon Associate, as well as an affiliate of other programs, this means if you purchase something using these links, I will receive a commission on qualifying purchases at no cost to you! For more detailed information, please visit our Affiliate Disclaimer page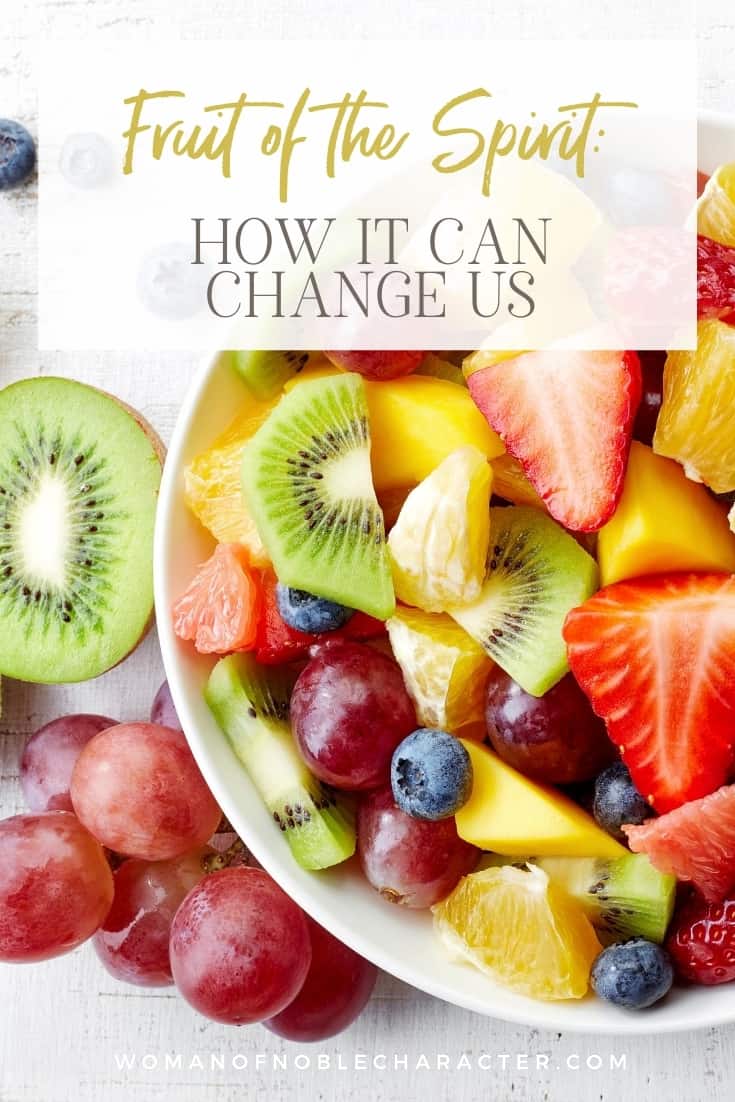 Recently, I attended a class at our church where we learned about what it means to be a Christian. I was so moved by so much of what we discussed despite having been saved for nearly twenty years. What was different? Well, I guess it could have been the way it was presented or perhaps, as Christians, we think we know the foundations so don't spend much time focusing on them after we give our hearts to God. When we hear "the basics" again, it's a fresh reminder. In any event, one of the verses discussed was Galatians 5:22-23, the fruits of the spirit verse.
You can find everything that you are looking for about How the Fruit of the Spirit Changes Us, but you may also wish to purchase the ebook for your convenience. 23 pages, no ads, no pop ups and you'll have it forever to refer to when studying the fruit of the Spirit. Best part – it's only $5! Your choice, read it here or have it forever.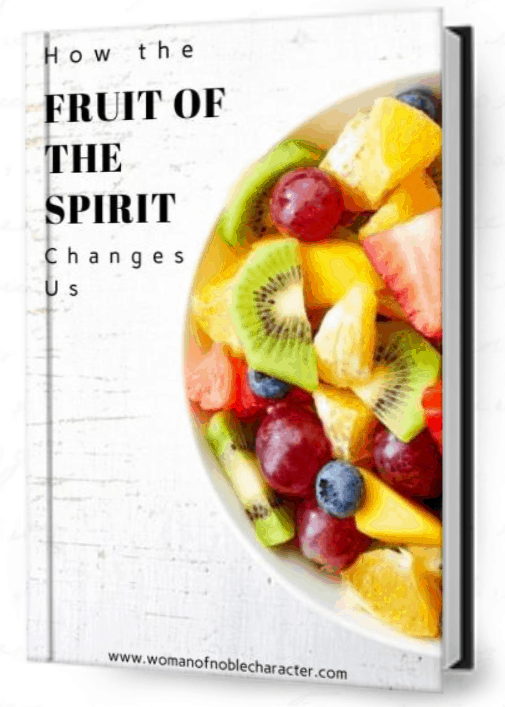 Fruits of the S

pirit
But the fruit of the Spirit is love, joy, peace, forbearance, kindness, goodness, faithfulness, gentleness and self-control. Against such things there is no law. Galatians 5:22-23
Now, if you've been to church for nearly any amount of time, you've probably heard this verse. The fruits of the spirit are practically a how-to manual on living a good, Christian life.
Let's unpack each one of them. If you are a new believer, these fruits of the spirit illustrate what God asks of us. If you have been saved for years, they will serve as a reminder of how we are to walk in our Christian lives.
Love
אַהֲבָה (Hebrew "ahava" or Greek "agape")
This word for love doesn't refer to warm romantic feelings but to a deliberate attitude of good will and devotion to others. Love gives freely without considering if the other person deserves it, and it gives without expecting anything back.
The Bible also reveals how we can experience love for God and love for people that far exceeds what humans are capable of! This highest and purest form of love is God's divine and reckless love that He has for us!
In fact, love summarizes and epitomizes the ultimate and true nature of God. "He who does not love does not know God, for God is love" (1John 4:8). We can learn about love from God Himself. God wants to change us, to transform us so that our character is also defined by love.
"For God so loved the world that He gave His only begotten Son, that whoever believes in Him should not perish but have everlasting life" (John 3:16). This is the ultimate demonstration of love! The incredible, overwhelming sacrifice that God, Our Father and His Son, Jesus Christ made for each of us.
The two "great commandments" that Jesus spoke about, were not actually new. Contrary to what many people think, the Old Testament is full of teachings about love. But Jesus taught a whole new level of love and set a never-before-seen example of love!
A man who well-knew scripture and scriptural law, was trying to test Jesus, to "trip him up" and asked Him which was the most important commandment in the law" (Matthew 22:36). Jesus answered, "You shall love the Lord your God with all your heart, with all your soul, and with all your mind" (Matthew 22:37).
Jesus continued to answer by saying "And the second is like it: 'You shall love your neighbor as yourself' " (Matthew 22:39). This was not a new commandment. Jesus was quoting Leviticus 19:18.
Jesus raised "love your neighbor" to a much higher level of importance.
Jesus also expanded on theconcept of "who is my neighbor?" from Luke 10:29 by telling the parable of the good Samaritan, which shows that God wants us to regard everyone as a "neighbor". We are to serve and love everyone. We are to be neighborly to all, regardless of race, nationality or social class (Luke 10:30-37).
This is the anchor of the fruits of the Spirit.

Joy
שִׂמְתָה, שָׂשׂוֺן (Hebrew "simcha" or Greek χαρὰ "chara")
What's different about joy from the other Fruits of the Spirit? From a worldly perspective, "joy" is just a feeling. Many of the other Fruits of the Spirit are more like actions: love one another, strive to make peace, show kindness to others, etc. "Joy" just sounds like an emotion that comes to us on our own. However, from a Biblical perspective, joy is not just a feeling that we can't control. Rather, being joyful is a choice.
Unlike happiness, joy is completely independent of the good or bad things that happen in our lives. In fact, joy denotes a supernatural gladness or peace given by the Holy Spirit. This occurs by fixing your eyes on Jesus instead of circumstances in your life.
Choosing joy isn't always easy. For many of us, it's easy to get caught up in our emotions, and let our feelings define us. When we're going through a rough time with work, finances, family or other relationships, our first reactions will often be sadness, anger, and frustration. However, as we strive to always choose joy, we learn to train our "joy muscle" and it becomes our first reaction.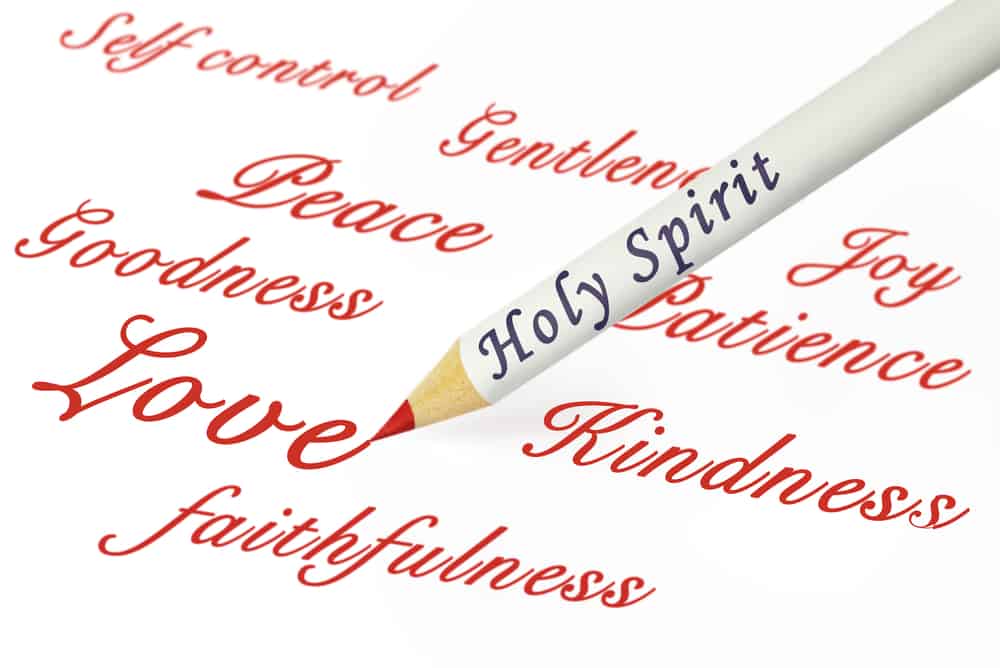 While everyone experiences these negative emotions at one time or another, as Christians, we're called to live differently and to deliberately choose joy.
We choose joy because of our deeper, true purpose of living to love and serve the Lord. Choosing joy is deliberate and it's not always easy to do, so how do we do it? We can find this answer (and every other answer!) in scripture:
The Holy Spirit helps us to choose joy. The word "joy" is mentioned in scripture almost 200 times! Here are some of my favorite verses where we see the connection between the Holy Spirit and joy.
"For the kingdom of God is not eating and drinking, but righteousness and peace and joy in the Holy Spirit." Romans 14:17

"And though you have not seen Him, you love Him, and though you do not see Him now, but believe in Him, you greatly rejoice with joy inexpressible and full of glory, obtaining as the outcome of your faith, the salvation of your souls." 1 Peter 1:8-9

"Now may the God of hope fill you with all joy and peace in believing, so that you will abound in hope by the power of the Holy Spirit." Romans 15:13
God provides for us the joy which He calls us to live in.
He's sent His Helper, the Holy Spirit to reveal personal ways we can choose joy in any circumstance.
In all of our struggles, let's choose to live in the joy of the Spirit, remembering over everything why we rejoice: the Creator of the universe loves us dearly–and He welcomes us into His kingdom!
Want a set of three free Fruits of the Spirit Bible Journaling Printables? Sign up below!
Peace
שׁלום (Hebrew "shalom" or Greek ειρήνη "eiríni")
For Christ himself is our peace, who has made [Jews and Gentiles] both one and has broken down in his flesh the dividing wall of hostility . . . that he might create in himself one new humanity in the place of the two, so making peace, and might reconcile us both to God in one body through the cross, thereby bringing hostility to an end. Ephesians 2:14-17
According to Ephesians, Jesus is our peace, and Jesus came to reconcile us both to God and to each other. The biblical idea of peace is much broader than our modern understanding; it is not simply the absence of conflict but also the presence of harmony. It's not ceasefire; it's community.
Biblical peace is more than a period of no war or hostilities. It is harmony, safety, friendliness, and relational tranquility. Humans are incapable of creating such conditions on our own as you can tell by switching on news for just a few minutes. Only God can establish peace.
The peace of God begins with God's making peace between Himself and mankind. A true state of peace requires the unity of at least two parties. It also requires sacrifice as self-interest is often placed before the good of the relationship. The peace between mankind and God is no different. God sent Jesus, the Prince of Peace (Isaiah 9:6), to give His life (Isaiah 53:5). When we give our hearts to Jesus, repent for our sins and respond in faith to the gift of God, He saves us, and peace is given to use through the Holy Spirit (Romans 5:1).
When two people are at peace with God, they will also be at peace with each other. Jesus told the seventy disciples, "Whatever house you enter, first say, 'Peace be to this house!' And if a son of peace is there, your peace will rest upon him. But if not, it will return to you" (Luke 10:5-6). If the owner of the home had peace with God, he would naturally be at peace with God's messenger. Romans 14:13-19 shows that those who value the kingdom of God will live in peace. And Ephesians 2:14 says that Jesus is more than just an example of peace or the bestower of it; He is our peace.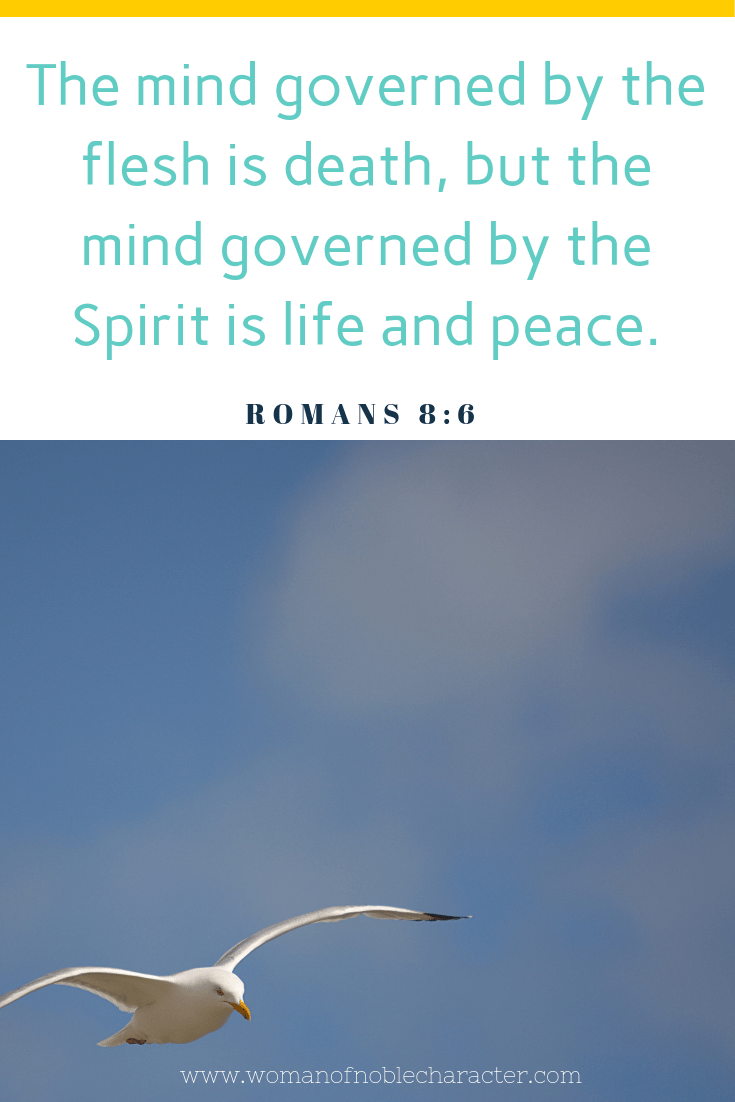 God's peace will guard our hearts and minds during times of trouble (Philippians 4:7). It is a peace unlike anything the world can give and is the antidote to fear and anxiety. John 16:33 says, "I have said these things to you, that in me you may have peace. In the world you will have tribulation. But take heart; I have overcome the world." Peace with God overshadows conflict in the world.
Romans 8:6 explains exactly where peace comes from: "For to set the mind on the flesh is death, but to set the mind on the Spirit is life and peace." It's "perfect peace," according to Isaiah 26:3. As we allow the Spirit to develop fruit in us, we will have real peace with God and each other.
Forbearance
Hebrew: himan'ut הַבלָגָה Greek: anoché ἀνοχή
Forbearance, another of the fruit of the Spirit, is much more than patience. It is choosing not to retaliate when wronged or when someone hurts you. It's extending grace to another, instead of demanding immediate payment. Forbearance is the long suffering the Lord has towards sinners who need Him.
By faith we are able to model God's great patience towards those who anger us, who deeply disappoint us. The Holy Spirit fills us with the fruit of forbearance so He can lengthen the fuse of our temper. The longer it takes for our temper to smolder under self-control, the more time we have to cool down. The Spirit's forbearance releases our vengeance to the Lord.
"Or do you show contempt for the riches of his kindness, forbearance and patience, not realizing that God's kindness is intended to lead you to repentance." Romans 2:4
When we have the Spirit in us that is outpouring patience into our lives, we need to allow that to take place. Just because the Spirit is at a constant work in our life doesn't mean that we can sit back and idly watch. It means that we have to make a conscious effort to make strides to resting in the patience that the Spirit gives us.
Kindness
Hebrew: chesed, חסד. Greek: kalosýni, καλοσύνη
Were you ever bullied at school? Or called names by a kid in your neighborhood? Do you have a co-worker who treats you rotten? An acquaintance that is often rude to you?
When I was a little girl, my mother would often tell me "Just kill them with kindness."
While on the face, this sentiment, itself, may seem rude, but I think it really displays the power of kindness. In Romans 2:4, the apostle Paul says: "God's kindness is intended to lead you to repentance." Both my mother and Paul knew the same biblical truth: Kindness has the power to soften hearts.
The Greek root for kindness, as used in the New Testament, means uprightness or benevolence and describes the ability to act for the welfare of those who aren't so nice to us. Kindness can be tough, at time! I recognize that, so did Paul. When we have been hurt or offended, we tend to react in anger or bitterness. But kindness leads us to do just the opposite — to respond with love and forgiveness (Ephesians 4:32).
Be kind and compassionate to one another, forgiving each other, just as in Christ God forgave you. Ephesians 4:32
Kindness is when your child, even when a friend is mean to them, offers a cookie to that friend at lunch. Kindness is when you want to pull your hair out at your teenagers choice, but intead choose not to react in anger. It's an unnatural act that comes supernaturally through the Holy Spirit.
It's especially important for kindness to be accompanied by goodness (the next of the fruit of the Spirit). That's because kindness without goodness can become tolerant of sin — just as goodness without kindness can be harsh and legalistic. We show the fruit of the Spirit only as we develop these qualities together.
Goodness
Hebrew: tub, טוּב Greek: kalosýni, καλοσύνη
The dictionary has many definitions for goodness including phrases like, "the state or quality of being good," and "moral excellence or virtue." Although these explanations are helpful on the surface, the real truth and hope about goodness comes when we define it according to God's Word. Scripture is full of language that points to his goodness and faithfulness on earth.
Psalm 33:4-5 says, "For the word of the LORD is right, and all His work is done in truth. He loves righteousness and justice; the earth is full of the goodness of the Lord."
Since the beginning of Creation, God has designed the Earth reflect His goodness. This comes in His choice to give unmerited grace, life and love to us. All of creation thrives, seasons continue on, because He has set it into motion as an extension of His love for us. When He created the things of earth, he called them "good." Jesus shows God's goodness and care for creation when He reminds us that God knows even the days of sparrows. But, man is inherently rebellious. Because we could not embody God's goodness without His covering, He gave Jesus. Now, we get to reflect His goodness in the ways we interact with the world and everyone in it. We get to choose what is GOOD and point others to Him.
So, why is there so much confusion and uncertainty about what it means to truly be good? There's a simple explanation: man's sin. Ever since the Garden of Eden, man has struggled to believe that what God commands is truly for our good and flourishing. We struggle to believe that God does not withhold any good thing from us. He instead protects our hearts from corruption and leads us to truth.
When sin entered into the world, Satan was given influence over the earth. He is the father of lies and a master of taking good gifts from God and perverting them for our destruction. Thankfully, we serve a God who is greater than "he who is in the world. " (1 John) and His goodness is unending. The good news is that we have the truth! God has promised us that he won't abandon us and that he will be with us in every step of our journeys to Heaven, both in the seen and the unseen.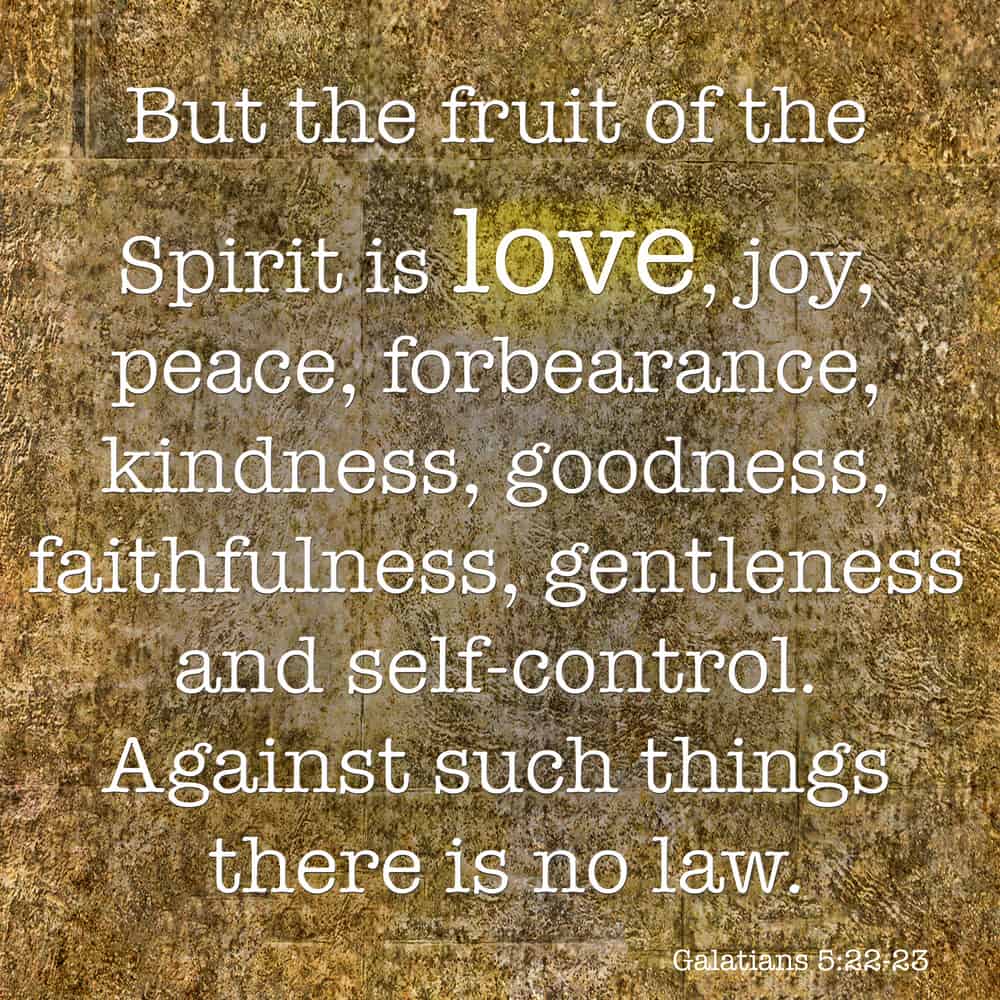 He's also promised us the Holy Spirit to guide us and be with us. We have been left with commandments to love God and one another. True goodness means we are living our life for Christ because we want to thank Him for all that He's done and bless those around us. As God made us in His image and lives in our hearts, when we love others in our actions or words, we spread His goodness.
What are some practical ways we can demonstrate goodness? Helping a friend in need, volunteering to mow your elderly neighbor's lawn, sitting with the new kid at lunch, telling the truth when it's difficult: these are all ways we demonstrate the good love of Christ.
Goodness is a true commitment to choosing right over wrong, good over evil. As the Bible tells us in Matthew 5:16:
In the same way, let your light shine before others, that they may see your good deeds and glorify your Father in heaven.
Psalm 52:1 tells us that "the goodness of God endures continually." This gives us hope that God's true goodness will prevail. As you continue to move forward, show God's goodness by showing to everyone you meet. He created us to dwell in His goodness.
Faithfulness
Hebrew: אֵמוּן, emun Greek: pistótita, πιστότητα
"I'll believe it when I see it." Have you ever thought this way?
It's easy to slip into the the thinking of doubt and cynicism. We live in a broken world, and we may have gone through painful experiences that cause us to lose our trust in others.
For this reason, faithfulness, one of the fruit of the Spirit, can be a challenging trait to possess.
Faithfulness comes from a place of trust and loyalty. Hebrews 11:1 says,
"Now faith is a confidence in what we hope for and assurance about what we do not see."
As a Christian, we know that it is important to be faithful to God. It is one thing to believe in Him, but another thing entirely to be faithful to Him. When we are truly faithful to God, this forms the way we live. For example, we are able to be loyal in our relationships here on Earth and truly love others.
Faithfulness requires us to submit our ways to God. It comes from a place of realizing that we are in need of a Savior and that He is in control of our lives.
Proverbs 19:21 says,
"Many are the plans in a person's heart, but it is the Lord's purpose that prevails."
We are to be faithful to God, because He is faithful to us.
In the Bible, the story of Abraham is a beautiful illustration of faithfulness. Abraham and his wife Sarah struggled to trust God, but learned the value of faithfulness when they submitted to Him.
Abraham and Sarah waited many years for God to fulfill His promise of giving them a son. Because of her lack of faith, Sarah insisted upon Hagar, her maid, giving having a son with Abraham. This resulted in pain and conflict. However, when Abraham and Sarah put their faith in God, Sarah was able to bear child and gave birth to Isaac despite being well up in her years and what most would consider way past childbearing age.
Ultimately, the story of Abraham shows how God blesses those who are faithful and trust in His plans.
So, how do we grow in our faithfulness?
We can grow in our faithfulness by having a personal relationship with Christ. If we are truly faithful to Him and obey His commands, this will be evident in our lives.
Think about the ways you show your faithfulness to God. Are there things that are getting in the way of your faithfulness? What areas of your life have you not given over to Him? Through spending time in prayer, ask God to make these things clear to you, so that He can grow you in your faithfulness.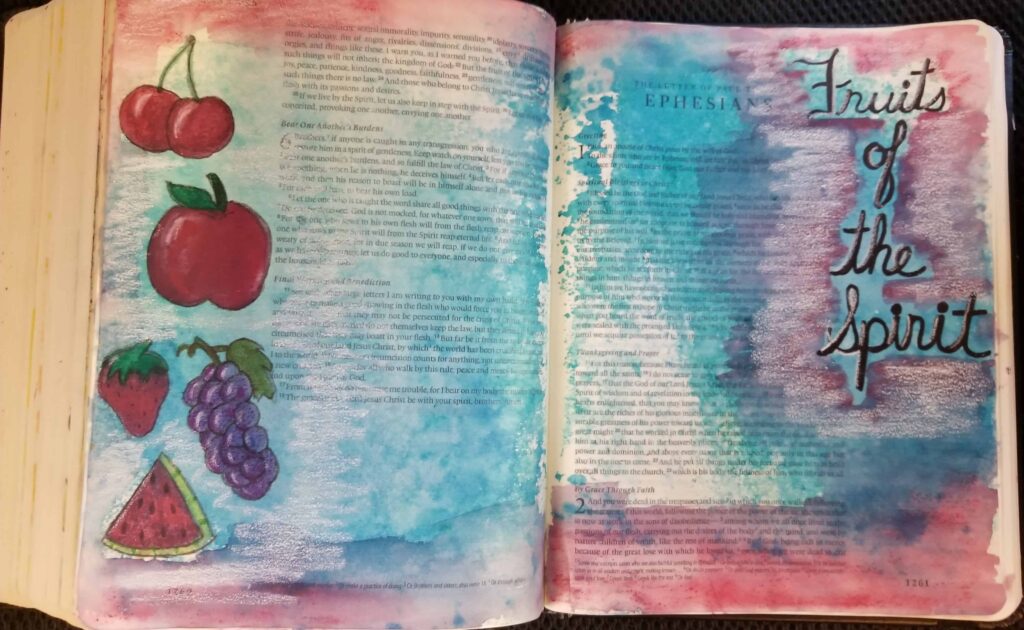 Gentleness
Hebrew: anvah, עַנְוָה Greek: evgéneia, ευγένεια
Gentleness. The word invokes up images of babies and lambs and a mother tending to her children. Christians are expected to demonstrate gentleness as one of the fruit of the Spirit But what is gentleness, why is it important, and how do we develop gentleness in our lives?
The Holy Spirit helps us to conform us to the image of Christ, making us more like Him. This change doesn't happen overnight. In fact, we spend the rest of our earthly lives working with the Holy Spirit to cultivate these characteristics in our lives the best we can.
All you need to do is watch the news for just a few minutes (or sadly, even scroll on Facebook) and we see that we don't live in a gentle world. We are surrounded by images of violence, anger, betrayal, hate, poverty, struggle, and discord. It's brutal out there. When a Christian surrenders to the Lord's desire for a heart of gentleness, that person becomes something radically different than what non-believers see in the world. Suddenly, there's a reason to simmer down for a moment and pay attention to this new, unexpected presence.
How can you show gentleness to others?
Gentleness is showing love, helpfulness, service, kindness and grace.

Gentleness puts others first and doesn't ask for anything in return.

Gentleness doesn't hate or insult others who are doing things that we view as wrong. Others may look, dress, worship, vote, or act differently than us, but we don't have to hate them because of that difference.

Gentleness remembers that we are all sinners, and we are all trying to find our way through this ungentle world.

Gentleness extends grace, love, and kindness to even the most difficult people

Gentleness is a calm, grace-filled answer, even when the words might hurt the recipient (Brothers and sisters, if someone is caught in a sin, you who live by the Spirit should restore that person gently. But watch yourselves, or you also may be tempted -Galatians 6:1). When we receive a difficult message in a gentle way, we are much better able to receive it for the truth it is (Proverbs 15:1).
Remember, though that gentleness is not weakness. Although gentleness in the Bible is also translated as "meekness". It does not mean weakness, per se.
Actually, gentleness requires quite a bit of strength and self-control. It requires humility and thankfulness toward God, and polite, kind behavior towards others. The opposite of gentleness is anger, a desire for revenge, and self-importance.
Want a set of three free Fruit of the Spirit Bible Journaling Printables? Sign up below!
Self-Control
(Also translated at temperance) Hebrew: hatznea lechet, הַצְנֵעַ לֶכֶת Greek: egkrateia, ἐγκράτεια,
Self-control, for many, is one of the most difficult fruit of the Spirit to master. Self-control implies a battle inside of us. It implies that our "self" produces desires we know that we shouldn't satisfy but instead, we should "control." We should deny ourselves and take up our cross daily, Jesus says, and follow him (Luke 9:23). Daily our "self" feels desires that should be we need to deny or control.
In Matthew, 5:29, we see an illustration of this:
"If your right eye causes you to sin, tear it out and throw it away."
This is the how detrimental lack of self-control can be. It is also what is behind the words of Jesus in Matthew 11:12:
"The kingdom of heaven has suffered violence, and the violent take it by force."
Are you holding on fiercely to the Kingdom?
Paul says that Christians are to exercise self-control like the Greek athletes, only our goal is eternal, not just during our time on earth.
"Everyone who competes in the games goes into strict training. They do it to get a crown that will not last, but we do it to get a crown that will last forever." – 1 Corinthians 9:25
And he says,
No, I strike a blow to my body and make it my slave so that after I have preached to others, I myself will not be disqualified for the prize. – 1 Corinthians 9:27
Self-control is saying no to sinful desires, even when it hurts.
Self control is a gift. One of the fruit of the Spirit. How do we battle against our sometimes, harmful desires? Paul gives us this:
"To this end I strenuously contend with all the energy Christ so powerfully works in me" – Colossians 1:29
So how does the Spirit produce this fruit of self-control in us? By instructing us in the superior beauty of grace, and enabling us to see and savor (and trust) all that God is for us in Jesus. When we really see and believe what God is for us by grace through Jesus Christ, the power of wrong desires is broken. Therefore, the fight for self-control is a fight of faith.
"Fight the good fight of the faith. Take hold of the eternal life to which you were called when you made your good confession in the presence of many witnesses." – 1 Timothy 6:12
How to we get this fruit of the spirit? By putting on the full armor of God! You can learn more about the full armor of God for Christian Women in this post.
Grab your free fruit of the Spirit prayer journal and Bible journaling printables below!
Want to learn more about the fruit of the spirit? Consider these recommended resources (and of course dive into Galatians 5!)
I'm praying for you to bear the fruit of the spirit in your daily life.
Because He Lives,
Sue