25 Fantastic Gifts For Book Lovers Of All Ages
This page/post may contain affiliate links.  As an Amazon Associate, as well as an affiliate of other programs, this means if you purchase something using these links, I will receive a commission on qualifying purchases at no cost to you! For more detailed information, please visit our Affiliate Disclaimer page
Trying to find the perfect gift for a book lover can be daunting! Of course, they love books, but which books? Which genre? Which have they already read? Fortunately, there are some wonderful gifts for readers that nearly any book lover will love. You'll want to bookmark this post to have handy for birthdays, Christmas, Valentine's Day and any other occasion for gift giving for the book lover in your life.
Many are also great gifts for young readers to encourage the love of reading.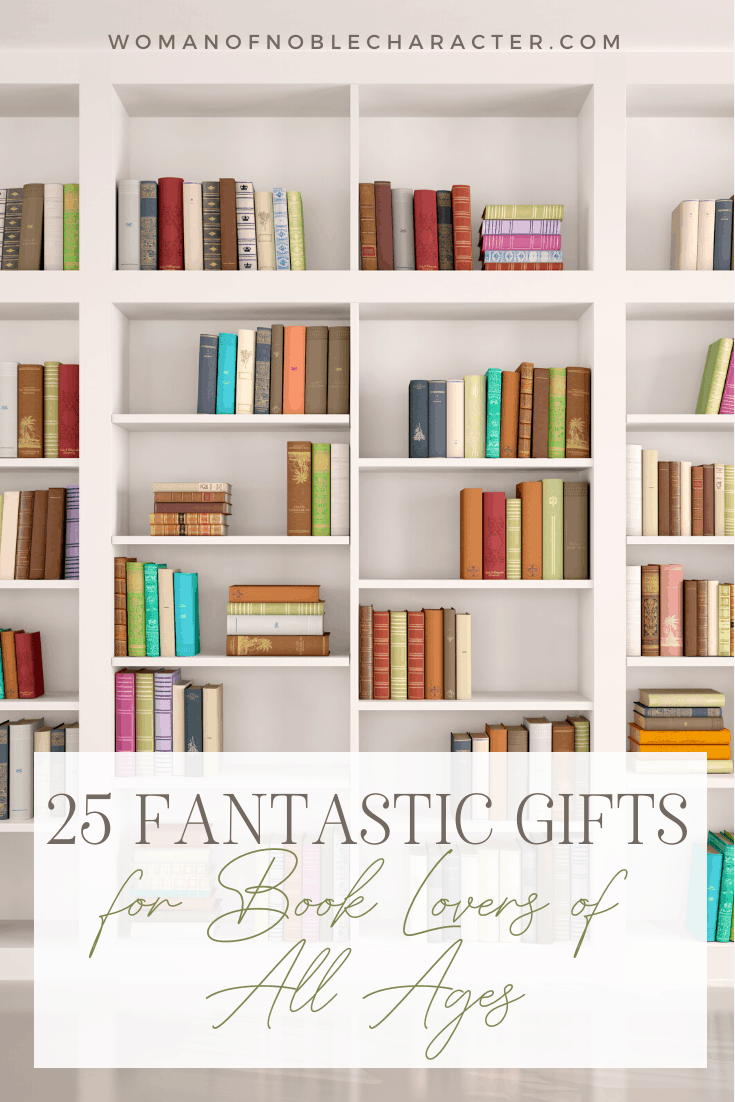 NOTE: If you aren't already a member of Amazon Prime, you can get a free 30 day trial here – 2 day shipping, borrow Kindle books and instantly watch thousands of shows and movies.
Subscription Box for Christian Book Lovers
For the book lovers!
The Delilah Box is a monthly Christian Book club created to highlight and uncover the lesser-known, lesser liked, and more questionable women of the Bible. Each month we choose a "bad girl" of the Bible. You will receive a minimum of 2 books, study brochure & 2-3 additional items like tea, enamel pins, Bible journaling, jewelry, and accessories.
Receive a minimum of 2 books each month plus 2-3 additional items like candles, relaxation items, and more.

Grow your faith through Women of the Bible, study brochures, and Christian fiction novels.

The books you receive are new releases and hot off the press! Enjoy a variety of books carefully curated for Christian women.

Subscribers receive access to our online community via our invite-only Facebook group. Share your passion with like-minded people.

Gift yourself or your loved ones moments of joy and surprise with this unique, memorable gift.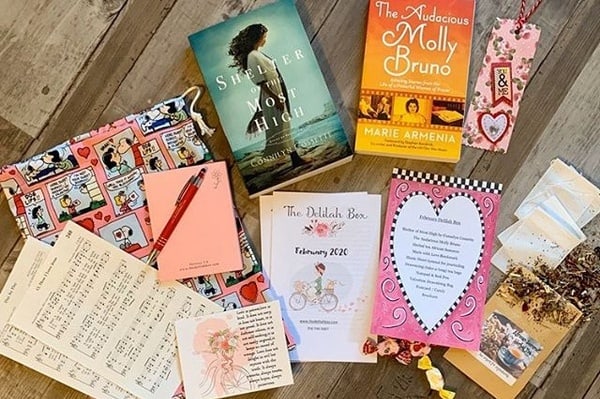 Price: Starts at $26.67/month
Shipping: Ships worldwide from the U.S. on the 17th of each month
Gifts to Organize Books
Personal Library Kit
For a bibliophile, there's no greater pleasure than sharing beloved books, but no crueler pain than losing them for good! Revive old-fashioned library circulation techniques for fun and book retention with this perfect gift for the generous reader. Includes 20 self-adhesive pockets and checkout cards; date stamp and inkpad; pencil.
Personalized Book Plate
Be sure every book in your library is labeled these bookplates, so borrowers will be reminded to return your treasured volumes. Set includes 144 self-adhesive personalized bookplate labels, measuring 1 1/2″ x 1 3/4″ each. Self-adhesive backing for quick, easy application and superior hold
Custom Library Stamp
Custom Library stamp in your choice of colors: Black, Red, Blue, Green, Purple, Orange, Pink or Brown Stamp designed with locking bottom cover – Ink pad will stay fresh for a longer time. Great imprint size at 1-5/8″ Diameter
Book Embosser
The trodat handheld embosser is designed to also sit on your desk and be used as a desktop embosser. Designed with new mechanism to create embossed images with minimal effort.
Includes 50 Gold Seal Labels, and a deluxe snap pouch for storage. Embosser seal engra
ved inserts are removable and interchangeable – you can order multiple replacement inserts to use with your embosser. Impression area: 1-5/8″ round dia. (actual artwork may be a bit less).
Book Journal for Book Lovers
The What I Read journal is ideal for jotting down thoughts and keeping track of all the books you've read and can't wait to start. It's great for keeping checklists, taking notes, and deciding what to read next, and it's the perfect size to take with you anywhere.
Reading Aid Gifts
Page Spreader
The book page spreader fits your thumb as a ring and helps to spread the pages of the book while open. Useful for reading with one hand on the bus, train or anywhere. Standing, sitting or lying down, and you still have a free hand for a nice cup of coffee. Made from dry beech wood, which is eco-friendly. Regular size is suitable for both adult and children's books. Measurement: 4 x 1,4" Thickness: 1/2" and Hole Diameter: 0,9".
Personalized Wire Bookmarks
Wire art bookmarks with decorative curves in the wiring and packed with beads. Additionally, the backside is designed with a triangular clip to prevent slipping inside the book. Handcrafted in Arizona, USA, these bookmarks are created using high gauge, strong copper based wire that will not discolor overtime. All beads are glass pearl beads. Each bookmark individually wrapped and placed in a box, ready for gift giving.
Bookseat Reading Pillow
This is a great, hands free book holder which doubles as a travel pillow; in a car, bus, plane etc. The pillow will mold itself and shape to sit at any angle on any surface that you place it.
The fabric used is the latest high quality 190gsm faux-suede.
Wearable Book Lover Gifts
Book Nerd Necktie
Finest Jacquard woven microfiber, soft and thick. An elegant tie, it is comfortable to wear and touch, and sewn to last. Size: 57x 3.15 Inches ( LxW ).
Etwoa's Bookshelf Black Infinity Scarf Circle Scarf Loop Scarf
100% Chiffon – The fabric is thin, soft and light weight and sewn in a double layer. What a fun way to accessorize for the fashion conscious book lover!
Book Lovers Charm Bracelet
Celebrate great books and the art of reading with this beautiful charm bracelet. Made from stainless steel, this wire bangle with charms is lead free and nickel free. The bangle is adjustable and will fit most people's wrist (accommodates wrist sizes 6″-8″).
Pajamas for Book Lovers
These super soft pajamas are 100% cotton and breathable for your sleepwear comfort. Unisex bottoms fit loose with a string waist and no fly and the tops are 100% cotton shirts with a fitted, longer length to complement your curves. What's better than curling up in bed with a good book?
Book Lover Sneakers
Lightweight rubber bottom construction with breathable mesh fabric for maximum comfort and performance. Lace-up closure for a snug fit. High-quality outsole for traction and exceptional durability. I love these! They are near the top of my wish list. (Hint, hint, honey!)
Socks for Book Lovers
These library card socks make great nerdy birthday gifts, Christmas gifts, teacher appreciation gifts, graduation gifts, or librarian gifts. This single pair of 100% polyester novelty socks feature a cushioned toe and heel for extra comfort. The pictured design is printed around the socks using a fade-resistant printing process. These socks are machine washable.
Totebag for Book Lovers
Available in two sizes. Small measures 15″x15″ with 26.5″ sturdy reinforced fabric handles and medium features full side & bottom support gussets, measures 15″x18″x6″ with 22″ reinforced fabric handle. Make this shopping tote your new favorite grocery bag, library tote, or beach tote. These bags are also great gifts for him or her, young or old, for any occasion. Machine wash cold inside out with like colors and tumble dry low for easy and convenient care.
Wallet/Phone Case for Book Lovers
Made with environmentally-friendly, animal-safe, leather-like materials. Stay secure, RFID protection material is built in. Fit's phones between 58mm-80mm (2.28-3.14 Inches) wide, 100mm-165mm (3.93-6.49 Inches)high and 5mm-9.2mm (.19-.36 inches) thick. Available for both iPhone and Android phones.
NOTE: If you aren't already a member of Amazon Prime, you can get a free 30 day trial here – 2 day shipping, borrow Kindle books and instantly watch thousands of shows and movies.
Book Umbrella
Travel sized, automatic book umbrella with UV protection. It's raining books! Well, that would be dangerous but what a fun umbrella to take with you on rainy days and remind you of all of the books you have on your wish list.
Home Decor Gifts for the Book Lover
Just One More Chapter Throw pillow
Cotton linen material. Machine washable. Dimensions: 18″ x 18″. Zipper close cover (does not include insert or filler).
Book Lover Throw Blanket
Throw Blanket size:50″x30″ made of high quality Polyester. Different colors and patterns to choose from. Perfect for cuddling up with your favorite book!
Book Bookends
What a fun way to display books! These fun bookends feature Library Books with four small hidden drawers!
Reading Woman Wall Calendar
This calendar celebrates a woman and their books, their letters, and their journals. Accompanying each image is a quote on the subject of readers and reading. Who doesn't love a wall calendar?
Library Card Book Club Coaster Set
Fun, colorful coasters based on vintage library book check out cards. A great pop of nostalgia for your table and the perfect Book Club hostess gift.
Book Lover Coffee Mug
11oz Dishwasher and microwave safe mug. Made Eco friendly with lead-free inks. Designed and printed in the USA. This one is on my wish list, too!
Just for Fun Gifts for Book Lovers
Literary Fortune Cookies
Baked in France and filled with inspiration. Tucked inside of each delicious little biscuit is a piece of paper with a pithy quote by a famous author (such as "It is not in the stars to hold our destiny but in ourselves."?William Shakespeare), offering life advice or clever counsel. Quirky literary fortune cookies are fun favors for book club meetings, conversation starters at social gatherings, one-of-a-kind stocking stuffers, and stimulating after-dinner fare. Elegantly-packaged novelty cookies come 10 to a bag.
Book Lovers Scrabble
A must-have game for anyone who loves books and to spend time with friends and family. Enjoy traditional Scrabble game play with a book lovers twist
Bring Your Own Book Game
This game asks players to look through their favorite books for the cleverest dating advice, tabloid headlines, and more. For ages 12 and up. 3 or more players needed to play the game. Includes 100 prompt cards.
Did you find any favorites on this list of gifts for book lovers? Which ones are on your own wish list?
Did I miss any great ones? Tell me in the comments below.
Shopping for a chocolate lover, instead? Here's a fantastic list of gifts for chocolate lovers.
Because of Him,
Sue