This page/post may contain affiliate links. As an Amazon Associate, as well as an affiliate of other programs, this means if you purchase something using these links, I will receive a commission on qualifying purchases at no cost to you! For more detailed information, please visit our Affiliate Disclaimer page
God is our refuge and strength
Psalm 46 is one of the most encouraging and profound chapters in the Bible, especially when you're going through times of trouble. It reminds us of one of God's promises in the Bible: God is our refuge and strength. In this post, we will do a deep dive into each verse to understand what it means and how to apply the lessons in our lives as Christians. Psalms 46 always reminds us that whenever we are in doubt we can always call on the Lord because he is an ever-present help in hard times.
The title of this psalm is: To the Chief Musician. A Psalm of the sons of Korah. A Song for Alamoth. These sons of Korah were Levites, from the family of Kohath. By David's time, it seems they served in the musical aspect of the temple worship.
Let's take a deep dive look into this inspiring chapter.
The word refuge in verse 1 is a place of shelter from pursuit and danger. God is a strong refuge to His people during difficult times. Because he is all-sufficient and all-powerful our help will come from him so there is no reason to fear.
He is near us in our day of trouble because the love of God is so deep. He is not a distant helper but a very present help. We have access to the power of God and his protection. The Lord's everlasting arms are our safe space, and he is the strength of his people when they are weak. Any other person or place of refuge will not hold us and is not as reliable as God is.
Martin Luther wrote the famous hymn, "A Mighty Fortress is our God'' in which Psalm 46 served as his inspiration. Psalm 46 was Martin Luther's favorite Psalm. The leader in the Reformation church wrote this great hymn with these powerful words, "A mighty fortress is our God a bulwark never failing. Our helper He, amid the flood, of mortal ills prevailing."
"A Mighty Fortress" is used to describe God as our defense who protects, and keeps his people safe. A bulwark that never fails is a wall of a fortress that can never be broken into because it's so strong. The mortal ills are more than just diseases. There are tough situations that we may find ourselves in as Christians. In all these God is a very present help.
God's word assures us that because we have an ever-present help in difficult times, we will not fear and be anxious. Rather, we will find comfort in the Holy Spirit who dwells in us. These two verses emphasize that even if the worst comes to the worst and we face the destruction of the world, a ravaging pandemic, and persecution of the church or any trials and tribulations, the power of God is unchanging. We may face earthquakes, floods, and other chaotic and catastrophic natural disasters as we have no control over natural disasters.
Whether we face physical battles or spiritual battles in this world, we don't need to be afraid or worry because God's gracious presence will be constant. Whatever we are facing, the safest place to be is in God's strong refuge. He has pledged to be our sanctuary and never to abandon us.
As a child of God, he works on your behalf just like he did with the people of Israel. He led them many times into wars and battles against armies that were more powerful than them, but they trusted the Lord, and they were victorious. At one point, after defeating the Amalekites, Moses built an altar named Jehovah Nissi (the Lord our Banner). God's character is proven, and so we can trust him.
Selah is a pause in the psalm to meditate on what has just been said. It's a time to be calm and remember God's promises in this psalm.
The Psalmist infers the clear, calm, refreshing, and serene river flowing through the city of God, which refers to the church that the Lord builds and dwells in. The streams of this river make that city glad, not anxious and fearful. The river, flowing peacefully and smoothly, is a sign of the eternal God's presence, serenity, and blessing. The holy place of the tabernacles of the most High represents the dwelling places of God, the Father, the Son, and the Holy Spirit. It's in his presence that we will find a safe place to rest in.
When we abide in Jesus Christ and he in us, we learn to cast all our anxious thoughts in prayer to him and become confident in God's power. In Jesus Christ, we enjoy a peace that surpasses human understanding because he is the Prince of Peace.
This is a powerful description of God being in the midst of His people working in and through them. We are reminded that He has not forgotten His people, so we should not have little faith. This Bible verse has such empowering words because God commands us to be still even in the midst of difficulty.
We need to have faith and confidence in God's power which is demonstrated throughout both the Old Testament and New Testament. At the sound of his voice, the earth melts indicating the power of God to destroy even what appears to be indestructible. In Matthew 8:23-27, we see how Christ Jesus was in the midst of the sea with his disciples and a violent storm arose while he slept. His disciples' natural response was to panic and they woke him up. Then he calmed the storm.
As a child of God, you have nothing to fear because of God's protection which he provides you. He was there for Abraham, Isaac, and Jacob and promises us that He will always be by our side, fighting for us as well.
When we see the works of the Lord, his judgment, and what he has done on our behalf we will be amazed. He has destroyed the destroyer (our enemy), and as we look all around, we see evidence that he cares, protects, and is ever-present.
The Psalmist exhorts God's people to consider what He has done for them. We must never forget His magnificent works that delivered us from devastation. We must maintain these incredible acts in our minds.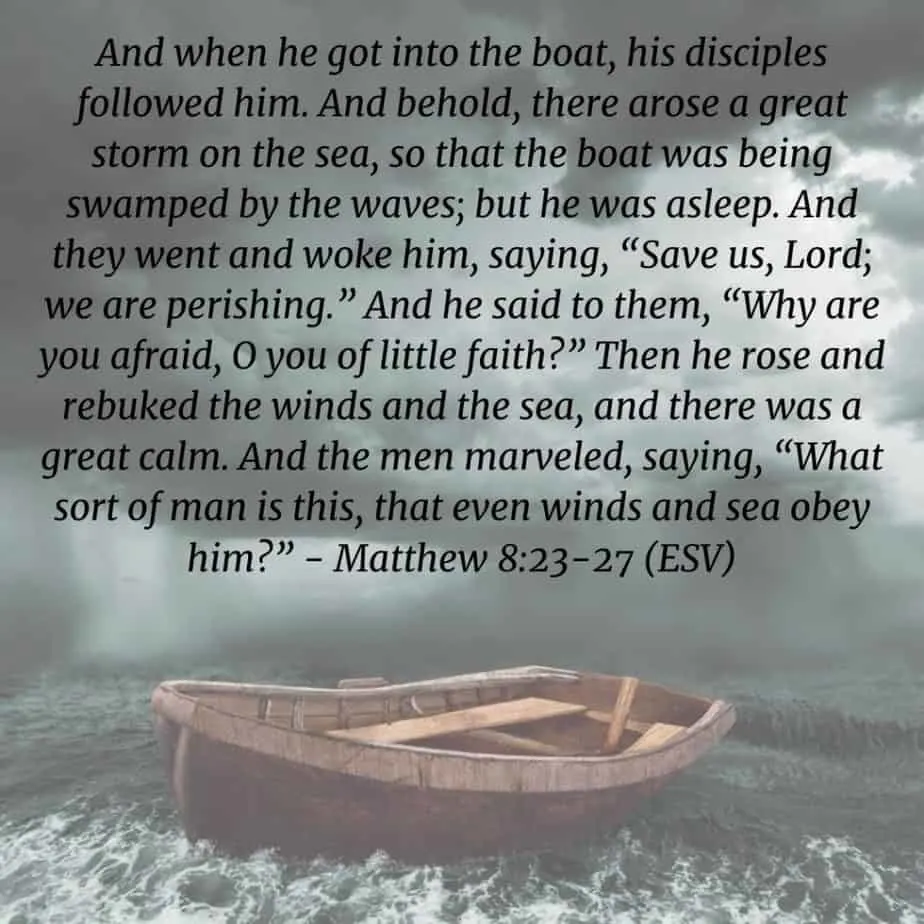 In the middle of our busy schedules, we should give ourselves a moment to contemplate what God has done in our lives. We should closely examine and recall what God's unseen hand has performed on our behalf. This bible verse encourages us to reflect on the faithfulness of God in the past to help us persevere during difficult circumstances. We have prayers the Lord answered, situations he managed, and doors he opened. Let us recall what God has done in the past to bring us into the present. This is a call to re-examine what the Lord has done and be grateful.
God defeats all of his enemies and destroys their weapons, bows, and spears. The context of this verse is a celebration of God's protection and complete power over our enemies.
This is one of the most popular and encouraging bible verses that calls us to surrender to God, wait on him, and accept his sovereignty. In the middle of difficult circumstances, our natural response is to panic and be scared. But God instructs us as His people to remember His greatness and His glory. We can be still because we know we have a safe place in Him.
In that light, the tone of this bible verse encourages us to quit struggling, fighting, worrying, and attempting to do things on our own. The Lord is your mighty fortress and source of strength. Allow Him to fight your spiritual battles and trust Him.
Be still before the Lord; wait patiently for Him and entrust yourself to Him;
Do not fret (whine, agonize) because of him who prospers in his way,
We shall not be afraid of what the enemies can do since the Lord of hosts, the God of armies, is with us. The God of Jacob is our strong refuge and he will never desert his people in hard times. We should meditate on this truth and be confident in the Lord we serve.
The Bible says all our hard times are not forever. They are only for a moment so we can have faith in God.
Always be reminded that God is our refuge and strength in our most difficult times. We can always run to Him because He provides a strong tower for us so that we feel safe.
The word of God proves in both the Old Testament and New Testament that in all difficult circumstances, we can always turn to him because he is a very present help to us. He doesn't help from a distance but is there in the midst of the storm with us. May God help you to put your trust in him for he will never disappoint you.
The songs below have been a comfort and strength to me when going through difficult times. I pray that they encourage you as well.
You may also enjoy this sermon God is Our Refuge | Prayer Meeting | by Pastor John Lindell
Or one of these highly recommended resources:
God Is My Hiding Place: 40 Devotions for Refuge and Strength by Corrie ten Boom
God is Our Refuge and Strength by Dr. Grell Ferdinand
Bag Charm, God Is Our Refuge And Strength Charm, Psalm 46 1 Charm, God Is Our Help In Trouble, Clip-On Charm, Purse Charm, Faith Gift
God is our Refuge and Strength an ever-present Help in Trouble: Notebook lined with Bible verse Psalms 46:1
ESV – "Scripture quotations are from The ESV® Bible (The Holy Bible, English Standard Version®), copyright © 2001 by Crossway, a publishing ministry of Good News Publishers. Used by permission. All rights reserved."
NKJV – Scripture taken from the New King James Version®. Copyright © 1982 by Thomas Nelson. Used by permission. All rights reserved.
NIV – Scriptures taken from the Holy Bible, New International Version®, NIV®. Copyright © 1973, 1978, 1984, 2011 by Biblica, Inc.™ Used by permission of Zondervan. All rights reserved worldwide. www.zondervan.com The "NIV" and "New International Version" are trademarks registered in the United States Patent and Trademark Office by Biblica, Inc.™