God is our Refuge and Strength. What it Means and 2 Ways to Seek His Shelter
This page/post may contain affiliate links.  As an Amazon Associate, as well as an affiliate of other programs, this means if you purchase something using these links, I will receive a commission on qualifying purchases at no cost to you! For more detailed information, please visit our Affiliate Disclaimer page
Most likely, you have heard a verse about God is our refuge and strength. Have you ever truly looked at what those verses meant? What they mean for you and me today?
These are verses that I often pray, and I'd love to share with you what I've found and how God is our strength, our shield, our refuge.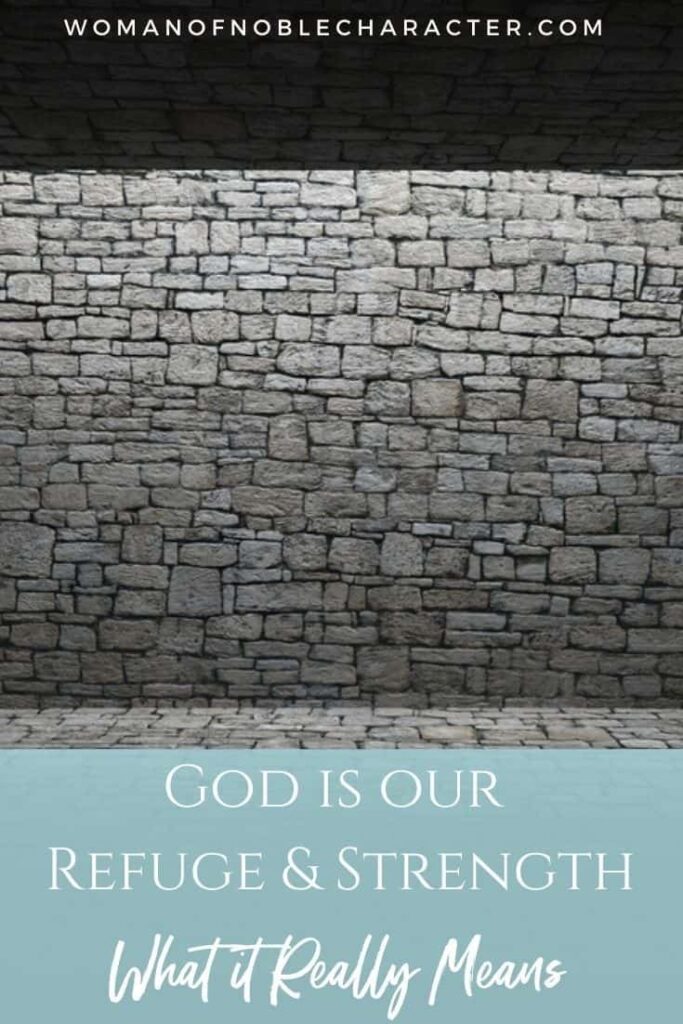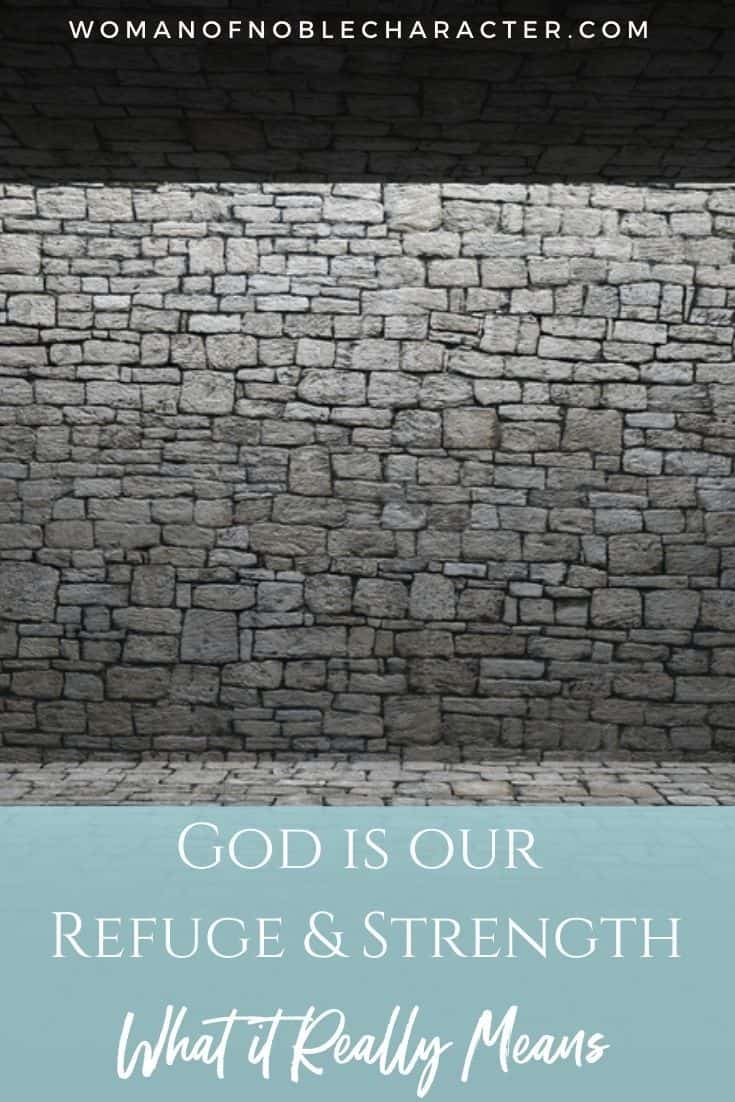 What is Refuge?
First, let's look at how refuge is defined:
• Shelter or protection from danger, trouble, etc.
• A place of shelter, protection, or safety
• Anything to which one has recourse for aid, relief, or escape
When you think of the word refuge, what do you think of? Perhaps a building with heavy-duty locks, a fortress from history or maybe even your home. Whatever you think of, we know that a refuge is safe place. When the Bible tells us that God is our refuge and strength, it is saying that God is our safe place when we need protection from something or someone.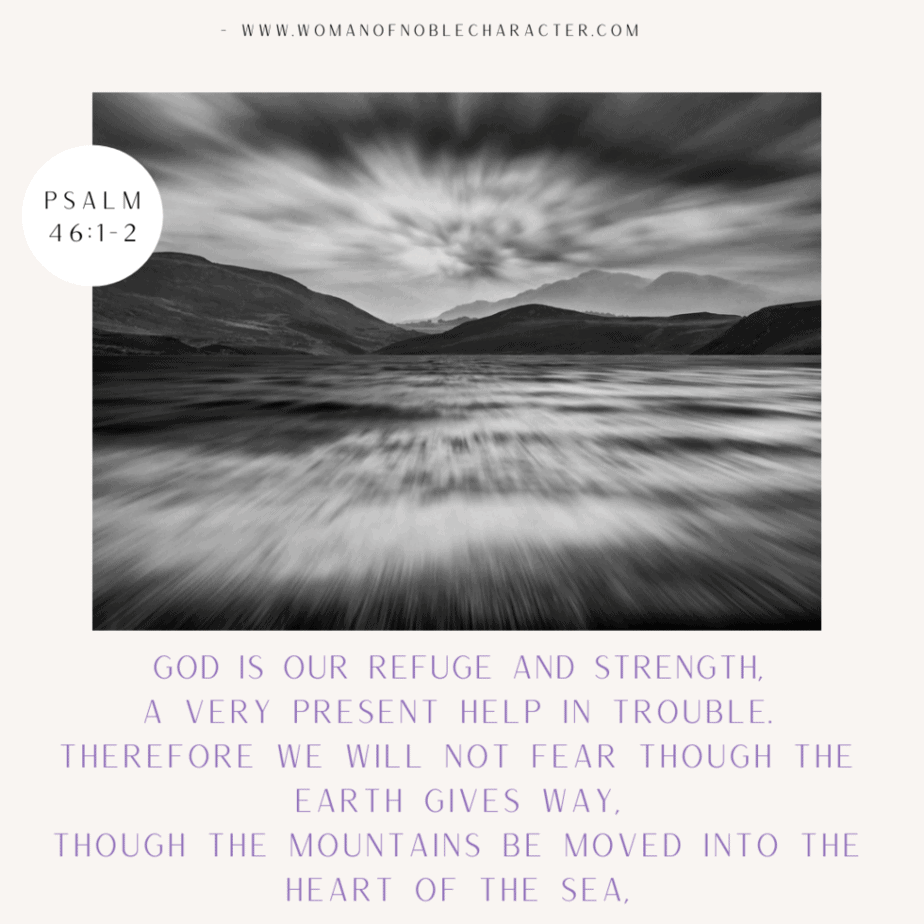 In Psalm 46:1 we read of a description of God and an amazing promise based on one attribute of His character:
God is our refuge and strength,
a very present help in trouble.
Therefore we will not fear though the earth gives way,
though the mountains be moved into the heart of the sea,– Psalm 46:1-2 ESV
Throughout Psalm 46, the writer illustrates many different disasters and discord that is prevalent in our sinful and broken world. He mentions natural disasters including earthquakes, floods, volcanoes and even landslides.
He also mentions war and violence (verses 8 and 9), but we are reminded (back in verse 2), "we will not fear".


In each of these difficult situations, we are to cling to God as our refuge, our strength and "a very present help in trouble".
"I have said these things to you, that in me you may have peace. In the world you will have tribulation. But take heart; I have overcome the world." – John 16:33 (ESV)
Have you faced a hardship in your life? We all have. Perhaps it is a difficult health diagnosis such as cancer, not having enough money to pay your rent, or a wayward child. The world will give us sorrow, but no matter what happens, God will be exalted and ultimately, His children will be safe (verses 10-11).
"Be still, and know that I am God. I will be exalted among the nations, I will be exalted in the earth!"The Lord of hosts is with us; the God of Jacob is our fortress. –
Psalm 46:10-11 (ESV)
When we face hardships, we need to stop, pray and "be still" for He is God and He is in control!


When we look at Psalm 46, we can't help but notice how it is structured. The first few verses (1-3) describe difficult times we will face. Verses 4-7 and 10-11 describe God's mighty power and refuge during those times.
Life's trouble is surrounded by God's promises. The verses about trouble are literally surrounded by verses about the safety and power of God!
Imagine a father who wraps his arms around a crying or fearful child. God, in the same way, surrounds us and protects us during the hard times we face.
Note that the psalmist doesn't tell us that God will remove the difficulty, but, instead, Our Heavenly Father will protect us and Himself be glorified in the midst of the difficulty.


God is our refuge. God provides us safety. We can take shelter in our fellowship with Him.
The name of the Lord is a strong tower;
the righteous man runs into it and is safe. –
Proverbs 18:10
Oh, the picture of this! When I am facing a difficult time, I picture running to God. I picture Him a strong tower where I can seek refuge.



He is our refuge and strength. God gives us what we need to endure hardships on earth as we serve Him. The Holy Spirit gives us the Armor of God to fight spiritual battles, to resist temptation, and endure persecution.
We are weak, but He is strong!
For the sake of Christ, then, I am content with weaknesses, insults, hardships, persecutions, and calamities. For when I am weak, then I am strong. – 2 Corinthians 12:10 (ESV)
When we walk in fellowship with God, we can trust Him more freely. We don't' have to fear situations or people who threaten our well-being, whether in a physical or spiritual sense.
Remember, there is not one situation on earth that we can ever face that is out of God's control, so the best place to be, always, is right with Him.
God is Our Refuge and Strength. How Do We Seek That in Our Lives?
It's all well and good to READ that God is our refuge and strength, but how do we MAKE God our refuge?
Let's look at David as an example of someone who knew God as his refuge. At many times in his life, David was running from people who wanted to kill him, but he always found safety in God.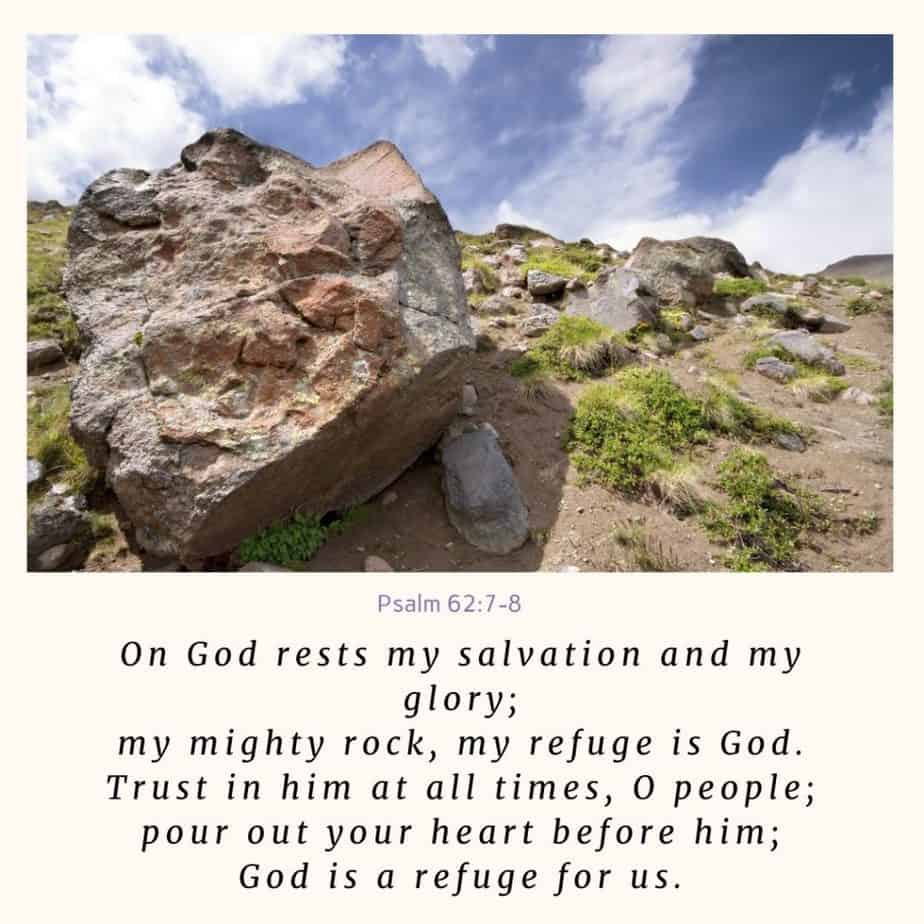 On God rests my salvation and my glory;
my mighty rock, my refuge is God.
Trust in him at all times, O people;
pour out your heart before him;
God is a refuge for us. –
Psalm 62:7-8 (ESV)
Want to know the secret to make God our refuge? Just ask Him to be.
David said: "Pour out your hearts to him". He showed that he did that consistently, as we read in the Psalms.
David poured out his heart to God about what was going on in his life and asked God to intervene on his behalf. Do you do that? Do you pour out your heart to God when life is throwing you curveballs? Do you share with him the good, the bad, the mundane?
When we turn to God for help or protection, we begin to know Him as our refuge.
On the contrary to David's steadfast faith, the leaders of the Israelites during the time of Isaiah sought their security in things other than God.
In Isaiah 28:15, we read God rebuking them:
"Because you have said, 'We have made a covenant with death,
and with Sheol we have an agreement,
when the overwhelming whip passes through
it will not come to us,
for we have made lies our refuge,
and in falsehood we have taken shelter'"; –
Isaiah 28:15 (ESV)
The Lord rebukes them for making "lies our refuge and in falsehood we have taken shelter".
God then offers them true refuge:
"therefore thus says the Lord God,
"Behold, I am the one who has laid as a foundation in Zion,
a stone, a tested stone,
a precious cornerstone, of a sure foundation:
'Whoever believes will not be in haste.'
And I will make justice the line,
and righteousness the plumb line;
and hail will sweep away the refuge of lies,
and waters will overwhelm the shelter."
Then your covenant with death will be annulled,
and your agreement with Sheol will not stand;
when the overwhelming scourge passes through,
you will be beaten down by it." –
Isaiah 28:16–18 (ESV)
We may look for safety in things other than God (other people, alcohol, work, for examples), but those things can only give us a false sense of security. God is the only real refuge we'll ever find.
If God is Our Refuge, Why Do We Still Face Difficulties?
If God is our refuge, shouldn't He protect us from hardships in life? Yes, God is our refuge, but that does not mean He will never lead us into difficult or dangerous situations.
When Jesus led the disciples into the boat, He knew that a violent storm was about to come in. Of course, the disciples were terrified, but Jesus, who was their refuge, calmed the storm.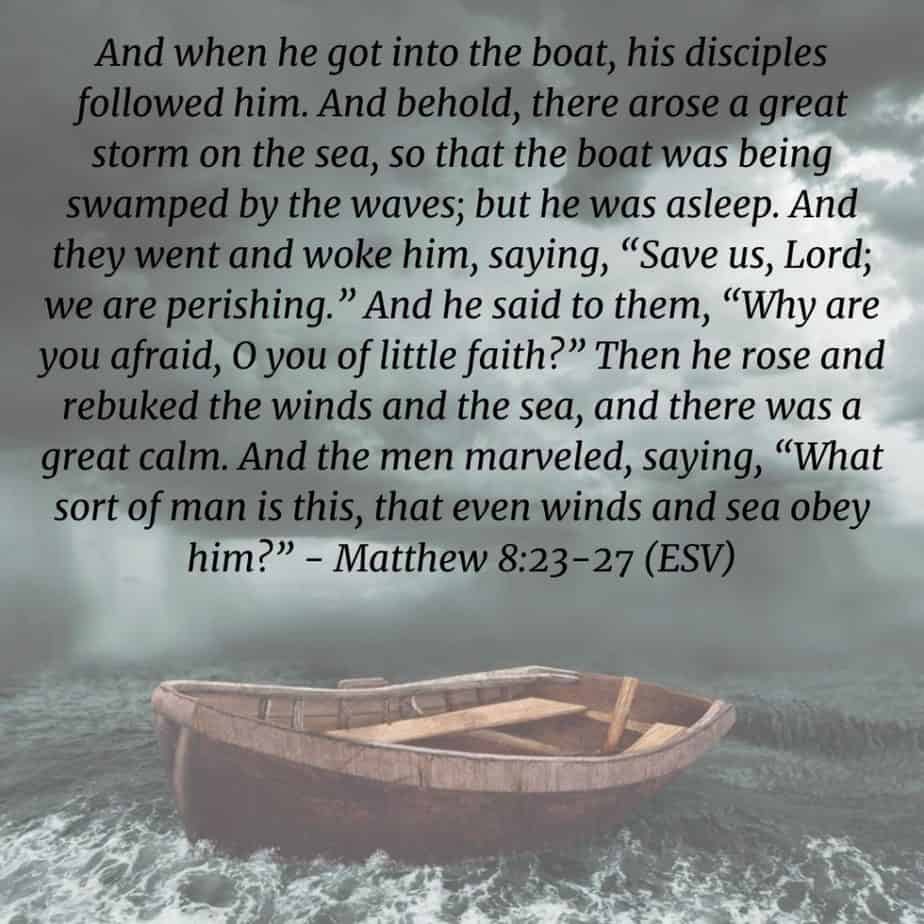 And when he got into the boat, his disciples followed him. And behold, there arose a great storm on the sea, so that the boat was being swamped by the waves; but he was asleep. And they went and woke him, saying, "Save us, Lord; we are perishing." And he said to them, "Why are you afraid, O you of little faith?" Then he rose and rebuked the winds and the sea, and there was a great calm. And the men marveled, saying, "What sort of man is this, that even winds and sea obey him?" – Matthew 8:23-27 (ESV)
When we believe in God and truly believe that He is our refuge and strength, we can face even the most dangerous or difficult situations with confidence, because God is with us.
Many times, God led the Israelites into wars and battles against armies that were much more powerful than they, but when the Israelites trusted God and obeyed Him, they always were victorious.
No matter what we are facing, no matter the circumstance, the safest place to be is always in the refuge and strength of God. He has promised to be our refuge and to never leave us:
"…I will never leave you nor forsake you." So we can confidently say,
"The Lord is my helper;
I will not fear;
what can man do to me?" –
Hebrews 13:5–6
When you are facing difficult circumstances, turn to Psalm 46. It is the answer to all our concerns, worries, needs and fears.
God is our refuge and strength. Ask Him for shelter and the strength you need for every second, every minute, every hour of each day.
God is with us, He is present, He is wants us to take shelter under His wings.
for you have been my refuge,
a strong tower against the enemy.
Let me dwell in your tent forever!
Let me take refuge under the shelter of your wings! –
Psalm 61:3-4
Read the Psalms, especially, Psalm 46 and pray them to God, our refuge and strength.
When worry seems to be taking over your mind, remember that God is our refuge and strength and pray for His strength. Seek refuge in him. Imagine Him wrapping His mighty, yet gentle arms around you.
When Martin Luther wrote the famous hymn, "A Mighty Fortress is our God", he was inspired to write it after reading, praying and studying Psalm 46.
When you need to remember that God is our refuge and strength, listen to this great hymn:
Another song that I like to listen and worship Him when I need a reminder that God is our refuge and strength is is Strong Tower by Kutlass. This isn't the "official" video of the band, but it includes the lyrics. I encourage you to read through them while the song plays and pray those words to our Heavenly Father.
Because God is our refuge and strength and has promised to be that for us forever, we have no need to fear. Because He is our ever-present help in times of trouble, His children can commit their way to Him and take their rest. God is saying, "Be still. Trust me. I've got this."
Do you rest in the knowledge that God is our refuge and strength? If you are His (and if you've given your heart to Jesus, you are), then seek Him and his shelter when you are troubled.
Because of Him,
Sue