God's Fingerprint: Christian Prints That Share God's Love
This page/post may contain affiliate links.  As an Amazon Associate, as well as an affiliate of other programs, this means if you purchase something using these links, I will receive a commission on qualifying purchases at no cost to you! For more detailed information, please visit our Affiliate Disclaimer page
I come across a lot of Christian gifts, books and products as a Christian and a faith blogger. Rarely, do I come across items that are truly unique and also serve to bless others. God's Fingerprint is such an item.
The Story of God's Fingerprint Creators
God's Fingerprint is a husband and wife-run business. Laura and Jason, both, creatives, by nature and Christians, by grace, started God's Fingerprint as a passion project in 2015 has now become their life and ministry.
As they explain "We never expected to be doing this. Neither of us grew up in the church. In fact, for most of our lives—we lived far from God.

But He had a plan for us. Shortly after we became Christians, we started to create Scripture Art in our spare time. We both had a background in art and design, and we wanted to use our gifts to declare this newfound truth."
They desired to create beautiful artwork for those who love God's Word. They believe in the power of Scripture Art.
"Scripture Art reminds us of God's faithful promises. It helps us meditate on His Word. It can spark conversations about God with friends and family. It can plant and water seeds in the hearts of those we love."
Heart-Centered Ministry
The founders and owners of God's Fingerprint feel that sharing great Scripture Art is just one part of a larger mission. They share not only their talents, but donate $1 for every print sold to help orphans and vulnerable children.
They do this through an organization very close to their hearts — Alongsiders International.
"Alongsiders equips compassionate young Christians in poor nations to walk alongside those who walk alone: to love, welcome and encourage the most vulnerable children and orphans, in their own communities.
They do this with engaging artwork and discipleship materials. In this way, hundreds of children have discovered their value through the love of their Alongsider and the local church."
About God's Fingerprint Letterpress Print
When I received my God's Fingerprint Print, I was truly in awe.
Packaged in a sturdy cardboard tube, when I unrolled it, I saw that is truly is a unique piece of artwork, with one verse from every book of the Bible. Each verse is hand-drawn within a fingerprint.
Also included in the mailing tube were two postcards. One explaining the print and the other a beautiful watercolor painted card with Psalm 119:105 "Your word is a lamp to my feet and a light for my path." It was so pretty that I hung it up near my desk as a daily reminder to stay in His Word.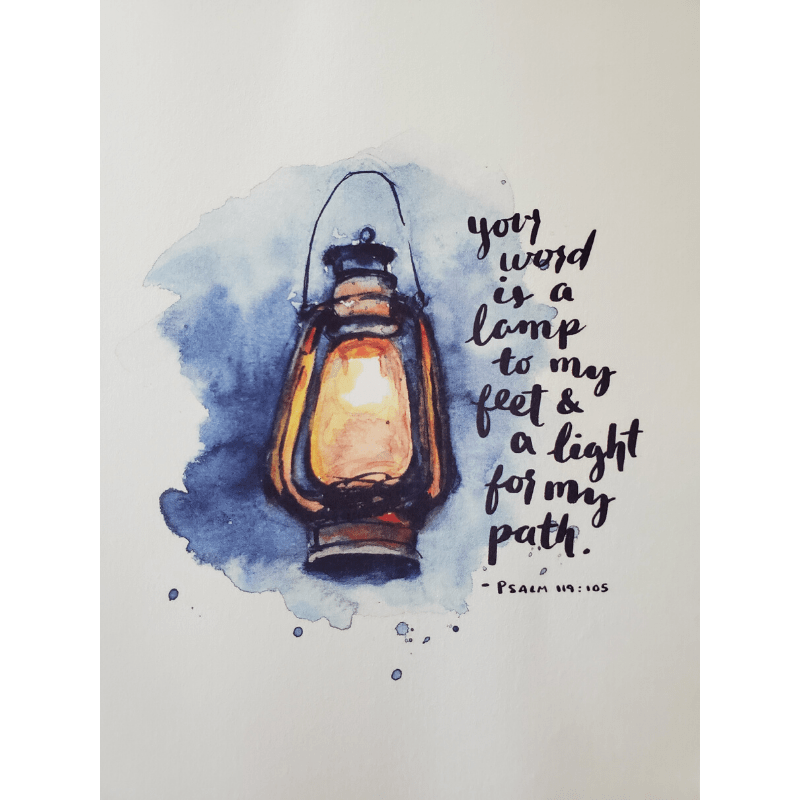 It is absolutely awe-inspiring.
This print is a 16″ x 20″ letterpress edition. Each print is printed with the unique letterpress style, creating a subtle indentation on thick fine art paper.
The verse on the bottom is Genesis 1:1 ("In the beginning, God created the heavens and the earth") and it continues all the way to Revelation ("Hallelujah!"). This fingerprint is entirely hand-drawn with one verse from each of the sixty-six books of the Bible. It is truly God's fingerprint. His unique Word as a love letter to us, his dearly beloved children.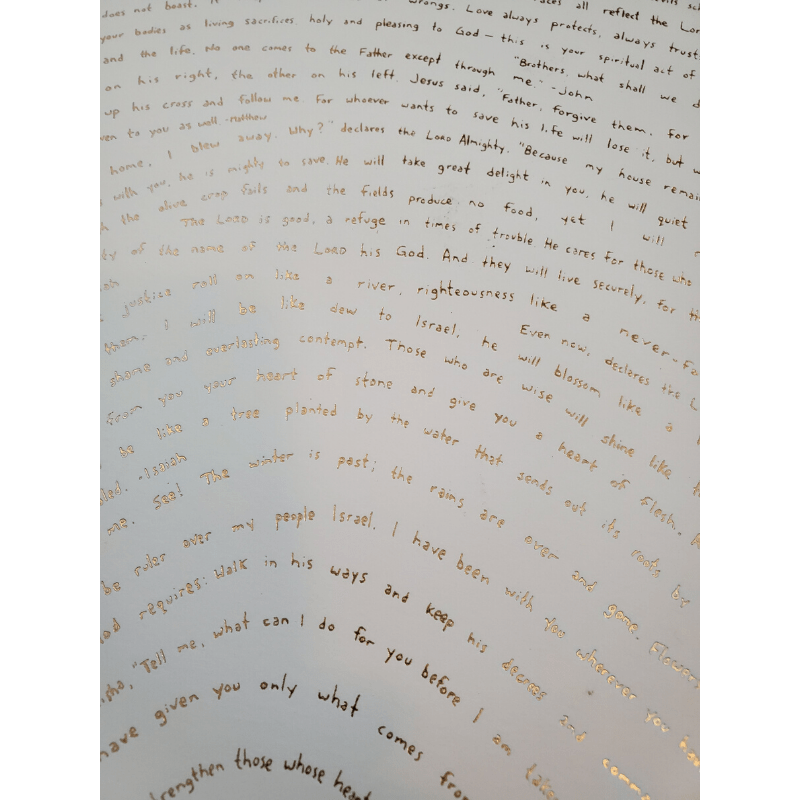 The print is created on Fine art Crane's Lettra textured paper. A high-quality paper used for fine art. It is acid-free, chlorine-free paper with bright white tone and printed in the USA.
While the frame is not included in the one I received, some prints are available with a frame.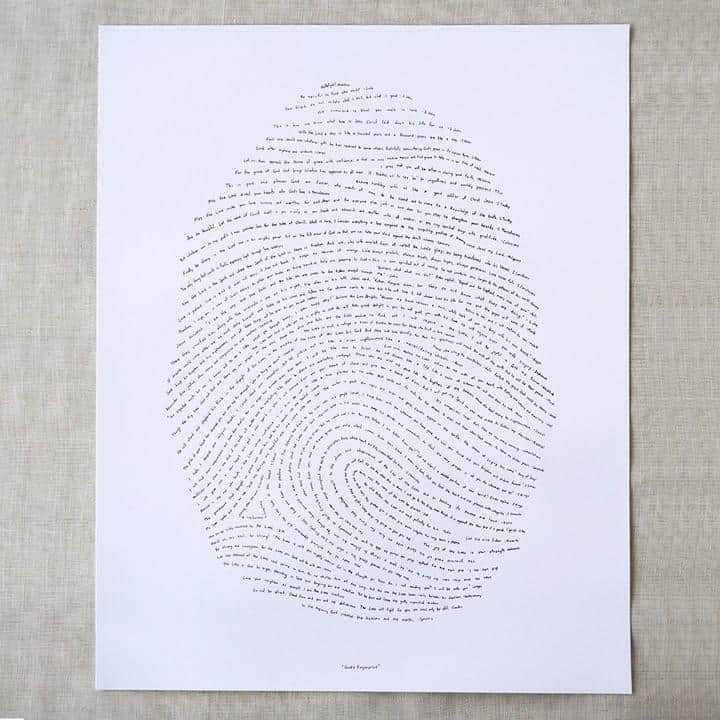 In addition to the beautiful fingerprint of God print, God's Fingerprint also creates other gorgeous scripture-based art. Here is just a sampling:
All of these gorgeous prints, but especially God's Fingerprint, would make a wonderful gift. I plan on buying one for my mother-in-law and one for each of a couple of friends.
Who would you gift this gorgeous print to?
For more great Christian books and products, see this section of my website.
Because He Lives,
Sue