This page/post may contain affiliate links.  As an Amazon Associate, as well as an affiliate of other programs, this means if you purchase something using these links, I will receive a commission on qualifying purchases at no cost to you! For more detailed information, please visit our Affiliate Disclaimer page
God's Glory Box is a subscription box for Christians. I've been receiving them on and off for some time now because I just LOVE them! The company says this about who their are and their mission:
"We are spreading Christian Synergy to True Christians! First and foremost, we are spreading the word of God's Glory! Our community also promotes talented Christians and supports Christian businesses. Each month you receive hand selected, high quality, and unique Christian items . Products are made by Christians, for Christians! We search the internet for the highest quality, most positive Christian artists, authors, and entertainers and deliver it to your doorstep EVERY month!"
(See below for discount codes )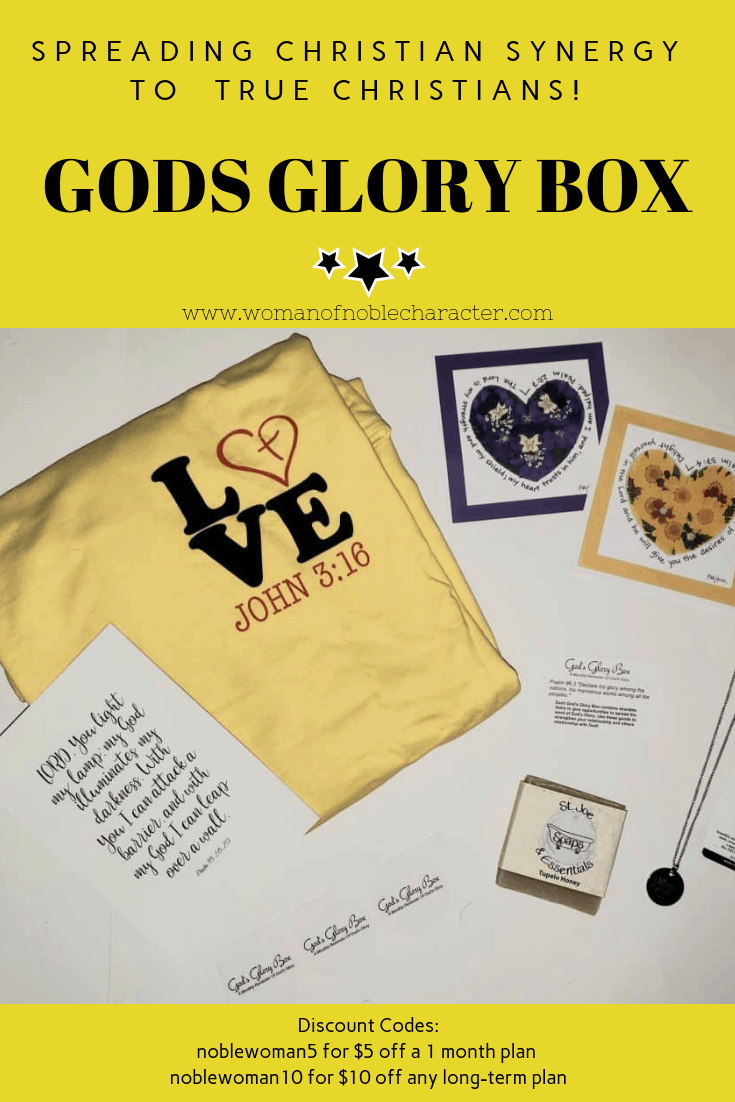 When researching the best subscription boxes, I was drawn to God's Glory Box for several reasons:
Consistent shipping date – they always ship on the 1st – no wondering when to expect your box

Free shipping. If you are shipping to the US there are NO shipping fees ($8 for Canada)

They are spreading God's love by feeding others! For each box shipped, they donate 5 meals to Feeding America. (As of December 31, 2018, they have donated 400,000 meals!)

Each box is filled with items to help you glorify God

They support Christian authors, artists and creators and include products made by them.

God's Glory Box has also created the Glory Program, which links Christian donors with those who need a donated box!
I received my first box back in December of 2017 and was so excited to dig in to see what was in the box. Take a look at my first "unboxing" of God's Glory Box.
I'm such a fan of God's Glory Box and have even included them on my list of gits for Christian women. A one month or longer subscription to God's Glory Box is an amazing gift for the Christian woman (or any Christian) in your life.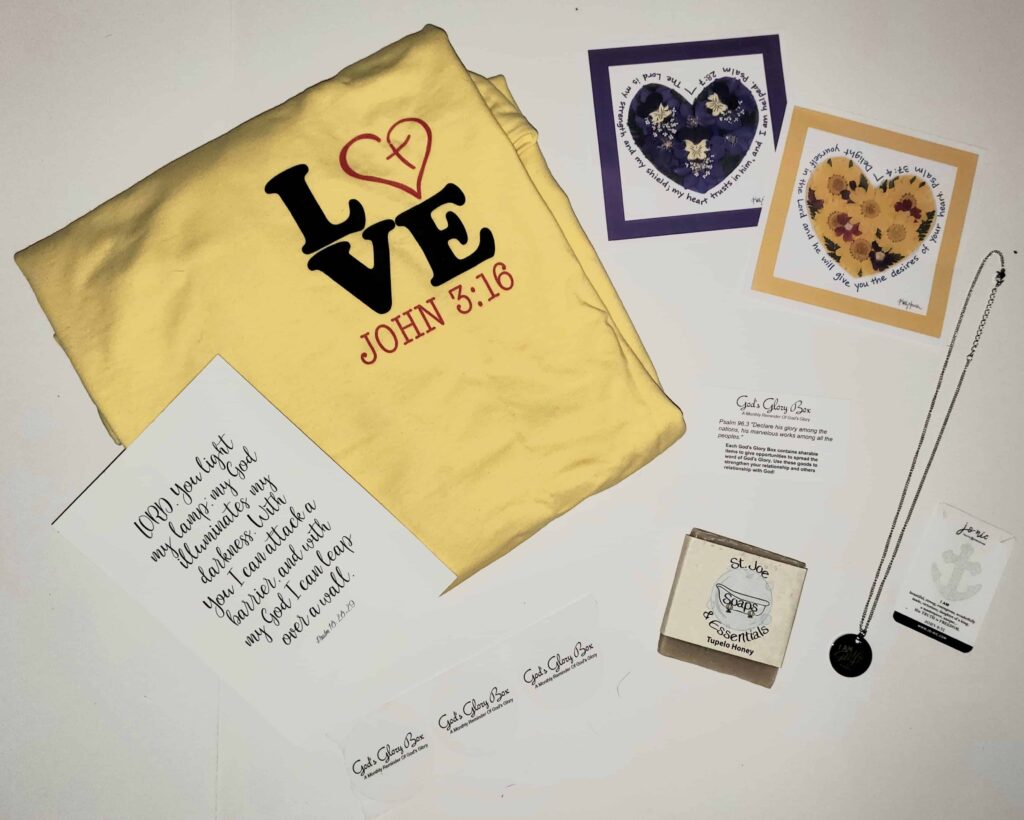 What's Included in Each God's Glory Box?
An amazing variety of Christian products for support and encouragement each month. Here are just some of the gorgeous products that have appeared in God's Glory Boxes.
(Note: not all products are featured each month. Each box usually has between 4-8 fantastic items.)
T-Shirts

Books

Air fresheners

Jewelry

Key chains

Note cards

Pray cards

Handmade soaps

Handmade lipbalms

Zippered pouches or bags

Small prints for framing

Each box contains 1-2 (or more!) shareable items to allow the God's Glory Box community to easily spread the Word with others.
(See below for discount codes)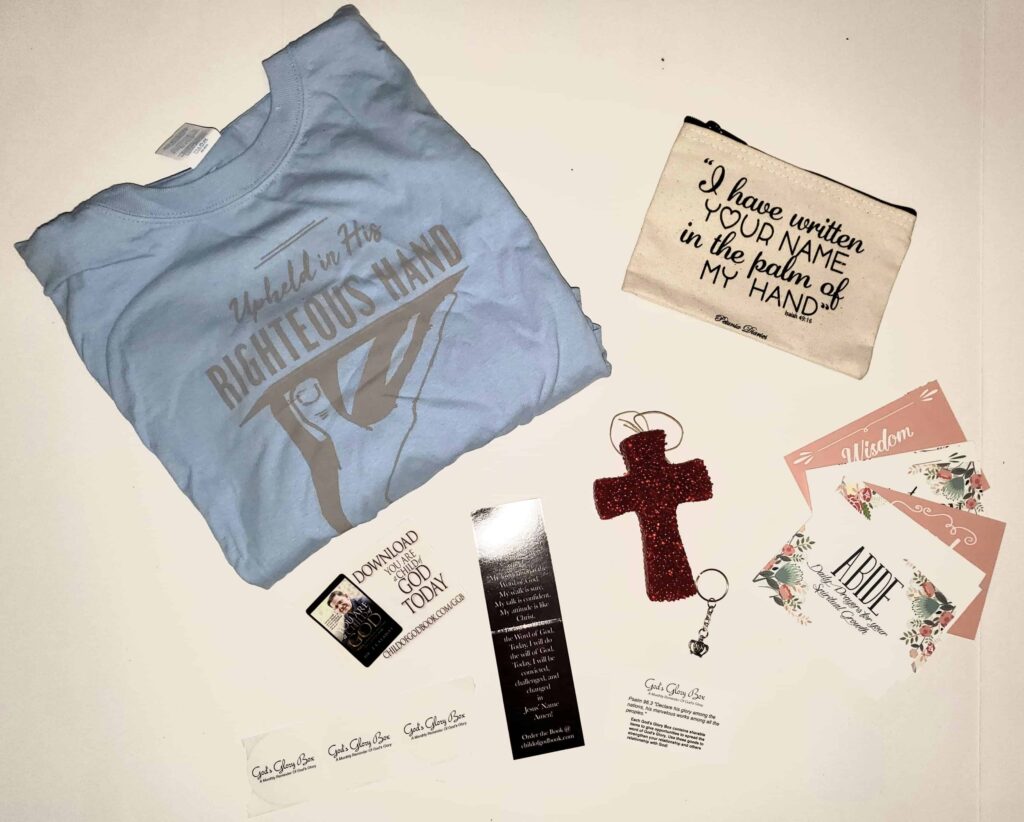 What Can I Do With God's Glory Boxes?
While I looove receiving my own God's Glory Box, I love to give them away, as well. Here are some gift ideas for God's Glory Box:
Bless a single mom in your church or community with a gift of God's Glory Box

Give as birthday gifts

Give as a gift to a friend who has recently been baptized

Drop one off on a neighbors porch anonymously

Bless a friend who is going through a rough time

Order one for your small group each month and "draw" for who gets the box or share the items inside with each member.
Here's the best part, God's Glory Box has given me a discount code just for Woman of Noble Character readers! Yes, you can get $5 off a one-month box or $10 off any subscription longer than one month. Isn't that wonderful and so very generous of them!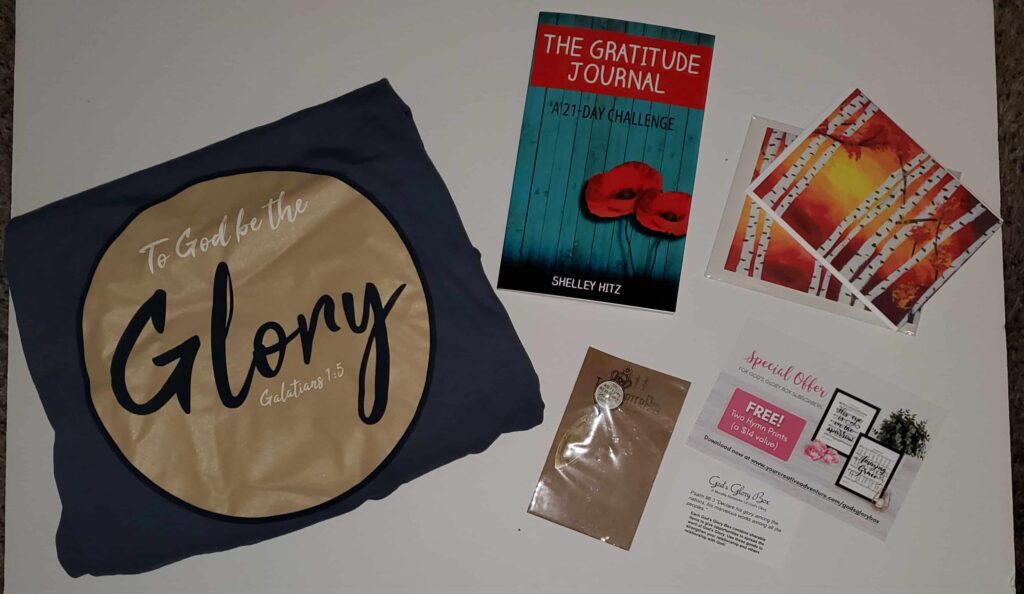 I looove this bookmark included in the May God's Glory Box!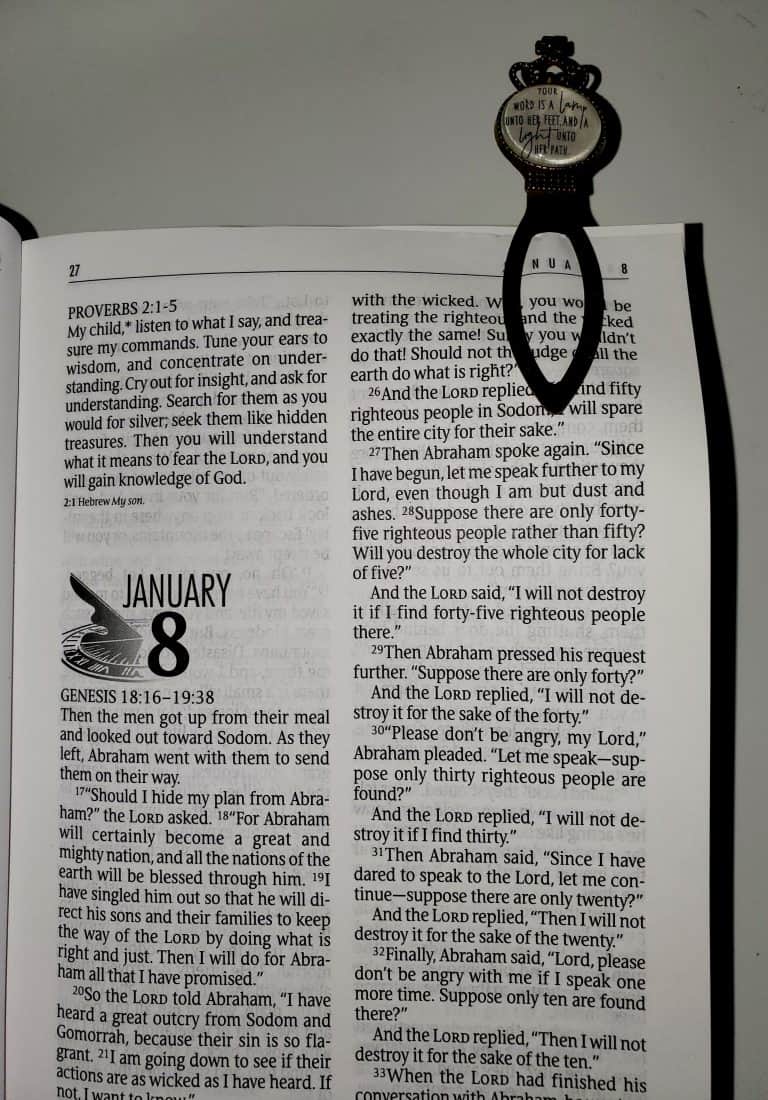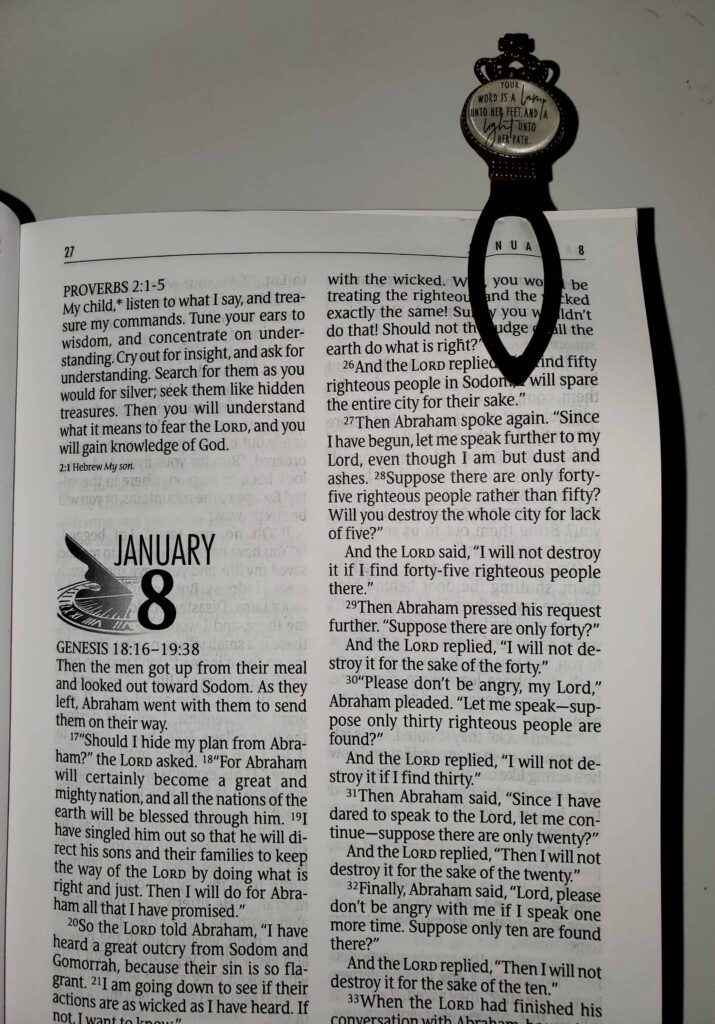 Use these codes to get your discount and be sure to let me know when you receive your first box – I can't wait to hear how much you love it!
noblewoman5 for $5 off a 1 month plan
noblewoman10 for $10 off any long-term plan
Because of Him,
Sue