A Look at Gospel-Led Homemaking and 7 Practical Tips
This page/post may contain affiliate links.  As an Amazon Associate, as well as an affiliate of other programs, this means if you purchase something using these links, I will receive a commission on qualifying purchases at no cost to you! For more detailed information, please visit our Affiliate Disclaimer page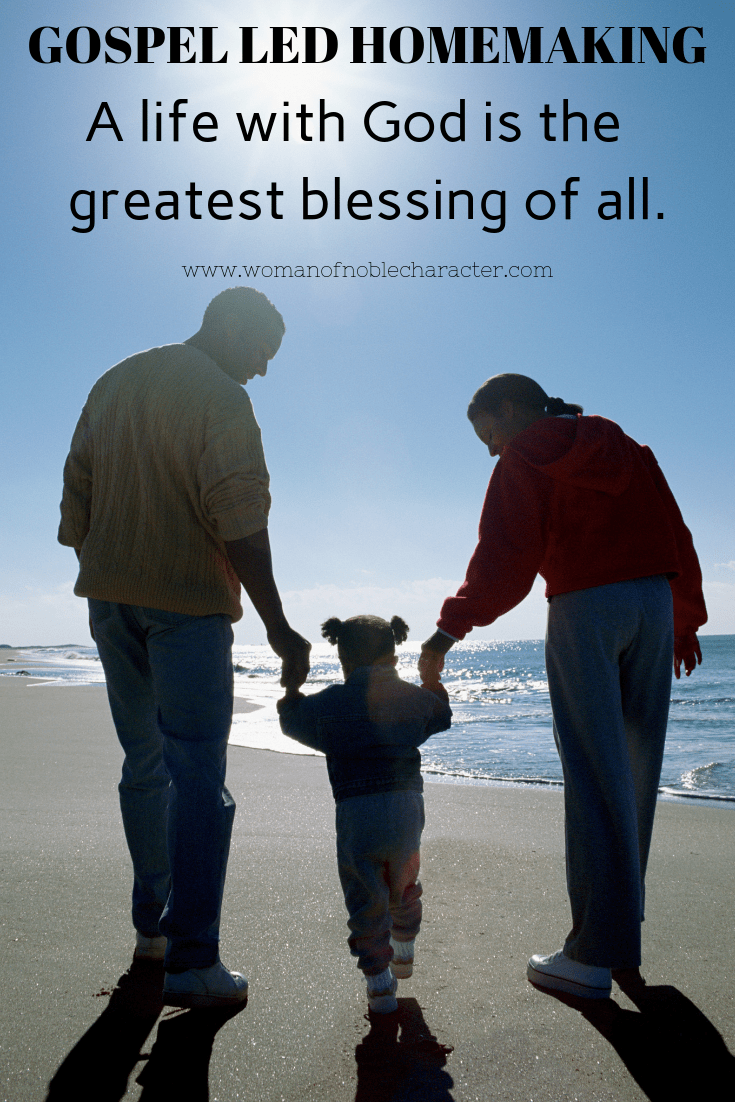 Homemaking is one of those words can evoke many emotions and even more opinions.
The water gets even muddier when we consider what gospel-led homemaking is and how it affects our homes, hearts and families.
Homemaking, according to dictionary.com is defined as:
noun
the establishment or management of a home; duties of a homemaker.
adjective
of or relating to the management of a home:
Well, that certainly clears things up, right?
Well, no. As Christian women, we need to consider more than just cleaning, cooking and taking care of your family's needs. Of course, those things are important and are part of homemaking, but I believe there is much more to it.
The Bible includes many truths about gospel-led homemaking and most focus on how our hearts are shaped rather than how to keep the house looking neat.
So before we look at what gospel-led homemaking looks like in our daily lives, let's look at what the goals of gospel-led homemaking might be.
Gospel-Led Homemaking Goals by Relationship
Goals for the Christian Wife
The Bible tells us that we are to:
Gain Knowledge
Proverbs 24:3-4 says wisdom builds your home, understanding establishes it, and "by knowledge the rooms are filled" with "precious and pleasant riches." You gain wisdom, understanding, and knowledge by reading and studying the Word of God.
Build Your Home
Proverbs 14:1 tells us "the wise woman builds her house, but the foolish tears it down with her own hands." A wife with a heart for God pours her efforts into building her home and increasing its wealth. A foolish wife devalues her home through mismanagement.
Watch Over Your Home
Proverbs 31:27 instructs us that a Godly wife "watches over the ways of her household, and does not eat the bread of idleness." She's a dedicated and hardworking woman who tends her garden with care. A gospel-led homemaker follows in her footsteps.
Manage Your Home
In 1 Timothy 5:13-14, Paul makes it very clear that women should have a home to manage. He advised against laziness and gossip. While his words addressed young widows, his message applies to all Christian homemakers.
Keep Your Home
Titus 2:5 lays out the standard for all wives and homemakers who want to live by God's principles. The verse counsels wives to "… be discreet, chaste, homemakers, good, and obedient to their own husbands" so the word of God will not be dishonored.
Goals for Our Husbands
Proverbs 12:4 explains, in just a sentence the importance of character in the role of a Christian wife:
A wife of noble character is her husband's crown,
but a disgraceful wife is like decay in his bones.
In fact, most of Proverbs 31, verses 10-31, explains the character of the gospel-led wife and homemaker. We are reminded to bring our husbands good, not harm and that we are to behave with his respect and confidence in mind.
As gospel-led homemakers, we are to enrich our husband's life by loving and serving him (as he is to do for us, but that's another post!). This includes creating an environment for him where he can recharge and find sanctuary from outside pressures.
Goals for Our Children
Of course, as mothers, we are to ensure that our children are safe, nourished, clean and have shelter, but more importantly, we are to introduce them to Jesus and help them cultivate their relationship with Him:
Deuteronomy 6:5-9

Love the Lord your God with all your heart and with all your soul and with all your strength. These commandments that I give you today are to be on your hearts. Impress them on your children. Talk about them when you sit at home and when you walk along the road, when you lie down and when you get up. Tie them as symbols on your hands and bind them on your foreheads. 9 Write them on the doorframes of your houses and on your gates.
There is no greater goal than raising disciples of Christ!
Goals for Those Around Us (Friends, Extended Family, Strangers)
When others visit our homes, we are encouraged to cultivate an environment where they can feel God's presence and know Him through us.
Yep, while many of us think of hospitality as what we serve and how clean and decorated our homes are, we might be missing the ultimate goal: a safe, welcoming environment where we can minister to our guests and love them as He loves us.
(See this post on hospitality)
The Most Important Goal of All
Gospel-led homemaking is, in essence, living a bountiful and blessed life by having a relationship with our Savior and relishing in that relationship with our husbands. Only then can we model that love to our children and others who visit our homes.
A life with God is the greatest blessing of all. His Word is true and when we hold that Word up to our lives, its truth overshadows any other area of homemaking.
What matters is that your heart belongs to Christ, not how shiny your stainless steel refrigerator is!
So, what does gospel-led homemaking look like?
It is grounded in His Word, lived by faith and soaked in the joy we have in God. It is how we deepen our knowledge of His truths and extend that love to those around us.
There is nothing more powerful or more beautiful for us as Christian women, than for us to truly live the gospel in our marriages, our parenting and how we manage our home.
Gospel-led homemaking is more than having a hot meal on the table and clean sheets on the bed. Although doing those things may very well provide for our family's physical needs, it is their spiritual needs that we need to focus on (everything else falls after that!)
Gospel-Led Homemaking
There are many different ways to live out the gospel through our homemaking. My goal today is simply challenge you to reframe the way you think about Christian homemaking.
First – throw out the notion that your home has to be perfectly clean and organized.
Showing God's love to others has nothing to do with matching socks or a shiny sink.
While I strive to keep my home neat and clean and teach others how to do the same, I often fall short and that is perfectly fine.
While I will give you some practical suggestions on gospel-led homemaking, first, let's remember that our homes, our marriages and our families are our first ministry.
When we think of our homemaking as a ministry, it is easier to remember the WHY behind them and the fruit of the Spirit that guides us.
Joy
Joy is both a gift and a choice. It is a fruit of the Spirit that is bestowed on us when we come to Christ.
In 1 Thessalonians 5:16-18, Paul wrote,
"Be joyful always. Pray continually. Give thanks in all circumstances. For this is God's will for you in Christ Jesus."
It's easy to get bogged down in the mundane tasks of homemaking (the endless piles of laundry, the dishes that never seem to end and the dozens of errands we need to run each week), but when we intentionally choose joy in our homemaking, we remember the why behind it and those frustrating tasks don't seem as daunting
Love
God is the author and perfector of our faith. God demonstrates deep and intimate love to each of us. God is, by nature, love.
If God is love and our homemaking is to be driven by Him, then what is more powerful than demonstrating love in your homemaking?
Love forgives offenses, humbly hopes and works for the best for others, even when we stand to gain nothing.
In 1 Corinthians 13:4-7, we are reminded that "Love is patient and kind. Love is not jealous or boastful or proud or rude. It does not demand its own way. It is not irritable, and it keeps no record of being wronged. It does not rejoice about injustice but rejoices whenever the truth wins out. Love never gives up, never loses faith, is always hopeful, and endures through every circumstance."
Our mission each day, each week, each moment is to show that love in our homemaking and every other part of our lives.
Truth
God's Word is truth. If we hope to live a life of gospel-led homemaking, our lives have to be driven by His Word.
You can browse Pinterest for the latest home décor ideas. You can watch HGTV or Food Network for the lastest, greatest home improvement or cooking techniques, but nothing, absolutely nothing, can replace being informed by the Word of God when managing your home.
The world is filled with sin and lies – who would you rather take homemaking advice from? Martha Stewart or Christ Jesus?
God is the ultimate authority in truth and His Word, the Holy Bible is our manual for living. Truly, what more do we need?
Spend time daily reading the Bible, in prayer and other creative forms of worship and less time binge watching Game of Thrones. Your life and the lives of your family will reap the rewards and you will learn more about gospel-led homemaking that hours of reality TV.
Practical Tips for Gospel-Led Homemaking
Change your Attitude
As mentioned above, your home is your first ministry. When you reframe your thinking by viewing your husband, children and home as your mission field, you train yourself to view daily chores as labors of love.
One of the biggest mindset changes for me was substituting "I have to" for "I get to".
For example, instead of bemoaning "I have to clean the bathroom", say to yourself "I get to clean the bathroom". That simple changes takes the chore from something else on your chore list to a focus of gratitude. When you say "I get to", you are focused on the fact that cleaning the bathroom is a blessing! You have a bathroom to clean. You have a beautiful family to clean it for.
Can you see the benefit in that one small change?
Read the Bible
As mentioned in the previous section, the Bible is a manual, breathed and written by God for everyday living.
Read a chapter a day. To start, I encourage you to read Proverbs 31:10-31. It is a beautiful reminder of gospel-led homemaking. I read it often and find that it helps me to remember my priorities are more than just washing laundry and vacuuming.
Starting my day off in the Word puts me in the right direction and starts my day focused on God, not my to-do list.
Be a Blessing to Someone
When I get bogged down by daily chores, I find that it is usually God prompting me to look outside of myself and to the needs of others.
As humans, we are self-focused. When we actively seek to serve and love others (see this post on ways to love others as Christ loves us), we are reminded that the world does not revolve around us.
When we surprise our husbands for lunch or bring cookies to the neighbor down the road, we are doing more for the Kingdom of God than cleaning out the toaster.
Looking toward the needs of others helps me to put my priorities in order. It not only refocuses my thoughts on Him, but blesses those around me.
Meal Plan
One of the greatest blessings to my gospel-led homemaking was implementing meal planning.
Now, hear me out. Meal planning allowed me to budget, save time and money and ensure that I was cooking meals that my husband loved. It is another way to show love and demonstrate that my husband's wants and preferences are not just being heard but are important.
You can also plan ahead to double a recipe and bless a new mom, sick friend or overwhelmed acquaintance in your Bible study group. Again, sharing the love of Christ simply by cooking!
Add Routines to Your Day
Of course, deepening our relationship with Christ is THE foundation for gospel-led homemaking, but the truth is, we still need to cook, clean, do laundry and everything else.
By adding routines to your day, you will get more accomplished and won't be as focused on your ever-growing chore list.
You are shifting priorities, spreading out the chores and committing to daily time with God.
(You can learn more about routines and grab a few free printables here)
Use His Resources Wisely
All we have belongs to God. He allows us to shepherd those resources and how we manage our home, our bank accounts and all that is in them is another way to demonstrate gospel-led homemaking.
Make a budget and do all you can to stick to it. Tithe, first allow God to multiply your resources. He always provides, doesn't he?
Proverbs 3:9

Honor the Lord with your wealth and with the firstfruits of all your produce;

Luke 14:28-30

For which of you, desiring to build a tower, does not first sit down and count the cost, whether he has enough to complete it? Otherwise, when he has laid a foundation and is not able to finish, all who see it begin to mock him, saying, 'This man began to build and was not able to finish.'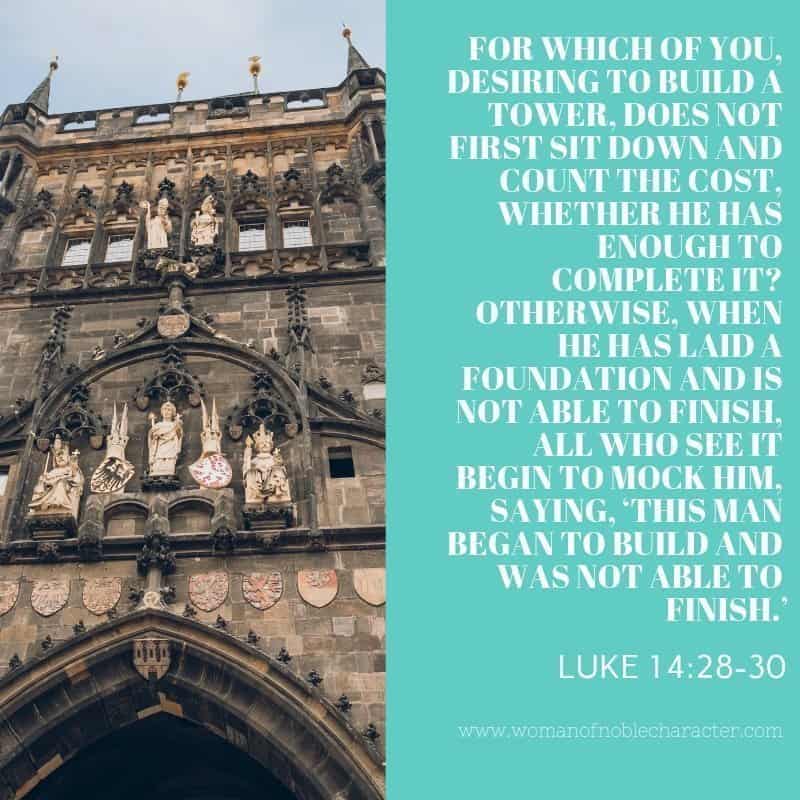 By honoring God with your resources, you are demonstrating gospel-led homemaking and respecting what He has entrusted you with.
You will also bless your husband and family.
(Need some help budgeting and managing bill paying? See this post with free printables).
Never Stop Dating Your Husband
We know that we are to put God first in our lives and our spouses second, then everything else. As our marriages mature and we add children to our families, many wives tend to put their children's needs first and their husband takes a back seat.
Setting aside time to just be a couple can help you reap many blessings in your marriage while keeping the Lord's instruction.
(For how to date your husband and tons of great date night ideas, see this post)
Gospel-led homemaking includes being the wife that God intended you to be.
Gospel-led homemaking is more about the condition of your heart than the condition of your home!
Has your view of gospel-led homemaking changed? How would you describe gospel-led homemaking to a new wife?
Ready to learn more? Consider one of these recommended books on the subject: (click on the photo to find the resource on Amazon)
Or consider joining my self-paced course, The Mission Field Blueprint, where we focus on our family and husbands as our first mission field. You can learn more about it here.
Because of Him,
Sue