Her Husband is Respected at the City Gate
This page/post may contain affiliate links.  As an Amazon Associate, as well as an affiliate of other programs, this means if you purchase something using these links, I will receive a commission on qualifying purchases at no cost to you! For more detailed information, please visit our Affiliate Disclaimer page
Her husband is respected at the city gate, where he takes his seat among the elders of the land. Proverbs 31:23
Her Husband is Respected at the City Gate. A seemingly innocuous verse which doesn't directly mention the Proverbs 31 woman. In Ellicott's Commentary for English Readers, the author explains this verse in this way "Her husband is known in the gates. Instead of being a hindrance to her husband's advancement, she furthers it. Her influence for good extends to him also. Having no domestic anxieties, he is set free to do his part in public life."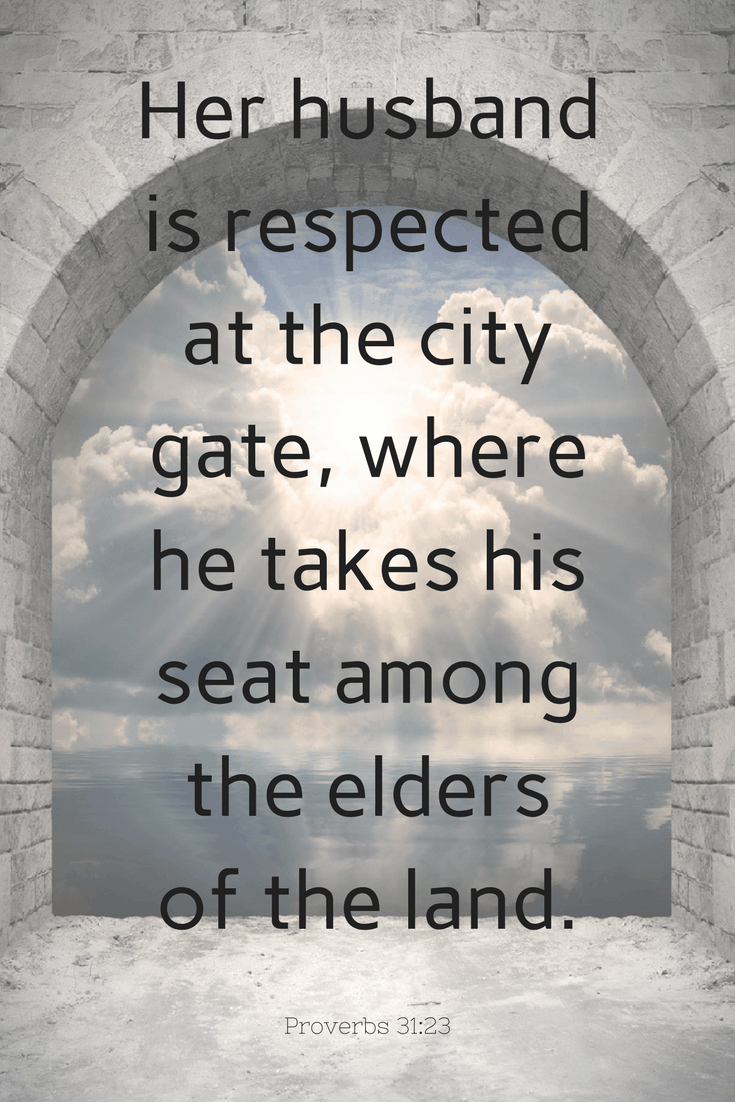 This, in my opinion, is epic. The role of the wife of noble character, in many ways, is summed up in this verse. When a husband does not have to worry about his wife, her conduct, how his home is being managed or the children, he can be free to focus his mind on his work and ministries. Her husband is respected at the city gate.
One measure of a biblical wife is the reputation of her husband. Of course, her role is only one part of his reputation, but for the purposes of this blog and our readers, I'm just going to focus on her role in his reputation.
Others,especially your husband's friends, co-workers and church members, will respect him for his blessing of such a treasured wife and wisdom in marrying such a woman. As God intended in Eden, a woman can help a man in most every area of his life. We were created to be his "helpmeet".
Let's take a closer look at the word helpmeet. In God's Word to Women, we see the Hebrew words for help and meet.
HELP
Strong's # 5828 (Hebrew = ezer) aid: — help
Strong's Root = # 5826 (Hebrew = azar) azar = prime root: to surround, ie, protect or aid: help, succour

Gesenius adds that the primary idea lies in girding, surrounding, hence defending
MEET
(Hebrew = kenegdo) corresponding to, counterpart to, equal to matching
"The traditional teaching for the woman as help (meet) is that of assistant or helper subservient to the one being helped. This definition would appear to line up with Strong's definition of the word. However, if you look at the context of every other use of the word ezer in the scripture, you will see that ezer refers to either God or military allies. In all other cases the one giving the help is superior to the one receiving the help. Adding kenegdo (meet) modifies the meaning to that of equal rather than superior status. Scripture is so awesome. God says just what He means."
God's design for women is to aid our husband's in everyday life. Ensuring that the home is running smoothly so that he can have the confidence and freedom to do God's will in his own life.
A virtuous woman is a crown to her husband, but an odious woman shames her husband and rots his bones (Proverbs 12:4).
So what does this mean for us today? While our husbands may not be meeting elders at the city gate, he will be among co-workers, friends and church family. Are you ensuring that your home is a place of refuge for your husband? Or, is it filled with strife and stress? If it is the latter, how can you make changes so that your husband feels confident that the home is being managed and he is free to worry about his work and ministries?
One thing that I've found is that while we, as women, wives and mothers, often have crazy and stressful days and want to dump it all on our husbands when they walk in the door, that is not holding our husbands up. I get it. We need to get it off our chests how rotten the kids were, that the dishwasher is broken or that so and so did this to so and so, but I implore you to give him some time to relax before pouring out all of your troubles to him when he walks through the door.
Set aside time daily to discuss any issues in a calm way when both of you have some alone time. Ask God to give you a quiet and gentle spirit when talking with your husbands. If not, you are simply sharing the stress and transferring it to him. How can he be respected "at the city gate" when he is stressed over all of the problems in the household?
Most husbands will, of course, want to come to their wife's rescue and will willingly take on their troubles. Try to give your husband some space and when possible, try to solve issues before getting him involved. Of course, never keep anything from him, but do your best not to transfer your stress to him.
Her husband is respected at the city gate, where he takes his seat among the elders of the land. Proverbs 31:23
How else does this verse apply to today's world? I'd love to hear your thoughts.
Looking for a book resource instead? Here are a few that I recommend:
Or my book, The Complete Proverbs 31 Wife: A Verse by Verse Exploration of What it Means to Be a Proverbs 31 Woman in Today's World.
Because of Him,
Sue
Did you miss "What if My Husband Doesn't Deserve a Proverbs 31 Wife?" click HERE to read it.