Holly Lane Christian Jewelry + My New Favorite Necklace
This page/post may contain affiliate links.  As an Amazon Associate, as well as an affiliate of other programs, this means if you purchase something using these links, I will receive a commission on qualifying purchases at no cost to you! For more detailed information, please visit our Affiliate Disclaimer page
About Holly Lane Christian Jewelry
One of the best parts about being a blogger is being introduced to new (or new to me!) brands and products. I recently lost my cross necklace given to me by my husband and had been looking for a replacement. When I heard about Holly Lane Christian Jewelry and checked out their website, I knew I found my new cross necklace.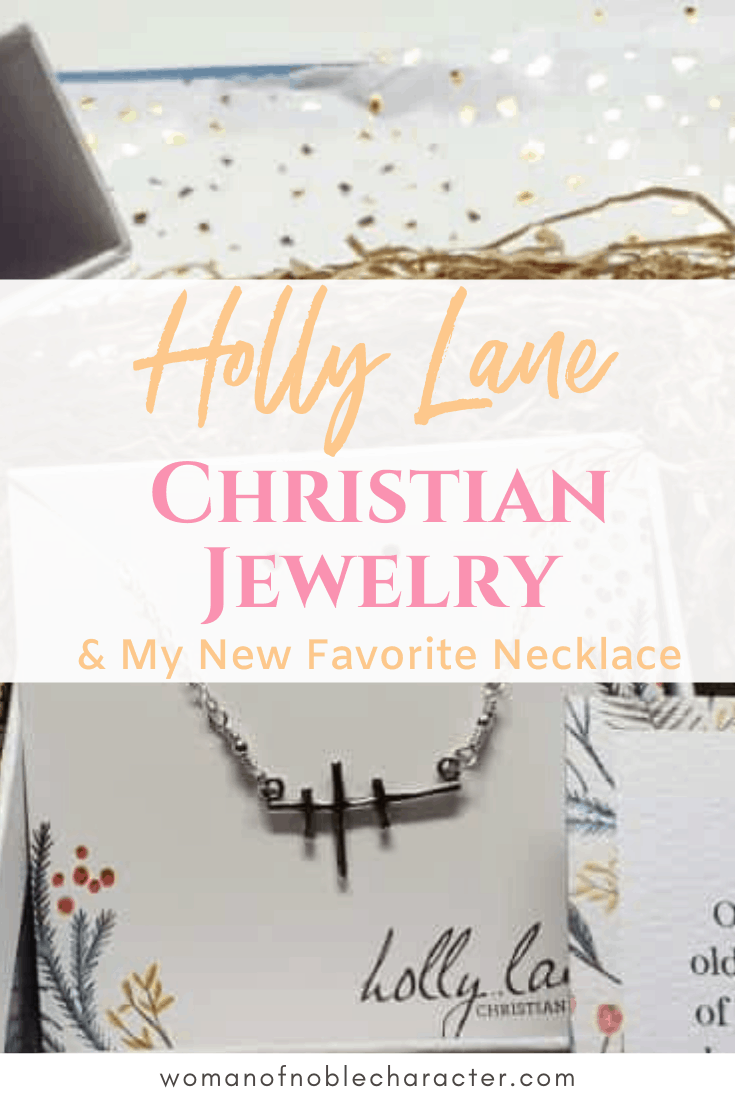 Holly Lane Christian Jewelry's line of jewelry is intentionally designed to create opportunities to share Christ with others, and to be worn as a personal reflection of faith.
(Read on below for a chance to win a $100 e-gift card and for a sweet discount on any purchase at Holly Lane.)

Designed in central Virginia by jewelry artist Tiffany Scott, each piece is created based on Bible verses "in order to bring comfort to the wearer and be a representation of God's promises." They are unique and meant to "catch the attention of others and spark conversation about the verses they are based on."
How It's Made from Holly Lane on Vimeo.
Each lovingly packaged item comes with a Story Card that features the verse (or hymn) on the front and and an explanation of the design's significance on the back. The designer uses a variety of semiprecious gemstones across the product line.
One cool feature to The Holly Lane line is that each person can create a look and personal statement to reflect what God is doing in their lives and the promises He made to us.
Below, I'll share my experience with Holly Lane and which necklace I proudly call my own, but here is a small selection of other products available across the Holly Lane line.
My Experience With Holly Lane Christian Jewelry
One of the first things I noticed when I opened my Holly Lane package is the care taken in package. Every detail is carefully done to create an experience. From the sticker on the top to the ribbon and tissue paper wrapping and from the dove sticker to the sturdy, yet pretty jewelry box, you can easily tell how much love and care goes into each shipment. It's more than a business transaction; it's a ministry.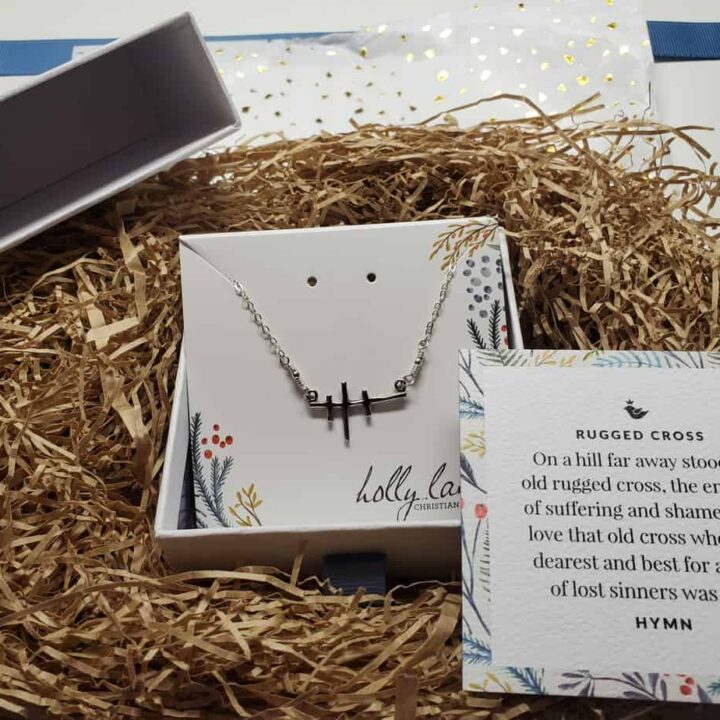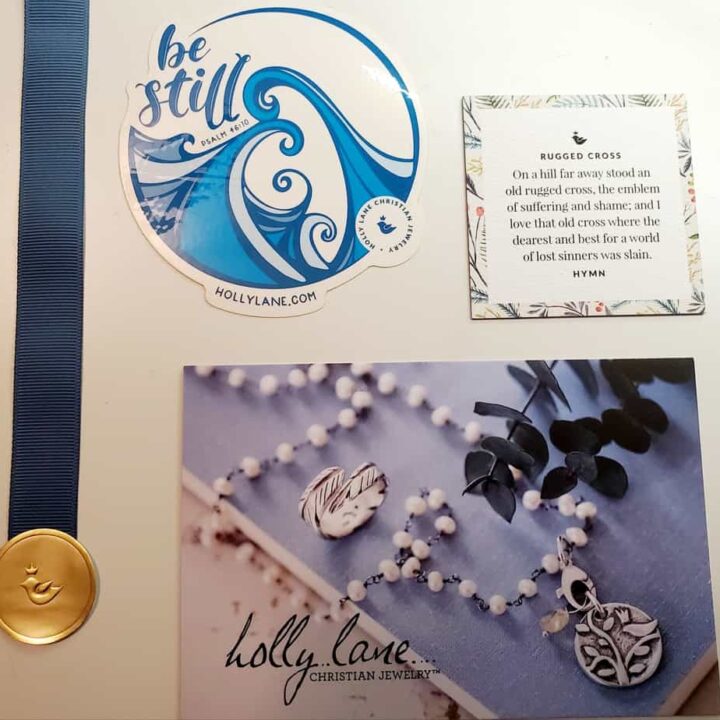 Here's a short video of my unboxing of my Holly Lane Christian Jewelry package.
I chose the Three Crosses Necklace to represent what Christ did for me at Calvary. The necklace, with a sterling silver chain, is absolutely beautiful.

The included card features an excerpt from the hymn Old Rugged Cross:
"On a hill far away stood an old rugged cross, the emblem of suffering and shame; and I love that old cross where the dearest and best for a world of lost sinners was slain."
I'm absolutely in love with my new necklace. The care taken in designing each piece is evident and the artistry is breathtaking.
I've found my new go-to place to shop for Christian jewelry.
Enter To Win a $100 Gift E-Card From Holly Lane Christian Jewelry

You can enter to win a $100 e-gift card to shop until your heart is content at Holly Lane Christian Jewelry. If you won, what would you choose?
Shop Holly Lane Christian Jewelry With A Discount
If your wish list is anything like mine (long!), you'll want to grab this discount code before you shop. I plan on purchasing a necklace for my granddaughter, a bracelet for a friend and earrings for my daughter. I also have the charm bracelet and a few pair of earrings on my personal wish list.
Here's the code for you to save 20% off your purchases at Holly Lane Christian Jewelry: 20FORYOU
Simply enter the code at checkout to save.
If you make a purchase (or win!) be sure to share a photo on social media with the hashtag #hollylane.
For more reviews on Christian products and books, see this section of my website.
Because He Lives,
Sue