This page/post may contain affiliate links. As an Amazon Associate, as well as an affiliate of other programs, this means if you purchase something using these links, I will receive a commission on qualifying purchases at no cost to you! For more detailed information, please visit our Affiliate Disclaimer page
Everyone has hard times. But your success in overcoming is contingent on your initial approach. It all starts with trusting God in the hard times. Faith goes a long way when you've got challenges in your life. Prayer, praise, gratitude, they all play a role for a successful outcome.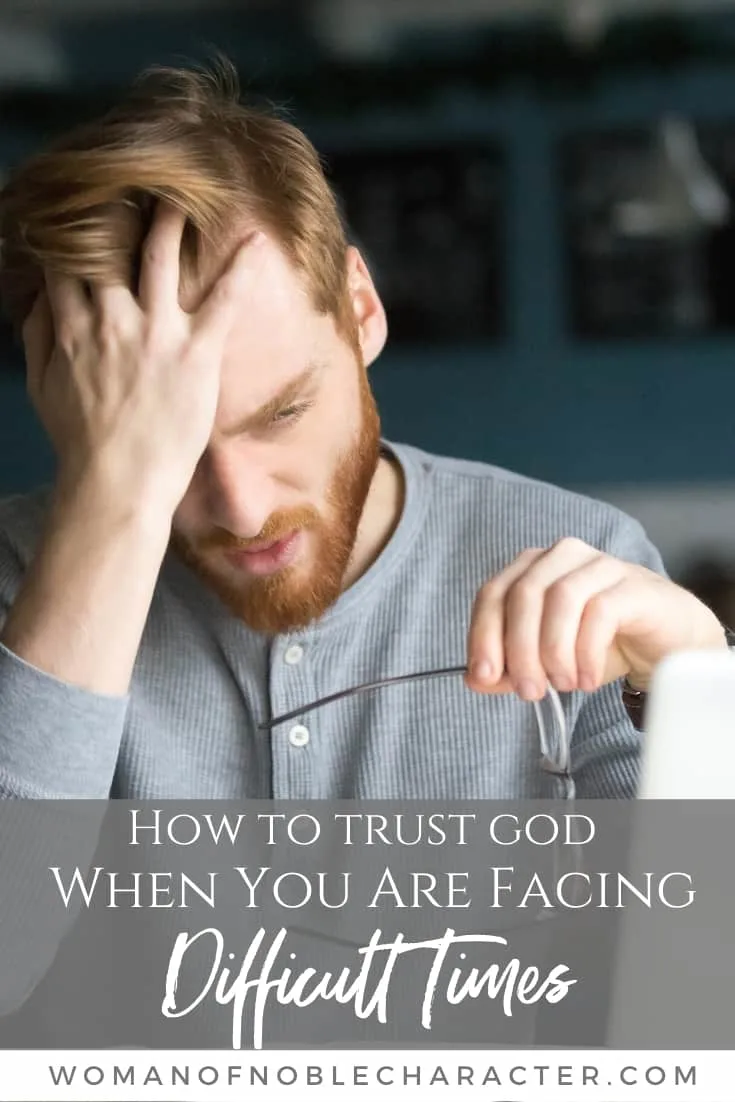 What does the Bible say about going through hard times?
Struggles are a part of life, as you can see from the Bible verses about hard times that I'm about to share with you. But through those trials, many blessings will come if we handle our trials with grace and faith. The crown of life is available to us. We are assured that better days are coming. We can find peace through our Lord, Jesus Christ. Not only that, but all things are done for our good and the wonderful glory of God.
We should pray for guidance during our afflictions. Although it's natural to pray for the removal of our struggles, it's better to pray for wisdom and guidance to serve God through it. Be sure your prayer includes faith in trusting God in hard times too. One of the cool things about running a challenging race, a life of struggles, is that God promises a reward for those who endure to the end. It's very similar to a reward at the end of a marathon. But a crown or reward from the Lord is far better than a medal from a worldly race.
James 1:12 KJV "Blessed is the man that endureth temptation: for when he is tried, he shall receive the crown of life, which the Lord hath promised to them that love him."
Regardless of what we endure here on earth, if we have accepted Jesus Christ as our Savior and have been saved by the grace of God we have eternal security with Him in Heaven. Our eternity is secure and the most perfect day on earth won't even compare to what forever with Jesus looks like in our Heavenly home.
Roman's 8:18 KJV "For I reckon that the sufferings of this present time are not worthy to be compared with the glory which shall be revealed in us."
In all things though, regardless of our trial, God works all of it out for our good and His glory. Sometimes you may wonder if that's true. But if you put your faith and trust in Him, it will happen.
How do you get faith in hard times?
It's during the hard times that we grow our faith the most. Our faith grows because we have to lean into God if we want the strength and courage to endure it.
God gives us trials to offer us opportunities to do better and to grow. Going through a challenge is like the purification that gold gets in a refining fire. God is using these opportunities to strip away our impurities to make us stronger, to increase our faith and help us grow spiritually.
In 2011, I went through a life-threatening illness that resulted in the amputation of both of my hands and both feet. It was through that experience that I really learned to trust God. One of the primary Bible verses about hard times that got me through my challenge, and helped me in trusting God in the tough times was Proverbs 3:5-6.
Proverbs 3:5-6 KJV "Trust in the Lord with all thine heart; and lean not unto thine own understanding. In all thy ways acknowledge him, and he shall direct thy paths."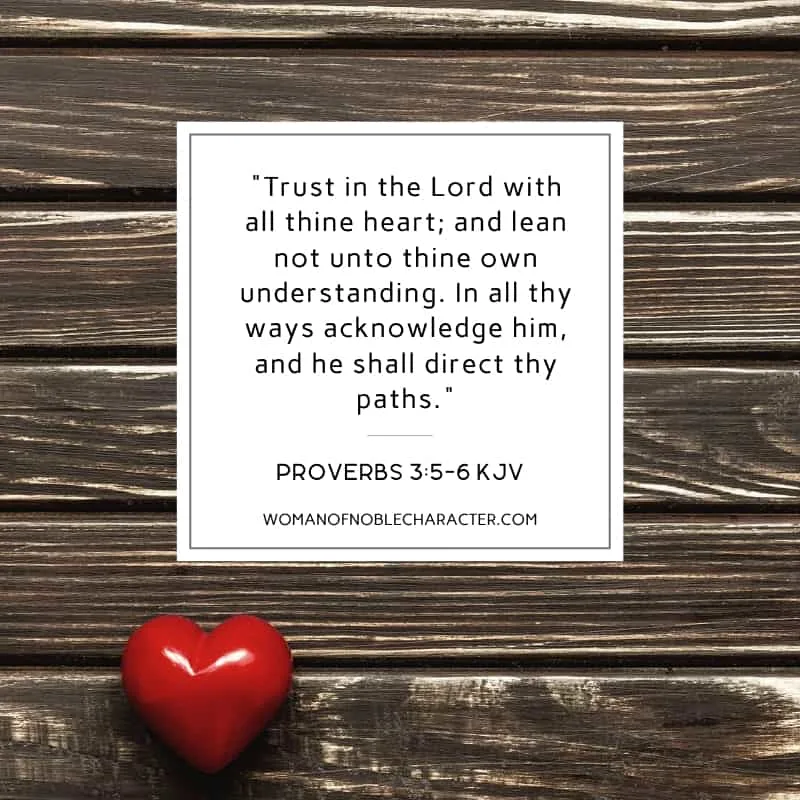 The more you lean on your faith, the more it stretches the faith muscle. As you know, the more you work a muscle, the stronger it gets. So through putting my complete faith in the Lord, it gave me the peace that He was in control and I could rest, knowing that He was working it all out for my good.
How do you praise God in difficult times?
First, let's talk about the meaning of praise. Dictionary.com defines praise as "the act of expressing approval or admiration; commendation; laudation, or the offering of grateful homage in words or song, as an act of worship." Basically praise is giving God thanks and worshiping Him through prayer, song, Bible study, and church attendance. Praise is giving God credit for all He is and all He does.
As we go through our trials, should we praise God for that? You betcha! When you pray for strength, you're praising God by acknowledging that He alone has the power to help and heal you. When you read your Bible and you focus on scripture that gives you courage and increases your faith, you're recognizing that God loves you, cares for you and has the power to help you.
We also praise God because He gives us hope. Hope means that we can put our trust in the Lord to see us through all the way to the end. We can abound in hope because we have no need to fear. He knows our doubts and fears. He just wants us to seek Him in all we do.
Thank Him, praise Him, trust God in the hard times and give Him all the glory for the bountiful blessings in our lives. Finding gratitude in hard times is also a great opportunity to praise God as well.
Roman's 11:36 KJV "For of him, and through him, and to him, are all things: to whom be glory for ever. Amen."

Psalm 46:1-3 "God is our refuge and strength, a very present help in trouble. Therefore will not we fear, though the earth be removed, and though the mountains be carried into the midst of the sea; Though the waters thereof roar and be troubled, though the mountains shake with the swelling thereof. Selah."
Roman's 15:13 "Now the God of hope fill you with all joy and peace in believing, that ye may abound in hope, through the power of the Holy Ghost."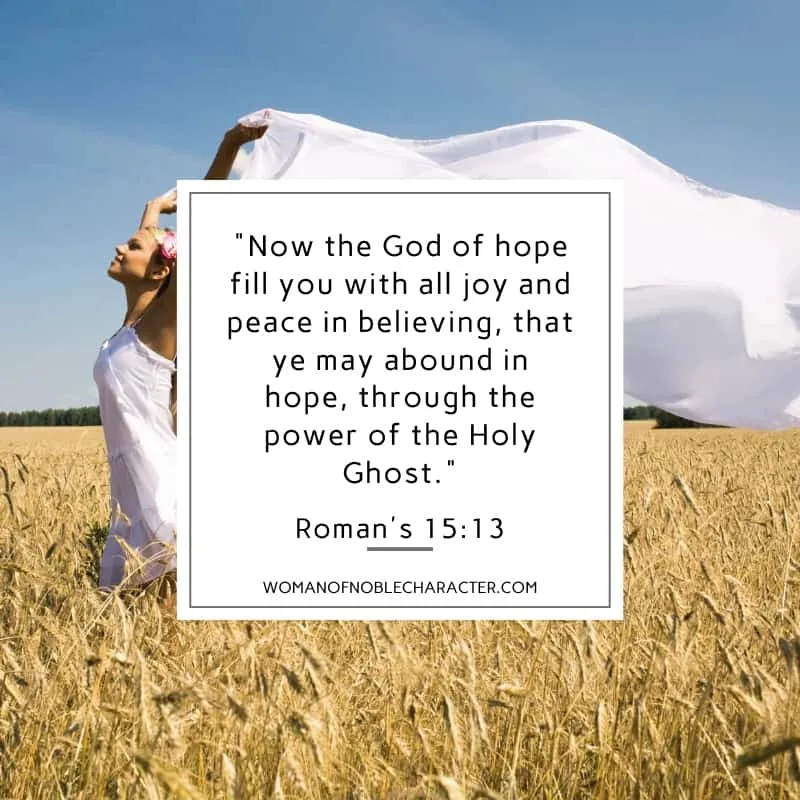 How do you pray for a difficult situation?
We always run to prayer when we are faced with great challenges in our lives. But are we really trusting God in hard times, to answer our prayers? Do we think He will answer us? In my own experience, I know that God is capable, but do I believe that He will answer my prayer the way I want it answered? I think that is the challenge most of us face.
It's not that God is not capable. We have an amazing God. Of course He is capable. Do we really think that the God who created the stars, the skies, oceans, trees and all of mankind can handle our little problem? Our God created mankind with all our organs, muscles, veins and the intricate system we are designed with. Our incredible God orders the whole system of organization for the whole universe. Is He capable?
Oh sure, we know that He's capable. Are you really trusting God in tough times? The real question is, will He answer my prayer the way I want Him to? The best answer I have for you is, it doesn't matter!
It doesn't matter, because the God of the universe has a whole different perspective than you do. And if we live by the rule of Roman's 8:28, then we know that God has a plan for our lives. He knows best. We just have to trust Him. It's as simple as that.
Romans 8:28 "And we know that all things work together for good to them that love God, to them who are the called according to his purpose."
So when you're praying for a difficult situation, it's all about faith. Let's face it, in most cases, trusting God in hard times is the only option when you're struggling. So it's important to trust Him that He will guide you in the path that you should go. Remember Proverbs 3:5-6.
How do you overcome struggles in life?
The goal of my blog, One Exceptional Life, is to help you overcome any challenge you're facing, through faith and prayer, gratitude, kindness and a whole lot of positivity. First, you start with faith and prayer. We all know that we cannot fight the enemy alone. We need the Lord on our side.
Then consider all of the many blessings that we have to be thankful for. Those times of discouragement and frustration really should be replaced with gratitude. I believe it's important to always look for the blessing in every challenge. Finding gratitude in hard times means looking for the silver lining in every dark cloud.
And then it's really hard to have a pity party when you turn your eyes on helping others. Reach out and help someone who needs some encouragement. Make cookies for a sick friend. Run some errands for an elderly shut-in.
It's through these three activities, faith, gratitude and kindness, I've been able to overcome my personal challenges, including rebounding and living a thriving life after a life-threatening illness and quadruple amputations. If I can do that, you can overcome any challenges that you face too.
How do you trust God when life is hard?
First you start with faith. You can trust God because you know His promises are true. This is why immersing yourself in the Word of God helps you to understand who He is, His attributes, His character. You can also look back on your own life. See where your prayers have been answered and how God has worked in your life.
Remember, faith works as a muscle. The more you work it, the more it grows. Plus, it's easy to have faith when things are going smoothly. But when problems pop up, that's when the struggle begins. Of course there are a bunch of scriptures on trusting God in the Bible, including some I've added below. But these 10 steps will give you some action ideas to put your faith to work.
Hebrews 11:1 "Now faith is the substance of things hoped for, the evidence of things not seen."
Philippians 4:6-8 KJV "Be careful for nothing; but in every thing by prayer and supplication with thanksgiving let your requests be made known unto God. And the peace of God, which passeth all understanding, shall keep your hearts and minds through Christ Jesus. Finally, brethren, whatsoever things are true, whatsoever things are honest, whatsoever things are just, whatsoever things are pure, whatsoever things are lovely, whatsoever things are of good report; if there be any virtue, and if there be any praise, think on these things.
Bible verses for hard times
So to wrap things up to help you in your quest in trusting God in hard times, here are a few of my favorite scriptures.
Joshua 1:9 "Have not I commanded thee? Be strong and of a good courage; be not afraid, neither be thou dismayed: for the Lord thy God is with thee whithersoever thou goest."
Psalm 50:15 "And call upon me in the day of trouble: I will deliver thee, and thou shalt glorify me."
2 Corinthians 1:3-4 "Blessed be God, even the Father of our Lord Jesus Christ, the Father of mercies, and the God of all comfort; Who comforteth us in all our tribulation, that we may be able to comfort them which are in any trouble, by the comfort wherewith we ourselves are comforted of God."
John 16:33 "These things I have spoken unto you, that in me ye might have peace. In the world ye shall have tribulation: but be of good cheer; I have overcome the world."

1 Peter 1:7 "That the trial of your faith, being much more precious than of gold that perisheth, though it be tried with fire, might be found unto praise and honour and glory at the appearing of Jesus Christ:"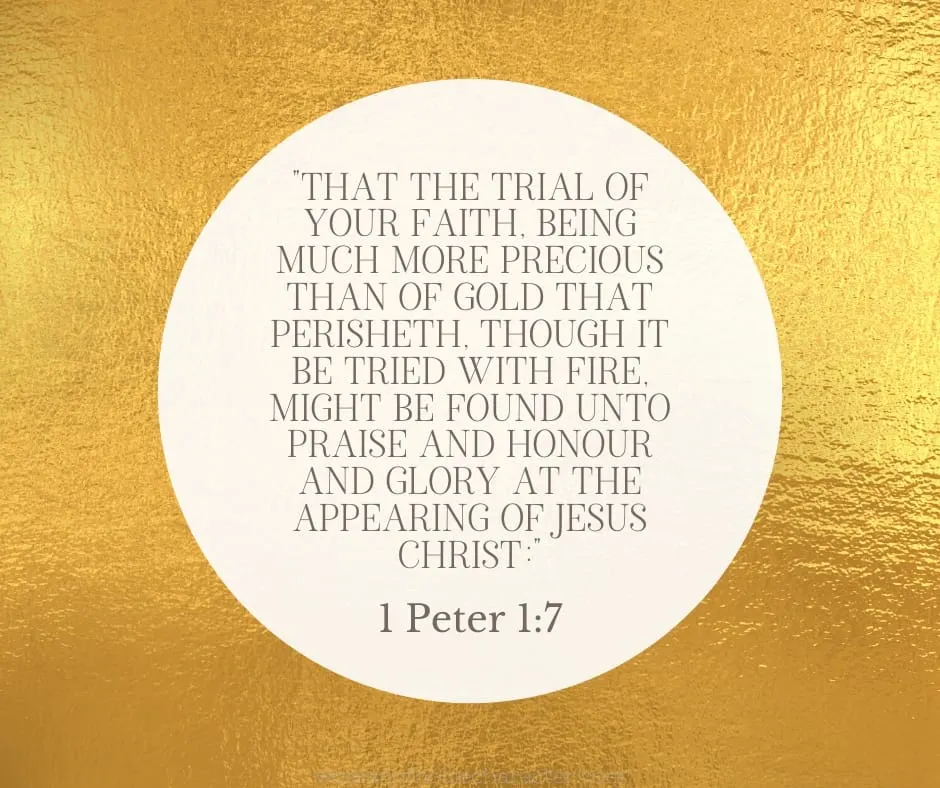 Trusting God in hard times
Everybody struggles, that's a fact. What separates those who thrive from those who don't is their mindset, their faith and their willingness to press on with God leading. Trusting God in hard times is necessary to give you the best tools in the arsenal of life. He will guide you, He knows what the solution is and how to get there. You bring faith into the mixture.
Tough times are inevitable. Let God lead you through them and not only will you have better success, but you'll have peace that whatever happens is for your good and God's glory. It may not work out the way you think is best. But God knows better. We just have to trust Him.
Now it's your turn. Share an experience of trusting God in tough times. What tips worked for you? Did you allow faith, gratitude and kindness to work in overcoming your challenges? Did you focus on finding gratitude in hard times as well? If so, how did they help you?
Biography of Guest Writer, Wendy Wallace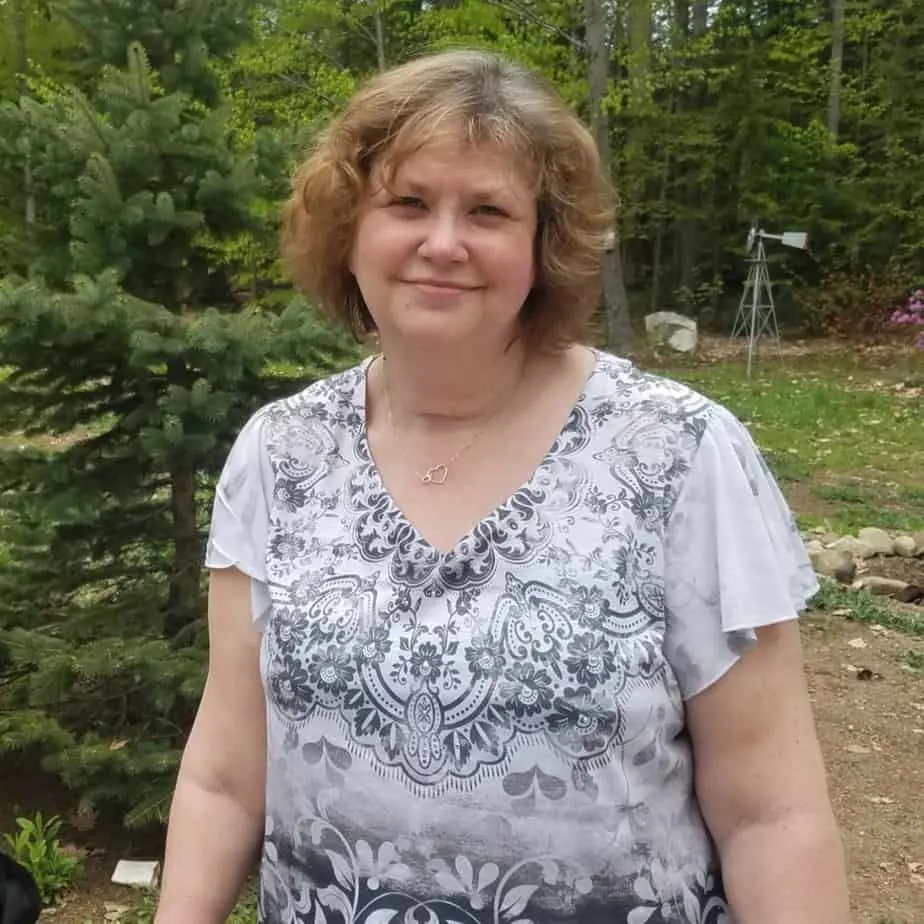 Wendy Wallace is a wife, mom, Christian Inspiration blogger and author. She is also a quadruple amputee. You can find her at One Exceptional Life, where she blogs about Overcoming Challenges, Christian Living, Gratitude, Kindness, Positivity and Amputee Life.
You may also enjoy Bible verses when you are feeling rejected or down.
Or one of these recommended resources or devotions: