How To Pray According To The Bible
This page/post may contain affiliate links.  As an Amazon Associate, as well as an affiliate of other programs, this means if you purchase something using these links, I will receive a commission on qualifying purchases at no cost to you! For more detailed information, please visit our Affiliate Disclaimer page
How to Pray, according to the Bible. Praying, for some, comes natural. For others, they don't know what to say. Fortunately, the Bible gives us an instruction manual on the right way to pray.
Before we get into how to pray, let's look at there where, when and why of praying.
(Grab your free prayer tracker printable here)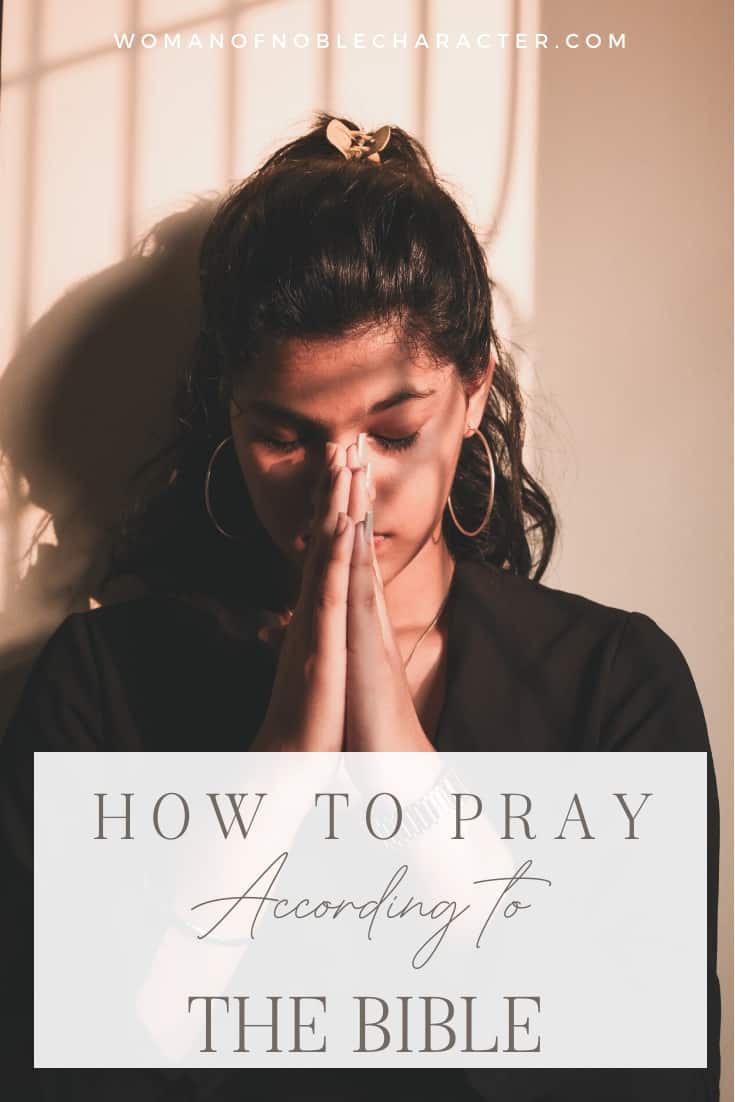 Where to Pray
You can pray anywhere you feel comfortable and have peace. You may wish to go to a formal place of worship or where the environment reminds you of your spiritual bond (like a park or other natural setting). You can pray privately or with others.
For daily prayer time, find a quiet place in your home. I pray throughout the day, but each morning set aside quiet time with God in my office. This way, I have my Bible and War Binder handy. It's also a time where I'm the only one awake and can focus on God without distractions.
When to Pray
All of the time! Talk to God throughout your day, but I encourage you to set aside daily prayer time. Make prayer a part of your daily routine, such as I do, in the early morning. My husband and I also set aside time each night after we do our devotions and before every meal. There is no wrong time to pray.
Observant Jews pray 3 times a day (Shacharit, Minchah, and Maariv/Arvith) and Muslims pray 5 times a day. Most Christian denominations don't have a schedule or requirement for when to pray, but rather pray during their quiet time or when a pressing issue is weighing on them.
Why Pray?
First and foremost, because God instructs us to. There are many Bible verses on prayer, but simply put, we are to "Pray without ceasing" 1 Thessalonians 5:17 ESV
Often praying is part of a worship experience, either at church or privately. It can be a thanksgiving for a meal or a request to God. It can be asking for forgiveness or lifting others up.
Prayer is not about us. It is about God.
Some things to Remember About How to Pray
Prayer can be spoken aloud or quiet, reflective silence. It can be whispers and, it even can be writing scripture, music or dance. (See this post on Creative Worship)
Whatever helps you to feel closer to God and in His presence can be an activity of prayer. For some, they pray while running or walking. Others are curled up in bed and still others, like me, sit at my desk with my Bible and journal. In short, whatever or wherever you can feel thankful, humble, full of wonder, and recognize that God is in control is where you should start in knowing how to pray.
How to Pray According to the Bible
Jesus provides clear instructions when it comes to prayer. In what is, arguably, His most well known sermon, the Sermon on the Mount, Jesus shares with His followers what has become known as "The Lord's Prayer." His example illustrates a prayer filled with praise, submission to the will of God, reliance upon Him for our daily needs and requests for forgiveness. Jesus' prayer focuses more on honoring God than listing needs to be met.
Isn't that what we often do? Give God a list of all of the things we need when we pray to Him?
Interestingly, shortly after Jesus gave this instruction on how to pray, He reminded his followers that "the Father knows what you need before you ask Him" (Matthew 6:8). So, if God already knows what we need, why do we bother asking?
Because prayer is not an exchange of information, but rather an act of humility.
Prayer is necessary for us to admit that we don't have all of the answers. We don't know it all.
According to the Bible, God is all knowing and possesses full wisdom which means He understands everything about a situation and sees the best way through it (Great is our Lord and mighty in power; his understanding has no limit. Psalm 147:5).
As we go through our days of responsibilities, pressures and struggles, we need to recognize that we don't have the answers, but God does and turn to Him in prayer.
With Him are wisdom and might; To Him belong counsel and understanding -Job 12:13
Ultimately, Jesus demonstrates through His own life that prayer provides a way straight to our Heavenly Father. All throughout the New Testament, we're told that Jesus "often withdrew to lonely places and prayed" (Luke 5:16). He was intentionally setting aside time alone to meet with God in prayer.
In Luke 10:27, Jesus tells us to "Love the Lord your God with all your heart and with all your soul and with all your mind." When we love someone, we want to spend time with them, to talk with them. It is only through prayer (and spending time in the Holy Word) that one can go from knowing about God to truly knowing Him.
How Not to Pray
"And now about prayer. When you pray, don't be like the hypocrites who love to pray publicly on street corners and in the synagogues where everyone can see them. I assure you, that is all the reward they will ever get. – Matthew 6:5
In the above verse, Jesus tell us what not to do when praying. He tell us the our motivation in praying should not be to be seen and heard. He tell us to be specific about our words to God. Ultimately, our motivations behind prayer should be good and not selfish.
How to Pray
But when you pray, go away by yourself, shut the door behind you, and pray to your Father secretly. Then your Father, who knows all secrets, will reward you. "When you pray, don't babble on and on as people of other religions do. They think prayers are answered only by repeating words over and over again. Don't be like them, because your Father knows exactly what you need even before you ask him! – Matthew 6:5-8
As mentioned above, pray where you feel comfortable and feel closer to our Heavenly King.
In Matthew, chapter six, Jesus gives us specific instructions on how to pray. We are to:
Praise God for who He is, His attributes, His name and His character (Verse 9)

Pray for God's will to be done on earth and that He will be present here on earth (Verse 10)

Present our requests to God for what we need (or think we need! He knows what we need!) (Verse 11)

Ask for forgiveness for our sins and for those who have wronged or hurt us (Verse 12)

Ask for help in avoiding temptation and keeping us from Satan and his power (Verse 13)
"Formula" for How to Pray
If you are new to praying or want to get the most out of your prayer time, you may wish to use a "formula" to help guide you in how to pray. Use the related scriptures as part of your prayer, if you wish.
Start by praising God.
Thank Him for who He is. Praise Him for being reliable, constant, loyal, steadfast, dependable, all-knowing, full of wisdom.
Related Scripture:
For the word of the Lord is right and true; he is faithful in all he does. – Psalm 33:4
Your kingdom is an everlasting kingdom, and your dominion endures through all generations. The Lord is trustworthy in all he promises and faithful in all he does. – Psalm 145:13
Because of the Lord's great love we are not consumed, for his compassions never fail. They are new every morning; great is your faithfulness. I say to myself, "The Lord is my portion; therefore I will wait for him." – Lamenations 3:22-24
Confess your sins.
Ask God for forgiveness. Even if you haven't committed any of the "big 10" – broken any of the commandments, you, most likely, if you are like me, sin in other ways on a near daily basis. We are human. We judge others, use God's name in vain, on occasion. We might use words that tear down others or act jealous for what another has. Whatever your sin, ask God for forgiveness and ask Him to remove temptation from future sins. Ask, too, that He would keep Satan and his power away from you.
Related Scripture:
If we confess our sins, he is faithful and just and will forgive us our sins and purify us from all unrighteousness. – 1 John 1:9
Whoever conceals their sins does not prosper, but the one who confesses and renounces them finds mercy. – Proverbs 28:13
Then I acknowledged my sin to you and did not cover up my iniquity. I said, "I will confess my transgressions to the Lord." And you forgave the guilt of my sin. – Psalm 32:5
Give Him Thanks
Thank Him for all of the blessings, big and small that He has given you. Thank Him for food, shelter and puppy kisses. Thank Him for rain for the grass and shade from the trees. No thanksgiving is too small. No matter what you are facing, you can find blessings. (For more on gratitude and the gratitude challenge, see this post).
Related Scripture:
give thanks in all circumstances; for this is God's will for you in Christ Jesus. – 1 Thessalonians 5:18
always giving thanks to God the Father for everything, in the name of our Lord Jesus Christ. – Ephesians 5:20
Give thanks to the God of heaven. His love endures forever. – Psalm 136:26
Intercession
Come to God with your requests and your requests on behalf of others. You may wish to keep a journal or a section in your war binder for prayer requests. This will help to remind you who and what to pray for. No request is too big or too small, but remember that our intention behind our prayers is important to God. Selfish or vain prayers are not pleasing to God. Ask for healing, provision, peace but asking to win the lottery is probably not done without selfishness. God will give you want you need, not what you think you need. (See more on this below).
Related Scripture:
I urge, then, first of all, that petitions, prayers, intercession and thanksgiving be made for all people – 1 Timothy 2:1
In the same way, the Spirit helps us in our weakness. We do not know what we ought to pray for, but the Spirit himself intercedes for us through wordless groans. – Romans 8:26
Therefore he is able to save completely[a] those who come to God through him, because he always lives to intercede for them. – Hebrews 7:25
Other Instruction in the Bible on Praying
Other New Testament writers provide additional ways to pray. Paul, in Philippians 4:6, says that we should pray for everything with thanksgiving. Paul, one of the prolific disciples, who wrote several books in the New Testament, often began and ended his letters in prayer. Specifically, Paul prays for God's grace, peace, love, and faith among believers.
Peter, in 1 Peter 5:7, tells us to cast all our cares upon God, because He cares about us.
In James 1:5, we read that we can pray and ask God for wisdom, but this should be done in faith. James 4:1-4 says that when we pray, we often pray or ask out of our own selfish ambition. James 4:15 exhorts that we need to pray for God's will to be done in our lives.
In the Old Testament, Moses prayed to God almost constantly on behalf of the Israelites — for God's mercy and graciousness in dealing with their sins. Abraham prayed persistently for his relative Lot, who lived in Sodom, that God would spare Him. 2 Chronicles 14:11 says Asa cried out to the Lord. Prophet Jeremiah prayed for God's guidance and correction of the Israelites (Jeremiah 10:23-24). David prayed for the peace of Jerusalem in Psalm 122:6.
The primary focus of prayer is the intent. Does your prayer honor God and exalt His name? What is the purpose behind the prayer? Is it personal gain or ambition? Do you pray for others to be blessed and encouraged? Are your prayers done in secret and in humility? Are your prayers focused on obtaining godly wisdom, counsel, and direction? God is pleased with these prayers and answers them.
God Will Answer Our Prayers, but …
Jesus said:
"Ask and it will be given to you; seek and you will find; knock and the door will be opened to you. For everyone who asks receives; the one who seeks finds; and to the one who knocks, the door will be opened.

"Which of you, if your son asks for bread, will give him a stone? Or if he asks for a fish, will give him a snake? If you, then, though you are evil, know how to give good gifts to your children, how much more will your Father in heaven give good gifts to those who ask him! – Matthew 7:7-11
God will answer our prayers and give us everything we need and more (Mark 11:24, John 15:7). But a wise parent won't give their child everything he or she wants. Similarly, prayer is not a magical trick or a genie in a bottle to get anything we want or a "quick fix" for problems that we should be solving ourselves. God answers prayer requests in His own way in His own time (Psalms 40:1-3), and will not grant requests that are against His holy and wise purposes (1 John 5:14-15), are selfish in nature, are not in our best long-term interest, or those made with impure motives.
Often, we need to be persistent in prayer (Luke 11:5-13). The answer, when it comes, may be in a form way different than what we expected. God often uses other people, such as physicians, friends, relatives or new acquaintances, to supply an answer to our prayers (Daniel 10:11-12,).
Sometimes, the answer really needs to come from within ourselves and persistent prayer will help us find that answer. We may need a new attitude or a different way of looking at things (Matthew 5:8), or we may need to reconcile with someone (Matthew 6:14-15).
Do you use a "formula" when praying? Or do you feel that you, intuitively know how to pray?
To dig deeper, see the below recommended resources.
Because of Him,
Sue