How To Trade Guilt For Grace
This page/post may contain affiliate links.  As an Amazon Associate, as well as an affiliate of other programs, this means if you purchase something using these links, I will receive a commission on qualifying purchases at no cost to you! For more detailed information, please visit our Affiliate Disclaimer page
I was guilty and I knew it. Even though I asked God for forgiveness over and over, I still carried guilt with me and felt plagued by its weight on my life.
Do you carry the weight of guilt from past sins? Maybe it isn't even a collection of sins in a plural sense. Maybe it's just one diabolical sin that has gripped you for so long you hardly distinguish yourself apart from it.
You know all about remorse, humiliation, and shame. They've weaseled their way into your life and continue to whisper and remind you of your failures.
Guilty as charged.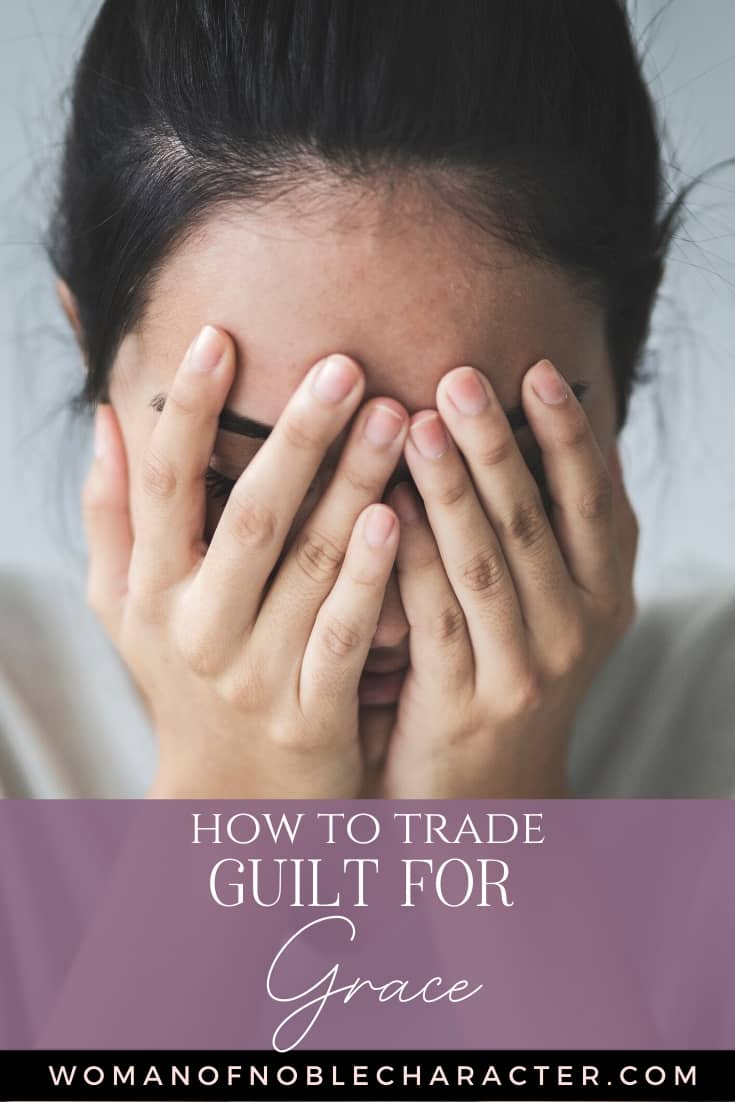 As if you need the reminder. You know you're guilty, and you can't escape the accusatory thoughts that are on a neverending repeat album in your mind.
Can you relate?
Friend, there is only one way to trade guilt for grace and today can be the first day that album is completely destroyed for good.
The Weight of Guilt
The weight of guilt isn't measured in ounces, pounds, or even tons, though sometimes it certainly feels like the heaviest load known to mankind.
Guilt infiltrates our entire being.
Our eyes go downward.
Our soul feels doomed.
Our hope diminishes.
Our outlook dims.
Is that of God?
The emphatic answer is, "NO."
Romans 8:1 NLT tells us, "So now there is no condemnation for those who belong to Christ Jesus."
This verse is saying there is no, zilch, nada, zero condemnation for those who belong to Christ Jesus. Dictionary.com defines condemn as to express an unfavorable or adverse judgment on; indicate strong disapproval of; to pronounce to be guilty.
As a daughter of the King of kings, our guilt has been dealt with. The only problem is, we do not always live like it is so.
Why do we continue to carry guilt over past sins? If Jesus died on the cross for every sin and we have asked Jesus into our life as our Savior, why do we still live burdened by the weight of guilt?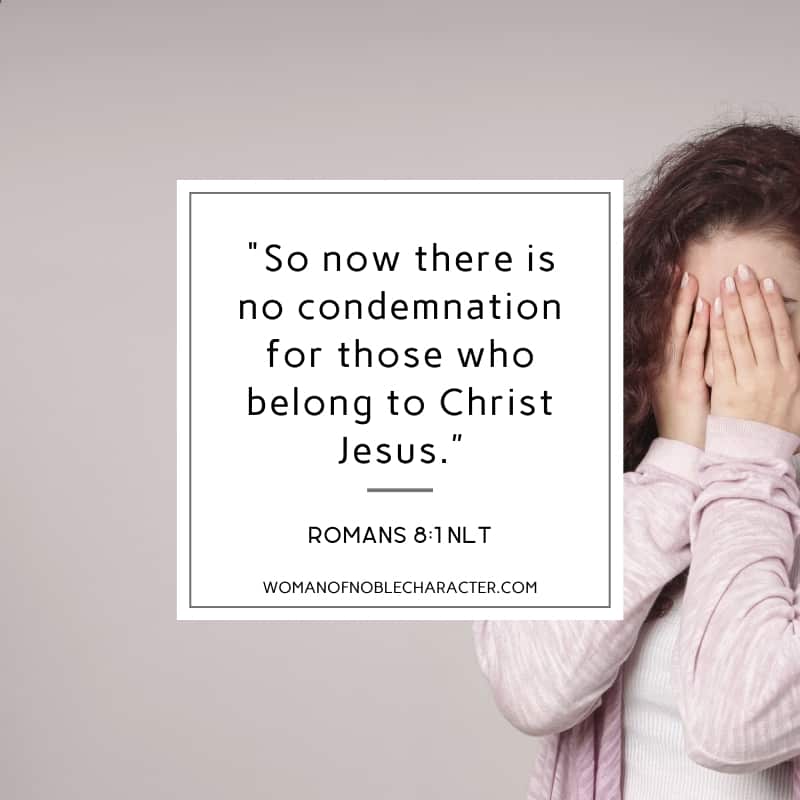 Example Of Guilt In The Bible
Do you know the story of the woman publicly accused of adultery? It's found in Mark 7:53-8:11 CSB.
We'll pick it up from verse 3:
Then the scribes and the Pharisees brought a woman caught in adultery, making her stand in the center. "Teacher," they said to him, "this woman was caught in the act of committing adultery. In the law Moses commanded us to stone such a woman. So what do you say?"
Can you imagine her humiliation? Her embarrassment? Her guilt?
She's made to stand in the center of a crowd of men queuing up the accusatory album of disapproval and condemnation.
Do we ever need anyone else to increase the weight of guilt we put on ourselves?
Keep in mind, this is standing in front of Jesus himself. There is nothing purer in all the world and her sin is on full display in front of him.

They asked this to trap him, in order that they might have evidence to accuse him. Jesus stooped down and started writing on the ground with his finger. When they persisted in questioning him, he stood up and said to them, "The one without sin among you should be the first to throw a stone at her."
Then he stooped down again and continued writing on the ground. When they heard this, they left one by one, starting with the older men. Only he was left, with the woman in the center.
Now, she is left face to face with Jesus, a sinless Savior. Notice this passage has twice referenced the woman "in the center."
Maybe we could say she was "spotlighted" or "exposed" or "fully displayed".
There was no hiding for her. No matter how much she would have desired to avoid it, hide from it, run from it, or ignore it, she had to face it with Jesus.

When Jesus stood up, he said to her, "Woman, where are they? Has no one condemned you?"
"No one, Lord." she answered.
"Neither do I condemn you," said Jesus. "Go, and from now on do not sin anymore."
Guilt met Grace that day.
Surrendering Guilt
As much as we hate to have to deal with our guilt, the only way to get to the other side of it is through Jesus.
Anything else is a temporary fix. It is certainly possible to fill our minds and thoughts with distractions. We can shop, or drink, or eat away our pain and humiliation. Binge-watching shows easily brings a temporary distraction. Busyness pushes guilt aside for a period of time.
But sooner or later the accusatory album starts playing again and we get sucked into believing we're doomed for life. No matter the penance, or amount of times we've come to God for forgiveness, we convince ourselves this guilty burden is what we must bear.
While the woman in the passage was being dragged in by the Pharisees and exposed of her sin, do you think she expected freedom? Do you think she anticipated exoneration?
I imagine she was humiliated, shamed, and terrified of imminent death by stoning.
Certainly, she was not expecting Jesus to completely shield her from condemnation.

When she encountered Jesus, her guilt was wholly traded for His perfect grace.
It is the very same way for us.
When we approach Jesus – guilt in hand – he takes it away and tells us, "So now there is no condemnation for those who belong to Christ Jesus." (Romans 8:1 NLT)
Oh, friend, the grace of Jesus is breathtakingly beautiful.
Receiving Grace
With a truly repentant heart, it takes but one time to ask Jesus for forgiveness.
He grants it immediately. We have only to receive it!
"Grace does not depend on what we have done for God but rather what God has done for us. Ask people what they must do to get to heaven and most reply, "Be good." Jesus' stories contradict that answer. All we must do is cry, "Help!" ~ Philip Yancey
It seems too easy that we receive grace by simply asking for forgiveness and surrendering our sin to God. The truth is, the price was blood-bought on the cross. He took our sin, guilt, shame, and humiliation upon himself.
Jesus, our Savior, conquered death and now offers His grace upon us. When all we have is our wretched guilt, He will take all of it away and as he said to the adulterous woman, "Neither do I condemn you."
He dealt with it on the cross!
Receive His grace and do not continue to condemn yourself. Jesus doesn't condemn you.
The accusatory record is not Him.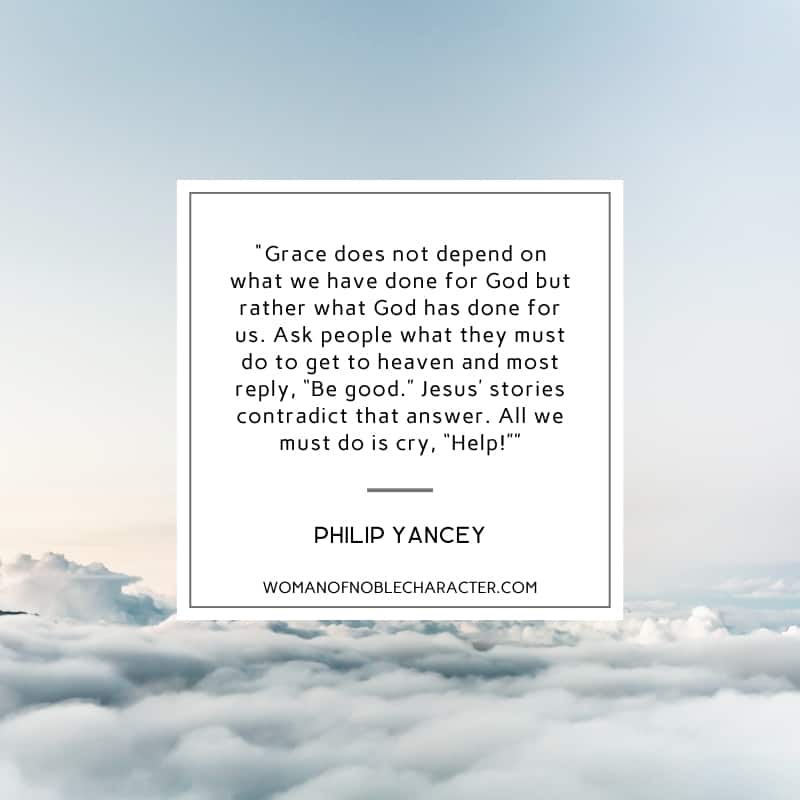 The Gift of Grace
His grace comes with freedom. It is not heavy, it is not burdensome, and it is not hopeless.
I imagine the woman in the passage walked away from Jesus awestruck by the grace she received.
Grace can infiltrate our entire being.
Our eyes can be radiant looking upward to our Savior.
Our soul can be revived with everlasting life.
Our hope explodes with the joy of salvation we've received.
Our outlook knows the never ending love of our Savior.
Daily affirm these truths as you receive and embrace grace in your life.
"Through many dangers, toils and snare, I have already come; 'Tis grace has brought me safe thus far and grace will lead me home." ~ John Newton

Trade your guilt today for the precious gift of grace.
When the accusatory record tries to play again, listen to the powerful words of Jesus instead, "Neither do I condemn you."
And receive His lavish grace all over again.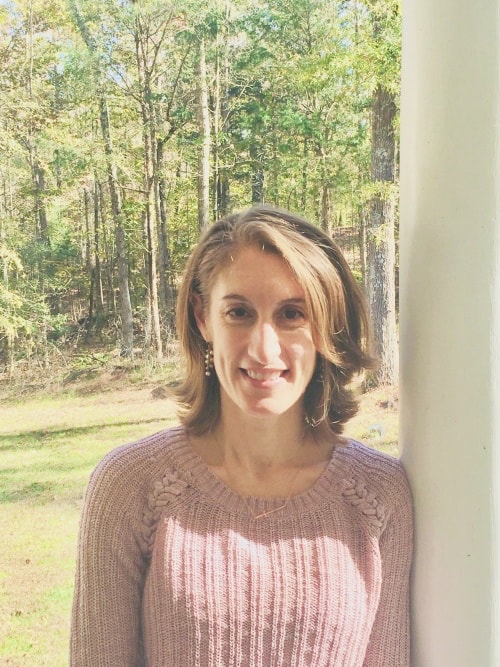 Erin Gram writes at RaiseYourSword.com where she's passionate about raising God's Word above all things and providing nudges and reminders to live out of what we're armed with and not the lies and distractions that we've fallen for. She's married with two kiddos and enjoys living down a long gravel dirt road in the country. Her soul dances when others are encouraged in their faith.