Exploring the Names of God: Jehovah Elohim God and Creator
This page/post may contain affiliate links.  As an Amazon Associate, as well as an affiliate of other programs, this means if you purchase something using these links, I will receive a commission on qualifying purchases at no cost to you! For more detailed information, please visit our Affiliate Disclaimer page
Jehovah-Elohim




אֱלוֹהַּ
We are continuing our series of the names of God. (If you missed our previous posts in the series, you can find them here: Jehovah Rapha and Jehovah Jireh)
Scholars disagree on the meaning of Jehovah Elohim.
Elohim, is believed to be the plural name of El, referring to the one, true Creator God, Divine, Deity.
You can find everything that you are looking for about The Names of God and Why We Should Study and Pray Them, in this post as well as in-depth studies on each of the 9 names of God we cover (Adonai, Abba, Jehovah Jireh and many more) but you may also wish to purchase the ebook for your convenience. No ads, no pop ups and you'll have it forever to refer to when fasting. It includes a video and additional downloads. The best part – it's only $5! Your choice, read it here or have it forever.
An In-Depth Look at 9 of the Names of God
Some scholars believe that Elohim is translated as "God." The derivation of the name Elohim is debatable to most scholars. Some believe it derived from 'êl which, in turn, originates from the root word, 'wl (which means "strong").
Others think that Jehovah Elohim is derived from another two roots: 'lh (which means "god") in conjunction with 'elôah (which means "fear"). And still others presume that both 'êl and Elohim come from 'eloah
While scholars disagree on the meaning of Elohim. Most references that I have found interpret Elohim as strong or mighty.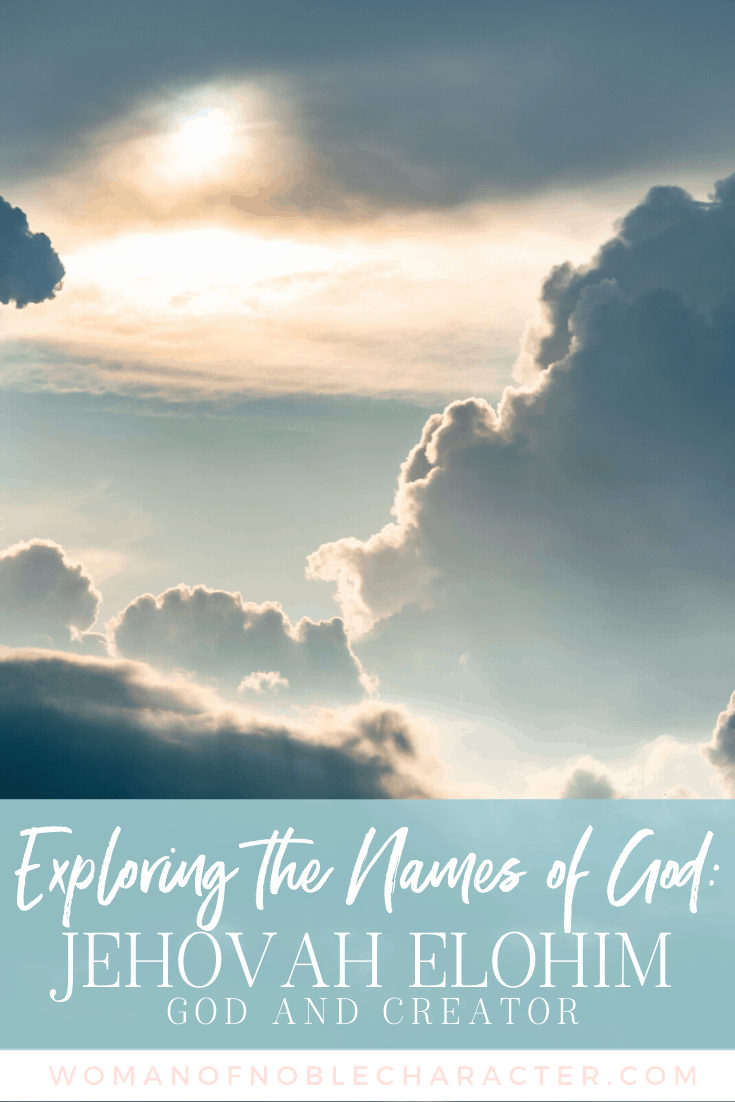 Elohim is first used in Gen 1:1.
The eternal creator, strong, judge (El is used for God 238 times in the Bible, Elohim is used 2600 times) including these verses in the original text.
Philippians 4:13
13 I can do all this through him who gives me strength.

Isaiah 40:29
29 He gives strength to the weary and increases the power of the weak.

Psalm 119:28
28 My soul is weary with sorrow; strengthen me according to your word.
Ephesians 6:10
10 Finally, be strong in the Lord and in his mighty power.

Isaiah 40:31
31 but those who hope in the LORDwill renew their strength. They will soar on wings like eagles; they will run and not grow weary, they will walk and not be faint.

Mark 12:30
30 Love the Lord your God with all your heart and with all your soul and with all your mind and with all your strength.'

2 Corinthians 12:9-10
9 But he said to me, "My grace is sufficient for you, for my power is made perfect in weakness." Therefore I will boast all the more gladly about my weaknesses, so that Christ's power may rest on me. 10 That is why, for Christ's sake, I delight in weaknesses, in insults, in hardships, in persecutions, in difficulties. For when I am weak, then I am strong.
As women, we have to do it all. (of course "doing it all" varies from woman to woman and her life circumstances, but for many of us, it includes the shopping, the cooking, keep the house clean, raise the kids, work. Add to that the struggles and problems that arise in daily life. It can be overwhelming.
There have been many times in my journey as a single mother that the weight was too much too bear. I felt as if I just couldn't do it any more or that if one more thing happened, I was sure to crack.
I can admit that my reaction to life in times of major stress was not always God-pleasing. I would yell at the kids, complain and cry and ask God "why?".
During one of those particularly bad times, I came across a verse that was a life changer for me:
"And He said to me, 'My grace is sufficient for you, for My strength is made perfect in weakness.' Therefore most gladly I will rather boast in my infirmities, that the power of Christ may rest upon me." – 2 Corinthians 12:9
You see? I didn't need to do it alone! I had our Heavenly Father to see me through! HE would take on the weight of my burdens if only I would ask him to!
No, the daily stresses didn't go away, but my REACTION to them drastically changed and in God's perfect plan, everything ended up working out anyway.
All I had to do was to remember that God longs for us to turn to Him!
He doesn't want us to go it alone Jehovah Elohim – God is strong. God is mighty. He is the great creator. How comforting!
If only we lift our burdens to Him and rest in Him! When we realize that He wants to help carry our loads and, when we acknowledge that these are mere earthly troubles which are nothing when we think of the eternal joy that we will have in heaven, then it sure is easier to bear the stress of everyday life.
Questions about Jehovah Elohim to Ponder and Discuss
What is your reaction to difficult times and stress?
Is your reaction pleasing to God?
If not, what can you do differently in the future?
Journal about a time that was tough for you and how you handled it.
Write a prayer to the King of Kings asking him to carry the weight of
your burden.
What other verses about God's strength come to mind?
Or, to really dig deeper into the meaning of God's name Jehovah Elohim, here are some recommended resources:
Because of Him,
Sue