Jehovah Nissi, The Lord is my Banner
This page/post may contain affiliate links.  As an Amazon Associate, as well as an affiliate of other programs, this means if you purchase something using these links, I will receive a commission on qualifying purchases at no cost to you! For more detailed information, please visit our Affiliate Disclaimer page
Jehovah Nissi, The Lord is my Banner
The next in our series of the names of God, Jehovah Nissi, meaning as The Lord is my Banner, is not one commonly used today, but it is so powerful. If you haven't heard this name of God before or wonder what Jehovah Nissi means, I want us to dig into the meaning of this Hebrew name of God, where we find it in scripture and what it means to us today. (If you missed the previous posts on the names of God, you can find them here: Jehovah Rapha , Abba, Adonai, Yahweh, Jehovah Rohi, Jehovah Elohim, and Jehovah Jireh)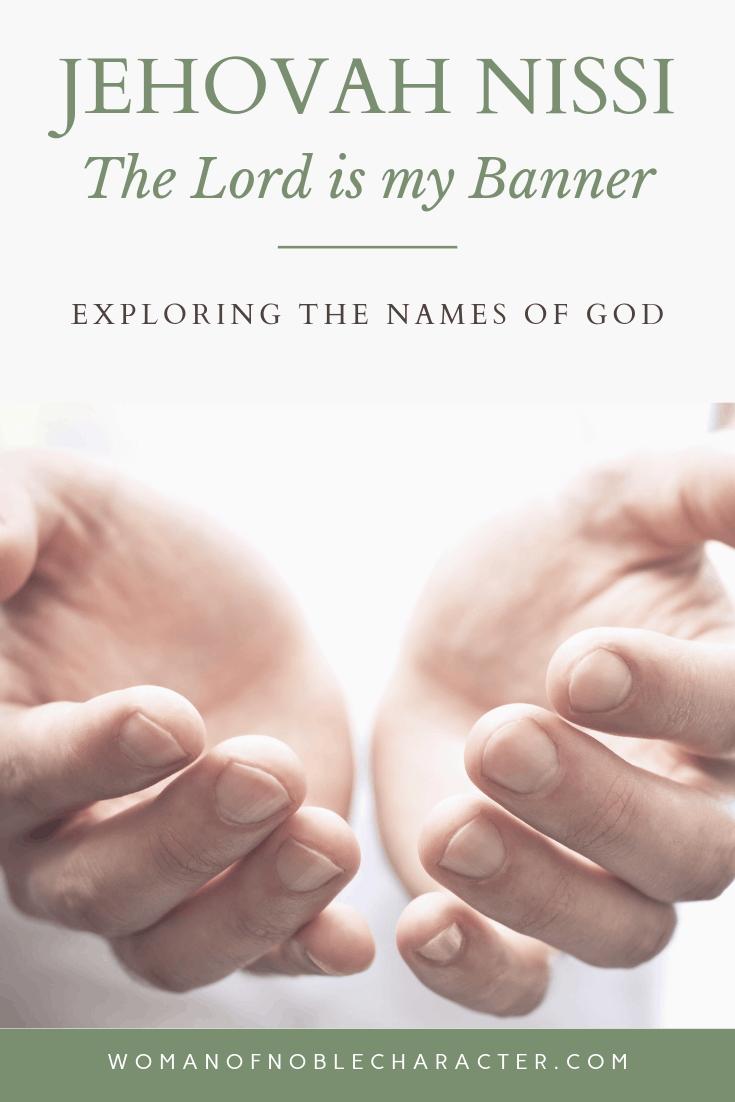 You can find everything that you are looking for about The Names of God and Why We Should Study and Pray Them, in this post as well as in-depth studies on each of the 9 names of God we cover (Adonai, Abba, Jehovah Jireh and many more) but you may also wish to purchase the ebook for your convenience. No ads, no pop ups and you'll have it forever to refer to when fasting. It includes a video and additional downloads. The best part – it's only $5! Your choice, read it here or have it forever.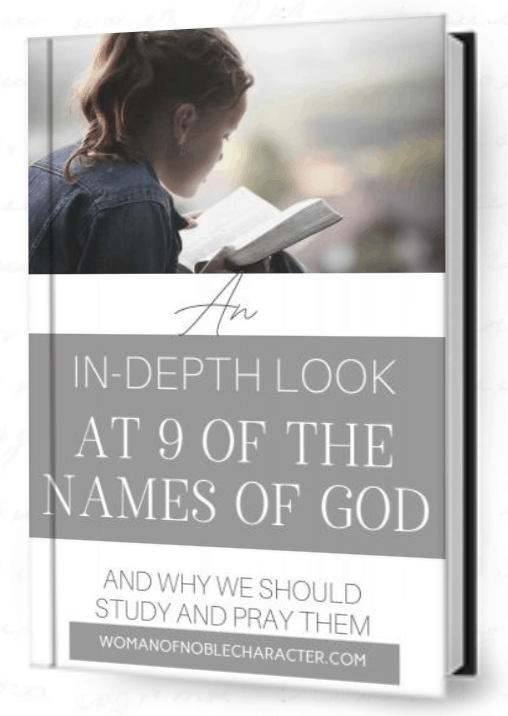 What Does Jehovah Nissi Mean?
הוָה נִסִּ
Jehovah is translated as "The Existing One" or "Lord." The chief meaning of Jehovah is derived from the Hebrew word Havah meaning "to be" or "to exist." It also suggests "to become" or specifically "to become known" – this denotes a God who reveals Himself unceasingly.
Nes (nês), from which Nissi derived, means "banner" in Hebrew. In Exodus 17:15, Moses, recognizing that the Lord was Israel's banner under which they defeated the Amalekites, builds an altar named Jehovah Nissi (the Lord our Banner).
Nes is sometimes translated as a pole with an insignia attached. In battle opposing nations would fly their own flag on a pole at each of their respective front lines. This was to give their soldiers a feeling of hope and a focal point. This is what God is to us: a banner of encouragement to give us hope and a focal point.

Below are some verses where you can find Jehovah Nissi in it's original or Hebrew form:
Genesis 22:14
Abraham called the name of that place The LORD Will Provide, as it is said to this day,
"In the mount of the LORD it will be provided."

Exodus 24:4
Moses wrote down all the words of the LORD. Then he arose early in the morning, and built an altar at the foot of the mountain with twelve pillars for the twelve tribes of Israel.

Judges 6:24
Then Gideon built an altar there to the LORD and named it The LORD is Peace. To this day it is still in Ophrah of the Abiezrites.

Genesis 33:20
And he erected there an altar, and called it EleloheIsrael.

Psalm 60:4
You have given a banner to them that fear you, that it may be displayed

Solomon 2:4
He has brought me to his banquet hall, and his banner over me is love

Psalm 20:5
We will sing for joy over your victory, And in the name of our God we will set up our banners. May the LORD fulfill all your petitions.
Let's take a closer look at Exodus 17:15 and how we can apply that verse and God's name to our lives:
Exodus 17:15
Moses said to Joshua, "Select some men for us, and go fight against Amalek. Tomorrow I will stand on the hilltop with God's staff in my hand." Joshua did as Moses had told him, and fought against Amalek, while Moses, Aaron, and Hur went up to the top of the hill. While Moses held up his hand, Israel prevailed, but whenever he put his hand down, Amalek prevailed. When Moses' hands grew heavy, they took a stone and put [it] under him, and he sat down on it. Then Aaron and Hur supported his hands, one on one side and one on the other so that his hands remained steady until the sun went down.
So Joshua defeated Amalek and his army with the sword. The Lord then said to Moses, "Write this down on a scroll as a reminder and recite it to Joshua: I will completely blot out the memory of Amalek under heaven." And Moses built an altar and named it, "The Lord Is My Banner." He said, "Indeed, [my] hand is [lifted up] toward the Lord's throne. The Lord will be at war with Amalek from generation to generation."
In this passage Moses held God's staff in his hand and as long as his hands and God's staff were raised, Joshua and the Israelites won the war with the Amalekites. What I want us to pay particular attention to is that this battle was all about God. Joshua, Moses, Aaron, Hur, and the Israelite armies were simply vessels God used, but the battle itself was orchestrated by God. Moses knew this and wanted to make certain the Israelites knew it and remembered it. Nothing that he or they did in the physical realm brought about victory.
God's presence and power took them into the battle and assured the victory when the battle was done. Throughout life, we will face many battles. Some big and some small. Financial strains, health problems, addiction, abuse, relationship problems, stress at work, marital difficulties, wayward children. Some are familiar to you, some not.
What battles are you fighting today?
Is the battle you are in one that the Lord has chosen for you?
Strange question, isn't it? Scripture is very clear in this last passage that the Lord, in fact, chooses certain battles for us to fight. Does He lead the way as Jehovah Nissi in your current battles?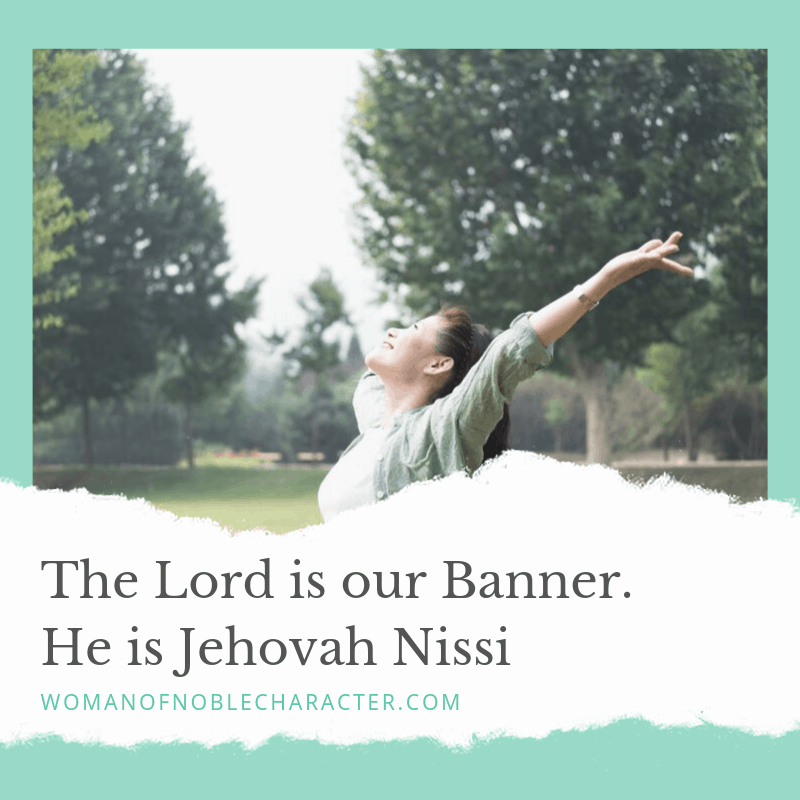 Perhaps the battle you are in is a battle that you have chosen, one that is outside the will of God? Are you fighting in your own strength? Are you struggling to be victorious in the battle? If Jehovah Nissi is leading the way in your struggle, then you are assured success, but if you are fighting your battle in your own strength, your defeat is imminent.
Where in your life do need God to show Himself strong as Jehovah Nissi – the Lord my Banner – and go before you so that you may know victory?
Jesus, Our Banner
Although the name Jehovah Nissi occurs just once in the bible and that is in the new testament, Isaiah, also predicting the coming of the Messiah, wrote:
'In that day the Root of Jesse will stand as a banner for the peoples; the nations will rally to him, and his place of rest will be glorious' [Isaiah 11:10]. (emphasis mine)
As believers, we understand that Jesus is our banner. We belong to Him and identify ourselves by His name.
Jehovah Nissi Song of Praise and Worship
Applying God's Name Jehovah Nissi to Your Life
God provides us with "weapons" to fight spiritual and earthly battles. From Ephesians 6:13-18, what are the weapons God supplies in order for us to fight a spiritual battle?
How can things like Truth, Christ's Righteousness, Salvation, Faith and God's Word, etc. be used as weapons against the devil, our sinful nature and the temptations of the world?
How do you "put on" the armor of God? Which of these are offensive weapons? Defensive weapons? When have these weapons helped you? How can you use them for someone else?
Use this week to focus on the "weapons" that God has provided us and put at least one weapon to use this week.
What Banners Are You Waving?
Above, we learned that Nissi was derived from the Hebrew word Nes (nês), and is translated as "banner" A banner is raised or displayed to honor and to celebrate.
As a football fan, my husband has a Kansas City Chiefs banner hanging in our media room.
As proud Americans, we display the American flag on a flagpole out on our property.
We create and hang banners to celebrate events or people.
Do you attend church on Sunday, yet cuss like a sailor and wear revealing clothes?
Do you read your Bible at home, but spend your weekends at the bar?
What banner are your words and behaviors displaying to those around you? Those who you can reach for the Kingdom of God?
Banners mark places and honor people, but they also serve as a name badge.
Does your name badge read "Daughter of the King" or "Sunday prophet and weekday sinner"?
Questions to Ponder and Discuss
Click the image below for a SEVEN page PDF with questions to dig deeper into not only studying God's name, Jehovah Nissi, but applying this attribute of Him to your everyday life.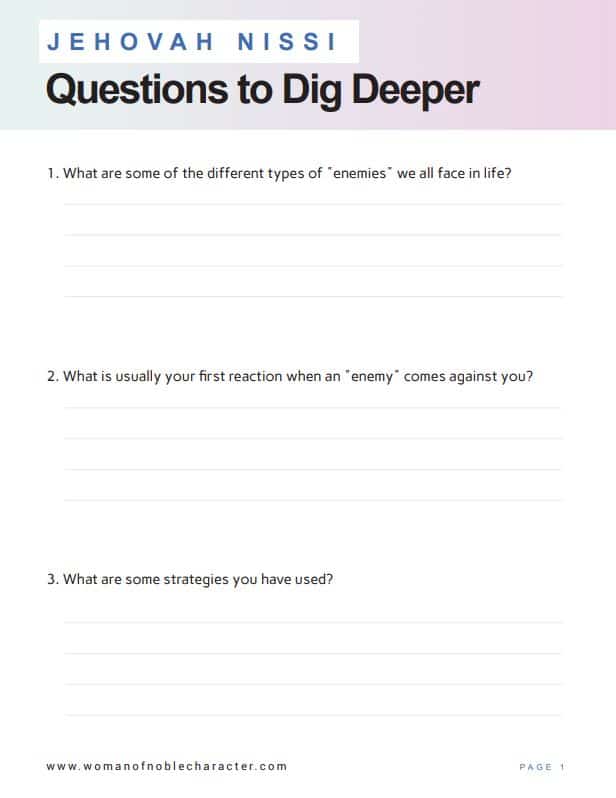 When I'm fighting a battle, I love listening to this song.Surrender (Fight my Battles). What a great reminder that God,Jehovah Nissi,fights our battles!
Jehovah Nissi Prayer
Praying the names of God is a meaningful way to praise Him for all of His attributes. Below is a sample Jehovah Nissi prayer. Adapt it to your own situation, but know that God hears our prayers!
Thank you, Lord, Jehovah Nissi. I praise You as You are the God to fights my battles and is victorious over all evil. I'm thankful to be a soldier for you.
Lord, thank you for fighting for me and leading me to victory against every temptation, impure thoughts, distraction and self-centeredness. I have been saved by the blood of Jesus through You and your victory over sin.
I bless and praise Your name, Jehovah Nissi.
I humbly ask that you give me courage, strength and peace to fight this spiritual battle that I'm facing. The evil one may be attacking but You are my banner, my stronghold and You defeat every evil.
Please give me peace over this issue and fill my mind with the confidence of absolute victory.
I will rejoice that you have already defeated my enemy and have won this battle for me.
Let me be a beacon of hope and light pointing the hurting to you as they see your victory in my life.
What is your favorite of God's names? What has learning about Jehovah Nissi revealed to you about God's character? Tell me in the comments below.
To learn more about this, consider checking out the Hebrew Institute of Biblical Studies article on this topic.
Or, to really dig deeper into the meaning of God's name Jehovah Nissi, here are some recommended resources:
Or you may wish to listen to them on Audible Plus with a free trial!
Because of Him,
Sue