For He Himself Is Our Peace Jehovah Shalom
This page/post may contain affiliate links.  As an Amazon Associate, as well as an affiliate of other programs, this means if you purchase something using these links, I will receive a commission on qualifying purchases at no cost to you! For more detailed information, please visit our Affiliate Disclaimer page
Jehovah Shalom
Jehovah send peace, the name which Gideon gave to the altar he erected on the spot at Ophrah where the angel appeared to him.
You can find everything that you are looking for about The Names of God and Why We Should Study and Pray Them, in this post as well as in-depth studies on each of the 9 names of God we cover (Adonai, Abba, Jehovah Jireh and many more) but you may also wish to purchase the ebook for your convenience. No ads, no pop ups and you'll have it forever to refer to when fasting. It includes a video and additional downloads. The best part – it's only $5! Your choice, read it here or have it forever.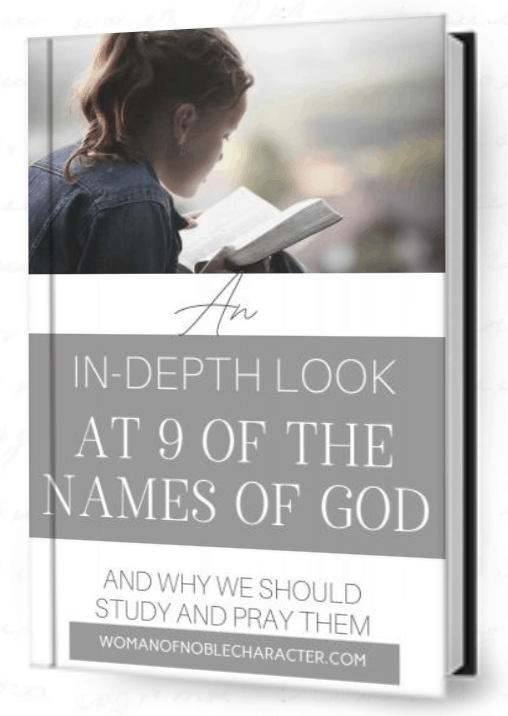 Jehovah-Shalom is translated "peace" 170 times in the Bible. It means "whole," "finished," "fulfilled," or "perfected" and is really a title rather than a name of God.
שלום יהוה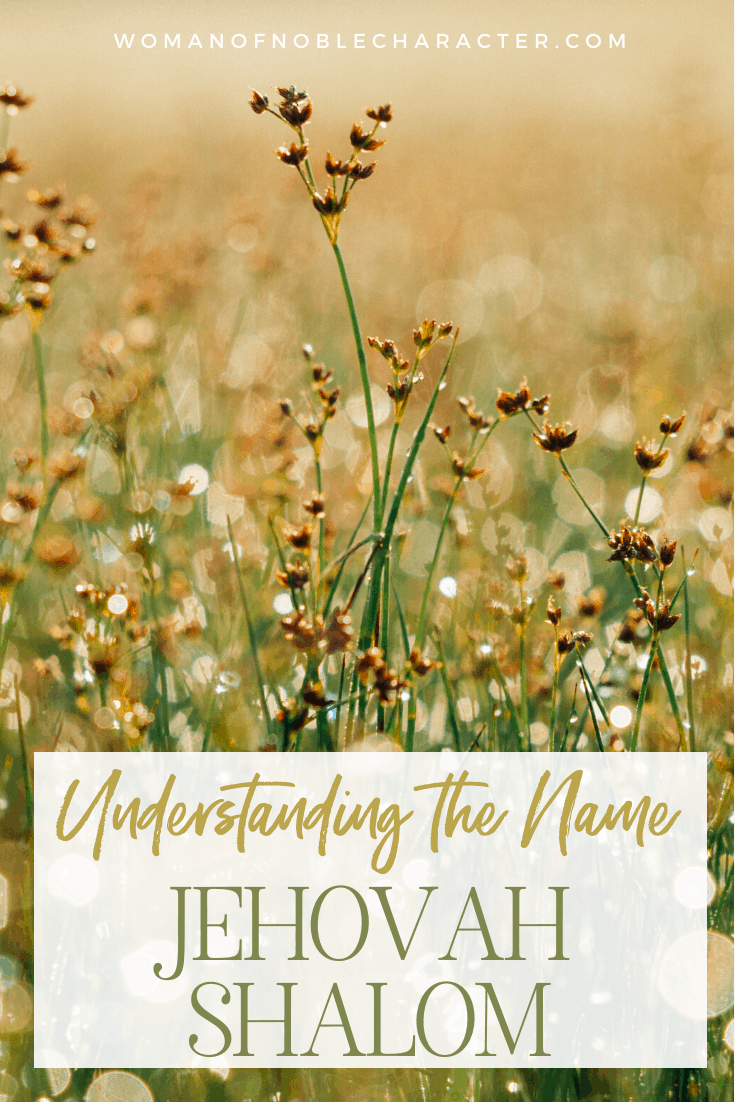 In the Old Testament Jehovah-Shalom occurs only once in Judges 6:24
The name Jehovah is translated as "The Existing One" or "Lord." The chief meaning of Jehovah comes from the Hebrew word Havah meaning "to be" or "to exist." It also suggests "to become" or specifically "to become known" – this denotes a God who reveals Himself unceasingly.
Shalom is a derivative of shâlêm (which means "be complete" or "sound") Shalom is translated as "peace" or "absence from strife." Jehovah-Shalom is the name of an altar built by Gideon in Ophrah.
Here are some beautiful verses featuring this beautiful name of God, Jehovah Shalom:
Psalm 29:11
The LORD gives strength to his people; the LORD blesses his people with peace.

Psalm 34:14
Turn from evil and do good; seek peace and pursue it.

Psalm 37:37
Consider the blameless, observe the upright; a future awaits those who seek peace.

Psalm 85:8
I will listen to what God the LORD says; he promises peace to his people, his faithful servants— but let them not turn to folly.
Psalm 119:165
Great peace have those who love your law, and nothing can make them stumble.

Isaiah 9:6
For to us a child is born, to us a son is given, and the government will be on his shoulders. And he will be called Wonderful Counselor, Mighty God, Everlasting Father, Prince of Peace.

Isaiah 26:3
You will keep in perfect peace those whose minds are steadfast, because they trust in you.

Isaiah 26:12
LORD, you establish peace for us; all that we have accomplished you have done for us.
God, Jehovah Shalom, Gives Us Peace
There are so many distractions in this world. So much strife and discord. We let life's worries take our eyes off of Jesus.
As we walk through our days we must be intentional about asking the Holy Spirit to remind us of God's presence in our lives. When circumstances are shaky around us, God remains unshaken. He is a Rock, an anchor, where our souls can find refuge when we turn our focus to Him. He can steady emotions and give clarity of thought. When your mind is tempted to focus on all the things that steal your peace ask God's Spirit to whisper peace to your soul. He is your strength, your shelter and your resting place.
Today be conscious of lifting your eyes above the circumstances around you and to His loving face. He promises to guide you with His eye. You can have His peace as you walk today. Pause and lean into Him … let His peace wash over you …and then pass it out as you receive it from Him. When others are stressed and anxious let your confidence rest in the Lord as your fortress and your deliverer…. your Peace.
Even the best among us are not absolutely reliable. We can change our minds. We can be caught off guard, grow tired, or run into other circumstances that might prevent us from keeping our promises.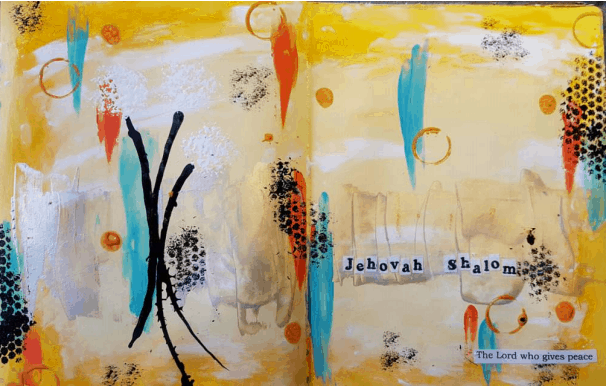 Questions to Ponder and Discuss:
Where do you turn when you're in distress?

Do you turn to our Heavenly Father for peace? How do you do that?

How do you physically feel when you feel peace?

Look up some verses that show that God provides peace.
Journal about a time that God has provided peace for you.
Jehovah Shalom, Our God provides peace.
Remember prayer isn't something we do to check off our daily spiritual checklist. We pray because we want to have a conversation with God. Conversation is the key to any healthy relationship, we speak to God and we listen to God. Just like any relationship communication is a two way conversation. We must pray and also wait to hear from the Holy Spirit to give us insight, wisdom and correction.
This week take some time to praise God, our Jehovah Shalom, for his holiness. This week when you pray each time you say 'God' pause… remember how Holy his name is.
Thank you Lord, that because You are my Peace my step is lighter today. May I receive Your peace and then pass it along to others. I praise Your Name for it is in Your name I pray, amen.
For more studies on the names of God, see this section of my website.
For more study on the names of God, including Jehovah Shalom, consider these recommended resources:
Because of Him,
Sue