This page/post may contain affiliate links. As an Amazon Associate, as well as an affiliate of other programs, this means if you purchase something using these links, I will receive a commission on qualifying purchases at no cost to you! For more detailed information, please visit our Affiliate Disclaimer page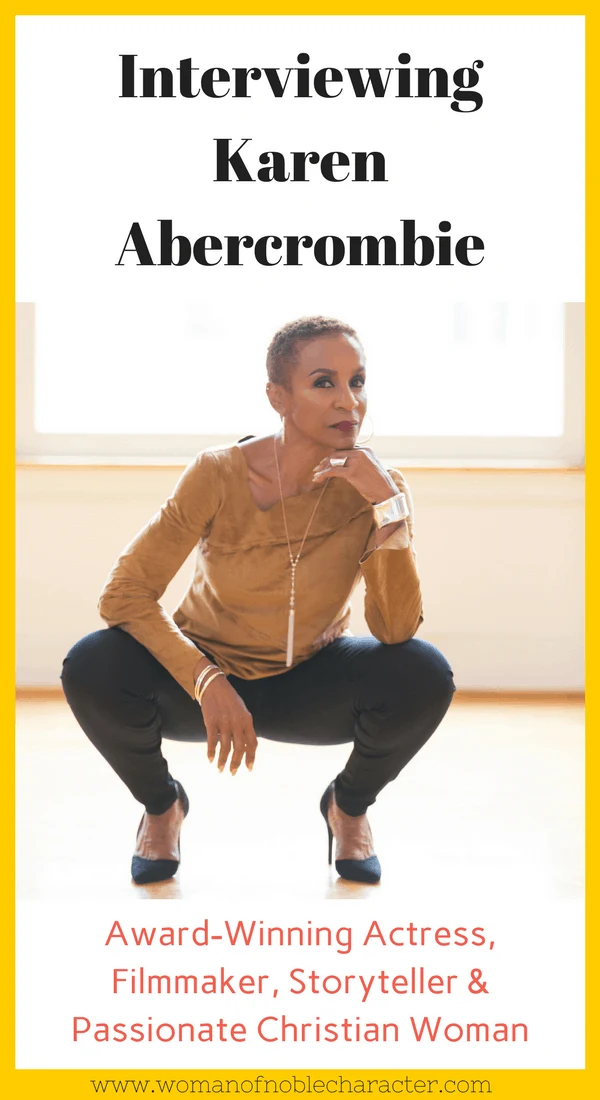 Do you remember Ms. Clara from the movie The War Room? Karen Abercrombie, the actress who portrays Ms. Clara, is just as beautiful, inside and out, as the character she plays. A strong woman of faith, a godly woman and a truly an amazing, sweet soul.
Recently, I had the absolute pleasure of sitting down with her to talk about her life, her faith and her career. I laughed, I cried and learned that she is not just talented, she is beautiful, bold and giving.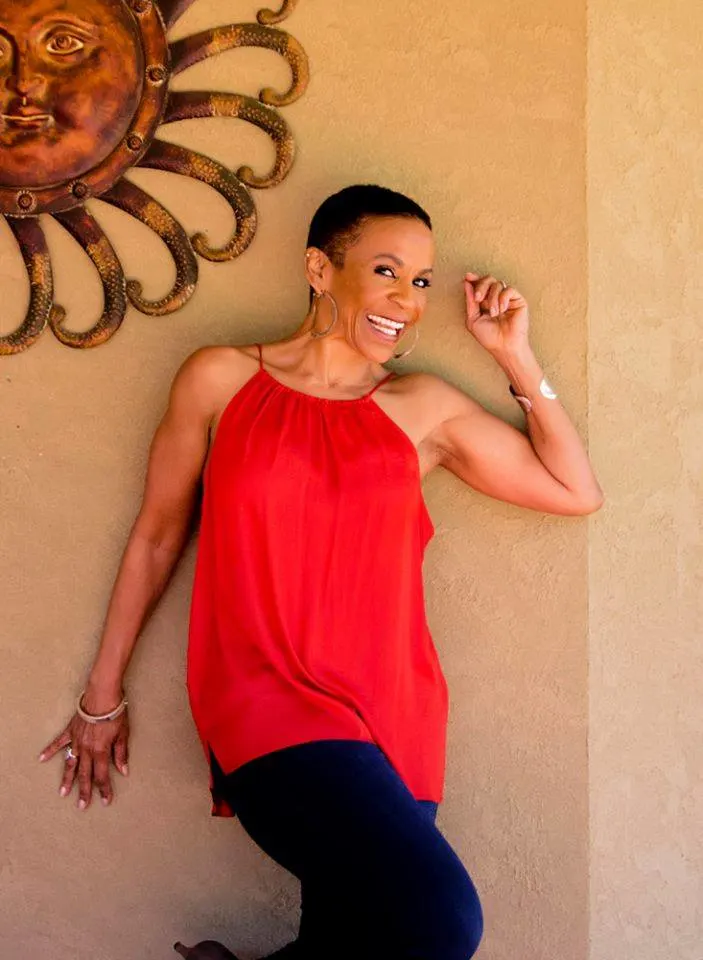 Karen Abercrombie Bio
Karen Abercrombie is an award winning actress, an award winning, Master Storyteller, a singer-songwriter and a new film producer. She recently received a Dove Award, and a Movieguide, Grace Award, for her performance in the Kendrick Brother's film, "War Room", where she played the spicy, 80 year old prayer warrior, Miss Clara. Karen starred as Maxine Waters, in the film, "God's Compass", and it is the top streaming film for the Pureflix company. She has enjoyed guest starring on numerous television shows. Her most recent TV roles include playing the character, Zelda Molskey on CBS's show, "The Inspectors" and recurring character, Aberdeen, on AMC's hit show, "Turn'. Karen has also appeared on "Ally McBeal", "Saved By The Bell", "Judging Amy" and "Strong Medicine" to name a few. Karen has two new film projects coming out in early 2018; "Never Heard", with Robin Givens, David Banner and Romeo Miller, and "Selfie Dad", with James Denton, comedian, Michael Jr., and Dahlia Waingart.
Karen recently formed her own production company, Isanaklesh Entertainment, LLC, where she is creating and producing excellently executed, thought provoking, uplifting entertainment for television and the big screen. Isanaklesh Entertainment, LLC, currently has one film project (Just Grace) and a television project (Love Notes) in early development.
Not only does she act, direct, produce, perform and teach storytelling and acting, she has recently written a 21 Day Prayer Devotional. She is one busy woman giving everyday to our Lord and Savior for His glory!
My Interview with Karen Abercrombie
You'll definitely want to watch the interview to gain a glimpse of this amazing woman after God's own heart, but here are some highlights of our time together:
Sue: Would you tell our audience a little bit about you, your life, and your career?
Karen: Yes. I am an actress, a newfound producer. I am a wife and a mother, and yes, most people probably would know me from playing Miss Clara in the movie, War Room, which was actually an answer to a prayer that I had put up 13 years prior to my even becoming involved in the project. Yes, and I'm working right now. I wanted to produce films because I see we are inundated with so much trash via the big screen and television, and so I see how … the impact that War Room made. I just want to create other projects, you know, like projects, faith based, good stuff, so that we can take the world back, spread the kingdom.
Sue: So I understand that you have a new production company. I'd love to hear about that, and what you're working on, and how that came to be.
Karen: Okay, yeah. My production company is called Isanaklesh Entertainment. Isanaklesh is a Native American word that means mother of the Earth, or mothering the Earth. Basically, what we're doing … We're just creating and producing stories that will touch people, change people's lives for the better, bring harmony, love, and peace. Spread the word, the gospel. And to do it in interesting and exciting ways, maybe telling stories that had never been told in the world, you know, Christian stories. So very excited to do that, and I did that like I said.
I see the power of television. See the power of film. People digest it. They allow what they see to become their food, and that can be good or it could be very, very bad. So just want to use those airwaves and the big screen to put good stuff out there. Love, kindness, peace, all of the good stuff that God calls us to do. We can do that, and it can be entertainment, and exciting, all at the same time.
Sue: What a fabulous mission. I know one of the projects that you're working on is a movie called Just Grace. I'm excited to see my new friend, Sharrone Lanier (you can watch the interview and see the feature post on Sharrone in mid-May here at Woman of Noble Character), who will be playing a role in your film. Tell us a little bit about Just Grace.
Karen: Just Grace is a story about forgiveness, about healing, and about grace. We've got a woman who has gone through some terrible things, and her life … The carpet has been pulled right out from under her. So the thing that meant something to her, that she loved most dearly, has been taken away. So she's angry at God. She is angry, she is bitter, and because of it, her life eventually starts to spiral out of control. Then we see God enter … Actually, He had never left, but we see Him enter the space where He can get in, where she allows Him to. He brings healing. It's really a powerful story. I don't want to give too much of it away, but it is … You'll cheer. You'll cry. You'll shout, and you're going to feel good at the end of it. It's an emotional roller coaster ride.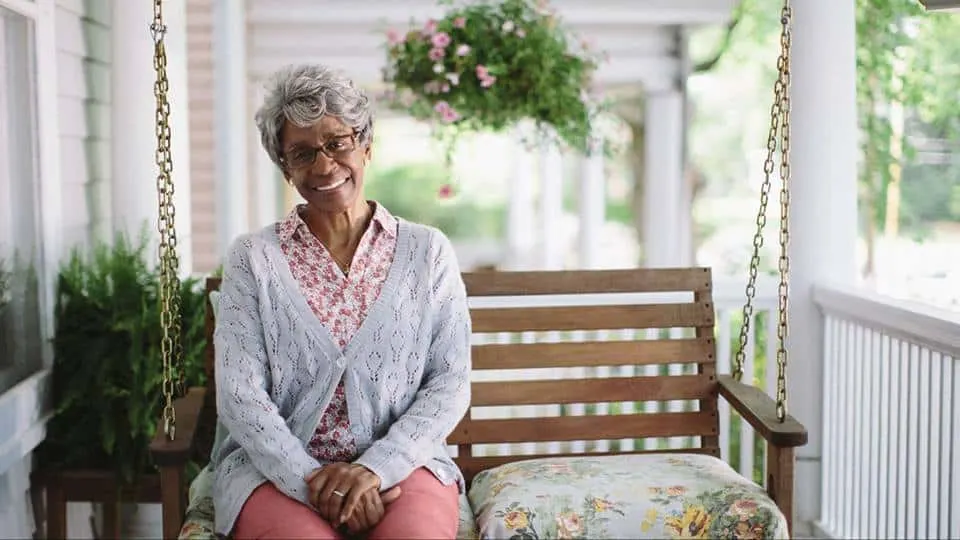 Sue: I know you probably have more than one, but what is one of your favorite Bible verses?
Karen: Oh, anything from Psalm 91. You know, under the shadow of His wings … oh, my gosh. I would say that, in its entirety, as well as Psalms 139. Which is … in its entirety, just powerful because it talks about the intimacy that we can have with the Creator. It helps us better to understand David. We read about David, his ups and downs. He was flesh. He was man. He had victories. He had failures, but so do we all. But just the realization that God is who He is, and He knew us before we were formed in our mother's womb, and before all of our parts were knitted together. He knows when we're lying down and saying, "Oh, that's just …" that Psalm in its entirety.
Grab a cup of coffee or herbal tea (Karen's favorite!) and join us as we chat about her testimony and how she uses the gifts God has blessed her with to honor Him.
What is Karen Abercrombie up to?
Entertainment
In addition to producing, directing and leading in the upcoming movie, Just Grace, Karen has a television show in the works. In addition, she has two films releasing in 2018 (Calm Before and Selfie Dad) as well as another in 2019 (The Forgotten Timepiece).
She continues to perform her rich, vivid characters through storytelling, as well.
Karen also hints about an incredible new project for television "A powerful piece for a faith-based sci-fi TV show… It's called Remnant. You know the story of the remnant in the Bible, where God starts to call the remnant back? So we play with the story a little bit, and they're coming from all over the world, and coming together, just thwarting the devil here and now, where he is, as everybody starts to go back to the original place." Wow! I can't wait to see how that all comes together. Sounds like a "must-watch"!
New Devotional Book
As if she is not busy enough, she soon will be launching a podcast titled "Simply Living Well" where she will talk about simplifying your life. About the podcast, Karen says "Yes, you can live a simple life, and you can live it very well. We're so caught up in having this and that, and this and that. But if we just simplify and take care of what we have, and take care of our bodies … so it talks about how we nurture ourselves mentally, physically, spiritually, and emotionally, and also being good to the Earth."
Where to Find Karen Abercrombie Online
Isn't Karen Abercrombie fabulous? She is just as on fire for Jesus as was Ms. Clara in The War Room! I made a new, sweet friend in this dear woman and I can't wait to see what God has planned for her!
Here's one of my favorite clips from the War Room. I'm amazed that Karen portrays an elderly woman with such grace in this film – as you can see from her gorgeous photos above – she is FAR from elderly! I told you she was talented!
We'll sit down with Karen again once Just Grace has been filmed – you won't want to miss that!
Because He Lives!
Sue