This page/post may contain affiliate links. As an Amazon Associate, as well as an affiliate of other programs, this means if you purchase something using these links, I will receive a commission on qualifying purchases at no cost to you! For more detailed information, please visit our Affiliate Disclaimer page
Making Prayer a Habit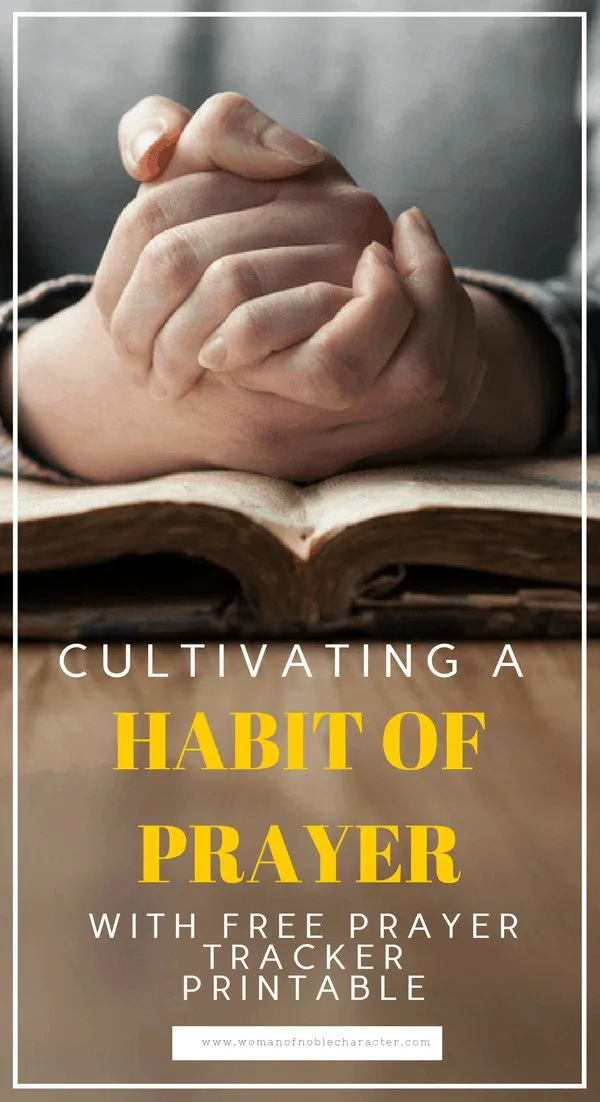 We all do it. We tell people, "I'll pray for you", but do you always actually do it? It's easy to say but not always easy to remember. I have some tips for you to help you cultivate a habit of prayer.
(For How to Pray According to the Bible, see this post).
1. Choose to Cultivate a Habit of Prayer
Forming any habit requires that you take action and commit. Commit for a minimum of 30 days. Some experts claim that it takes 21 days to form a habit. Others claim that it takes much longer, up to 60 or more days. The truth lies somewhere in the middle. It is dependent on the person and the habit. Some habits (like exercising) are easier for some people to develop than others.
Decide that you are going to commit to praying every day. Choose when and where you will pray. For me, it is in my office with my coffee, journal, and Bible handy
You will always have obstacles – a crying baby, an illness, a chaotic schedule. Plan around these things. Forming a habit, including daily prayer, is a choice that you make.
2. Ask God to help you Making Prayer a Daily Habit
It may seem odd to ask God to help us pray to Him, but honestly, we need Him for everything, prayer included. Ask Him to help you pray, to help you form a habit of prayer. Ask Him to change your heart, particularly if you are resistant to praying regularly. He will help you pray. To change your heart and become joyful about the privilege of praying.
Matthew 6:6-8 (NIV)

6 But when you pray, go into your room, close the door and pray to your Father, who is unseen. Then your Father, who sees what is done in secret, will reward you. 7 And when you pray, do not keep on babbling like pagans, for they think they will be heard because of their many words. 8 Do not be like them, for your Father knows what you need before you ask him.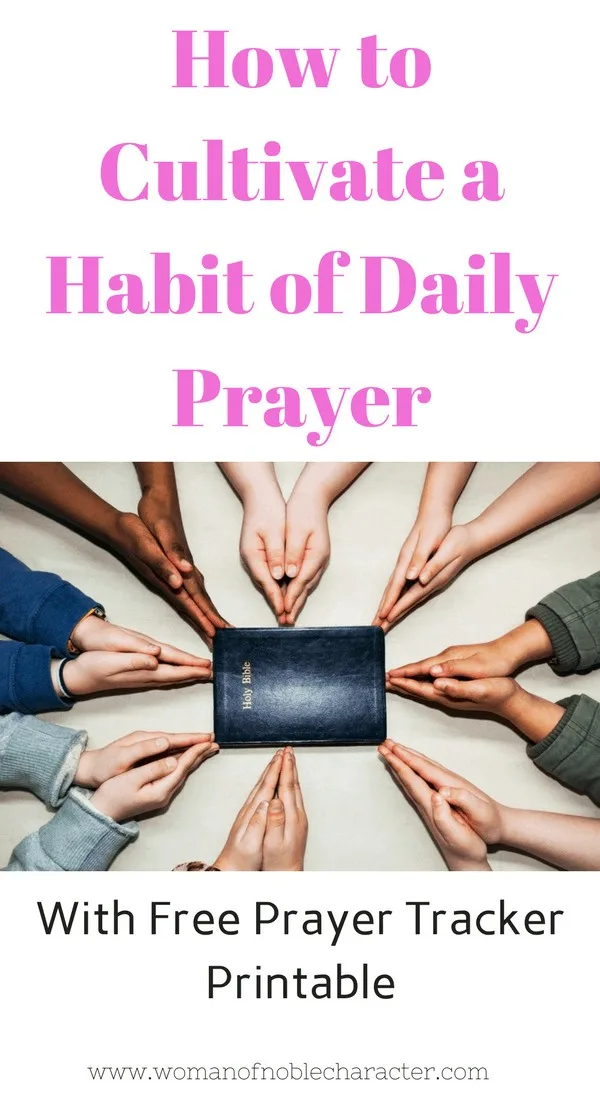 3. Read the Word of God
The Bible is God's Word, written for us. It is a place of encouragement. A manual of life. It is His infallible Word. Cultivating a habit of prayer must begin with being in His Word. Throughout the Bible, we can find prayers written from the heart of David, Solomon, and so many others who have come before us. We can learn to pray scripture and open our hearts and minds to what He would have us see.
In this article by The Gospel Coalition, we read why we should pray the Scriptures. It is a great article that I encourage you to check out.
4. Make a Plan
If you aren't used to praying as a habit, you may not know where to begin. Consider making a plan or using a schedule. For example, I begin by opening in a good morning prayer to God and then going down my list of prayers in my prayer journal. Next, I read the Scripture and turn that scripture into prayer. You may consider something different, such as on of the below ideas:
Adoration, Confession, Thanksgiving, Supplication (ACTS)

The Lord's Prayer

Word-centered prayer (pray through a Scripture passage, verse by verse)

Concentric circles (start with self and move outward to family, friends, church, local, global, etc.)

Daily themes (eg. Ministry on Mondays, Unbelievers on Tuesdays, Friends on Wednesdays, Missions/Evangelism on Thursdays, Work/Coworkers on Fridays, etc.)

John Piper's I.O.U.S. (a helpful prayer pattern for Bible reading
5. Find an Accountability Prayer Partner
Do you have a Christian friend who can help you stay accountable? Can you commit to checking in daily by phone or text to remind and encourage each other to pray? You can also share prayer requests with this person or pray with them..
The Best Way to Grow Your Prayer and Faith Life
How to create a custom war binder for a powerful prayer life including over 125 printables to customize your binder for your walk with God.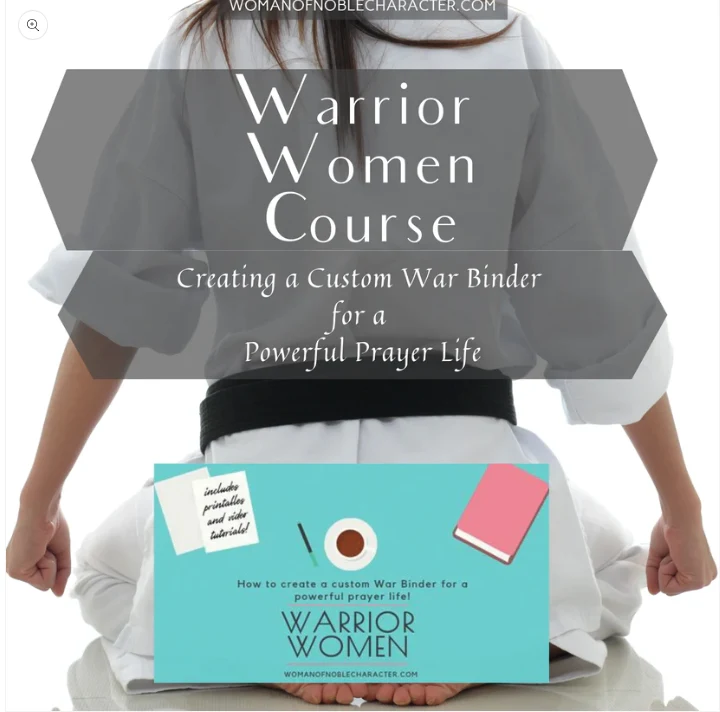 6. Use a Prayer Journal and/or Tracker
Sometimes just writing things down will help you remember who and what to pray for and remind you to do it. I use a prayer journal and, when asked for prayer, write it in my journal. When I do my morning devotions, I refer to my prayer journal and pray over each need. I also use it to jot down any specific prayer requests that come to mind. I always pray for my husband, my kids and my grandkids but here I can write down any other prayer requests that come to mind.
You may also choose to use a prayer tracker, either in a bullet journal or printable tracker. Below, I have a prayer habit tracker for you to remind you to pray FOR your husband, to pray WITH your husband and do you a daily devotional or Bible study time. Feel free to adapt it to your needs.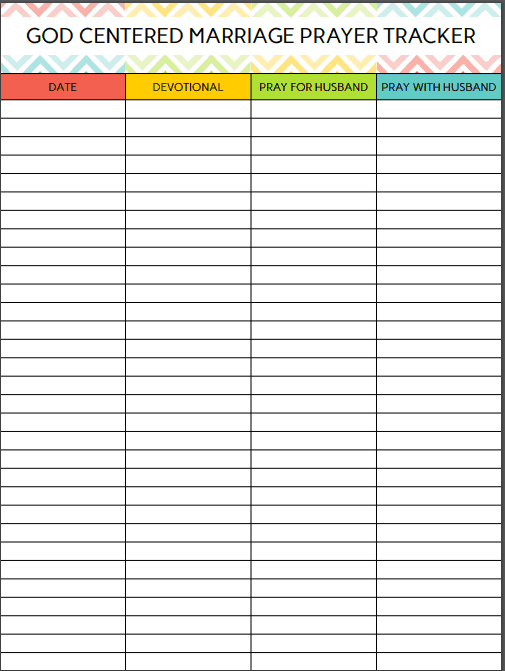 Do you pray daily? How can you make prayer a habit? Which of these ideas about making prayer a habit resonated with you the most? I'd love to hear from you!
Because of Him,
Sue