12 Biblical Principles for Mastering Christian Finance
This page/post may contain affiliate links.  As an Amazon Associate, as well as an affiliate of other programs, this means if you purchase something using these links, I will receive a commission on qualifying purchases at no cost to you! For more detailed information, please visit our Affiliate Disclaimer page
Money. Sheesh! We need it to survive in this world, yet it is the cause of conflict in towns, countries, businesses and even marriage. Yes, of course, even Christian marriage.
I've even addressed this in a blog post "Money and the Christian Marriage: 7 Tips to Avoid Conflict".
In Timothy 6:10 (NIV), we read "For the love of money is a root of all kinds of evil. Some people, eager for money, have wandered from the faith and pierced themselves with many griefs."
People use money as weapons and greed drives them to sins of all types.
It hurts my heart when I hear about Christian marriages struggling due to financial pressure. I think it hits so close to home because in my previous marriage, we fought about money all of the time. (My husband passed away in 2012 and I spent years cleaning up the financial mess).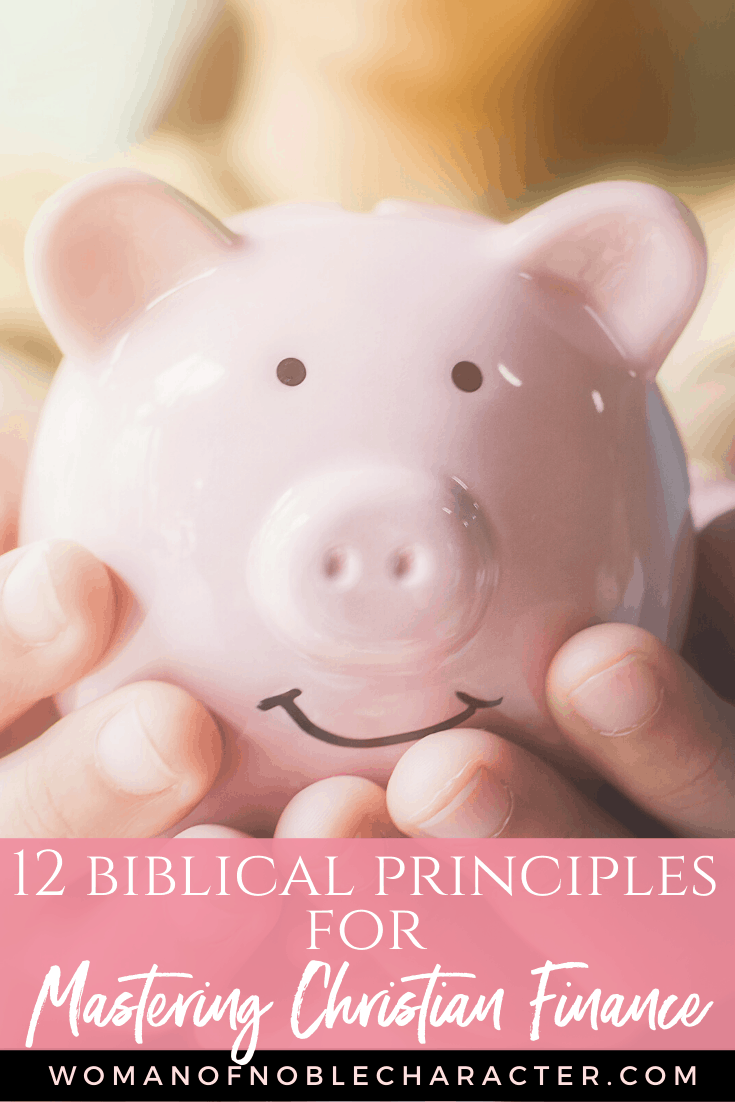 My husband, Mike and I, never fight about money. There's a few reasons for that, I believe.
I have spent a lot of time, since my first marriage, studying budgeting, money, savings vehicles and more and am more financially savvy than I was years' ago.

We don't fight about anything. We pray and give the issue to God.

Being a single mother for years forced me to watch every penny and develop a budget and bill paying plan that worked for me.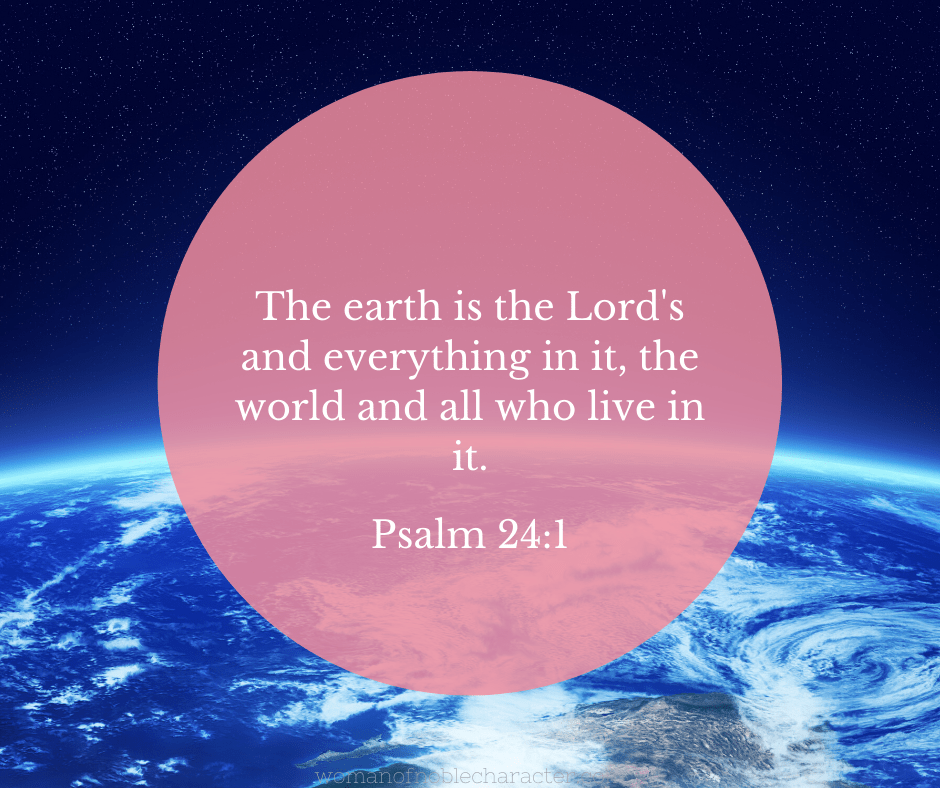 Finance and financial matters are important to everyone, but I believe that Christian finance is particularly important. Why? Because our money, our resources, are not ours. They belong to God and He has entrusted us with them to use wisely. We are to give our tithe and manage the rest responsibly.
So, how do we responsibly manage our money the way God had intended for us?
12 Tips For Christian Finances
Remember that your money (and house, car, even your coffee maker) don't belong to you. They are from God, who has entrusted you with them.
The earth is the Lord's, and everything in it, the world, and all who live in it; – Psalm 24:1
2. Get out of debt. Change the way that you handle dept and the financial habits that put you in debt including overspending and borrowing (loans). After tithing, pay yourself first by saving money so you don't have to borrow. (more on tithing and saving below)
The rich rule over the poor, and the borrower is slave to the lender. – Proverbs 22:7

3. Giving is an important biblical concept. Throughout the Bible, we are called to give generously. Remember that our money and possessions belong to God and not us.

In Exodus 35, we see the Israelites giving generously for the materials to build the tabernacle. They give of their time, too, to build it. If the Israelites did not give what they had or help build it, the tabernacle wouldn't have been built!

In Matthew 10:8, we read "freely you have received, freely gived"

And, of course, the greatest example of giving is from God, Himself. He gave us his only son to die on the cross because he loves us so very much.

What can you give? Money to feed the poor? Clothing that you no longer wear to someone who is lacking? Time to read to a child? or paint the room of an elderly widow? (for more suggestions on how you can show God's love to others, see this post)

And do not forget to do good and to share with others, for with such sacrifices God is pleased. – Hebrews 13:16

Give, and it will be given to you. A good measure, pressed down, shaken together and running over, will be poured into your lap. For with the measure you use, it will be measured to you. – Luke 6:38
4. Tithing is not optional. One of the most important concepts in biblical money management is tithing. According to Deuteronomy 14:23, one purpose of tithing was to teach the people of Israel to put God first in their lives and, in Malachi 3:10-12, God tells us to test Him. giving is the one thing God tells us to test him with tithing and "and see if I will not throw open the floodgates of heaven and pour out so much blessing that there will not be room enough to store it."
Give back to God what is already His. When you tithe, you are showing God that you not only follow His commands, but that you trust that He will care for you.

The Christian post, reported on a study that confirmed Christians who Tithe Have Healthier Finances Than Those Who Don't. When you tithe, you are trusting that God will take care of you.

Honor the Lord with your wealth, with the firstfruits of all your crops; – Proverbs 3:9
5. Stop worrying about money. Of course, the Bible tells us not to worry about anything, but in everything present your requests to God in prayer and thanksgiving. Money is no different. Sure bills come due and the car breaks down, but worrying about these things just causes grey hair and indegestion.
"Therefore I tell you, do not worry about your life, what you will eat or drink; or about your body, what you will wear. Is not life more than food, and the body more than clothes? Look at the birds of the air; they do not sow or reap or store away in barns, and yet your heavenly Father feeds them. Are you not much more valuable than they? Can any one of you by worrying add a single hour to your life?" – Matthew 6:25-27
6. Budget your money. When you make a plan, you are more likely to handle your finances responsibly. Knowing how much money you have coming in and what needs to be allocated for bills, helps you to spend within your means. After your tithing and saving, you know what you have left to pay bills and spend on lattes. (For more on budgeting and bill paying, including free printables, see this post on my sister site, A Virtuous Home).
"Suppose one of you wants to build a tower. Won't you first sit down and estimate the cost to see if you have enough money to complete it? For if you lay the foundation and are not able to finish it, everyone who sees it will ridicule you, saying, 'This person began to build and wasn't able to finish." – Luke 14:28-30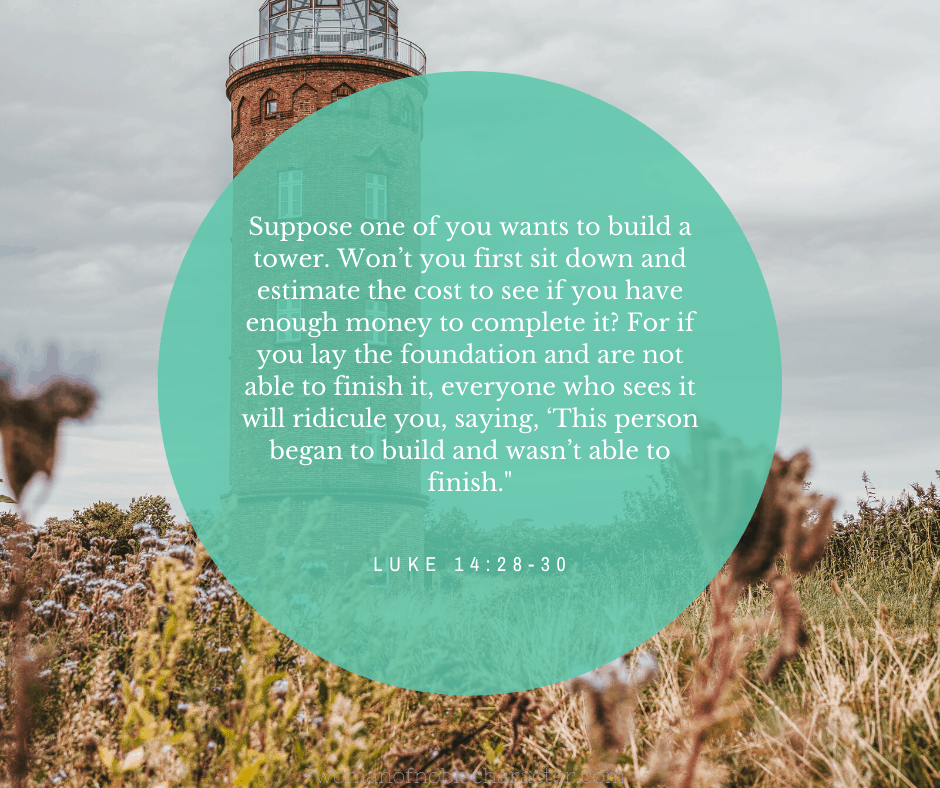 7. Save some for a "rainy day". This biblical money principle goes hand in hand with budgeting and staying out of dept. When you actively put money aside and build up your bank account, you are more likely to have money on hand when an unexpected bill pops up and, therefore, less likely to have to borrow. As mentioned above, it is a good practice in biblical money management to add to savings right after tithing. In our home, after tithing our 10% (or more), we put 10% into savings. What's left is what we use for bill paying and dinners out or other "treats".
The wise store up choice food and olive oil, but fools gulp theirs down. – Proverbs 21:20
8. Be content with what you have. It's easy to see the friends from church buy a new car every year or wistfully "admire" the friends who just moved into a Pinterest-worthy showcase of a home. We see what others have and want the same. When I was a child, my parent's called this "keeping up with the Joneses".
God, however, instructs us to be content with what we have. And, when we are, we are less likely to go into debt to have the things we really can't afford, anyway.
"sorrowful, yet always rejoicing; poor, yet making many rich; having nothing, and yet possessing everything." – 2 Corinthians 6:10
9. Trust that God will provide. Believe God's promises that He will meet your every need. Sometimes He'll provide through the generosity of others. Sometimes, through our own efforts, but God has never promised to give everyone the same amount. As a believer, it's important to accept what God has provided for you. What He entrusts to you is part of His plan that He has for you and your life.
"And my God will meet all your needs according to the riches of his glory in Christ Jesus." – Philippians 4:19
10. Don't help others get in debt. God says in Proverbs 27:13 to exercise extreme caution in cosigning. This verse infers that it is a terrible credit risk to take on a stranger's debt. When a person cosigns a loan, he is the one who is really borrowing the money. The reason a person needs a cosigner is because the lender is unwilling to lend that money to the person requesting the loan.
I understand helping others, but a bigger blessing would be to provide the person with sound biblical resources on Christian money management.
11. Seek godly counsel. Before buying a house, purchasing a car or taking out a loan, pray about it and seek the counsel of strong Christians, preferably those knowledgeable about Christian finance. Wise counsel can keep you from making bad mistakes.
Many, choose not to seek counsel because they don't want to hear that their decision is poor. Pride comes before the fall, they say.
"Plans fail for lack of counsel, but with many advisers they succeed." – Proverbs 15:22
12. Work hard. So often, when I hear people lamenting about their financial hardships, you learn that they aren't working very hard to make money or get out of debt. They spend all of their time complaining, but don't take action. There are probably thousands of ways to earn extra money. (The Master Your Money Bundle includes several fantastic resources on earning money from home, starting a side business or even living on one income). Don't complain, work hard, take action and trust God.
"All hard work brings a profit, but mere talk leads only to poverty." – Proverbs 14:23
As I grow older and my children leave the nest, our finances are starting to look a bit different and we are looking toward the future and retirement. Times change, finance changes, but the Bible never changes.
Resources for Christian Finance
I continue to study what the Bible says about money and read reputable books and blog posts about Christian finance. I really love some of the materials in Master Your Money Bundle from Ultimate Bundles.
My favorites are Biblical Money Management and Managing Money God's Way. The latter is a thirty one day devotional. Each day, focusing on a different insights, questions and discoveries on biblical money management. My husband and I are working our way through this together and love the biblical foundations for each concept.
The Biblical Money Management: What to do with a Rolls Royce Lifestyle, When You Live on a Honda Paycheck. There are tons of resources on managing money, teaching your kids about money, budgeting and what the Old and New Testaments say about money.
Both are solid for instructing on Christian finance.
Of course, many Christians are aware of the teachings of Dave Ramsey in regarding to Christian finance, particularly Financial Peace University. I have personally used his methods for paying down debt and am an advocate for most of his books.
Living on One Income
When speaking to groups about finance for Christians, I often hear women share that they wish they could stay home with their children. To be honest, that situation becomes more difficult in our society, but it is possible. In the Master Your Money Bundle, there's a fantastic resource titled "How to Live on One Income". While my children are grown, I loved this ebook. The author, Apryl Griffith, shares practical advice from her experience living on one income for ten years. Much of it is great advice for any Christian marriage concerned about finance.
BONUS: 21 Free (or Close to Free) Apps For Finance, Budgeting And Money Management
In our digital world and with nearly everyone having a smartphone in hand, managing your finances is getting easier. I've compiled 21 free apps for finance to help you with everything from budgeting, saving, paying bills and monitoring your credit.
Some have paid versions, but most are entirely free.
Whether you are struggling to make ends meet and need a budget or looking to sock away more in your savings account, I've got you covered.
The apps for finance are divided by type and links to download the apps are included.
Information and pricing are accurate up to day this post was published.
Free Apps for Finance
Credit Monitoring
Credit Karma (Free)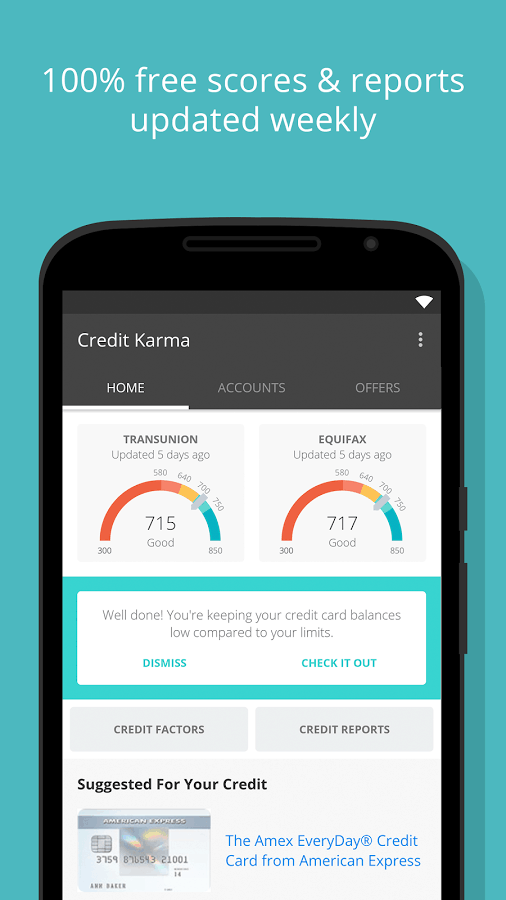 Whether you're seeking a loan for a car or need to rent an apartment, your credit score matters. Credit Karma is a free app that retrieves and monitors your credit scores from credit bureaus Equifax and TransUnion. The app explains what your scores mean and offers product recommendations — credit cards, insurance and loans — that fit your personal financial circumstance. Credit Karma monitors your credit with weekly and daily updates and notifications.
Avoiding Overdrafts
Dave.com ($1.00 per month)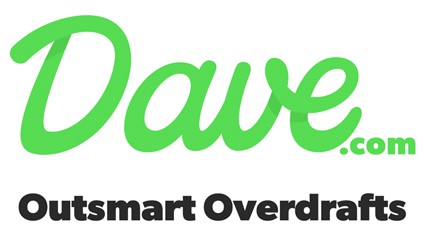 This really cool of the apps for finances is a bit different. Dave.com is a US-only app predicts a user's "7 Day Low", aka the lowest it thinks your bank balance will drop in the next seven days, in order to encourage and support better money management. The ultimate aim being to help people avoid having to fall back on their overdraft as "an expensive form of credit", says co-founder Jason Wilk, describing it as a sort of "weather forecast" for money management.
Dave also includes a payday loan facility — so users who face the inevitability of having to dip into a negative balance can opt to borrow up to $250 ahead of their next paycheck to see them through. But unlike payday loan companies which also offer a short term borrowing facility to mobile users but typically charge very high rates of interest, Dave's payday loans are 0% interest.
Backed by Shark investor, Mark Cuban, this one can save the day and prevent overdrafts. A must-have on your list of apps for finance if you tend to overdraw your bank account – even occasionally.
Managing and Paying Bills
Prism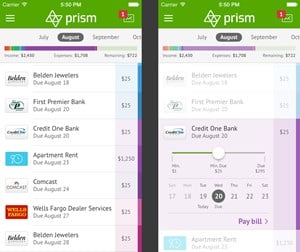 Prism allows users to see their account balances and bills on one platform. Bills can be paid directly from the app or scheduled for payment later. The service sends impending due date and payment confirmation notifications. The way Prism works is pretty simple. Basically, it's a bill management app that lets you see and pay all of your bills from a single app. The app only works on your phone and there's no web app for it at the moment.
Saving and Budgeting
Acorns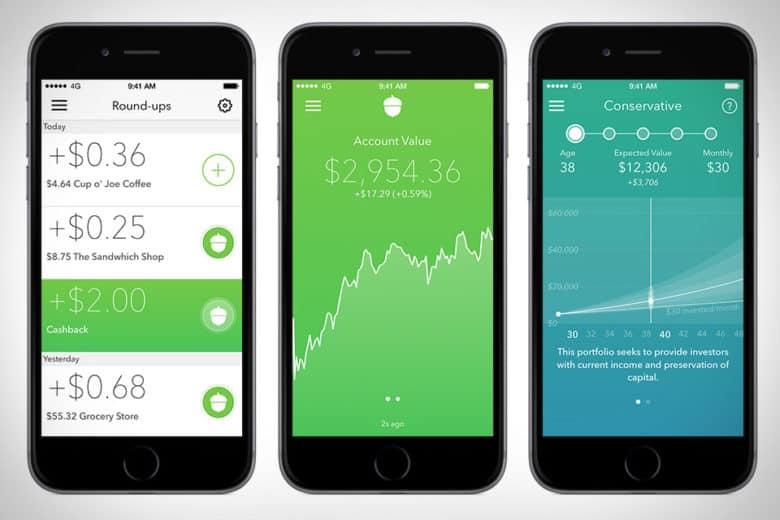 Acorns isn't a budgeting app, but a savings tool. It helps users save more money by automatically harvesting the change each time they swipe a linked card. So, for instance, if a transaction adds up to $1.50, Acorns rounds it up to $2 and sends that 50 cents into an investment portfolio diversified with exchange-traded funds. It's a mindless way to invest, with reasonable fees: Students with a valid .edu email address qualify for free management for up to four years from the registration date; others pay $1 a month on account balances below $5,000 and 0.25% per year on balances of $5,000 or more
Mint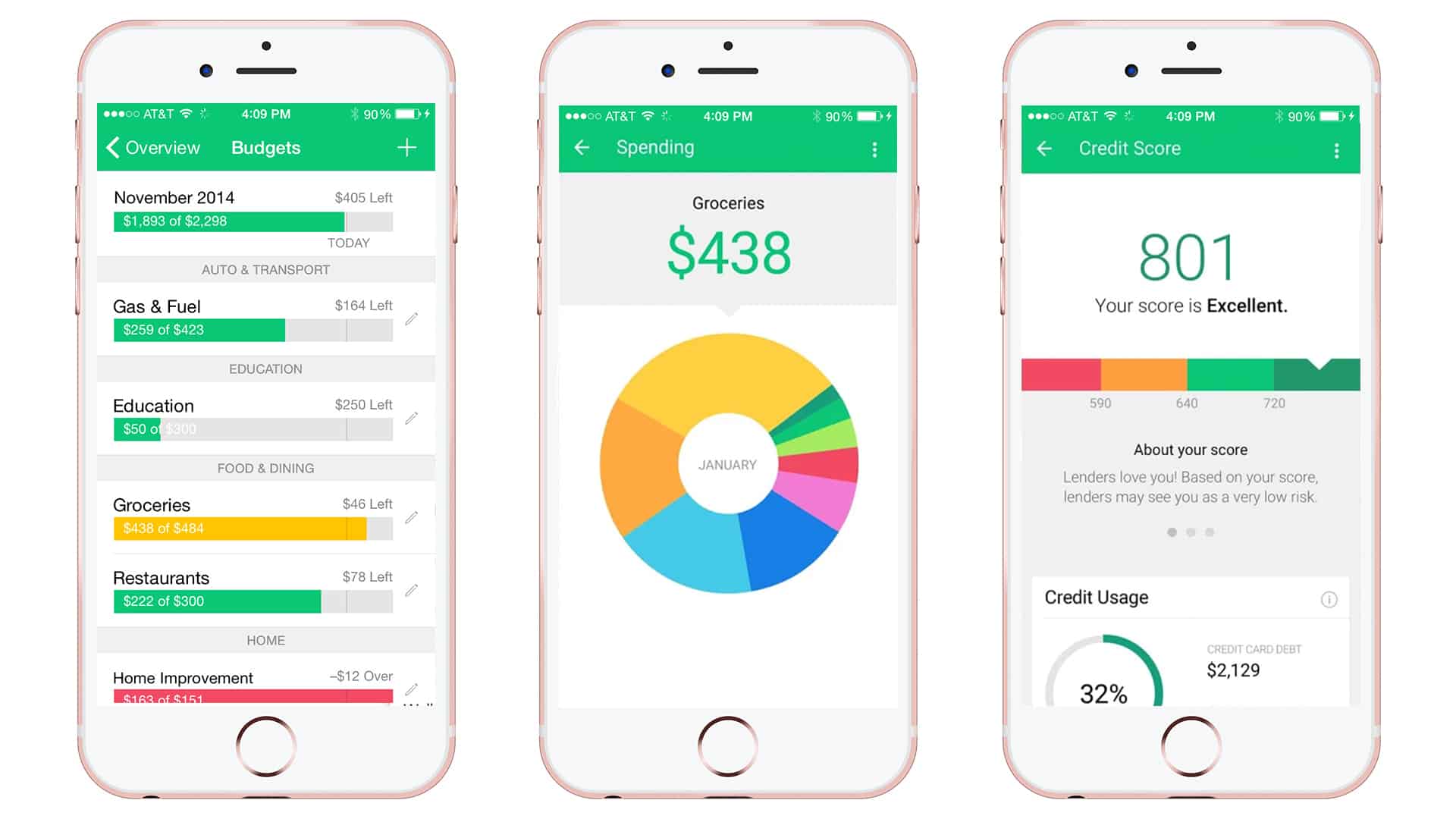 Mint is one of the most popular and highly reviewed of the apps for finance. The app automatically updates and categorizes transactions, creating a picture of spending in real time. Users can add their own categories, pay bills, split ATM transactions into the purchases made with that cash, and set budgets that alert you when they start to top out. The service also comes with a free credit score.
Intuit's Mint Personal Finance not only helps you track your income and expenses, but also your financial state as a whole. Besides allowing for in-depth personal budget management and expense logging, the Mint app lets you sync your bank and card details for an up-to-date and secure look at your financial state. It's overkill if all you're looking for is a little help with simple budgeting, but Mint Personal Finance is great if you're looking for more features.
Pocket Guard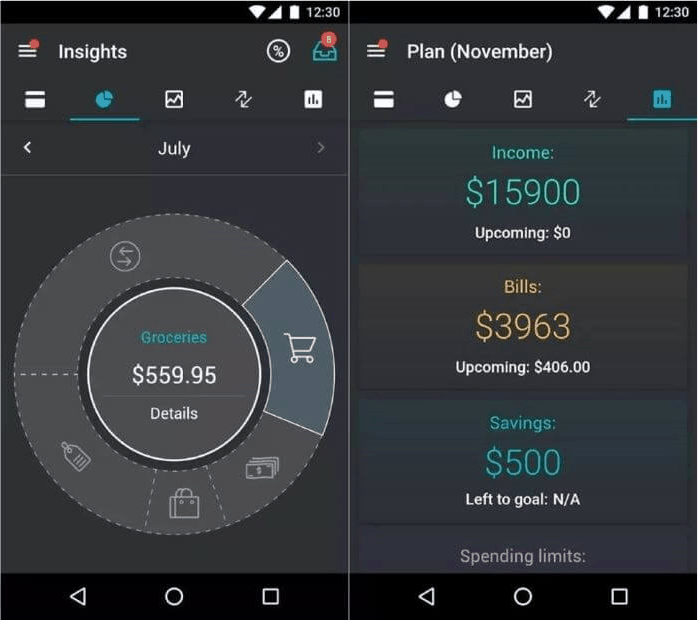 PocketGuard boils budgeting down to the only thing many users want to know: how much they have for spending. It crunches the numbers to show how much money is available after accounting for bills, spending and savings goal contributions. All users can view how much money is left "in their pocket" for the day, week or month. Those who want to dial down further can track certain categories of spending — like groceries, clothing or eating out — and lower their bills.
DollarBird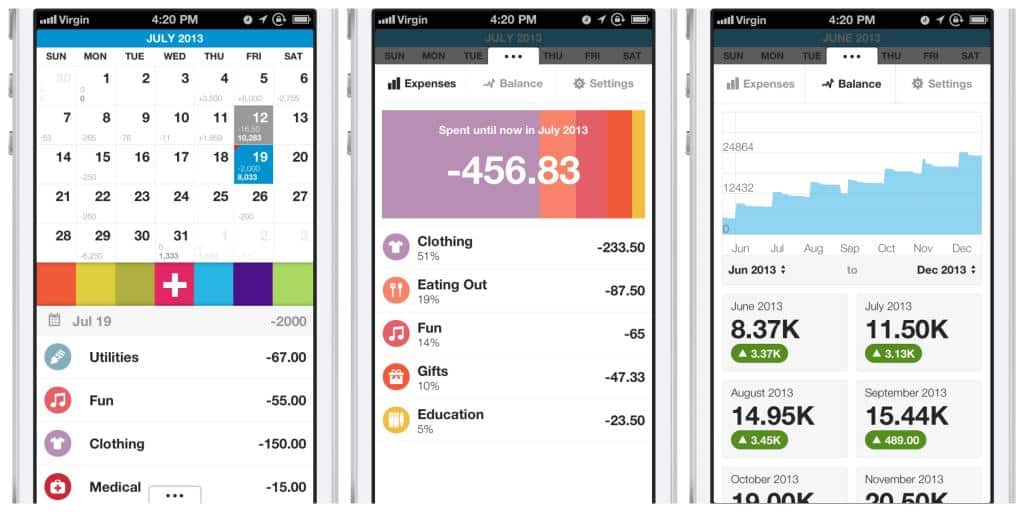 Dollarbird takes a collaborative, calendar-centric approach to budgeting and expense tracking. You can add, remove and edit expenses and income past and future in a calendar-style view, with some AI help to categorize your entries. You can then view your expenses and income in calendar and timeline mode, or via a series of handy infographics on your mobile device or through a web interface. Premium users can create multiple budgeting calendars and share them with other users to collaboratively manage and log finances and expenses — great for small teams or families.
Honeyfi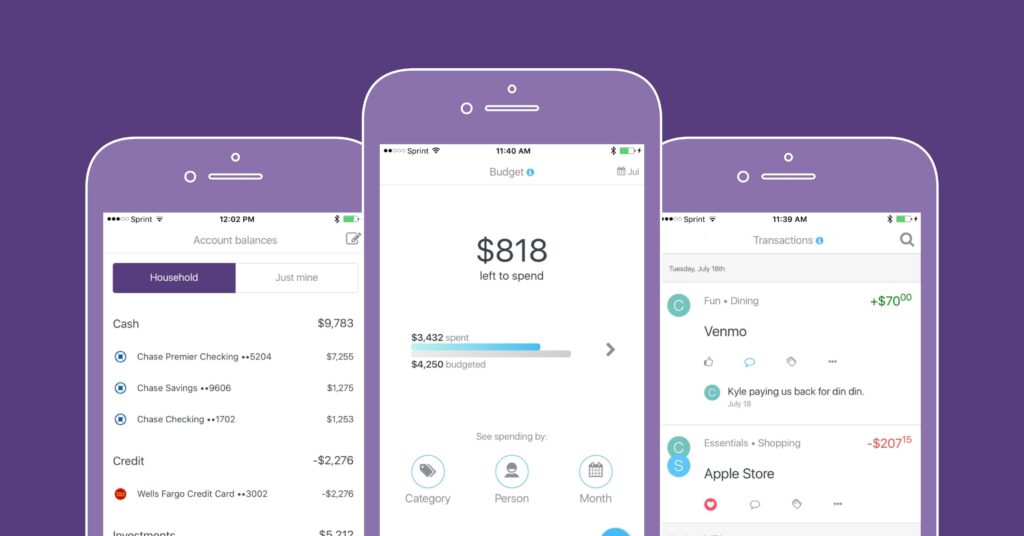 Honeyfi is an app for finance built around collaborative budgeting and households in mind. You can quickly set up a household budget as well as link your individual and household accounts to the app so that you can view all your expenses together. You can tag transactions, add comments, create categories, and have the app automatically recommend a budget and share financial insights that can help you and your partner come to grips with your expenses and plan out your finances together.
Clarity Money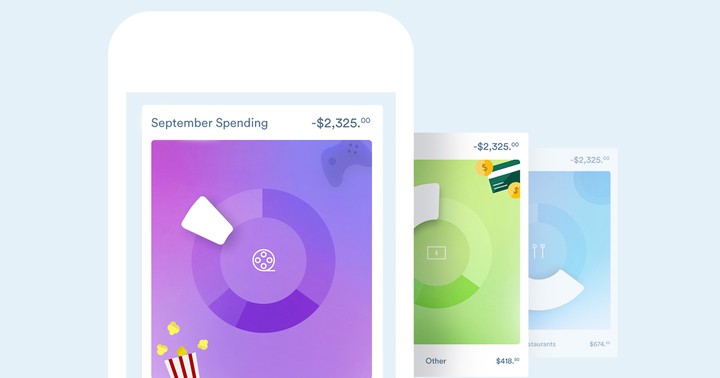 Fudget
Fudget is a simple, yet powerful mobile budgeting app for fiance. One button lets you add income, another expenses — all of which can be labeled and reordered on a simple timeline that displays your balance at the bottom. Swiping each entry lets you either set it as a recurring entry or delete it. And that's it. No folders, no savings categories, photos, graphs, or other gimcrackery. Power users will be left wanting for more, but for fast expense logging, Fudget is a nimble and easy to use app. An in-app purchase provides themes and a built-in calculator, while removing advertising.
Spendee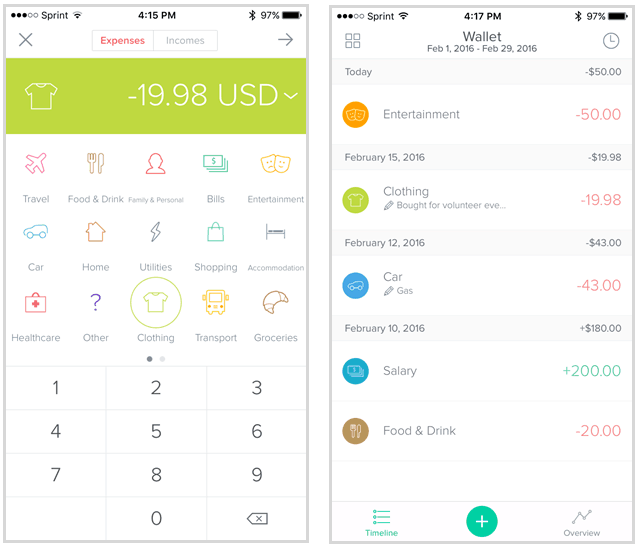 Spendee features a brightly colored, user-friendly interface that comes with great budgeting tracking tools, whether you're a free user or a subscriber. Users can easily input and categorize expenses, complete with receipts and photos. You also can quickly view your expenses in a feed view, while the Overview mode offers useful infographics on your spending over time plus a breakdown of what items and categories you're spending your money on. Spendee has also added a budget creation tool, elevating it from expense tracker to proper budgeting app. Premium users get even more love, with bank account syncing for automatic expense logging, as well as multiple budgets, shareable savings wallets, and cross-device syncing.
Mvelopes (Starts at $4/mo but has free trial)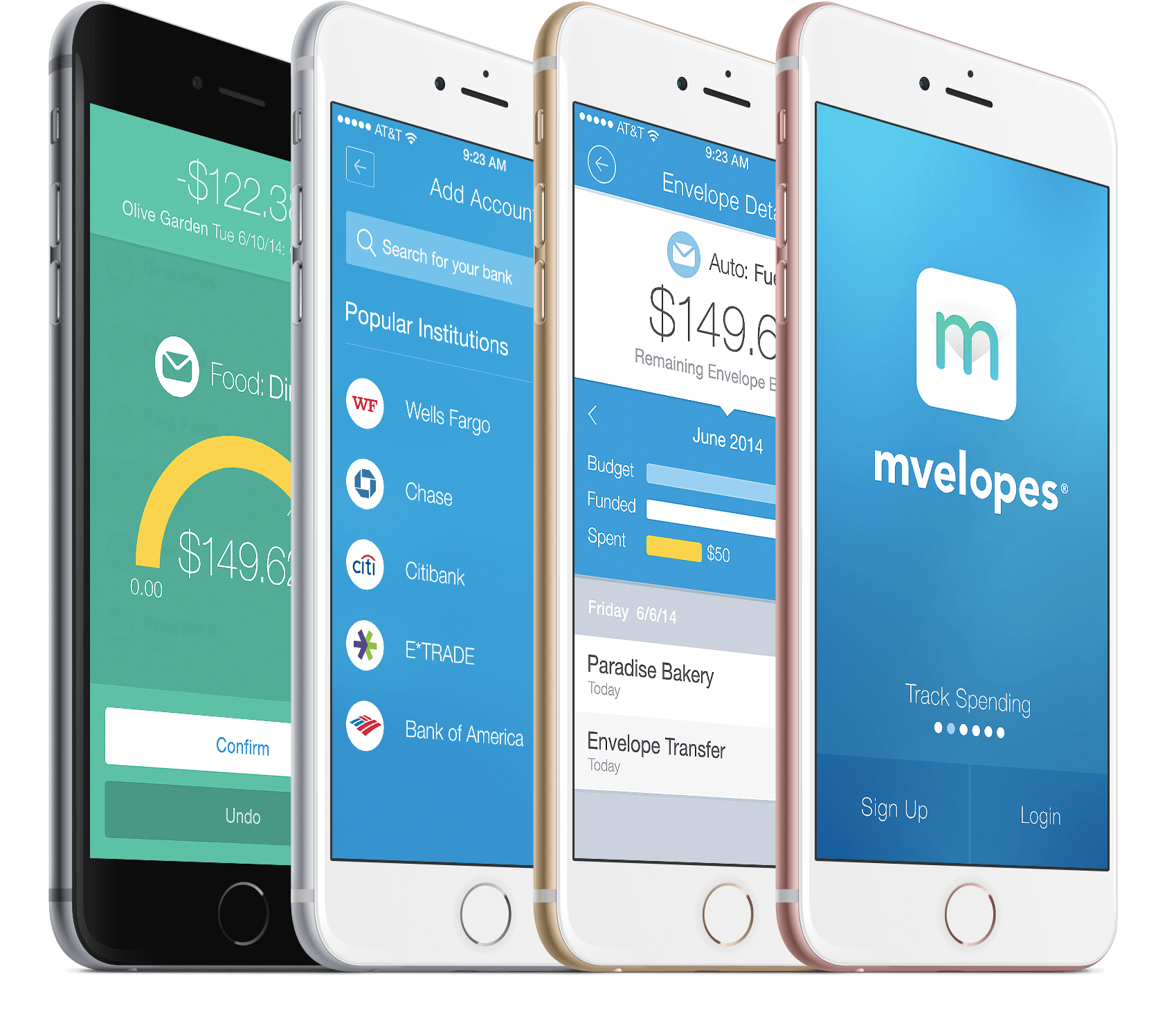 Mvelopes helps answer the question "Where does all my money go"? At the end of the month you may be surprised at how much went toward your morning lattes (not kidding). Mvelopes gives you the tools to track your daily spending while keeping your weekly or monthly budget in focus. The app features an "envelope budgeting" system that helps you plan as well as get feedback on how you spend your money. A universal accounts screen lets you view checking, savings and credit card balances in one place. You can even sync the mobile app with the Mvelopes web app.
Digit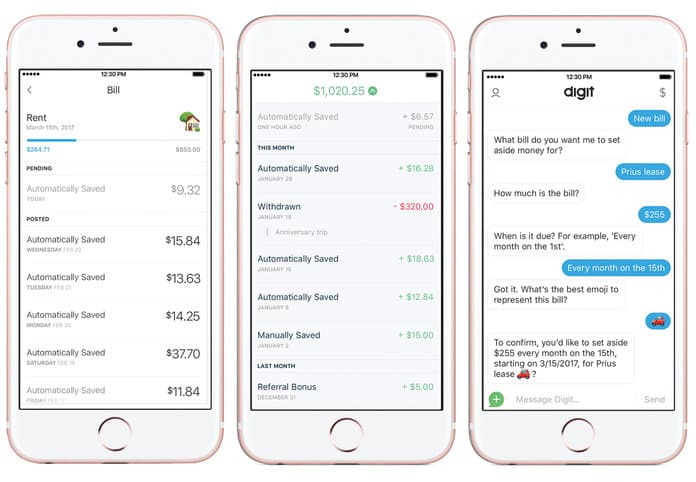 Digit may be the easiest way to sock away a few extra bucks without even trying and is a one of the strong free apps for finances you should check out. Every few days, Digit checks your spending and tries to salvage a few dollars from your checking account, if you can afford it. After you connect your checking account to Digit, the app analyzes your income and spending in search of small amounts (most often between $2-$17) to set aside and transfer to your Digit savings. The app never transfers more than you can afford, so no worries about over-drafting — the app has a no-overdraft guarantee.
Qapital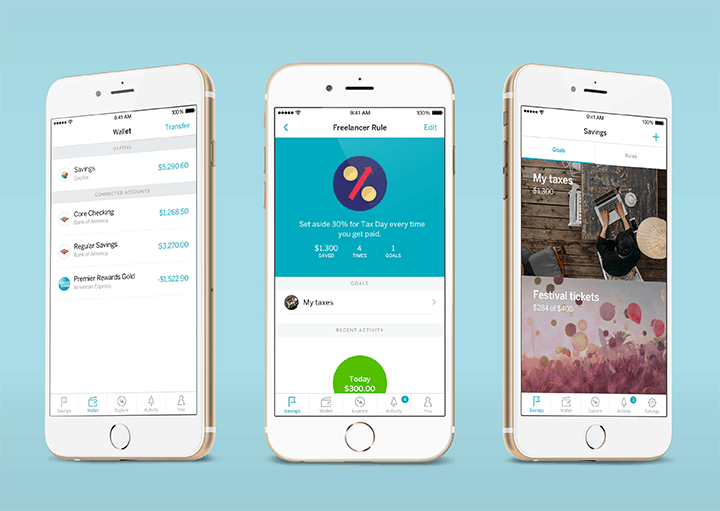 Qapital is another banking app that aims to help automate your saving and budget goals, with smart, user-defined rules that automatically deposit a small amount into your Qapital Goals Account based on your transactions and purchases. These can include shaving off your change after every purchase, or depositing $10 to your vacation account every time you visit the gym. Once you hit your saving goal, such as the price of a vacation or new gadget, you can transfer the money back into your funding account to spend. Alternatively, you can also get a few more perks with Qapital's spending accounts and the Qapital Visa Debit Card.
Stash (Investing) (Start with as little as $5)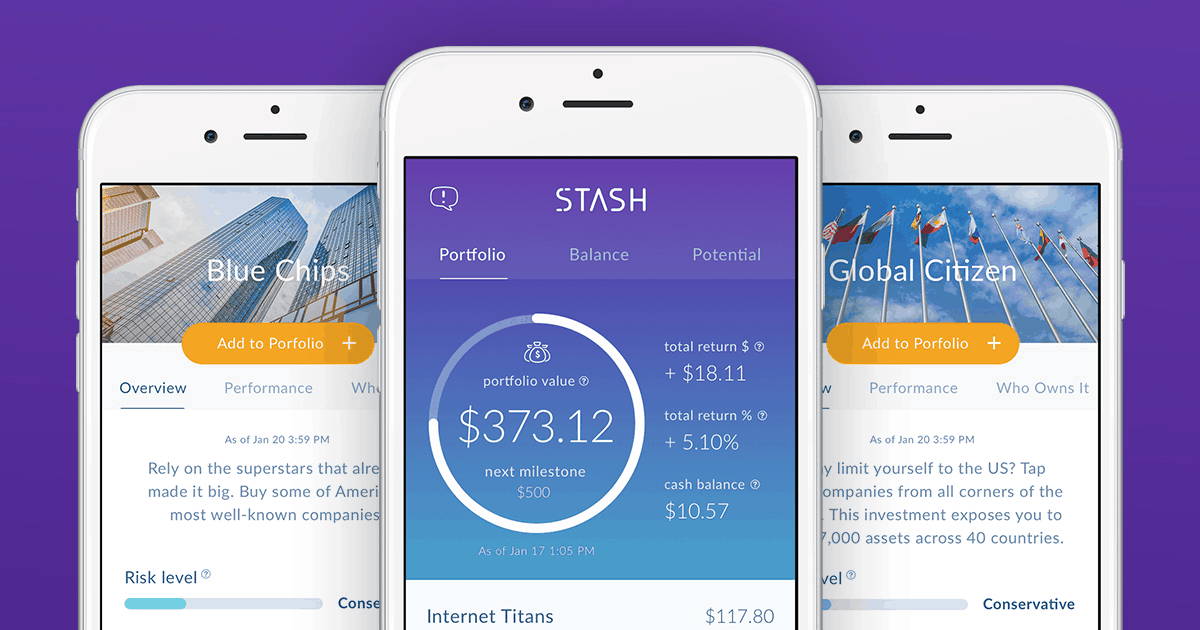 Stash is another mobile micro-investing app that's all about setting aside small amounts for long term investment. Stash employs fractional shares in order to allow its investors to get their foot in the door even with $5, with a variety of investment strategies and ETFs along with a built in "Stash Coach" to help you strategize. The first month is free, after which accounts are charged $1 per month, or 0.25 percent of account value per year, for accounts above $5000.
Goodbudget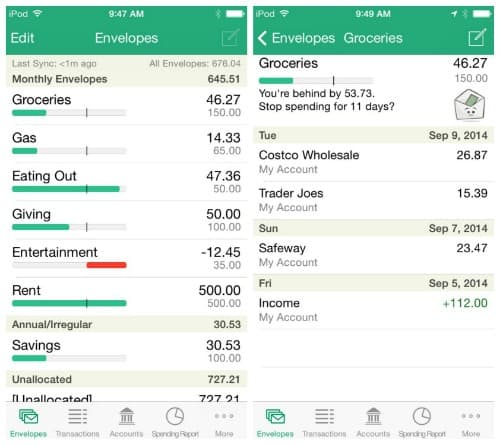 Goodbudget is an envelope-based budgeting tracker that doubles as a finance manager, checkbook ledger and household budget planner, Goodbudget lets you manage your bills and finances while syncing across devices and the Web to share with family members. The app facilitates saving with Goal and Annual Envelopes, giving you tools to plan your spending or create a budget. Goodbudget is free, but subscribers get additional benefits like Unlimited Envelopes and additional syncing and transaction history. It's one of the more higher reviewed apps for finance.
Overall Money Management
Albert

Android – Not yet available for Android, but there is a waiting list you can hop on
Albert keeps track of all of your accounts and provides actionable, easy-to-understand recommendations for improving your financial health. The neat choice of apps for finance automatically creates a budget based on your spending habits, bills and income, and sets aside a portion of your funds in a savings account. Users who pay a small monthly fee in the amount of their choice can use the Albert Genius feature to text human experts and get personalized advice on topics like investing, paying down debt or saving for a goal.
Wally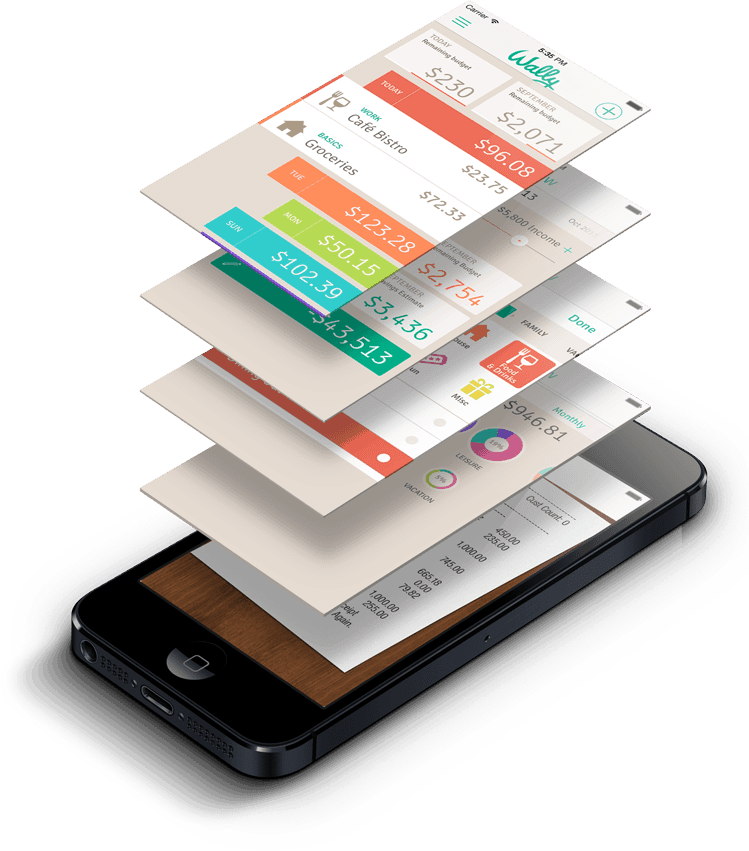 Wally aims to bring all of the financial information you need into easy view so you can quickly take control of your finances. Users can set a savings target, spending budget and income, which you can quickly reference on the main screen. We like that you can quickly create and view expenses, keep track of money saved and saving goals. Neat features include social and location tools for your expenses, allowing you to record not only how much you spend, but also where and with who, as well as detailed infographics of your spending. It's really one of the most comprehensive apps for finance you can find.
Wallet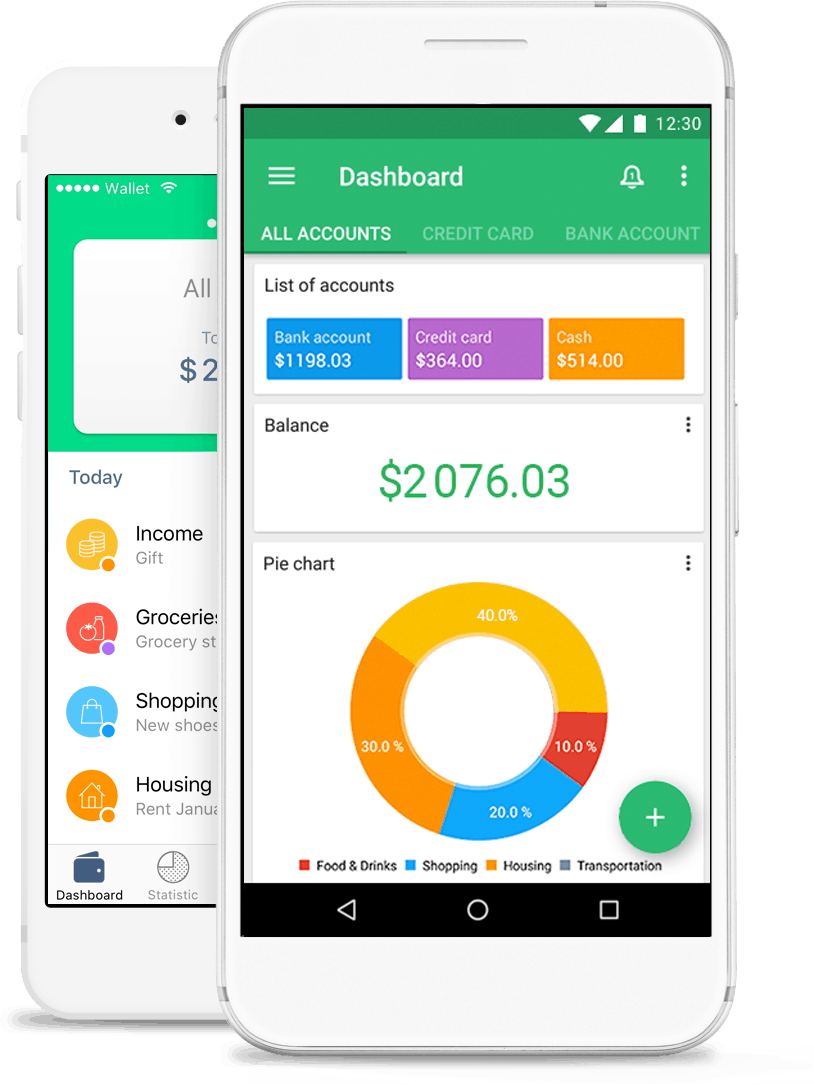 Wallet is another neat mobile budget and one of the cool apps for finance tool that touts a lot of best-in-class features, as well as support for multiple currencies. The app includes automatic bank syncing for your balance and expenses. It also gives you the option to manually import entries manually, label transactions for easy tracking, and track budgets. Financial insight and other metrics and predictions display in easy visualizations to help you plan out your finances. While the app is free, you may want to consider paying the $14.99 for a premium subscription to take advantage of features like bank syncing, widgets, and more detailed charts and reports.
Wela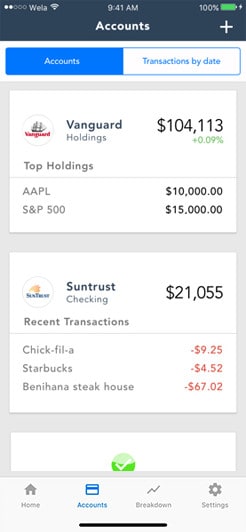 Not available for Android
Wela is another one of the cool apps for finance that takes the all-in-one approach to financial management, with users able to link their bank and card accounts to the app to get a quick overview of their financial situation as well as unleash Wela's AI assistant for financial advice. Users can monitor their income as well as track and categorize their expenses. The app also provides an overview of linked investments and net worth. The AI chatbot Benjamin can provide finance and savings advice based on your personalized goals, with premium services available if you set up a Wela Strategies investment account.
Expense IQ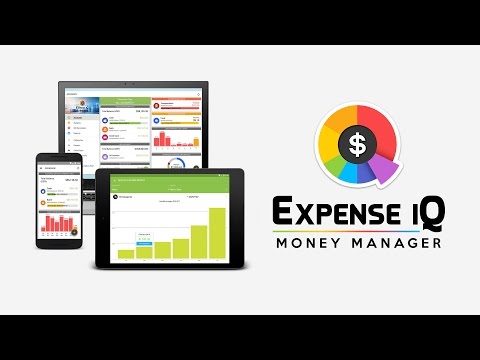 Not available on iOS
Expense IQ (formerly EasyMoney) combines an expense tracker, budget planner, checkbook register and bill reminder to allow you to easily track daily expenses, create monthly budgets and analyze spending via customizable reports. The app's Smart Overview shows account balances summary, critical expense reports, upcoming/overdue (be it one-time or recurring) bill reminders and budget warnings. It also features repeating transactions, transfers between accounts, and detailed, interactive reports.
Do you know of any more great free apps for finance? Tell us in the comments below. Do you use any of these? What do you think?
Need some more help getting your finances on track? Consider one of these highly recommended resources:
Of course, many Christians are aware of the teachings of Dave Ramsey in regarding to Christian finance, particularly Financial Peace University. I have personally used his methods for paying down debt and am an advocate for most of his books.
How do you and your spouse do with biblical financial management? Where can you improve? I'd love to hear your thoughts!
Because He Lives,
Sue