How I Got Over the Holiday Meal Plan Blues
This page/post may contain affiliate links.  As an Amazon Associate, as well as an affiliate of other programs, this means if you purchase something using these links, I will receive a commission on qualifying purchases at no cost to you! For more detailed information, please visit our Affiliate Disclaimer page
Meal Plan. Shopping. Cooking prep. Cooking. Company. I used to break out in hives just thinking about it!
Don't get me wrong. I love to have family and friends to share the holiday joy with, but the thought of having a houseful for a holiday meal was a fear-inducing, nail-biting, hair-pulling-out frustration for me. I tried to get organized and make lists, find recipes and go shopping in time for the big day, but I was always forgetting something important only to have to send my husband out to the convenience store at the last minute.
The days leading up to a big holiday are the worst for shopping. No one seems to be in the holiday spirit and there's not a parking space to be found. Do you find that, too?
When I finally finished shopping with more grey hair then when I started, I then faced the daunting task of cooking and baking. I considered it a victory if most of the dishes were ready by the time the turkey was being sliced.
When the meal was over, not only was I left with mounds of dishes, but tons of leftovers and no where to put them.
Trying to find room in the freezer was a bit like playing Jenga – pull this container out and move it here and hope that the entire contents of the freezer don't fall out on me.
Something had to give. Either I found a better way or I stopped hosting holiday dinners.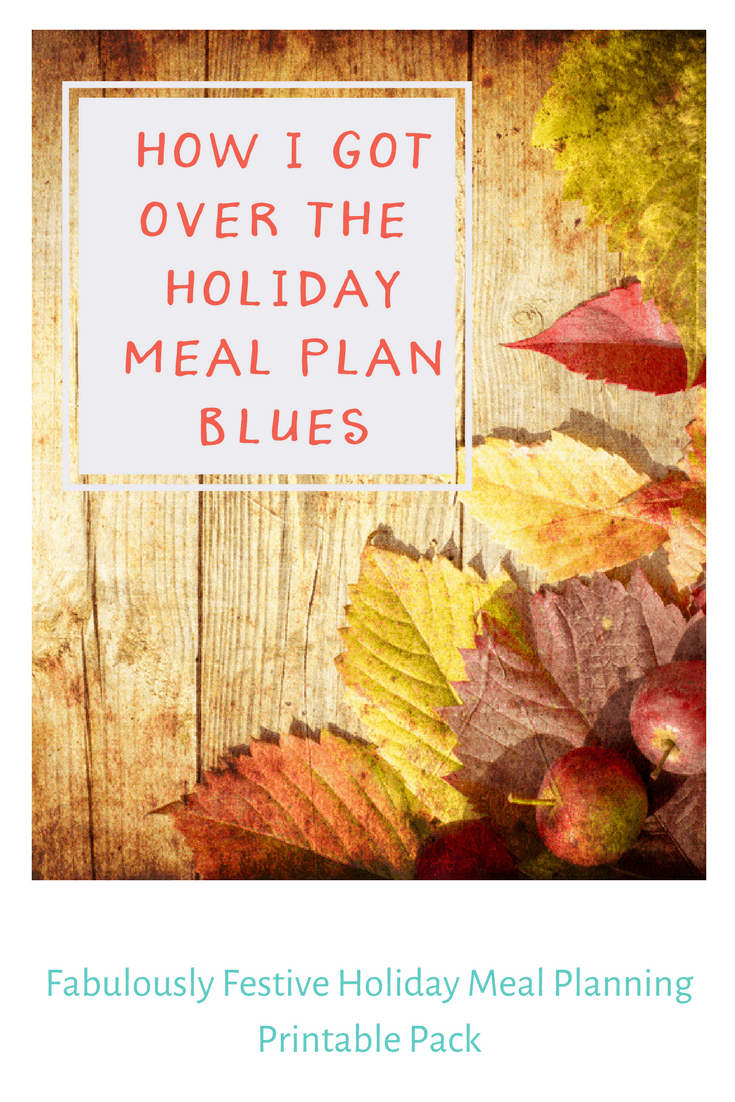 Over time I figured out what worked for me. I learned how to meal plan, prepare for shopping and shop (including when to shop!) and how to deal with leftovers. I began to amass a collection of resources to keep on hand when I began to meal plan for holiday gatherings. Eventually, this collection grew and became the start of my kitchen binder. I now use these resources every week (sometimes every day) to help me meal plan for weeknight dinners as well as holiday feasts.
Last year, my friend Chelsea shared that she would be hosting her first Thanksgiving and was just a bit terrified. Over some prayer, deep breathing and a few cups of coffee, I shared my "system" with her and all of the resources that I've created and developed through the years of marriage and homemaking. When she left she felt much better about her ability to meal plan and survive her first hosting of Thanksgiving. On "Black Friday" last year, Chelsea called me to tell me that not only did she score an amazing deal on an iPad for her husband, but that she absolutely rocked Thanksgiving. She told me that every wife – newlywed or not, needed these resources that I shared with her.
Of course, I don't do anything with out giving it to God, first and it was just a few months ago that I felt Him nudging me to share these resources with others. I began taking all of these resources and creating printables to help every woman not just survive but thrive when hosting holiday gatherings and preparing a weeknight meal plan.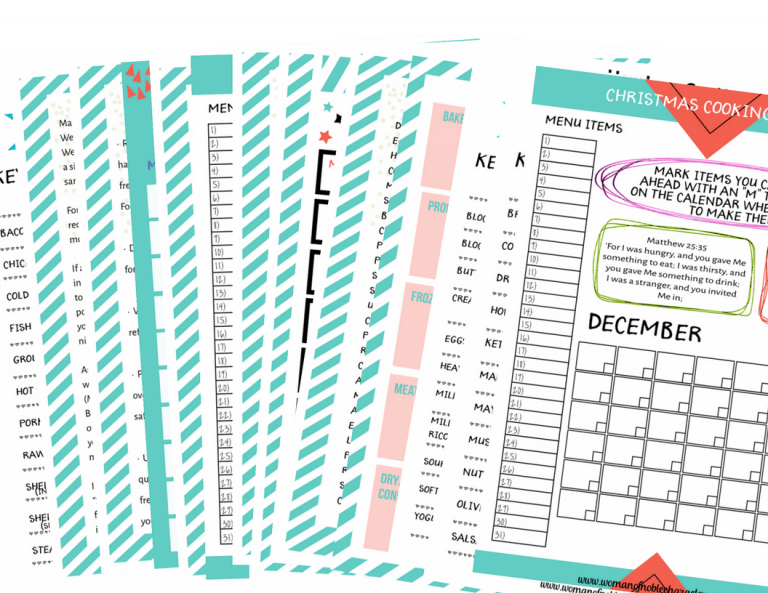 The Fabulously Festive Meal Planning Printable Pack includes:
Meal Plan Menu

What's in the Fridge

Shopping List

How to Use Meal Plan Menu

How to use What's in the Fridge

Shopping Tips for Holiday Meals (4 pages)

Food Storage – produce

Food Storage – dairy

Food Storage – meat

Food Storage – pantry (2 pages)

Safe Freezing (2 pages)

How to Prevent Freezer Burn

Thawing Foods Safely

Reheating Foods

What the Use by and Sell by Dates Mean

What Not to Freeze

Leftover Food Storage and Reheating

Holiday Meal Planner

Thanksgiving Cooking Plan

Christmas Cooking Plan
Twenty-six pages for you to download and print to use for every week, every holiday meal and in-between. Just $27 for this massive kitchen and meal plan library!
You can grab yours here:

To learn more about how to meal plan, see this post HERE
What is your biggest fear or frustration when it comes to tackling a meal plan or hosting a holiday meal? I'd love to hear your thoughts!
Because of Him,
Sue