Meal Planning Made Easy (Plus Using Trello for Meal Planning and Meal Planning Apps)
This page/post may contain affiliate links.  As an Amazon Associate, as well as an affiliate of other programs, this means if you purchase something using these links, I will receive a commission on qualifying purchases at no cost to you! For more detailed information, please visit our Affiliate Disclaimer page
I'm going to let you in on a little secret: Meal Planning. Implementing meal planning was the number one thing that I did to save me time and stress while running my home. Here's why:
It ensured that I had every ingredient on hand before preparing meals

It reminded me what needed to be defrosted ahead of time saving my sanity when we had nothing defrosted an hour before dinner

It allowed me to prepare food shopping lists that included all the meals in the coming week

It stopped my family from constantly asking "what's for dinner"

It helped me be strategic when deciding what to cook when

It assisted me in ensuring that we ate a variety of meals and proteins

It saved us from the cost of eating out more than we budgeted for
Are you ready to save time, money and stress by meal planning?
I'm sharing the basics with you and even sharing a simple meal plan chart for you to get started right away.
I like to meal plan on Mondays and will have at least ten days to two weeks planned out ahead. You might want to start with one week and tweak as you get more comfortable with it.
Ready?
(See below for meal planning with Trello and great meal planning apps, too!)
Print out the Meal Plan Chart and grab a pencil. (I use a pencil because life happens. There may be an occasion where you need to move a meal due to an emergency or unexpected night out).
(For a neat new printable with instructions, click HERE)
Write out the days of the week. Start with focusing on dinner as that is the most time consuming meal of the day. You can find tons of great weeknight meals on Food.com, Allrecipes and even Pinterest.
Mark off nights that you won't be home to cook. (For example, on Wednesdays, we eat my mother-in-laws house, so I mark off Wednesdays). If you know that a night of the week is busy, write in a simple meal that night (tacos, spaghetti and meat sauce, steak sandwiches, etc.)
For the remaining nights, write in your family's favorite meals or recipes you want to try. I try not to repeat a meal until the next month. (Each Monday, on our Facebook page, I share a great weeknight meal from my family's recipe rotation).
What's Next?
If a recipe includes an item that needs to be defrosted, write an F in the square to the right of the Meal Planning Chart (F=freezer). This way, you will know if you need to take something out of the freezer the night before. If it is a crockpot recipe, write a C in note column (C=crockpot). This will let you know that this is an item you can prepare in the crockpot the night before or the morning of.
As you plan your meals, keep a shopping list and recipes handy and write on your shopping list anything you'll need to pick up at the store. (My shopping list is arranged according to my local store's layout). Before your weekly shopping trip, all you'll need to do is a quick review of the fridge and pantry (as well as paper goods, cleaning supplies, etc.) to see what else you need to add to the list.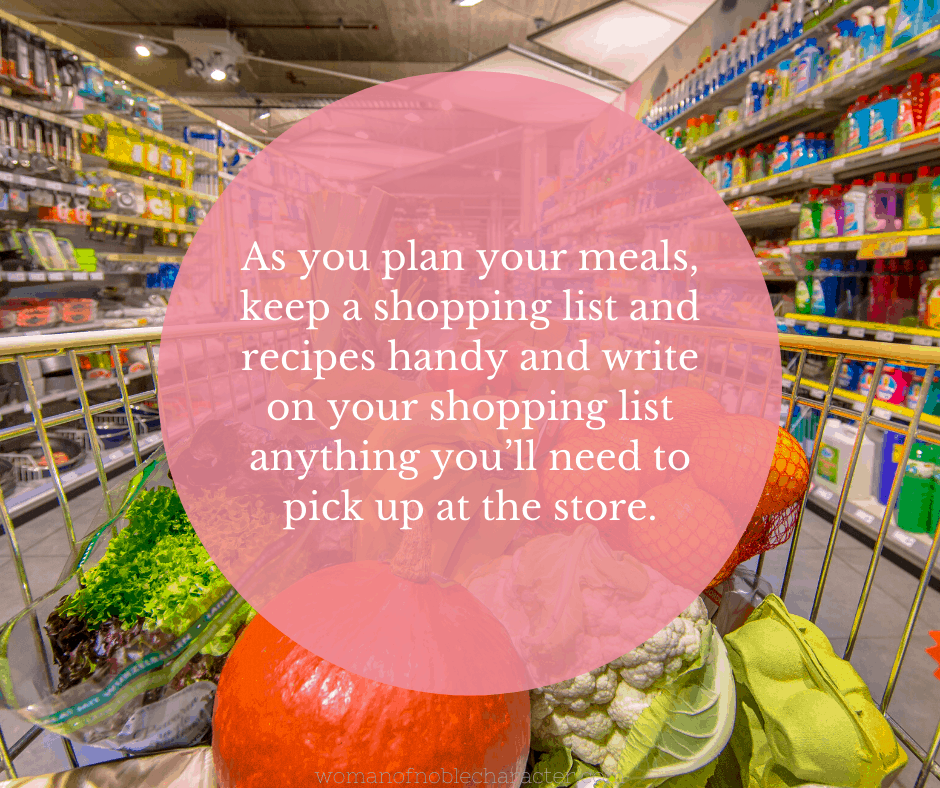 Food Shopping
I use an app on my phone called any.do and add items to a list titled "Store" as I think of them or realize we need to buy them. When I'm finishing my shopping list, I just need to refer to the app to add those items to my already set up and mostly finished list.
Simplify Your Meal Planning Using Trello –
Guest Post by Heather Farris
There was an entire week last year where my husband asked me, "What's for dinner?" It was around 6 pm each night and let me tell you how overwhelming that feeling is.

Not knowing what was for dinner or what I even had in my fridge is overwhelming.

In fact, keeping up with meal planning can be overwhelming for a lot of ladies that I talk with.

Then I had a lightbulb moment to use a free tool that I was already using daily for meal planning.

Not only was it digital, but it's a visual tool. It's called Trello and I've fallen head over heels in love with meal planning in this tool.

So how do I use this tool to meal plan?
Well, I'm so glad you asked!

In a nutshell, you create an account, then create a board and add recipes as cards. But let's back up before we get to the meat and potatoes of this process!



MAKING IT A ROUTINE
When you commit to getting into a meal planning routine you will want to find a day during the week to do your planning.
This will help you to stay consistent and build your new routine into a habit. Easy enough, right? So look at your week and determine what day works best for you.

For me, it's Saturday or Sunday mornings before breakfast while I drink my coffee. I can sit and make my grocery list before the kids get out of bed while I drink coffee.

This will allow me to not forget to add things to the list.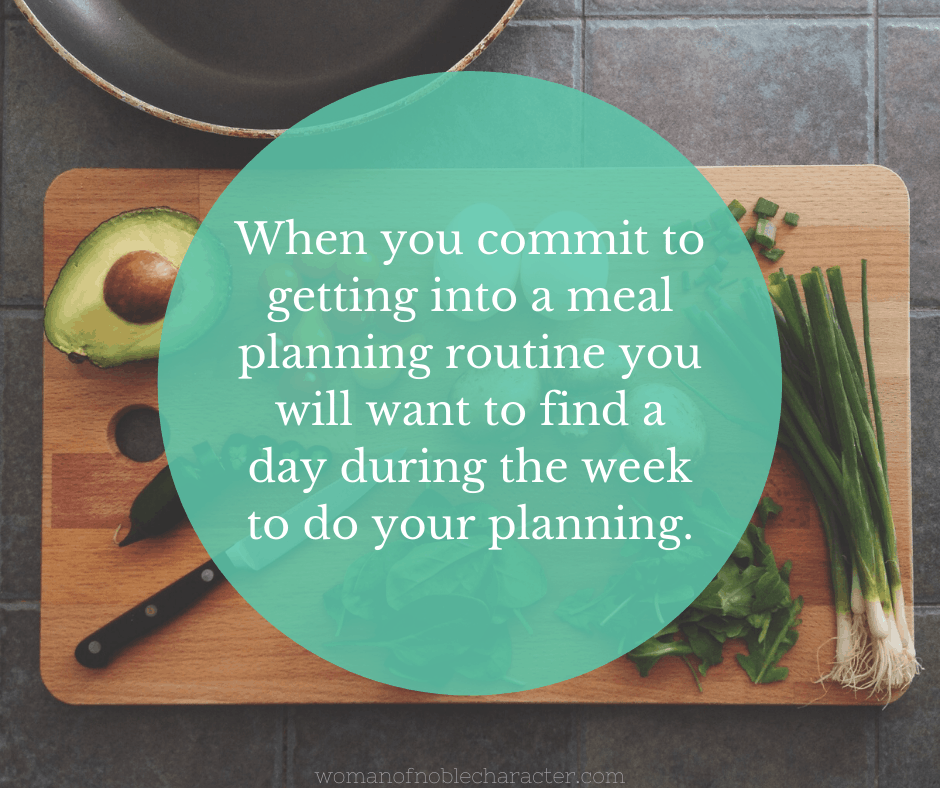 GETTING ORGANIZED

When you start using Trello to meal plan you are going to have to get organized first.
Step 1:

The first thing you need to do is grab a list and put it on your fridge door. (I love the one below. Click on it to see the variety of colors in comes in. You'll love it!)
As you run out of things in your pantry then add them to the list.
It might also suit you to keep a running list of pantry staples and stock up on those regularly.



Step 2:

Next, you're going to gather all of your recipes. I know, I know this can be cumbersome. If this will be too much work I would simply start by gathering your family favorites first.

If they are in a recipe book it's easier to just snap a picture of the recipe and directions.

If they are on Pinterest or online somewhere else then you will want to grab those links.

Other places to check:
Evernote
Recipe apps
Bookmarked links
Once you've gotten through this step you're ready to get started on the fun part.
Step 3:

Getting organized in Trello is both fun for me and addicting because it's something I've grown to love. Before you can dive into the "meat" of organizing meal planning with Trello, you'll need to get Trello. You can grab a free account HERE.

When you first sign up for Trello you are going to start with a blank slate.

First, you need to create a board. In the top right of your Trello navigation, you click the plus sign and choose to create a board.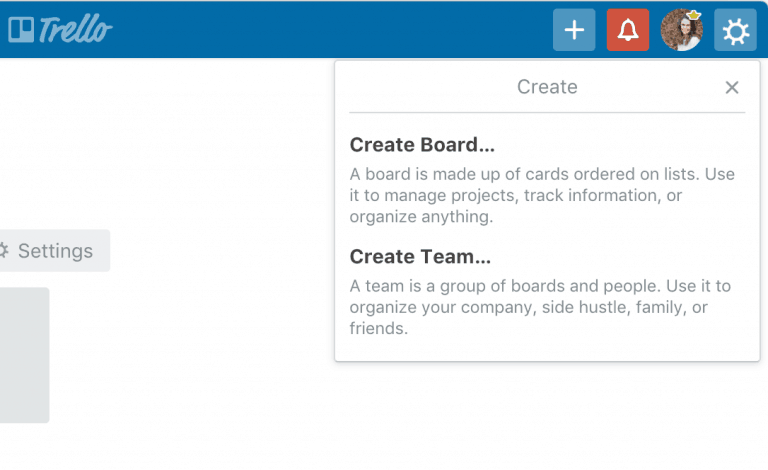 From there you will have a new blank slate to create magic within.

Next, you want to start creating lists.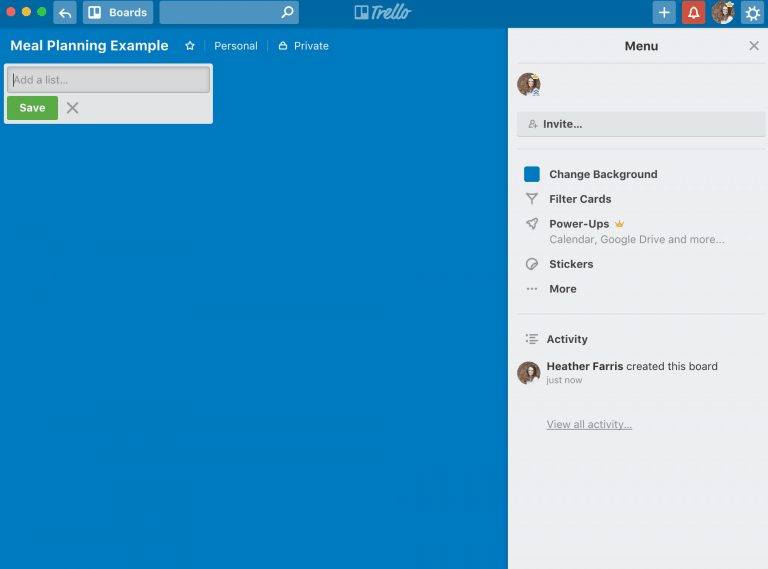 You can do organize this is whatever way makes your heart happy. You can see how I created my board and organize it right here.

At this point, you simply start adding your recipes.
Add a card

Name the card with the name of the recipe so it's searchable

Click the card to open it up and start inputting your information

Inside of the card, you will see the various options to input your information. I like to put the recipe directions in the description at the top and the ingredients in a comment or checklist.

If you click attachment button on the right side menu of the card you can add a link to a recipe. You can also add a link in the comments section and Trello will pull an image from that URL so you have a visual of the recipe. In this menu, you can also add other attachments such as images. You can see an example below.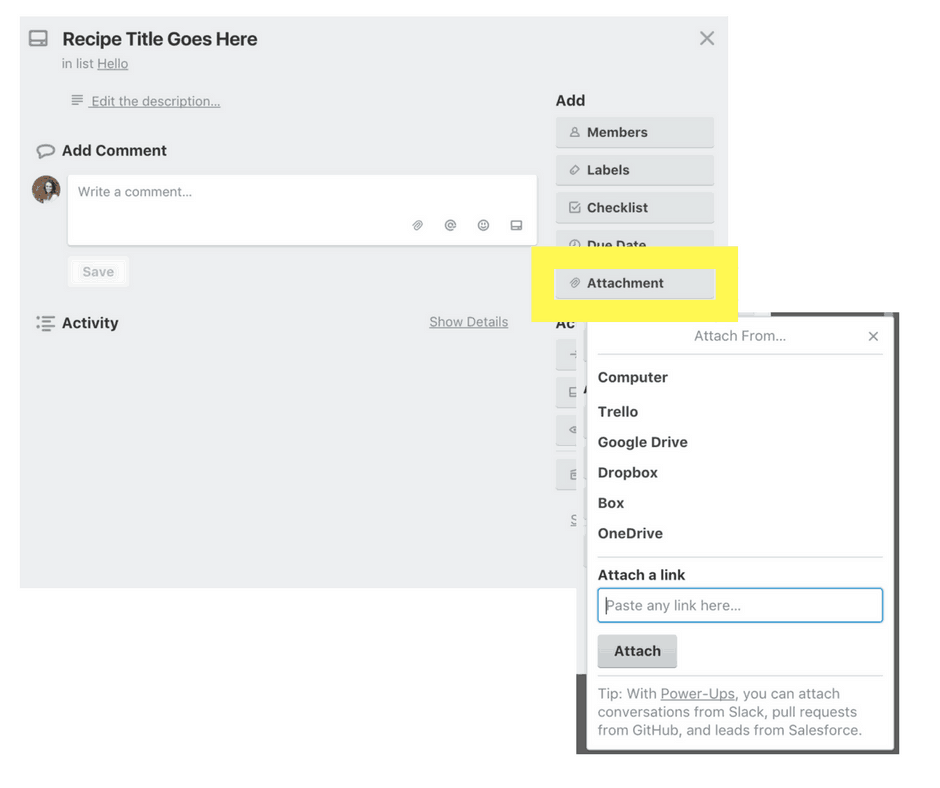 You will do this for all of the recipes that you want to add to your database. If you want more detailed instructions you can see how I do it over here.



MAKE YOUR MEAL PLAN

Now that you've got recipes in your database you can start meal planning with Trello.
I like to add due dates to each of my cards so I can meal plan for a week or two at a time.
In Trello you can use the calendar function to see your meals in a calendar format.
You will need to go into the board settings and turn on the calendar power-up shown below.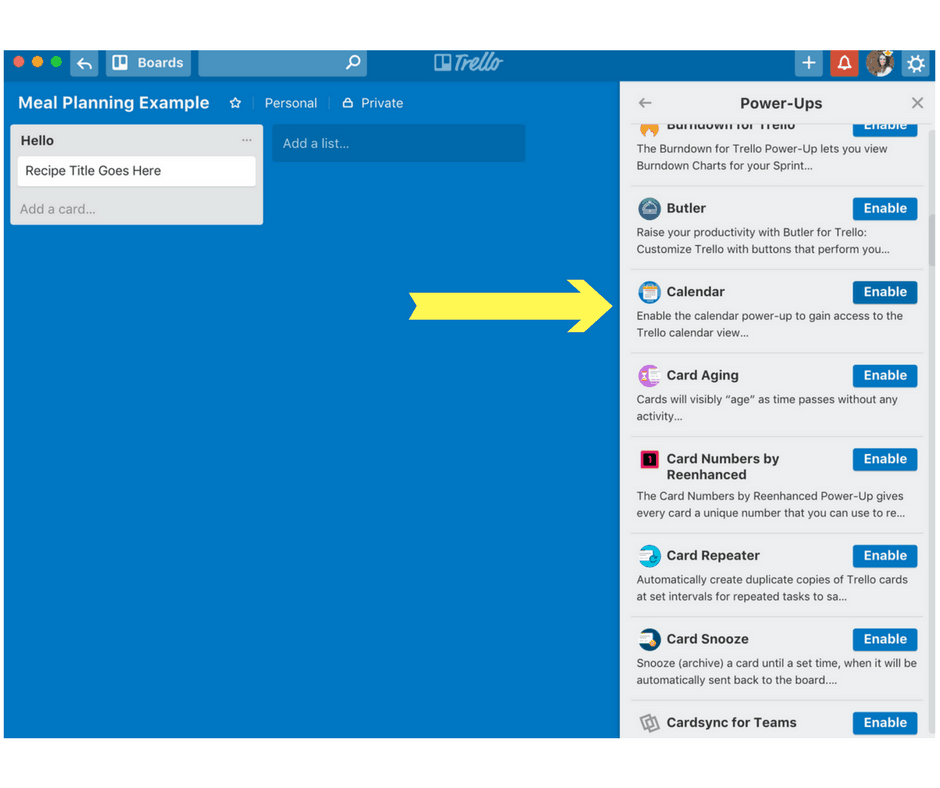 Once you have this feature turned on and due dates on your recipes then you can see them in a calendar format.



Making Your List

I like to make a list of meals for the week. At the top of that list I add a card for my shopping list and below it, I just drag and drop my recipes that I want to have for the week into that list.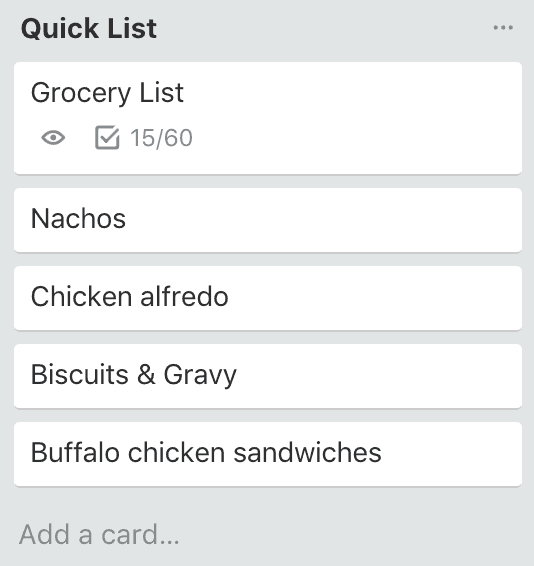 Inside of the shopping list, I simply add a checklist and start adding my ingredients to that checklist. I break it out my department of the store so it flows nicely but you can do whatever fits your needs here.
Once I am finished with my list I like to print it so I can take it straight to the store with me. It prints nicely with checkboxes and all.
You do this by clicking share and more inside the card on the bottom right. Then the top menu item says print.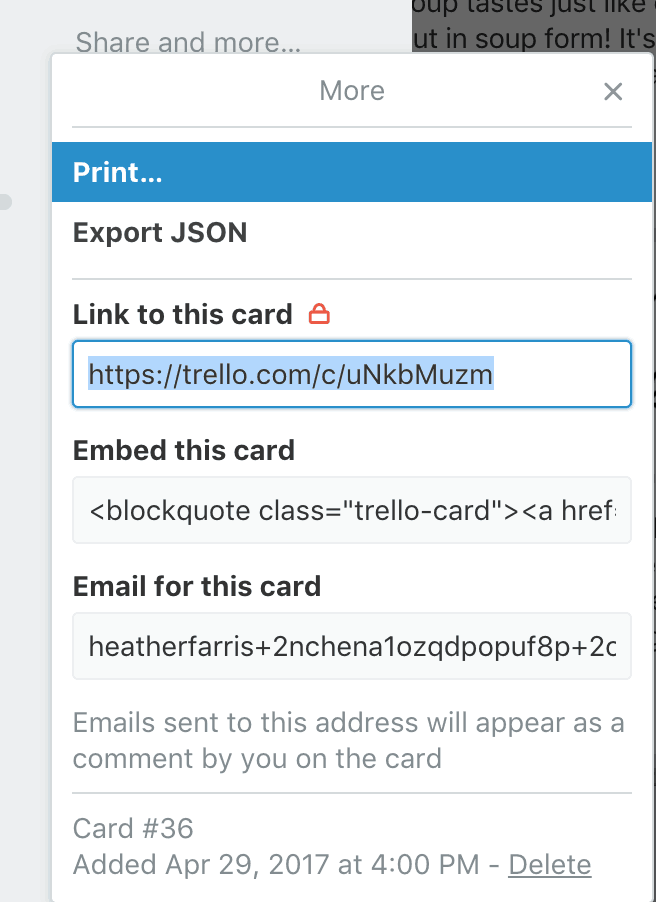 That's it! Once you get the hang of using Trello you will easily be able to build out your recipe database and make your meal plan and grocery list all in the same place!

What's even better about Trello is their phone app. If you're out and about and need to make a quick meal plan then you can use your app to do it on the go!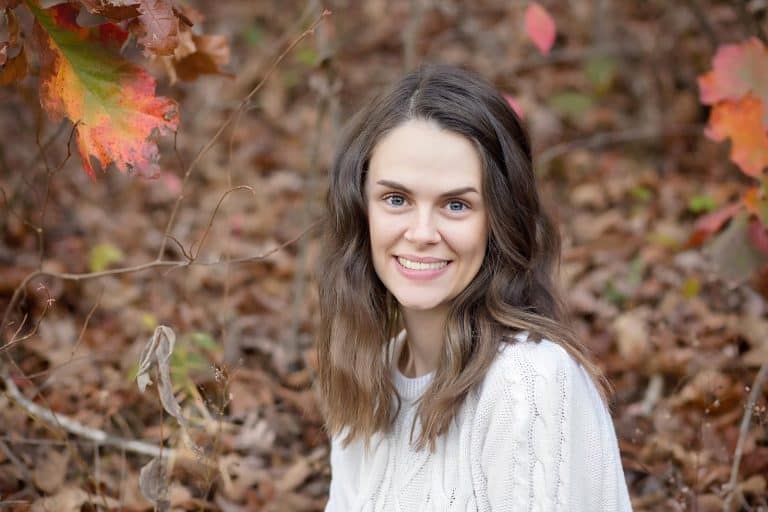 Heather Farris, The Balanced Mamas
Heather is an entrepreneur, blogger, and mom of two. She and her husband live in the Midwest where he is stationed in the Air Force. On her blog, TheBalancedMamas.com, Heather helps other moms build a balanced home and enjoy more quality time with their families by building systems and routines. She does this by providing practical solutions that moms can implement quickly so they can get back to spending time with their family.
BONUS Meal Planning Apps to Save You Time and Money
Meal Planning is one of the best ways to save time, money and ensure that your family is eating healthy meals.
I meal plan about once a week for the next week to ten days. (You can read about my meal planning method, the benefits of meal planning and grab the free meal plan template above). But, maybe you would prefer not to handwrite your meal plan or maybe you'd like to meal plan on the go.
Perhaps, you want to meal plan and bring your shopping list with you on your phone. Or maybe, you've got meal planning down, but are looking for more weeknight meal ideas.
Whatever your motivation, you will love my list of 11 FREE meal planning apps to make meal planning easier.
Meal Time
Mealime is designed around planning family or meals for guests the simply. You can create profiles of everyone you are cooking for, their llikes, dislikes, general eating habits, allergies, and mopre. You can also create profiles for couples or whole families to make planning a little easier.
Mealime has a vast amount of You can then look for recipes that match all your requirements. Pick one, and it gives you full instructions and can automatically add the required ingredients to your grocery list. Most recipes are focused on fast prep times around 30 minutes – perfect for weeknight meals! (This app was also featured in my grocery shopping app list)
2. Food Planner
FoodPlanner is based around recipes. It allows you to browse the web for healthy recipes and download them onto the app. It gives you the nutritional data for the meal and allows you to automatically generate a shopping list. An inventory management feature allows you to keep track of the ingredients you already have on hand. Food Planner includes a recipe/list sharing feature for Android users, as well
3. PepperPlate
Pepperplate is a great way seamlessly manage your recipes, menus and shopping lists on the web, Android Tablet and Android Phone or iPhone.
Pepperplate shows these benefits.
– Take your phone or Tablet into the kitchen and cook your whole menu with multiple cooking timers.
– Share your favorite recipes with friends and family via Email, Facebook and Twitter.
– Create recipes on Phones and Tablets
– Import recipes on Pepperplate.com from your favorite sites.
– Combine recipes into menus for dinner party or holiday meal planning.
– Organize meals for the week or month by adding menus and recipes to the schedule.
– Add to your shopping list on the website, and it automatically syncs to your tablet or phone.
– Shopping list is automatically organized to match the order you shop in the grocery store.
– The COOK NOW feature on Android Tablets allows you to set multiple timers for all of the recipes in your menu
– Create your own unlimited categories to organize your recipe collection.
– Your collection synchronizes automatically from the website and is backed up on your device automatically without connecting to a computer.
– Take your entire recipe collection with you to the grocery store or while traveling, no Internet connection required.
4. AnyList
AnyList. is an app that allows multiple users to add items to one shopping list. Plus, if there are any changes made on the list, everyone's devices stay up to date to avoid duplicate or accidental purchases.
If you want more features, you can pay for the premium options. With these, you can assign shopping list items to different stores, as well as create location-based reminders. This will stop you from forgetting to pick up an item only available at a certain store next time you're nearby.
The app is available for iOS, and is free or $8 for premium. (Not available for Android)
5. Kitchen Stories
The Kitchen Stories app is one of the most rich featured of the meal planning apps. In it, you can:
• Scroll through step-by-step photo instructions and videos, so that nothing can go wrong when you're cooking.
• Use the practical serving size converter to cook just for yourself or for a larger crowd with ease.
• You can like and save your favorite recipes to personal cookbooks, upload your own tasty food photos, and leave feedback, comments, and tips.
• Plan your dinner on the go with the practical shopping list generator. You can even export your list to your reminders for a hassle-free shopping experience.
• The app is completely FREE of charge!
The creators add: "Continue your cooking experience with our network of professional chefs, talented food bloggers, and passionate hobby chefs by downloading the Kitchen Stories App. Connect with food lovers from all over the world and become part of our community."
6. Cozi
Named a "must-have app" for a better life by The TODAY Show, Cozi Family Organizer enables users to keep their family's busy schedules organized, synced, and up-to-date. With a shared family calendar and a to-do list feature for tasks like grocery shopping, household chores, and more, Cozi is an essential all-encompassing organizational app for modern families on-the-go. Use it's easy features to create weekly or monthly meal plans to share with family. No more "what's for dinner, mom?" – they can look at Cozi and know.
7. BigOven
BigOven simplifies home cooking for busy families and individuals on the fly. In addition to being a super easy-to-use grocery list organizer, BigOven also comes loaded with over 350,000 recipes and helpful tips for meal planning.
Apps for Finding Recipes
Yummly
Yummly is a general food-sharing and recipe-finding app that features plenty of vivid photos and a rating system to help you find the most popular (or at least the most talked-about) recipes online. If you have your meal routine pretty well down but need some help finding the right recipes, Yummly is a great app, but more low key than other meal planning apps. It is basic, but has a robust selection Yummly Recipes and a great Shopping List version to help you plan out your meals.
2. AllRecipes Dinner Spinner
AllRecipes describes DinnerSpinner as providing "Access your personalized food feed jam packed with trending and seasonal recipes, easily create custom collections to organize and share favorite recipes by theme, and create your personal Cook's Profile to share favorite recipes with friends, family and other cooks with your same interests." I use AllRecipes web version and can't wait to try this foray into their meal planning apps.
3. Eating Well Healthy in a Hurry
The "Healthy In A Hurry" is another of the meal planning apps that works across most all devices. It puts delicious, nutritious recipes at your fingertips for any meal – even dessert! Some of the app's top features include: 200 quick and easy-to-prepare recipes from the EatingWell Test Kitchen, preloaded recipes for instant access, a user-friendly experience with ability to browse by course category and much more.
4. Chef Tap Recipe Organizer
ChefTap has an impressively intuitive built-in grocery list organization tool to make your favorite saved recipes come to life. ChefTap automatically clips recipes from any site and saves them into the app's permanent archive without any cutting and pasting, highlighting text, or hidden third-party supporting sites involved.
ChefTap then helps users create grocery lists based on the specific ingredients used in their favorite archived recipes. The app combines like items on the list, figures out what section of the grocery store each item on the list is located, and sorts the whole list by aisle to save you time and energy in the grocery store. When it's time to cook, ChefTap displays recipes in a kitchen-tested, easy-to-read format, and it even lets the user adjust the yield for any clipped recipe.
Want to save time and money grocery shopping? Check out this post on 17 grocery shopping apps to save you time and money.
Prefer to find recipes and meal plan online? See this post on the best sources for weeknight meals.
What meal planning apps would you add to this list? Comment below and share the love!
Do you meal plan? If so, what benefits has it shown you? If not, what's holding you back? I'd love to hear from you.
BONUS: Meal Prep Hacks to Save You Tons of Time
Whenever I talk about meal planning, I always get questions on meal prep. How can I save time preparing weeknight meals? What foods can be prepped ahead of time?
Here are my top ten meal prep tips and hacks to help you save time on busy weeknights but still get a fresh and nutritious meal on the table for your family.
Meal Prep Hacks and Tips
Choose vegetables that can be used several ways
Buy foods you can eat raw OR cooked so you can still get your veggies in in different ways. Washing and chopping your vegetables when you get home from the supermarket makes that much easier to do. Let's say you get carrots, mushrooms, bell peppers, beets, red onions, and lettuce. If you're short on time, you can snack on raw carrots with hummus or ranch dressing. Once the veggies are chopped, it's so easy to throw a salad together or steam some carrots for a side dish. At the end of the week take your uneaten veggies and whisk with eggs and milk to create a simple egg frittata or crustless egg bake.
Cook once a week
While you may only have time to prep veggies after food shopping, there are other things you can prep ahead of time. Pick one day a week and do the bulk of your cooking. It might sound overwhelming, but by doing everything at once means you only have to preheat the oven once, chop your meats and veggies once and clean your kitchen once. For instance, chopping all the ingredients for one meal takes about 10 minutes. However, chopping all your ingredients for 15 meals at once takes about 30-45 minutes. That's a huge time saver! It may be tempting to cook two, three or four weeks in advance, but resist that temptation. Most cooked meals tend to stay fresh in your fridge for only about a week.
Make freezer meals
Freezer meals have become popular over the past few years. Even when you meal prep, life gets busy and occasionally, you'll need an even quicker meal (other than take out!). When you have a few meals frozen and ready to go, you'll just need to heat and eat. Your family is still eating homemade food and you'll save money not going out for dinner. Most freezer meals (that are already cooked) can last in the freezer from two to six months. Soups also store really well in the freezer, and you can split them into single servings to store for up to three months. After cooking your freezer meals, grab a permanent marker and write eat-by dates on them (with a marker and permanent marker). For great freezer meal ideas, check out Dinner at the Zoo.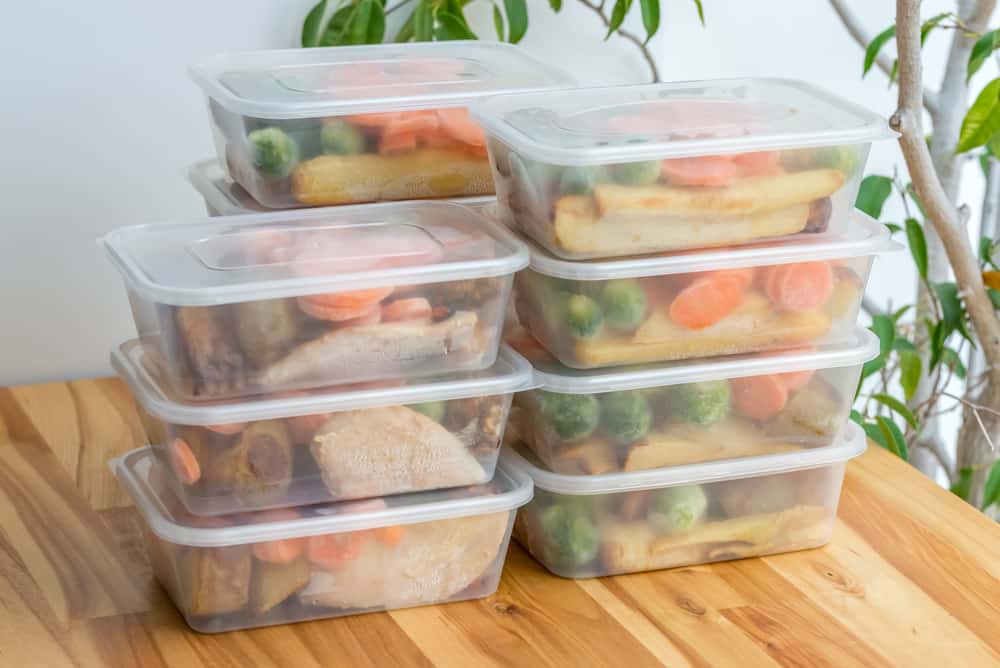 Use the slow cooker/crockpot
My crockpot is a life (and time saver!). If you don't have one, it's time to get one. Small (2.5 quart crockpots) are great, but if you have a family, invest in a larger one so that you can cook several meals at once. For example, cook a huge pot of chili in the crock pot and freeze portions to eat later. I normally prep my crockpot meals the night before and place the crock in the fridge, so in the morning, all I have to do is plug in the slow cooker. You can even let it cook over night and portion your meals the next day. (image links to Amazon listing).
Don't ignore frozen produce
Frozen vegetables and fruits are more than just convenient, they're actually surprisingly nutritious. According to a 2013 research study from the University of Chester in England, most frozen produce is higher in antioxidants and other nutrients than is fresh produce. For instance, in the study, frozen carrots were found to have about three times the lutein and twice the beta-carotene, as well as greater levels of vitamin C and polyphenols, compared with their fresh counterparts. Why? They are picked at their peak of freshness and flash frozen so they don't lose nutrition during transport from farm to store. Stock up on frozen produce when it is on sale and you'll save tons of time without sacrificing taste or nutrition.
Cook eggs ahead of time
Eggs are a versatile, protein-packed essential for meals and nutritious must-have for your kitchen.
Hard-boiled eggs are easy and inexpensive, as are fresh eggs poached over toast. You can make omelettes and frittatas with added vegetables (which you've already prepped!) Egg aren't just for breakfast, either. We make quiches or have "breakfast for dinner" in our house a few times per month.
If you need to make a bunch in advance, using your oven instead of the stove-top can be a great kitchen hack. Make a dozen at once by baking your eggs in muffin tins for just 30 minutes. You'll get a perfectly hard-boiled batch and can refrigerate for the week and eat as you need to! That way, you'll always have healthy snacks and meal proteins handy.
Use a food processor
Unless you are Masterchef worthy (and I'm certainly not), chopping veggies consistently and quickly is quite a task. That's why food processors are so handy!
You can chop vegetables almost instantly, and consistently, for sautées, salads, and side dishes. Use it to make sauces, cut veggies, nuts, and even fruit. This one is my personal favorite for a small, easy to use model. (image links to Amazon listing).
Repurpose leftovers
Many of us repurpose leftovers by just repeating the same meal with what is, well, leftover, but it doesn't have to be boring.
You can repurpose main course items (such as proteins) into something new. For example, plain chili one night can be turned into tacos the next, or it can top spaghetti, rice or another grain, like quinoa. You can also make a pesto, spicy tomato sauce, dressings, or other sauces during your meal prep time to add a new flavor to leftovers to give your family something new.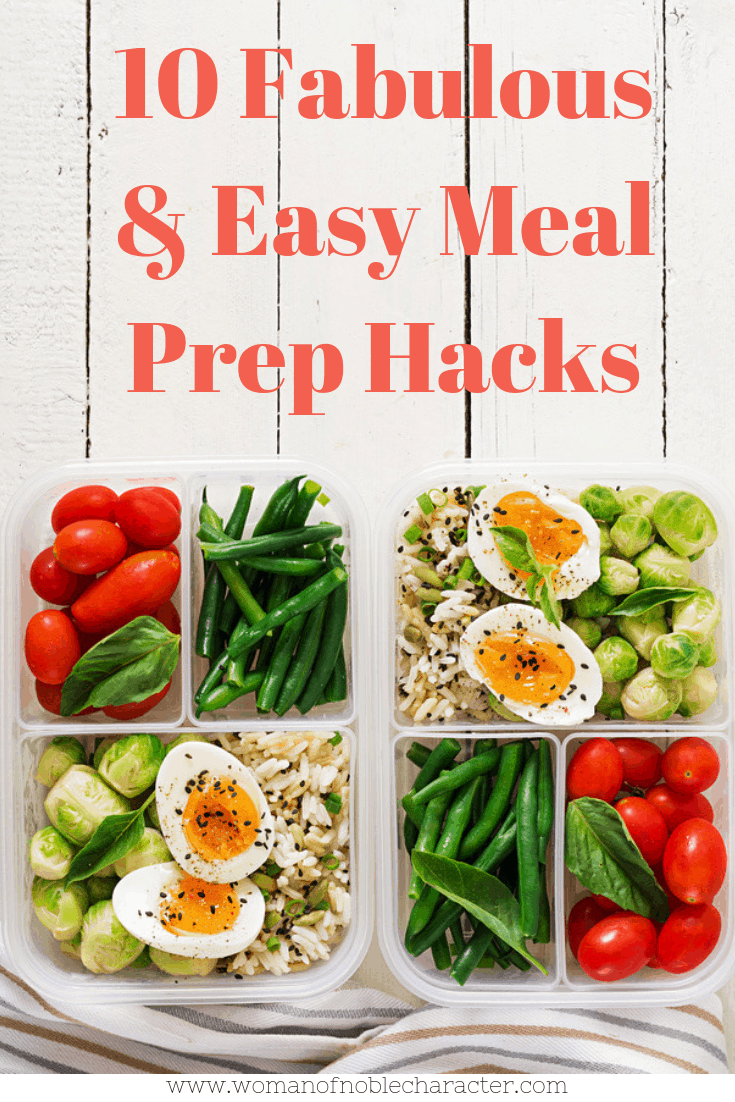 Prepare proteins once a week
When doing meal prep, preparing chicken for the week is a staple in our household. I go back and forth between the grill and the crockpot. It's like a whole new protein! I serve it with a few sides, or I will use it for things like tacos, stuffed potatoes, casseroles, omelets, soups, salads, pasta, and sandwiches. And it's so easy to prepare! You can do the same with ground beef. Just cook it up and portion it for several meals.
Multitask your cooking and prepping
I'm a master multi-tasker at work and in the kitchen and this includes cooking and meal prep. Use your time wisely!
Cook separate ingredients on the stovetop. While those ingredients are boiling or steaming away, chop, toss, and bake veggies, sweet potatoes, granola, and other goodies in the oven. Get all your ingredients ready on the kitchen counter. As your stove and oven is firing away, blend up sauces, dressings and toppings.
And some bonus meal prep tips:
Storing Veggies
Once your veggies are prepped, store them in stackable containers (they take up less room than ziplock bags) You can still see through them and can label them so you can easily see what you have on hand. For a printable on food storage and how long things last, check out this food storage post.
Make One Sheet Dinners
Add sheet pan dinners to your meal rotation. Cooking an entire meal on a cookie sheet is a genius way to cut down on your dirty dishes and active cooking time — and there are so many delicious meals you can make this way.
Try make-ahead breakfasts
Rely on make-ahead breakfasts to save time in the morning. There are tons of options, from overnight oats to hash brown and egg cups.
Use Smartphone apps to help you even more
Use these handy grocery and meal planning apps to make this "chore" even easier!
What meal prep hacks would you add to this list? I'd love to hear your ideas!
For holiday meal planning, see this post or for a HUGE collection of food storage charts, tips and meal planning resources, check out my Fabulously Festive Meal Planning Pack.
In Him,
Sue