The Easy Step-by-Step Method for Medicine Cabinet Organization
This page/post may contain affiliate links.  As an Amazon Associate, as well as an affiliate of other programs, this means if you purchase something using these links, I will receive a commission on qualifying purchases at no cost to you! For more detailed information, please visit our Affiliate Disclaimer page
If you've ever scoured your medicine cabinet searching for something for a headache or bee sting but only find expired bottles of cough medicine and half-empty prescription bottles than you might have wondered if it's time to work on medicine cabinet organization.
Despite this seemingly daunting task, this project won't take long, I promise.
(For great bathroom cleaning hacks, see this post)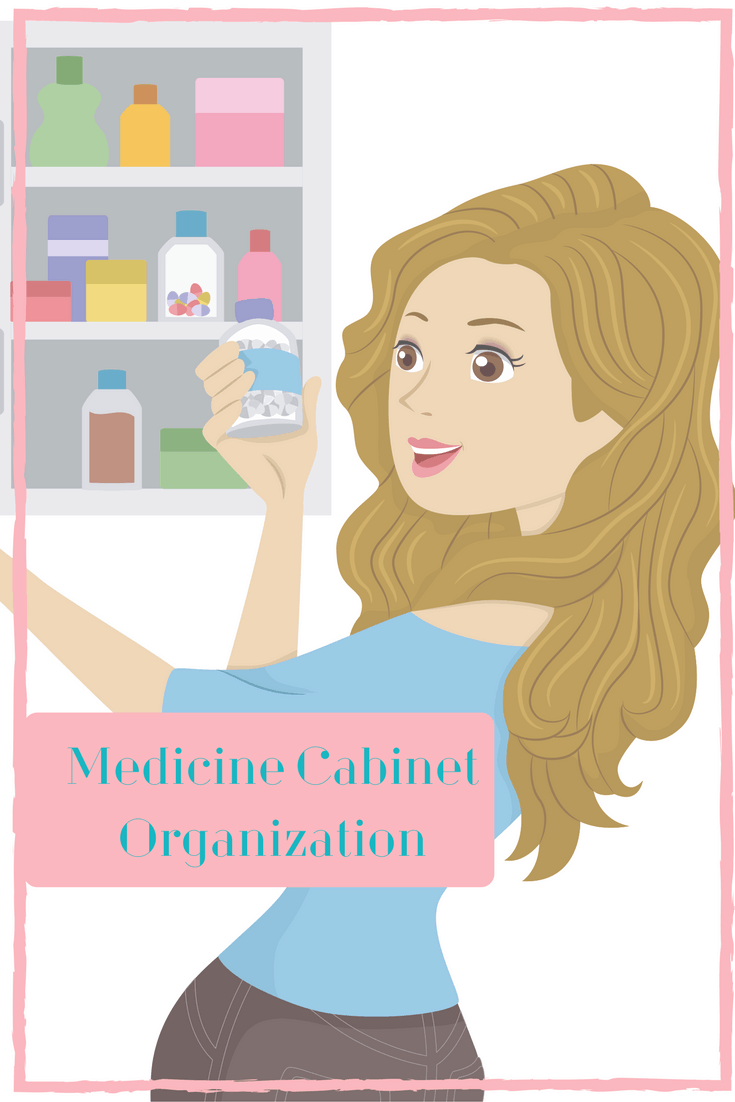 Here's how to tackle medicine cabinet organization:
Start by decluttering the space.

Take everything out and clean it throuroughly (you should do this at least once or twice a year).

Throw away all old or unused prescriptions (your local health department may have guidelines on how to dispose of these prescriptions).

For anything else, such as over-the-counter drugs, creams and other products, look for an expiration date. If it is expired, throw it away. If you can't find an expiration date, look at the condition of the container/box and the product itself.

Check to see if the cream is hardened or congealed, toss it. If the box looks old or damaged, toss it.

For any duplicates, keep the oldest one aside to put back in the cabinet and put the extra in a container for the closet (you will have it handy to replace when the oldest one is used).

For all new prescriptions and medicine cabinet purchases, mark the date of the purchase on the container before putting it away. This will make it much easier for you the next time you tackle this space.
Now that the cabinet is cleared out, sort each item by type:
Prescriptions

Over-the-counter medicines

Bandaids

Toiletries
After you have done the initial sorting, I like to further refine it. For example, all cold remedies together, all first-aid supplies, all hair products, and so on.
Forming a Plan
Now that everything is sorted, take a look at what you have. Could the hair products best be stored in a basket under the sink?
Would your makeup make most sense stored in a drawer in the bathroom or a vanity, if you have one?
Think about the flow of your morning routine. Do you do everything in the bathroom or have to carry some products to another room to finish getting ready?
Consider the package sizes, as well. Are you trying to fit an economy sized bottle of peroxide in the cabinet when it really doesn't fit?
Putting Everything Away
Once you have decided what will remain in the medicine cabinet, you can start putting things back. I like to have several narrow organizing trays, baskets or organizers, such as the ones below from Amazon, to use to organize this space.
It's neater and saves time when you are reorganizing or cleaning this space. Just pull out the trays, wipe down and sort one basket at a time.
If you are short on medicine cabinet space, consider storing items in a bathroom closet, under the sink or installing a shelf in the bathroom.
Now What?
Take stock of what you have and what you need. Now that you have purged, do you need to buy a box of bandaids or antiseptic cream?
Consider hanging a small dry erase board with marker on the inside of the medicine cabinet. As you run out of an item, jot it down so you'll remember when you go to the store.
You can also jot down dates that you need to refill prescriptions.
Medicine cabinet organization doesn't have to be complicated or fancy; it just has to work for you.
Do you have a creative medicine cabinet organization solution? Share with us in the comments below. We'd love to hear about it!
For great ideas and hacks for cleaning your bathroom, check out our recent article HERE
In Him,
Sue