The Best Men's Devotions to Grow Their Faith
This page/post may contain affiliate links.  As an Amazon Associate, as well as an affiliate of other programs, this means if you purchase something using these links, I will receive a commission on qualifying purchases at no cost to you! For more detailed information, please visit our Affiliate Disclaimer page
Men's devotionals. How many men do you know that read a devotional book? Chances are, not too many, but in addition to reading the Bible, a men's devotion can help the man in your life grow in faith. Often devotions for men are shorter and, most importantly, are written from and to a man's perspective.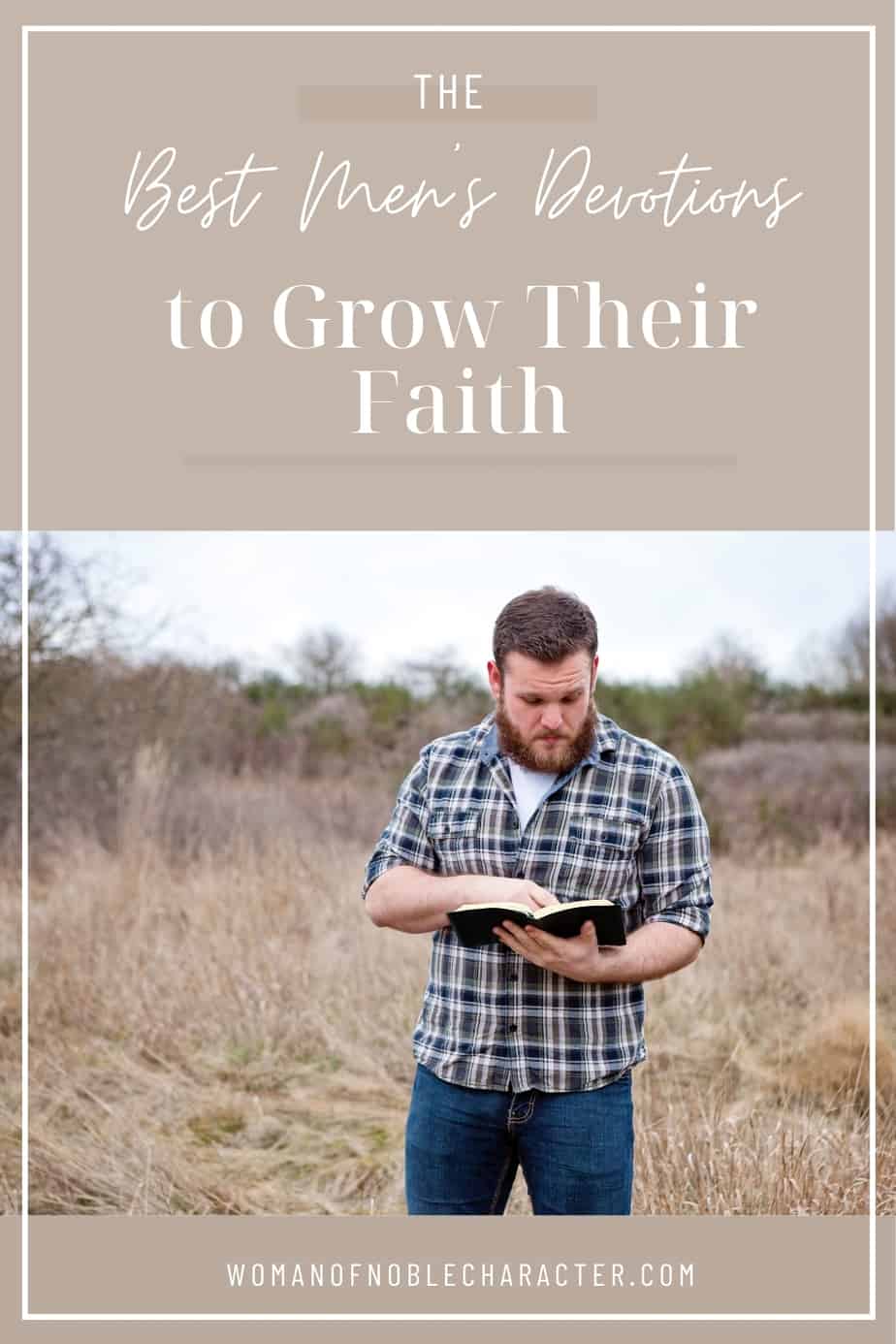 If you search for devotionals on nearly any Christian book retailer's website or even Amazon your results will be approximately 11,000 or more. If you narrow your results to "Men", the number drops drastically to about 300.
(If you are looking for women's devotionals, see this post.)
While few devotionals are appropriate for men or women, most devotional writers target women. That's because the great majority of devotional readers are women. As a result, devotionals geared for a male audience are far and few between.
If your husband (or any man in your life) has a desire or you feel the nudging from God that they do to walk more closely with God, gifting him a devotion for men may be a great idea.
Men must always stand firm in their walk with Christ. No matter what comes their way, always remember that God will always be there to guide him and accompany him in all of life's adventures. When the going gets tough, they don't have to fret because they can always find the help they need in Christ. While all of us should be reading our Bible daily, sometimes a men's devotional can help set their day pointed to Christ and off on the right foot.
I've complied twelve of the most popular and best-selling men's devotions for the man in your life who seeks a deeper walk with our Heavenly Father.
Top Men's Devotionals
Devotions for the Man in the Mirror: 75 Readings to Cultivate a Deeper Walk with Christ by Patrick Morley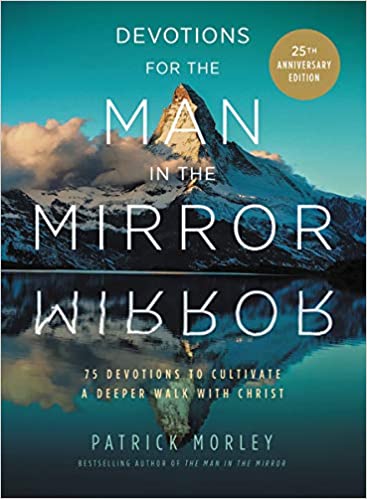 Men's ministry leader Patrick M. Morley challenges men not to settle for a watered-down version of Christianity. Reflecting Jesus in all aspects of life requires a complete, no-regrets surrender to Him. By fully submitting to Christ, believers will find the true freedom that only Jesus offers.
With 75 short, powerful readings, men will find meaning and purpose as they deepen their relationship with God and seek to become more obedient in their careers, finances, and relationships. Men in the Mirror is one of the top selling devotions for men.
The One Year Devotions for Men Paperback by Stuart Briscoe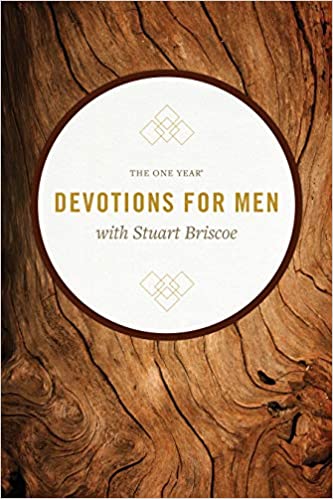 Recognizing that men and women face unique spiritual needs, these 365 convenient, concise, and uplifting devotionals help readers focus each day on God's priorities. Each day's selection includes a key NLT Scripture verse, a devotional reading, and a suggested Bible passage for further study. The One Year Devotions for Men continues to make the best-sellers list for men's devotions.
The One Year Daily Moments of Strength: Inspiration for Men by Walk Thru the Bible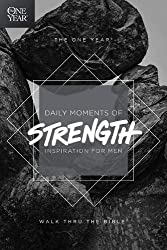 The One Year Daily Moments of Strength will help you experience a deeper and more powerful connection with the Lord each day.
Complete with Bible verses, helpful explanations, and practical applications, these short daily devotions, covering a variety of everyday issues, will help strengthen your commitment to faith and your walk with God. Through showing up to meet with God every day, you'll be inspired to go deeper with him all year long.
A Look at Life from a Deer Stand Devotional Hardcover by Steve Chapman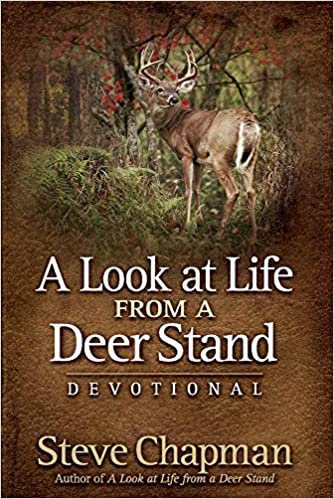 If your husband is an avid hunter, they will enjoy this men's devotional. Steve Chapman, avid hunter and bestselling author of A Look at Life from a Deer Stand (more than 300,000 copies sold), has a gift for gleaning faith lessons from the glories of creation. This pocket-sized gathering of devotions, handsomely bound in a soft, suede-like cover, invites readers to join in the thrill of the pursuit, the celebration of nature, and the enjoyment of God's presence.
Each devotion begins with the inspiration of a Scripture verse and closes with the stillness of a prayer. Readers will be excited by the application of biblical wisdom, delighted by the humor, caught up in the adventure of hunting, and intrigued by the exploration of God's character.
A Look at Life from the Riverbank: Stories About Fishing and the Meaning of Life Paperback by Steve Chapman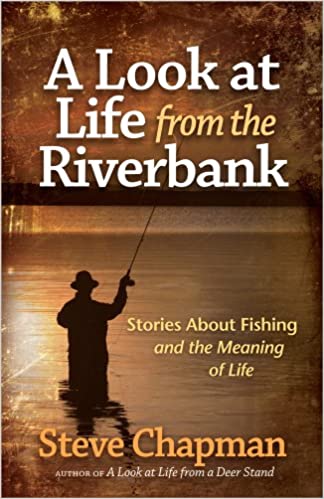 If your husband prefers fishing, this is a must-read devotional.
Do you love being on the water? Is holding a rod and reel one of your favorite outdoor activities? Outdoorsman and bestselling author Steve Chapman takes you to lakes, streams, rivers, and oceans to explore fishing and discover life-changing insights from God's Word. In these devotions about fishing for trout, bass, catfish, shark, and more, you'll discover:
why pestering a water snake isn't such a good idea

how treble hooks turn into reminders to avoid sin

where to turn when angling becomes a temptation

how cleaning a shark reveals the joy of God's mercy and grace

what unexpected truth is revealed when Jesus walked on water
Join Steve as he casts into the deep pools of God's wisdom to share life-altering insights, uplifting spiritual truths, and unabashed enthusiasm for living for Christ. You'll enjoy these adventures of being on the water with God, family, and friends.
The One Year Uncommon Life Daily Challenge by Tony Dungy et al.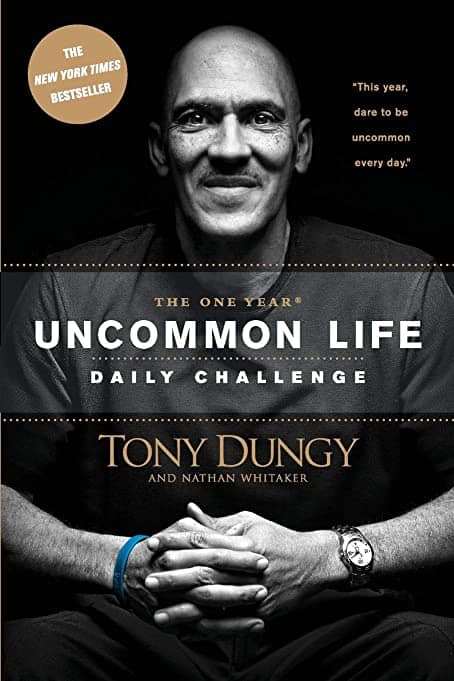 We loved the couple's devotional by Tony Dungy and his wife! Rated five stars on Amazon, this book is terrific as a devotional for me. Strengthen the core of your life and faith on a year-long journey with beloved Super Bowl–winning former head coach Tony Dungy! The One Year Uncommon Life Daily Challenge contains 365 reflections from the #1 New York Times bestselling author on living an "uncommon life" of integrity, honoring your family and friends, creating a life of real significance and impact, and walking with the Lord. This year, step up to the challenge―and dare to be uncommon every day.
Once-A-Day Devotional for Men by Zondervan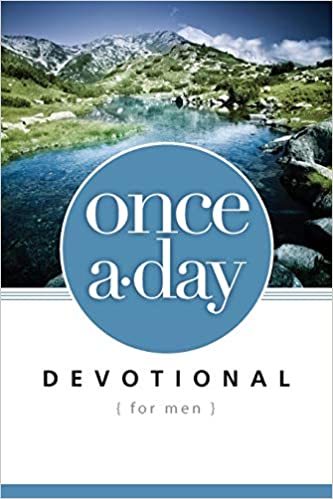 The NIV Once-A-Day Devotional for Men has 365 inspirational readings for every day of the year, equipping you on your journey to become a man after God's own heart. You can spend time every day learning to be more of a man after God's own heart with this NIV devotional book, designed with daily readings created specifically for men. Using devotions from Livingstone, the group that produced the Life Application Study Bible, each daily reading includes a Scripture passage, a devotion on that passage, and a prayer starter to help lead you into conversation with God.
Features:
Scripture passages from the accurate, readable, and clear New International Version (NIV)

Devotions for reflection, written specifically for men

Each reading includes a prayer starter to help lead you into conversation with God
One Minute Alone with God for Men by Bob Barnes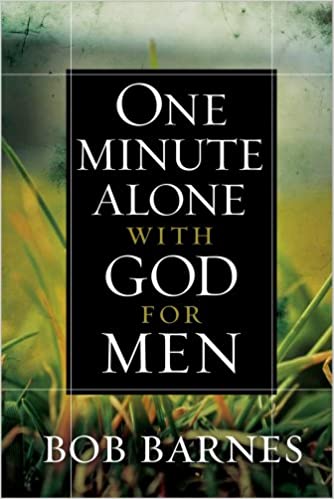 Bob Barnes, bestselling author of 5-Minute Bible Workouts and Five Minutes in the Bible for Men, presents brief meditations to inspire men in their time with God. The One Minute Alone With God For Men has a handsome hardcover, great as a gift or as an enduring addition to a devotional library, offers readers:
wisdom to build godly character and strength
guidance to find their purpose and value in God
tools to live with integrity and honor
This gathering of encouragement and biblical insight is sized to be portable and accessible for the busy reader or for any man looking for ways to spend quality time getting to know the Lord.
Kingdom Man Devotional by Tony Evans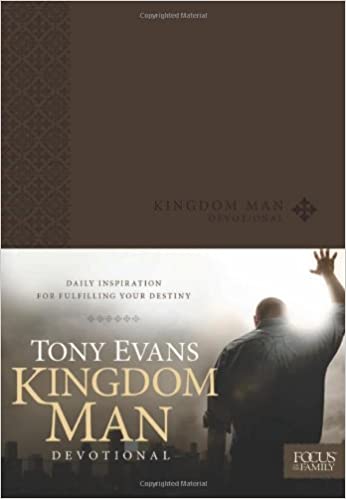 Kingdom Man Devotional is based on the principles and concepts presented in the book Kingdom Man. For the man who wants to be the leader that God has called him to be, this 90-day devotional will help him explore the scriptural mandate to exercise dominion and take responsibility over the various areas of his life. This devotional will challenge and encourage men to embrace their role of provider, protector, cultivator, champion, visionary, and leader, discipling them in the areas of responsibility and spiritual authority.
Kingdom Man Devotional challenges and equips men to fully understand their position under God and their position over what God has given them, while challenging them to initiate the practical implementation of leadership principles.
The One Year Impact for Living Men's Devotional: Daily Coaching for a Life of Significance by Nathan Whitaker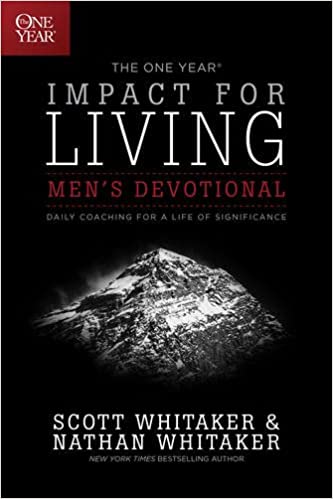 How will your life impact your family, your community, and the world? Will you leave emotional wreckage in your wake? Or will you lead the people around you to something greater and better?
All of us have been created by God for impact―a unique impact in this world. But too often we're distracted from the eternal significance of our actions by the more alluring paths of power, wealth, image, and status. This daily devotional will help you to focus on your eternal legacies―what you can do each day by understanding your God-given purpose, potential, passion, and platform. The One Year Impact for Living Men's Devotional is a great gift for the man in your life striving to make a greater impact on his family and world.
Men of the Bible Devotional: Insights from the Warriors, Wimps, and Wise Guys by Compiled by Barbour Staff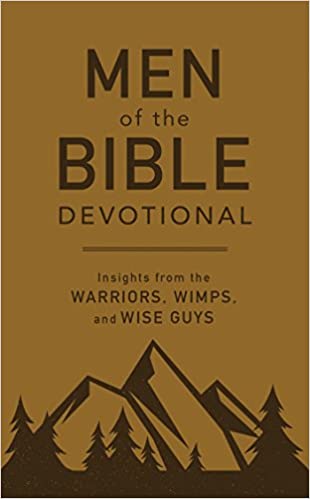 You can learn much from the successes and failures, lives, loves, and legacy of scriptural men—and you'll find great insights in The Men of the Bible Devotional. This brand-new book features 180 quick, easy-to-read entries on some 150 named men of scripture, from Adam to Zechariah, and interesting but unnamed men, as well—such as the thief on the cross beside Jesus. Biblical men played a powerful role in God's plan for humanity, and their stories were recorded for our benefit today. Let The Men of the Bible Devotional share important, even life-changing, principles for your quiet time.
Daily Strength for Men: A 365-Day Devotional by Chris Bolinger
Men face challenges to their faith at work and at home. Daily Strength for Men offers a daily dose of wisdom for men who seek to draw strength from God's Word.
Each devotional covers two days, offering flexibility and freedom to contemplate the message in depth. You will find:
a reading that applies to your life

inspirational Bible verses from the Old Testament

contextual Bible passages and related Scriptures

questions for reflection and application, and

an uplifting prayer.
Daily Strength for Men will equip you to walk faithfully with God—the source of your strength.
You can find a few more great choices on Amazon – even some based on other passions of your husband. (the link will take you directly to the page for devotions for men.
Consider gifting the Christian man (or seeking man) in your life a men's devotional.
Which one do you think your husband would enjoy?
Because of Him,
Sue