This page/post may contain affiliate links.  As an Amazon Associate, as well as an affiliate of other programs, this means if you purchase something using these links, I will receive a commission on qualifying purchases at no cost to you! For more detailed information, please visit our Affiliate Disclaimer page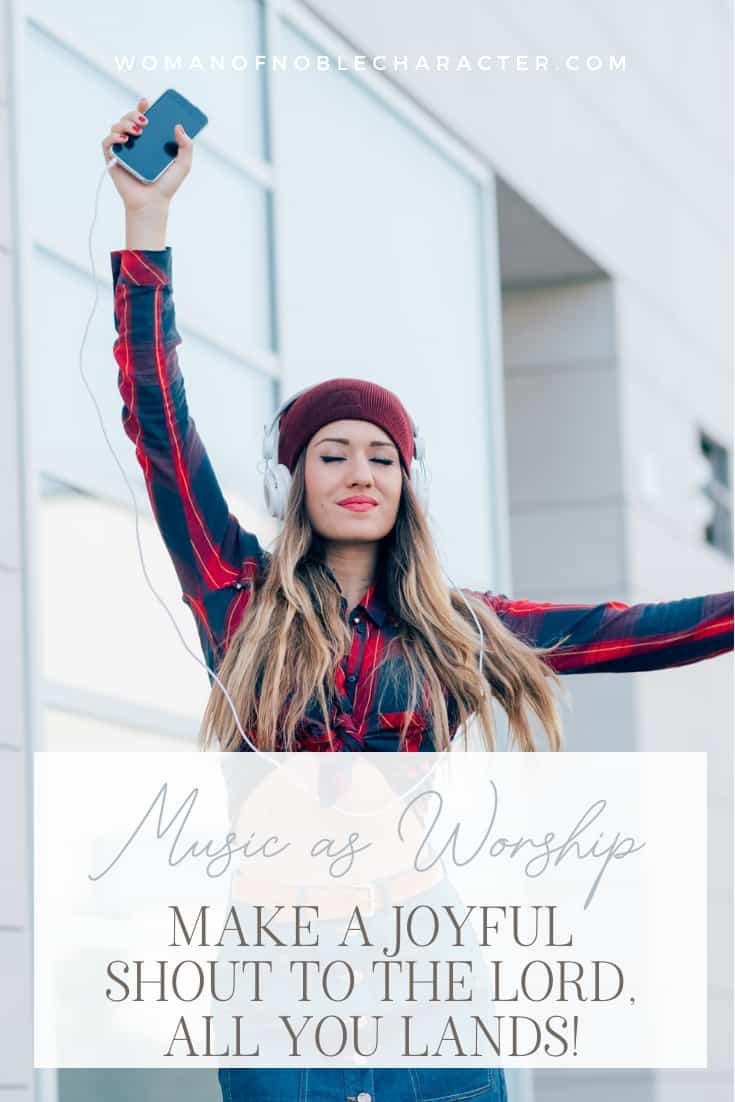 Music as Worship. Throughout the Bible, we see God's people singing and playing music. It has been a part of the Christian walk from nearly the beginning. God's children have long used music as worship. After escaping from the Egyptians and crossing the Red Sea, the people of Israel sang a song to the Lord (Exod. 15). Singing was part of Israel's formal worship in both tabernacle and temple (1 Chron. 6:31-32, 16:42). The Psalms are songs of joy and sorrow. They both praise and cry out. Hymn singing was practiced by Jesus and his disciples, as well. (Matt. 26:30). The Apostle Paul instructed the Colossians, "Let the word of Christ dwell in you richly; teach and admonish one another in all wisdom; and with gratitude in your hearts sing psalms, hymns, and spiritual songs to God. And whatever you do, in word or deed, do everything in the name of the Lord Jesus, giving thanks to God the Father through him" (Col. 3: 16-17).
The Bible contains over four hundred references to singing and fifty direct commands to sing. The Psalms, which is the longest book of the Bible, is a book of songs. And in the New Testament we're commanded not once, but twice, to sing psalms, hymns, and spiritual songs to one another when we meet (Ephesians 5:19; Colossians 3:16). Clearly, music as worship is pretty important to God.
I'll be the first to admit that I don't have a good singing voice. In fact, years ago, while at church service, my oldest son (who was about 14 at the time) said to me while I was singing "Mom, now I know why they call it joyful noise unto the Lord". I laughed, but continued to sing anyway. I adore using music as worship.
So why is music as worship so important in our Christian walk?
Singing can help us remember scripture and God's promises
Music has often been used to help us remember things. I'll bet you still remember jingles from television when you were a kid or the ABC song. In Deuteronomy 31, God himself wanted us to use music to help the Israelites remember His words. As Israel was about to enter the Promised Land, God instructed Moses to teach Israel a song so that "when many evils and troubles have come upon them, this song shall confront them as a witness (for it will live unforgotten in the mouths of their offspring)" (Deuteronomy 31:21). Singing can help us remember words.
Singing helps us to emotionally connect with the words
No matter the language, no matter the time in history, music is a language of emotion. We can probably recall songs from our teenage years that 'spoke to us" bringing up the same feelings of heartache from a breakup or joy from dancing with friends. Singing also stretches out the words we sing, giving us more time to think and reflect on them. Singing songs of praise and worship help us connect with the Bible and God's promises in a deeper way than just reading or reciting Scripture.
Singing can help us connect with our community
Our church, like many others, begins and ends with music as worship. We sing with our church community and our praises are lifted to God corporately. We feel connected to others when we sing together. All of us, singing together, voices united bring us together as chosen people of God.
I have many favorite singers and songs by Christian artists. I play worship music while cleaning or cooking, while driving in the car or while creating in my art studio. I love to use music as worship and feel a closer connection to our Lord and Savior.
Do you enjoy music as worship? Why do you think it is important to worship in this way?
Are you ready to live a Proverbs 31 Life and deepen your relationship with God, strengthen your marriage and better manage your home? Consider taking the Intro to Proverbs 31 Mini Course or joining the Faith Filled Home Monthly Membership program for Christian wives.
Because of Him,
Sue
For more on ways to increase your faith, check out this article.
FREE Bible Study Worksheets to Help You Dig Deeper Into His Word