This page/post may contain affiliate links.  As an Amazon Associate, as well as an affiliate of other programs, this means if you purchase something using these links, I will receive a commission on qualifying purchases at no cost to you! For more detailed information, please visit our Affiliate Disclaimer page
Nightstand Organization Tips. Most bedrooms are short on storage space. Sure, you have your dresser and closet, but most of us rely on our nightstands for your nightly glass of water, reading glasses, books, the remote and more. Before I share some of my favorite bedroom nightstand organization tips, we need to start at the beginning – decluttering. If you are seeing a theme here, you are paying attention 🙂 Before any organization project can begin, there are two things you need to do:
Declutter the space

Clean the space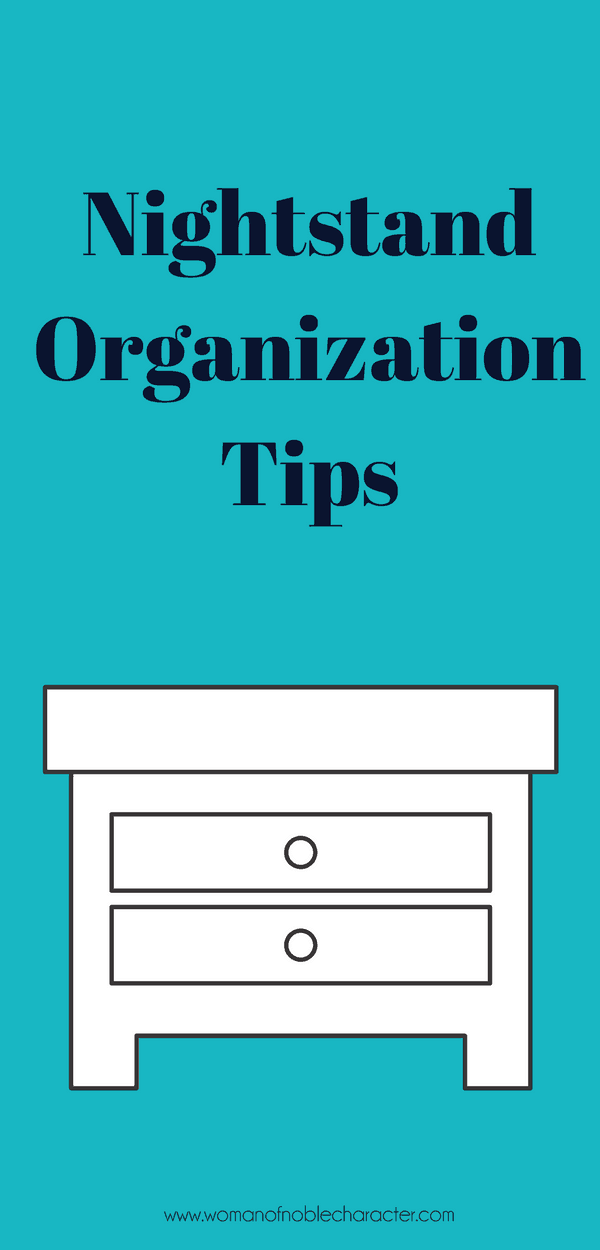 For a detailed guide on decluttering, take a look at our previous post The Road to Organization. Once the nightstand is decluttered, you can give it a good cleaning.
The next step is to plan for the space. What do you need the space to do? What needs to be here? What makes sense being stored somewhere else?
For most nightstands, there are three areas to consider: The top, the drawer and the shelf underneath (if you have one). These areas should be organized by frequently used, regularly used, rarely used items. The frequently used items should go on top, the regularly in the drawer and the rarely on the shelf below (or somewhere else if it makes sense).
The top of my nightstand has:
A tissue box/holder

Phone charger

A few books

A lamp
For me, the nightstand drawer holds:
My regular medications

Tylenol

Pencil

Body lotion

Hair clips

Flashlight

Eye mask

Extra pair of reading glasses
The shelf on my nightstand stores:
My Bible

Notebook

Can of Febreze (I have dogs and a husband – need I say more?)
Those are the items that MUST be at my ready when I am in bed. For you, this may be different. Consider what you might need when in bed or in your bedroom. Pick up each item and determine: Do I use this? Does it need to be here? Does it make sense to store here or should it be stored somewhere else?
So now that you know what has to be kept in your nightstand, you can now look for the appropriate nightstand organization tools.
Nightstand Organization Solutions
Here are a few of my favorites:
For on top of the nightstand:
Tissue box holder (it just looks prettier than a cardboard tissue box)
Remote organizer (this is great for holding your glasses, remote, etc.)
For in the drawer:
Small baskets (can also be used on top or on the shelf. I prefer them in the drawer as I don't like clutter and even neat clutter, is clutter to me 🙂 )
For the Shelf:
Remote organizer (great for small items)
Do you have a creative nightstand organization solution? Tell us about it – we'd love to hear from you!
While you are in cleaning/organizing mode, why not tackle your purse? I have some great tips for you in this post.
Did you know know that you can decorate your home with God and relationships in mind? Learn more in this guest post.
Don't Miss Out on Any Home Organization Posts & Tips!
Until Next Time,
Sue