This page/post may contain affiliate links. As an Amazon Associate, as well as an affiliate of other programs, this means if you purchase something using these links, I will receive a commission on qualifying purchases at no cost to you! For more detailed information, please visit our Affiliate Disclaimer page
Marriage is full of challenges. God created us to be unique and bringing two unique individuals together in marriage can present a host of potential difficulties. From how we spend money and time to different personality styles and from child disciplining to taking out the trash, daily married life presents numerous opportunities for our uniqueness to clash. One of the most damaging potential clashes, however, is one that takes place in the bedroom.
As we are all unique, created that way by our Father who loves us, we bring differing levels of sexual desire to the marriage. You may have had a greater desire for sex before you had children and now you are exhausted from doing it all that all you want to do is sleep when your head hits the pillow. Or, perhaps you and your husband have always been on different pages when it comes to how often you have sex. It is perfectly normal for our desires to change over time and with the seasons of our life.
There are dozens, maybe hundreds of studies or polls on how frequently married couples have sex. On marriage.com, they share a few of those poll results:
Newsweek magazine found in its poll that married couples have sex about 68.5 times a year, or a little more than on an average. The magazine also found out that as compared to unmarried people, married couples have 6.9 times more sex per year.
According to a University of Chicago Study called "The Social Organization of Sexuality: Sexual Practices in the United States," about 32 percent of married couples have sex two or three times a week, 80 percent of married couples have sex a few times a month or more, and 47 percent say they have sex a few times a month.
In another study, this time by David Schnarch, PhD, who studied more than 20,000 couples, 26% of couples have sex once a week, more likely once or twice a month
What is normal for your marriage may be abnormal for the other couples in your small group (or neighbors). The normal for your marriage, however, needs to be something that you and your husband are comfortable with. When one partner is feeling neglected or pressured, it puts strain on the marriage. When one is not in the mood for sex and one always seems to be, the marriage can suffer.
Sex is a gift from God that allows us to have physical and emotional intimacy with our spouse. It is a time to recharge our marital batteries, so to speak, and reconnect with our beloved. So what do you do when you are not in the mood for sex, but your husband is?
Here are 7 Tips for When You Are Not in the Mood for Sex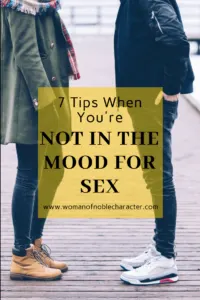 Do it Anyway.
Let's be real here. Sometimes we just don't want to have sex, but we know that our husbands do. The Bible tells us that we are to "Stop depriving one another, except by agreement…" (1 Corinthians 7:5). Instead of "depriving" your spouse, do it anyway. Sometimes the old saying "fake it till you make it" is the key. And, many times people with low sexual desire actually enjoy sex once they get started.
2. Think about your husband (and sex with him) during the day.
Notice that his back end looks good in those jeans? Do you feel aroused when you see your husband's muscles doing yard work? Fan the flames and act on it. Fantasize about how you would like him to please you and you, him. The more you think about sexual intimacy with your husband, you may find that it is easier to get in the mood for sex.
3. Ask yourself why you aren't in the mood.
Is it because you are tired? Stressed? Not feeling so good about the extra weight on you and therefore feel less desirable? Perhaps you don't enjoy it. Think (and pray!) about why you aren't in the mood for sex and ask God to help you in those areas. After having eight abdominal surgeries leaving many scars plus needing to lose weight, I just don't feel desirable much of the time. My husband tells me frequently that he still finds me sexy and that helps. It also helps to wear lingerie (chosen by my husband) that I feel sexy in and that hides the areas that concern me.
4. Focus on the exceptions.
Some people with low desire say they're more interested in making love or are in the mood for sex under certain conditions—at certain times of the day, on weekends, after a bath or a good talk, on vacation, or when the kids are asleep. Think about what's different about the times you feel you may be in the mood for sex, and take advantage of those moments. If it's an option, create the opportunity. In other words, if hot baths turn you on, turn on the hot water.
5. Do or Wear Things That Make You Feel Sexy
Often, the key to boosting the mood for sex is to do things that make you feel sexy. Perhaps wear perfume or sexy lingerie under your clothes. It's not uncommon to put less effort into how you look as the married years go on. I found that when I stopped putting an effort into my appearance, I was less often in the mood for sex and felt less sexy. When I forced myself to put away the sweats and into a dress or lingerie, I felt better, sexier and it heightened my interest in sex. (You can learn more about this in this article on Proverbs 31:30)
6. Just say when.
There will be times when you really don't feel like having sex. But instead of just saying no or "I'm too tired," which feels like a rejection to your husband, offer an alternative. You could say, "I'm really exhausted right now, but if you're willing to wait until I catch a quick nap, I'd love to meet you under the sheets" Or, "Now isn't great for me, but how about after the kids go to sleep?"
7. Give a gift.
Less highly sexed spouses often assume that if they're not feeling sexual, there's nothing they can or should do to please their spouses. But you can show your love even if you're not in the mood by doing something that would please him or her sexually. Although I wouldn't recommend an exclusive diet of this, there's nothing wrong with just "taking care of" your spouse.
Is this something that you struggle with? What have you done to get in the mood when you would rather do anything but?
For further reading, consider my book, The God Centered Marriage.
Because of Him
Sue
For more on biblical marriage, read about What If My Husband Doesn't Deserve a Proverbs 31 Wife, What it Means to be a Submissive Wife , or Do You Bring Him Good, Not Harm.